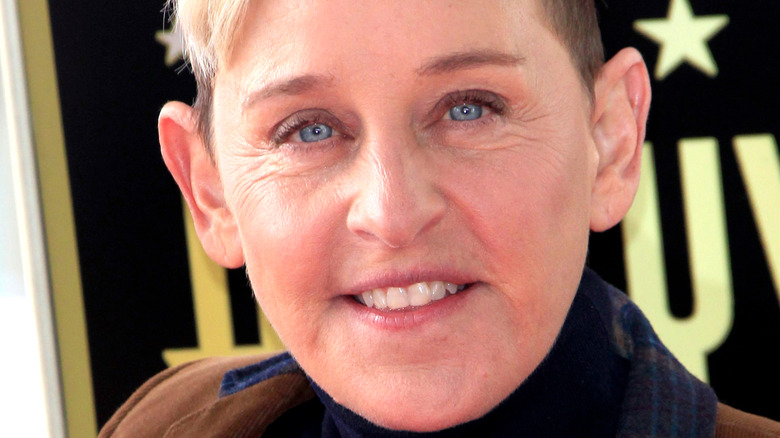 Ellen DeGeneres is a household name, thanks to her long-running talk show, "The Ellen DeGeneres Show." For years, fans have watched her dance, interview celebs, and give gifts to guests. Throughout her career, she's faced more than one controversy, but has remained beloved by her many fans, and it's easy to feel like we know her after inviting her into our homes for so long. But, there's more to DeGeneres than meets the eye, and there's a lot about the television star that even her biggest fans have yet to uncover.
Born on January 26, 1958, the Louisiana native set aside dreams of becoming a veterinarian and entered the workforce as a legal secretary before turning to stand-up comedy in her twenties, according to Biography. Soon, she was landing acting gigs, including her own sitcom, quickly establishing herself as one of the most charismatic comedic personalities of her generation. Today, she's one of the most successful celebs out there, with an estimated net worth of $500 million (via Celebrity Net Worth). Think you know Ellen DeGeneres? Think again.
Ellen DeGeneres had a difficult childhood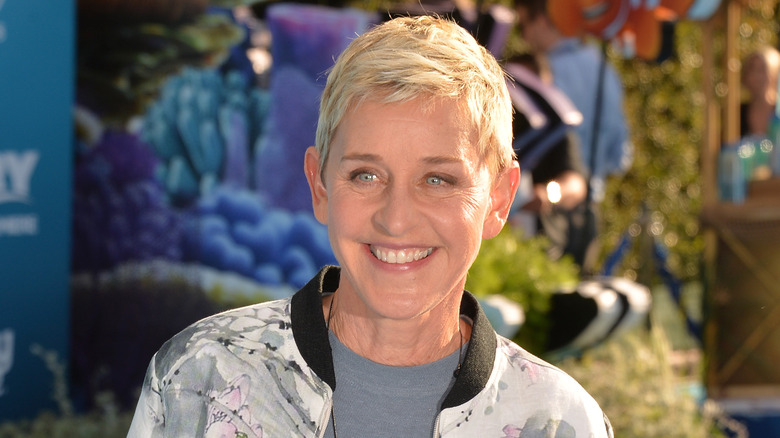 Ellen DeGeneres almost always seems happy when we see her on television, but it turns out that her life hasn't always been filled with joy. In an interview with Parade, the TV personality revealed that her childhood was quite sheltered and that she saw no "deep emotion from my parents." Her parents' example led to DeGeneres finding it hard to learn how to "express" herself, especially as feelings other than happiness weren't "approved" in her home.
DeGeneres' parents split up when she was 13, rocking her world and thrusting her into the role of caretaker. "I sort of became the parent, taking care of my mother," she said, revealing that her mother went through a string of relationships with "horrible men."
DeGeneres' mom would eventually get remarried but was diagnosed with breast cancer shortly thereafter. While it was a difficult time for the young girl, it did lead to her developing her comedic chops. "I had to make her laugh," she said. "[My comedy] started from me trying to make her happy. It felt really good to have power to make people happy."
Ellen DeGeneres made history with her self-titled sitcom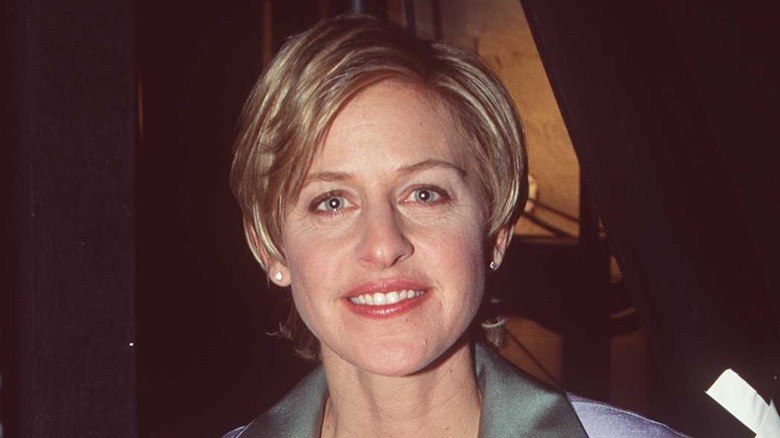 In 1994, Ellen DeGeneres landed a role in a sitcom originally titled "These Friends of Mine." Per Entertainment Weekly, DeGeneres headlined the show "as Ellen Morgan, a single gal who manages a bookstore-cafe and spends her copious free time with her three amigos." The show was later retitled "Ellen" and made history in 1997 when the character of Ellen came out as a lesbian, making the sitcom "the first prime-time show to feature an openly gay lead character," as noted by Britannica.
It was a history-making moment that cemented DeGeneres' place in the pop culture lexicon. Per History, the character came out in an hour-long episode, which more than 42 million fans tuned in to watch. In a time when same-sex relationships were still somewhat taboo on television, the show broke ground, normalizing LGBTQIA+ characters on television and opening doors for shows like "Will & Grace" and "Modern Family," which prominently featured same-sex relationships, as noted by Biography.
Ellen DeGeneres faced a lot of backlash after coming out
Just weeks before Ellen DeGeneres' character on "Ellen" came out in 1997, the actress herself came out to the public. It should have been a liberating moment for DeGeneres, but her coming out was accompanied by criticism from the public. While celebrities coming out these days is often met with celebration and acceptance from fans, the '90s were a very different time. Making Gay History reports that "the backlash included hate mail [and] death threats," while religious conservatives labeled her "Ellen DeGenerate" (via Vanity Fair).
Her sitcom was canceled the following year. The New York Times reported at the time that the show's ratings had declined, but many fans suspected that the cancellation was ultimately due to homophobia, leading to protests by gay rights groups. For a time, it seemed like her career might not recover. DeGeneres remained optimistic, though, telling Good Housekeeping that "losing it all" made her "realize that all this stuff is very fleeting." She explained, "If success is really dependent on someone liking you or not liking you … it's just not a healthy way to live."
Of course, it was ultimately DeGeneres who had the last laugh, and her star eventually rose higher than ever before.
Ellen DeGeneres is a bestselling author and an avid reader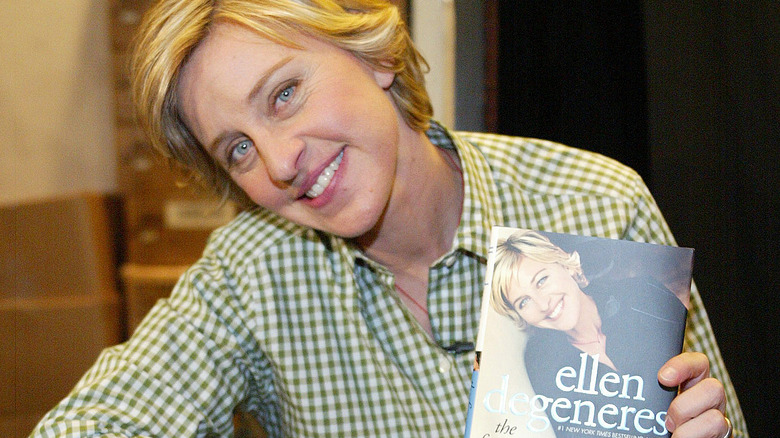 Thanks to her status as one of the most recognizable television personalities out there, many people might not realize that Ellen DeGeneres also has some serious writing chops and is a bestselling author. DeGeneres has been churning out books since the '90s; her first book, "My Point … and I Do Have One," was an instant bestseller back in 1995, as noted by The Spokesman-Review. Other titles, as listed on Amazon, include "Seriously … I'm Kidding," "The Funny Thing Is…," and "Home."
DeGeneres isn't just a bestselling author — she loves reading books, too. She's doled out plenty of book recommendations to her fans over the years, per Radical Reads, with some of her favorites including "The Four Agreements," "My Gentle Barn: Creating a Sanctuary Where Animals Heal and Children Learn to Hope," "The Art of Racing in the Rain," and "The Goldfinch."
Ellen DeGeneres and Portia de Rossi have the sweetest love story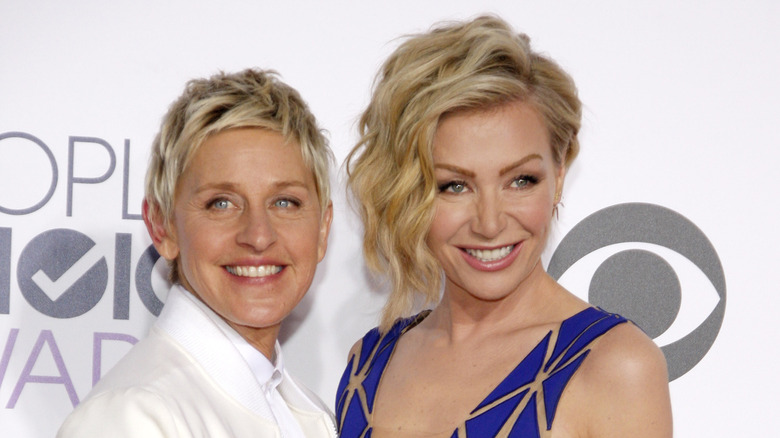 Ellen DeGeneres and her wife, "Arrested Development" actress Portia de Rossi, have been married since 2008, tying the knot after the state of California finally legalized same-sex marriage that year. Per People, they have been together since 2004, and their romance is still going strong today. "Happy anniversary, Portia. I'm the luckiest girl in the world because I get to share my life with you," DeGeneres captioned an Instagram photo of the two on their 13th wedding anniversary.
It was a long journey to get where they are today. When the two celebs met in 2000, de Rossi had not yet come out. She did know that DeGeneres was the love of her life right off the bat, though. De Rossi revealed in an interview with Oprah that she knew she was in love, "When I first laid eyes on her," but that she had to wait three years to make her feelings known as she was worried that coming out would end her acting career.
Once her feelings were expressed, their relationship took off quickly and the rest is history. "We're lucky to have each other," DeGeneres said in a 2021 interview with People. "We practice a lot of gratitude."
Here's how Ellen DeGeneres really feels about her stint as an American Idol judge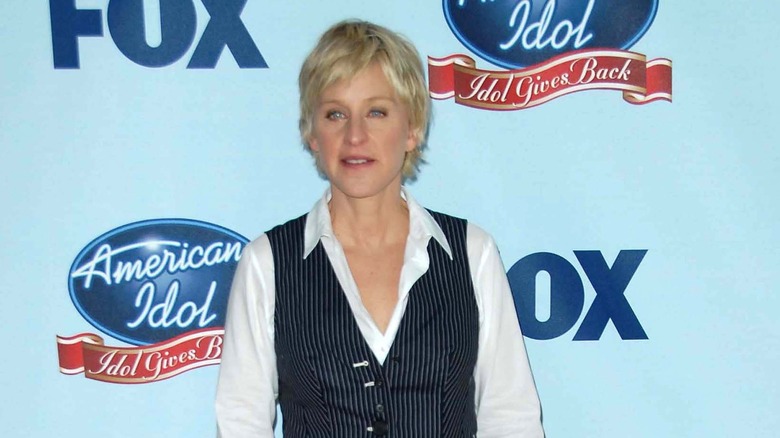 Hardcore "American Idol" fans might remember Ellen DeGeneres' brief stint as a judge on the show, but casual viewers may have missed her run on the singing competition. DeGeneres was only on the show for one season, replacing veteran host Paula Abdul in Season 9, as noted by Next TV. She ended up bowing out at the end of the season, announcing her resignation in a 2010 tweet, writing, "Dim the lights … I've voted myself off 'American Idol.'"
While DeGeneres said in a statement at the time that "Idol" wasn't the "right fit" for her, according to Reuters, she opened up years later about just how much she hated the experience. In a 2015 appearance on the "Howard Stern Show" (via E! News), she said that joining the show was "one of the worst decisions I've made." She explained that she went into the show with high hopes, but then realized "I can't break this person's heart," adding, "Let somebody else do that."
Ellen DeGeneres thinks she's 'too brutally honest'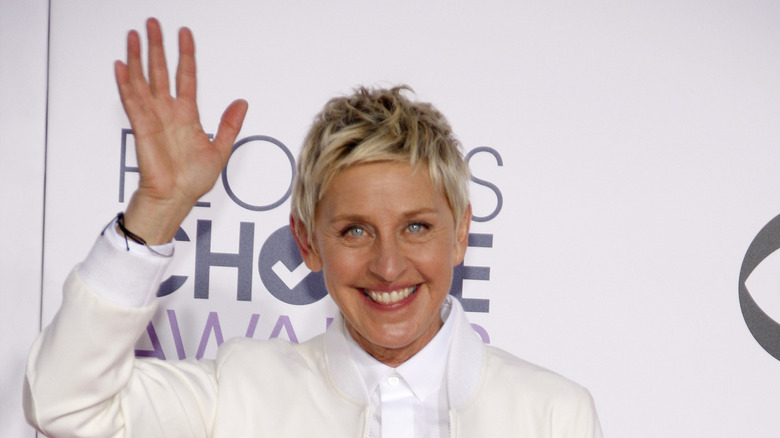 Ellen DeGeneres has developed a reputation as a straight shooter. While this might be a useful trait as she works in such a cutthroat industry, she's the first to admit that she might be a little too blunt for her own good at times. In an interview with The Hollywood Reporter, she opened up about her frank personality, saying that she's "maybe too brutally honest." DeGeneres continued, "That's one thing any of my friends will tell you, I am honest to a fault and I will tell you how I feel."
Don't let the brash demeanor fool you, though. DeGeneres has faced extraordinary highs and lows throughout her decades-long career, but the criticism she's faced has never rolled off her back — and she's okay with that. "I have very thin skin and things affect me," she said, adding that she's "proud" of this trait. According to DeGeneres, "I love that I'm emotional." While she does "care what people think and say about me," though, she recognizes the need to not let it get to her, saying, "You have to learn from it, too."
This is why Ellen DeGeneres was cast as Dory in Finding Nemo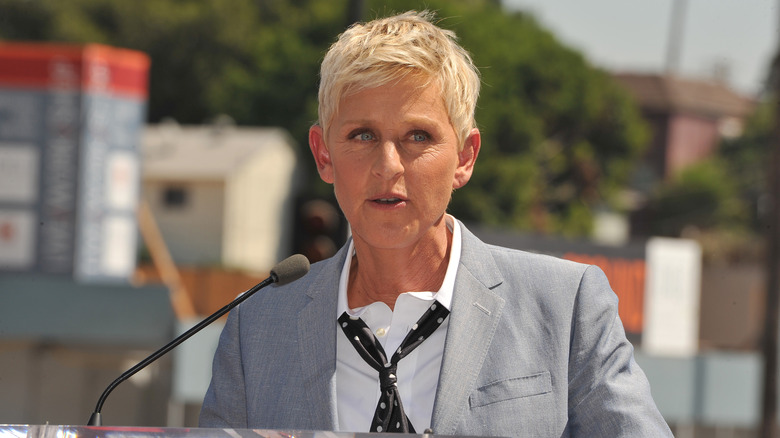 One of Ellen DeGeneres' most memorable roles is playing the voice of Dory in the beloved Pixar film "Finding Nemo." While "Finding Nemo" is, of course, animated, DeGeneres is nonetheless unforgettable and eminently recognizable voicing the chronically forgetful fish who helps Marlin find his missing son. While DeGeneres doesn't have a lot of voice roles under her belt, the role fell into her lap. "I didn't even have to audition," she said on "Lorraine" (via Digital Spy). "They thought I did look like a fish and they said, 'You should be in this movie because we're doing this thing about fish and you look very similar to a fish.'"
It's not exactly the most flattering reason for being given a role, but DeGeneres has a good sense of humor and accepted the part. She clearly had a blast doing it, too, because for years, she complained on her talk show that the film was long overdue a sequel, as noted by Time, making it clear that she wanted to revisit Dory. A sequel was finally released in 2016, 13 years after "Finding Nemo" was released. In the follow-up, "Finding Dory," DeGeneres transitioned from sidekick to leading lady. "I think [people love] Dory persevering and helping someone even though she really is in no way in that kind of position to be able to help anybody, and she still does it," she told Entertainment Weekly of her iconic character.
Ellen DeGeneres relies on her faith to get her through tough times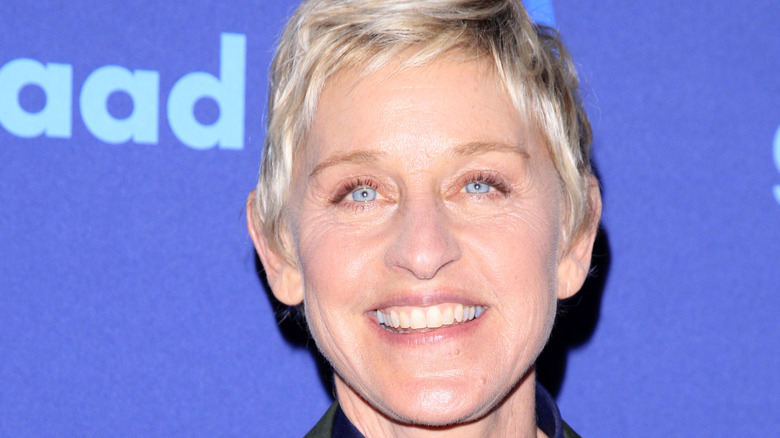 Ellen DeGeneres isn't very outspoken about her religious leanings, but her faith is quite important to her. She explained to Good Housekeeping that, while she was raised as a Christian and grew up going to Sunday school, she no longer practices the religion. That's not to say that she doesn't have faith, though. "I believe in God, and that there's a higher power and an intelligence that's bigger than us and that we can rely on," she said, adding that she doesn't think that humans are "in control of everything." She added that this "idea" is a great "support" to her and has helped her get through some rough times in her life.
DeGeneres' faith is deeply personal to her, and she recognizes that not everyone's faith takes the same form. "I think whatever works for you is right," she once said (via Cheat Sheet). She added that she doesn't believe in heaven or hell, but thinks that both are created here on earth. "You have a choice to live in joy or not," she said.
This is why Ellen DeGeneres doesn't think of herself as an activist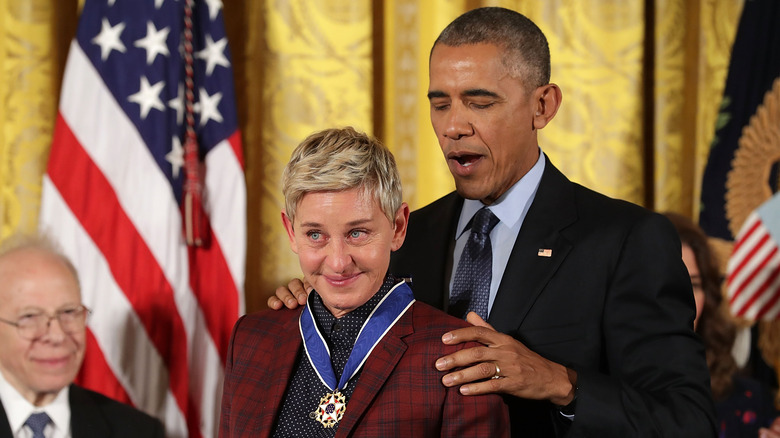 Ellen DeGeneres has lent her voice and her platform to a number of causes she believes in and is a well-known advocate for the LGBTQIA+ community. Per Iowa State Unversity's Archives of Women's Political Communication, she's also worked with anti-bullying campaigns as well as pet rescue efforts. Former President Barack Obama even awarded her the Presidential Medal of Freedom in 2016 for her efforts.
Despite all of the work she has done, though, she doesn't think of herself as an activist. She may stick her oar in when she thinks it's necessary but, as she told Good Housekeeping, she doesn't "look for controversy" and is "not a political person." Instead, she views herself as "a person with compassion," saying, "I care passionately about equal rights. I care about human rights. I care about animal rights." DeGeneres' ultimate goal, she said, is "to be the best I can — to be better than I was yesterday and better tomorrow."
If Ellen DeGeneres hadn't gone into show business, this is what she'd want to do for a living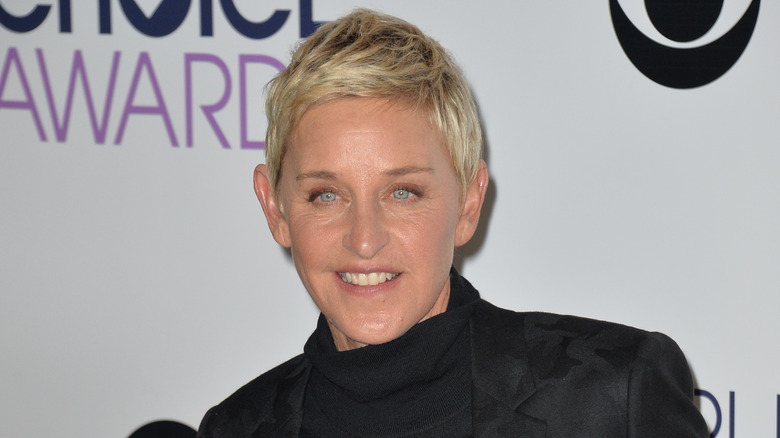 It's clear that Ellen DeGeneres is a born entertainer, but that doesn't mean she hasn't pondered the "what-ifs" of her career. If she hadn't gone into the performing arts, she knows exactly what she would be doing — and it's still in a creative field. As she told Good Housekeeping, she has a passion for interior design and has put her skills to good use by fixing up houses and putting her personal flair on them. "Designing is my hobby," she said, adding that if and when she retires from show business she will "probably just do design work."
DeGeneres explained to the outlet what it is she loves about design so much. "I like looking at something that needs tweaking and knowing what it could be," she said, adding that she likes working with the "blank canvas and making it better.".
This is why Ellen DeGeneres became a vegan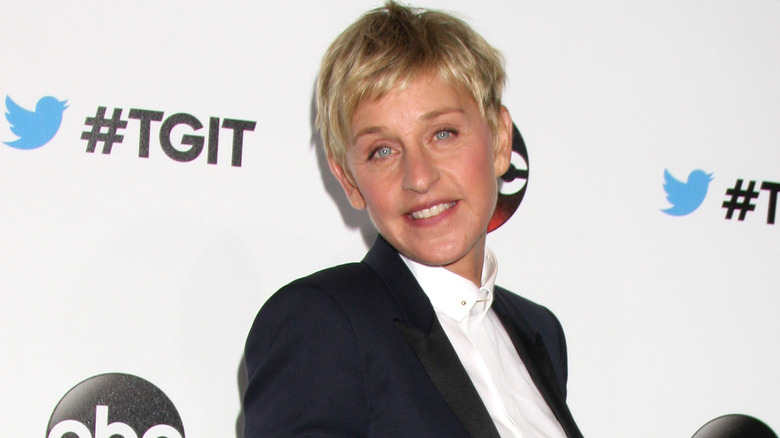 It's well known that Ellen DeGeneres is an animal lover but what a lot of people don't know is that she is also a vegan. While people become vegan for all sorts of reasons, with some expressing concerns for the environment, animal welfare, or their health, for DeGeneres the primary motivation was definitely the well-being of the animals. She told Oprah that she cut animal products out of her diet after she "saw footage of what really goes on in the slaughterhouses and on the dairy farms."
Going vegan was no easy thing for DeGeneres, who said she "loved eating meat," but that she knew she had to follow her conscience. While she gave up animal products for the sake of animals, she did find herself feeling "healthier living in a cruelty-free way," adding that there were some extra benefits to the diet change. "I haven't been sick since, I am not as tired, and I've lost weight," she said. In 2018, however, she admitted that she had begun eating fish and eggs, and was no longer vegan after eight years.
The real reason Ellen DeGeneres ended her show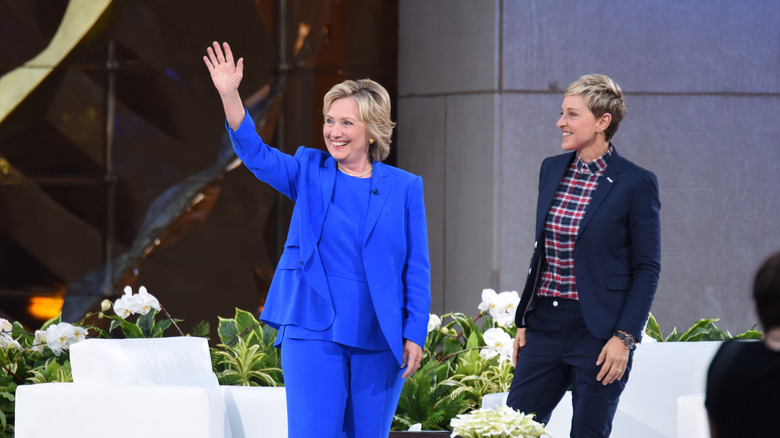 In May 2021, Ellen DeGeneres announced that "The Ellen DeGeneres Show" would be ending in 2022 at the end of its 19th season. The show had been in hot water for some time after allegations were brought forward that DeGeneres created a hostile work environment. But, it wasn't the investigation into her show that prompted the conclusion of its run. DeGeneres revealed to The Hollywood Reporter that she had actually been thinking of ending the show for a while, and had hoped Season 16 could be her last but that "affiliates and the stations need[ed] more of a commitment."
Why did she finally decide to step away? She simply felt it was the right time. "I'm a creative person, and when you're a creative person you constantly need to be challenged … and, as great as this show is, and as fun as it is, it's just not a challenge anymore," she confessed.
Ellen DeGeneres wants to return to movies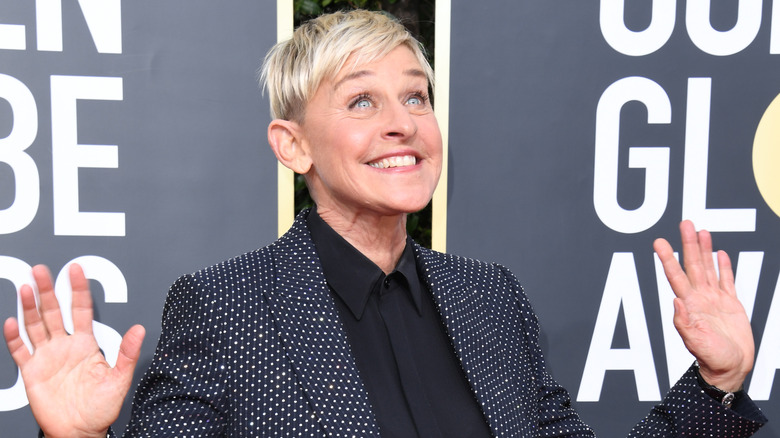 While Ellen DeGeneres is best known these days for "The Ellen DeGeneres Show," she also has quite a lot of film roles under her belt. Her resume includes parts in "Coneheads," "Mr. Wrong," "Goodbye Lover," "The Love Letter," and, of course, voicing Dory in "Finding Nemo" and "Finding Dory." Her film career took a backseat as her television career took off; her most recent live-action film role was in 2002's "Reaching Normal." The following year, "The Ellen DeGeneres Show" made its debut.
DeGeneres may yet become a modern movie star, though, expressing an interest in returning to film in an interview with The Hollywood Reporter. As she explained, she felt that she needed to focus on her talk show and that she couldn't divide her focus by also continuing to act. "I thought that that was the only path," she said. She added that what she'd really like to do is go back to movies, but she can only do that when her schedule frees up a bit.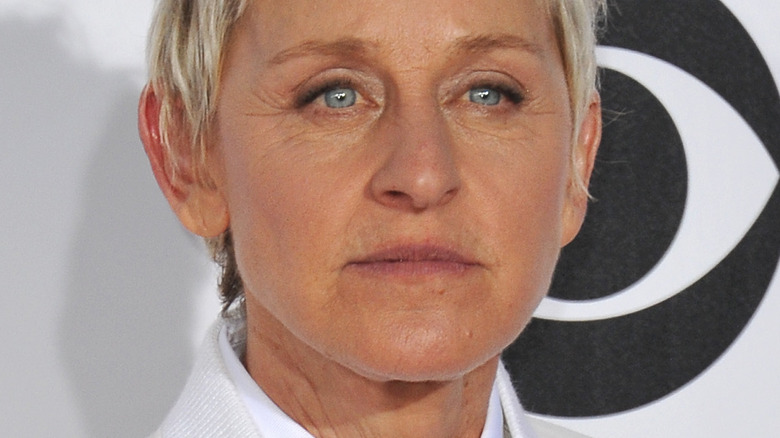 You probably heard recently that Ellen DeGeneres decided to end her beloved talk show. The 63-year-old longtime television host is slated to give a heartbreaking monologue on Thursday's show, explaining why she arrived at the difficult decision to step back from her popular daytime TV spot, "The Ellen DeGeneres Show," after 19 seasons (via Today). A preview revealed some of the host's reasoning, which is sure to leave many of her followers feeling blue at the thought of missing out on her vivacious interviews and fun dancing each weekday.
The move comes nearly a year after BuzzFeed News reported on alleged workplace issues in the talk show's culture, which led to an investigation. DeGeneres later apologized with a letter to her staff, which Variety published. After the scandal, the show went on, after resuming filming amid the pandemic.
The daytime icon broke ground in 1997 when she came out as gay to Oprah shortly before her character on her popular sitcom "Ellen" also came out, as Variety reported on the 20th anniversary of the comedian's surprising announcement. Perhaps, fittingly, the Queen of Daytime TV, Oprah herself, will be one of Ellen's guests on her first show following the news that she plans to hang up her hosting duties in 2022 (via TMZ).
Here's what Ellen promises her fans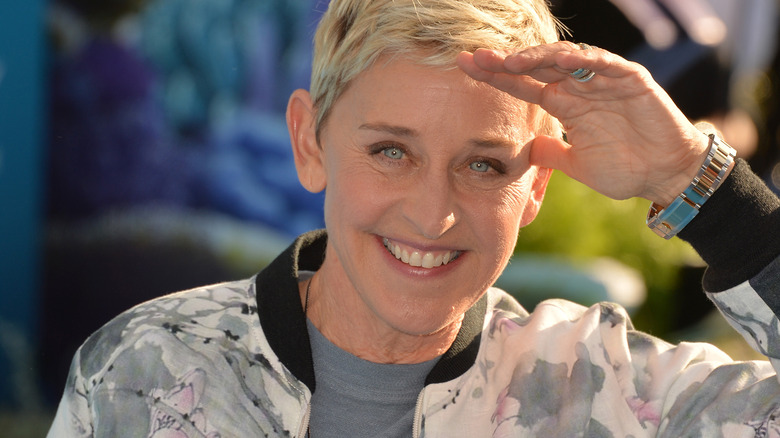 In the preview for her upcoming episode Thursday, Ellen DeGeneres said, "Today I have an announcement to make. It's a big one. Today I'm announcing that next season, season 19, is going to be my last. The past 18 years have changed my life. You've changed my life," she continued. "I am forever grateful to all of you for watching, for laughing, for dancing … sometimes crying. This show has been the greatest experience of my life, and I owe it all to you. Thank you. Thank you. Thank you" (via Today).
Ellen noted that she'd discussed her decision with her wife, actor Portia de Rossi. Although the monologue is sad, always a comedian, the talk-show host managed to make it funny. "I talked to Portia. I talked to myself. A few times, I was talking to myself and Portia thought I was talking to her," she joked. "The point is, I need to take a break from talking." Ellen harkened back to a vivid dream she'd had in 1997 about finally living her truth during her talk. "Well, last night, I had a dream that a bird, a beautiful bird with bright red feathers, came to my window and whispered, 'You can still do stuff for Netflix.'"
The beloved host promised to continue the special relationship she's developed with her audience in nearly two decades of hosting her talk show. She also vowed that her 19th season would be fantastic (via TMZ).