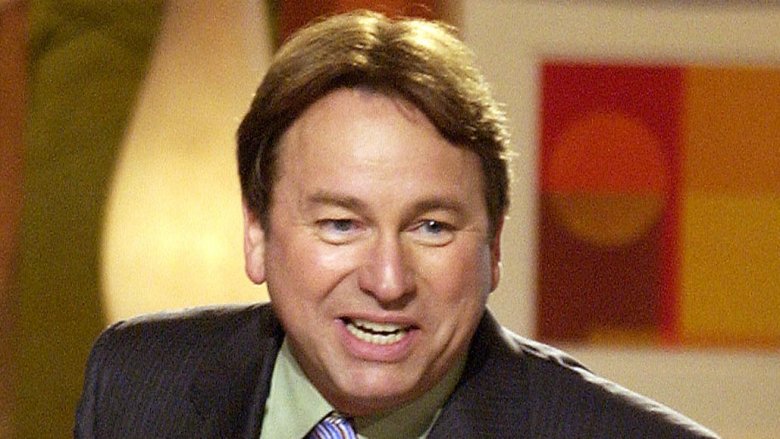 Unless you're lucky enough to really enjoy what you do for a living, it'd be pretty terrible to die at work. The thought of being in the office literally at the time of death is kind of an unappealing one. However, if you're a creative type, like an actor or a performer, then work doesn't always really feel like work — it's a calling, and every day lived in pursuit of it is a joy. To get to create entertainment up until the bitter end would seem to make the bitter end not so bitter.
In fact, there have been a few times in entertainment history when performers have actually died doing what they loved: hanging out on movie or TV sets, waiting for the crew to set up the next shot…or while actually filming a take…or while doing their thing on a live TV broadcast. Here's a list of some stars who kept on working up to and until the their last breaths — they never got a chance to retire, because they died while working on a movie or television show.
Redd Foxx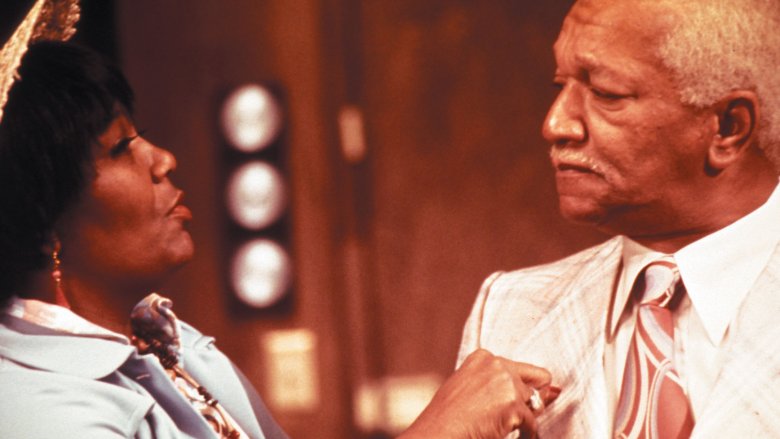 On his classic 1970s sitcom Sanford and Son, Redd Foxx often did a memorable bit where he'd end a conversation or get his way by faking a heart attack. "This is the big one, Elizabeth," Foxx, as his character, Fred Sanford, would shout to the screaming laughter of the studio audience, calling out to his long-deceased wife that he was about to join her.
Foxx brought the bit out of retirement when he returned to television in 1991 with a sitcom called The Royal Family. He portrayed a soon-to-retire mailman opposite Della Reese as his wife, whose quiet life gets turned upside down when their daughter and her kids move into their home. Okay, well Foxx didn't bring the "big one" routine into the show, per se; he just did something similar on the set one day during a rehearsal. According to production spokeswoman Rachel McCallister, Foxx and his co-stars were "clowning around, and Redd was sort of breaking people up when he collapsed. … They all thought he was joking at first."
He wasn't. Foxx didn't move, and somebody called paramedics. Four hours later, he died at age 68 of a heart attack at Queen of Angels-Hollywood Presbyterian Medical Center.
Jon-Erik Hexum
You know that gesture people make when they're so bored that they form a gun shape with their thumb and forefinger, put it up to their temple, and pretend to blow their brains out? At least one person has died from doing the finger gun thing with a prop weapon on the set of a TV show.
Twenty-six-year-old actor Jon-Erik Hexum starred in Cover Up, a CBS action show in which he played an elite military operative/spy/male model. One filming day in October 1984 was fraught with shooting delays. When Hexum was informed that the delays would continue, he grabbed a prop gun and quipped, "Can you believe this crap?" Then he pulled the trigger. While prop guns don't fire real bullets, they do release a great deal of force; Hexum's goof drove a bone fragment into his brain, leading to severe hemorrhaging. The actor was rushed to Beverly Hills Medical Center, where he endured five hours of unsuccessful brain surgery. After a coma and pronounced brain death, Hexum died six days later.
John Ritter
While he had a successful film career with roles in movies like Sling Blade and Bad Santa, John Ritter will forever rank among our most beloved and successful TV actors. His extreme likability and physical comedy gifts helped elevate Three's Company (1977–1984) from titillating cheese to classic sitcom, and his big return to TV in 2002 as the star of 8 Simple Rules for Dating My Teenage Daughter was one of the biggest entertainment stories of the year. Ritter played a suburban dad uneasy with his children growing up. ABC renewed it for a second season, and production was underway in September 2003 when Ritter suddenly fell ill on the set, feeling woozy and nauseated while complaining of chest pains. Ritter checked in to Burbank's Providence St. Joseph Medical Center, where doctors treated him for what they initially thought was a heart attack. But after standard treatments didn't improve Ritter's condition, further tests and examination revealed a previously undiagnosed aortic dissection. That can be a fatal issue if blood flow is interrupted to the coronary arteries or if one of those arteries rupture. And that's what happened to Ritter, who was just 54 years old.
Steve Irwin
Steve Irwin was billed as "The Crocodile Hunter," and the enthusiastic, Australian-accented nature show host was as much Johnny Knoxville as Jack Hanna, boldly traipsing into hostile, untamed environments to teach viewers about dangerous and exotic creatures — often by grabbing them, yanking at them, or wrestling with them. In September 2006, Irwin and crew were filming a documentary about the Great Barrier Reef in Australia. Irwin and cameraman Justin Lyons were in a small raft in shallow water when they encountered an eight-foot-wide stingray. Irwin got the boat close and wanted a shot of the stingray swimming away, but instead of moving along, the stingray attacked Irwin, likely mistaking the man's shadow for one of its natural predators, such as a tiger shark. Stingrays don't just lash out once and that's it — Lyons said the creature delivered "hundreds of strikes in a few seconds," delivering a fatal dose of venom and a two-inch-wide gash over Irwin's heart. The Crocodile Hunter was 44 years old.
Tommy Cooper
Tommy Cooper was a British entertainer who combined corny jokes, prop comedy, and magic for an act that was beloved throughout the U.K. for decades. In April 1984, Cooper appeared on Live from Her Majesty's, a variety show originating from London's Her Majesty's Theatre which was, unfortunately, broadcast live to viewers. Cooper's performance began with the comedian doing an old chestnut: his "magic cloak skit," which involved him wearing a huge gown from which he'd produce increasingly larger objects that were passed to him through a curtain. According to Live from Her Majesty's Host Jimmy Tarbuck, the bit was supposed to conclude with Tarbuck popping out from the curtain and handing a ladder to Cooper because it was too big to go through the dress.
It actually ended with a bit more finality. Tarbuck, and many viewers as it stands to reason, thought Cooper was improvising when after a female "lovely assistant" came onto the stage, he fell hard onto the ground. He wasn't comically overwhelmed with lust — he'd suffered a heart attack on TV. The show's director cut to a commercial, preventing the home audience from seeing Cooper's lifeless body pulled backstage. Cooper was rushed to a hospital, where he was pronounced dead at age 63.
Ken Steadman
Sliders was a cult hit about dimension hoppers that starred the unlikely combo of Jerry O'Connell from Stand by Me and Jonathan Rhys-Davies of Raiders of the Lost Ark. In September 1996, a 27-year-old actor named Ken Steadman landed a small guest-starring role on a third-season episode, another entry on a résumé that consisted largely of parts on oh-so-'90s television shows such as Baywatch and NYPD Blue. While portraying a tough guy named Cutter, Steadman was required to drive himself and another actor on a dune buggy across El Mirage Dry Lake outside San Bernardino, California. (The episode was set on a desert planet.) While the vehicle was equipped with seatbelts, neither Steadman nor the other actor (unidentified in press reports) had used them, which was very unfortunate when Steadman lost control of the dune buggy and it flipped over. While the other actor sustained little more than cuts and bruises, Steadman was seriously injured in the crash. He was airlifted by helicopter to the San Bernardino Medical Center, but his injuries were so severe that he was pronounced dead not long after arrival.
Martha Mansfield
You've probably never heard of early film actress Martha Mansfield. She never evolved into the huge star she could very well have become…because her bizarre, premature death doomed her to lists like this one. On Thanksgiving Day 1923, 23-year-old Mansfield filmed her last scenes for The Warrens of Virginia, a Civil War-set romance about a Union soldier who falls in love with a southern woman. (Wilfred Lytell played the soldier; Mansfield the southerner.) She celebrated the end of the shoot by hanging out in a car on the set with some friends and co-workers. One member of her party lit a match, and the flame immediately found its way to the flimsy fabric of Mansfield's costume. It instantly engulfed her in fire, but Lytell jumped into action, throwing his overcoat onto Mansfield, which put out the fire (and limited the burns) on her neck and face. The coat wasn't enough to put out the fire entirely. She was rushed to a nearby hospital, but the damage was done. Mansfield died from the result of severe burns over much of her body.
Tyrone Power
Tyrone Power enjoyed a meteoric rise to superstardom in the 1930s. His breakthrough role in Lloyd's of London came in 1936 when he was just 22 years old. Within the year, he'd laid his handprints in front of Grauman's Chinese Theatre, and by the end of the decade he was the second-biggest male draw in Hollywood with two of 1939's biggest hits: Jesse James and The Rains Came. In the 1940s and 1950s, Power established himself as an extremely versatile actor, skilled at everything from film noir (Nightmare Alley) to courtroom dramas (Witness for the Prosecution), but he was most often cast in swashbuckling adventure movies such as The Mask of Zorro, The Black Swan, and Blood and Sand. In 1958, Power won one of the title roles in the Bible-based romantic/adventure/epic Solomon and Sheba. The film shot in Spain, and on November 11, 1958, Power shot the eighth take of a complicated and physically demanding sword fighting scene with actor George Sanders. Then he took a pause — he'd started to shake, and he said he suddenly felt chilly and achy. Power died on the way to a Madrid hospital. The actor had suffered a fatal heart attack at age 44.
Vic Morrow
Vic Morrow was all over TV in the 1950s and '60s when Westerns and action shows dominated. He appeared on shows like The Rifleman, Bonanza, and from 1962 to 1967, starred on Combat! as Sgt. Chip Saunders. It's fitting, then, that a major figure from 1960s television would star in a film based on a TV show from that decade: 1983's The Twilight Zone: The Movie.
The film consisted of three chapters — two remakes of old Twilight Zone episodes and one original, "Time Out," written and directed by John Landis and starring Morrow. He played Bill Connor, a racist who rants about such feelings in a bar one night before stumbling into the night and facing a series of horrors. He's suddenly in Nazi Germany, where he's chased by SS officers who think he's a Jewish man, then he winds up in Jim Crow-era South, perceived as a Black man. Then his living nightmare becomes the Vietnam War, where he's a Viet Cong operative pursued by American troops. That sequence required Morrow's character to carry two children through a swamp during a helicopter bombing of their village. An accident on the set during the shoot killed child actors Renee Chen and Myca Dinh Lee, as well as Morrow; Landis and four other crew members stood trial for involuntary manslaughter, but were ultimately acquitted.
Brandon Lee
In the late '80s and early '90s, a long and fruitful career for Brandon Lee, the handsome, charismatic son of late movie star and martial arts legend Bruce Lee, seemed like a foregone conclusion. He'd already starred in a few action movies and a made-for-TV movie update of the '70s TV series Kung Fu when he landed the lead role in Alex Proyas' dark, violent, and gothic film adaptation of James O'Barr's cult comic series The Crow.
Lee played Draven, a deceased Detroit rock musician who comes back to life a year after his murder to avenge the death of himself and his girlfriend and to watch over his loved ones. In a horrifically sad turn of events in March 1993, 28-year-old Lee died when an otherwise routine gunfire scene went awry. In capturing the moment when Eric is shot to death by a drug dealer, actor Michael Masse fired a prop gun at Lee, which was supposed to shoot blanks. That firearm had been improperly loaded, however, with a dummy projectile lodged inside. When Masse fired, it sent the bullet out and it hit Lee in the abdomen. After six hours of unsuccessful surgery, Lee was declared dead. Filming on The Crow was shut down and resumed a month later with body doubles and special effects to approximate Lee's presence in his unfilmed scenes.
John Candy
As one of the most dominant and popular comic actors of the 1980s and early 1990s, John Candy compiled an impressive resume of terrific films in a movie resume that would only last about 15 years. Candy was a big part of why Stripes, Splash, Spaceballs, Uncle Buck, Planes, Trains & Automobiles, Home Alone, and Cool Runnings connected so strongly with audiences. In 1994, Candy headed to the Durango, Mexico, area to film Wagons East, a Western comedy in which he portrayed James Harlow, a wagon master tasked with transporting a group of miserable settlers away from the wild 1860s frontier and back to their cozy homes in the eastern U.S.
Wagons East would prove a box office bomb (a $4.4 million take) and critical failure (0 percent on Rotten Tomatoes), but far more tragic is that it was the last movie Candy would ever make. According to People, on March 4, 1994, Candy filmed his last scene for the movie; to celebrate, he cooked a late-night dinner for his assistants, then phoned his two young kids back home in Los Angeles to say goodnight. Then the actor headed to bed, and sometime during the night, he suffered a heart attack in his sleep, passing away at the age of 43.
Adolph Caesar
When Adolph Caesar landed his breakthrough film role in 1984's A Soldier's Story as the mean and conflicted Sgt. Waters, for which he earned Academy Award and Golden Globe nominations, he was over 50 years old and a legend of the New York theatrical world. He acted in more than 300 stage performances, often with the lauded Negro Ensemble Company, including A Soldier's Play, where he originated the role of Sgt. Waters and won several awards. Caesar did a lot of voiceover work, too, but after A Soldier's Story, he quickly landed major roles in many high-profile mid-'80s movies, including The Color Purple, Club Paradise, and Tough Guys, the latter of which was a gangster comedy starring Kirk Douglas and Burt Lancaster. Just two days into filming in downtown Los Angeles in March 1986, Caesar suffered a heart attack. Transported by paramedics to County-USC Medical Center, he was pronounced dead just moments after arrival. Caesar was 52.
Roy Kinnear
English performer Roy Kinnear is the very definition of a character actor. A reliable and constant comic, dramatic, and voice performer, Kinnear appeared in more than 160 projects in a career that spanned more than 30 years. He's probably best known for his role as Mr. Salt, doting and beleaguered father of bratty Veruca Salt, in 1971's Willy Wonka & the Chocolate Factory, and as flunkey Planchet in the 1973 blockbuster adaptation of The Three Musketeers. Kinnear reprised the role more than 15 years later for The Return of the Musketeers, and it was on the set of that movie where he endured a startling injury that would lead to the end of his life. While shooting on location in Toledo, Spain, in September 1988, the 54-year-old actor fell off a horse. Transported to Ruber International Hospital in Madrid, Kinnear was treated for a broken pelvis, and he was still under doctors' care when he suffered a fatal heart attack the following day. Filmmakers had almost completed principal photography at the time of the accident, and The Return of the Musketeers hit movie theaters in 1989, bearing a dedication to Kinnear.