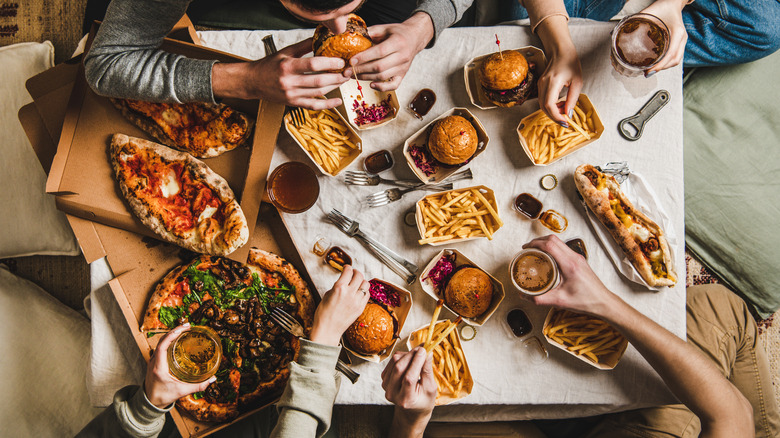 For better or worse, the United States is the undisputed global capital of fast food, according to Basic Planet. And while there are countless homegrown franchises that keep us well fed, a number of international chains are making their mark in the US of A and we're all in favor of the expanded field.
Why? For one, many of these chains offer a taste of something fresh. Whether they're bringing over the flavors of Asia, Africa, or Central America, it's practically always beneficial to expand our culinary horizons even in the fast food realm. And while some of these exports are simply reintroducing familiar food favorites, that's cool too. America may know a thing or two about fried chicken, but countries like Taiwan and the Philippines also happen to have a couple of poultry tricks up their sleeves that you may not want to miss.
Of course, we have to admit that not all fast food chains, including those with a non-U.S. influence, are made equally. Some are utterly delectable, while others could use quite a bit of work. So, which ones should you pick the next time you have a fast food craving? Below you'll find a list of foreign fast food chains trafficking in everything from wings to woks that have set up shop stateside, ranked worst to first.
13. Manchu Wok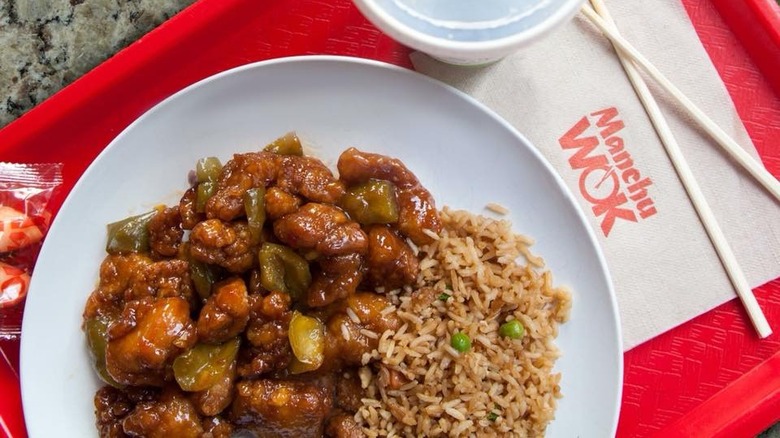 Oh, Canada! Listen, we truly appreciate all the wonderful maple syrup, hockey bruisers, and side-splitting comedians that have crossed our border. But why oh why did you need to send over Manchu Wok?
If you're not familiar with the insipid Chinese food chain, it's basically Panda Express on steroids, though far more Jose Canseco getting knocked out by a Barstool Sports intern (via Sporting News) than swatting home runs during his Bash Brother days. While the chain certainly has a varied menu, bigger doesn't mean better and the sprawling steam table selection is bound to disappoint no matter what you pick. As Yelp user Faye A. writes, "This place was awful. Maybe the only reason why my husband and I ate our food [here] was because we were tired and hungry." Shareen S. in her one-star review notes, "Staff are great but the food here is really terrible."
All told, Manchu Wok's food is clearly turned around for a quick profit and with little consideration for texture and taste. There are so many other Chinese options in the U.S. that also happen to offer pretty good menu items, including the aforementioned Panda Express and its menu. You'd be better off heading there than Manchu Wok, we're sorry to report.
12. Yoshinoya
It's not that Yoshinoya is a terrible fast food option. But when a chain has been around for over a century (it was founded in Tokyo all the way back in 1899) we just expect more. Rice bowls are the name of the game here and the menu's star item, the Original Beef, sadly doesn't shine all that bright. Thinly sliced, it's simmered in an herb miso soy broth that should impart great flavor and texture — yet the meat never quite gets fully tender and gristle always seems to get in the way. Moreover, the flavor fails to pack a punch, though at least the Grilled BBQ Beef tossed in a sweet and spicy Asian BBQ sauce is more successful on that front.
The teriyaki chicken is decent enough, but the sad side of veggies seems like a throwaway garnish instead of a healthful boost. Less successful is the Habanero Chicken which fails to bring the heat (a real sin when it's got "habanero" right there in the name), as well as the overly bready and overly sweet Orange Chicken. As for the seafood items (which include Sweet Chili Shrimp and Grilled Tilapia), avoid those fishy disasters at all costs.
11. Jollibee
If this Filipino fast food sensation isn't currently in your neighborhood, it's only a matter of time before Jollibee's loveable bee mascot appears somewhere close to you. Jollibee is going all-in on locations in the United States and if you know what to order, you'll be in for a treat. But, it's key that you really do understand what Jollibee does well, and what the chain still needs to workshop.
Fried chicken, known here as Chickenjoy, is the chain's claim to fame and that should be the focus of your order. However, be warned that dedicated fans of other fried chicken joints like Popeyes, KFC, or Bojangles won't be wowed. The rest of the savory menu, meanwhile, is pretty skippable. Jollibee's burgers are rather blah, its spaghetti is strangely sweet, and the palabok fiesta (consisting of soggy noodles topped with gloppy sauce) is far from a party in your mouth.
But you can still skip ahead to the desserts, where skies are brighter. You'll be pleased with a peach mango pie that's similar to the McDonald's hot apple pie and a satisfying version of the traditional Filipino halo-halo, which packs a whole lot of ingredients into and on top of shaved ice.
10. El Pollo Loco
We're big fans of the name of this Mexican chicken specialist, but unfortunately, we're not too crazy about the actual food served here. But before we get into the menu, here's a little bit of history. El Pollo Loco launched in 1975 with an outlet in Sinaloa, Mexico. Five years later, it made its U.S. debut, opening in Los Angeles. The chain is now operated separately on each side of the border but the menus are virtually identical.
While we love the idea of fire-grilled, citrus-marinated chicken that is cut to order, the results tend to be dry and the skin is not quite crispy enough. You're better off going the boneless route with the chicken chopped and served in a taco, burrito, or quesadilla, where it's boosted by other ingredients like cheese and salsa. We also wish the sides, which included your standard beans, rice, mashed potatoes, and mac and cheese, were more, well, loco. Currently, they're the culinary equivalent of some poor schmuck working a boring 9 to 5 desk job.
The chain's biggest asset is definitely its salsa bar. The selections, which range from mild house salsa to some seriously fiery salsa roja, are all prepared fresh and pack plenty of flavors into the mix, so you can at least boost some of the more mellow flavors of the main menu items.
9. Pret a Manger
If you've spent any time in London, you're bound to be familiar with this hybrid coffee shop and sandwich slinger. While the chain may be a staple across the pond (as well as in New York, where it's a lunchtime cult favorite), Pret a Manger has had difficulty establishing a foothold across the United States.
The unfamiliarity of the food may have something to do with it, given that American audiences aren't exactly ready to go for some of the more thoroughly European-style foods on the menu.
But if you're a fan of the relatively eclectic prepared food offerings of Trader Joe's, then this may be the spot for you. The globally inspired menu covers everything from a Shakshuka Frittata with a saucy blend of Rao's marinara and spicy chipotle to a Pesto Baguette and Turmeric Chicken & Farro soup. If you're craving something more familiar, stick with Pret's famed ham and cheese baguette — surely, that's familiar enough to get even the pickiest Americans interested. The swine is applewood smoked, the bread is freshly baked, and the slathering of whole-grain mustard in many sandwiches adds a welcome final kick. If you're not looking for something utterly familiar, like a peanut butter and jelly sandwich, then you may well want to check out a Pret a Manger when you're in the neighborhood.
8. Tim Hortons
Let's face it: there's always room for improvement in our nation's coffee and donuts game. So, we're a-okay with Tim Hortons making the journey from Canada to help the cause. While you'll be served far better brews at your local third-wave roaster, for the price difference, a cup of joe here is tough to beat when it comes to fast food coffee. The drinks go well beyond the java basics with a wide assortment of flavored lattes, foamy cold brews, and frozen drinks, which will be familiar to fans of the Starbucks Frappuccino.
As for the eats, Tim Hortons' humdrum breakfast sandwiches, bagels, and wraps are an easy pass. Donuts should be the only food item on your radar. If you're a Dunkin' regular, the Timbits are a worthy Munchkin substitution. As for the full-sized donuts, focus on the classics, where options like the Apple Fritter and Honey Dip hit the sweet spot.
7. TKK Fried Chicken
The fast food fried chicken competition is fierce in the U.S. and TKK, which hails from Taiwan, is up there with the best of them. The batter is thick and crunchy. The chicken is juicy. What more can you want? The chicken comes in three flavors: original, crispy mild, and crispy spicy, the last of which is comparable to the heat of Popeyes' fried chicken. Other main dishes include wings, tenders, and, of course, the now-ubiquitous crispy chicken sandwich.
While the fried chicken selection sticks with the tried and true standards, which may be a bit boring for some, the sides offer a refreshing change of pace. The East meets West offerings cover everything from blistered shishito peppers to squeaky fried cheese curds straight outta Wisconsin. And don't sleep on the kwa kwa bao, a glorious spin on a dim sum staple. The fried packages of sticky rice, shiitake mushrooms, and pork are made in limited batches so make sure to arrive early and snag the dim sum favorite.
6. Le Pain Quotidien
If you want your fast food with some fancy European fare, say "oui" to Le Pain Quotidien. Fans of the place praise its pastries, many of which carry a reportedly authentic European chocolate flavor, as well as a relatively light breakfast and lunch menu that leaves you feeling full without being utterly weighed down.
While you'll be inclined to indulge your sweet tooth, the savory items are also pretty impressive. For some of the heartiest fare, you could go with the decadent croque monsieur and fluffy quiche Lorraine, both of which offer plenty of egg and cheese for hungry diners. And considering the chain's country of origin, the Warm Grain Bowl with Sweet Potatoes and Brussels Sprouts is an obvious order.
That said, Le Pain Quotidien is a bit pricier than its peers, which may make your wallet wince a bit. But, for many of its fans, this foreign fast food chain is worth the extra euros.
5. KyoChon
Wings are hot right now, so much so that sky-high demand is causing a global shortage of the requisite chicken parts, according to Entrepreneur. And while chains like Wingstop are soaring in popularity, South Korea's KyoChon is still flying under the radar stateside. But you may want to give it a second look.
It all starts with the quality. The chicken is always fresh, there's no MSG, the seasonings are all-natural, and the canola oil is trans-fat-free. But it's the South Korean double fry that makes all the difference. Crisping up the wing not once but twice ensures a crackling exterior and perfectly cooked meat. Then there are the finger-licking good sauces which range from sweet honey to red hot. Smack dab in the middle is the addictive soy garlic — the pro move here is to mix it with the red for just the right amount of savory heat.
KyoChon currently has locations in Los Angeles and Buena Park just outside Disneyland. So, if you're in the area make sure to brush up on your wing-eating technique and indulge.
4. Beard Papa's
For just over two decades, Beard Papa's has been serving up what are quite possibly the best cream puffs in the fast food world. Named after owner Yuji Hirota and his Santa-esque fluffy white beard, the Japanese import now has 400 locations in 15 countries and territories. And its culinary reputation is all about double layering those pastries, with soft choux claiming the interior and a crispier pie crust holding things down on the exterior.
According to The Washington Post, the shop bakes its pastry fresh each morning, as well as its three custard fillings (which include the classic chocolate and vanilla, accompanied by a rotating flavor of the week). For added indulgence, there's also the option to treat your cream puff as if it were an eclair and adorn it with various tasty toppings including a green tea glaze, Oreo cookie crumble, and a decadent marshmallow-based s'mores version.
3. Paris Baguette
Though it's actually a South Korean chain, the fresh-baked goodies at Paris Baguette rival the offerings from an authentic French boulangerie. The namesake loaf is delightfully crusty with a sufficiently fluffy interior. Other Western standards like the pan au chocolate and coffee danish are also well-executed. It's the more innovative items like the Ham & Brie Everything Pastry and Hash Brown Bread that take things to another level.
Not surprisingly, there are also plenty of Asian flavors thrown into the mix, from the matcha cream croissant to the ham and cheese sandwich served on pillowy milk bread. There is even a wide assortment of fancy cakes including a stunning rainbow cake and decadent Chocoholic Chiffon that are suitable to serve a fancy occasion (and for a fraction of the price of what they would cost at similar bakeries).
The only problem for American diners is accessibility. There are currently over 4000 Paris Baguette worldwide, but just a fraction of those are in the United States. The good news is that America is trying to play catch up with locations popping up coast to coast, as the chain plans to open over 1000 units stateside in the coming years. We say keep 'em coming.
2. Pollo Campero
This 50-year-old Guatemalan hit continues to spread its wings and we're thankful for it. According to the Houston Chronicle, there are now nearly 400 Pollo Campero locations across the Americas. Over the last two decades, more than 70 outlets have landed in the United States.
The chain's namesake is its sole protein option and the boldly spiced bird is available citrus grilled or fried. While bone-in is Pollo Campero's most popular choice, the recently introduced Camperitos (boneless wings) may be your best bet. These crispy little nuggets are the perfect size for dipping in the wide array of sauces on offer including the Signature Campero (a ketchup and mayo mixture) and the cool Avocado Ranch.
Sides cover the familiar (including coleslaw, French fries, and mashed potatoes) but you're here for some Latin American flavor so yucca fries, or the fried plantains and spicy Campero beans mixed with chorizo, poblanos, onion, and tomato are the way to go. Wash it all down with a freshly prepared mango agua fresca or horchata, a refreshing cinnamon-spiked rice-based beverage.
1. Nando's PERi PERi
There's grilled chicken. And then there's peri-peri (also known as piri-piri) chicken. Bathed in a scorching marinade, the African and Portuguese-influenced fast-casual chain is gaining heat stateside and Nando's PERi-PERi is helping to lead the charge.
Since igniting the flame over three decades ago in Johannesburg, South Africa, Nando's flock has grown to 1200 locations in 30 countries. The chain is catching fire across the United States, too, earning accolades for its bold flavors (hello African Bird's Eye chili!) and commitment to quality. The chicken, which is locally sourced and always fresh, is marinated for 24 hours before being grilled to order. The results are spectacular.
The sides are superb too, especially the house-made turmeric-spiced Portuguese rice that's flecked with peppers, as well as the Macho Peas which are given a "rugged mash" along with a mix of parsley, mint, garlic, and chili. If there isn't a Nando's located near you, don't worry. There's always the option of buying some bottles of the chain's famed sauces and firing up the grill at home.