There are plenty of ways to cook broccoli, and it's great because of all of the health benefits that come with it. According to Healthline, broccoli is packed with several vitamins and minerals, and it also has its fair share of fiber. It's also packed with antioxidants, which help to reduce inflammation. In general, antioxidants also just provide great benefits to your health.
Recipe developer Melissa Olivieri came up with this sample and tasty keto broccoli that she roasted in the oven. This side dish contains a little bit of garlic salt and a dash of red pepper, and its flavors are incredible. Olivieri shares that she loves the taste of this dish. "The thing I love the most about this recipe is the incredible depth of flavor from roasting the broccoli vs. steaming, etc.," Oliviero raves. "The addition of the spices I've chosen really complement the broccoli, giving it a subtle heat, and the garlic powder is a must for any vegetable (in my opinion)!"
Keep reading to find out how to make this tasty keto roasted broccoli, which is sure to become a staple in your side dish rotation.
Gather the ingredients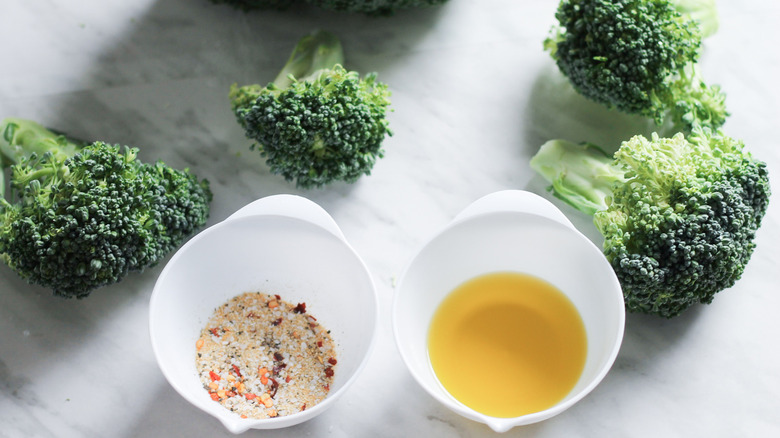 For starters, you will need a large head of broccoli. The broccoli is the main ingredient in this recipe, and it provides you with your daily serving of veggies. In addition, you will need a few things ingredients to add some flavor. These ingredients include kosher salt and ground pepper, to begin with. You also want to add chili flakes and garlic powder to your shopping list.
The last item on your list should be extra virgin olive oil, which is great for roasting just about any vegetable. If you cook frequently, then it's likely already in your pantry.
Preheat the oven and prep the pan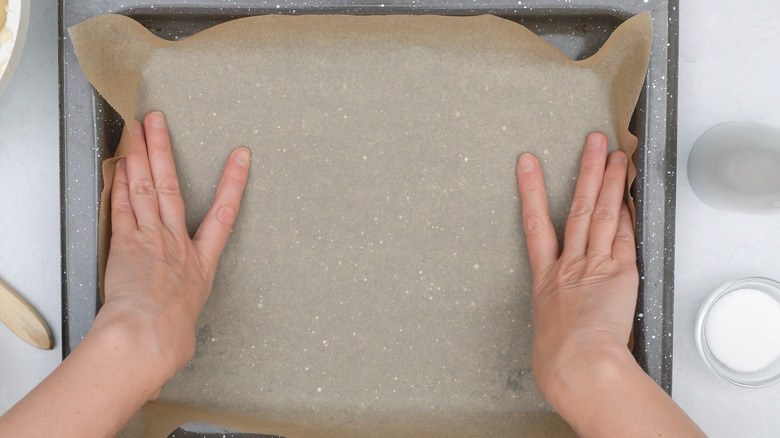 Before you do anything else, be sure to turn your oven to 375 F. Preheating the range is vital so that by the time you're ready to throw your broccoli in, it will be the perfect temp.
Once you preheat the oven, take out a single baking sheet and line it with parchment paper. This will prevent the broccoli from sticking to the bottom of the pan, and it will also make clean-up super simple. "Parchment is not a requirement but definitely makes cleanup easier," Olivieri says. "No additional oil or cooking spray is needed if [you] don't have the parchment, as the oil from the recipe is enough."
Wash and cut the broccoli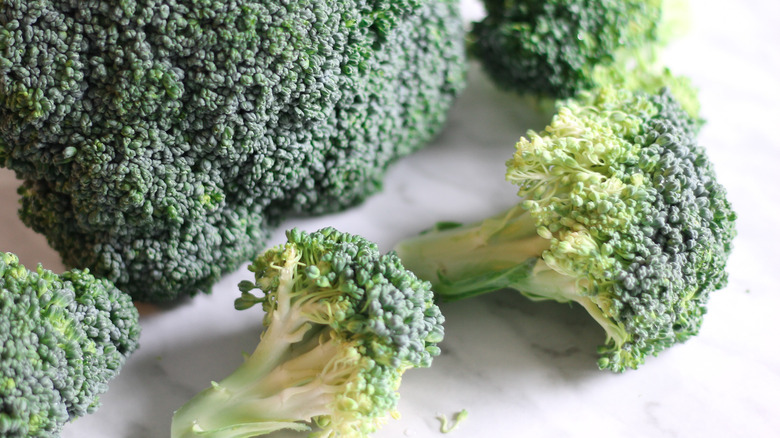 Take out the broccoli and run it under the sink to wash it. You can just wash it by hand, or you can use a colander to rinse it. Then, cut the broccoli into large spears, and be sure to leave some of the stems on.
Once you have cut the broccoli, take out a small bowl to add all of your spices. Throw in the kosher salt, ground pepper, chili flakes, and then the garlic powder. Give the herbs a few stirs to mix everything together. Once you mix the spices, you can continue to the next step.
Toss the broccoli with olive oil and herbs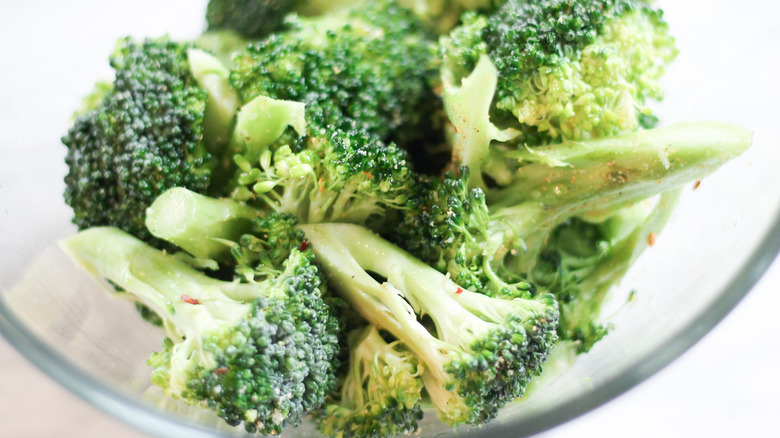 Take out another bowl and add in the broccoli. Then, drizzle the extra virgin olive oil over the top of the veggies. After that, you can sprinkle the spice mixture on top. The olive oil provides a nice wet coating for the spices will stick to, and it will also help the broccoli roast when it goes in the oven.
Using a wooden spoon, stir the broccoli to coat all pieces and distribute the spices. Once it seems like each piece of broccoli is covered with a generous coating of olive oil and spices, you can continue on.
Spread the broccoli on a pan and roast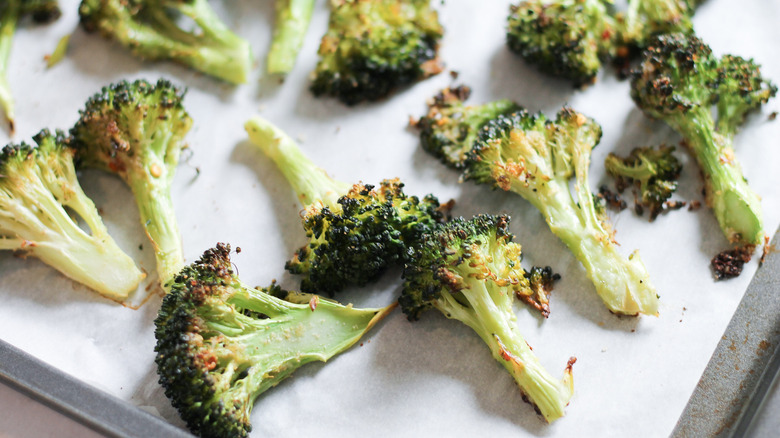 Once you finish mixing, you're one step closer to cooking the broccoli. Grab your prepared baking sheet and spread the broccoli out in an even layer. Make sure that none of the pieces overlap. Then, place the tray in the oven and then set your timer for 25 minutes. Let the broccoli bake, and when you can pierce a stem with a fork, that's a good indicator that your broccoli is done.
"I love serving roasted broccoli with grilled chicken, and it also goes amazingly with a maple glazed salmon filet (yum!)," Olivieri says. "And if you prefer no meat/fish, then add this roasted broccoli to a power bowl for a kick to the usual steamed veggies."
1 large head broccoli
¼ teaspoon kosher salt
½ teaspoon ground pepper
½ teaspoon chili flakes
1 teaspoon garlic powder
2 tablespoons extra virgin olive oil
Preheat oven to 375 F and line a baking sheet with parchment paper.
Wash the broccoli and then cut it into large spears, leaving some of the stems on.
In a small bowl, mix together kosher salt, ground pepper, chili flakes, and garlic powder.
Toss broccoli with 2 tablespoons olive oil and spice mixture. Use a wooden spoon to coat all pieces.
Spread out in an even layer on a prepared baking sheet and bake for 25 minutes until you can pierce a fork through the stem.
Serve and enjoy.