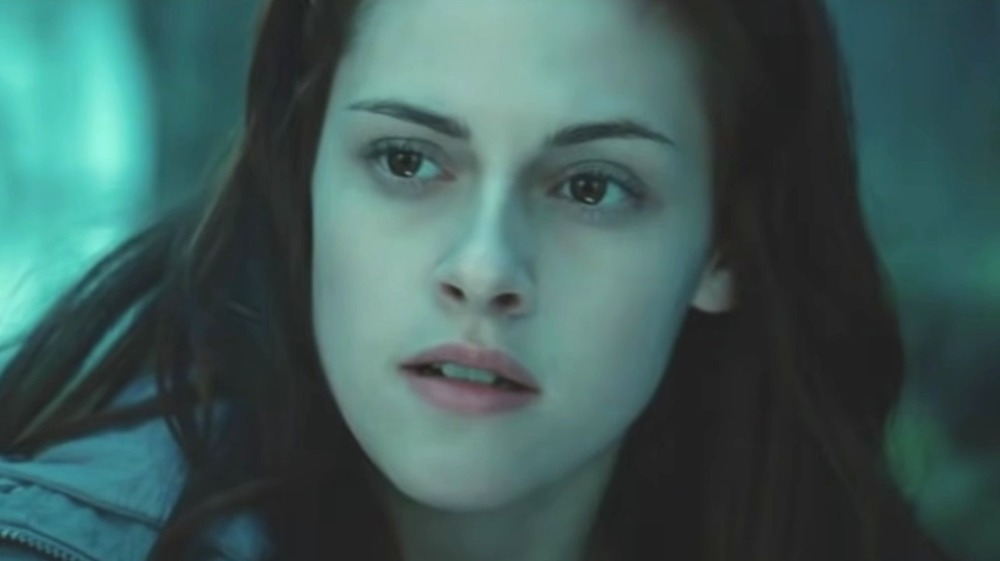 After being introduced to sparkly vampires in the first Twilight movie in 2008, the world was never the same. From the moment the film premiered, it was an unexpected success that launched a multi-million dollar movie franchise. Fans loved it and critics hated it, making it one of the most talked about movies of the year. Based on the book of the same name by Stephenie Meyer, Twilight may be over a decade old now, but the movie that introduced us to the love story of Bella Swan and Edward Cullen still holds a soft spot in many hearts.
Though the story may feel timeless to some, the actors who starred in the movie know that time keeps marching on with all of its inevitable changes just the same. The world has changed a lot since 2008, and the cast of Twilight has changed a lot over the years, too. Here's what your favorite humans, vampires, and Quileute shifters have been up to since the movie's nearly $70 million opening (via Box Office Mojo). Hold on tight, spider monkey, because the cast of Twilight has changed a lot over the years.
Kristen Stewart has been working hard since Twilight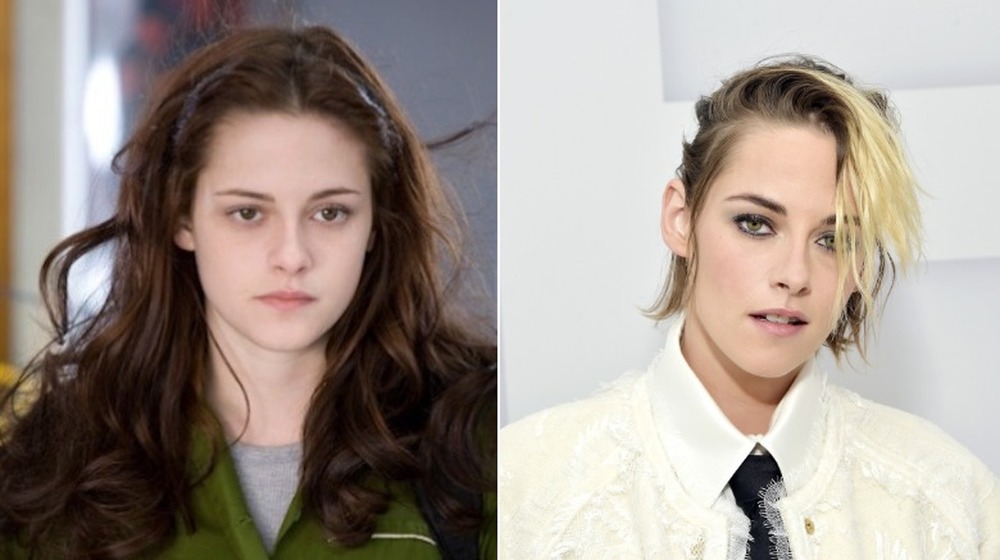 Twilight wasn't Kristen Stewart's first movie — not by a long shot — but her portrayal of awkward and clumsy new girl Bella Swan no doubt helped launch her career into the stratosphere. Even as the Twilight Saga continued for four more movies after Twilight, Stewart balanced her portrayal of Bella with movie appearances as Em Lewin in Adventureland, Joan Jett in The Runaways, and Snow White in Snow White and the Huntsman. Despite personal drama that filled the tabloids and threatened her career, she continued to find roles.
In recent years, Stewart has only expanded her range by taking on psychological thrillers like Personal Shopper, becoming one of Charlie's Angels in the 2019 remake of the same name, and leading the 2020 holiday romantic comedy Happiest Season. After she was cast as Princess Diana in the film Spencer, Stewart dedicated herself to research. She told Clea DuVall in a 2020 interview for InStyle, "It's one of the saddest stories to exist ever, and I don't want to just play Diana — I want to know her implicitly."
Robert Pattinson is now The Batman instead of Twilight's leading vampire
Harry Potter fans may have first known Robert Pattinson as Cedric Diggory in 2005's Harry Potter and the Goblet of Fire, but it was Pattinson's portrayal of vampire Edward Cullen in Twilight that made him a household name. Since hanging up his Twilight fangs, Pattinson made a surprising turn to arthouse and experimental films, showing that his acting ability and range are far greater than Edward Cullen let on. As The Guardian put it, Pattinson's roles in films like The Rover (2014), The Lost City of Z (2016), and The Lighthouse (2019), allowed an opportunity for "elevating his reputation" in a shift they called an "elegant reshaping of his own stardom."
Pattinson is also very committed to his roles, telling The Guardian that while filming The Lighthouse, in which he plays one of two lighthouse keepers slowly going mad, "I like doing whatever I can to not know what's going on. To be completely overwhelmed and disorientated. To feel like it's actually happening." This commitment is one reason (in addition to that striking jawline) some consider him the perfect casting choice for Batman, a role he was cast in for 2022's The Batman.
Taylor Lautner set boundaries after Twilight
Taylor Lautner's portrayal of Jacob Black in Twilight made him an instant teen heartthrob, despite revealing to Vanity Fair in 2008 that he was the youngest person on set. He noted it was surprising to have so many dedicated fans. "Just coming out onstage [at Comic-Con] and hearing everyone scream and seeing how many people were in that auditorium was crazy," he said. Though it wasn't until 2009's The Twilight Saga: New Moon that a shirtless Lautner started driving young girls wild, his abs became his calling card of sorts, but not always in a good way.
The Salt Lake Tribune called Lautner's 2011 movie Abduction exploitative, while follow-up movies Tracers (2014) and The Ridiculous 6 (2015) both flopped. After that, Lautner put his foot down about what Metro called his "penchant for displaying [his] abs." Lautner told the publication in 2016, "I find myself rebelling against it now. [If it] doesn't make sense for me to be shirtless, let's not do it." Unfortunately, setting those boundaries may have cost him some films. He tried his hand at comedy with the Netflix series Cuckoo from 2014 to 2018 and Ryan Murphy's Scream Queens in 2016, but he seems to have largely stepped away from Hollywood.
Elizabeth Reaser pivoted back to television after Twilight
Grey's Anatomy fans no doubt recognized Elizabeth Reaser, who played Edward's vampire "foster mother" Esme Cullen in Twilight, as one of the most memorable guest stars ever on the long-running medical drama. Indeed, Reaser had been guest starring in television long before (and even during) the Twilight films. After the final Twilight installment, Reaser found herself in other movie roles, playing Doctor Edwards in the 2015 Sally Field flick Hello, My Name is Doris, as well as joining horror movies Ouija: Origin of Evil (2016) and Nightmare Cinema (2018).
But Reaser's bread and butter is television, especially the miniseries format. From playing PJ Lane in Bonnie & Clyde to her role as Pam Bozanich for Law & Order True Crime: The Menendez Murders, Reaser brings characters to life. More recently, ten years after the first Twilight film, Reaser took on the role of mortician Shirley Crain in the Netflix smash hit The Haunting of Hill House (via Bustle). The role of a mortician in a dysfunctional family seems somehow fitting for someone who is so well known as the matriarch of the undead. Here's hoping we get more of Reaser's range in the near future.
Ashley Greene has had mixed success since Twilight
Often ranked as the favorite Cullen vampire, Ashley Greene's portrayal of the precognitive vampire Alice Cullen stole hearts. But despite that fan love, Greene's work since Twilight hasn't been the undeniable success many might have predicted. While Greene has certainly been in some audience and critic favorites like 2018's Antiquities and Accident Man and 2019's Bombshell, she's also been in a series of major flops. She's certainly been working hard across genres, taking roles in horror (2012's The Apparition), drama (2013's CBGB), and comedy (2014's Burying the Ex and 2015's Staten Island Summer), but critics haven't been fans of most of the films she's taken on. That may be part of the reason that Greene has recently started taking on TV movies, specifically Hallmark holiday movies.
She told KTLA 5 that she always wanted to star in a Christmas movie, and she got her wish by starring in 2019's Christmas on My Mind and 2020's The Charm Bracelet, though it seems she'll soon be heading back to the big screen. Greene is set to star in Aftermath and The Immaculate Room, both currently in the works as of this writing.
Peter Facinelli was a TV star after Twilight but is making his way back to film
Peter Facinelli's portrayal of the charming and honorable Dr. Carlisle Cullen was far from his first movie role. That first movie was 1995's Angela in which he played Lucifer in makeup not too unlike the white makeup he'd wear more than a decade later as Dr. Cullen, but it was Twilight that introduced Facinelli to a new generation of fans. Despite years of movie roles, after Twilight Facinelli was very in-demand by television execs.
Beginning in 2009, he played Dr. Fitch Cooper on Nurse Jackie, a role that he held until the series ended in 2015, all while continuing to play Dr. Carlisle Cullen in the rest of The Twilight Saga. His television roles continued in everything from Glee to American Odyssey and S.W.A.T. to a villainous turn as Maxwell Lord on Supergirl, but Facinelli doesn't just act. Not only did he co-create a graphic novel and co-write the novel After the Red Rain, he both wrote and directed 2020's The Vanished, in which he played Deputy Rakes. These days, Facinelli is making a return to starring in films, with several in various stages of production in 2021.
Twilight's Nikki Reed started her own business
While many of the Twilight vampire stars look different in real life than their on-screen counterparts, perhaps none is more different than Nikki Reed, who played Edward's "foster sister," the quick-tempered Rosalie Hale. While her drastically different appearance in real life is one reason you may think you haven't seen much of her since Twilight, she also just hasn't been doing as much on screen, though fans may remember her as Betsy Ross on the TV series Sleepy Hollow in 2015 and 2016 or for her short arc on V-Wars alongside her husband Ian Somerhalder in 2019.
Instead of focusing on acting these days, Reed is busy living green and inspiring others to do the same. In 2017, the same year she gave birth to her daughter, Reed started the lifestyle brand BaYou with Love (via C Magazine), which focuses on sustainable fashion, accessories, home, and beauty products, and she partnered with UpWest in 2020 to design two Earth Day t-shirts with the proceeds benefiting her husband's foundation (via People).
Twilight star Kellan Lutz has focused on the journey, not the destination
While he'd enjoyed both movie and television roles before Twilight, and has enjoyed many since, Kellan Lutz is arguably best known for his portrayal of the physically intimidating but playful vampire Emmett Cullen. Lutz portrayed the large-statured Emmett for all five of the Twilight films and went on to hold other roles fit for a man of his size, including playing the titular character in 2014's The Legend of Hercules and then alongside the likes of Sylvester Stallone, Arnold Schwarzenegger, and Jason Statham in The Expendables 3 the same year. But Lutz isn't limited to just action roles, despite currently playing Special Agent Kenny Crosby on FBI: Most Wanted.
Lutz told Canada's In the Seats, "Don't get me wrong, I love doing the hero/action guy type of parts … Just something better rounded and ultimately relatable is what I am keeping my eyes open for these days." That said, Lutz wishes we'd seen more of Emmett during Twilight and wouldn't say no to reprising the role. He told Showbiz Junkies in 2018, "I would of course love to have more Emmett, do another movie, do a more origin story of how he came to be." Still, Lutz told Showbiz Junkies that it's less about the destination for him, calling himself more of a "journey person."
Jackson Rathbone is focusing on passion projects
Like his Twilight co-star Nikki Reed, Jackson Rathbone looks a bit different these days than he did as newly "vegetarian" vampire Jasper Hale, but perhaps that's because in real life he doesn't "look like he's in pain." Following Twilight's success, Rathbone began starring in mostly little-known movies like 2009's thriller Hurt, 2013's Live at the Foxes Den, and the 2016 horror City of Dead Men, but much of Rathbone's recent work is more personal.
In a 2018 interview with Us Weekly to discuss his film Heart, Baby, Rathbone also talked about several of his other films including filming the 2020 movie Dreaming Grand Avenue, and revealed his own mental health struggles in the past. "I've definitely been some of the lowest lows," he said, adding, "I really try, nowadays, to be open and honest about it … it's hard to talk about when you're in it."
Like his on-screen foster father Peter Facinelli, Rathbone is also a musician and released his first single in 2016, followed by his debut album in 2018 called American Spirit Blues (via Billboard), proving he can balance acting and creating music all while raising a family with his wife, Sheila Hafsadi (they welcomed their third child in 2020, as People reported).
Anna Kendrick starred in Pitch Perfect after her Twilight days
It was arguably her role as Bella's high-strung human friend Jessica Stanley in Twilight that propelled then little-known actress Anna Kendrick to the household name she is today. After her appearance in Twilight, Kendrick was cast as Stacey Pilgrim in 2010's Scott Pilgrim vs. the World, as seen on her IMDb page. She followed that up with her well-known role as Beca in Pitch Perfect in 2012. While her part in The Twilight Saga was small compared to her role in the Pitch Perfect franchise, there's no denying that her portrayal of Bella's somewhat-forced bestie was a great springboard for her success.
In addition to Pitch Perfect, Kendrick starred as Cinderella in the 2014 film adaptation of Into the Woods, starred alongside Ben Affleck in the 2016 crime drama The Accountant, voiced Poppy in the Trolls franchise, and warmed hearts as Noelle in the Disney movie of the same name in 2019, to name just a few of her roles. To say Kendrick has become a star would be an understatement, and to think it all started in the tiny town of Forks.
Billy Burke went from unlikely Twilight favorite to TV star
Though Billy Burke has been acting in television and films for more than two decades, his beloved portrayal of Bella's dad, Charlie Swan, in Twilight breathed new life into his career. It may seem like our favorite small town chief of police has disappeared since his Twilight days, but it's probably just that you don't recognize Burke without his Charlie Swan mustache.
Since the final movie in The Twilight Saga, Burke has spent most of his time on television, starring as Miles Matheson in Revolution from 2012 to 2014 and as veterinary pathologist Dr. Mitch Morgan in Zoo from 2015 to 2017. Along the way, he also had a recurring role as a pretty despicable villain in the TV series Major Crimes from 2015 to 2018 and was cast as Hank in the 2021 Netflix miniseries Maid, as reported by Deadline. But television isn't Burke's only love. Papa Swan is also an indie musician! He released his first album, Removed, in 2010, followed by The Underkill in 2018.
Cam Gigandet has found many of his projects to be short-lived after Twilight
As any Twilight fan can tell you, not all of the vampires who made their way to Forks, Washington are as civilized as the Cullens. The tracker vampire James, played by Cam Gigandet, may not have made it past the first movie once he set his sights on Bella (crucial mistake), but Gigandet successfully moved on to other films. His experience playing a vampire likely paid off as he added roles in horror movies The Unborn (2009) and Tenement (2010) along with smaller roles in some mostly unsuccessful films.
In 2014, Gigandet, who had short stints on The Young and the Restless and The O.C., as noted by Men's Health, moved back to television as Roy Rader in the short-lived Reckless, followed by two seasons portraying diamond dealer Jake Green on Ice from 2016 to 2018. Gigandet also scored a role in The Magnificent Seven as the right-hand man to Peter Sarsgaard's corrupt Bartholomew Bogue, but the film was met with mixed reviews. While Gigandet was set to appear alongside his Twilight co-star Peter Facinelli in The Dragon's Egg, the film has been listed as in pre-production since 2017 and seems to have been shelved, at least for the time being.
Edi Gathegi is making a name for himself outside of Twilight
Edi Gathegi was certainly memorable as the vampire Laurent, whose loyalties were more than a little murky in Twilight. Like many of his Twilight co-stars, portraying a vampire wasn't Gathegi's first role, and it certainly wasn't his last. In 2011, he played the adaptive mutant Darwin in X-Men: First Class, followed by a whole host of television roles from 2013 to 2020, including an arc as Jean Baptiste on Justified (via Deadline), the villain Matias Solomon on The Blacklist (and its spinoff The Blacklist: Redemption), and, most recently, A.D. Singe on the mystery-thriller Briarpatch, starring alongside Rosario Dawson.
But, despite his television success, Gathegi isn't giving up on film roles. He starred alongside Martin Sheen in the indie film Princess of the Row as Bo Willis, a man who suffered a brain injury while serving in Iraq. The film won numerous film festival awards when it premiered in 2019, including three best actor awards for Gathegi. With the movies Caged and The Harder They Fall slated for release in 2021 (via Deadline), we're glad to see Gathegi back on the big screen.
Rachelle Lefevre's career survived after being replaced in the Twilight franchise
The final scene in the first Twilight film went to Rachelle Lefevre as Victoria, the vampire lover of James who thirsts for vengeance after James is killed. The scene is a teaser for the complications yet to come for Bella and the Cullens and sets Lefevre up as a major player in the cast. While Lefevre did reprise her role as Victoria in The Twilight Saga: New Moon, she was replaced by Bryce Dallas Howard once Eclipse came along. While Lefevre told Entertainment Weekly that she was "stunned" by Summit Entertainment's decision to let her go from the franchise due to a scheduling conflict, Summit's own statement to Entertainment Weekly paints a different picture.
Still, Lefevre recovered from her apparent Hollywood faux pas, starring in the short-lived series Off the Map, followed by parts in 2013 movies White House Down and Homefront. She followed this up with a pivot to mostly television, as she played Julia Shumway in Under the Dome from 2013 to 2015 followed by roles in Mary Kills People in 2018, Proven Innocent in 2019, and The Sounds in 2020.