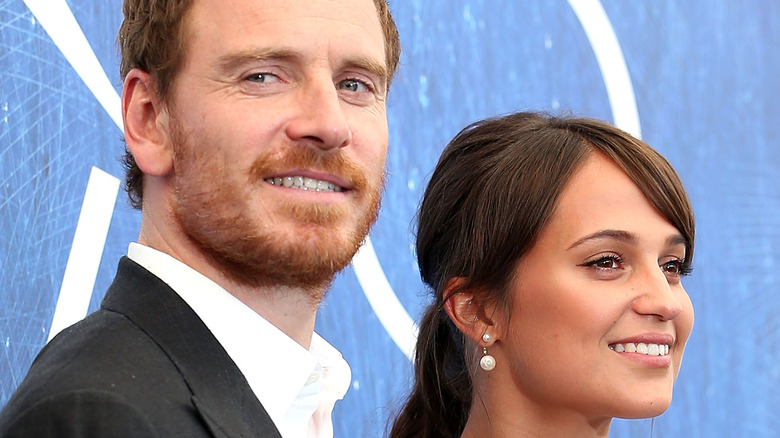 Michael Fassbender and Alicia Vikander caused a stir in August 2021 when they were spotted with a baby in Paris while Vikander was shooting her new HBO series "Irma Vep." After photos of the typically private couple were published by the Daily Mail, fans began to speculate that they had become parents, although neither of them has confirmed anything at the time of writing.
If the two stars really did welcome a baby in secret, it wouldn't be the first time that Vikander and Fassbender, who began dating in 2014, kept a milestone hidden from the public. The pair are both critically acclaimed actors who prefer to keep the focus on their work and have been career-driven since a young age. As Fassbender told GQ, the Irish-German star decided that he wanted to act when he was just 17 years old and worked different jobs while he tried to achieve that dream, including bartending and conducting market research.
Vikander, on the other hand, developed her focus while training as a ballerina. "I've often thought to myself, If I were to have a kid, would I put them in ballet school?" she mused in an interview with Elle, recalling her early life in a Stockholm ballet academy. "I do really treasure a lot of my work ethic and things that I got from that education, but it either makes you or breaks you."
Michael Fassbender previously dated Nicole Beharie and Zoë Kravitz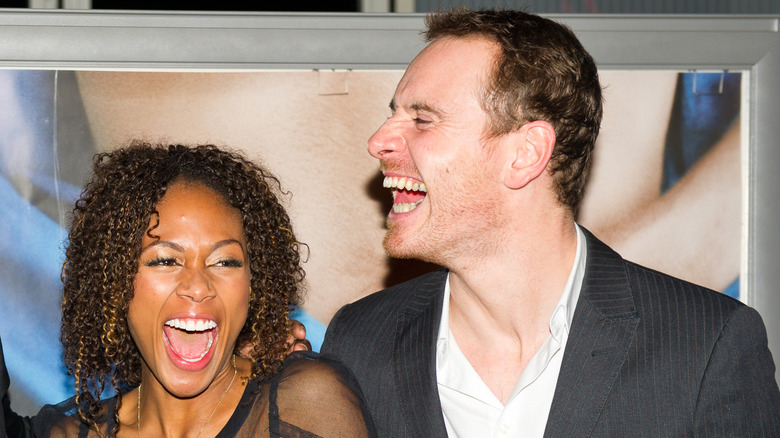 Before Michael Fassbender met his future wife Alicia Vikander, the "Prometheus" star had a reputation for dating his co-stars. While shooting "X-Men: First Class," he was linked to Zoë Kravitz, per Us Weekly, who played a fellow mutant in the film.
Fassbinder confirmed in 2012 that he was seeing the actor Nicole Beharie, who had appeared opposite him in the film "Shame," but admitted that long-distance dating was tricky. "I'm seeing Nicole, we're trying to see each other as often as possible," he told GQ. "That's kind of difficult when she lives [in New York] and I live in England." By the next year, they had split up, as Beharie confirmed on her Twitter. "Yes it's true Fassbender and I are no longer dating," she wrote.
In 2013, Fassbender told GQ that he is "kind of selfish" as far as putting his acting career first goes, which led the interviewer to ask how that's impacted his dating life. "I think the longest relationship that I've been in was two years," he replied. "I started doing this when I was 17, so I guess in my dating, adult life, that kind of covers it."
Alicia Vikander was linked to Alexander Skarsgård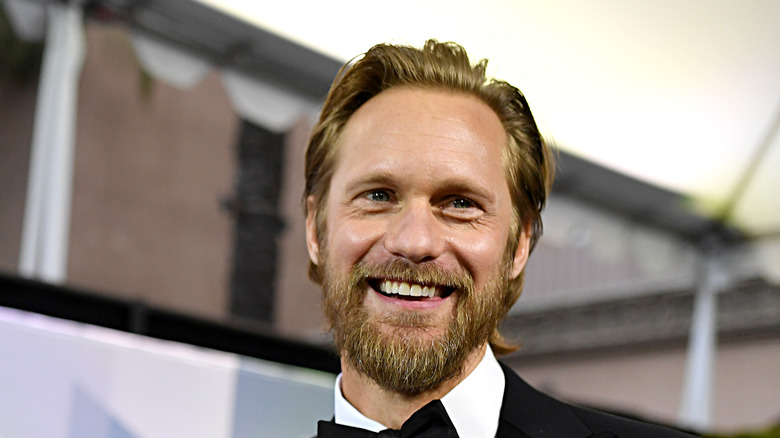 Michael Fassbender isn't the only one who dated fellow Hollywood stars before settling down. Alicia Vikander was reportedly romantically involved with a fellow Swede: Alexander Skarsgård, star of "True Blood" and "Big Little Lies." As the Daily Mail reported, the two were linked to one another for over a year and were even photographed on holiday, visiting their native Sweden together.
Although they never spoke publicly about the relationship, it was apparently serious enough that they were rumored to be considering marriage. In 2012, a confidential source told Star (via Daily Mail) that Skarsgård considered Vikander "his best friend" and could "really see himself marrying Alicia." The insider continued, "They are definitely the real deal."
It didn't last, however. Although they never formally announced a break-up, the pair began seeing other people. From 2015 to 2017, Skarsgård reportedly dated British writer and fashion designer Alexa Chung, but they didn't exactly shout about their relationship from the mountaintops. "Yeah, I don't talk about it much," he told The Guardian, "and that's a way to protect it."
Michael Fassbender and Alicia Vikander first crossed paths on a dance floor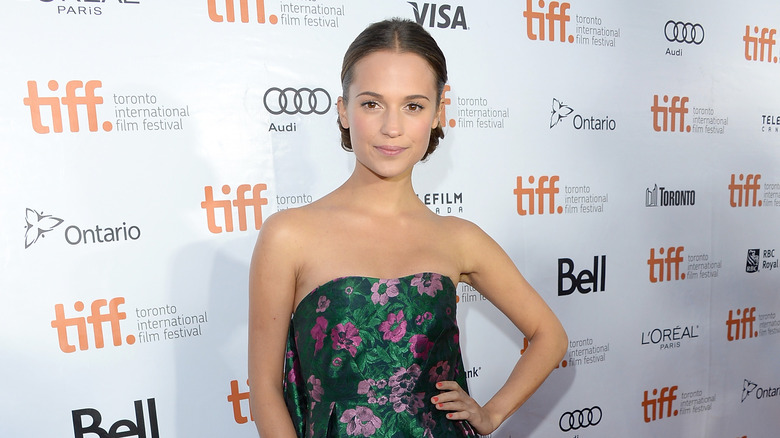 Alicia Vikander and Michael Fassbender's first meeting came years before they started dating, while both of them were still publicly linked to other people. As ET reported, however, that didn't stop them from sharing a romantic moment. "We had met at Toronto Film Festival," Vikander recalled. "Just on the dance floor, really." When Fassbender was asked whether he could cut a rug well, he joked that he couldn't compare to the trained ballerina Vikander. "I thought [I was a good dancer] until she started dancing and then I felt like I had two left feet," he revealed.
Fassbender would have been in Toronto for his film "12 Years A Slave," which won the festival's top prize in 2013, per The Guardian. Vikander had been invited because of "The Fifth Estate," a movie about Julian Assange and Wikileaks. "I've done two period dramas and now I was going to do something not only contemporary, but about a topic and a debate that is so right now in our society," she told Vanity Fair at the time, adding that she "thought it was a great thing."
While the pair didn't start dating immediately, Fassbender informed ET that there was already a spark, declaring that the chemistry "was sort of there from the beginning."
Romance blossomed behind the scenes for Alicia Vikander and Michael Fassbender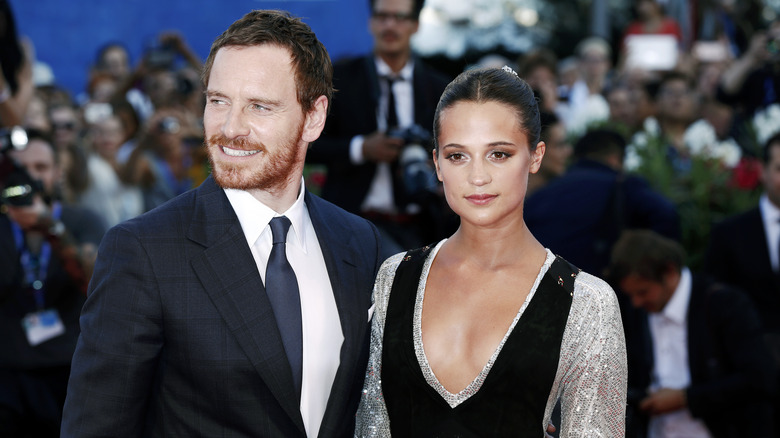 Many of Hollywood's most iconic couples began on the set of a movie, and Michael Fassbender and Alicia Vikander are no exception.
They were both cast on "The Light Between The Oceans" in June 2014, according to Deadline, playing an on-screen couple who attempt to raise a baby found near their lighthouse. By the end of the year, E! News had published reports that the pair was "casually dating" and "spending a lot of time together," alongside photos of Vikander and Fassbender together in Australia.
During the film's press tour, they were both full of praise for each other's acting. "She's a very fierce performer and very brave," Fassbender told ET, complimenting Vikander's dedication. "It's impressive to see." In an interview with Magic Radio, Vikander recalled how she was initially intimidated by the "X-Men" actor. "Yeah, I was pretty nervous the first day I stepped on the set," she revealed, adding that he quickly put her at ease. "I realized that he's quite a down-to-earth and relaxed funny dude, so it felt like I had the space to try things out and embarrass myself."
Making things public at the Golden Globes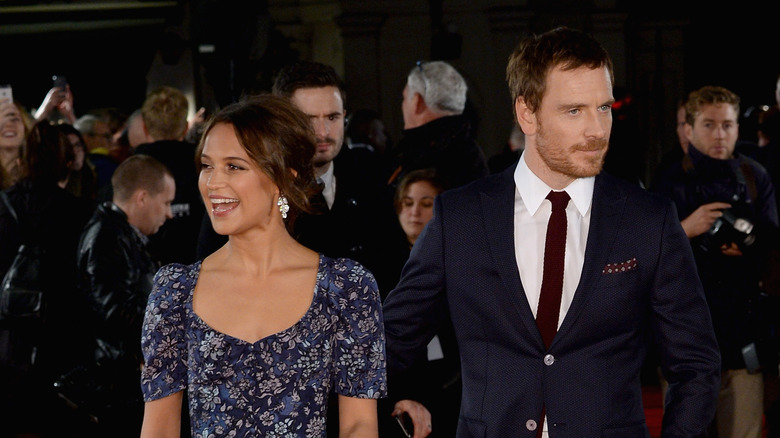 After months of speculation, Michael Fassbender and Alicia Vikander confirmed their relationship in 2016 by appearing together at the Golden Globes.
As ET reported, Vikander was having a particularly spectacular year: the Swedish actor was nominated twice for her roles in "The Danish Girl" and "Ex Machina" at the Globes. Fassbender, whose performance in "Steve Jobs" had also received a nod, told the outlet that he was "very proud" of his girlfriend. "She heads back to Vegas and I head back to London," the actor revealed to ET, talking about their plans after the ceremony. "But hopefully we'll get a minute together. That would be nice."
They also appeared together at the Academy Awards a month later, where Vikander's performance in "The Danish Girl" won for Best Supporting Actress. After celebrating with a kiss, Fassbender looked on from the audience as the actor collected her prize and gave an emotional speech. And as Vikander told Elle UK, another milestone happened that night: the couple's parents met for the first time while sitting in the green room. "So that was a pretty wild experience, actually," she laughed.
Alicia Vikander and Michael Fassbender tied the knot under the radar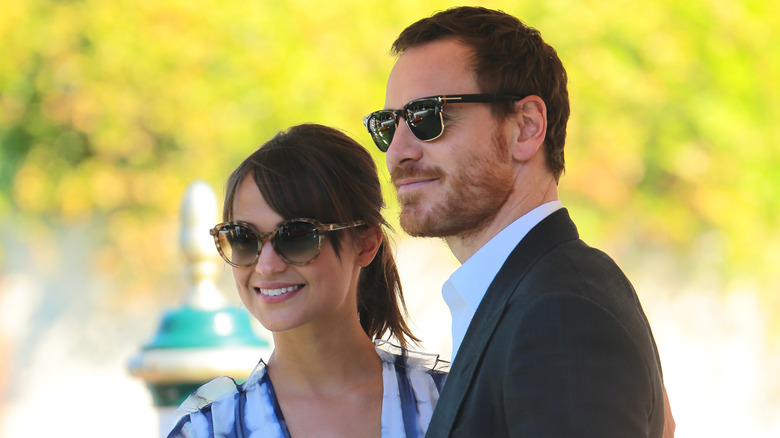 After a few years of dating, Michael Fassbender and Alicia Vikander decided to tie the knot in a private ceremony. The Daily Mail first published photos of the couple wearing wedding rings in October 2017, sparking speculation that they had been secretly married. And soon afterward, sources confirmed to People that they had held a wedding in Ibiza earlier that month.
As the outlet noted, the ceremony reportedly took place at "the luxurious La Granja farmstead resort" where friends and family joined the couple to celebrate. Director Steve McQueen, who worked with Fassbender on "Shame," the critically acclaimed drama about sex addiction, was also spotted at a nearby restaurant around the same time, which had led to rumors about what the actors were doing in Ibiza.
And Vikander and Fassbender spent their honeymoon in Italy, as E! News reported. Fans spotted the pair in a restaurant called Osteria del Capello in the historic city of Bologna, and others saw them taking in the sights in nearby Verona.
Alicia Vikander's friends 'kidnapped' her for a bachelorette party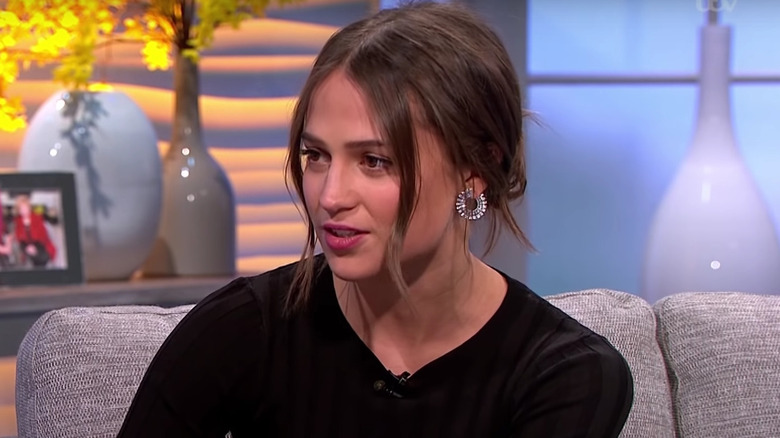 Alicia Vikander may have kept the plans for her wedding to Michael Fassbender shrouded in secrecy, but her bachelorette party was even more mysterious: even the bride herself didn't know what was happening.
In an interview with Marie Claire, the actor revealed that she was ambushed while in Paris for a high fashion show. "I was there for the Louis Vuitton show and suddenly got a text that says, 'Go out. We need you right now," she recalled, revealing that the bachelorette took place in early October 2017. Vikander usually sits in the front row of Louis Vuitton's runway shows, as she has been an ambassador for the designer brand since 2015, per Vogue.
The mysterious text message led to a group of friends hauling her away for her bachelorette party. "They kidnapped me for 24 hours!" Vikander joked to Marie Claire. Luckily, the star's friends set her free after spending the day and night partying, so she could recover in time for a fairytale wedding. "I'm a big romantic, and I always have been," the actor shared.
Michael Fassbender and Alicia Vikander are famously private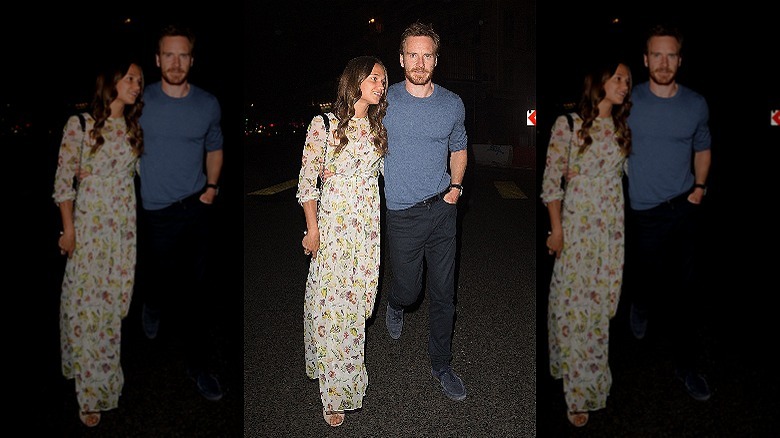 Although their chemistry was caught on screen in "The Light Between The Oceans," Alicia Vikander and Michael Fassbender have kept their real relationship out of the limelight. "I think we've made a clear statement that we keep certain things just between us. It was very easy to unite, but that's quite personal," Vikander told Entertainment Weekly in 2016, reflecting on the start of their romance. "I'm not going to talk about my private life with a total stranger, unless I feel like I need to. Why would I? I don't," Fassbender added.
The actor also spoke about how boundaries around celebrities and their personal lives have changed, sharing that he "might have been curious about actors' lives" when he was a young film fan. "But my curiosity didn't obligate them to tell me," Fassbender explained to EW. "It's the worst thing if you're sitting there in the theater, going, 'Oh, that's the guy who dates this person and likes to do this in the morning and that in the afternoon.' Then you're just watching a brand, as opposed to an actor."
Despite being known for their secrecy, the couple still get asked about their personal lives frequently. In 2018, fans reacted to an "awkward" interview with Vikander on "Lorraine" (via Express), after the actor replied to questions about her marriage by stating: "It's a lovely thing to choose to be private, even though you've got this career."
The breakup rumors that didn't stick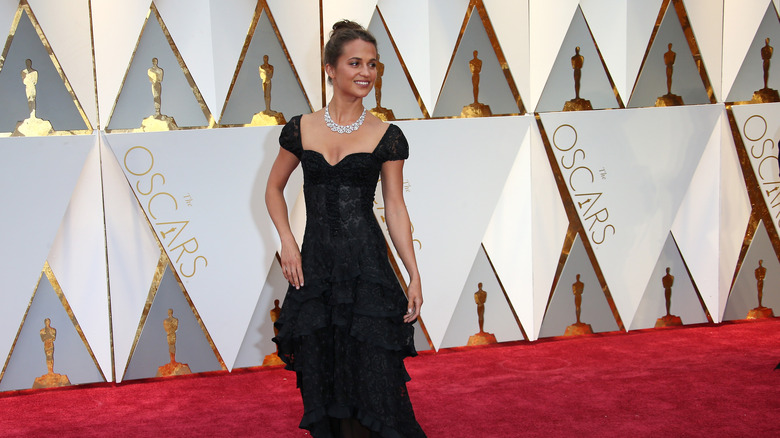 Michael Fassbender and Alicia Vikander may value their privacy, but that hasn't stopped the media from speculating about the status of their relationship.
In 2015, Us Weekly reported that they had split up, less than a year since the couple first started dating on set of "The Light Between Oceans." An "exclusive source" had claimed that they were going their separate ways and the magazine added that the actors were both busy on separate big projects at the time: Vikander had been cast alongside Eddie Redmayne in "The Danish Girl" and Fassbender was playing Steve Jobs in a biopic. Despite those rumors, the pair stayed together.
A different outlet then reported that they were back on the rocks in 2017. Celeb Dirty Laundry pointed out that Vikander had attended the Oscars by herself, presenting the award for Best Supporting Actor to Mahershala Ali, and suggested that this was a bad sign. Fassbender's absence from the red carpet didn't signal the end of their relationship, however, as they were married later that year.
Michael Fassbender and Alicia Vikander would work together again
Although Alicia Vikander and Michael Fassbender are both critically acclaimed actors with an impressive amount of awards between them, they haven't shared the screen since shooting "The Light Between Oceans" in 2014. "I would love to work with him one day, but we're very much individuals, which I love and I think is good in any relationship," Vikander commented in a 2020 interview with Elle, explaining that it would have to be a special project. "We both take on parts because it's a film that is right for us, so it would have to be the same if we were ever to work together again."
In 2018, Vikander reflected on the "great experience" they had as co-stars, telling Vogue that Fassbender is "one of the absolute best actors I've worked with" and insisting that it was a professional highlight as well as a personal one. "Of course he'd done more films than me, but immediately when we started to work together he was so open to wanting me to chip in new ideas and thoughts," she continued, revealing that the older actor would ask her for help. "That was such a sweet thing. . . . Life is about a lot more than work, but if it's also your biggest passion, of course, it's something you enjoy talking about."
Michael Fassbender and Alicia Vikander call Lisbon home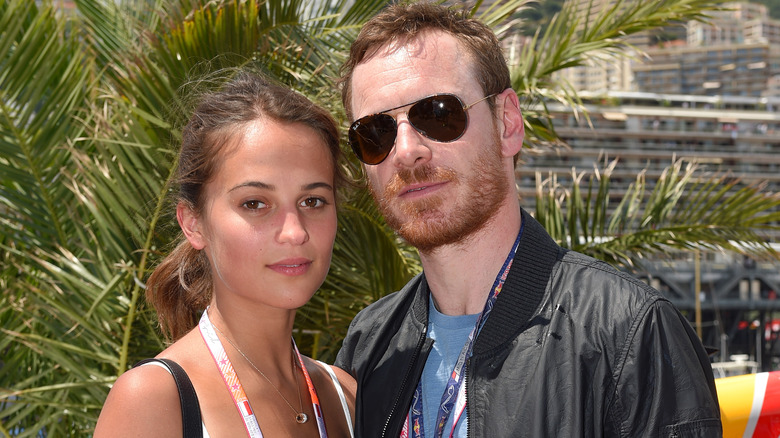 Alicia Vikander and Michael Fassbender have both lived across different countries and cultures, but the pair decided to settle down in Portugal.
Although Vikander told the Irish Mirror that she "feels quite at home" among the "stunning" natural scenery of Fassbender's homeland, the weather in Ireland ruled it out. "When I met Michael, he had already been to Portugal and he'd been in London for 18 years. I'd been there a few years," she explained. "We'd talked a bit about moving someplace else, then Brexit happened and we pushed the idea." The couple already knew several friends who resided in Lisbon and loved the city. "Being Irish and Swedish, we could have gone to our home countries, but we definitely wanted to go someplace warm and we wanted to be in Europe and not far from friends and family," Vikander continued, adding that they "now have a lovely, big community of people who live here."
They spent the COVID-19 lockdown in France, however, after Vikander was initially stuck there following Paris Fashion Week. As the "Ex Machina" star told Elle, Fassbender joined her in a "small farming village in rural France" where the pair kept themselves busy and made Zoom calls from home "But that's the thing when you're in your house," she joked. "There's always a risk of someone in the background. My husband was often around making coffee or putting the boiler on.
During the pandemic, Michael Fassbender set up a big birthday surprise for Alicia Vikander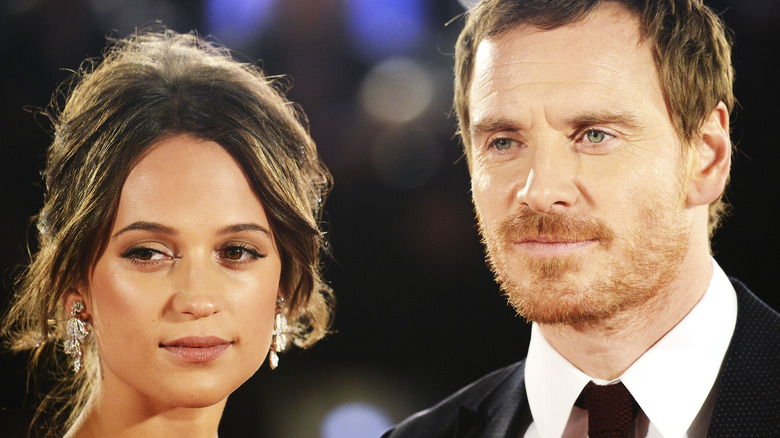 As Alicia Vikander said in Destinations of the World, she sometimes misses her native Sweden. The actor explained that it was "reassuring" that she could still stay connected to family and friends from home despite her busy filming schedule, since she considers "that closeness" to be "so important."
So it's lucky that Michael Fassbender was able to give her a thoughtful gift for her 32nd birthday, when pandemic restrictions started to lift in October 2020. "Actually, my husband surprised me with a trip to Sweden," she told Good Morning America while promoting her latest project "The Glorias," in which Vikander played activist Gloria Steinem. "Landed, I got a COVID test and was negative so I was able to hang out with my mom and my dad and a lot of family members I haven't seen in a long time."
The actor's family is very important to her, as she observed to Entertainment Weekly in 2017. "It's really been the people surrounding me growing up — my family members but also my friends kind of formed who I am. I do believe a lot of that context and environment is part of creating who we are, not only nature," Vikander commented, before predicting that her own parenting style would probably be similar to how her family raised her. "I would want to do that with a family one day too if that's the case."