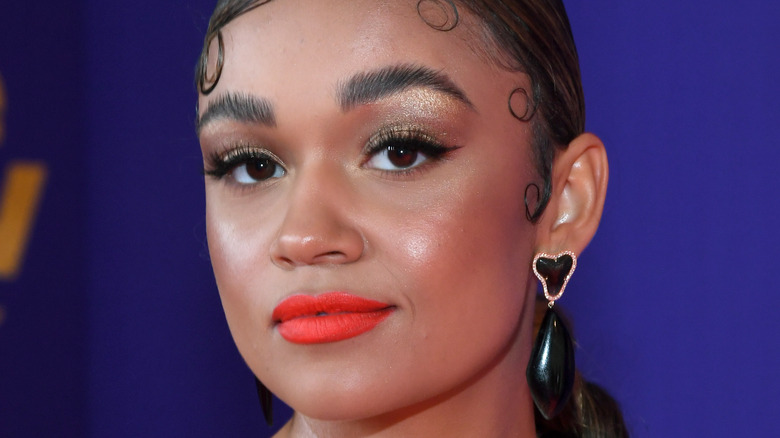 Most viewers know Madison Bailey for her breakout role in "Outer Banks," the Netflix teen drama first released in 2020. The show follows a group of teenagers living in North Carolina trying to solve the mystery of what happened to the father of one of the main characters, John B. If you haven't seen it yet, the second season was released on July 30, 2021, so it's perfect for your next TV show binge.
Bailey plays Kiara Carrera, or Kie, on the show. Although she is from a wealthier family, Kiara is a big part of the show because she hangs out with the Pogues (working-class kids from the south side of the banks). Kiara quickly became a fan favorite, shooting Bailey into stardom. Her Instagram alone has 5.8 million followers!
But there's so much more to Bailey than her role in "Outer Banks." Between her family life, relationship, hidden talents, and activism, there is still a lot to learn about this young actress.
Growing up, Madison Bailey wanted to be a singer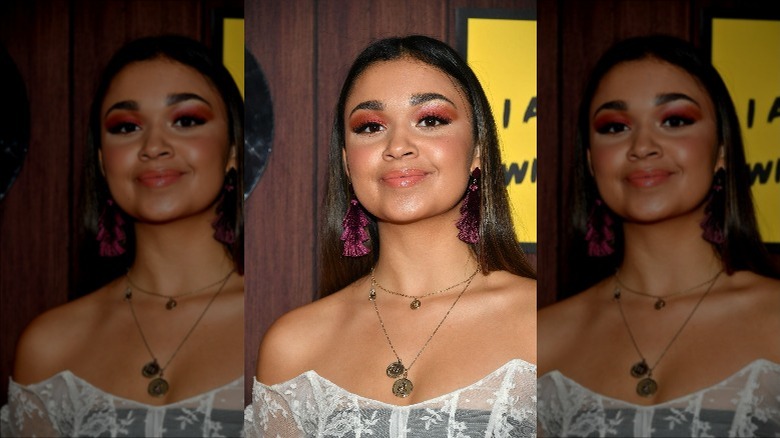 Though we now know Madison Bailey for her work as an actress, her original dream was to be a singer. During an interview with L'Officiel, Bailey explained that singing was how she first discovered her love for the performing arts, and she didn't realize she could be an actress until later.
Unfortunately, stage fright stopped her from taking her musical career much further. "I always wanted to be a singer until I hit 13 and 14 and realized I'm actually really scared of singing in front of people," Bailey said. "It makes me really nervous!" Though she told the publication that she would probably never focus on music entirely, Bailey did say that she'd do it as part of an acting role. Maybe we can look forward to seeing her talents incorporated into her character, Kiara, on "Outer Banks."
Bailey also seems to have found a way to work around her nerves by sharing covers on social media. She's even learned to play the ukulele and piano to accompany herself. You can go to her Instagram to hear her rendition of "Take Care" by Drake and "Fate" by H.E.R.
She and many of her siblings were adopted
Madison Bailey comes from a big family. She told V Magazine that her parents had one child biologically and then fostered several children over the years. They eventually adopted six, including Bailey. As the youngest of the seven siblings, Bailey has three older sisters and three older brothers.
When her parents adopted her — she told the magazine that her parents were "angels" — she moved to Kernersville, North Carolina. Sadly, her adoptive mother passed away in 2018, as Bailey shared on Twitter.
Although Bailey moved to Los Angeles for her career and then relocated again to film "Outer Banks," the actress admitted she gets quite homesick for the town she grew up in and misses her large family. "I feel like a lot of who I am, comes from my family, from living on the East coast, and from growing up in a small town," Bailey said.
The Outer Banks star looks up to this Hollywood A-lister
Madison Bailey seems to take her acting career quite seriously. Along with her role in "Outer Banks," she's also worked on the shows "Constantine," "Black Lightning," and "American Horror Stories." Clearly, she's not scared to take on new challenges and characters. This might be due in part to her admiration for Scarlett Johansson's acting career.
When L'Officiel asked what actor she would most want to work with in 2020, Bailey answered it would be Johansson, whom she seems to look up to as a bit of a role model. "She has a career that I kind of want to … emulate of starting with fun, light content and now this year being nominated for multiple Oscars for two different films," Bailey said.
Perhaps this means we can look forward to more serious roles in Bailey's future and maybe even some Oscar-worthy performances. Since she's already starring in a big show this early in her career, it seems like we can expect great things from her.
Madison Bailey came out as pansexual on TikTok
Madison Bailey has opened up to her followers about her sexuality on TikTok. According to Teen Vogue, the actress first came out as pansexual in a video that she shared on May 25, 2020. Pansexuality refers to an attraction to people regardless of their gender identity, or, as Bailey put it in the video, she can be attracted to, "Girls. Boys. Trans boys. Trans girls. Nonbinary babies. It's what's on the inside, boo."
Since coming out, Bailey has continued to be open about her relationship and sexuality across her social media platforms. During an Instagram Live, she told her fans that she's felt "zero shame" and that no one has made her feel bad since she came out. She pointed out that this is unique to her experience and, unfortunately, is not the case for everyone. But for Bailey, sharing this part of herself has been an overwhelmingly good experience. As she said during the same Live, "It was worth it. I feel lighter. I feel happier that I can just be so open and honest."
Here's how Madison Bailey met her girlfriend
Madison Bailey made her relationship with UNC Charlotte basketball player Mariah Linney Instagram official in June 2020. Prior to that, sparks began flying between the two on the video-sharing app TikTok.
That's right: They had the most Gen-Z start to their relationship ever. It all began when Linney posted a video, which she captioned, "Just me staring at Madison Bailey." Bailey later confirmed to Entertainment Tonight that after seeing Linney on TikTok, she tracked down her Instagram, and the two began private messaging. Fortunately, the relationship didn't have to stay entirely online. Since Linney was living nearby where "Outer Banks" was filming in South Carolina, it wasn't difficult for the two to meet in person, and the rest is history.
The two have been quite public about their relationship online, and many fans seem to love the couple. In a July 2021 Instagram post, Linney shared of cute photo of the two of them, her followers gushed over the pair. One wrote "BEST COUPLE." While another commented, "When's the proposal??"
She's opened up her BPD diagnosis
Madison Bailey has been open about her experience as a person with borderline personality disorder. According to the Mayo Clinic, borderline personality disorder, or BPD, is "a mental health disorder that impacts the way you think and feel about yourself and others." It can damage self-image, make it hard to regulate emotions, and negatively impact relationships. However, when properly managed, those with BPD can have perfectly fulfilling lives and relationships.
Bailey told Entertainment Tonight that she was diagnosed with BPD at age 17. Since then, she's been figuring out how to live with it one day at a time. Bailey is open about her diagnosis on social media and in interviews and often works to dispel its stigma.
Bailey told Entertainment Tonight that she manages BPD through meditation and crystals and by being aware of her own triggers. She also said there are some upsides to the diagnosis. "One of the main [pros] is that likes and dislikes change often, so my aesthetic changes often. My music taste changes often," she shared. "I have a very broad personality, which allows me to connect with a lot of people."
She's an advocate for Black Lives Matter and the LGBTQ+ community
Though she's still young, Madison Bailey takes her platform and the voice it gives her seriously. The TV star often uses her Instagram and other accounts to talk about issues that are close to her heart. As a Black woman and a member of the LGBTQ+ community herself, Bailey has spoken up about social justice for those communities.
In one Instagram post featuring the text, "We are only as blind as we want to be," from June 2020, Bailey wrote in the caption, "Ignorance is bliss to the majority and death to the minority. Educate yourself, educate your children, your friends, your family." And she seems to have taken this advice herself, as she told V Magazine that she's had many conversations with her white siblings regarding the Black Lives Matter movement.
Bailey also took to Twitter during Pride Month to speak about the intersection of Black Lives Matter and LGBTQ+ rights. In the tweet, she urged people not to forget about queer Black lives and trans Black lives when supporting the Black Lives Matter movement.
Madison Bailey connects a lot to her character in Outer Banks
Madison Bailey's character on "Outer Banks" is caught between worlds in a way. Though she's part of the upper class, "the Kooks," she seems more at home with "the Pogues." The show uses these two groups to explore the class divide, which Kiara is caught between.
Bailey told Seventeen magazine that this conflict in Kiara's story is one of the big reasons she connected to her character. Because Bailey was adopted by a white family, she said she grew up with a lot of privileges she might not have had otherwise. But after moving out, she said people began to treat her differently. "It took a while to find my footing and realize who I am and how I'm viewed when I'm not standing with my parents," Bailey said. "I think not fitting in anywhere is something a lot of mixed people specifically struggle with." And it was that feeling of not fitting in that helped her play Kiara so flawlessly.
She grew up in North Carolina, where Outer Banks is set
Though the specific town "Outer Banks" is set in is fictional, it's based on the barrier islands off the coast of North Carolina. Funnily enough, Madison Bailey grew up in North Carolina, though her hometown Kernersville is more inland.
The show is actually filmed in Charleston, South Carolina, but it does its best to match the atmosphere of a North Carolina coastal town. Bailey told Seventeen magazine that "Outer Banks" does a good job capturing the feeling of growing up in North Carolina. "Obviously, the story is fiction, but the atmosphere felt real. Being outside and fishing and going out on the water is what growing up looked like for me," she said.
Bailey also told the magazine that because they were filming close to her home state, she gave her other cast members a tour of the area near where she grew up while the series was on hiatus.
Madison Bailey's older sister works as her stunt double
We already told you that Madison Bailey comes from a big family, but it may surprise you to learn that she's not the only member of her family in "Outer Banks." That's right! Although you wouldn't notice her on screen, Bailey's older sister Katie is also in the Netflix series. The reason you don't actually see her sister on the show is because she works as her younger sister's stunt double. When Kiara on "Outer Banks" has to do anything too dangerous or athletic for the actress, Bailey's big sister takes a turn.
Bailey told the Winston-Salem Journal that her sister had never worked as a stunt double before the show. But because she's a gymnast, she's perfectly capable of the stunts, so Bailey recommended her for the job. "I talked with the stunt coordinator and it was such a chill show … It's amazing they gave us that opportunity and experience together," Bailey said.
She started acting when her friends forced her into the school musical
If it weren't for Madison Bailey's high school friends, she might never have become an actress. She shared with Winston-Salem Journal that her first experience in acting only happened because her friends "forced" her to audition for the school musical her freshmen year. Bailey didn't even want to audition at first, but after getting a minor role, she was hooked on acting.
"From then on I never wanted to do anything else," she said. "I don't know what it was, but it was just fun and I was like 'this could be a career I could have, absolutely, I'm going to do that.'"
From there, she dove straight into auditioning. She worked at a studio where she helped record audition tapes and taped her own auditions. Eventually, that led to her leaving public school and continuing her studies from home, so she had time to travel for auditions and focus her energy on acting. Clearly, her work paid off.
Madison Bailey's family keeps her grounded
Though Madison Bailey had a few roles before landing her part in "Outer Banks," audiences and the media really began to notice her when the show was released. Suddenly, the small-town girl was widely popular and being talked about all over the internet.
Bailey has had to adjust to the fame quickly, but she told the Winston-Salem Journal that her family has made sure the fame doesn't go to her head. As online articles praised Bailey and her performance on the show, she said she would send them to her dad, who usually sent her jokes in response to the flattering headlines.
One article by New Face declared, "It's Madison Bailey's world," as the headline. Bailey told the Winston-Salem Journal, "My dad was like 'tell me about it, I could give them a testimonial on that.' My family has a really funny way of keeping me grounded, and I love them for that."
The actress almost wasn't cast in Outer Banks
It feels impossible to imagine anyone other than Madison Bailey playing Kiara, but she almost wasn't cast in "Outer Banks." During an interview with Harper's Bazaar, Bailey recalled that she didn't think she had the part after her first audition. The young actress had been excited about the role of Kiara because of everything she has in common with the character, but she didn't hear back from the showrunners after her first audition. A few days later, they sent out another call for auditions, but they specifically asked not to see anyone who had auditioned the first time.
Bailey assumed her chances at the part were over, but her agent convinced her to audition again despite the casting directors' instructions not to. It's a good thing she listened to her agent because she "immediately got a callback" after her second audition. The show flew her to Charleston to audition in person, and she "booked it that day."
Most of the other characters had already been cast when Bailey booked her role. And she remembered Rudy Pankow, who plays JJ, sent her a DM to say, "I knew you were Kiara the second I saw you."
She wrote short stories about how Kiara met each of the Pogues
One of the best parts of "Outer Banks" is watching the relationships between all the characters. As soon as Madison Bailey got cast as Kiara, she started exploring those relationship dynamics. She told Harper's Bazaar that she wrote short stories about how she thought Kiara could have met and become friends with "the Pogues." She wrote about meeting Pope at school and JJ and John B. while surfing (by the way, here's why John B, from "Outer Banks" looks so familiar!). Maybe having that extra backstory is what helped the group's chemistry work so well.
Bailey said she loves how different all the characters are on the show and seeing how they work together. "I think it's really interesting to see a group dynamic where the thing that we have in common is not having anything in common. And so we connect because we're all solo. We're all our own entity," she said.