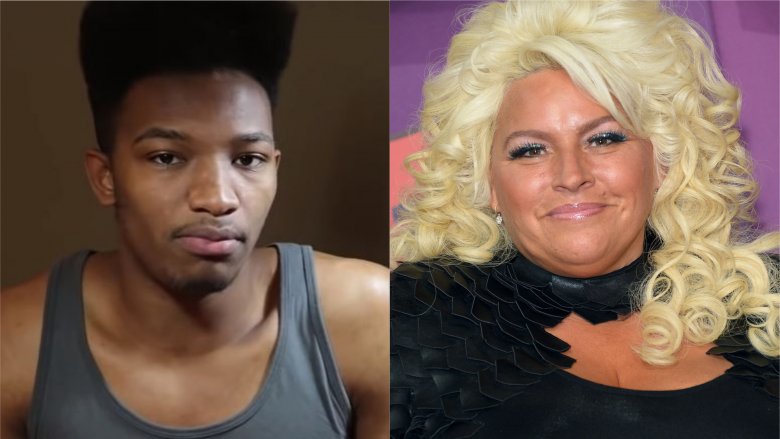 The entertainment world began 2019 in sad fashion. Three stars passed away on the second day of the year: Wrestling icon "Mean" Gene Okerlund, Curb Your Enthusiasm's Bob Einstein, and Daryl Dragon, one half of music group Captain and Tennille. Later that month, the world lost Top Chef star Fatima Ali after a heartbreaking battle with cancer and also Broadway legend Carol Channing, who played the titular role in Hello Dolly! and became a leading lady in film and television. And, in early March, the world was forced to say goodbye to Beverly Hills, 90210 star Luke Perry.
These talented entertainers and household names left an indelible mark on the world, be it through acting, athletics, cuisine, comedy, music, or just high-quality smack-talk. Let's take a moment to honor the stars we lost in 2019 and to revisit their incredible contributions to the creative arts.
'Mean' Gene Okerlund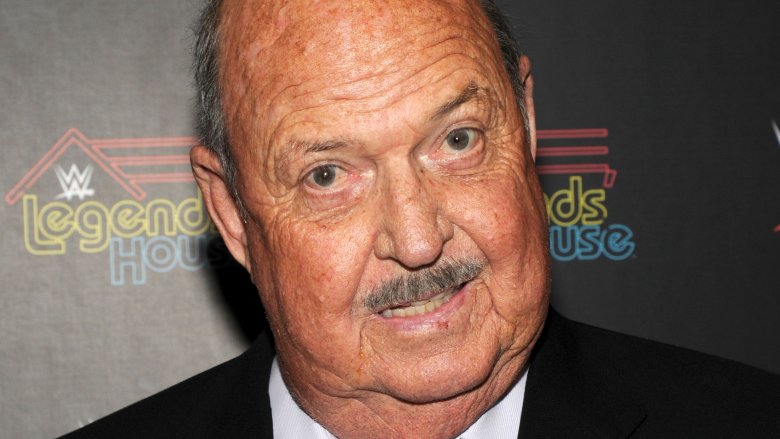 Iconic WWE interviewer "Mean" Gene Okerlund died at age 75 on Jan. 2, 2019. Okerlund had been suffering from health issues for years, undergoing three kidney transplants, according to ESPN. Okerlund was famous for his insult-heavy wrestling promos for WWE, which peaked in the 1980s with stars such as Hulk Hogan, Andre the Giant, and Randy "Macho Man" Savage. During the mid-'90s, Okerlund transitioned to WCW. His final major wrestling appearance was on Jan. 22, 2018, for the 25th anniversary of Monday Night Raw.
The wrestling community was heartbroken over Okerlund's death. WWE CEO Vince McMahon tweeted, "It was impossible not to crack a smile whenever 'Mean' Gene Okerlund entered a room. He was the voice behind so many of WWE's most iconic and entertaining moments, and the WWE family will miss him immensely."
Famed wrestler "Stone Cold" Steve Austin had this to say about Okerlund on Twitter: "As an interviewer, pitch man, announcer, or host, he was untouchable. Simply the best. Total professional with quick wit, sarcasm, humor, and that golden voice."
Daryl Dragon
Daryl Dragon of musical duo The Captain and Tennille died on Jan. 2, 2019. The "Captain" was 76 years old. Dragon was born into a musical family. His father was an Oscar-winning conductor and composer, and his mother was a singer who worked with Bing Crosby, according to The Hollywood Reporter. Dragon was classically trained and performed with The Beach Boys before achieving fame with wife partner Toni Tennille in the 1970s. Captain and Tennille's biggest hits were its cover of Neil Sedaka's "Love Will Keep Us Together" and the No. 1 hit "Do That to Me One More Time."
Dragon and Tennille tied the knot in 1975 and divorced in 2014. Following his death, Tennille revealed troubling details about the singer's private live. According to Closer Weekly, she "found out he had Parkinsonian symptoms, including tremors exacerbated by anxiety and PTSD after [allegedly] being beaten from age 4 by his famous dad, bandleader Carmen Dragon." Tennille said she moved to Arizona around 2016 to help care for Dragon. That reportedly meant "firing home health aides whom she said kept him drugged at night, finding him a new place to live with better care and visiting regularly." She was by his side when he passed. "He was a brilliant man," she said, "and I loved him with all my heart."
Bob Einstein
Curb Your Enthusiasm star Bob Einstein died on Jan. 2, 2019, after a battle with cancer, reported Fox News. He was 76 years old. Einstein initially planned on pursuing advertising as a career, but he was discovered by actor and comedian Tom Smothers while performing in a public access show as a favor to a friend. It led to a lucrative comedy writing and acting career, and Einstein won his first Emmy in 1969 for The Smothers Brothers Comedy Hour. In 1979, Einstein created the goofy character Super Dave Osborne, who appeared in various shorts and series for three decades. The New York Times described Osborne as "something of a cartoon character — a witless, deadpan parody of bravado-fueled stuntmen like Evel Knievel."
In 2004, Einstein debuted on Curb Your Enthusiasm as Marty Funkhouser, the "perpetually enraged" pal of Larry David. "Never have I seen an actor enjoy a role the way Bob did playing Marty Funkhouser on 'Curb,'" David said (via The New York Times). "There was no one like him, as he told us again and again."
Carol Channing
Broadway legend Carol Channing died on Jan. 15, 2019, just shy of her 98th birthday. Channing was best known for her Broadway portrayal of Dolly Gallagher Levi in Hello Dolly! According to Playbill, she played that role three separate times within 30 years and won a Tony for the part in 1964.
Channing became a stage star with her Tony-winning role of Lorelei Lee in Gentlemen Prefer Blondes in 1949, but was replaced for the 1953 film adaptation with Marilyn Monroe, reported Playbill. She made her mark on the silver screen playing nightclub singer Muzzy Van Hossmere in 1967's Thoroughly Modern Millie – she was nominated for an Oscar and a Golden Globe for that role. She later became a television staple, appearing in everything from game shows to Touched by an Angel to Family Guy. Channing was inducted into the American Theatre Hall of Fame received Lifetime Achievement Awards from the Tonys and the Drama Critics Circle.
Channing was married four times, but her final wedding in 2003 may have had the sweetest story line. According to The Hollywood Reporter, "In her 2002 memoir, Just Lucky, I Guess, Channing reflected on her first love at Aptos Middle School in San Francisco, saying, 'I was so in love with Harry [Kulijian] I couldn't stop hugging him.' A mutual friend who read the book urged the recently widowed Kullijian … to call Channing. They got engaged two weeks after their reunion and wed three months later." They were together until his death in 2011.
Fatima Ali
Top Chef star Fatima Ali died on Jan. 25, 2019 at just 29 years old after battling a rare form of bone cancer. The New York City chef was featured on the 15th season of the hit Bravo TV show. In October 2018, Ali penned a heartbreaking essay in Bon Appetit revealing that she had only about a year left to live. During that time, she pursued her bucket list, which included meeting Ellen DeGeneres and traveling the world to dine at renowned eateries.
She recalled one particularly special dinner in a subsequent essay for the culinary magazine. A restaurant manager had "made a replica of my food stall, VanPakistan, in the kitchen. Down to the tablecloth. Down to the kind of napkin dispenser I had. The chef made the most delicious, melt-in-your-mouth Seekh kebabs I've ever had, with flatbread and pickled onions and green chutney they had made just for me. My mom was in tears, bawling. My older brother was crying. Everyone was hugging each other."
In November 2018, she wrote (via Bon Appetit), "There are days that I'm exceptionally afraid. There are days I sit alone and cry, because I don't want to do it in front of my family. And there are other days that we all sit down and cry together, because it is such a scary thing. But at the same time, you can't let that fear cripple you. It's harder being miserable than it is to be happy."
​Katherine Helmond
Katherine Helmond died at 89 on Feb. 23, 2019 from Alzheimer's complications, The New York Times reported. The Texas native began her career on local stages. After moving to New York City, Helmond and her pals "ran a summer theater in the Catskills" and put on plays themselves. Helmond eventually landed parts on Broadway, nabbing a Tony nomination for her role in The Great God Brown. Soon, she moved to Los Angeles and scored television work on The Bob Newhart Show before landing her breakout role as Jessica Tate on Soap in 1977, for which she won a Golden Globe and was nominated for four Emmys.
After Soap, Helmond starred as the sassy Mona on Who's The Boss? from 1984 to 1992, followed by a recurring role on Coach from 1995 through 1997, then an Emmy-nominated turn as Lois Whelan on Everybody Loves Raymond from 1996 to 2004. Helmond's most recent work included a role on True Blood in 2011, voicing Lizzie in Disney's Cars franchise, and Frank And Ava (2019).
Helmond is survived by husband David Christian, who told The Hollywood Reporter, "She was the love of my life. We spent 57 beautiful, wonderful, loving years together, which I will treasure forever. I've been with Katherine since I was 19 years old. The night she died, I saw that the moon was exactly half-full, just as I am now … half of what I've been my entire adult life."
Lisa Sheridan
Actress Lisa Sheridan died on Feb. 25, 2019 at her New Orleans, La., home. She was 44 years old. Sheridan worked steadily, mostly in television, from the late 1990s until her untimely passing. Her breakout role was as Vivian Winters in Legacy in 1998, then as Chloe Tanner in FreakyLinks in 2000. Sheridan had roles on CSI, CSI Miami and CSI: NY, and NCIS. Her biggest starring roles were in Invasion in 2005 and Journeyman in 2007. In 2014, she starred as Rebecca in Halt And Catch Fire, and her most recent role was in indie thriller Strange Nature (2018). She was previously engaged to actor Ron Livingston, according to People, but they never married.
Sheridan's cause of death was unknown, her manager told Fox News, but said her family vehemently denied any possibility of a suicide. Rumors that the Halt And Catch Fire star may have taken her own life were possibly spawned by an Instagram tribute from her friend, director Michael Dunaway. He wrote in part, "I'm trying to take comfort in knowing your struggles and pain and grief are 'at last, and last behind you.'"
Janice Freeman
The Voice singer Janice Freeman died on March 2, 2019. She was just 33 years old.
Freeman's family said in a statement that she suffered from a blood clot that traveled to her heart as well as from pneumonia at the time of her passing. She reportedly was at home in West Covina, Calif., when she said she couldn't breathe. Her husband performed CPR on her until paramedics arrived; she was pronounced dead at a local hospital. Freeman suffered several other major medical issues throughout her life, including the autoimmune disease lupus, and cervical cancer.
Freeman was on Team Miley during her time on The Voice in 2017 and remained in contact with Miley Cyrus after being eliminated from the top 11. They were so close, in fact, that Freeman revealed that Cyrus paid her rent for six months and helped her find a place to live. Freeman's time on the show focused on her desire to build stability for her family, as well as her overcoming cervical cancer in 2012.
Cyrus honored Freeman on Instagram, writing, "I am no longer your coach, I never was … YOU constantly taught me. You've been my coach on how to love, on how to persevere, on how to fight for what I want and never let even my own body get in the way. Anything is possible if it's being done with faith. You are my world. I will never forget you or stop loving you."
Keith Flint
Keith Flint, frontman of the electronic band The Prodigy, was found dead at age 49 on March 4, 2019. The Guardian reported that police were conducting a welfare check on the singer when they found his body. Police told the outlet that Flint's death was "not being treated as suspicious." The Prodigy co-founder Liam Howlett stated on the band's Instagram that Flint had taken his own life.
Flint was candid about his battle with addiction, and how a falling out with the band helped him clean up ahead of their 2009 reunion. "I got bang into coke, weed, drinking a lot," Flint told The Times (via The Mirror). "This made me reclusive, boring and shallow. I'd line up rows of pills and just take them and take them and I'd lose track of how many until I passed out." Flint reportedly said in the same interview that he'd felt suicidal in the past.
In the years prior to his death, Flint slowed down his hard-charging ways. After marrying his wife, Japanese DJ Mayumi Kai, he reportedly retreated to "a quiet life in the country," where he "ran a genteel country pub" and spent his free time exercising. Of the change of pace, Flint said (per The Mirror), "It's very boring and very un-rock'n'roll to talk about it." The Prodigy released their album No Tourists in November 2018, and were set to kick off their first U.S. tour in over 10 years in May 2019.
Luke Perry
Luke Perry passed away on March 4, 2019. TMZ reported that the Beverly Hills, 90210 and Riverdale star suffered a massive stroke days earlier. Doctors had sedated the actor in hopes of his brain recovering, but Perry tragically suffered too much damage. He was reportedly surrounded by loved ones at the time of his death. He was 52 years old.
Born Coy Luther Perry III, the Mansfield, Ohio native's breakout role was as Dylan McKay on 90210 in 1990. He had starring roles in the original Buffy the Vampire Slayer film (1992) and The Fifth Element (1997). After his 90210 heyday, Perry worked steadily in Hollywood, most recently as Archie Andrews' father, Fred, in Riverdale. He also reportedly filmed scenes for Quentin Tarantino's 2019 Manson murders film Once Upon a Time in Hollywood as Scott Lancer.
Perry's stroke wasn't the only health issue he'd suffered over the years: In 2017, Perry revealed to Fox News that he'd had precancerous growths removed following a colonoscopy. After his experience, he became an advocate for colorectal cancer awareness.
Though Perry wasn't always eager to discuss his iconic role as brooding rich kid Dylan McKay, he once admitted (via The Hollywood Reporter), "I'm going to be linked with him until I die, but that's actually just fine. I created Dylan McKay. He's mine."
Jan-Michael Vincent
Airwolf star Jan-Michael Vincent died Feb. 10, 2019 at 73 years old, but his passing wasn't reported until nearly a month later, according to TMZ. He was reportedly hospitalized in North Carolina when he died of cardiac arrest. Vincent was once the highest-paid actor on TV, banking $200,000 per episode as a helicopter pilot on the CBS hit Airwolf in the 1980s. Unfortunately, his star burned out rapidly due to his alleged substance abuse. According to The New York Times, "He was known to abuse alcohol and cocaine and was accused of getting into bar fights; he narrowly avoided jail in 1986 by entering a monthlong drug rehabilitation program after breaking probation related to an earlier drunken-driving conviction." In 1996, he reportedly broke his neck and damaged his vocal cords after rear-ending his girlfriend's car, and in 2012, he had to have part of his leg amputated due to an infection. He told 20/20 (via the NYT) in 2000 that he was "hanging on by [his] white knuckles" to his sobriety.
Despite his struggles, Vincent worked fairly steadily for nearly 30 years, with roles in television series including Gunsmoke and Bonanza and movies such as 1978's Hooper and 1981's Hard Country. His most recent role was in 2002's White Boy.
​Freeda Foreman
Freeda Foreman, daughter of boxing legend George Foreman, died March 9, 2019, in her home near Houston, Texas. She was 42 years old. TMZ reported that Freeda committed suicide by hanging. A heartbroken George honored his daughter on Twitter: "First Sunday in 42 years without my Freeda. She's With her maker now" (via Page Six).
Like her father, Freeda had a career in the ring, though hers was much more brief. According to Entertainment Tonight, she won her first five matches in 2000 but retired after her first loss in 2001. "I've been in boxing since I came into this world," Freeda told The Greenville News. "Anything that's strong and tough, it's what I want to do. It's something I always really loved." George initially disapproved of his daughter's boxing endeavors, reportedly offering her money to forego the endeavor "I asked Freeda not to do it, but I think my mom did the same with me over 33 years ago," he said (via The Greenville News).
If you or someone you know is having suicidal thoughts, please call or chat online with the National Suicide Prevention Lifeline at 1-800-273-TALK (8255).
Richard Erdman
Richard Erdman died at 93 on March 16, 2019. A longtime character actor, Erdman caught the acting bug when he moved to Hollywood from Colorado as a high school student, Variety reported. Erdman's career spanned some 70 years and more than 100 works, beginning with short films in the 1940s and branching into television in the 1950s, with appearances on Alfred Hitchcock Presents and Make Room for Daddy as well as a recurring role on Where's Raymond? He had memorable roles in The Twilight Zone, Perry Mason, Saints and Sinners, The Tab Hunter Show and Lou Grant. Erdman was a prolific voice actor, providing his pipes for everything from Popeye and Son to Scooby-Doo and Scrappy Doo to The Smurfs.
His most recent role was that of Leonard, an elderly student, on Community from 2009 to 2015. His co-star Yvette Nicole Brown paid tribute to him on Twitter, writing, "I knew the day we'd have to say goodbye to this lovely man would come sooner than any of us were ready. But knowing that doesn't make it any easier. #RichardErdman was JOY walking. Anyone who saw him on @CommunityTV [gleefully] stealing every scene he was in knows that's true."
Denise DuBarry Hay
Actress Denise DuBarry Hay passed away on March 23, 2019, at age 63. DuBarry Hay suffered from a deadly fungus, her husband, Bill Hay, told USA Today. The actress got her start on popular TV series such as CHiPs, The Love Boat and Black Sheep Squadron as well as the Academy Award-nominated film Being There (1979).
When she wasn't acting, DuBarry Hay was a savvy businesswoman. According to Deadline, she co-founded the marketing company Thane International in 1990 and was named Ernst & Young Entrepreneur of the Year in 1998. The company began after DuBarry Hay produced an infomercial for "Play the Piano Overnight," which reportedly led to an entire "Music Overnight" series for the brand. She also served as founder and president of the Palm Springs Women in Film and Television group. DuBarry Hay continued acting, appearing in 2017's Do It or Die! and Walk to Vegas in 2019.
Yoji Harada
Former Miami Ink star and Japanese tattoo artist Yoji Harada died March 27, 2019 at just 46 years old. According to Inked magazine, he was in Holland at the of his passing, having opened a tattoo shop in Amsterdam around 2011. At the time of his death, he also ran a T-shirt line, Ruthless and Toothless, with Miami Ink co-star Darren Brass.
Harada was reportedly born in Tokyo, moved to Chicago in 1998, and then landed in New York City. "Harada performed in the punk band 'Big Deal,' before relocating to Miami to be apprenticed by Ami James," the mag reported. From 2005 to 2008, Harada starred alongside James at the Love Hate Tattoo Shop in Florida. Harada made waves on Miami Ink during his journey from apprentice to full-fledged artist. At one point, his colleagues made him walk in his boxers from the city's Little Havana neighborhood to South Beach to complete his "initiation" with the shop. He also conveyed his struggle with work-life balance on the reality series, and his wife, Bridget, revealed in an episode that the tattoo business got in the way of their relationship. They divorced in 2009.
James launched a GoFundMe for Harada's daughter, Sidney, after Harada's passing.
Nipsey Hussle
Rapper Nipsey Hussle (real name Ermias Asghedom) died March 31, 2019. He was just 33 years old. The Grammy-nominated "Hussle & Motivate" artist was outside of his clothing store in downtown Los Angeles when 29-year-old Eric Holder allegedly gunned him down. According to the Los Angeles Times, law enforcement claimed Holder had a personal vendetta with Hussle for some time; the men reportedly had an argument a few hours before the shooting.
A memorial was held for the rapper at the Staples Center in Los Angeles, with celebrities such as Beyoncé and Jay-Z in attendance. Snoop Dogg, Hussle's longtime girlfriend Lauren London, Nation of Islam Minister Louis Farrakhan, and others delivered speeches in his memory. Even former president Barack Obama wrote a letter remembering Hussle's dedication to improving his Crenshaw neighborhood. During the memorial, Stevie Wonder performed, telling the crowd: "I'm happy that in his short life, he was able to motivate people. And I hope he motivates you to say, 'Enough people being killed by guns and violence.' I hope we don't just talk about it. I hope we'll be about it."
In her eulogy, London used Hussle's own words to memorialize him: "…he always used to say this: 'The game is going to test you but never fold, stay 10 toes down. It's not on you, it's in you and what's in you they can't take away.' He's in all of us."
Lotte Van Der Zee
Dutch model and former Miss Teenager Universe Lotte Van Der Zee died March 6, 2019, her parents revealed on her Instagram account. Van Der Zee, who won the Miss Teenager Universe title in 2017, suffered a heart attack during a ski trip with her family in Austria and died two weeks later, People reported. According to E! News, she began to feel unwell one afternoon, "suffered sudden cardiac arrest," and "fell into a coma." She had recently celebrated her 20th birthday.
"It started with her kidneys. She was then put on kidney dialysis, which kept her alive," Van Der Zee's mother told a Dutch paper (via The Evening Standard) that the family was faced with the difficult decision to say good bye. "The last days Lotte's organs started to go, while no more brain activity was measured," she said. Eventually, "it became clear on [March 6] that it would not be okay, she was taken off the machine. Lotte has had to endure a lot over the past few days. We did not want any further suffering."
Nadja Regin
Bond girl Nadja Regin died April 6, 2019, at age 87. Regin was born in Serbia and studied in Belgrade before becoming an actress, Variety reported. She began her career in British movies and TV shows with roles in The Saint and Edgar Wallace Mysteries. She was most famous for her roles as Bond girls Bonita in 1964's Goldfinger and Kerim's Girl in 1963's To Russia With Love. In both films, she starred alongside Sean Connery (see here with Regin), who played Agent 007.
Regin appeared to have left acting in 1968 after starring in Comedy Playhouse. In the 1970s, she selected scripts for Rank Film and Hammer productions, and in the 1980s, she became became a publisher, co-founding Honeyglen Publishing, reported Variety. Her love for the written word didn't end there: In 2016, Regin published her own novel set in post-World War II Europe, The Victims and the Fools, under her full name, Nadja Podergin.
John Singleton
Director John Singleton passed away on April 29, 2019 at just 51 years old after suffering a massive stroke about two weeks earlier, according to Variety. The outlet also reported that Singleton was both the youngest, and the first-ever African American best director Oscar nominee when he got the nod at just 24 years old for his acclaimed film Boyz N the Hood (1991). He's also known for helming Poetic Justice (1993), the remake of Shaft (2000), 2 Fast 2 Furious (2003), and Michael Jackson's iconic music video for "Remember The Time" starring Eddie Murphy, Iman, and Magic Johnson. He most recently served as an executive producer of the FX series Snowfall and directed American Crime Story: The People v. O.J. Simpson in 2016.
Tributes poured out for the late director from everyone from newly-minted Oscar winner Spike Lee, to Jordan Peele, to former President Barack Obama, and Singleton's frequent collaborator Regina King. Singleton's daughter Justice — his spitting image — honored her father on Instagram, and promised to continue his legacy, writing, "I want [to] provide what he can no longer. I am his vessel and he is my captain. I'll share as much of his hopes and dreams. I'll treat those the way he did, with fist bumps and laughter. I sincerely wish he had more time but what he did here is everlasting and within me. I'll always be Justice, his little face."
Peter Mayhew
English-American actor Peter Mayhew, known and beloved for starring as Chewbacca in the Star Wars franchise, passed away on April 30, 2019, surrounded by his family and loved ones in his Texas home. He was 74 years old. No cause of death has been revealed at the time of this writing, but The Hollywood Reporter claimed that Mayhew underwent spinal surgery to improve his mobility in 2015.
Mayhew had bit parts and was a full-time hospital orderly before he became the furry co-pilot we all know and love, according to THR. Mayhew was chosen for the role of Chewbacca after actor David Prowse rejected the role in favor of starring as Darth Vader in the original Star Wars, NPR reported. Director George Lucas reportedly chose Mayhew purely for his 7'2" height. He appeared in Star Wars episodes IV, V, VI, and III, as well as several specials and TV guest episodes as the beloved Wookiee. His most recent appearance as Chewbacca was in Star Wars Episode VII: The Force Awakens. After passing the baton to Joonas Suotamo, he worked as a "Chewbacca consultant" on The Last Jedi.
Lucas summed up Mayhew as the true personification of his hairy onscreen character. "Peter was a wonderful man," Lucas said in a statement (via THR). "He was the closest any human being could be to a Wookiee: big heart, gentle nature… and I learned to always let him win. He was a good friend, and I'm saddened by his passing."
Peggy Lipton
Model and actress Peggy Lipton passed away on May 11, 2019. She was 72 years old. Lipton was mother to daughters Kidada and Rashida Jones with her ex-husband, music pioneer Quincy Jones. Rashida and Kidada said in a statement to The Los Angeles Times, "She made her journey peacefully with her daughters and nieces by her side." They continued, "We feel so lucky for every moment we spent with her," adding, "We can't put all of our feelings into words right now, but we will say: Peggy was and will always be our beacon of light, both in this world and beyond. She will always be a part of us."
Lipton kicked off her modeling career when she was just 15 years old. She was acclaimed for her acting work as Julie Barnes in The Mod Squad from 1968 to 1973, earning four Emmy nominations and winning a Golden Globe for the role in 1971. She was also a singer, releasing a self-titled album in 1968 (via Variety).
She married Quincy Jones in 1974, then took on smaller roles and bit parts periodically. After divorcing Jones in 1989, Lipton hit the small screen again as Norma Jennings in Twin Peaks, a role she reprised in 2017. In addition to Twin Peaks, Lipton also appeared in daughter Rashida's series Angie Tribeca, appropriately as the mom of Rashida's titular character.
Doris Day
Legendary singer and actress Doris Day passed away on May 13, 2019, as reported by CNN. She was 97.
Day was born Doris Mary Ann von Kappelhoff in Cincinnati, Ohio. She got her start singing as a teen, changing her last name to Day when she started getting radio airplay.
She began acting in musicals in the 1940s, making her debut as Georgia Garrett in 1948's Romance On The High Seas. By the 1950s, she became a household name as America's virginal girl next door, with Calamity Jane (1953) reportedly being her favorite project throughout her career. She also starred in Alfred Hitchcock's The Man Who Knew Too Much (1956), for which she recorded what became her signature Oscar-winning song, "Que Será, Será." Three years later, she co-starred with longtime friend Rock Hudson in Pillow Talk, for which she was nominated for the Oscar for best actress.
Unfortunately, Day's personal life wasn't as ideal as the loves she shared onscreen. Day, who welcomed son Terry at 19, was married four times, with three marriages ending in divorce. Her third husband, Martin Melcher, was also her manager. When he died, she was in massive debt and would go on to sue his business partner for fraud (via the Los Angeles Times). Day's son later died of melanoma in 2004, People reported, devastating her.
Day was an animal activist and owned a dog-friendly hotel in Carmel, Calif., and she started her own foundation dedicated to spaying, neutering, and rescuing animals.
Tim Conway
Comedy legend Tim Conway died May 14, 2019. He was 85 years old. Conway's big break was in the role of Ensign Charles Parker on McHale's Navy, followed by his own eponymous show, and then his acclaimed role on The Carol Burnett Show. He won a Golden Globe and four Emmy Awards for his work on the latter, as well as two more Emmys for his guest appearances on Coach and 30 Rock. According to The New York Times, "Younger viewers may know Mr. Conway best as Dorf, a diminutive character with a Mr. Tudball accent who appears in a series of short slapstick films he wrote."He also voiced Barnacle Boy on SpongeBob Squarepants, effectively instilling his legacy across several generations. Conway was happiest in supporting roles, telling the Archive of American Television in 2004: "I would much rather stand in the background and make small funny things than be up at the head of the class."
In August 2018, The Blast reported that Conway was confined to a wheelchair and battling dementia. His wife, Charlene, and daughter Kelly (from his first wife, Mary Anne Dalton) battled in court over who should be his conservator. After his passing, Carol Burnett told Fox News, "I'm heartbroken. He was one in a million, not only as a brilliant comedian but as a loving human being. I cherish the times we had together both on the screen and off. He'll be in my heart forever."
Grumpy Cat
Grumpy Cat made the world as miserable as she appeared when she passed away on May 14, 2019. Real name Tardar Sauce, Grumpy cat was 7 years old when she died. Her owners announced on Twitter that Grumpy Cat suffered complications from a urinary tract infection and that treatment from top veterinary professionals wasn't able to save her.
Grumpy Cat became a sensation in 2012, when her owner's brother posted a photo of her on Reddit. According to CNN, Tardar Sauce had feline dwarfism, which likely caused her distinctly curmudgeonly expression and small size. Her viral fame made her a social media and commercial sensation, boasting about 1.6 million Twitter followers, 8.5 million Facebook fans, 2.4 million Instagram followers. She starred in a Christmas special (voiced by actress Aubrey Plaza, who called Tardar Sauce her spirit animal), a Friskies endorsement deal, numerous TV appearances, and a slew of merchandise featuring her adorably cranky likeness.
Ashley Massaro
Former WWE star Ashley Massaro died May 16, 2019, just 10 days short of her 40th birthday, TMZ reported. Massaro won the 2005 WWE "Raw Diva Search," nabbing a $250,000 contract. In 2007, she took on Melina in the WWE Women's Championship at WrestleMania, appeared on the cover of Playboy, and competed in Survivor: China. She left the WWE in 2008, returning to the biz with a smaller wrestling outfit in 2017.
The Blast reported "died after apparently taking her own life." She had long been open about her struggles with mental health. Before her passing, Massaro was one of 60 wrestlers to take part in a class action lawsuit against the WWE for allegedly not protecting its talent from the risks of CTE (chronic traumatic encephalopathy) and TBI (traumatic brain injury). Massaro reportedly blamed her bouts of depression on the head trauma she suffered during her wrestling career and claimed the WWE "used narcotics as a tool to allow me and other wrestlers to perform through our injuries." The organization reportedly did pay for her to go to rehab for her addiction to painkillers. The suit was dismissed in 2018, but an appeal is ongoing at the time of this writing. The WWE claimed Massaro apologized for filing the suit, but Massaro's attorney told the New York Post he wasn't aware of any such apology.
Daniel Wright
The Biggest Loser contestant Daniel Wright passed away on May 26, 2019. He was just 30 years old. Wright appeared on the NBC reality weight loss series in its seventh and eighth seasons, starting when he was just 19. Wright's wellness journey was derailed when he was diagnosed with acute lymphoblastic leukemia in October 2017. He fought the disease bravely, even returning to work before a relapse in December 2018, according to People. His wife, fellow Biggest Loser contestant Rebecca Meyer Wright, indicated that he was not doing well on a GoFundMe page shortly before his death.
Several of Wright's fellow Biggest Loser contestants honored him after his passing, with Danny Cahill posting a particularly moving tribute. "Daniel's light has always been one of grace, encouragement, wisdom, love and honor throughout the time I have known him," Cahill wrote on Facebook. "And I can honestly say that because of him I am a better man. He showed me (by example – not by telling me) how to care for others in a different way, and I thank God for being able to know this man for the 10 years I have known him."
​Gloria Vanderbilt
Gloria Vanderbilt died at 95 on June 17, 2019, her son Anderson Cooper confirmed to CNN. Born Gloria Laura Madeleine Sophie Vanderbilt in 1924, Vanderbilt was at the center of a custody battle dubbed "The Trial of the Century" after her father's death when she was 18 months old. Vanderbilt's aunt won custody of her after Vanderbilt's mother squandered much of her trust fund.
Gloria modeled in her teens, according to The Hollywood Reporter, and romanced older men, including Errol Flynn and Howard Hughes before marrying Hollywood agent Pat DeCicco. They divorced after four years; Gloria later accused DeCicco of abuse. She married conductor Leopold Stokowski in 1945, sharing sons Stanley and Christopher before splitting 10 years later. She then dated Frank Sinatra and Marlon Brando before marrying director Sidney Lumet in 1956. They divorced in 1963, and she married her final husband, writer Wyatt Cooper, with whom she shared sons Anderson and Carter. Wyatt died in 1978, and Carter died by suicide a decade later.
In addition to being a tabloid staple, Gloria was an artist and fashion designer. Her signature denim made her a household name for a new generation. Anderson recalled, "If you were around in early 1980s it was pretty hard to miss the jeans she helped create, but that was her public face — the one she learned to hide behind as a child. Her private self, her real self — that was more fascinating and more lovely than anything she showed the public."
Beth Chapman
Dog The Bounty Hunter star Beth Chapman, wife of Duane "Dog" Chapman, died on June 26, 2019. She was 51 years old and had been battling throat cancer. Duane revealed the news on Twitter: "It's 5:32 in Hawaii, this is the time she would wake up to go hike Koko Head mountain. Only today, she hiked the stairway to heaven. We all love you, Beth. See you on the other side." TMZ reported that Beth's family was by her side at the time of her passing.
Beth met Duane after she was arrested for allegedly shoplifting some lemons (The whole thing was a misunderstanding.) She has joked that she stalked him into submission by getting a job in a bail office and writing "bad bail" to spend time with him. "And it worked," she said in an A&E video. The pair had a tumultuous relationship for years, but by 1997, they were committed to one another. After welcoming daughter Bonnie Jo and son Garry, and starring on their A&E reality series beginning in 2003, they wed in 2006. Beth continued to share her life with her fans throughout her cancer battle, calling it a "test of faith" as she sought alternative treatments.
"This is my ultimate lesson," she told People. "And it will either be taught to me or to you. And I am fine with taking the hit for everyone else. Because I think I know another guy who did the same thing."
Etika
YouTube star Daniel Desmond "Etika" Amofah was found dead in New York City's East River on June 25, 2019. The video game vlogger had reportedly gone missing days earlier after posting what appeared to be a suicidal message on his channel, reported CNN. He was 29 years old.
According to CNN, the YouTube star's primary channel was deactivated in October 2018 after pornography was allegedly uploaded to the account; he later started a secondary channel. Etika's fans have petitioned to get his channel restored after his passing. According to The Washington Post, Etika's behavior was increasingly erratic leading up to his disappearance. In April 2019, he reportedly alarmed followers with a seemingly suicidal tweet, but later assured his fans that he was okay. That same month, he reportedly livestreamed an encounter with police who had shown up at his home in Brooklyn, N.Y. to check on his welfare.
Though his relationship with online platforms and communities was certainly conflicted, fans have flooded Twitter with messages of grief and support. "Etika was a pillar of the Smash, Nintendo, YouTube, gaming & esports communities. Etika will be remembered as a good man," tweeted Esports consultant Rod Breslau.
If you or someone you know is having suicidal thoughts, please call the National Suicide Prevention Lifeline at 1-800-273-TALK (8255) or text HOME to the Crisis Text Line at 741741.
Billy Drago
Character actor and master movie villain Billy Drago died June 24, 2019 after suffering a stroke, Variety reported. He was 73. Drago was reportedly born William Eugene Burrows, Jr., in Hugoton, Kan., to an actor-director father and a mother reportedly of Romany origin and whose last name he adopted as his stage name. He began work as a stuntman, then graduated to acting roles in more than 100 movies, making a name for himself as a notable villain. He's well known for playing Mafia henchman Frank Nitti in The Untouchables, landing roles in multiple Chuck Norris projects, mastering the part of the Demon of Fear Barbas on the Charmed TV series, and giving audiences the creeps as Papa Jupiter in The Hills have Eyes. Drago also appeared in the music video for Michael Jackson's 2001 hit "You Rock My World."
One of his first films was playing a shady deputy opposite Clint Eastwood in Pale Rider. "You can't get much better than being killed by Clint Eastwood in a Western," Drago reportedly said in an interview published by The Void magazine in 2011. "I've killed great people and been killed by great people!"
One of his sons, Darren Burrows, is also an actor and starred in Northern Exposure.
Ross Perot
H. Ross Perot, a billionaire businessman who ran for president twice as an independent, died July 9, 2019, The Dallas Morning News reported. He was 89. Known simply as Ross Perot, he was born and raised in Texas and served in the Navy before becoming a salesman for IBM. He left IBM in 1962 to found Electronic Data Systems (EDS) in 1962, followed by Perot Systems, Inc. in 1988. Perot's son, Ross Perot, Jr., succeeded him as CEO before selling the company to Dell in 2009 for a whopping $3.9 billion.
Perot ran for president in 1992 as an independent against incumbent President George H.W. Bush and then-Democratic nominee Bill Clinton. Perot used more than $12 million of his own money for his campaign. Though he didn't win any electoral college votes, he earned 18.9 percent of the popular vote and was famously impersonated on Saturday Night LiveDana Carvey. The real Ross ran again in 1996 against then-incumbent President Bill Clinton and Republican nominee Bob Dole, but he only received 8 percent of the popular vote his second time around. Though he never ran for public office again, he did endorse George W. Bush for president in 2000.
The father of five children with wife Margot Birmingham, he dedicated the later years of his life to philanthropic efforts. In 2008, his children donated $50 million to help fund a science museum named in his honor in Dallas.
Rip Torn
Elmore Rual "Rip" Torn died July 9, 2019 at 88 years old. The character actor had a whopping 200 credits to his name, beginning on Broadway in the 1950s and earning a Tony Award nomination for his role in Tennessee Williams' Sweet Bird of Youth in 1959. One of Torn's most iconic performances was in the Norman Mailer 1970 docudrama Maidstone, when Torn reportedly attacked Mailer with a hammer during a scene. A scripted fight supposedly became a real one — and the raw footage was included in the final film.
Torn earned an Oscar nod for best supporting actor in 1983's Cross Creek. One of his most popular roles was as producer Artie on The Larry Sanders Show in the 1990s, which earned him six Emmy nominations and one win for best supporting actor. He was also celebrated for his role as Zed, chief of a top secret alien-hunting group in 1997's Men In Black and for his comedic performance as Patches O'Houlihan in Dodgeball in 2004.
Emily Hartridge
YouTube vlogger Emily Hartridge died on July 12, 2019 at 35 years old when her electric scooter collided with a truck in London. Hartridge's Instagram account posted a statement confirming her passing on July 13. In a heartwrenching turn, the clip that would become Hartridge's final YouTube video was published July 8 — and it featured her receiving scooters for her birthday. The Guardian reported that Hartridge's fatal scooter crash was the first on record in the U.K.
Hartridge initially gained popularity for her "10 Reasons Why" video series, which featured provocative titles like "You shouldn't get married…..10 Reasons Why," "You Should Date a Cougar….10 Reasons Why" and "Boobs are AWESOME … 10 Reasons Why." Within the last few years, she gained prominence as a fitness vlogger and influencer with her "Think Outside the Gym" series. Her most recent uploads focused on love and relationships, including her own romance with Jacob Hazell, who posted a heartbreaking video after her death.
Rutger Hauer
Veteran actor Rutger Hauer died at his Netherlands home on July 19, 2019 after a short illness, Variety reported. He was 75 years old. Hauer was best known for his role of Roy Batty, a homicidal replicant in Blade Runner (1982), though he made a name for himself nearly a decade earlier with a role in the Best Foreign Film Oscar nominee Turkish Delight (1973). After several Dutch films, Hauer broke out stateside as a baddie in Sylvester Stallone's Nighthawks (1981). Following Nighthawks (1981), Hauer took on a string of action roles for the next decade.
Though mostly known, at least initially, for action roles, Hauer was a horror figure as well. He starred as Lothos, the ultimate non-Dracula baddie in the original horror-comedy Buffy The Vampire Slayer (1991), as Van Helsing in Dracula 3D (2012), fairy prince Niall Brigant on HBO's vampire drama, True Blood (2013 – 2014), and in the exorcism thriller The Rite (2011). Hauer's most recent projects included The Sisters Brothers (2018) and the TV series Porters.(2017 – 2019).
Though Hauer was a workhorse, he chose his projects carefully. He explained to The Hollywood Reporter in February 2018 that he wasn't too interested in modern blockbusters. "The eye of the director and the point of view of the filmmaker has suffered [in big films] in the past decades," he said. "I look for hard balls. And I don't see much balls in most films today."
Peter Fonda
Peter Fonda died on Aug. 16, 2018 at 79 years old after a battle with lung cancer, Variety reported. Fonda was an iconic on-screen biker, beginning with the Hell's Angels opus Wild Angels (1966), starring alongside Bruce Dern and Nancy Sinatra. Then came the The Trip (1967), followed by his star turn in Easy Rider (1969), which he co-wrote with Dennis Hopper and author Terry Southern. Fonda earned a Best Original Screenplay Oscar nomination for Easy Rider, though he and Hopper reportedly feuded for years over who came up with the idea. His most notable roles in the 1970s included parts in Futureworld (1976) and Wanda Nevada (1979), in which he co-starred with a young Brooke Shields and his father, Henry Fonda, marking their only shared screen time during their lifetimes. He later appeared with his daughter, Bridget Fonda, in Bodies, Rest & Motion (1993).
After a series of cameos and bit parts, Peter Fonda returned to the big time in John Carpenter's blockbuster Escape From L.A. (1996) with Kurt Russell, followed by Ulee's Gold (1997), for which he was nominated for a 1998 Best Actor Oscar. He continued acting throughout his life, both in film and TV (often as a biker), guest-starring in CSI: NY and Hawaii Five-O. Peter's superstar sister, Jane Fonda, said in a statement, "I am very sad. He was my sweet-hearted baby brother. The talker of the family. I have had beautiful alone time with him these last days. He went out laughing."
Jessi Combs
Mythbusters star and professional speed demon Jessi Combs died at age 39 on Aug. 27, 2019 in the Alvord Desert in Oregon. Combs was attempting to break her own record for land speed in a 52,000 horsepower jet-powered car when she suffered a fatal crash, the New York Post reported. Combs "held the title of 'fastest woman on four wheels' after breaking 398 miles per hour" in 2013, Jalopnik reports. Days before the crash, Combs tweeted a photo of the jet-car hybrid.
There was more to Combs than speed. She was also a skilled metal worker, fabricator, and builder. She also represented the American Welding Society. According to her official bio, Combs got her start on television as a guest fabricator on Overhaulin' before becoming the host of Xtreme 4×4. She suffered an "unexplainable" accident in 2007 after a piece of machinery fell on her. While it was expected that she'd be wheelchair-bound for life following the horrifying incident, she made a complete recovery. She went on to appear in various shows including 2 Guys Garage before becoming a frequent guest host of Mythbusters in 2009, followed by a staple of the Velocity Channel.
In a statement to Jalopnik, Combs' family called her "a role model for young Girls, and Women around the world," adding that she "was one of the rare dreamers with the bravery to turn those possibilities into reality, and she left this earth driving faster than any other woman in history."
Valerie Harper
Valerie Harper died on Aug. 30, 2019, her family revealed to ABC 7. The late actress was 80 years old and had battled cancer for several years before her passing.
After rising to notoriety on The Mary Tyler Moore Show as the titular character's best friend, Rhoda Morgenstern, she later starred on the spin-off, Rhoda, and ultimately won four Emmy Awards for her portrayal of the character. Her next series, Valerie, lasted two seasons before she was fired due to a failed contract negotiation, which led Harper to sue for wrongful termination (via People). Though NBC counter-sued for libel, she won some damages in the case.
Harper married twice: first to Richard Schaal from 1964 to 1978, then to fitness instructor Tony Cacciotti from 1987 until her death. She and Cacciotti share a daughter named Christina. After being treated for lung cancer in 2009, Harper revealed she was diagnosed with leptomeningeal carcinomatosis — a rare form of brain cancer — in 2013, and announced that she had just three months to live. She beat the odds for a time, later telling People that she was at peace with her mortality. "I am not banking on anything, really, because we shouldn't," Harper said. "We don't know what's around the corner. I think you just take each day and get the best out of it and do what you can and have fun."
Kylie Rae Harris
Country singer Kylie Rae Harris died on Sept. 4, 2019. She was just 30 years old. According to Billboard, the "What the Heart Wants" songstress was involved in a three-vehicle crash near Taos, N.M. While another party was unharmed, the Associated Press reports that a 16-year-old girl was also killed in the accident. Alcohol is suspected as a cause in the crash, though authorities did not reveal which party was suspected to be drinking.
Hours before Harris' passing, she revealed on her Instagram Story that she used to frequent the northern New Mexico town with her father and sisters because her grandparents had lived there — but added that only one surviving uncle remained out of all of them. "Driving these roads today — I've been driving for 12 hours — you would think that's so exhausting and boring," she wrote (via People), adding, "And remembering my place in the back seat, and I started getting really sad."
A GoFundMe page has been established to pay for Harris' funeral costs and to support her six-year-old daughter, Corbie.
Eddie Money
Singer Eddie Money, famous for "Two Tickets to Paradise" and "Take Me Home Tonight," died on Sept. 13, 2019. He was 70 years old. The crooner had recently been diagnosed with stage 4 esophageal cancer. On the morning of his death, his family told Variety, "It is with heavy hearts that we say goodbye to our loving husband and father. We cannot imagine our world without him. We are grateful that he will live on forever through his music."
Money, born Edward Joseph Mahoney in Brooklyn, was an NYPD officer before moving to California, where he linked up with legendary producer Bill Graham. His first hit was 1978's "Baby Hold On," while "Take Me Home Tonight," featuring Ronnie Spector reprising her hit "Be My Baby," peaked at No. 4. In April 2018, Money and his family appeared in the AXS TV reality series Real Money.
During the 1980s, Money struggled with addiction and alcohol abuse, but got sober, which he told The Los Angeles Times was "boring." Still, he maintained a sense of humor about his life and career, telling the outlet, "I don't go for this Hollywood crap. I can sample it but I don't fall into it. I don't go to Rod Stewart parties. I don't come down to L.A. for the Grammys. I'm not into fancy cars. I drive a 1974 Mercedes that I bought from my lawyer. It's a piece of junk. I'm trying to sell it to my Iranian dentist."
Ric Ocasek
The Cars frontman Ric Ocasek died on Sept. 15, 2019. He was 75 years old. Ocasek's estranged wife, former supermodel Paulina Porizkova, reportedly found him unresponsive in bed in their New York City home, TMZ reported, where he was pronounced dead at the scene. In May 2018, Porizkova announced that she and Ocasek had separated a year earlier after 28 years of marriage. Per EW, the couple met on the set of The Cars' video for "Drive" in 1984 and share two children.
Ocasek was responsible for The Cars' biggest hits, including smash singles from their self-titled 1978 debut album like "Just What I Needed," "My Best Friend's Girl" and "Good Times Roll," as well as several solo albums and a slew of behind-the-scenes production. The Hollywood Reporter notes that The Cars' smash "You Might Think" beat out Michael Jackson's "Thriller" for the inaugural Video of the Year award at the MTV Video Music Awards in 1984.
Ocasek and The Cars were inducted into the Rock and Roll Hall of Fame in 2018. He told Rolling Stone that the honor was a "good cap on the bottle" of his music career with the band, explaining, "It is a lifetime. I had three families during that time. They are like lives that go by and millions of people and things and artists and writers and business people and fans. … It's a lot of stuff. It's been a pretty eventful life, I can say."
Suzanne Whang
Former House Hunters host Suzanne Whang died at 56 on Sept. 17, 2019. Whang battled breast cancer for 13 years. Her longtime partner, Jeff Vezain, wrote on Facebook, "A lifetime of love, adventure, humor and bliss now lives in our memories. … Suzanne breathed her last breath here at home, as I knelt beside her and caressed her."
Whang battled breast cancer for 13 years, with what Vezain says was "courage, humor, determination and optimism. She was immensely encouraged by the love of her family, friends and those she had yet to meet." Whang chronicled her cancer battle on social media with a series of candid and at times darkly funny posts.
In addition to her hosting stint on the popular HGTV show, Whang was a producer, radio host, writer and even an ordained minister, TMZ reports. She was also an actress, appearing in TV shows like Las Vegas, Dexter, Criminal Minds, Arrested Development, Kingdom, The Mick, and General Hospital.
Aron Eisenberg
Star Trek: Deep Space Nine star Aron Eisenberg died at 50 on Sept. 21, 2019. Eisenberg suffered from kidney issues for his entire life, TMZ reports. Born with just one kidney, Eisenberg was placed on dialysis at age 14. He underwent his first kidney transplant at 17, then another when he was 46. The 5'0" actor's kidney issues stunted his growth.
Eisenberg was best known for DS9, but he also appeared in Star Trek: Renegades and Star Trek: Voyager, as well as Blade Of Honor, The Secret World Of Alex Mack, and Amityville: The Evil Escapes (1989).
Upon Eisenberg's death, it was revealed he was married. "We didn't officially announce that we had eloped on Dec. 28, 2018," his widow Malissa Lango wrote on Facebook. "We were hoping to have a big shindig in celebration of our nuptials, but had to wait to save up the money." She added, "There will never be another light like Aron's. The beauty that he was and the legacy he leaves behind is beyond words. I love him dearly and will miss him eternally. At the moment I'm not sure how to do life without him."
Sid Haig
Actor Sid Haig, who's best known for portraying the iconic horror character Captain Spaulding in his frequent collaborations with director Rob Zombie, died on Sept. 21, 2019, due to complications from a lung infection, according to Variety. He was 80.
"My light, my heart, my true love, my King, the other half of my soul, Sidney, passed from this realm on to the next. He has returned to the Universe, a shining star in her heavens," Haig's wife posted to Instagram. "He was my angel, my husband, my best friend and always will be. He adored his family, his friends and his fans. This came as a shock to all of us."
In a career that spanned over five decades, Haig appeared in almost every classic television show and genre movie you can imagine. Just take a look at a few of his IMBd credits: Batman (the television show), Star Trek (the original), Here's Lucy (with Lucille Ball), THX 1138 (George Lucas' first film), Diamonds Are Forever (a James Bond flick), Fantasy Island, Coffy, Foxy Brown, Jackie Brown, Kill Bill: Vol 2, and the 2015 instant horror-western classic Bone Tomahawk.
Rip Taylor
Actor and comedian Rip Taylor died on Oct. 6, 2019, in Cedars-Sinai Medical Center's ICU after suffering a seizure the week before, CNN reports. He was 84. Known for his over-the-top personality, costumes, and signature handlebar mustache, Taylor was a veteran of the Korean War before entering show business. During the '70s, he was a staple celebrity guest on game shows like Hollywood Squares, The Gong Show, and The Match Game.
During a 2011 interview (per The Hollywood Reporter), Taylor explained that he earned his nickname, "King of Confetti," entirely by accident. "I was dying like hell on Merv Griffin's show. The jokes were dumb, and I tore the 5 by 8 cards, threw them up in the air, and it became confetti," he said. "I knocked over his desk, walked up the aisle, went to Sardi's, and said, 'Well, that's the end of my television career.' I went home that night. Their switchboard had lit up. They said, 'Get the guy that went crazy!' And that is how the confetti started." This launched Taylor's famous gag that he would perform for the rest of his career.
"The greatest joy he had in life was the result of making others laugh. He didn't have an easy childhood," Taylor's publicist, Harlan Boll, released in a statement to CNN following Taylor's passing. "Abused and bullied, he said he discovered early, that they weren't hitting you if they were laughing."
Robert Hunter
Grateful Dead collaborator Robert Hunter passed away on Sept. 23, 2019. He was 78 years old. Rolling Stone reported that no cause of death was revealed, but a rep confirmed that Hunter died at his home "surrounded by love," holding his wife Maureen's hand.
Hunter was the legendary jam band's lyricist for hits including "Dark Star," "China Cat Sunflower," "Uncle John's Band," "Box of Rain," "Scarlet Begonias," and "Touch of Gray." Hunter first met Grateful Dead frontman Jerry Garcia in 1961 at a local California production of Damn Yankees. They eventually bonded over losing their fathers at a young age (Garcia's father had died, while Hunter's parents were divorced).
Hunter, who once described using LSD as "a romping good time," recalled his experiences both with drugs and with the Dead to Rolling Stone, explaining the origins of one track in particular that spawned when a stranger offered him a substance in Golden Gate State Park. "I don't remember if I took it or not, but I said, 'I'm writing the second verse for the song called 'Dark Star' for the Grateful Dead — remember that.' I had a prescience about the whole thing at that point. Once I started believing in that band, I thought, 'We're going to go the distance.'"
After Garcia's death in 1995, Hunter continued writing, most famously with Bob Dylan, and continued touring and performing as recently as 2013, when he admitted he had to raise money for medical bills for a spinal abscess.
Robert Forster
Robert Forster died on Oct. 11, 2019. He was 78 years old. The actor's rep told The Hollywood Reporter that Forster passed away at his home following a battle with brain cancer. Forster had more misses than hits early in his career, which began in the 1970s. Of his career struggle, he told The Chicago Tribune in 2018, "Every time it reached a lower level I thought I could tolerate, it dropped some more, and then some more. Near the end I had no agent, no manager, no lawyer, no nothing. I was taking whatever fell through the cracks."
Director Quentin Tarantino was a longtime fan of Forster, who he brought in to audition for Reservoir Dogs. The part eventually went to Laurence Tierney, but Tarantino brought Forster back for Jackie Brown, writing the part of Max Cherry specifically for him. "That's when I said to him, 'I'm sure they're not going to let you hire me,'" Forster recalled to Fandor. "[Tarantino] said, 'I hire anybody I want.' And that's when I realized I was going to get another shot at a career."
After Jackie Brown, Forster enjoyed a renaissance. His most recent work in the Breaking Bad film El Camino, reprising his role as Ed Galbraith aka The Disappearer, premiered the day he died.
Sulli
K-pop star Sulli was found dead in her Seongnam, South Korea home on Oct. 14, 2019. She was just 25 years old. Police told The Guardian that the singer, a former member of the K-pop group f(x), is suspected to have taken her own life, but AP News also concurrently reported that "police did not find a suicide note."
Sulli had a history of depression and emotional distress. She took a hiatus from her K-pop group in July 2014, before quitting the group entirely in 2015 to focus on acting and her solo K-pop career. In 2018, she revealed on a talk show that she suffered from panic disorders from a young age, explaining, "Even close people left me. I was hurt by them and felt there was nobody who understands me, which made me fall apart."
According to AP News, Sulli "was known for her feminist voice and outspokenness," which "was rare among female entertainers in deeply conservative South Korea." This apparent openness led to Sulli becoming a somewhat controversial figure in K-pop. As a result, she also suffered from online bullying for things as innocuous as kissing her best friend at a birthday party. The New York Times reported that Sulli's fans have now claimed that cyberbullying "affected her mental health," however, the investigation into what led to her death is still ongoing, as of this writing.
If you or someone you know is having suicidal thoughts, please call the National Suicide Prevention Lifeline at 1-800-273-TALK (8255) or text HOME to the Crisis Text Line at 741741.
Stephen Moore
Actor Stephen Moore died on Oct. 4, 2019 at 81 years old. Moore was best known for The Hitchhiker's Guide To The Galaxy series, in which he starred as a paranoid android named Marvin. His voice appeared in the radio series, as well as the TV show, audio books and other recordings, The Guardian reports. Variety reports that his character inspired the Radiohead smash "Paranoid Android" in 1997.
In addition to his voice work for Hitchhiker's Guide and other radio plays and programs, Moore also appeared in Doctor Who in 2010 as Eldane, the leader of the Silurians, as well as in British sketch show Harry Enfield And Chums in 1997. In the 1980s, he starred in U.K. series Solo and Small World. Moore was also an accomplished stage actor, starring in productions of Twelfth Night, A Midsummer Night's Dream, As You Like It, and The Merry Wives Of Windsor. He was honored with a Laurence Olivier Theatre Award in 1983 for his work in The Doll's House.
Producer Dirk Maggs tweeted a tribute to his late friend, who he called "a fine actor" and "a lovely man." He continued, "Our thoughts are with his family and our memories of him will always make us smile." Moore is survived by his five children.
Bill Macy
Actor Bill Macy died on Oct. 17, 2019 at 97 years old, The New York Times reported. Macy was best known for his role as Bea Arthur's husband, Walter Findlay, on Maude from 1972 to 1978. In an interview with Shout! Factory TV Macy recalled one episode that "really affected" him. In particular, it was once since from the episode in which Walter was depicted as having a drinking problem and struck Maude in the face. "When I hit her on camera … I — it was how I felt," Macy said, as he choked up describing his emotional performance. "Even just the memory of it [is painful]. Both of us spoke about it, and [Arthur] said, 'Don't hit her in the ear, but use this part of the face,'" he added, pointing to his cheek.
The Times additionally reported that Macy was born Wolf Marvin Garber in Revere, Mass., before a neighbor convinced his parents to "Americanize" his first name. He was raised in Brooklyn, New York, and served in the Army when he graduated high school. He later drove a taxi for years before achieving success first onstage in a series of Off-Broadway plays, then onscreen. Aside from Maude, Macy is likely best remembered for his small but crucial role in The Jerk, in which he helps Steve Martin's character get rich.
Robert Evans
Legendary producer Robert Evans died on Oct. 26, 2019, Variety reported. He was 89 years old. Evans began his illustrious Hollywood career as an actor before becoming the head of Paramount Pictures — with zero previous production experience — in the 1960s. His first production was the classic Chinatown, followed by more hits like Urban Cowboy and Marathon Man. Other wins on his resume include The Godfather, Love Story, and Rosemary's Baby, however, Evans also produced some duds, like the 1974 version of The Great Gatsby.
Evans' real life was almost as dramatic as the movies he shepherded. He was married seven times, most famously to actress Ali McGraw, who left him for her Steve McQueen, her co-star in 1972's The Getaway. Evans was convicted of cocaine possession in the 1980s, and in 1998, he suffered a stroke that left an entire side of his body paralyzed, but he was able to eventually make a complete recovery thanks to a lot of therapy. He was also one of the boldfaced names mentioned in Heidi Fleiss' infamous little black book of johns. Evans' persona was so storied that it inspired the animated Comedy Central series Kid Notorious. Evans' pal Dustin Hoffman even reportedly based his idiosyncratic performance in Wag The Dog on Evans.
Evans perhaps summed up his outsized life best in his infamous memoir The Kid Stays in the Picture, writing, "There are three sides to every story: yours … mine … and the truth. No one is lying."
John Witherspoon
Comedian and actor John Witherspoon died on Oct. 29, 2019 at 77 years old, his son announced on Twitter. As of this writing, Witherspoon's cause of death has not yet been revealed. The Detroit native began his career in standup comedy before transitioning to a colorful career in television and film. His best known roles include "Pops" on The Wayans Bros. as the father to titular stars Marlon and Shawn Wayans, and Willie Jones in the Friday franchise, in which he played star Ice Cube's father. Witherspoon was reportedly slated to reprise his role as Jones in the upcoming Last Friday installment, which is still in pre-production as of press time. Witherspoon also appeared in Soul Plane, and provided voiceover work for The Boondocks and Proud Family. He boasted a whopping 84 acting credits in his career.
Comedian Mike Epps, who appeared with Witherspoon in Next Friday, expressed his heartbreak on Instagram and reminisced about Witherspoon calming him down on his first day on the set, while Marlon Wayans echoed Epps' angst, writing that that whenever he misses Witherspoon he'll toss on an episode of The Wayans Bros. Ice Cube perhaps summed up the consensus of Witherspoon's peers the best, simply tweeting, "I'm devastated over the passing of John Witherspoon. Life won't be as funny without him."
Laurel Griggs
The lights on the Great White Way got tragically dimmer when Broadway and budding screen actress Laurel Griggs passed away on Nov. 5, 2019. She was 13 years old. The starlet's family told Page Six that Griggs suffered a massive asthma attack. She was hospitalized, but doctors were unable to save her.
Griggs got her big break at just six years old when she starred in Cat On A Hot Tin Roof on Broadway alongside Scarlett Johansson. Afterward, she played Ivanka in the musical Once, maintaining the role for 17 months, the longest in the play's history, per Young Broadway. Griggs extended her stage success to the small and silver screens, appearing in numerous commercials and providing voiceover work for animated series Bubble Guppies. Griggs appeared on Saturday Night Live twice in 2017, once in a memorable Christmas sketch with Kate McKinnon, and in another sketch spoofing the Nickelodeon Kids Choice Awards orange carpet with Natalie Portman. She also had a role in Louie, and played Evelyn's daughter in Woody Allen's Cafe Society with the likes of Steve Carell, Blake Lively, Kristen Stewart and Jesse Eisenberg.
Griggs lived in New York City with her parents, where she attended public school, and supported many charities, including Broadway Cares, where she helped fundraise for HIV and AIDS awareness and treatment.
Jane Galloway Heitz
Actress Jane Galloway Heitz died at a hospital in Highland Park, Ill. on Nov. 13, 2019. She was 78 years old, and suffered from congestive heart failure, her daughter confirmed to The Hollywood Reporter. Glee fans will recognize Galloway Heitz as Glee Club instructor Will Schuester (Matthew Morrison)'s inspiration and predecessor. A photo of Galloway Heitz is visible in a trophy case in the school on the show, though the actress only appeared on the show in the flesh twice.
Galloway Heitz was a talent manager as well as an actress. While getting started in her own acting career in Chicago, she boasted other future stars, including Stephen Colbert, Steve Carell, Richard Kind, and Eric Stonestreet, who frequently credited her with his casting on Modern Family, on her management roster. Galloway Heitz sold her management agency in 1997, and went on to do theater, appearing in The Straight Story with Sissy Spacek, as well as small screen shows including ER, Grey's Anatomy, Monk, Prison Break, Without A Trace, Shameless and The Big Bang Theory.
Goo Hara
28-year-old K-Pop star Goo Hara was found dead on Nov. 24, 2019. She was a member of the group Kara. As of this writing, no cause of death has been officially reported, but Lee Yong-pyo, commissioner of the Seoul Metropolitan Police Agency, told the press (via South China Morning Post), "A handwritten note that was pessimistic about her life was found on a living room table."
All KPop reported that Hara filed a lawsuit against her ex, former South Korean international soccer star Choi Jong-bum, for allegedly threatening to release explicit footage of them from when they were together. He denied the allegations but was found guilty of property damages, physical assault, threatening, and unnecessary force in the case, but not of sexual assault. In September 2018, it was reported that he planned to appeal the decision; according to Newsweek, Hara's fans have been slamming Jong-bum on social media and blaming him for her death.
CNN reported that Hara was hospitalized in May after being found unconscious in her home following a cryptic message on Instagram. She later apologized for alarming her fans and loved ones and threatened to sue over malicious comments that surfaced afterward and reportedly said in a statement, "I'm recovering. Many things overlapped and I had been suffering. But I'll steel myself and work to show you my healthy self." Hara's death is the latest in a tragic string of K-Pop artists gone too soon, leading many to question the industry's pressures on its stars.
Godfrey Gao
Actor and model Godfrey Gao died on Nov. 27, 2019 at just 35 years old. Gao collapsed on the set of a game show called Chase Me in China, Women's Wear Daily reported. His management team said in a statement, "In the early hours of Nov. 27, our beloved Godfrey collapsed while filming on set. Unfortunately following three hours of medical rescue efforts, he left us. We are very shocked and saddened and even until now find it impossible to accept." The cause of Gao's collapse is unclear and no further medical details were provided as of press time.
Taiwan-born Gao made his debut in 2007 series Bullfighting, and was best known for his role in the 2013 film The Mortal Instruments: City Of Bones. His most recent roles were in The Jade Pendant as Tom and Shanghai Fortress as Yang Jiannan. His other credits include Momo Love, Never Give Up Dodo, God of War Zhao Yun and Remembering Lichuan. In 2011, Gao became Louis Vuitton's first Asian model, which, according to Women's Wear Daily, was his "big career break."
Per The New York Times, Gao had a huge presence on the Chinese social media site Weibo with "more than 5.7 million followers." In the wake of his death, users flooded the platform with complaints about alleged safety issues on Chase Me, which the outlet described as a show that "invites actors as well as ordinary people to compete in variety of sports challenges, often to the point of exhaustion."
​Shelley Morrison
Shelley Morrison, who was best known for starring as Karen's beloved and long-suffering maid, Rosario, on Will & Grace, died of heart failure following a short illness on Dec. 1, 2019. She was 83 years old.
According to the Associated Press, the character of Rosario was only supposed to appear in a single episode — but was such a hit that she appeared in every season of the show's original run. Morrison (real name Rachel Mitrani) stated before her passing: "Rosario is one of my all-time favorite characters. She reminds me a lot of my own mother, who loved animals and children, but she would not suffer fools. It is very significant to me that we were able to show an older, Hispanic woman who is bright and smart and can hold her own." Her husband of 40 years, Walter Dominguez, also stated that playing Rosario was a source of great pride for Morrison due to Will & Grace's focus on LGBTQ+ representation.
Born and raised to Spanish-born parents in Bronx, N.Y., Morrison spoke mostly Spanish growing up, and, as a result, played predominantly (though not exclusively) Hispanic and Latina roles once dipping her toe into Hollywood waters. In addition to Will & Grace, Morrison's acting career spanned nearly 50 years with appearances in numerous other high-profile projects, including The Flying Nun, Troop Beverly Hills, Fools Rush In, Funny Girl, and How to Save a Marriage and Ruin Your Life, in which she held her own alongside Dean Martin.
Cha In-Ha
Cha In-Ha, a South Korean actor, was found dead in his Seoul home on Dec. 3, 2019. He was just 27 years old. In-Ha's cause of death remains unknown to the public at the time of this writing; Yahoo! News reported that In-Ha's manager found his body, and that police are still investigating his passing. In-Ha's management team said in a statement, "We're sincerely hurt that we're sending this sad news to the people who have given Cha In-ha so much love and supported him until now." The statement also urged fans to refrain from speculation and rumors and to allow his loved ones to mourn his loss privately.
Born Lee Jae-Ho, In-Ha only recently rose to prominence in the South Korean entertainment industry. According to Variety, In-Ha was part of the Fantagio acting group Surprise U. He appeared in The Banker, Miss Independent Ji Eun 2, and in the MBC drama television series Love With Flaws that premiered just a week ago, The New York Times reported. In his last Instagram post before his passing, In-Ha can been seen in a black leather jacket, drinking from a white mug with the caption [translated to English], "Everybody watch out."
Robert Walker Jr.
Actor Robert Walker, Jr. passed away on Dec. 5, 2019 at 79 years old, according to The Hollywood Reporter. Walker was the son of Strangers On A Train star Robert Walker and Oscar-winning actress Jennifer Jones. Jones and Walker Sr. divorced when Walker Jr. was three years old; Jones remarried to Oscar-winning producer and screenwriter David O. Selznick.
Walker Jr. was best known for a memorable turn in the Star Trek episode "Charlie X." Walker Jr., then 26, starred as a 17-year-old with "strange powers" after being the sole survivor of a ship crash. He also starred in Ensign Pulver, Young Billy Young, and The Hook, with appearances in Charlie's Angels, CHiPs, Columbo and Murder, She Wrote.
Despite being born into Hollywood stardom, Walker Jr.'s life wasn't entirely charmed and was marked by two tragedies: Walker Sr. died in 1951 at just 32 years old, reportedly from a rumored deadly mix of alcohol and sedatives; Walker Jr.'s half-sister Mary Jennifer Selznick died by suicide in 1976 at just 21 years old.
"Bob always beat to his own drum and stayed true to himself in all of his endeavors," his wife Dawn said in a statement. "Although an accomplished actor, his true art was living fully. He was a photographer, drummer, raconteur and gallery owner. His love of the ocean kept him in Malibu, and he had great tales of his adventures paddling to Catalina from there. Bob had a constant interest in developing his internal martial arts practice."
Ron Leibman
Ron Leibman died on Dec. 6, 2019 at 82 years old. Leibman was a staple of New York City theater who transitioned to steady work as a character actor. One of his breakout roles was in Slaughterhouse-Five in 1972, followed by The Super Cops in 1974, and as Martin Kazinsky in Kaz, which he also co-wrote and for which he won an Emmy — just weeks before the show was canceled. In 1981, he starred alongside George Hamilton in Zorro: The Gay Blade, and he later starred in C.P.W., Pacific Station, and Holding The Baby. He also appeared in Law & Order, Law & Order: SVU, The Sopranos, and did voiceover work for Archer with his wife Jessica Walter.
Still, Leibman was most famous for playing Rachel Green's father on Friends, although he initially rejected the part because he'd never seen the show. He explained to The A.V. Club in 2011, "It sounded stupid to me, so I turned it down," he said, adding that his daughter convinced him to take the role. He agreed to do one episode so his daughter could meet the cast. "So I did, and had a very nice time, and they asked me back, and my daughter did get to meet those kids, so I was a big hero in the house," he recalled. "It's amazing, the power of the tube. I've done all this body of work, and they say, 'Oh yes, Rachel's father.' I go, 'Give me a break.'"
Rene Auberjonois
Rene Auberjonois, a prolific character actor with a career spanning more than four decades, died on Dec. 8, 2019 from lung cancer, CNN reported. He was 79 years old.
Auberjonois starred as Clayton Runymede Endicott III in Benson, as well as Odo, Curzon Dax and Douglas Pabst on Star Trek: Deep Space Nine, Paul Lewiston on Boston Legal, Judge Jackson Keeler on Judging Amy and Walter Nowack on Madam Secretary. He was also an accomplished voice actor, with credits including Chef Louis in Disney's The Little Mermaid and numerous TV credits, including Avatar: The Last Airbender, Archer, Justice League, The Legend Of Tarzan, Richie Rich, Johnny Quest, and Batman: The Animated Series, among many others. He made appearances in movies including MASH, The Patriot, Burning Down The House, King Kong, and Batman Forever.
Auberjonois began his career on the stage, winning a Tony Award in 1970 for his work in Coco, a play about legendary fashion designer Coco Chanel. He was nominated for three more Tony Awards throughout his career. He was also nominated for an outstanding supporting actor Emmy in 1984 for Benson, as well as for outstanding guest actor in a drama series for The Practice in 2001.
Auberjonois' son described the actor as a "proud progressive" and noted his work with Doctors Without Borders, while Star Trek star George Takei called Auberjonois "a wonderful, caring and intelligent man."
Juice WRLD
Juice Wrld died on Dec. 8, 2019. He was just 21 years old, and reportedly on his way to a birthday party in his honor. Juice (real name Jarad Anthony Higgins) was conscious when transported to a hospital where he passed away following a seizure and cardiac arrest at Chicago's Midway airport, TMZ reported. His official cause of death remains unknown, as of this writing.
According to The Chicago Tribune, when Higgins went into cardiac arrest, his girlfriend informed a law enforcement agent that he "takes Percocet and has a drug problem." At that point, two doses of Narcan, a drug that reverses the effects of an opioid overdose, were administered while an ambulance was en route.
TMZ reported that 70 pounds of marijuana and a bottle of codeine cough syrup were found on the private jet Higgins and his crew used the day of his death. Two of Juice's security guards on the flight were arrested and charged with misdemeanor gun violations. The New York Post additionally reported that the guards had a "conceal and carry permit" in Illinois, which doesn't extend to allowing firearms in the airport.
Some of Juice's final moments were captured on video, with footage of him goofing around with pals on what would be his last flight. For what it's worth, codeine cough syrup is a main ingredient in "lean," a substance Juice referenced in the tragically prophetic "Lean Wit Me": "Lean with me, pop with me / Get high with me if you rock with me / Smoke with me, drink with me / F**ked up liver with some bad kidneys / Told her if I die I'ma die young."
Marie Frederiksson
Roxette singer Marie Frederiksson died on Dec. 10, 2019 after a 17-year battle with brain cancer. Frederiksson was 61 years old.
The Swedish-born singer joined forces with Roxette partner Per Gessle in 1986. Roxette's hit "The Look" snagged the top spot on Billboard's Hot 100 chart in 1989, but it was their megasmash "Must Have Been Love" that launched them into the pop stratosphere, thanks in large part to its use in Pretty Woman. (The song had such staying power it was also featured 20 years later in the romantic comedy Long Shot, featuring Seth Rogen and Charlize Theron.) Their hits "Joyride" and "Listen to Your Heart" cemented their pop icon status, and seven of their 10 albums went platinum worldwide, according to The New York Times.
Frederiksson recorded three solo albums following her 2002 brain tumor diagnosis. She started doing live shows with Gessle again in 2008 until her doctors advised her to stop in 2016, per the BBC.
Gessle said in a statement, "Time goes by so quickly. It's not that long ago we spent days and nights in my tiny apartment in Halmstad, listening to music we loved, sharing impossible dream. And what a dream we eventually got to share!" He continued, "You were an outstanding musician, a master of the voice, an amazing performer. Thanks for painting my black and white songs in the most beautiful colours. You were the most wonderful friend for over 40 years." Frederiksson is survived by her husband, Mikael Boylos, and two children.
Philip McKeon
Philip McKeon, who starred on Alice as a child, died on Dec. 11, 2019 at 55 years old. People reports that McKeon suffered a longtime (though unspecified) illness before his passing. McKeon, brother of Facts Of Life actress Nancy McKeon, starred on the sitcom based on Martin Scorsese's film Alice Doesn't Live Here Anymore alongside Linda Lavin from 1976 through 1985.
After Alice ended, McKeon continued acting in bit parts and small roles through 1994, per IMDb. He eventually quit acting entirely and worked for KFWB Los Angeles' News 98 for a decade. He then moved to Wimberly, Texas, "to be closer to family," per People.
McKeon's co-stars paid tribute to him after his passing. Lavin reminisced to People in a statement, "Philip was the endearing, loving boy, always willing and eager to connect with others. Although we were performing a show, the dynamic of creating that relationship made our connection very real and deep. He taught me how to be a good mom, just by being the wondrous boy he was." Charlie Sheen, who appeared in a 1986 episode of Amazing Stories with McKeon, also tipped his hat to his late colleague in a tweet, calling him a "perfect gentleman" and "an ebullient spirit."
Jack Burns
Actor and ballet dancer Jack Burns was tragically found dead at just 14 years old on Dec. 1, 2019, Metro reported. No cause of death has yet been revealed, though his heartbreaking passing is reportedly not being treated as suspicious as of press time.
Burns, a Scotland-born dance prodigy dubbed "the next Billy Elliott," made appearances in U.K. series In Plain Sight and miniseries One Of Us (originally titled Retribution) in 2016, People reported. Earlier reports misidentified Burns as his younger brother, Rory, who played a young Roger Wakefield on Outlander from 2014 to 2016
Burns was reportedly a student at elite performing arts schools in the U.K., including the U.K. Theatre School Performing Arts Academy, St. Columba's School and The Elite Academy of Dance. The Elite Academy of Dance said in a statement on Facebook, "Jack was an inspiration to everyone at Elite and touched the hearts of everyone who had the pleasure of working and dancing with him since 2012."
Danny Aiello
Danny Aiello died on Dec. 12, 2019, TMZ reports. Aiello was reportedly being treated at a New Jersey medical center "for a sudden illness" and passed away after "he suffered an infection related to his treatment," though neither the illness nor the infection were specified as of press time. He was 86 years old.
Aiello's breakout role was in 1973 alongside Robert De Niro in Bang The Drum Slowly, followed by a star turn in The Godfather: Part II as Tony Rosato. He was nominated for a Golden Globe and a Best Supporting Actor Oscar for his portrayal of Brooklyn pizza shop owner Sal Fragione in Spike Lee's 1989 smash Do The Right Thing. He also appeared in Moonstruck, Hudson's Hawk, and Jacob's Ladder.
In addition to big screen work, Aiello was a staple on television and the stage, but his rise to success came after a life of poverty and hardship, and he turned to crime temporarily to support his family before becoming an actor at 35 years old. "I never killed anybody or sold drugs, but that's about all I didn't do," he admitted to People in 1990. Aiello's grit eventually made him one of Hollywood's highest-paid character actors. "I never felt intimidated," he quipped. "Hell, I've been shot at, nearly had my ear cut off in a fight. I've broken into other people's houses. You learn to throw yourself out there. The worst they can do to you is say no. I can live with that."
Chuy Bravo
Chuy Bravo, Chelsea Handler's beloved sidekick on Chelsea Lately, died on Dec. 15, 2019, from a heart attack during a hospitalization in Mexico City to treat a gastrointestinal hemorrhage, TMZ reported. Bravo, born Jesus Melgoza, was 63 years old. According to a statement from his rep to CNN, his family is understandably "devastated as they cope with his sudden loss." A funeral was held for Bravo in Mexico with a later memorial service to be scheduled in Los Angeles.
The 4'3" comedian and actor, who was born with dwarfism and was a prostate cancer survivor and recovering alcoholic, was most famous for his work with Handler. However, his work in Hollywood extended beyond her stage. Bravo immigrated to the United States when he was 15 years old and reportedly visited the set of Three Amigos, which sparked an interest in showbiz. He later appeared in films like Pirates Of The Caribbean: At World's End, The Honeymooners, and more.
Handler posted a heartfelt tribute to her late friend on Instagram, writing in part, "I loved this nugget in a big way, and I took great pleasure in how many people loved him as much as I did and do." Alongside a collage of photos of the two, she added, "@chuybravo gave us so much laughter and I'll never forget the sound of his laughter coming from his office into mine. Or his 'business calls' with his 'business manager,' or his shoe rack with all his children-sized shoes."
Don Imus
Radio legend Don Imus died at 79 on Dec. 27, 2019, TMZ reported. Imus was one of radio's first shock jocks, and his legacy is a mixed one. His humor could at times be sharp and cutting, and it was often also off-color and bigoted (Per the New York Post, Imus implied that athletes he didn't respect were homosexuals, and frequently derided sportscaster Len Berman as "Lenny the Jew").
Imus' most infamous remark was about the 2007 Rutgers University women's basketball team, which he referred to as "nappy headed h**s." The outrage went nationwide, and he was let go from his time slot. He eventually got hired for ABC Radio. In March 2018, he admitted to CBS News, "The Rutgers thing I regret … 'cause I knew better."
Imus began his career in radio as a means to get airplay for his own fledgling music. He started as a DJ in California, then moved to WNBC Radio in New York. Imus In The Morning became syndicated through 100 radio stations. Imus was also known for charity work, including his "Imus Ranch" program, which served as summer camps for children with cancer.
A year before his death, Imus told CBS News that retirement was tough. "I always had it in my head that I was talking to one person," he said. "I felt that when I walked in there and sat down and turned the mic on, that I was talking to you. I'm gonna miss that."
Sue Lyon
Actress Sue Lyon died on Dec. 26, 2019 in Los Angeles, The New York Times reported. She was 73 years old. A friend told the outlet that Lyon "had been in declining health for some time" prior to her passing, but no cause of death has yet been reported.
Iowa-raised Lyon started out as a model. She only had two acting credits when Stanley Kubrick cast her as Dolores Haze in Lolita. Lyon was just 14 years old when she beat out 800 other aspiring starlets for the role of the 15-year-old "nymphet" who drives pedophile Humbert Humbert mad in the film based on the Vladimir Nabokov novel. (In the novel, Dolores Haze is 12, but her age was changed in the movie adaptation to comply with regulations.) The film quickly came under fire for its portrayal of pedophilia and its marketing, which featured a bikini-clad Lyon wearing Haze's infamous red heart-shaped sunglasses and sucking on a lollipop.
Lyon went on to star in several more films, including Night Of The Iguana, 7 Women, Evel Knievel, Four Rode Out and Alligator. She was married five times and blamed her second marriage to Cotton Adamson — a convicted murderer at the time of their romance — for curbing her acting career. She quit acting by her fourth marriage to radio engineer Richard Rudman, and told The Pittsburgh Press she wanted to go into teaching. Lyon is survived by her daughter Nona from her second husband, football coach and photographer Roland Harrison.
Bill and Joe Smith
Joe and Bill Smith of My Big Fat Gypsy Wedding were found dead on Saturday, Dec. 28, 2019. The twins were just 32 years old and reportedly died by suicide via hanging, The Sun reported. Their cousin, Phoebe Charleen Smith, told The Telegraph that the young men formed a suicide pact after Joe was diagnosed with cancer. "Joey had cancer, and Billy told him, 'I'd never be able to live without you.' Joey told the family he got the all-clear after chemo two months ago, but we don't know if that's true now," she said.
She added that the men "went missing" and that Joey's phone was turned off. Eventually the family found a note from the men saying "they wanted it like this, and we would find them in the woods where they played with the family years ago." Their uncle discovered their bodies in a forest near their grandmother's home.
The Smiths were members of a Romani family featured in My Big Fat Gypsy Wedding in 2013. They'd recently established a landscaping business. Just weeks before their tragic deaths they were seen on a video at a wedding appearing cheerful, singing and dancing. A source told The Telegraph, "The boys seemed happy to everyone that saw them. The closer family were concerned that they were battling depression, but they were very good at hiding it. They were happy-go-lucky, but it shows you cannot always see what hides behind a smile. The family knew they were not right, but never ever expected them to do this."
If you or someone you know is having suicidal thoughts, please call the National Suicide Prevention Lifeline at 1-800-273-TALK (8255) or text HOME to the Crisis Text Line at 741741.