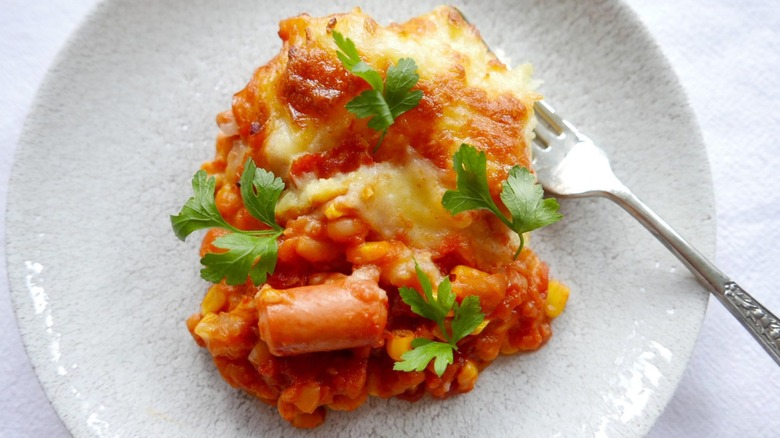 Back to school is back on the agenda, and recipe developer Ting Dalton is planning out how to make this year the year that we have it all, by which we mean a full week of home-cooked weeknight family dinners. Or maybe just one. And if it has to be just one, let it be this easy hot dog casserole dish, which Dalton says "is a real comforting dish that my whole family loves," not to mention a great way to sneak some brightly colored veggies onto the kids' plates.
Although this recipe was designed with kids in mind, Dalton understands that some of us enjoy a dish with more heat. If you're one of those people, then you should feel free to increase the amount of chili pepper and/or cayenne pepper that you are using. She also understands that because adulting is harder than anyone ever realized when they were kids, you might not have time to cook and mash your potatoes. Feel free to used instant mashed potatoes instead! And if you have any leftover veggies in the fridge to use up, you can easily throw them in this dish.
Ready to get started? Let's take a look at how to make this easy hot dog casserole recipe at home.
Gather your ingredients for this easy hot dog casserole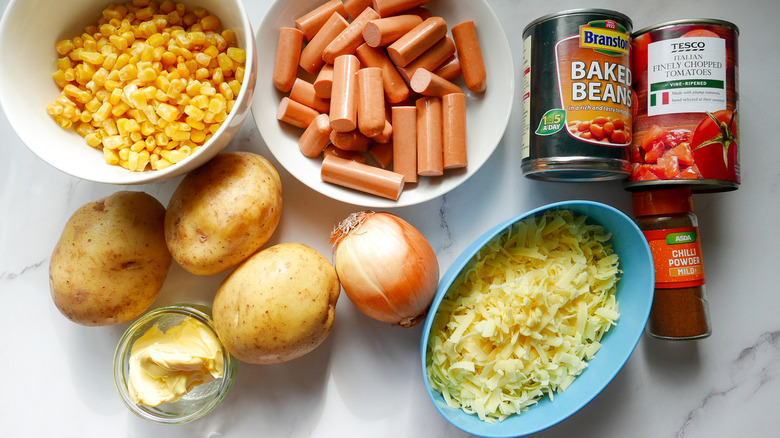 To make this easy hot dog casserole, you're going to need a pound of hot dogs, cut in halves or smaller (you can also do bite-sized pieces). You'll also need three large potatoes, peeled and cut into chunks, one chopped onion, a cup and a half of sweet corn kernels, a 16-ounce can of baked beans, a 16-ounce can of chopped tomatoes, a teaspoon of chili powder, a cup of shredded cheddar cheese, a tablespoon of vegetable oil, two tablespoons of butter, and a quarter cup of milk. You'll also need a pinch of salt.
If you're going the instant-mash route, then you can skip the potatoes, butter, and milk and just follow the directions on the side of the box.
Cook the potatoes for this easy hot dog casserole recipe
If you're using whole potatoes for this recipe, start by rinsing off your potatoes. Then peel them with a vegetable peeler and chop them up coarsely. Sprinkle the salt into a pot filled most of the way up with water. Heat the water over high heat to boiling. When the water is boiling, lower the heat to medium, add the potatoes, and cook for 10 to 15 minutes. By that time, your potatoes should be fork-soft. While you're waiting for the potatoes to finish cooking, you can turn to the next step.
Here's what to do while you're waiting for the potatoes to cook
While you are waiting for the potatoes to finish cooking, it's time to continue your prep work. First, preheat your oven to 350 F so you'll be ready to go when it's time to bake your casserole.
At this time, you can also get out a big skillet, pour the oil in, and heat until sizzling over medium heat. When the oil is sizzling, add the onions and cook until soft and translucent (this will take around five minutes, Dalton says).
Bringing the ingredients together
Once the onions have softened and become translucent, it will be time to add your corn, beans, tomatoes, and chili powder to the skillet. Stir together gently until everything is combined. Then add the hot dogs to the skillet, and stir to combine the hotdogs evenly throughout. Immediately transfer the hot dog mixture to a large casserole dish (or any other large-sized baking dish). Set aside as you move on to the next step.
Mash your potatoes
At this point, your potatoes should be fully cooked or just about there. When they are fully cooked, use a colander to drain them, and then transfer them back into the pot you cooked them in. Using a potato masher, mash the potatoes with the butter and the milk until they're smooth in consistency. Now, add all but a handful of the shredded cheese, and stir to combine the cheese thoroughly. That extra handful will be used in the next step.
Assemble this easy hot dog casserole in two easy layers
To assemble your easy hot dog casserole, spoon the cheesy mashed potatoes on top of the hot dog mixture, as shown. Then, using a fork, gently smooth the mashed potatoes to cover the whole casserole. Now, here is where you use the remaining handful of cheddar cheese shreds: Sprinkle them over the top of the potatoes, then pop the dish into the oven for 25 minutes. By then, the cheese should have melted, and the casserole should look golden brown on top. That means you're ready to serve.
Dalton recommends serving alongside a green salad and/or fresh bread to mop up the sauce. If you have leftovers, cover them and refrigerate, and they will stay good for up to three days. You can also freeze them for up to three months. In either case, be sure to heat thoroughly again before eating.