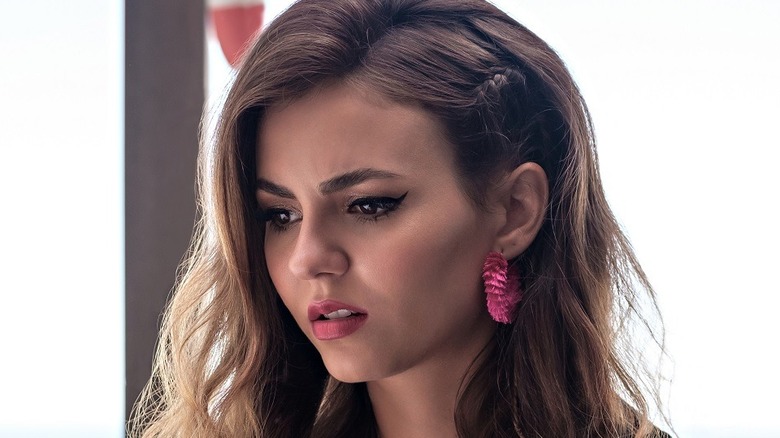 This content was paid for by Netflix and created by Looper.
Victoria Justice is one of the most talented and dedicated entertainers in Hollywood. Since bursting onto the screen when she was just eight years old, Justice has been a true standout, enjoying prominent roles in several memorable series and bringing her own musical talents into the mix. In addition to being an important part of the Nickelodeon originals lineup, Justice has also become a major player in films in recent years. And she really gets a chance to shine with her latest role, in the new comedy-drama "Afterlife of the Party."
In the film, Justice stars as Cassie, a woman who loves the nightlife but finds out the hard way that there are consequences to partying too hard. After a particularly dizzying night of fun, Cassie has a terrible accident and wakes up to find that she's no longer bound to her mortal coil. With the help of a sassy guardian angel, Cassie has to make things right with the three most important people in her life in just five days if she wants to make it into the ultimate upstairs VIP room.
"Afterlife of the Party" gives Justice a chance to show off her comedy and drama skills, so to celebrate this multi-talented actor, here's a look back at how Victoria Justice went from Nickelodeon to movie star.
An early commercial success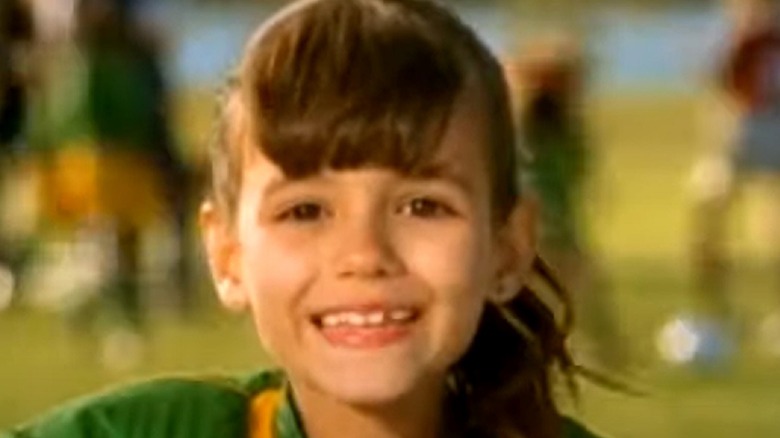 Justice remembers the exact moment she first decided she wanted to become an actor. When she was around eight years old, she saw a commercial that featured another child and breathlessly called for her mother to come into the room and see it. As she told The Daily Beast, "I was like, 'Do you see that kid? How do I do that? Can you help me do that?'" At the time, Justice, her parents, and her sister lived in Hollywood, Florida, and her folks weren't exactly familiar with the ins and outs of managing a child actor.
However, it didn't take long for Justice to find an early foothold in acting. Her first audition was for an Ovaltine shake commercial, and Justice took the prospect very, very seriously. She told MTV, "I remember I was so nervous, and I was so excited, and I remember I actually drank Ovaltine at home. So as a good luck charm, I brought my actual bottle of Ovaltine in the car with me. I was method." It worked: Justice landed her first screen gig as a tiny soccer player who digs the "chocolate-y" taste of her shakes.
After that, things really started rolling for Justice's young career. She starred in gobs of national commercials and modeled for several major fashion brands over the next few years, until she decided it was time to move up in the biz.
From Hollywood to Hollywood
Following Justice's initial successes with multiple ad campaigns, she asked her family to fully commit to her then-budding screen career by moving across the country with her. As she told ABC News, "When I was 11 years old, I'd done over 30 commercials, and I'd modeled for Guess and Gap and Ralph Lauren and a bunch of different people. Which was really cool, but at that point I was getting older, and I was like, I wanna do TV and film, and I wanna move out to L.A. I wanna really go for it. I wanna be an actor."
Justice was already a fan of some of the other major kids' television stars that came before her, including "Lizzie McGuire" star Hilary Duff and Raven-Symoné from "That's So Raven," but she also looked to some of the more classical icons of the industry for inspiration. As she told Collider, she was particularly captivated by the career of Barbra Streisand after being treated to a tape of "Funny Girl" by her mother. Justice remembered that she was "blown away" by the film and said, "'I want to be like her. I want to do that! I want to sing. I want to act. And she's so fabulous and confident.'"
Those aspirations have changed very little in the years to follow, as Justice has remained committed to being both an actor and a singer, and often both, in her professional adventures.
A star on the rise
Justice's first television role came in a 2003 episode of "Gilmore Girls," which featured her as a young "Lord of the Rings"-themed party goer who is not impressed with the catering menu designed by the series' leads. Then she landed a role on the second episode of the Disney Channel's "The Suite Life of Zack and Cody" as Rebecca, a girl who charms Cole Sprouse's Cody and shares a memorable smooch with him.
"It was my first kiss, with Cole, I'll never forget that," Justice told Collider. But what was even more memorable was the fact that she got to see both Cole and Dylan Sprouse, who were also managing schoolwork with their young stardom, in action. Justice said she "admired" the fact that the two managed to remain "so normal" and "grounded" despite being in the spotlight from a young age.
Justice credits her own parents with helping her maintain a sense of normalcy amid her rise to childhood fame as well, saying, "My mom would come to set with me all the time … and both my parents have been [there]. I'm so lucky to have two incredibly supportive, amazing parents. It's not every day that your parents will just be like, 'Yeah, let's take a shot on our kid.' … I feel very lucky that they believed in me, I also feel very lucky that they're such grounded, centered people."
The big break
Justice's career really started catapulting into the big time when she earned the role of Lola Martinez in the second season of Nickelodeon's hit tween series "Zoey 101." Justice told MTV that she had already been a fan of the show and wanted to be a part of it long before that became a possibility. "I remember thinking, 'This is the coolest show ever. I would love to be on a show like this. They're filming by the beach, you're working with kids your own age. It looks like so much fun,'" she explained of the Malibu-set series.
So when the opportunity came along for her to audition for the role of the newest boarding school roommate Lola, who had dreams of bright lights in her own right, Justice jumped at it. "I don't know if I actually thought there was a chance that I would actually get it. 'Cause I think I was a lot younger than everyone else, but I worked really hard on my audition," Justice remembered. So when she did nab the role, it was instantly a "highlight of [her] life." Little did she know that things were just getting started with her dazzling screen career.
The leading lady
After starring in "Zoey 101" for three seasons, Justice became a staple of the Nickelodeon stars circuit. She enjoyed guest roles in series like "iCarly" and "The Troop" and made a major splash in her guest stints on "The Naked Brothers Band," along with wowing crowds with her musical work in the 2009 special "Spectacular!"
Her status as a multi-hyphenate talent was so impressive that she soon landed her own series, "Victorious," which debuted in 2010. The show featured Justice as Tori Vega, an aspiring singer who is surrounded by other talented artists and musicians at her Hollywood Arts high school. The series lasted for four seasons and earned Justice nominations at the NAACP Image Awards, the Alma Awards, and the Kids' Choice Awards, just to name a few. The role not only gave Justice the opportunity to command the lead in her own series, but she also got to show off her skills as an impressive recording artist in the role.
A time to change
After establishing herself as a premier talent in Nickelodeon shows, Justice also began to explore the network's original film projects, starring in the leading role of the 2010 kids horror film "The Boy Who Cried Werewolf." Soon after, she took a major step by voicing a role in "The Penguins of Madagascar" and then starring in the 2012 teen comedy "Fun Size." At the same time, Justice was also making major moves when it came to her musical career, debuting her hit single "Gold" in 2013, and she nabbed the leading role in the MTV thriller series "Eye Candy," based on an R.L. Stine novel, which featured her as Lindy Sampson, a tech-savvy woman who's looking for her lost sister and trying to solve a murder mystery in New York.
Her post-Nickelodeon career continued to thrive from there, with her playing the title role in the 2015 dramedy "Naomi and Ely's No Kiss List" and starring as Janet Weiss in Fox's 2016 television rendition of "The Rocky Horror Picture Show." Fans would soon see her in TV guest roles in series like "Man with a Plan" and "The Real Bros of Simi Valley," and, after taking a few years off of making music to focus on her screen work, Justice found her voice again, releasing new singles like "Treat Myself" and "Stay," beginning in 2020.
Returning to music was a seamless transition for Justice because, even though she'd been busy with her acting gigs, she'd always been creating music in her private life. And this time around, she told Billboard, she found a lot of freedom in being able to create the songs that most spoke to her. "It's just nice to be the captain of my own ship," she told the site. "And there isn't anyone telling me, 'You have to write this kind of song,' or 'We're only going to put money behind this kind of song,' or 'We have to make this kind of video.' … I just get to do, creatively, whatever I want. I'm not on anyone else's timeline, I'm on my own timeline. And it feels very liberating." And just as Justice was finding a new sound for herself, she also began to explore new territories with her screen career as well.
All grown up
With her teen idol days in the rearview, Justice committed to taking on roles that would show fans new sides of herself. The 2021 romantic drama film "Trust," for example, featured her as Brooke, a woman in an ailing marriage who has to grapple with fertility issues and potential infidelity.
Justice told The Daily Beast that the role marked the start of a new trajectory for her film career, saying, "More adult subject matters are going to be what I'm interested in at this point. That's what I loved about this movie. It's sexy, it's this romantic drama thrill ride, and I love that it explores themes of temptation and infidelity. These are really interesting concepts to me."
Similarly, her work in "Afterlife of the Party" gives her an opportunity to explore some new themes that Justice finds to be personally appealing. Her character Cassie dies in a freak accident just after having a terrible fight with her best friend Lisa (Midori Francis), so Lisa is one of the key people she must make things right with during her brief return to Earth.
For Justice, the relationship between the two characters was especially satisfying to explore, as she told Bustle, "I think it's refreshing that it's a movie that's not just about getting the guy you like. Cassie's [not] coming back down to Earth to find the love of her life or mend whatever with her ex-boyfriend or something … I think it's important for young women to see female friendships being portrayed in a way where women are not just sitting around talking about men. Female friendships are so deep and complex and fulfilling in so many other ways." Justice also gets to utilize all facets of her skillset, co-writing the original song "Home" for the film.
In other words, "Afterlife of the Party" is a major part of Victoria Justice's all-grown-up career path, and fans of the singer-actor definitely won't want to miss out on this heartwarming movie.