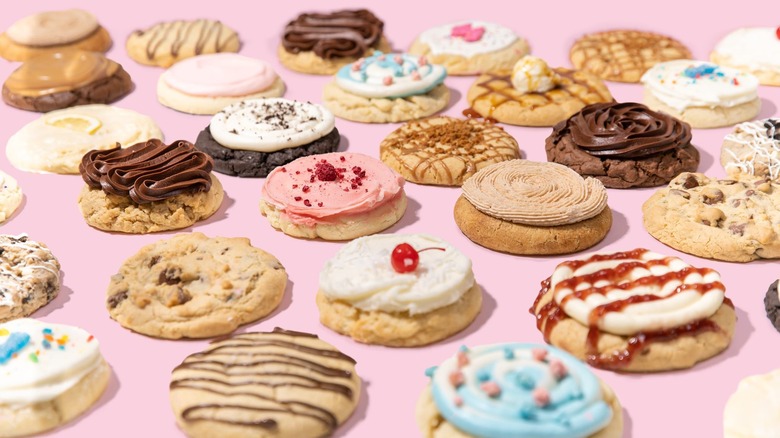 If you've been on the internet in basically any capacity since 2020, you've probably heard of Crumbl Cookies. The bakery has begun to take over the United States, with locations popping up seemingly everywhere and the chain's giant cookies being shown everywhere from TikTok to Instagram. And while Crumbl Cookie's success is certainly interesting, the amount of flavors that the establishment has rolled out since its start is even more astounding.
Crumbl releases new flavors each week, while also keeping their traditional frosted, chilled sugar cookie and warm chocolate chip cookie permanently on the menu. To see all of the other flavors Crumbl releases, simply follow them on social media. Every Sunday evening, Crumbl takes to its social media pages to announce what the flavors of the week will be.
The flavors always seem to get more and more indulgent as the weeks go by. But really, everything from Crumbl is pretty delicious. Still, from over 100 flavors, it might seem impossible to choose a favorite, but there are definitely some that are more popular than others. And among those, there are some that are simply better than their fellows. So, if you need help deciding what to order from Crumbl, keep reading for the most popular Crumbl cookies, ranked worst to best.
16. Dirt Cake
If there's one thing that Crumbl Cookies does well, it's taking non-cookie desserts and turning them into delicious cookies. Crumbl is very talented at creating new flavors of cookies that you've never heard of before, and some of them turn out better than others. Take, for instance, the Dirt Cake cookie.
The Dirt Cake cookie from Crumbl is their take on the classic childhood pudding dessert, and it's definitely a pretty close resemblance to what you may have downed at summer camp or while sitting at the kitchen table. The cookie is a chocolate cookie, topped with chocolate frosting, cookie crumbs, and a gummy worm of course.
Obviously, it looks a lot like the dirt cake you had at your second-grade birthday party, but we must report that the taste isn't all there. The cookie is surely popular because of the nostalgia factor, but at the end of the day, it's just a chocolate cookie with a gummy worm on top. That's not anything super special, especially compared to all the other flavors Crumbl has on offer. So, this flavor might seem fun to try, but you should know that there are definitely more exciting options out there.
15. Key Lime Pie
Much like so many other flavors of Crumbl cookies, the Key Lime Pie cookie is obviously inspired by another dessert. In this case, it's obviously a Key lime pie. And while the cookie is certainly one of Crumbl's most popular flavors, that doesn't mean it's their best.
The Key Lime Pie cookie certainly sounds decadent when you start to consider it. The cookie has a graham cracker base, with Key lime filling in the middle. The cookie is then topped with whipped cream, a fresh lime, and some graham-cracker crumbs for good measure. Basically, it's a mini Key lime pie, which is absolutely fine.
However, the main star of the cookie is the filling and not the cookie itself, undermining the whole concept of going to Crumbl for a cookie. Yes, people love it, but that's because of the Key lime pie filling, not the graham cracker cookie. And if you want one of their best cookies, this isn't it.
14. Chilled Cookie and Cream Milkshake
Another thing that people tend to love about Crumbl Cookies is the variety of cookies that they offer, not just all the different flavors. Crumbl also serves their cookies at a couple of different temperatures, including a cold temperature that can sometimes make a big difference in the eating experience. Take the Chilled Cookie and Cream Milkshake cookie from Crumbl, which is best eaten chilled.
The Chilled Cookie and Cream Milkshake cookie is a sugar cookie with Oreo pieces, topped with cookies and cream frosting and then a mini chocolate sandwich cookie on top. The fact that the cookie is served chilled and topped with a thick layer of frosting definitely makes it stand out among all of Crumbl's flavors. That said, the actual cookies and cream flavor in the cookie isn't all that stron. The most overpowering sense you'll get is just that the cookie is a little too sweet, though we appreciate the temperature difference compared to other cookies.
13. Chilled Twix
The Chilled Twix Cookie is definitely a fan-favorite at Crumbl. There's really nothing wrong with this cookie, which is another chilled treat served up with caramel and milk chocolate. It really is like a Twix candy bar in cookie form. Of course, there are a few differences compared to its candy inspiration, some of which could be why this cookie isn't Crumbl's best.
If you don't eat this cookie right away, it might start to lose some integrity. Namely, the chocolate on top could melt, along with the caramel, making for a sticky mess. Also, the base of the cookie is a sugar cookie instead of shortbread, meaning that the experience is, surprisingly, a lot sweeter than eating the candy. While that might sound delicious to some, it might be too sweet for others' liking. Either way, the Chilled Twix cookie from Crumbl is tasty, but it's still not quite their best effort.
12. Peach Cobbler
Crumbl continuously develops new flavors for cookies, and while they're all extremely creative, they don't always turn out exactly the way you would imagine. Take, for instance, the chain's Peach Cobbler cookie. According to Crumbl, the Peach Cobbler cookie is "A cinnamon oatmeal cobbler cookie filled with sweet peaches, a crumbly cinnamon streusel topped with a sweet cream cheese glaze."
Okay, that obviously sounds amazing, so where, exactly, does this cookie fall short? Well, the cookie definitely tastes indulgent, but it's not exactly like an actual peach cobbler. In fact, most of the cookies didn't have a ton of peaches in them, making them a bit of a disappointment if you were ordering them for, you know, some serious peach flavor. The cinnamon oatmeal cookie and topping overpower all the peach flavor and make the whole eating experience a bit messy, turning this cookie into one of Crumbl's less satisfying offerings.
11. Chocolate Strawberry Cheesecake
The Chocolate Strawberry Cheesecake cookie from Crumbl is certainly one of a kind, but does that mean it's one of the best flavors there? Not exactly. As it turns out, the Chocolate Strawberry Cheesecake cookie is more of a miniature cheesecake than an actual cookie. And as tempting as that sounds, it's still not the chain's best creation.
The base of this cookie is made with dark chocolate, then filled with a strawberry cheesecake filling and topped off with a chocolate drizzle. Basically, it's another cookie where the real star is the filling, not the actual cookie. Now, strawberry cream cheese is always going to be tasty for many folks, but this Crumbl cookie might be too indulgent for most people. Between the sweet chocolate base and the rich filling, there's a lot going on in the flavor and sugar department. Unless you've got a serious sweet tooth, you may want to order something else.
10. Neapolitan
Moving on up the ranks of the most popular Crumbl cookies is the Neapolitan cookie, an inventive creation from the cookie chain that takes on the classic flavors you may have already encountered in the ice cream cold case. While the Neapolitan flavor combination isn't anything new, Crumbl's take on it certainly is. It's definitely something that has gotten people's attention, too. But do looks and popularity make for the best cookie on the Crumbl menu?
First, it's worth noting that this menu item is actually two cookies, namely chocolate and vanilla with a rich dollop of strawberry frosting on top. And while there is something special and delicious about chocolate, vanilla, and strawberry coming together, this cookie is still pretty much middle ground for the bakery. While some people love the cookie and it is assuredly good, it just can't compete with some of the other Crumbl flavors.
9. Peppermint Oreo
While Crumbl's flavors vary throughout the year, the chain takes special measures to introduce holiday-inspired cookies when the fall and winter seasons roll around. So, if you're big into holiday and seasonal treats, then Crumbl probably has something for you, depending on the time of year. Maybe the Peppermint Oreo cookie would tempt you if you're feeling a cookie craving towards the end of the year.
The Peppermint Oreo cookie is simply a chocolate cookie topped with peppermint frosting and crushed candy canes. So, if you're a chocolate and peppermint lover, this cookie is perfect for you. There's plenty of rich chocolate flavor here, accented by the candy's peppermint bite. The only reason this cookie isn't closer to the top of the list is that the peppermint flavor isn't quite as strong as you may want. Still, it's a delicious holiday offering that you'll likely want to try as the winter holidays draw near.
8. Pumpkin Pie
Another seasonal offering coming out of many Crumbl locations around November is the Pumpkin Pie cookie. The cookie was just about as close to actual pumpkin pie as you could expect while still getting a bit of that cookie experience in there.
And it really is like ordering a miniature pie. The Pumpkin Pie cookie from Crumbl is essentially a single serving of pumpkin pie in a vanilla cookie with a bit of whipped cream on top. So, if you're a big fan of both pumpkin and a good dose of pumpkin spice, then this cookie is for you. The filling is pretty darn delicious, and the cookie base gives the whole a lot more sweetness and flavor than your standard pumpkin pie.
However, it's clear that the cookie isn't your standard cookie, which may disappoint some diners. And because the amount of filling in it can be inconsistent and a little messy to eat, it's still not Crumbl's standout offering.
7. Hot Chocolate
There's nothing quite like a nice, big mug of hot chocolate once the temperature starts to drop. But if you aren't in the mood to make the drink, then Crumbl has got you covered with their Hot Chocolate cookie, and it's definitely one of the better offerings on the menu.
People definitely love this chocolate cookie with melted chocolate and mini marshmallows, and for good reason. The cookie might be a seasonal item inspired by hot chocolate, but it's also the cookie chain's most indulgent chocolate cookie on its menu. Even if you aren't a fan of hot chocolate, don't rule this cookie out because it's pretty delicious, especially because it's served warm. The cookie alone is pretty tasty but, when you add in the melted chocolate on top and the miniature marshmallows, it turns into an even more delicious treat. This one is a must-try for chocolate lovers.
6. Birthday Cake
One of the most popular flavors of Crumbl cookies is definitely the Birthday Cake cookie. It's a pretty unsurprising flavor, perhaps, given that it's cake-flavored and served with a cream cheese frosting. Of course, there are also sprinkles scattered on top.
It's simple, to be certain, especially when compared to some other flavors from the chain. However, the Birthday Cake cookie is still super yummy and people love it. Seriously, people online can't get enough of this Crumbl flavor. "​​Birthday cake is back at Crumbl…this is gonna be a good week!," one person exclaimed on Twitter. "Yesterday, my sister brought home a birthday cake cookie from crumbl, I tasted it & now that's all I can think about," another noted.
The cookie is perfectly sweet, with the exact right amount of cake batter flavoring without an overpowering hit of the stuff. All told, you've got yourself an almost perfect cookie, though cake batter flavor may still not be for everyone.
5. Chocolate Chip
A chocolate chip cookie is downright iconic, so a cookie chain like Crumbl is duty-bound to have one on its menu — and it better be good. That said, the Crumbl version is a little different than your standard chocolate chip cookie, as it's made with milk chocolate chips instead of the somewhat more bitter semi-sweet ones typically deployed in other cookies. That might be why people love and praise it so much.
"Crumbl's chocolate chip cookie is delicious," one person Tweeted. "I could eat Crumbl's chocolate chip cookie every day!!" another fan wrote. However, it's worth noting that this cookie is sometimes intensely sweet and buttery. So, if you're a fan of chocolate chip cookies and love things that are especially sweet, this might be your favorite from Crumbl. However, it's still pretty simple, which can leave some of the more adventurous cookie eaters wondering if there's something more exciting waiting for them on the menu. There's nothing wrong with this cookie, though, so keep it in mind next time you have a classic craving.
4. Circus Animal
If you loved the circus animal cookies your parents brought home from the grocery store when you were a kid, this Crumbl cookie is for you. The Circus Animal cookie from Crumbl is the bakery's take on the classic store-bought favorite, with a sugar cookie base, rainbow sprinkles, white chocolate, and a tiny cookie in the shape of an animal.
Some people absolutely love it. "I just discovered my new favorite food: it's Crumbl's circus animal cookie which is just a cookie that tastes like another cookie which is very on brand for me," one person wrote on Twitter. "My soul needs crumbl, especially since one of the flavors is circus animal," another added. The cookie is seriously delectable, though it's admittedly still quite sweet with the combination of two different cookies and white chocolate. Still, even if you're not a fan of the classic circus animal cookie, you should give this cookie a go at least once.
3. Reese's Cup
One of the most iconic and popular flavor combinations out there has always been chocolate and peanut butter. The duo assuredly belongs together in a flavor has been perfected by small shops and big names like Reese's candies over the years. Crumbl's take on the candy is pretty amazing, too.
If you're a peanut butter fan, then there's nothing to say, except that this is the cookie for you. The Reese's Cup cookie is a warm, peanut butter cookie, topped with melted chocolate and peanut butter, and crumbled pieces of Reese's Peanut Butter Cups. It's no less than a chocolate and peanut butter lover's dream come true. There is a slight word of caution here, however: since the cookie is very rich and indulgent, it can be a lot to handle if you're not prepared. Still, so long as you know what you're getting into, definitely give this cookie a try.
2. Cornbread
If you've never thought of cornbread as dessert, then please allow Crumbl Cookies to change your mind with its cornbread cookie, which comes complete with a honey butter topping and some honey buttercream to boot. It's just as interesting and tasty as it sounds.
Crumbl really took a risk with this particular treat, but it clearly paid off. People love the interesting take on the dessert. "ATTENTION! THIS IS NOT A DRILL! THEY HAVE CORNBREAD COOKIES AT Crumbl Cookies!!! And they're amazing!!!" one fan wrote.
This cookie is so rich, flavorful, and unique that you'll definitely remember it long after you've finished your first one. The butter, honey, and cornbread flavors of the cookie, along with its unique cornbread style texture, all compliment each other perfectly. At the end of the day, you'll be wondering why there aren't more cornbread-inspired desserts out there. Be sure to give this cookie a try the next time Crumbl has it available.
1. Chocolate Oreo
Finally, the best Crumbl cookie out there is one that probably won't surprise you, at least not if you're already a dedicated cookie fan. The Chocolate ft. Oreo cookie is the perfect baked cookie version of everyone's favorite store-bought cookie. It makes sense that Crumbl's version of the Oreo would be their best cookie, too.
The cookie isn't all that complicated, given that it's a chocolate cookie with vanilla cream cheese frosting and Oreo bits sprinkled on top, per Crumbl's Twitter. Yet this is the ultimate Crumble cookie for it rich and perfectly unique flavor. Honestly, if you're a fan of Oreos, even just a little bit, you need to try this cookie. It's no less than the best cookie that Crumbl has to offer. If you see that Crumbl is offering this the next time you make it out to a Crumbl location, be sure to include it in your order to experience the chocolatey magic of this cookie.