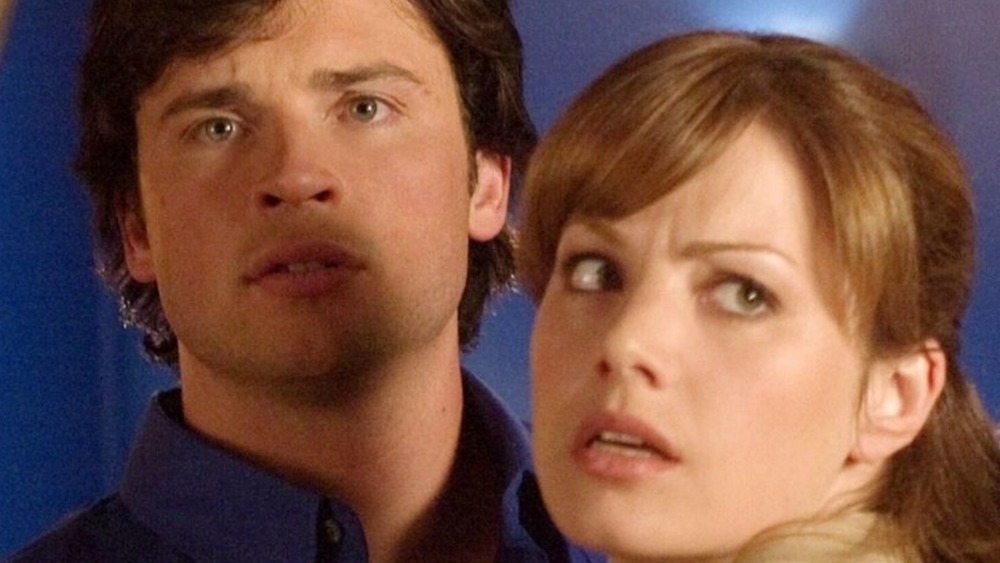 The cast of Smallville looks totally different today. Before there was the cluster of connected CW superhero shows known as the Arrowverse, there was Smallville. The show aired from 2001 to 2011, first on The WB and then on the network that replaced it, The CW. The show focuses on a young Clark Kent and his family and friends in their town of Smallville; it was wildly successful, paving the way for other DC superhero shows that would air on the network a few years after it wrapped including Arrow, The Flash, and Supergirl.
While the world has seen an abundance of superhero films and shows since Smallville concluded, the show remains a standout in the popular genre. Decades after it first graced our televisions, the show is as timeless and beloved as ever, but the cast has changed a lot. What have our favorite Smallville actors been up to since the show ended? Let's just say that they look totally different today.
Tom Welling reprised his Smallville role in the Arrowverse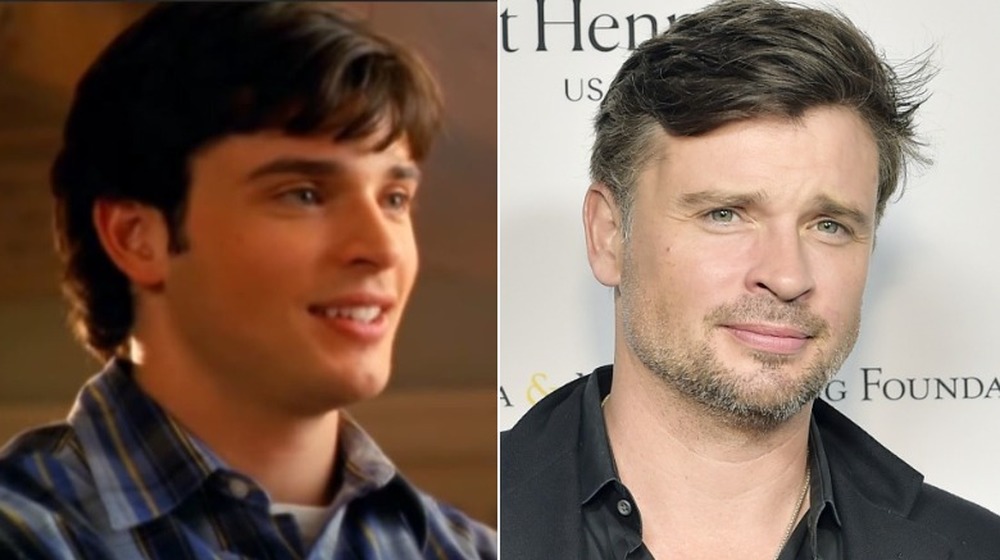 Smallville would prove to be life-changing for Tom Welling, who played the lead character of Clark Kent and his superhero persona Superman. Welling had a handful of credits under his belt when Smallville premiered in 2001, all from that same year. Smallville catapulted him to superstardom, and he starred in a few other projects during its run such as Cheaper by the Dozen and The Fog.
After Smallville wrapped in 2011, though, Welling's career seemed to slow down for a few years. His acting resume is surprisingly sparse, although he did take on some meaty roles post-Smallville including parts in the shows Lucifer and Professionals. Welling also reprised his role as Clark Kent in 2019's Crisis on Infinite Earths crossover special, establishing him as part of the Arrowverse.
Welling's career picked up again in the late 2010s, and he explained to The Hollywood Reporter in 2017 that after Smallville, he "had to go off and do some things that I couldn't do when I was on the show and that took a little while."
Allison Mack's career slowed down after Smallville
Child star Allison Mack starred on Smallville as Clark Kent's friend, Chloe Sullivan, throughout the show's 10-year run. Mack had a long career before the show premiered in 2001, with a list of credits dating back to the 1989 film Police Academy 6: City Under Siege, but she didn't have many roles after Smallville wrapped. She has just a handful of credits after Smallville, and appeared in Marilyn, Wilfred, The Following, and American Odyssey. Mack's final acting credit is a voice role an episode of Lost in Oz in 2016.
Mack's career declined after it came out that she was involved with the organization NXIVM, which many have described as a sex cult. As noted by Rolling Stone in 2019, the former Smallville actress pled guilty to charges of racketeering and racketeering conspiracy in connection with the organization. As of this writing, a sentencing date has not been announced.
Kristin Kreuk starred on Beauty and the Beast after Smallville wrapped
Kristin Kreuk won hearts as Clark Kent's love interest, Lana Lang, from 2001 to 2009 on Smallville. It was an early role for Kreuk, whose first acting credits are from the same year that Smallville premiered. After her role on the show ended, Kreuk had an arc on the TV show Chuck and appeared in the mini-series Ben Hur before landing a lead role on Beauty and the Beast. Other film and television roles include parts in Ecstasy, Space Milk, and Burden of Truth. Kreuk has also done some voice work, such as in the video games Shuyan Saga and the animated show Robot Chicken.
Outside of acting, Kreuk has also tried her hand at producing on several projects she also starred in, including several episodes of Beauty and the Beast and Burden of Truth. In 2019, Kreuk told I Live in Dallas she was also going back to school, saying she was "working on getting the bachelor's degree I never got because I started working at 17."
Michael Rosenbaum voiced a superhero after his Smallville days
Michael Rosenbaum's days as Smallville villain Lex Luthor came to an end in 2008, although he reprised the role in the series finale. His days in the realm of superheroes were far from over, though, and he voiced superhero The Flash in 2012's Justice League: Doom. Rosenbaum has voiced The Flash in other projects as well, including the 2018 video game Lego DC Super-Villains. Rosenbaum also crossed over into the Marvel Cinematic Universe, portraying Martinex in 2017's Guardians of the Galaxy Vol. 2.
Other film and television credits after his time on Smallville include Back in the Day, Impastor, The Neighbor, and Robot Chicken. Rosenbaum is also a writer, producer, and director, and hosted his own TV series, Inside of You with Michael Rosenbaum, from 2018 to 2021.
Rosenbaum looks back on his Smallville days fondly, and told The AU Review that he'd be happy to revisit the role "if it was the right vehicle."
John Glover appeared in Shazam! after Smallville
With over 100 credits on his acting resume, John Glover was one of the more famous actors on Smallville when the show premiered back in 2001. His long career dates back to 1973, when he appeared in the film Shamus. The next few years were filled with a flurry of acting credits in shows and films including Kojac, The American Success Company, The Incredible Shrinking Woman, Search for Tomorrow, The Twilight Zone, Batman: The Animated Series, Brimstone, and Macbeth in Manhattan.
Glover followed up his role as Lionel Luther on Smallville with a voice role on the show TRON: Uprising. Other credits include The Good Wife, You Bury Your Own, We Go On, and Tales of the City. Glover has ventured back into superhero territory a couple of times since Smallville wrapped, appearing in an episode of the Marvel Cinematic Universe's Agent Carter and starring in 2019's Shazam!.
After Smallville, Erica Durance starred in another CW show
What Smallville fan could forget Erica Durance's portrayal of Lois Lane on the show? Durance joined the cast of the show in 2011 as Clark Kent/Superman's love interest, remaining on the series until it wrapped. After that, Durance went on to land guest appearances on a few shows like Charlie's Angels and Harry's Law, as well as star on the show Saving Hope from 2012 to 2017.
Durance then went on to join another superhero show on The CW, Supergirl, as Alura Zor-El/Noel Neill. Durance's Supergirl character just so happens to be Superman's aunt, making her role quite different from her Smallville role. Not only did she go from playing Superman's love interest to playing his aunt, but she also went from playing a human to playing an alien with superpowers. "It's a bit Twilight Zone-y for me," she told Entertainment Weekly of revisiting Superman's world in such a different way.
Durance also reprised the role of Lois Lane in a 2019 episode of Batwoman as part of the Crisis on Infinite Earths Arrowverse event.
Annette O'Toole became a Netflix star after Smallville
Annette O'Toole was already an established star when Smallville first aired in 2011. O'Toole portrayed Martha Kent, Clark Kent/Superman's adoptive mother over the show's 10-year run. The acting veteran's resume dates back to 1967 and was packed with credits over the next few decades. One of her most famous roles was that of Lana Lang in Superman III, making her casting in Smallville a significant one for Superman fans.
O'Toole remained no less prolific after Smallville wrapped in 2011. Her post-Smallville credits include roles in Grey's Anatomy, Halt and Catch Fire, Women Who Kill, A Futile and Stupid Gesture, and Kidding. Some of her most recognizable roles since then have been on Netflix shows. She joined the cast of another superhero show, The Punisher, as well as the cast of Virgin River. O'Toole also racked up several stage credits, with roles in off-Broadway shows like Hamlet in Bed, The Traveling Lady, and A Lovely Sunday for Creve Coeur.
John Schneider wants to star in a Smallville revival
John Schneider played Clark Kent's lovable, down-to-earth dad, Jonathan Kent on Smallville. Younger viewers may have been introduced to Schneider's formidable acting talent through Smallville, but Schneider was an established star with a jam-packed acting resume when the show debuted, having starred on several other beloved shows including The Dukes of Hazzard and Dr. Quinn, Medicine Woman.
Schneider's career remained busy after Smallville, with credits including October Baby, Flag of My Father, Hot in Cleveland, Glee, Hero Factory, and The Haves and the Have Nots. Per Digital Journal, he's also a successful recording artist as well as the author of a memoir, John Schneider: My Life, My Way.
Smallville may be in the prolific actor's past, but Schneider would like it if the show were in his future, as well. The star told The Series Regulars that he'd be happy to star in a revival, saying, "They'd have to figure out a way to bring me back to life, but that's not hard in a fantasy show."
Smallville star Justin Hartley is now starring on This Is Us
Justin Hartley was just a few years into his television career when he joined the cast of Smallville as Oliver Queen/Green Arrow. Hartley joined the show in 2006 and remained a member of the cast until Smallville wrapped in 2011. While the character of Oliver Queen would later end up getting his own show, Arrow, Hartley didn't reprise the role in the newly-formed Arrowverse. He did, however, go on to appear in several other shows including Emily Owens M.D., Revenge, Mistresses, and The Young and the Restless.
Hartley's best-known role, though, is probably that of Kevin Pearson in the drama This Is Us. His personal life is going pretty well, too, as he tells it. "I've got this wonderful daughter, and I've got a great family, and I am a very, very lucky, lucky individual," the actor told Entertainment Tonight in 2020.
Sam Jones III launched a music career after Smallville
Sam Jones III played Clark Kent's friend, Pete Ross, on Smallville from 2001 to 2004, reprising the role in 2008. While he kept acting after he ended his run on Smallville, appearing in shows and films like Army Wives, ER, and Blue Mountain State, Jones' career was put on hold when he spent 10 months in prison for conspiracy to sell drugs. TMZ reported that he was released in late 2012.
Jones is still acting, according to his Instagram bio in which he describes himself as a "Recording Artist, Actor, [and] The Party goat," but he doesn't have a credit on his acting resume since the 2018 film All the Light Will End. Jones is still keeping busy in the creative field, although these days he's more about music and goes by the name KIIINGSAM. His single "The Drip" has more than 5.6 million listens on Spotify as of this writing.
Cassidy Freeman starred on several TV shows after Smallville
Cassidy Freeman only joined the cast of Smallville as Tess Mercer in 2008, but she blended seamlessly into the show. After the series wrapped in 2011, Freeman had brief, but memorable, guest appearances on some pretty big shows including CSI: NY, The Vampire Diaries, Once Upon a Time, and Stitchers. Freeman also had larger arcs on the shows The Playboy Club, Doubt, Longmire, and The Righteous Gemstones. Other credits include We Go On, Fender Bender, Cortez, and The Forever Purge.
Freeman landed some major roles after the end of Smallville, but she would have been perfectly happy for the show to continue. "I think that show could be like a soap opera and could go on for thirty years if it really wanted to," she told Assignment X. That being said, she admitted that "it was the right time to wrap it up."
After Smallville, Aaron Ashmore's TV career kept booming
Aaron Ashmore wasn't one of the main stars of Smallville, but he was certainly an unforgettable one. Ashmore joined the cast of the show in 2006, halfway through its 10-year run. For three years, he played Daily Planet photojournalist Jimmy Olsen, until his character was killed off. "Of course I was bummed because I really liked playing that character, but the death was awesome," Ashmore told Entertainment Weekly.
Ashmore went on to reprise his role as Jimmy Olsen in Smallville's season finale in 2011, but that was far from the end of his acting career. Olsen went on to appear in a number of other projects, including arcs on the TV shows Lost Girl, Warehouse 13, and Designated Survivor. He's also had many leading roles, such as on the shows Killjoys and Locke & Key.
As for Ashmore's Smallville days, he hasn't left them behind entirely. The actor shared that he still has a stash of the bowling shirts his character wears on the show.
Eric Johnson starred in this huge franchise after Smallville
Eric Johnson was far from an unknown when he landed the role of Whitney Fordman on Smallville. Johnson only portrayed the character until 2004, before going on to tackle more television roles. Some of his notable TV credits include Flash Gordon: A Modern Space Opera, Rookie Blue, The Knick, Junior, Condor Vikings, and American Gods.
You may also recognize Johnson for his role as Jack Hyde in the films Fifty Shades Darker and Fifty Shades Freed, the sequels to Fifty Shades of Grey. As fans of Fifty Shades know, Jack serves as an antagonist in the franchise. While Johnson enjoyed joining the film series, portraying Jack was quite the challenge for him. As he explained to Harper's Bazaar, he's played bad guys before but not on Jack's level, and "being horribly misogynistic [and] very violent towards women… was so gross, it made me feel so disgusting at the end of the day."
Laura Vandervoort starred in this horror film franchise after Smallville
Laura Vandervoort played Superman's cousin, Kara aka Supergirl, on Smallville from 2007 to 2011. The same year that Smallville wrapped, she joined another superhero franchise, voicing Mary Jane Watson in the video game Spider-Man: Edge of Time. She also joined the cast of Supergirl for a few episodes, although she didn't reprise her Smallville role and portrayed Indigo, instead.
Other standout credits from Vandervoort's resume include the television shows Bitten, Ice, V-Wars, and The Handmaid's Tale. Vandervoort also notably joined the Saw franchise, portraying Anna in the 2017 horror flick Jigsaw. "Whether it be a superhero franchise or horror, it is always very exciting to jump in and partake," she told Celeb Mix.
Years after starring on Smallville, the show still holds a lot of importance for Vandervoort, who described joining the cast of the show as "a huge career shift" to Pop Culturalist. The Canadian actress explained that joining the American show "introduced me to a new audience."
Camille Mitchell guest-starred on another CW superhero show after Smallville
Nancy Adams may not have been the biggest character on Smallville, but she was still a memorable one and Camille Mitchell portrayed the hard-nosed sheriff skillfully. Mitchell went on to make guest appearances on other CW shows such as Life Unexpected and iZombie; she even ventured back into superhero territory in a 2020 episode of Arrow that also served as a backoff pilot for a spinoff, Green Arrow and the Canaries. Mitchell told We Are Entertainment News that "it was an exciting episode to work on," but the planned spinoff never got off the ground.
Fortunately, Mitchell's career is going just fine without the show getting picked up. Since Smallville wrapped, Mitchell has starred in a couple of Hallmark films and also branched out into writing, directing, and producing. "It's all so intertwined, isn't it?" she told My Devotional Thoughts of her many talents. "It's all about story-telling."