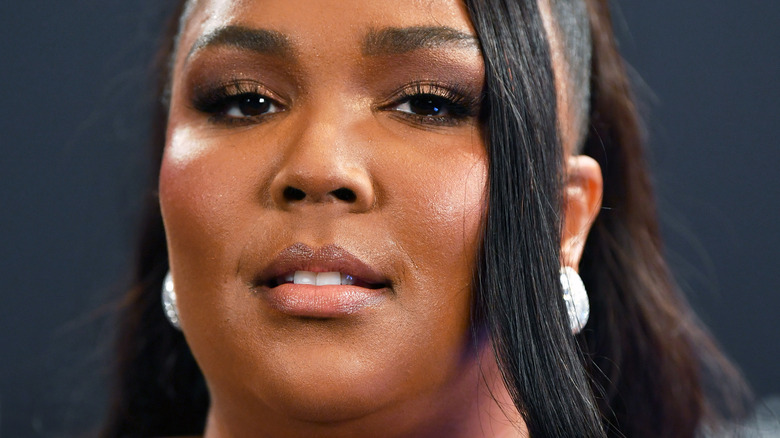 There is no denying that social media has consumed a large portion of our lives. While social networking services like Instagram have helped millions of users express themselves creatively (with users even making a living off of posting photos and reels), a survey found that it also had an adverse effect on young people's mental health. With roughly 58% of Instagram users being female in the U.S., the American Psychological Association found that scrolling through Instagram was connected with "depressive symptoms" and "body dissatisfaction." Most users know by now that Instagram isn't real life and "likes" can even be faked, but the impact of Instagram continues to give people poor body image.
There are a plethora of beautiful celebrities, influencers, and fitness models on social media whose bodies and lifestyles can conjure up feelings of envy, but there are a few stars who should be applauded for using their platform to remind their fans that not everything they see is real. These celebs have used their power to remind women and men that they should be confident in the skin they are in and have spoken up about self-love and body positivity, even posting their own untouched and unfiltered photos to prove a point. These certain stars hold nothing back and want to put a stop to unfair societal expectations.
Demi Lovato is teaching fans that what's most important is their health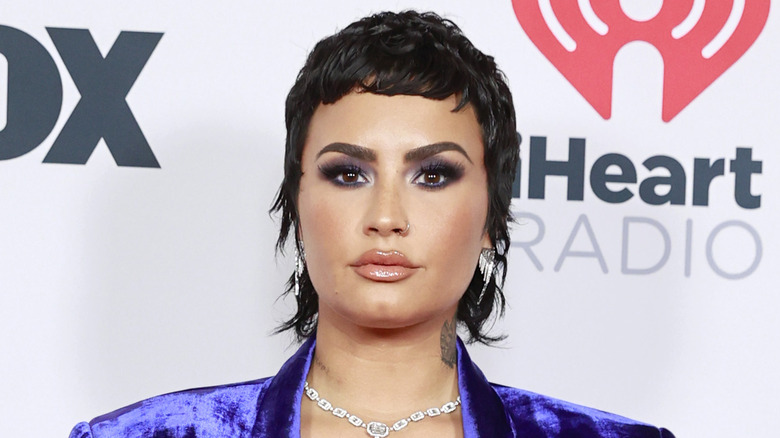 Demi Lovato has admitted that loving their body has not always been easy. Being one of Hollywood's top stars, Lovato bravely shared a photo on Instagram in their bikini in 2019 with no edits and no filters, captioning it their "biggest fear," but finally getting candid about accepting their body. Posing in a leopard bikini, their post read, "I'm just literally sooooo tired of being ashamed of my body … I want this new chapter in my life to be about being authentic to who I am rather than trying to meet someone else's standards."
The singer has been very open about how they feel about their body, sharing at the 2019 Teen Vogue Summit that while the body positivity movement has helped them overcome their fears, they still have their bad days. Instead of focusing on loving parts of their body, Lovato stated that what's more important is their health. "I'm healthy and I accept the way my body is today without changing anything."
In May 2021, Lovato came out as non-binary and uses the pronouns they/them. The singer shared the news on Instagram, stating, "This has come after a lot of healing and self-reflective work. I'm still learning and coming into myself, and I don't claim to be an expert or a spokesperson … I'm doing this for those out there that haven't been able to share who they truly are with their loved ones."
Serena Williams spreads messages of hope to young girls all over the world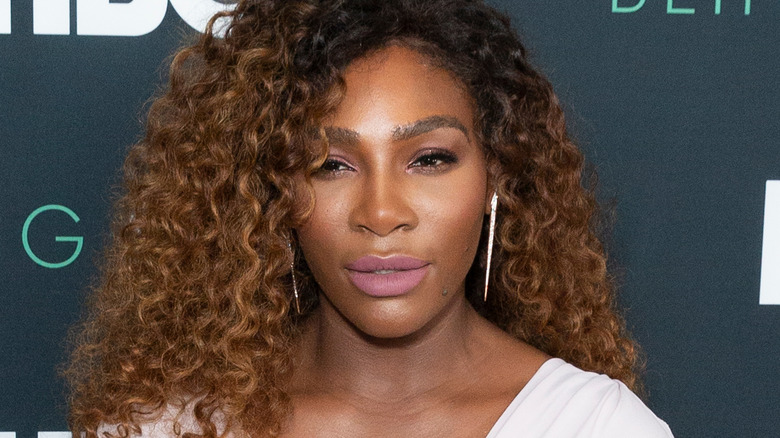 Even though Serena Williams is widely regarded as the best female tennis player of all time, she still had to navigate the harsh criticism she faced throughout her life, with haters focusing more on the athlete's physique than their powerful serves. She once told The Fader when speaking out against her critics, "You have to love you, and if you don't love you, no one else will. And if you do love you, people will see that, and they'll love you too."
Williams has since learned to leave the criticism behind her, telling Harper's Bazaar UK that she is "strong and muscular — and beautiful," and has used her star power to speak out on body shaming and encourage young women to follow their dreams. She shared with People, "Too many times young women are told that they're not good enough or they don't look good enough, or they shouldn't do this, or they shouldn't look like that. Really there's no one who should judge that except for you, and in general, that's the message that I want people to see."
Ashley Graham wants fashion houses to accept women of all sizes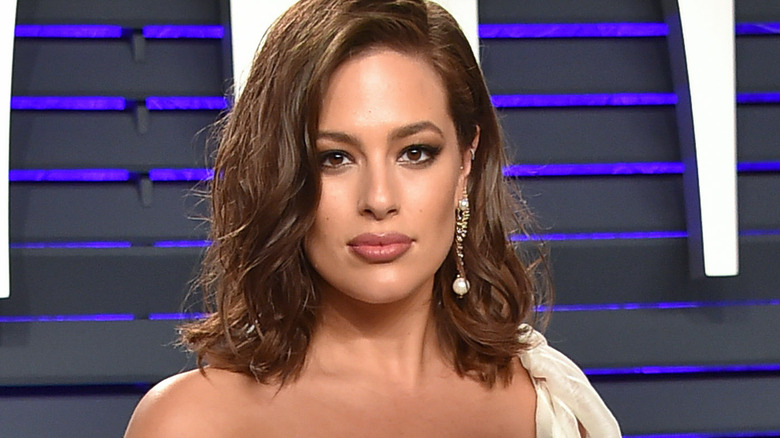 Ashley Graham's modeling career skyrocketed when she made history as the first-ever "plus-size" model to be featured on the cover of the Sports Illustrated Swimsuit Issue in 2016. Since then, Graham has fought hard for fashion labels to recognize all sizes, has praised magazines and photographers for not retouching her photos, and has celebrated her changing body throughout her pregnancy on Instagram while pregnant with her son Isaac, whom she shares with her husband, Justin Ervin.
Graham has become a role model for women and has regularly spread body positivity messages on her social media platforms and in interviews. While speaking at the Create & Cultivate conference in 2019, she stated, "It doesn't matter what size or shape you are, you can be healthy." She also shared, "Your body is yours. Nobody else has ownership over it. This is truly your own journey."
Graham has also pointed out that she isn't a fan of the word "plus-size," telling CBS This Morning, "I think that when you use the word 'plus-size' you're putting all these women into a category: "'You don't eat well.' 'You don't work out.' 'You could care less about your body.' 'You're insecure.' 'You have no confidence,'" adding that the word is "so divisive to women."
Kelly Clarkson stands-up to her body shamers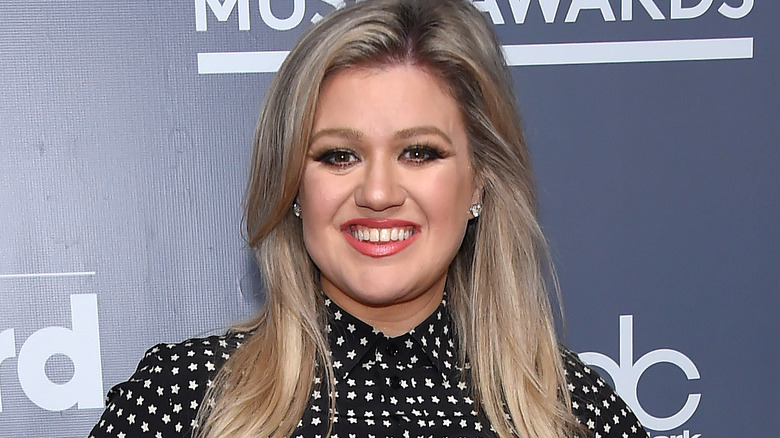 Ever since winning the first-ever season of "American Idol," Kelly Clarkson admitted that she has dealt with trolls who criticized her weight. She told People back in 2017, "Even on 'American Idol' I was really thin, but I was bigger than the other girls on the show, so people would say things to me. But luckily, I am superconfident, so I've never had a problem with shutting people down and saying, 'Yeah, you know, that's what I'm rocking. It's fine.'"
Sadly, instead of focusing on her music, people have continued to talk about Clarkson's body, with Fox News journalist Chris Wallace having to apologize to the singer in 2015 after he body-shamed her, per Today. And, when a Twitter troll tweeted "you're fat" at Clarkson, she had an epic response, tweeting back, "…and still f****** awesome," per Billboard. Speaking about her body, she told Redbook in 2015, "I don't obsess about my weight, which is probably why other people have such a problem with it. There are just some people who are born skinny and with a great metabolism – that is not me. I wish I had a better metabolism. But someone else probably wishes they could walk into a room and make friends with everyone like I can. You always want what someone else has."
Clarkson is passionate about positive body image and once shared with Heat World, "I've just never cared what people think. It's more if I'm happy and I'm confident and feeling good."
Bebe Rexha joins in on the body positivity movement with a TikTok video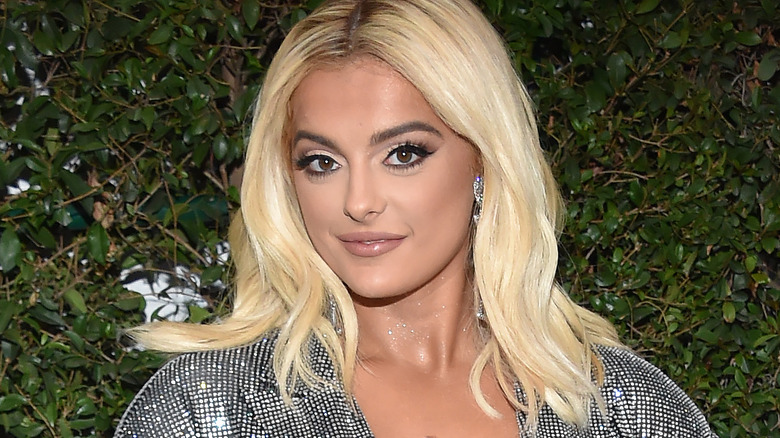 The body positivity movement focuses on accepting all bodies and aims for a better way to promote health and how to brush off hateful messages. Several celebrities have joined the movement, including songstress Bebe Rexha who promoted the acceptance of all bodies, no matter what shape or size by uploading a TikTok video of herself and boldly asking her fans to guess her weight.
In the short clip, the singer struts her stuff in lingerie and asks, "How much do you think I weigh?" Shortly, "No one's business" flashes across the screen and she later includes, " but let's normalize 165 lbs." The video caught the attention of over 2 million viewers and was just another brilliant way a celebrity has spread awareness of the movement.
Bebe Rexha has been known to keep it real with her fans and had previously posted a video of her unedited body in a bathing suit on Instagram. In 2019, she revealed to Health how she started walking around her house in her underwear to feel comfortable in her body. "I went through a point of really not liking myself, and I still have my moments — but I just started trying to be nice to myself and doing things every day," she shared, adding, "I walk around the house in just underwear and a bra. My therapist told me, 'You should walk around naked; it helps.' I'm like, 'I can't do that yet!'"
Jonathan Van Ness wants more conversation about male body image issues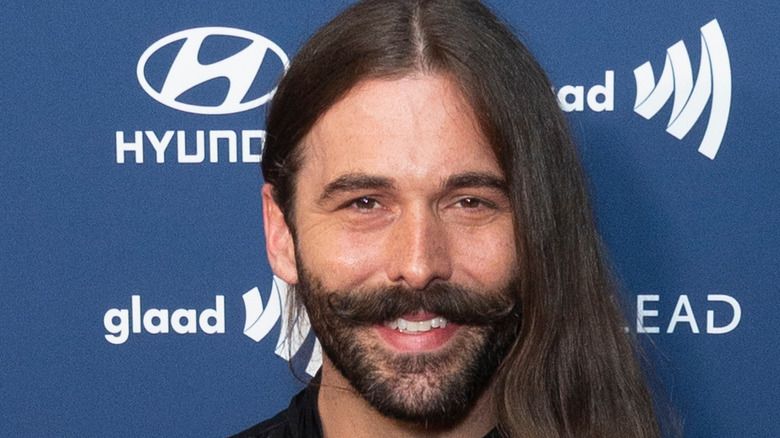 Body images issues can be difficult on any gender and "The Queer Eye" star Jonathan Van Ness spoke openly and honestly in 2019 with "The Allure Podcast" about how the lack of conversation about male body image resulted in the star dealing with his own personal struggles. The actor, who revealed that he was HIV positive, admitted that he struggled with an eating disorder growing up as conversations about body images seemed to focus solely on women. He shared, "We talk about body shaming, body positivity, and what the female gender encounters in that realm. I think in the male side that is not talked about quite as much, and I know I was severely impacted by that my whole life."
The actor has his own "ideas of beauty" and in his memoir, "Over The Top," wants others to stay true to themselves. In his book's dedication, it reads, "Imperfection is beautiful. To anyone who has ever felt broken beyond repair, this is for you. If you've ever been excluded or told you were not enough, know that you are enough and beautifully complete."
Van Ness has opened the door for others to start talking about how both men and women struggle with body image, and that no one should have to feel like they need to conform to society's beauty standards.
Lizzo wants to see changes in the body positivity movement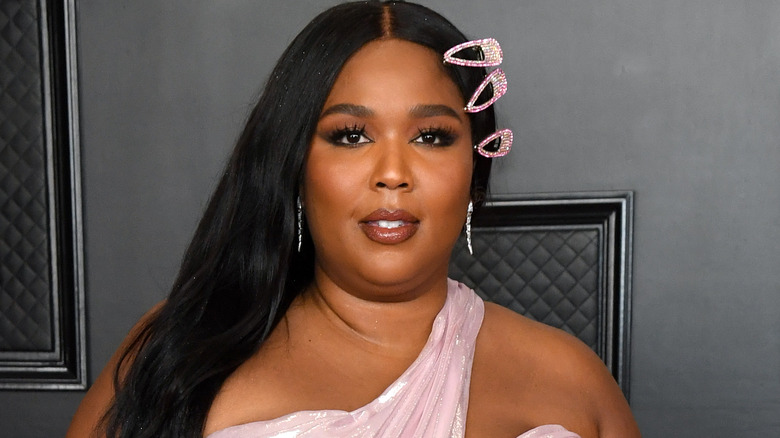 Lizzo has always advocated for the acceptance of all bodies. However, she spoke out against the body positivity movement after noticing that it was taking away from the people who started it in the first place. Speaking to Vogue, the songstress clarified her stance on the movement, sharing, "Now, you look at the hashtag, 'body positivity,' and you see smaller-framed girls, curvier girls. Lotta white girls. And I feel no ways about that because inclusivity is what my message is always about … What I don't like is how the people that this term was created for are not benefiting from it. Girls with back fat, girls with bellies that hang, girls with thighs that aren't separated, that overlap. Girls with stretch marks. You know, girls who are in the 18-plus club."
When a TikTok user asked why social media wouldn't let her "just exist in my body," Lizzo came to her defense and expressed that the movement was no longer focused on the people who created it. "Yes, please be positive about your body. Please use our movement to empower yourself. That's the point. But the people who created this movement — big women, big brown and Black women, queer women — are not benefitting from the mainstream success of it."
According to Vogue, Lizzo is ready for people to start feeling "uncomfortable again" because that's the only way "we can continue to change."
Iskra Lawrence is a powerful presence in the body positivity movement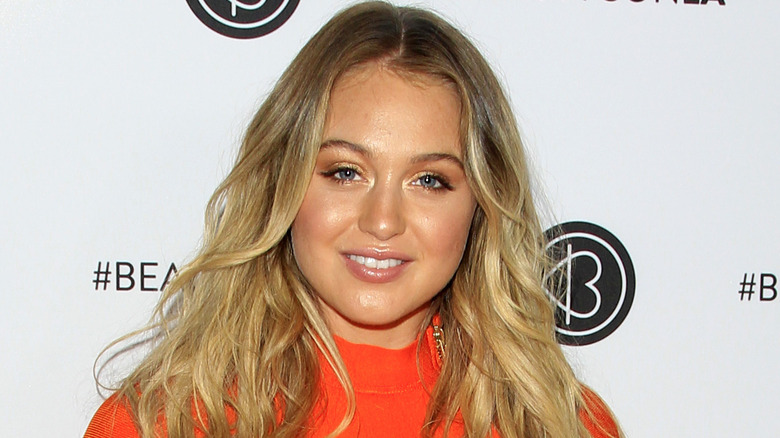 Model Iskra Lawrence admitted that she struggled to find her place in the modeling world after agencies refused to sign her because of her weight. She told Self that while she was once "obsessed" with the number on the scale, eventually she knew she was doing more harm and than good on her body and mental health, and found her calling in plus-size modeling. Lawrence has become an inspiration to women all over the world and her ever-growing presence on Instagram where she shows off her stretch marks and unedited photos has made her a powerful person in the body positivity movement.
To help others who struggle with finding acceptance with who they are, Lawrence created Iskra's Army, a campaign that helps teenagers work through their body image issues. She shared with Self, "Since I've come out about my struggles, it's amazing how many girls from my past have said, 'Do you realize I felt the same as you, Iskra?' How crazy that we all did and yet none of us talked to each other about it.'"
One of Lawrence's biggest modeling campaigns is working with Aerie, American Eagle's intimates brand, and she shared with Good Morning America that looking at a photo of her from one of the brand's photoshoots has made her feel "confident and just happy in [her] own skin."
Nicole Byer's book spreads positive body image
Comedian Nicole Byer knows a thing or two about self-love, just read her new book titled, "#VERYFAT #VERYBRAVE: The Fat Girl's Guide To Being #Brave and Not a Dejected, Melancholy, Down-in-the-Dumps Weeping Fat Girl in a Bikini." In her new body-positive book, Byer poses in more than 100 bikinis and includes things like a long list of "Activities You Can Do In A Bikini" and basically lets her readers know that they should never feel ashamed of their bodies, per USA Today.
In an interview with Zora, Byer addressed why women are not feeling "brave" enough to show their bodies in bikinis, stating, "I don't think it's just Instagram, it's ingrained misogyny. You are meant to be seen not heard. Don't take up space, apologize if you're too loud, type of thing. I think it just stems from years of women's bodies being told how and what they should be. Now, if you're on the gram, you see people saying they're on a journey of discovery and self-love, so people are heading in the right direction. We see different size models, which is great, too."
Byer also shared with USA Today that she learned to love her body after her friends complimented her in a bathing suit, saying, "I just looked cute; they were telling me the truth, and I heard it and I was like, 'oh yeah, I'm very cute.'"
Rihanna is at the forefront of changing the fashion industry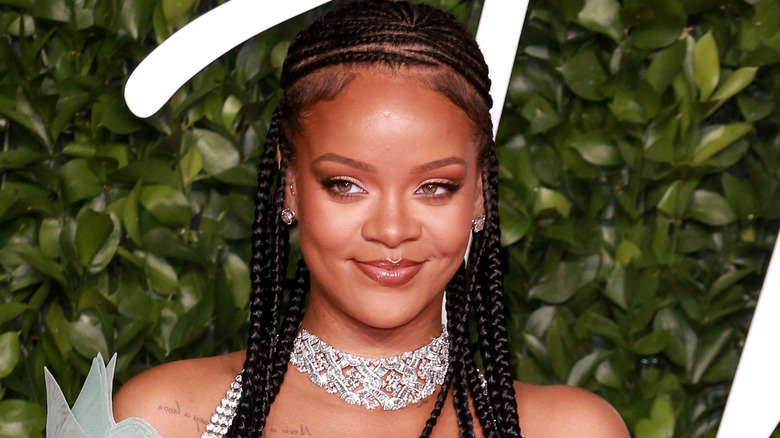 Rihanna has been a powerful figure in the body positivity movement and has paved the way for more fashion brands to start recognizing women of all sizes. For the singer's first Savage x Fenty lingerie NYFW show in 2018, Rihanna had women of all races, sizes, and even two pregnant models walk the catwalk for her line which offers sizes XS-3XL and bra sizes ranging from 32A-40DDD, per Bustle. The line also included a wide range of nude colors for every skin tone, barely-there lingerie sets, and everyday wear.
Rihanna's size-inclusive brand is just one major move in body positivity. The designer made a huge statement in the fashion industry by showcasing her pieces on women of different sizes, including model Slick Woods who walked the runway pregnant and in one of Rihanna's stunning and more sensuous pieces in the collection. Plus-size model Raisa Thomas, who took part in the show, spoke about Rihanna's diverse show, telling The New York Times, "She's putting it on the map for people to be inclusive. Plus size, white, Black. It's good for young women to see different types of people in a fashion show."
According to Health, Rihanna made even bigger strides in fashion when her Savage x Fenty Vol. 2 line in 2020 featured a men's collection with plus-size male models.
Alicia Keys is all about natural beauty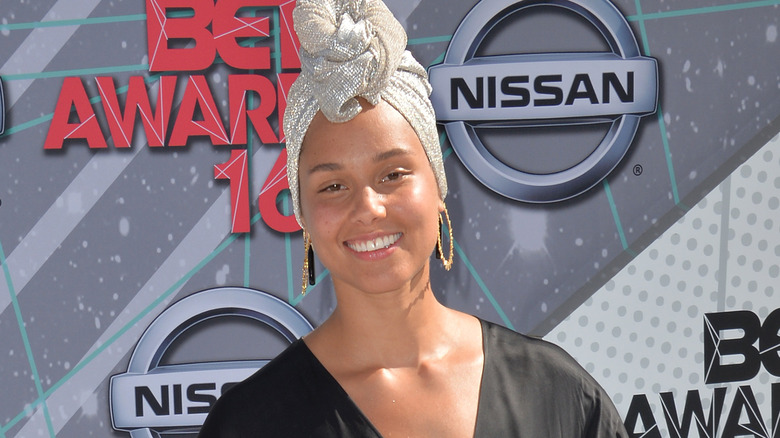 If any celebrity knows a thing or two about natural beauty, it's Alicia Keys. The singer made the bold decision to stop wearing makeup in 2016 and continues to walk red carpets, attend award shows, and grace the covers of magazines makeup-free. In an interview with Glamour UK, Keys shared that she became "addicted" to makeup and "didn't feel comfortable without it," but stated in her Lenny Letter that ditching it was the "most empowered" and "most free" she has ever felt, adding, "'Cause I don't want to cover up anymore. Not my face, not my mind, not my soul, not my thoughts, not my dreams, not my struggles, not my emotional growth. Nothing."
Keys is still going makeup-free and has launched a skincare line called Keys Soulcare with products that range from body wash to body cream. The songstress shared with Essence, "I love the ritual, and I love the mantra that says, 'I love myself as I am.' It's such an amazing way to just connect to yourself.'" Keys also added that she hoped her products helped her fans find self-love, stating, "I hope this collection just changes how you feel about yourself, and I think we have a lot of feelings about our bodies. We go through a lot, usually tons of judgment and just overthinking. So I think this is a beautiful way to get to know yourself and to uplift yourself and remind yourself that you're perfect the way you are."
Mindy Kaling knows a thing or two about self-love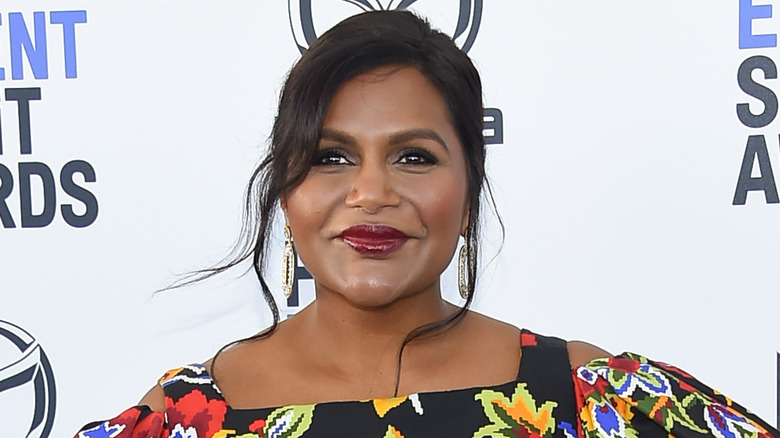 Mindy Kaling admitted that at one point in her life she would forgo eating so she could look thinner when attending prestigious events like the Oscars. However, she told Shape that she's learned to love her body and embracing every inch of it, stating, "I would love to be the size I was when I was 32 or something, but I just refuse to beat myself up about it. I love to eat at restaurants, I love to eat home cooking, and I don't like restricting my diet."
"The Office" star's Instagram page is filled with messages about body positivity, including one where she shared a side-by-side photo of herself wearing high-waisted bikinis and captioned it, "IDK who needs to hear this but … WEAR A BIKINI IF YOU WANT TO WEAR A BIKINI." In the second part of her post, she also shared a story about visiting her best friend in Hawaii. "And what I was struck about Hawaii is that everybody wears bikinis. It does not matter what your body type is. You rock a bikini. Because you're in Hawaii. And there's so much body positivity there that I, who was already really shy about my body, would wear bikinis," she said.
Not one to stress about her body, Kaling told Vogue (via Yahoo! Entertainment) that while she is "always trying to lose 15 pounds," she had no desire "to be skinny," adding that she is "constantly in a state of self-improvement."
Selena Gomez gets real about body shaming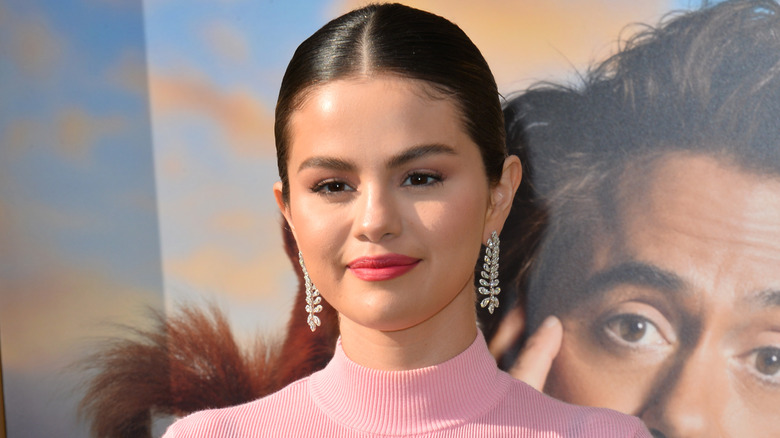 Selena Gomez wants her fans to know that everything they see on social media isn't the truth. During an interview for the Giving Truth Generation videocast (via Elle), the songstress shared how she keeps her social media as honest as possible and that her fans shouldn't feel discouraged when seeing an image that seems unattainable.
"I want people to have a good relationship with social media. It's not going anywhere anytime soon. But knowing the real world's in front of you and trying to pay attention to that is healthy," Gomez said, adding, " … I see so many beautiful girls and amazing different characters, and then they're just demolished by an image that they're trying to chase. They're wanting to be a completely different person but that's not what's inside of them, you know?"
After Gomez admitted on Instagram to undergoing a kidney transplant in 2017, BuzzFeed reported that she received hurtful comments about her figure after photos emerged of Gomez in a bikini showing her post-surgery scars. The singer responded with a video of her fun-filled vacation on Instagram and a caption that stated, "The beauty myth — an obsession with physical perfection that traps modern [women] in an endless cycle of hopelessness, self-consciousness, and self-hatred as she tries to fulfill society's impossible definition of flawless beauty. I chose to take care of myself because I want to, not to prove anything to anyone."
Jonah Hill is spreading 'body love' messages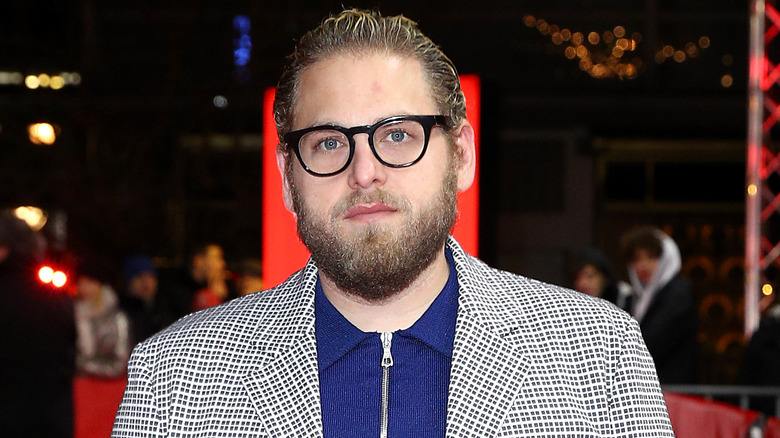 Actor Jonah Hill got real about being body-shamed throughout his life when he wrote a moving letter for his Inner Children magazine. He shared, "I became famous in my late teens and then spent most of my young adult life listening to people say that I was fat and gross and unattractive. It's only in the last four years, writing and directing my movie 'Mid90s,' that I've started to understand how much that hurt and got into my head."
After losing weight, Hill still had to defend his body and took to Instagram to clap back at the Daily Mail after they published a story of the actor surfing, while another photo showed him shirtless. He said, "I don't think I ever took my shirt off in a pool until I was in my mid 30s even in front of family and friends. Probably would have happened sooner if my childhood insecurities weren't exacerbated by years of public mockery about my body by press and interviewers … I'm 37 and finally love and accept myself. This isn't a 'good for me' post. And it's definitely not a 'feel bad for me post.' It's for the kids who don't take their shirt off at the pool. Have fun. You're wonderful and awesome and perfect."
Continuing to spread body positivity, Hill got a tattoo on his back in August 2021 that reads "Body Love" and shared it on his Instagram.