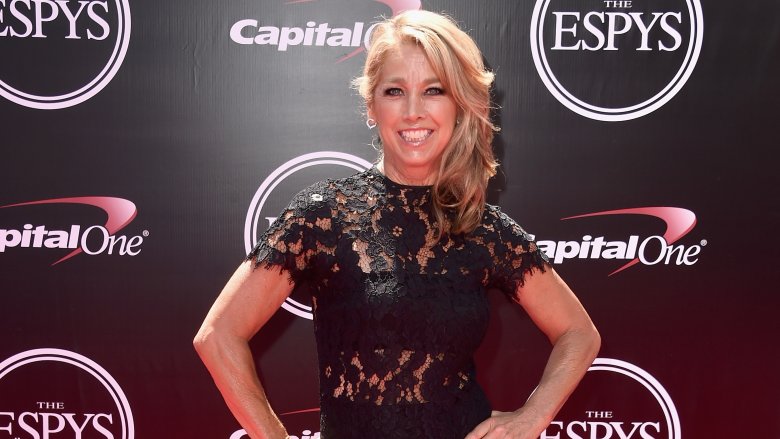 When you think of the word "fitness," many things may come to mind — one of which is likely famous fitness instructor Denise Austin. In addition to her decades of VHS and DVD workouts, Austin also served two terms on what is now known as the President's Council on Physical Fitness and Sports, and helped launch the food pyramid guidance system in America.
While her name may not be heard as much these days, that doesn't mean this fitness expert isn't working. In fact, Austin continues to expand her brand year after year. So what has she been up to in recent years? Let's take a closer look at Austin and her success over time.
You can look this good at 60, too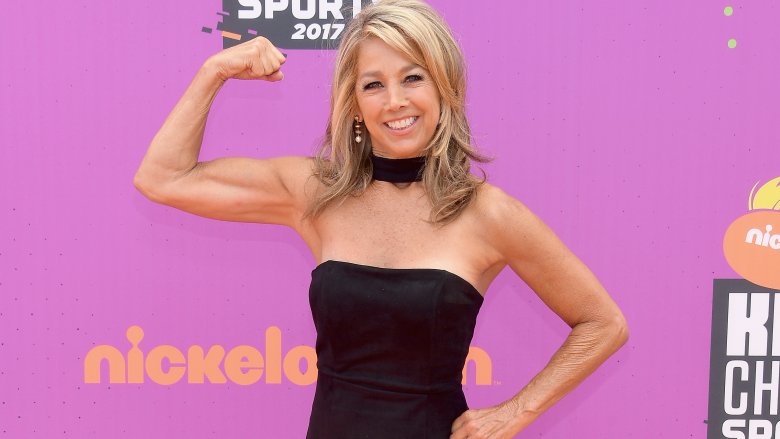 At 60 years old in 2017, Denise Austin looks and feels as great as ever, and wants to share all of her tips and tricks. Just as modern-day media shifted from VHS workout tapes to the web, so has Austin. She has different package options on her website to help her audience look and feel great themselves, including her ten-week Let's Move plan in order to help those who are looking to stay fit and be healthy.
As she previously posted on her website, "We can move through everything together. During the years, our bodies change and there are certain things we have to pay more attention to. I am here to give you all of my Age Defying Secrets!"
Here's what you need to do to keep "feeling young and enthusiastic"
For Denise Austin, it's not just the physical workouts that are important for staying in shape and living a healthy life; it also comes down to the attitude. She stresses this on her website, discussing how important it is to stay "upbeat and positive." Her program Let's Motivate is designed to help her viewers focus on that happy energy over ten weeks.
She breaks down how simple these tips can be to follow through with, sharing, "Wake up happy. Being optimistic will have help shape a great attitude and improve your mood. Spending time with friends and family as much as possible will keep you feeling young and enthusiastic."
The one thing you should never, ever say to your daughter to get her in shape
Much like former First Lady Michelle Obama, Denise Austin strives to keep others happy and healthy, and one of her passion projects focuses on child obesity. As she shared with FabOverFifty in 2010, she has traveled to 32 states in order to help kids stay active. She has tips for parents on how to make sure their kids are getting enough exercise. She told the Seattle Times that they should check on how many times their kids have P.E. class throughout the week. Sometimes it is not as much as people assume.
What other tips does she have? She shared, "Also, I'd try to get them involved in after-school events, dance programs, any form of sports, and of course they can do activities at home. [I'd tell them,] 'Let's turn on the music and dance. Let's go outside and play ball.' With girls, you never want to say, 'You're eating too much,' so I focus on activity."
She could easily down a carton of ice cream in one sitting, just like the rest of us
You might think that someone like Denise Austin, who has been influencing the world of fitness for decades, maintains a diet so strict that it's unsustainable for the average person. Luckily, you couldn't be more wrong! What makes Austin great at what she does is that she is real with her audience and fans. She works hard to stay in shape, but she's human, too, and isn't afraid to tell us about it. Sometimes she gets that craving for sweets and, rather than stopping herself from eating anything, she lets herself indulge — in moderation.
As she shared with AARP, "I try not to have junk food in my kitchen at all, or I will see it and eat it. My favorite is ice cream, so when I really want it, we walk to the ice cream shop and get either a scoop of coffee ice cream, gelato or frozen yogurt. That way it's perfectly portioned, unlike a carton of ice cream, which I could down in one sitting while mindlessly watching TV."
She continued by explaining that she avoids extremes. "I'm into eating whole foods. I don't starve myself, and I don't think other people should either," she said. "But I give myself 'cheat meals' 20 percent of the time. It's about balance."
She and her daughter are two peas in a pod
"The apple doesn't fall from the tree" is definitely a true statement when it comes to Denise Austin's daughter, Katie. She has pursued the same field of fitness as her mom, creating her own workout guides called Get Fit With Katie. She also shares workouts and tips on her Instagram account where she has more than 119,000 followers.
The mother-daughter duo have now teamed up for workouts together as well, and Katie will be the first to say that her mother has been a huge influence in her life. As she told Health, "I don't know where I'd be without her."
Her advice after three decades of marriage: "You need to earn your love"
Since marrying her husband Jeff Austin in 1983, Denise has kept her marriage going strong. Having been together more than 34 years, the couple is bound to have some tips for success, right? That's exactly what The New York Times asked the couple in 2012.
Denise Austin shared, "Pick the right guy! It's also important to be positive and optimistic, not to be grouchy or naggy." And Jeff jumped in as well, saying, "And don't take anyone for granted or get complacent. You need to earn your love." With over three decades of marriage and two daughters, this couple definitely seems to have earned that love.
She sold all of her possessions in a very public way
As Denise Austin's life has continued, it has changed in some meaningful ways. Her daughters moved to Los Angeles, while she and her husband made the decision to downsize from their big house in Virginia to a condo in Manhattan beach so that they could spend some time on the west coast. To help with the downsizing, they opened their home as a giant estate sale in 2014, with everything but personal mementos up for grabs. From workout equipment to clothing, the Washington Post reported that proceeds from the sale would go to medical expenses for Austin's ailing niece.
As Austin shared with the Post prior to the sale, "This has been a great place to raise kids, but it's too much house to deal with." And the sale proved to be successful. The Post spoke with the shoppers who stopped by to make purchases and, while some were clueless about the owner of their newly-acquired wares, others looked to their purchases as an opportunity for self-improvement. As one shopper said, "Owning something from here might be inspirational. There's inner energy."
She's dedicated to proving that age is just a number
In 2016, Denise Austin was announced as the new AARP Wellness Ambassador. With her continued success in the field, even as she reaches senior territory, it was no surprise that Austin took on this role. As the AARP press release stated, Austin has been a well-known figure in the fitness world for decades, having written numerous books, sold more than 24 million exercise videos and DVDs, and starred in the then-longest running fitness show in TV history. Austin was ready for the challenge, and modernize the way fitness is targeted to her generation.
She spoke about her excitement in the press release, sharing: "There are so many things we can't change in life, but we can change the way we eat, move, and think. … It is important to me to get out the message that exercising and healthy eating, no matter your age, is important and easy to accomplish."
She "makes the Energizer Bunny look lethargic"
Over the years, Denise Austin has continued to take on the role of author in addition to fitness instructor, having authored more than 20 books as of this writing. One may think that it would be hard to keep getting better and better, but Austin has proven that she is up to the challenge.
When her book Get Energy! Empower Your Body, Love Your Life came out in 2010, it received positive feedback. As People reported (via FabOverFifty), "Denise Austin makes the Energizer Bunny look lethargic." Her books all focus on different areas of fitness or tips for leading a healthy lifestyle.