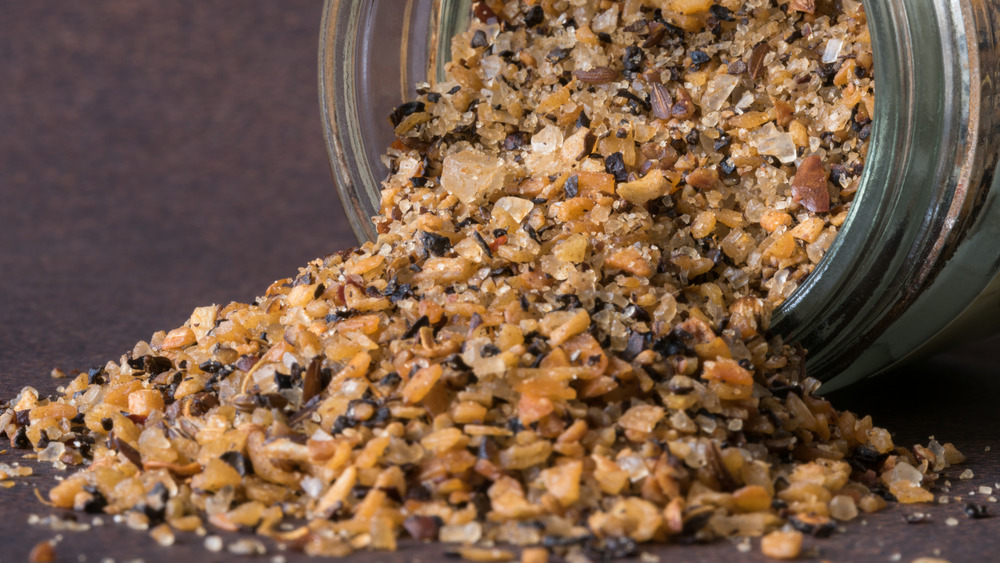 No grocery store looms quite as large in the American millennial's psyche than the veritable food amusement park that is Trader Joe's. The indie-vibed LA-based grocery store chain is beloved for its delicious and easy pre-packaged meals, hundreds of unique private-label snacks, and of course unbeatable prices. Whether you're a sucker for the cauliflower gnocchi, start your morning with a glass of Trader Joe's cold brew, or wind down with Oreo-esque Joe-Joe's, anyone who's set foot in a Trader Joe's knows its a special place.
You may not realize that it's also a great place to stock up on pantry staples, for dirt-cheap canned goods and of course the incredible spice aisle. In addition to staples like garlic powder or oregano, there's a number of super creative and flavorful spice blends, mixed up by Trader Joe's product specialists and often inspired by similar products popular around the globe. Everything but the Bagel seasoning blend is arguably TJ's most famous product, but the tasty mixes run the gamut from smoky and spicy to sweet and warm to rich and earthy. Pick up one (or all!) of these simple, delicious kitchen magic wands on your next visit to Trader Joe's, and be prepared to be blown away by the food you make. Some of the blends on this list are seasonal, so grab'em when you see them.
Trader Joe's Everything but the Bagel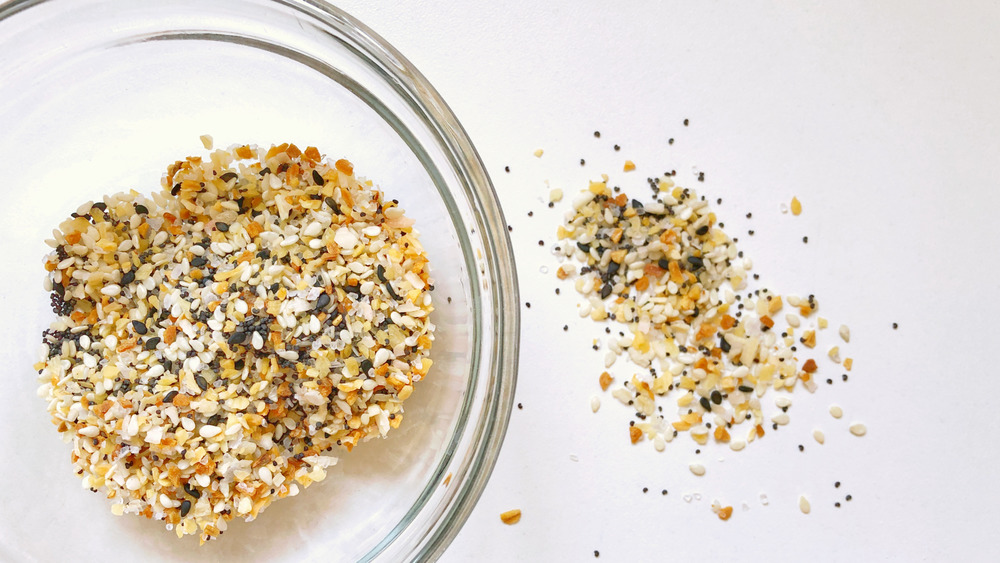 Legend has it that the first Everything Bagel was invented in Queens, New York in the 1980s, but Trader Joe's re-popularized the favorite with its Everything But the Bagel Seasoning Blend, which hit shelves in 2017 and took the food world by storm. With black and white sesame seeds, poppy seeds, dried minced garlic & onion, and salt, this blend is full of both flavor and texture. You can use it to spice up any bagel and cream cheese, or really run wild with it: it's great on eggs and avocado toast, mixed in with breadcrumbs, tossed with roasted veggies, and sprinkled on salads. It's spawned a host of copycat recipes as well as a whole line of EBB food products at Trader Joe's, from dip to smoked salmon to mixed nuts. It truly sparked a movement of new food flavoring and consistently ranks as Trader Joe's most popular item in customer choice awards.
Trader Joe's Everything but the Elote
Elote is a traditional Mexican street food: ears of hot roasted corn slathered with mayo, then rolled in chile powder and tangy cotija cheese. Iterations may include cilantro, lime, salt, or butter in place of mayo and variations on the cheese. TJ's saw the skyrocketing popularity of this snack and decided to get in on the trend with a seasoning blend that leaves you just wanting the corn. Ingredients include sugar, salt, corn flour, parmesan cheese, chile pepper, chipotle powder, cilantro, and cumin. You can use it to make elote, obviously, but think outside the box: sprinkle it on fresh-popped popcorn, mix it with breadcrumbs to make savory, crispy fried chicken, infuse it in your cornbread batter, and more. It adds deep savoriness with just enough smoky spice to clean out your nostrils. Trader Joe's is on a mission to elote-ify everything: in addition to the spice blend, they sell popular frozen corn (off the cob) with elote toppings mix and flavor-bomb elote-flavored corn chips (similar to Fritos).
Trader Joe's Everything but the Leftovers
We all know stuffing is the best part of Thanksgiving, and the newest member of Trader Joe's "Everything But" spice family is perfect for the winter holidays. Instagrammer @traderjoesobsessed highlighted this recently, and it's literally Thanksgiving in a bottle. A mix of thyme, sage, parsley, onion and garlic, turmeric, salt, and yeast, it's perfect to flavor your turkey, of course, but also sprinkle it liberally into soups, stews, mashed potatoes … basically anything comfort food.
According to People Magazine, there's even a behind-the-scenes podcast called Trader Joe's (Inside) where a Trader Joe's employee calls the new blend a "magic powder."It may taste just like a Thanksgiving turkey, but it's actually completely vegan. TJ's recommends shaking it all over your turkey cutlets, sweet potatoes, and Brussels sprouts for a healthy and comforting sheet pan dinner. As pointed out by the podcast host, it might be a welcome addition to a potluck-style dinner where some dishes need a little extra oomph.
Trader Joe's 21 Seasoning Salute
Similar to an Italian seasoning blend, this will make you feel like a true whiz in the kitchen. The ingredient list really does include 21 different spices, including classics like onion powder, garlic, parsley, basil, oregano, thyme, etc. as well as some surprises like dried carrot peel and tomato granules. This makes it a great base for soups, tomato sauces, stews, and marinades, as well as a topping for dips, pizza, and more.
Redditors love the slightly citrus-y flavor that makes potatoes and home fries especially bright and tasty. Blogger Jacolyn Murphy says you can just shake it liberally into sour cream for your potato chips, or top pizza with it. Blog Life is No Yoke, agrees that it'll jazz up your salad dressings, and points out that all of this flavor comes from a blend made with absolutely no salt, so if there's too much salt in your diet, this is a great way to cut back without sacrifice.
Trader Joe's Chile Lime Seasoning
Trader Joe's is known for creating its own twist on other popular food items and brands, and chile lime seasoning is no exception. It's widely seen as a copycat for Tajin seasoning, a chile lime blend created in the '80s that caught on with Hispanic communities in the U.S. in the '90s. Popsugar says the original is better here, but nevertheless, TJ's Chile Lime Seasoning is excellent when mixed in with fajita meats and veggies, and as a refreshing kick on mango slices, jicama, and other crisp, fresh fruits and veggies. It'll add real pizazz to your homemade guacamole, and it's also great on pumpkin seeds, potatoes or fries, and roasted chickpeas. You can even use it to spice up your alcoholic beverages, both to rim the glass and in the mix itself. Try this michelada with a chile-lime rim for a spicy, tomato-y, limey beverage that's not too strong — at least on the alcohol.
Trader Joe's Mushroom and Co Multipurpose Umami Seasoning
Umami is that mysterious extra-savory oomph found in mushrooms, soy sauce, fish sauce, anchovy paste, miso, and other kitchen-whiz staples. This takes all the guesswork out of flavoring your dishes, even if you've never heard of miso powder, let alone cooked with it. This seasoning blend is made with real dried, crushed mushrooms (porcini and white button) and other spices like salt, onion, and mustard powder to add a depth of flavor to soups, veggies, meat, eggs, and more. Trader Joe's points out it's particularly useful if you're following a specific eating plan, as it can add a meaty flavor to plant-based foods and add depth without changing the nutritional makeup of your meals. A dash will go a long way, but favorite uses for this blend include mixing it into turkey burgers, topping your eggs or avocado toast, and more. It can even be shaken into a veggie broth to make it taste more "meaty."
Trader Joe's Vegan Chicken-less Seasoning Salt
Chicken salt is an Australian thing that popped onto shelves in the 1970s and soon became ubiquitous at fish and chip shops across Australia. It may remind you of a chicken bouillon cube or the little flavoring packet that comes with instant ramen. The original Chicken Salt brand had onion powder, garlic powder, celery salt, paprika, chicken bouillon, and monosodium glutimate (MSG, artificial umami) but the current recipe contains no meat products.
Trader Joe's made their own vegan version in 2020 to help bring a little taste of down under to the States. It's made with salt, onion and garlic powder, celery seed, ginger powder, turmeric, and pepper. Like a lot of the savory specials on this list, it's an all-purpose blend that will add big flavor to simple meals. Sprinkle it on french fries to recreate the Australian fish and chip experience. Ratchet up your roasted chicken, of course, or make a plant-based alternative a little meatier, like cauliflower steaks.
Trader Joe's South African Smoke
This smoky grinder is perfect for adding tons of depth and flavor to barbecue-style recipes. According to the Trader Joe's product description, the paprika is actually grown in Africa and then slow-smoked for two days over a hardwood often used for barbecuing. From there, the paprika kernels are mixed with pepper, basil, and salt. Trader Joe's fans say this is great in homemade bbq sauce, or sprinkled and rubbed on bacon.
It's seasonal and you're most likely to find it at the start of barbecue season, in May, according to savvy Redditors. It's perfect for grilling meats and veggies, of course, but it also works in mac and cheese, rice, pasta, eggs (of course) …you get the idea! Redditor RoseOfSharonCassidy even mixed the South African Smoke with Everything But The Elote blend to create the smokiest, most flavorful mac n cheese out there — the trick is to mix the spices both into the cheese sauce and into the panko bread crumb topping.
Trader Joe's Dukkah
Dukkah is an Egyptian nut and seed blend, (the word "dukkah" is Arabic for "to crush" or "to pound", and can also be spelled duqqa, du'ah, or do'a) most commonly made with hazelnuts, cashews, herbs like marjoram, and other spices. It's eaten in many ways throughout the Middle East, but most commonly as an appetizer dip with pita bread. The Trader Joe's take on this blend is slightly spicy, crunchy, and nutty. The best use for it is right there on the jar: pour some good olive oil on a plate, sprinkle in the dukkah, and dip a hunk of crusty bread right into it. The textured mix of almonds, sesame seeds, fennel seeds, coriander, anise seeds, and salt is extremely versatile, and a bit more unique than many of the other blends on this list. Anise and fennel give it a licorice-type flavor. The texture makes it an excellent topping for creamy hummus, or to crust chicken,
Trader Joe's Pumpkin Pie Spice
Pumpkin pie spice is a classic blend and not unique to Trader Joe's, but a favorite taste all the same, and one of TJ's only sweet spice blends. It has a mix of cinnamon, ginger, cloves, nutmeg, and the surprise ingredient of lemon peel. Chowhound breaks down some of the main components of pumpkin pie spice and explains that ginger has healing properties and a bit of spice, while cinnamon is typically the most dominant flavor profile of the blend. Use it for all your warm and comforting baking needs, from pies (obviously) and breads to cookies, muffins, and more. Trader Joe's is known for its countless pumpkin products that come out every fall, from pasta sauce to pretzels, but sometimes it's nice to go back to basics. Trader Joe's classic pumpkin pie recipe calls for a generous two teaspoons of the spice mix along with canned pumpkin, butter, brown sugar, evaporated milk, and a pre-made pie crust to keep things simple. Beyond traditional baked goods, try dousing your oatmeal with this warm blend to truly make your mornings cozy.
Trader Joe's Furikake Japanese Multi-Purpose Seasoning
Furikake is a Japanese favorite often found in poke bars, which typically includes salt, sesame seeds, and small flakes of seaweed. Traditional furikake may also include MSG, and other add-ins like wasabi, salmon flakes, etc. It's salty, a little bit briny, and well-textured, perfect for dressing up Japanese-esque dishes like fish, rice, and udon noodles. You can also make a fancy-as-heck sushi rice bowl and poke bowl from the comfort of your own home. The Trader Joe's version is MSG-free, with a simple ingredient list of black and white sesame, seaweed, kelp powder, and salt for an ocean-y, fishy flavor. Trader Joe's recommends mixing it into panko breadcrumbs and breading baked Sriracha-flavored tofu strips for a delicious and protein-packed dinner of fries with the dipping sauce of your choosing. According to some bloggers, you have to use a generous amount to get some flavor beyond just salty with this one.
Trader Joe's Coconut Aminos Seasoning Sauce
This is a seasoning blend in liquid form, but deserves a spot here all the same. At first glance, it may seem like a soy sauce substitute, and you're not too far off — it will work similarly in most recipes. It's dark, savory, slightly sweet, and salty. It's made with coconut sap boiled with sea salt, and makes a great substitute for those looking to lower their sodium intake, who have soy allergies, or are following diets like Paleo or Whole30 that prohibit soy products. What's an amino, exactly, and why is it good for you? They're essential compounds the body needs to help build protein, but actually don't occur naturally, but are instead obtained through diet. The coconut sap extraction and boiling process results in 13 amino acids, so you can feel extra healthy while flavoring your favorite foods. It'll still give you that hit of umami, too, according to a PopSugar reviewer.