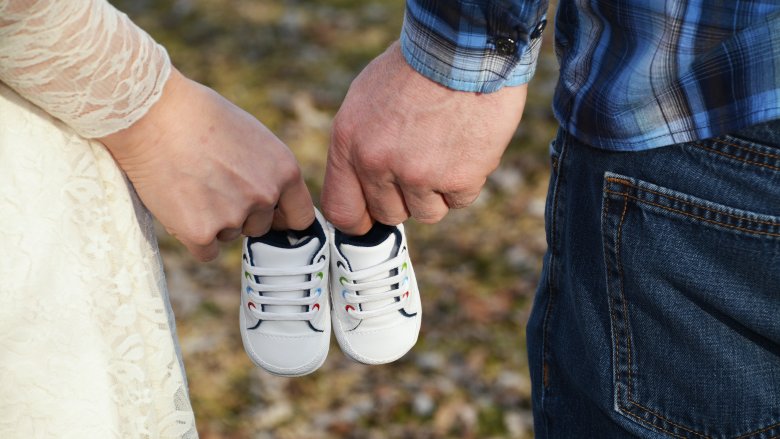 While many people prefer to wait to have children until they are older and established in their careers, not everyone follows this route. These famous figures all had children before they reached the age of 20, and many of them raised their kids on their own. Being a teenage parent is by no means easy, but these people managed to raise kids and have incredibly successful careers. The path to fame is never an easy one, but these celebs were able to juggle parenthood and success.
Anna Nicole Smith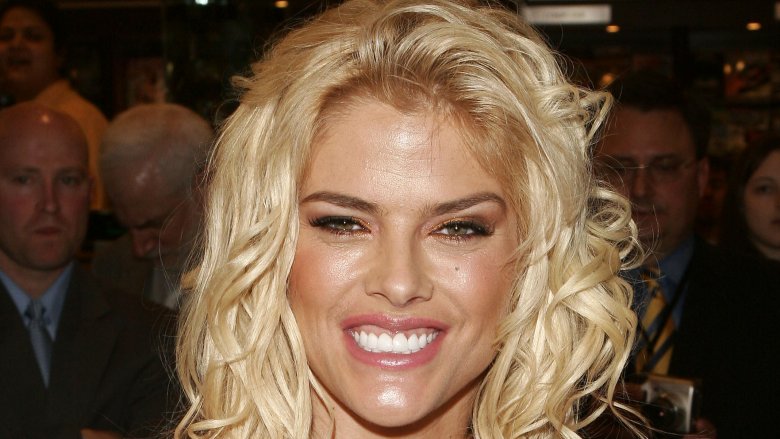 Before she launched her modeling career, Anna Nicole Smith was a high school dropout working at a fried chicken restaurant. It was there that she met her first husband, Billy Smith. The couple were married when she was just 17 years old and Smith gave birth to a son, Daniel Wayne Smith, less than a year later.
The marriage was a short and unhappy one, but Smith was devoted to her son. Daniel died from an accidental overdose when he was 20 years old, leaving Smith devastated. When she died a few months later, her ex-boyfriend, Mark Hatten, claimed that it was from a broken heart. "When I heard Daniel died I knew she wouldn't last long," he told In Touch. "I've seen people pamper their kids but he was literally her world."
Wendy Davis
Politician Wendy Davis had a hard life before her success as a senator. The Texan was married at 18, and going through a divorce by 19. The single mother struggled to get by and worked two jobs while attending community college. "I knew I was poor because of the struggles that I and my young daughter, Amber, were experiencing," she told TODAY. "I was having a really hard time making ends meet, paying for my childcare, paying for a car payment, paying rent and making sure that I kept the lights turned on. Sometimes, it didn't happen."
The young mother never gave up, though. She eventually remarried, had another daughter, and went on to study law at Harvard. "I'm not an overnight sensation," she said. "I'm a Texan. And I'm a Texas success story. I am the epitome of hard work and optimism."
Loretta Lynn
Country superstar Loretta Lynn has never made a secret of the hard life she had before becoming famous. She wrote in her autobiography, Coal Miner's Daughter, that she was married at the age of 13 and had four children by the time she was 18. While some documents refute this, showing that Lynn was actually married at 15, it is certain that she gave birth to more than one child while she was still in her teens.
Still, despite a difficult childhood and life as a teenager mother, Lynn became the first woman honored with the Country Music Association's "Entertainer of the Year" award in 1972.
Taylor Hanson
Boy band member Taylor Hanson went from being a teen heartthrob to being a teen dad. In 2002, the 19-year-old became a father to Jordan Ezra Hanson. His wife, Natalie Anne Bryant, was just 18 at the time. "We are so excited to start a family," he announced in a statement to the press. "Having Ezra is the best thing we've ever done. Life and art are all about these moments."
Taylor may have been the first of the Hanson brothers to have a baby but he certainly wasn't the last. Today, the three brothers have twelve children between them.
Jourdan Dunn
Model Jourdan Dunn was 18 when she found out that she was pregnant with her son, Riley. Dunn told Vogue that telling her mother about her pregnancy was "the hardest thing" and that her mother was "angry and upset" when she heard the news.
"She had me at a young age and didn't want me to go through her struggle," Dunn said. Dunn knew that being a teenage mother wouldn't be easy, but decided that she "was just going to have to make it work." Her son has sickle-cell anemia and has to be monitored carefully; fortunately, Dunn has the support of her mother who is helping her raise Riley.
Dunn said that her son keeps her motivated. "I'm his voice, I'm his lifeline, I have to be driven," she said. "I think he pushed me in the right direction. I've always been ambitious, but now I have more focus. I'm more hardworking."
Tom Jones
British crooner Tom Jones has a voice made for lullabies, perhaps because he got practice from a very young age. Jones left school at the age of 16 and, the following year, he married his childhood sweetheart, Melinda Trenchard. A month after the couple got married, Trenchard gave birth to their son, Mark.
Jones had barely started his music career at that point and worked in a paper mill to support his family while waiting for his big break. Soon after his son was born, he quit the paper mill and started singing for a local band, Tommy Scott and the Senators. The rest, as they say, is history.
Evelyn Lozada
Reality star Evelyn Lozada had her first child at the age of 17, but waited much longer before having her second. There is a 20-year age gap between her first child, Shaniece, and her second child, Carl Jr. In 2016, BET asked her what it was like being the mother of an adult and a toddler at the same time.
"It was definitely me starting over because I was," said Lozada. "I feel like now that I'm older, I'm more in tune with motherhood. With Shaniece, I was 17, fearless and didn't worry about anything. He's a crazy toddler. I'm tired. I'm 40 years old. He keeps me really busy."
Natalia Vodionova
While many mothers struggle to lose the baby weight after giving birth, Russian supermodel Natalia Vodionova had no trouble getting back on the runway after having her son, Lucas, at the age of 19. Far from having trouble getting her figure back, it actually helped her become famous.
"I lost a lot of weight for my height," she told Vanity Fair in 2005. "In two weeks after giving birth to Lucas, I was on the catwalk. I was so skinny and the clothes just sat on me incredibly and no one could believe it. Everyone wanted to put me in their shows. I did everything."
Vodionova was thrilled to be a mother. "I have always dreamed about having children, a lot of children," she said. "I actually want to have very soon another one." The model has fulfilled her dream of having a large family and, as of this writing, has five children.
Naomi Judd
Naomi Judd entered the workforce as a nurse, not as a singer. For years, she struggled to support her two children, Wynonna and Ashley. Judd was only 18 years old when she gave birth to Wynonna in 1964. Ashley followed four years later, and Judd raised both girls as a single mother.
It wasn't until 1983 that the mother-daughter singing duo of Naomi and Wynonna Judd were signed to RCA Records, launching a successful music career as The Judds. When Judd retired from singing in 1991 due to complications with chronic hepatitis C, Wynonna entered a successful solo career, while Ashley pursued a career in acting.
In 1998, Judd returned to the spotlight with her daughter Wynonna. The two last toured together in 2010 after which Judd struggled with "completely debilitating and life-threatening" depression that led to hospitalizations. In Judd's 2016 interview with ABC News, she said the treatment she has received for depression has now made her "content and at peace."
Maya Angelou
Renowned poet and civil rights activist Maya Angelou raised her child as a single parent with the help of her mother, Vivian Baxter. HuffPost reported on an interview Angelou gave Oprah about her struggles as a young parent. "The world would throw me flat on my face with this little baby I'm trying to raise," Angelou said. "I would go home to Vivian Baxter. She would act as if it was the best thing that ever happened… She never, ever made me feel that I had done the wrong thing."
When the 16-year old told her mother she was pregnant, she was asked if she loved the father. When Angelou said she didn't, and that he didn't love her, her mother told her, "We're not going to ruin three lives. We're going to have a beautiful baby."
Angelou was the first African American woman to be a nonfiction bestselling author for her memoir I Know Why The Caged Bird Sings in 1969 and received many honors and awards before her death in 2014.
Aretha Franklin
Vocal powerhouse Aretha Franklin was already making a name for herself as a singer when she had her first child shortly after her fourteenth birthday. The child prodigy had already recorded some songs and gone on tour, which thrust her into an adult world as a young teenager. Motherhood didn't deter Franklin from her career. The single mother continued to perform even after having another child two years after her first. By the time she was in her 20s, she was balancing motherhood with churning out hits that topped the music charts.
With 18 Grammy Awards as of this writing, the Queen of Soul certainly didn't let anything, even the struggles of being a teen mother, stand in the way of her journey to the top.
Suzanne Somers
Actress Suzanne Somers is a well-recognized celeb, but before she was famous she struggled to make ends meet. Somers had a troubled childhood, with an alcoholic father who was often verbally and emotionally abusive. Somers told People that when he was drinking, he would often fly into a rage and scream at his wife and children, sometimes throwing dishes and tearing up clothes. Somers would often sleep in her closet to hide from her father.
Her siblings later developed alcohol addictions themselves, something Somers feels fortunate to have avoided. She met her first husband, Bruce Somers, when she was 15. Within two years, she was pregnant and married. "It was a mistake," she said. She wanted out, but didn't know how — so she had an affair. "That ended the marriage," she said, "but then I was left with a new set of crises, feeding and clothing a baby and keeping a roof over our heads. I decided to try modeling, including doing nude photos one time when I needed money for my son's medical bills."
Rod Stewart
Singer Rod Stewart has made headlines over the years, and not just for his music. Tabloids have long been enamored with the star, following his love life for decades. He had children with a few different women before having two children with his third wife, Penny Lancaster, when he was in his 60s. His advanced age at the time of his children's birth made the news, but for years it was not widely known that Stewart actually became a father for the first time when he was only in his teens.
Stewart publicly acknowledged his oldest child, Sarah Streeter, in 2013. She was born when he was 18, before his career had taken off, and he and his then-partner agreed to put their daughter up for adoption. Stewart first made contact with Streeter in the 1980s, although the two didn't begin to build a relationship until after Streeter's adoptive parents died. "I didn't change Sarah's nappies or do homework with her like I did my other kids, so at first it was hard to feel like she was my own," Stewart told The Sun in 2013. "But I've worked hard at it and now it's beginning to feel like we're family."
Patti Smith
Singer/songwriter Patti Smith gave up her first child for adoption, and this decision had a deep impact on her life and her career. Between her sophomore and junior years at Glassboro State Teachers College, where she studied art, Smith became pregnant. Abandoned by her baby's father, Smith decided to carry the baby to term, but to give it up for adoption. One of her professors helped her find a family to raise the child. Her baby was born in 1967, when Smith was just 19 years old.
Smith suffered from postpartum depression after her daughter was born, and turned to music for solace. She later said that she knew her decision to give up her child was the right one, but that it was a difficult period in her life. She said on Fresh Air (via her biography, Patti Smith: America's Punk Rock Rhapsodist) that keeping the baby "would've been difficult for everyone." She added, "I felt I just wasn't ready as a human being. I wasn't prepared and, although I knew I would be responsible and loving, I just was not equipped to embark on that path."
Following her daughter's birth, Smith dropped out of college and moved to New York City where she began her career as the legendary punk rock icon we know today.
Ted Nugent
Ted Nugent was 18 years old when his girlfriend became pregnant at 17. Knowing that they were not prepared to be parents at such a young age, the couple decided to give the baby up for adoption. His son, Ted Mann, never searched for his birth parents, so it was a surprise when his musician father called him up out of the blue when he was in his 40s. Nugent found his son after Louisa Savarese, another of his children who was given up for adoption (without Nugent's knowledge), hired someone to find her birth parents. When she first contacted Nugent, he told her she had a brother who had also been adopted, and she decided to find him.
The father and son quickly formed a relationship. Nugent told the New York Daily News that his long-lost son is "a great guy," although the gun activist said that he and his liberal son disagreed on politics. Still, Nugent was thrilled to welcome Mann into his family. "It's very emotional," he said."It's kind of something you don't dream about. You figure you close the deal on it."
Kim Zolciak-Biermann
Before becoming a reality TV star on The Real Housewives of Atlanta, Don't Be Tardy for the Wedding, and Don't Be Tardy, Kimberleigh Zolciak-Biermann was a single mother working as a nurse. She had her daughter, Brielle, when she was only 19 years old and attending college full time. She wrote about being a single mother in a 2016 Instagram post; the picture featured her and Brielle with the caption: "Where the drive began, where the passion started, where the dreams begin, where the strength came from… My first born started it all."
Zolciak-Biermann said she was "scared to death" as a single parent, but fortunately had supportive parents who helped her. "No excuse to not get up and go!" she wrote. "Do what you can and never lose sight of your dream. I'm certain I wouldn't be who I am if I wasn't who I was at 19!"
She went on to have four more children with her husband, NFL player Kroy Biermann — who also adopted Brielle, and another daughter Zolciak-Biermann has from a previous relationship, Ariana.
T.I.
Thanks to T.I. and Tiny: The Family Hustle, the reality show about rapper T.I., fans know that the celeb has several children. What many don't realize, however, is how young T.I. was when he had his first kid. T.I.'s ex girlfriend, LaShon Thompson, was in her 20s when she gave birth to their son, Messiah. At the time, T.I. was a couple years younger, becoming a father at the age of 19.
T.I. told People in 2006 that he's a hands-on parent who is involved in his kids' lives. Raised by his grandparents, the hip-hop artist had a rough childhood, and said he was happy to give his kids a better life than the one he had. "I stole because I couldn't afford to get it," said T.I. "But they can."
In an interview with XXL, T.I. revealed that learning how to be a parent was tough for him. "It's something that you never really master," he said, "so you just have to be committed to it, man. You have to be committed to it and passionate about it."
Iyanla Vanzant
Iyanla Vanzant is a renaissance woman who has built up a large following as a lawyer, talk show host, and author. She is an inspiration to many, and is proof that it is possible to overcome obstacles. Vanzant's childhood was filled with abuse.
At the age of 9, she was sexually assaulted by a family friend. Four years later, she became pregnant by a neighbor. The baby died in foster care six months later, and Vanzant attempted suicide. She had her son, Damon, when she was 16, and a daughter, Gemmia, a couple years later with her first husband. The marriage was short-lived, but Vanzant soon re-married and had another daughter, Nisa. Her second marriage was also unhappy, as her husband was abusive. After a few years, Vanzant left the relationship after her husband strangled her — she enrolled in college, determined to turn her life around.
On an episode of her self-help series, Iyanla: Fix My Life, Vanzant said, "I was a single mom. Had my son when I was 16 years old and raised him, you know, the best I could. … I taught him… everything I knew about life and living to the best of my ability."
Rebecca Ferguson
Singer Rebecca Ferguson shot to fame after finishing as runner-up on the 2010 edition of the U.K.'s The X Factor. Much of her childhood was spent in foster care, as her mother battled an illness that would often leave her unable to care for her daughter. Living in poverty, Ferguson became pregnant at the age of 17, which motivated her to get her career off the ground. Pregnancy was difficult for her as she never expected to have to deal with the stigma of being a teenage mother. "I was the one everyone thought wouldn't get pregnant because I was really quiet and shy," she told the Mirror. "It was a first boyfriend kind of thing, so people didn't see it coming. People thought I had talent and the attitude was, 'What are you doing with your life?' That was hard."
Ferguson's success means that she is able to care for her children as well as her mother — this was a large part of Ferguson's motivation. "It made me really determined," she said. "And you know what? I have rented a lovely house for [my mom]. She's looked after and got what she's always deserved."
More than a statistic
Teenage parents are so often viewed as a statistic. There is often a stigma surrounding young parents, with many assuming that they have ruined their lives. This obviously isn't true, however, and these celebrities prove that you really can have it all. Having a child can be a challenge at any age, but with hard work you truly can accomplish anything. These celebrities show that while being a teenage parent might be difficult, it is a rewarding path.