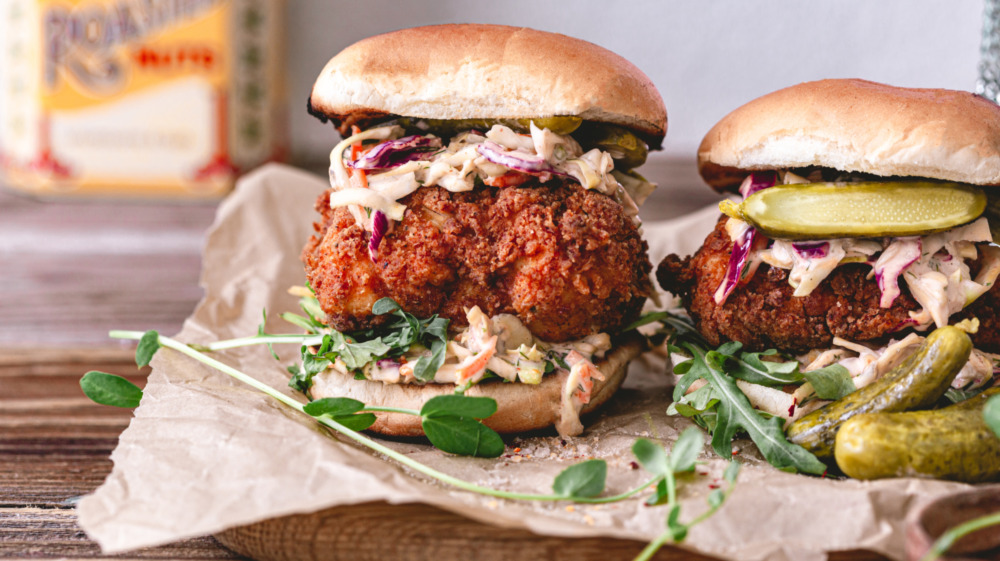 The hamburger may no longer be the king of fast casual. While the beef-between-bread concept birthed the fast food movement and brought us the concept of the drive-thru, if the last few years are any indication, America has a new fast food obsession: chicken. And, more specifically, the fried chicken sandwich. To wit: According to a study from Edison Trends, American spending on chicken sandwiches at fast casual restaurants grew by 420 percent from January 2019 to December of 2020 (via QSR). To put it plainly, that's a lot of clucking chicken.
To the surprise of no one who's ever driven by a Chick-fil-A at dinner time, that chain is responsible for 45 percent of chicken sandwich spending. But there are some other, smaller players who are also cashing in on our poultry-obsessed populace. Startups, regional chains, and spots that are huge overseas all have ambitious expansion plans, and in the next five years, you may be seeing a lot of new names at freeway offramps. So read on and see the next chicken chains that are poised to take over America.
Pollo Campero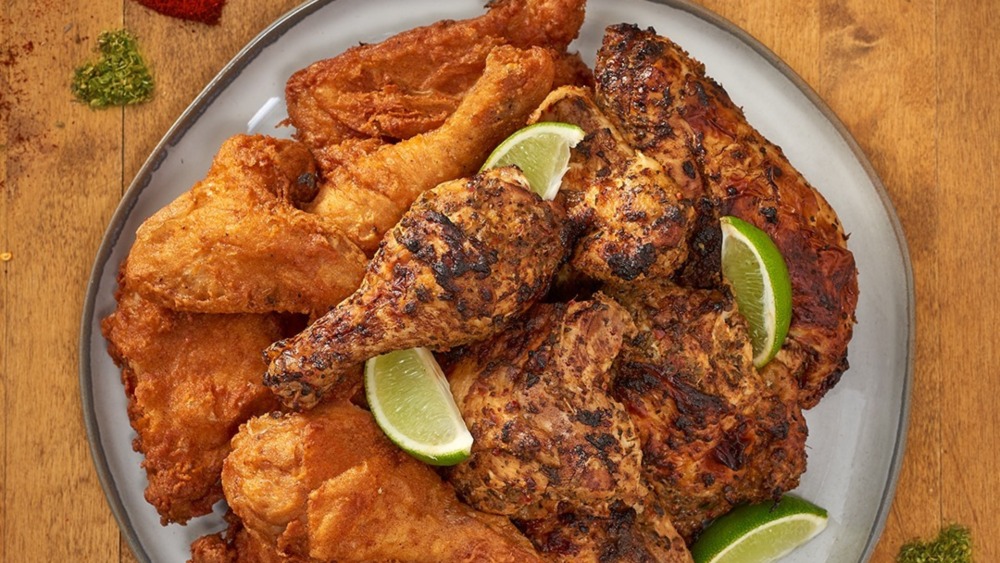 If you've ever flown back to the United States from El Salvador, or a number of other Central American countries, you may have noticed your plane smelling oddly like fried chicken. The reason for that is Pollo Campero, a Latin American favorite that is often THE food people who've moved to the U.S. ask to have delivered via visiting family members. No exaggeration, you'll find more bags of its citrus grilled chicken in overhead compartments on these flights than you will suitcases.
Though Pollo Campero has been operating a number of stores in Miami, Los Angeles, and other cities with large Central American populations, the brand is expanding into other areas around the country. It recently hired Sam Wong, the man who oversaw exponential growth for Sonic, Popeyes, and others, to help bring Pollo Campero into new markets. According to QSR, he's aiming to open more than 250 new locations by 2025, focusing on Tennessee, the Carolinas, Georgia, and Florida. If he ends up being successful, you may find a lot less chicken on your next flight home.
Wingstop
Not that finding quick places to get wings has ever been a difficult chore in America, but Wingstop is setting out to give people a little more variety than just the standard spicy stuff. The Garland, Texas-based chain offers everything from mango habanero to Korean to bayou barbecue wings. And if you're looking for atomically hot sauce or just plain old Buffalo, Wingstop is happy to play the hits too.
The method is working, as Wingstop saw sales up over 20 percent between 2019 and 2020, notching $1.46 billion in revenue across its 1,200+ locations. Nation's Restaurant News predicted that number to jump nearly 10 percent in 2021, and named Wingstop among its 10 fastest growing restaurants in the country. QSR also recognized Wingstop's meteoric growth, citing its 107 new units in 2019 as a big reason why it landed on the magazine's list of 19 fastest-growing restaurants. Combining that kind of growth with a menu full of variety, it shouldn't surprise anyone if Wingstop is soon the country's biggest name in chicken wings. (You've been put on notice, Buffalo Wild Wings!)
Zaxby's
If you live in Florida, Georgia, or much of the territory covered by the SEC East, you'd probably think Zaxby's was already a major player in the fried chicken game. But the chicken strip specialists, who've been around since 1990, don't have much presence outside the southeast. And though the chain boasts over 900 locations, according to QSR, it still ranks sixth among chicken chains in terms of total locations.
The colloquial clucking is about to change, though, as in November of 2020 Zaxby's announced it sold a "significant stake" of its business to finance giant Goldman Sachs. While that doesn't mean you'll be seeing chicken strips on the New York Stock Exchange any time soon, it does mean you might see it in places north of the Mason-Dixon line, and further west of the Mississippi. In addition to opening more stores in Texas and Virginia, founder Zach McElroy told QSR he wants to make moves in the Midwest too. "Grow more in Illinois," he said. "We're on the border of going back into Ohio … We were even thinking about possibly growing in the Washington, D.C. area."
Golden Chick
Those outside of the Lone Star State may never have heard of this fried chicken chain, though it boasts 192 units throughout Texas, Oklahoma, and a couple of other states. Which is a shame, because its recently introduced Big & Golden chicken sandwich is an unheralded entrant into the fast food chicken sandwich race. It's a full half ounce bigger than any other sandwich on the market, on a house-baked roll with a whopping five pickles.
But one great menu item does not a chicken juggernaut make, and it's the company's aggressive plans for growth that make it a probable national favorite. Golden Chick is planning 42 new stores in 2021, offering an overwhelming number of addresses on its "Coming Soon" page. That's in addition to the 55 units Golden Chick recently signed on for in Houston, 35 new spots in West Texas, and 20 units in Las Vegas. In a QSR feature about Golden Chick, the industry publication also cited its Destination 30 plan, where the restaurant is aiming to open 500-600 total stores by the end of this decade. It also listed an average unit volume of $1.2 million, a figure it's already hit.
Raising Cane's
Once a regional chicken chain relegated to curious road trippers through the American South, Raising Cane's (or just plain old "Cane's" if you know what's what) is America's fastest growing chicken chain by sales growth. This, according to Investopedia, who listed Raising Cane's as the lone chicken joint on its list of fastest-growing restaurant chains with sales up 22.5 percent to just over $1.47 billion between 2019 and 2020. At just over six bucks for a three-piece combo, that's a whole lot of chicken strips.
Raising Cane's is raising attention from other publications too. The Louisiana-based chicken joint also landed itself on Nation's Restaurant News' "10 Fastest-Growing Restaurant Chains," noting a 14 percent increase in Raising Cane's number of restaurants, up to 457 across the southeast. According to Forbes, it's almost tripled its revenues, notching $3.6 million in revenue per unit (that compared to about $2.8 million for an average McDonald's) in 2020.
Chicken Salad Chick
Unlike the glut of fried chicken and wings spots that dot this list, Chicken Salad Chick specializes in, you guessed it, chicken salad. Inside the homey, southern-feeling restaurants you'll find more than a dozen types of chicken salad, which you can have scooped onto bowls or sandwiches. The brainchild of Stacy Brown and her late husband Kevin, this small restaurant opened its doors in Auburn, Alabama in 2008, and has expanded to 180 locations across 17 states, as of February 2021.
Brown's expansion plans are ambitious, too, opening 40 new locations in 2019, according to Chain Store Age, with plans to reach 400 by 2025. Chain Store Age also thought enough of Chicken Salad Chick to name it one of its Breakout Brands in 2020, and the restaurant plans to tackle the Midwest next. It'll be opening in Illinois, Ohio, and Missouri, and adding to its presence in Indiana.
Wings Over
When your favorite college town haunt goes out of business, it truly feels like a death in the family. But sometimes, the right group of alumni can help bring a place back to life. The memories Dan Leyva and his friends made at the Wings Over in Ithaca, New York during their days at Cornell were strong ones, and when the local franchise bit the dust Leyva texted his friends suggesting they take over and open it back up. "I was really just joking when I sent that text message," Leyva told QSR. But fast forward a few years, and his group now owns the entire brand, poised to take the concept well beyond its college town roots.
With a breath of fresh life, the new owners gave Wing Over a makeover, updating the brand's look, ordering systems, website, and restaurant design in 2018. With that, the restaurant has expanded to 38 stores as of February 2021, with plans to open a few more locations by the end of the year. Wing Over is looking to branch out further into the Northeast and Midwest next, opening in markets that cater to more than just hungry college kids.
Wing it On!
Though Waterbury, Connecticut's Wing it On! doesn't boast a mind-boggling number of locations, co-founder and CEO Matt Ensero says the slow expansion has been intentional. "In the last 18 months or so we've been putting the infrastructure in place for growth, and I am 100 percent confident that the time is right … we're in a fantastic position to expand," he said in a June 2020 press release.
Since then, the company has held true to Ensero's predictions. Wing it On! opened a new corporate store in Raleigh (with plans for three more), as well as franchises in Stratford, Connecticut, and Prattville, Alabama that set opening timeframe records for sales, according to QSR. That in addition to a three-unit deal in Georgia and South Carolina.
Ultimately, Wing it On! is aiming to have 100 locations open or in development by 2024. It's planning to achieve this both by keeping locations small (between 1,000-1,500 square feet) and the menu simple. Though you can find a variety of flavors from mad mojo to chipotle ranch, you'll only find chicken in the form of wings, strips, and sandwiches.
Fry the Coop
Nashville hot chicken is becoming as much of a brand name as Buffalo. And just like you don't need to go to Nickel City to get an order of hot-sauce-and-butter-basted wings, neither do you need to deal with throngs of bachelorette parties to experience Music City's hot chicken. This is especially evident at Fry the Coop, a Chicago chicken chain that's poised to be the nation's first big Nashville hot chicken spot.
Though it's only got four locations in Chicagoland, Fry the Coop found ways to innovate during the COVID-19 pandemic that set it apart. By converting his doorways to takeout windows, and investing in tents for throngs of to-go customers (a must in the Windy City), Fry the Coop was able to make it through shutdowns without laying off a single employee. They even saw a sales increase of 20 percent, according to Fast Casual. This impressive pivot has set Fry the Coop up for great future growth, so much so that QSR named it one of its 40 top food startups of 2021.
Guthrie's
Much like Zaxby's and Raising Cane's, Guthrie's is a chicken name you know if you're from anywhere in the South. The store that started in Haleyville, Alabama in 1965 pioneered the idea of a chicken strips only menu, delighting those who prefer ordering off the kids menu while simultaneously appealing to fried chicken purists. The result was a 40 store regional chain with a cult following, and arguably some of the best chicken strips in the land.
But according to a feature in Restaurant News, Guthrie's has plans to bring the original chicken-strip-only experience to more markets. A new, smaller-footprint restaurant and simple menu make it an attractive prospect for franchisees, and as a result, Guthrie's landed over a dozen multi-unit deals in 2020. CEO Joe Kelly Guthrie, son of Guthrie's founder, is banking on a massive expansion in the American appetite for chicken fingers to fuel the restaurant's growth. "I'm counting on (chicken fingers) being a $25 billion-a-year industry in the next 15 or 20 years," he told QSR. "I believe you will see chicken-finger restaurants on every corner in every town."
Chick N Max
Here's a stat that'll blow your mind (and make you really glad you weren't born a chicken): According to the NPD Market Research Group, quick service chains sold a whopping 2.5 BILLION breaded chicken sandwiches in 2020, a 9 percent increase from the year before (via QSR). And that kinda popularity is why Max Sheets decided to get into the chicken game. The man who was on board when Smashburger went nationwide and Ted's Montana Grill took off is looking to make Chick N Max the "better chicken sandwich,' as he told QSR. And he's doing it by offering a lot more than just fried breast on a bun.
The Chick N Max menu might be the most comprehensive of any chicken chain, where you'll find pulled, smoked chicken alongside chicken tenders and an impressive slate of gourmet chicken sandwiches. There's also smoked wings and roasted leg and breast quarters. Sheets told QSR the variety isn't just to give customers options; it's also so the restaurant can purchase whole chickens from suppliers, reducing the restaurant's costs. As of right now, the chain is limited to three locations in Wichita, Kansas. But with a franchising vet at the helm, look for Chick N Max to be a major player soon.
Rise Southern Biscuits and Righteous Chicken
Does anyone doubt, even a little bit, that America is ready for its first nationwide biscuits and donut chain? Of course not, so that's why in May of 2018 when Durham-based Rise Southern Biscuits signed a franchising agreement in California, it was pretty much manifest destiny with carbs. And while that concept alone probably would have been enough to propel Rise to chain restaurant stardom, the fried chicken boom of the next couple of years led them to add Righteous Chicken to the fold.
Now one of the most formidable business models on the fast casual landscape, Rise has been on a franchise agreement tear, most recently inking a deal for 15 new spots in Tennessee. Their popularity stems from offering a full menu of chicken biscuit sandwiches, an item that's typically a one-off in other crispy chicken joints. Stuff like the Southern Chicken sandwich with pimento cheese and Nashville hot chicken sandwiches also won't break the bank, as menu prices run from about $5-7.
Super Chix
Popeyes really did the entire chicken industry a favor when it launched the chicken sandwich wars. Because it allowed places like Salt Lake City-based Super Chix –- who've been cranking out chicken sandwiches for years with little acclaim -– to finally hit the spotlight. What first started in Dallas in 2014 has now spread to a dozen locations in Texas, Alabama, Utah, Idaho, and Montana. The menu is long on fried chicken specialty sandwiches, with stuff like Nashville Hot, Korean BBQ, and Buffalo Ranch.
But with the chicken sandwich explosion, Super Chix has cashed in. In May of 2020, it signed an agreement to open 10 new stores in Greensboro and Charlotte, North Carolina. A few months later, it inked another franchise deal for 13 restaurants in Mississippi and the Florida Panhandle. Then capped off its franchise spree in January 2021 with a contract for a whopping 20 new stores in Las Vegas, Atlanta, Reno, and St. George, Utah. That's 43 new agreements in under a year, if you're keeping score.
Slim Chickens
This wing-and-sandwich shop that started inside a Fayetteville, Arkansas sushi joint has seen dramatic growth over the past few years, going from its hundredth store in 2019 to aiming for a 600 by 2025. The key ingredient in making that happen (other than chicken, obviously) has been an investment from 10 Point Capital, who according to QSR is the same investment firm that brought Tropical Smoothie to the top of its category with nearly 800 locations.
While Slim Chickens isn't quite to that point (yet), its innovation during the COVID-19 pandemic has helped it maintain its growth plans without cutting the menu. A feature in QSR highlighted how the company used input from franchisees to boost drive-thru efficiency, putting employees with tablet menus and protective gear outside to speed up ordering times. The results were record overall sales in a number of Slim Chickens locations, as well a vastly improved experience for customers who don't get out of their cars. With 20 new units opening in 2020 and the chain's first expansion in Florida, that figure of 600 stores may happen sooner than expected.
Hattie B's Hot Chicken
Once upon a time, if you wanted Hattie B's famous Nashville hot chicken, the first thing you had to do was actually get yourself to Nashville. After that, you had to navigate a nearly perpetual line that could last over an hour. During which point someone in your group probably said something like, "Ya know, we could get this other places too …" And you ended up never getting Hattie B's at all.
This, however, is no longer the case, as Hattie B's has moved into seven locations, all of which are more than double the size of the cozy original. The newest Hattie B's is –- where else –- in Las Vegas, its first store outside the South and a marker for a potential nationwide expansion. With a young but iconic brand name and a product that's universally loved, the potential to take over America is strong. And though no franchised locations exist yet, founder and owner Nick Bishop Sr. isn't opposed to making it happen. "We're going to be smart and thoughtful in our approach as we grow," he told QSR, "and I think the sky's the limit."
Dave's Hot Chicken
Los Angelenos may not have much of a taste for country music, but right now they can't get their fill of another iconic Nashville export. The hot chicken craze is ablaze in L.A. and Dave's Hot Chicken is doing its best to fan the flames across the City of Angels and beyond.
Aside from the crinkle-cut fries, mac & cheese, and kale slaw, the streamlined menu is all about the chicken tenders. According to Dave's, the juicy strips are bathed in a "proprietary brine," deep-fried, and then coated in "one of seven signature spice blends" ranging from "no spice" to "reaper," as in the Carolina reaper that sent one guy to the ER (though you'll probably be fine). The spiced strips are served on their own or stuffed in a slider topped with slaw, pickles, and drenching of chipotle mayo known as "Dave's Sauce."
Launched as a wildly successful pop-up in 2017 (via Dave's Hot Chicken), the rapidly expanding chain now boasts 17 locations in five states across the west, plus an outlet in Toronto. According to QSR, a massive franchise push in 2021 will have Dave's expanding its footprint by an additional 400 outlets across the country in new markets that include Cleveland and Boston. In other words, the heat is on!
TKK Fried Chicken
This Taiwanese chicken chain has been bringing its unique flavors to the world for nearly 50 years, according to TKK. Though wildly popular back home with 67 locations, TKK only recently landed in the United States, making its move to America with a Manhattan debut in 2018, according to Eater. Despite plenty of stateside competition, the chain has stood out with its fresh-tasting fried chicken which is available in a variety of preparations including sandwiches and tenders. But bone-in pieces are your best and for some nice spice and a terrific crunch, especially if you select the crispy spicy flavor option
We're also fans of the TKK sides which go beyond the basics and around the world, including Asian-style blistered shishito peppers and Midwestern-inspired deep-fried cheese curds. Then there's the kwa kwa bao, a blend of sticky rice and mushrooms that's wrapped in chicken skin and deep-fried. Try this decadent spin on a dim sum classic and you'll be hooked for better or worse.
TKK locations are found across the East Coast, from New Hampshire to Virginia with additional locations in Dallas and Houston. Current plans for expansion include outlets in Michigan and Kentucky.
Jollibee
Jollibee is, for many, the real deal. In the immortal words of Last Week Tonight's John Oliver, "Jollibee can. Get. It." Beyond its twerking bee mascot, the massive Filipino chain is beloved for offering a sprawling menu that includes everything from burgers and spaghetti topped with a sweet tomato sauce laced with ham to peach mango pie and the frozen dessert known as halo-halo. But the main attraction here is the Chickenjoy, bone-in pieces of poultry that have been hand-breaded and treated with a "secret" marinade.
While it doesn't quite live up to some of the most hyped descriptions, the fried chicken is solid enough and pretty well-beloved by many fans — let's just say there is a reason Jollibee has over 1,300 locations worldwide. Its American presence, however, is relatively sparse, with only 37 locations throughout the country. But that's about to change. According to Restaurant News, expansion plans include the addition of 28 stores in the U.S. and Canada by the end of 2021, with a goal of a total of 300 locations across North America by 2024.
Chicken Guy!
Love him or hate him, Guy Fieri continues to be an unstoppable force in American food culture. His latest target for mass-market domination is fast food with his recently hatched Chicken Guy! concept. In an interview with the Orlando Sentinel, Fieri's business partner Robert Earl revealed the inspiration for the franchise, acknowledging, "We would love to be the Shake Shack of chicken."
It's an ambitious goal, but with a menu highlighted by chicken tenders that have been "brined in fresh lemon juice, pickle brine, and buttermilk," the potential is there. Those tenders, which are served fried or grilled, can be ordered on their own, in a sandwich, or atop a salad, alongside a selection of sides and shakes. Fans of Fieri know the mayor of Flavortown isn't afraid to get saucy so it makes sense that dipping sauces are a restaurant signature. In fact, there are an astonishing 22 sauces offered at Chicken Guy!, including spicy South African-inspired Peri Peri to classic BBQ with bourbon and brown sugar, and of course, Fieri's infamous Donkey Sauce, a blend of mayo, roasted garlic, Worcestershire, and lemon.
Chicken Guy! appears to be targeting high-traffic areas as the initial rollout has included busy spots such as Florida's Disney Springs and a kiosk at Levi's Stadium, the home of the 49ers located just outside of San Francisco. Plans are in the works for several more franchises in the Sunshine State as well as an outlet in the Mall of America in Bloomington, MN.
Bojangles
North Carolina's own Bonjangles has been serving up its famous fried chicken with a Cajun kick since 1977. While it's not exactly our favorite fast food chain, if you know what to order, you can definitely have a satisfying meal there. That begins with skipping the bone-in pieces, which we find way too greasy, and going the boneless route. There are two types of tenders to choose from so be sure to select the Supremes, which pack a flavorful punch that hits you like a Diana Ross vocal, instead of the plain Jane homestyle tenders.
The sides are of the Southern variety, with standards such as macaroni & cheese, greens beans, and dirty rice. But the side that you want — nay, need — is that irresistible Bojangles biscuit. Trays of the made-from-scratch biscuits emerge hot and fresh out of the oven every 20 minutes (via Nashville Post). You can even order up a fried chicken sandwich with a biscuit bun and tack on some pimento cheese spread for extra indulgence. Don't forget the sweet tea to wash it all down.
With over 740 locations, Bojangles is familiar to many Americans, particularly residents of the South, but there is plenty of room for the chain to keep spreading its wings. In May, Bojangles made its triumphant return to Central Florida, the Orlando Sentinel reports. Meanwhile, The Charlotte Observer notes that there are plans to introduce the franchise to Ohio as well as expand its presence in Texas.
The Crack Shack
This fast casual chicken joint is highlighted by a funky farmhouse vibe with food to match. Launched by Top Chef winner Richard Blais (who has since parted ways with the chain, per Eater), The Crack Shack offers familiar fare alongside inventive eats with quality serving as the menu's unifying factor. So yes, you'll be able to order your standard bone-in breasts and thighs, only here they're prepared using Jidori chicken which means the birds are free range, contain no dye injections, and consume feed with no additives. There's even a gluten-free option fried in a quinoa flour-blend.
Chicken nuggets? The Crack Shack offers those too, only these "nugs" are tossed in fire sauce and served with a side of house-made ranch. And yes, they offer biscuits too. The one-bite wonders (don't worry, they come six to an order) are scratch-made and baked fresh, then paired with umami-rich miso butter. There's something for everyone whether your brow is high, low, or somewhere in between.
While The Crack Shack roosts in just four outlets in San Diego, Orange County, and Las Vegas (as of 2021), according to Nation's Restaurant News, a Utah, Colorado, and Midwest expansion is imminent in the same year, with plans for up to 50 stores over the next four to five years.
Huey Magoo's
Let's face it, just saying the name "Huey Magoo's" is bound to turn that frown upside down. And their chicken is pretty good, too.
Tenders remain a hot commodity in the fast food world. The version offered up by Huey Magoo's are up there with the best of them and it all starts with the chicken, which is free of steroids and hormones (via Huey Magoo's). The tenders are available two ways: fried (hand-breaded and made-to-order) and grilled, both versions of which are preceded by a 24-hour marinade. There's also an assortment of dipping sauces available, including a creamy namesake version plus a side of Texas toast.
But since Americans love their chicken tenders, we say the more, the merrier and there will be plenty more Huey Magoo's locations coming soon. The Dayton Daily News reports that, as of 2021, a total of 200 franchises have been sold and while the Florida-based chain is currently clustered in the South, there are plans to move into Ohio by 2022.
Project Pollo
Plenty of new chicken franchises are cooking up different variations on the same theme. That's not the case with Project Pollo, although, to be fair, the Texas-based eatery doesn't actually serve chicken.
According to My San Antonio, Project Pollo is the very first vegan chicken fast food chain in the country. That's right, the "chicken" served here is of the drop the "e" and add an apostrophe variety. The pioneering concept has sparked plenty of buzz and, according to Texas Tasty, the meatless menu is more than just a gimmick.
Sandwiches made with house breaded cutlets are the must-order menu items at Project Pollo. Currently, there are three options to choose from: the basic Original Project, The Deluxe with all the (vegan) fixings, and the Spicy Project which is prepared with a picante garlic Buffalo sauce. If you have a hankering for faux cow, Impossible Burgers are also available. Sides include mac & cheese that combines shells and cashew queso. These come along with "papas" (your choice of fries or tots), which you can get loaded with pico de gallo, grilled onions, chipotle ranch sauce, and more of that cashew queso.
Project Pollo is moseying its way across the Lone Star state and 14 locations are slated to open in Texas by the chain's first anniversary in September 2021. According to Veg News, founder Lucas Bradbury hopes to 100 locations by 2024.