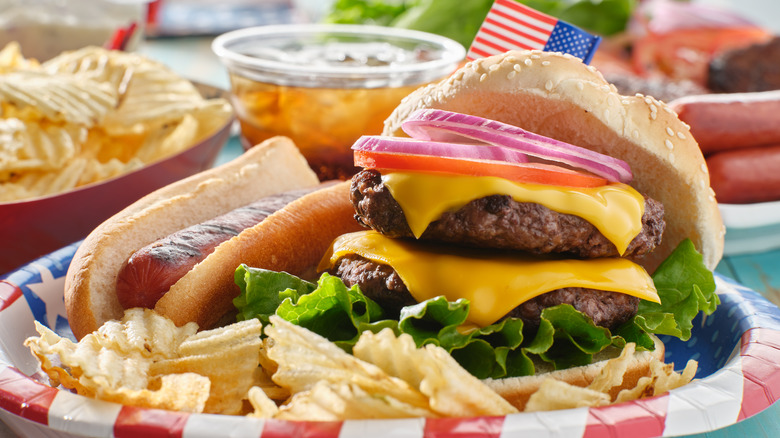 Happy September! While some might be sad to be saying goodbye to summer, there's a long, fun Labor Day weekend to relish in the last moments of it. This weekend is the perfect time to get together for a family barbecue, meet friends at a county fair or corn maze, or just to lounge with a cool drink in hand. And as awesome as all that is, we're even more psyched for these just-announced Labor Day food freebies and deals. There are a ton of them too, including specials you can take advantage of whether you're on your way out of town for the holiday or taking the family out to dinner.
We found amazing promotions at restaurants like Chuck E. Cheese, Rubio's Coastal Grille, and Quiznos. There are food deals for on-the-go breakfast, snacks, sweets, and drinks, too. And don't forget the kids — there are Labor Day specials here for them as well that offer a great way to celebrate getting ready to go back to school. Many of these freebies and deals are nicely timed with upcoming food holidays, like National Baby Back Ribs Day on September 3 (via Foodimentary), National Cheese Pizza Day on September 5 (per National Today), and a holiday everyone can get on board with — I Love Food Day on September 9, according to What National Day Is It. Here's the rundown of all the deals you can get your hands on this weekend.
Fast food deals for Labor Day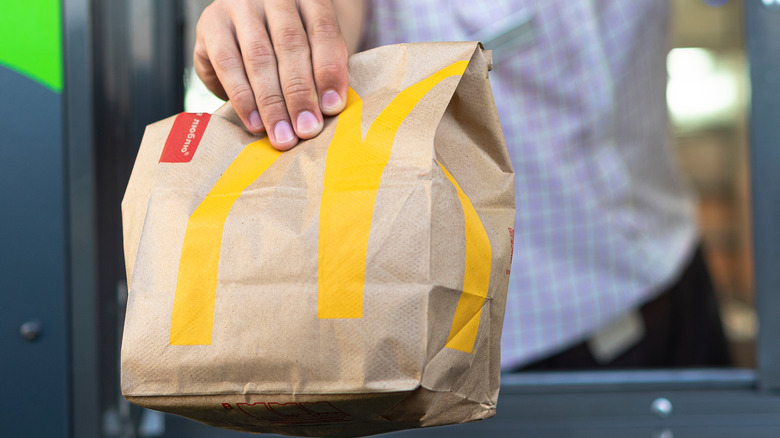 There are lots of deals to be had at your favorite fast food spots this weekend. According to the McDonald's website, you can get a free order of medium fries and a drink with a Crispy Chicken Sandwich purchase, now through September 19. And Today uncovered these fast food deals: Join the Carl's Jr. e-mail list by September 4 to get a BOGO deal on their sourdough cheeseburgers. Or, join Hardee's e-mail list by the same date to get BOGO 1/3-pound Angus burgers. Pollo Campero has new chicken bowls, and when you order one online or through their app before September 14, you can get a second bowl for only $1 more.
Craving some fries? Wendy's wants you to try their new Hot & Crispy Fries for only $1 via their app. Or head to Checkers and Rally's with a coupon from their website to get an order of free large fries. Both of these deals take place on Labor Day, Monday, September 6 (though Wendy's runs a bit longer).
According to a press release received by Mashed, from September 4-6, Quiznos is offering 40% off an 8-inch or 12-inch sub when you buy one at full price (look on social media or the Toasty Points app for the deal). Subway also has a sandwich deal through September 29 where you can get 15% off any footlong sub purchased through their app or website — just enter in promo code 15OFF.
Pasqually's Pizza & Wings locations also have deals that run until September 5 as well, like free cheesy bread with the purchase of a cheese pizza when using the promo code Freecheesy, or a free pizza with a minimum purchase through delivery services UberEats, DoorDash, or Grubub.
Dinner specials for the holiday weekend
To feed your Labor Day crew something more substantial and celebratory than a fast food meal, there are some great weekend specials at these participating restaurants that you can enjoy while dining out. The Capital Grille wants you to up your wine game this Labor Day, by offering dinner served with perfectly paired wine selections for $28 per person through September 6 (via The Capital Grille website). If you feel like grilling at home, though, the restaurant is also offering a Steak Grille Box with four cuts, seasoning, and steak sauce.
According to a press release received by Mashed, Red Lobster is also offering free delivery from September 6-10 on orders placed through DoorDash, making it easy to relax at home while also treating your family to a Mariner's Feast or Ultimate Surf & Turf (and alongside those warm Cheddar Bay Biscuits, of course!). Rubio's Coastal Grille has deals for lunch and dinner as well: From September 3-6, they're offering two entrees for $15 or four entrees for $30, and Rewards Members can try one of their $8 lunch specials starting on Labor Day.
If you're feeding a larger group, snag a family bundle from Olive Garden — starting at $34.99, this includes large portion pans of items like Fettuccine Alfredo and Chicken Parmigiana, or an over-sized Classic Lasagna (also with a large house salad and breadsticks).
Labor Day deals to get you grilling
If you're celebrating the end of the summer with a big Labor Day cookout, we've also uncovered many holiday deals that'll help you throw the ultimate barbecue. BBQ Guys shares on their website some impressive promotions, like $300 off a Victory gas grill plus a free pack of their Spiceology meat rubs. If you just want the spice rubs, they're on sale too, for 30% off. There are more deals too, like free covers with a new grill purchase and 30% off grill tools — most of these deals end on Labor Day, so snag them now!
According to Today, when you use the code LaborDay20 at the Teton Waters Ranch website, you'll get 20% off grass-fed beef burgers and hot dogs, now through September 6. Get a DIY burger kit from HopDoddy Burger Bar now through September 6 and they'll throw in a free 12-ounce bottle of their tasty Hop Sauce (just use code BOTTLED at checkout). Or, have Red Robin cater your backyard barbecue through September 12 and get a free gallon of their classic lemonade with a $50 purchase.
Here's one more way to have an epic barbecue: Order one of the grill-themed Man Crates, which are 40% off now through September 6, according to the Man Crates website. We think the Rib Master Crate and Hickory Grilling Crate sound fantastic, and this is a great way to test out some potential holiday gift ideas, too.
Way into grilling, but not into meat? Head to Harris Teeter stores for plant-based grillables from Field Roast and Lightlife, $1.50 off through September 21, as noted in a press release received by Mashed.
Drink up this Labor Day with these deals
Feeling thirsty? There's plenty of Labor Day drink deals, too! According to a press release received by Mashed, Smoothie King is ready for Labor Day (and ready for fall) with five new limited-time pumpkin-flavored smoothies, even including a keto option. Rewards members, take their pumpkin-themed quiz by September 2 and receive a 12-ounce pumpkin smoothie for free. Jamba is offering free delivery for My Jamba Rewards Members for their drinks, bowls, and other goodies from September 3-6 with any $15 purchase, according to Retail Me Not.
Applebee's also has their Oreo Cookie shake for just $2.99 this weekend as well as the new Electric Lemon Crush and Flamingo Crush Mucho Cocktails for $5, according to a press release.
Need a drink that's a little more adult? Use the code LABORDAY at Martha Stewart Wine Co. to get a bottle of vino for only $9.99.
And if coffee is your thing, Tim Hortons has hot or iced coffee for just $0.99 when you sign up to be a Tim's Reward Member through September 28. Taco John's wants you to try their new cold brew coffee this holiday weekend — now through September 8, you can use their mobile app to get a free vanilla or mocha cold brew with any breakfast purchase. As well, Eat Drink Deals also shares a Labor Day special at select Coffee Bean & Tea Leaf locations. Head there after 2 p.m. for an afternoon or evening latte or icy blended drink, and you'll get a second free drink with your purchase, valid September 4-6.
Breakfast specials for the holiday weekend
If it's breakfast deals you're after this Labor Day holiday, according to a press release received by Mashed, Krispy Kreme wants to treat you for the holiday and thank you for being vaccinated, too! According to Eat Drink Deals, head in before September 6 with your vaccination card, and get two free donuts. Or maybe you want to bring home a breakfast treat that everyone can enjoy. Thrillist shares that Einstein Bros. Bagels has a deal every Monday between now and September 17 for a baker's dozen of bagels for 40% off (which means 13 bagels for only $7!).
And, be sure to head to Panera between now and September 6 to sign up for their Coffee Subscription Plan. According to the official website, the subscription is $8.99 per month for unlimited hot or cold coffee, and if you sign up before the 6th you'll get the first three months of coffee for FREE.
Kids can get in on the Labor Day fun, too
Don't forget the kids this Labor Day weekend! Now that they're getting up early again and heading back to school, these specials are a perfect way to have some fun with them before schoolwork takes over. According to a press release received by Mashed, Chuck E. Cheese would love for you to bring kids by for some games and pizza. On September 5 & 6, when you purchase 60 play points or more, you'll be able to get a large cheese pizza for only $5. Peter Piper Pizza has a deal for the 5th and 6th as well: Get their garlic cheese bread and a one-topping large pizza for only $15.99, and you can enjoy them there or bring them home.
Be a mac n' cheese hero to your kids when you order Family Packs for delivery from Noodles & Company. On Mondays through September 27, including Labor Day, they're offering free delivery on any order over $15, according to their website. TGI Fridays is celebrating too: Eat Drink Deals shares that Mondays through Wednesdays now through September 15, TGI Friday's will provide a free kid's entree with any eat-in meal order over $20. And, according to the press release received by Mashed, you can head to the Yum Earth website and use the code SUMMER15 to get 15% off site-wide on their tasty kids' snacks. With lots of healthy options free of high fructose corn syrup and top allergens, they'll be an awesome lunchbox addition for when school starts back up again.
Sweet treats specials for Labor Day
There's no way we can forget dessert, especially for this long holiday weekend. We found some delicious deals on candy and sweets to share, or to keep for yourself! According to Thrillist, the sugar-lover's dream store, Dylan's Candy Bar, has a deal from September 3-6: Buy one of their "Tackle Boxes" (which, according to the Dylan's website, are clear cases with 12 different kinds of themed candies), and get their Chocolate Lover's Tackle Box for free. You can also use the code EXTRA25 to get 25% off sale items.
According to a press release received by Mashed, Beyond Good will also give shoppers 20% off their sustainably sourced chocolate from September 4-6 — just head to their website and use the code LABORDAY21. Godiva also wants to fill you up with chocolate, and they're offering 20% off chocolate products on their site from September 3-11.
If you want an indulgent snack that you don't have to feel bad about, head to the Eat Me Guilt Free site for brownies, cookies, and pumpkin spice treats that are high in protein and lower in carbs. Use their Labor Day special code SPICE15 for 15% off site-wide.
Just make sure to check with your area location of these chains to be sure they're participating in these deals before you go — and enjoy the weekend!