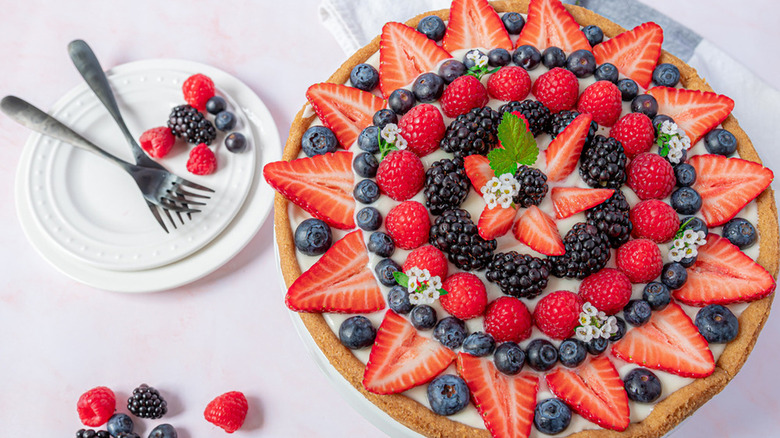 Moms are simply the best. They gave us life. They hug us in good times and bad. They kissed our boo-boos when we were little. They fed us round the clock and, when we grew older, just couldn't refrain from sending us home with leftovers. They were Santa, the Easter Bunny, the Tooth Fairy, our biggest fan and our rock. Moms are there to support us when the times are tough, celebrate the highs, and cheer us along life's way. So when Mother's Day rolls around, what could we possibly purchase to explain just how much we love Mom? Instead of buying something at the store, what about giving Mom a home-made treat with a stunning, delicious dessert from scratch that she will love?
We've compiled a list of recipes that will stun Mom in the form of an edible gift for Mother's Day. On a day dedicated solely to her, your mother will surely love the time spent with you, proudly enjoying your creation. Be sure to thank her for all the things she's done for you in between the compliments you'll likely receive. Just as a mother's love knows no bounds and is simply amazing, so are these desserts that she'll very much appreciate.
Fruity, flavorful hummingbird cake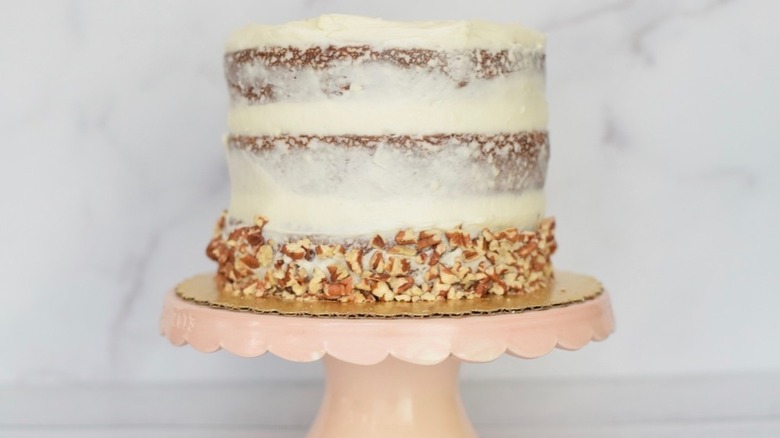 At first glance, the bottom layer of this three-tiered stunning cake adorned with chopped pecans resembles birdseed: This fantastic dessert earned its name supposedly because the cake, which is considered to be a traditional Southern spice cake, is so sweet it can attract hummingbirds who have propensity for sweet nectar.
Brimming with flavorful bananas and pineapple, this succulent dessert is polished with a smooth cream cheese frosting that only adds to the incredible flavor and texture. Believed to have originated in Jamaica sometime in the 1960s, hummingbird cake requires quite a few ingredients, but trust us, it will be worth it in the end. Every bite bursts with flavor, from the pecans to the cinnamon to the bananas, pineapple, and vanilla. It may take 40 minutes to prep and then frost, but it only requires 24 minutes to bake, and it will be ready to slice and serve in no time at all. This hummingbird cake would also make a beautiful centerpiece perched on the table for Mother's Day.
All-time favorite angel food cake
Dusted with powdered sugar and topped with a dollop of whipped cream accompanied by fresh berries, angel food cake reigns the supreme cake-based dessert of all time. It's light and fluffy, and simply heaven-sent.
Angel food cake derives its airy texture from egg whites beaten into stiff peaks. It's made without butter or egg yolks, but it requires a few extra steps on the path to perfection, such as working the sugar into a super fine consistency with a food processor that results in what's called caster sugar. Sure, you could just buy caster sugar, but it can be hard to find.
The recipe also calls for blood orange extract, but that could be substituted with orange, lemon, or lime extract. Just don't use fresh juice — the extra kick of flavor from the fruit extract gives the angel food cake just the right hint of taste. This dessert may take a bit more time to prep and bake, but Mom will love it!
Tantalizing tiramisu
To perk up Mom on Mother's Day, serve her a slice of this espresso-laced tiramisu. With Italian roots, the creamy and indulgent dish will satisfy anyone's sweet tooth, especially your hardworking and deserving Mom's. Perfect for special occasions, this dessert may seem intimidating to make, but it's really not.
It requires only nine ingredients, including alcohol. But if kids will be allowed to devour this dessert, you'll want to skip the rum. Other ingredients that you'll need include egg yolks, granulated sugar, vanilla extract, mascarpone cheese, heavy cream, ladyfingers, and unsweetened cocoa powder. In case you wondered what mascarpone cheese is, it's an Italian soft cheese made from cream and adds to the yumminess to this dessert. Ladyfingers are spongey cookies that add a whole 'nother layer of deliciousness to this dessert. Just know that this special recipe should be refrigerated for 24 hours before digging in, so allocate the extra time before serving it to Mom with a smile and a hug.
Fantastic 5-ingredient cheesecake
With its crumbly and buttery graham cracker crust, this scrumptious five-ingredient cheesecake rivals what you would pick up at the store to share with the family for Mother's Day. So save yourself some money and make a cheesecake from scratch for this holiday that's deserving of a homemade dessert.
Some people tend to shy away from whipping up cheesecake for fear it won't turn out quite right, but this easy-peasy recipe calls for just five ingredients and doesn't take long at all to fix. You'll need graham crackers, unsalted butter, two eight-ounce bricks of cream cheese, two eggs, and brown sugar.
If you want to take it up a notch in the fancy cheesecake category just for Mom, you can crush Oreo cookies or Nilla Wafers for a crust, too. The finishing touches can take this cheesecake to the next level, so consider decorating it with whipped cream, drizzled chocolate sauce, or cherry pie filling. Whichever topping you choose, it will taste amazing!
Magnificent chocolate mousse
If Mom adores anything chocolate, then she'll fall in love with this three-ingredient chocolate mousse. With its dollop of whipped cream and chocolate shavings scattered across the top, it's sheer deliciousness in a dessert cup.
You can ramp up the sugary sweetness of this dessert by also sprinkling it coconut flakes, dusting powdered sugar across the whipped cream, dropping chocolate chips on the dessert's chocolatey surface, or crumbling candy bites everywhere. Each spoonful of your chocolate mousse creation will have your Mom swooning. This is also perfect when you're short on time, as it takes just 10 minutes to prep and an hour to cool in the fridge.
All you'll do is heat the whipping cream in a sauce pan until just warm — but not boiling, and then pour it over a bowl full of chocolate chips. The warmth of the whipping cream will melt the chocolate chips. Sprinkle in some fine sea salt and stir completely. With just two more steps to go, you'll have the ultimate chocolatey dessert for Mom.
Amazing almond cake
For a gorgeous cake that tastes incredible, too, look no further than this recipe for almond cake. Adorned with almond slivers on the top and around the sides, and garnished with fresh fruit and edible flowers, this cake is perfect for a special occasion like Mother's Day. Your mom will not believe her eyes, and she'll be truly impressed that you were able to pull this together.
Both moist and light, the cake is thoroughly infused with almond flavor and topped with a light crumb, giving it some texture. This recipe also calls for you to make the homemade almond whipped cream yourself. You'll need basic caking baking ingredients such as white sugar, flour, baking powder, baking soda, salt, eggs, oil, milk, and of course pure almond extract. The homemade almond whipped cream calls for more almond extract and whipping cream. Abd don't forget the sliced almonds to cover the sides and top of the cake.
As gorgeous as this cake is, it's truly surprising that it takes a mere 20 minutes to prep and 28 minutes to cook. You'll have this beautiful almond cake ready for Mother's Day in no time at all.
Delicious Dutch baby
If you are your momma's baby, then she might love this dessert for Mother's Day, based solely off its adorable name. Called a Dutch baby, this dish is believed to be a German fare and also goes by the name German pancake and even Hootenanny. It's also been called a Dutch puff or a Bismarck, but isn't like the Bismarck doughnut you may have gobbled up. Basically, it's a "large American popover," akin to Yorkshire pudding. It also isn't fried in a skillet like a traditional pancake, but rather baked in the oven in a heavy cast iron skillet, which gives it the round shape with high edges.
Better yet, this Dutch baby barely takes any ingredients to make: Flour, milk, eggs, butter, and a topping like fruit or powdered sugar are all you'll need. Surprisingly, this interesting and yummy brunch-type breakfast or dessert food takes a mere 10 minutes to fix and just 25 minutes to bake. You'll have brunch fare on the table for Mom lickety split on Mother's Day, and she will love your creativity.
Succulent strawberry cake
Mom won't be able to refrain from slicing up her own piece of this marvelous strawberry cake instead of waiting for you to serve her on her special day. This enticing bundt cake, with its flavored icing drizzled all down the sides, will truly convince Mom to declare you her favorite child. This cake doesn't feature an artificial fruit flavor, but rather a natural hint of sweet strawberry. Fresh and ripe strawberries are used in the cake mix and even in the fresh glaze. It may be simple to make, but the taste is so complex and fantastic that there may not be any left after serving it up for Mother's Day.
All you'll need for this recipe is white sugar, flour, baking soda, baking powder, eggs, salt, milk, oil, sour cream, and fresh strawberries. The berries can even be a bit on the overripened side for this recipe, which allows you to make good use of those large strawberry bins of spring, instead of tossing them out. Not only is this strawberry cake beautiful, but it's delicious, too, and Mom will love it as a special gift.
Creamy carrot cake
If Mom happens to be a carrot cake fan, she will absolutely adore this delicious recipe when you whip it up it for her on Mother's Day. It's super easy to make and doesn't require any special pans or patterns on parchment paper. All you will need is a 9×13-inch baking pan and a handful of ingredients, including flour, sugar, baking powder, baking soda, salt, ground cinnamon, eggs, oil, and shredded carrots. The frosting will require unsalted butter, vanilla extract, powdered sugar, and cream cheese.
Sure, you could grate your own carrots, but that will take too much time, precious time spent away from your mom and family. So, simply buy a bag of grated carrots, and they'll work just fine in this delicious recipe. Be sure not to frost this amazing tasting cake until it's cooled completely, or else the decadent cream cheese frosting will melt off and ruin all of your hard work. As sure as the sun rises in the East and sets in the West, this carrot cake surely will bring a smile to your mom's face.
Perfect panna cotta
If you aren't sure what panna cotta is, prepare yourself to be amazed with this simple yet incredible recipe. Panna cotta is a decadent and smooth Italian dessert with vanilla overtones that taste fantastic garnished with fresh fruit. It's the perfect light dessert to serve to Mom on Mother's Day, and we guarantee she'll even ask you for the recipe. Although this recipe is a cinch to whip up in a flash, it must set for at least four hours in the fridge. It can even sit in the fridge for up to 12 hours, so you can prepare it the day before Mother's Day and take it out for a brunch or lunchtime surprise when the occasion arises.
All you'll need to begin is need heavy cream, whole milk, sugar, vanilla, and granulated gelatin. Clear dessert cups will provide the perfect backdrop for the beautiful dessert while giving Mom a visual treat. Don't be intimidated by the directions that call for blooming the gelatin in milk and vanilla: All you'll need to do is just stir the ingredients together so the gelatin soaks up the other flavors and helps make the texture of the panna cotta smooth. Make sure the cream mixture just reaches a simmer or slightly bubbling, and then it's ready to use. After the dessert is ready to rest in the fridge, determine what type of toppings Mom would love on her panna cotta, whether it's fresh fruit, chocolate sauce, or caramel bits.
Luscious lemon cake
It takes a special person to love lemony desserts, so if your Mom happens to be one of those lemon lovers, then you have to make this lemon cake dessert for her on Mother's Day. In fact, you could pair it with a refreshing glass of lemonade or a light tea for a truly refreshing experience, as this particular recipe creates a cake that's full of natural lemon flavor and surprisingly light.
The lemon cake requires the basic cake ingredients such as white sugar, baking soda, baking powder, flour, and salt, along with eggs, oil, milk, sour cream, and of course, lemons. You'll use both the lemon's juice and zest to make the glaze, and if you'd like an even stronger lemon taste in your cake, you could use pure lemon extract. The lemon cake can also be made in a square pan, two round pans, or even a cupcake tray if you don't have a bundt pan. No matter what shape you make this lemon cake in, your mom will absolutely adore this delicious dessert!
Bold and beautiful baked brownies
Chocolate lovers rejoice — we have a fantastic brownie recipe available for you for Mother's Day. In fact, these treats will be snatched up and devoured in less time than it will take you to make them — just make sure Mom gets at least one square!
This brownie recipe calls for chocolate chunks incorporated into the batter and could even be modified to include peanut butter, coconut flakes, nuts, or butterscotch chips — however Mom would like them. One twist to this recipe is that instead of using traditional cocoa powder, you'll be using some melted chocolate chips, which makes the brownies extra rich. They also don't require too many ingredients: just flour, salt, baking soda, vanilla extract, eggs, chocolate chips, water, unsalted butter, and white sugar. Once they're done, you can serve the brownies plain but for extra deliciousness, dust them with powdered sugar, top with some vanilla or chocolate ice cream, or slather them in chocolate frosting. Mom will love it all!
Fabulous, flexible fruit pizza
Kids go gaga for fruit pizza, even the ones who are picky about what they eat. This versatile dessert recipe can accommodate any fruit and looks beautiful, too. It's a great option for Mother's Day, because you can customize it however Mom would love it, while giving everyone at the celebration a delicious treat.
The sugar cookie "pizza" crust is buttery, rich, and chewy, while the cream cheese-based spread pairs fantastically with the fruit. As a result, every single bite is pure sweetness. Even sweeter than this delectable fruit pizza is the fact that it doesn't take my many ingredients, doesn't take too long to fix, and kids can help make it, too.
Grab a stick of unsalted butter out of the refrigerator along with one egg, as well as white sugar, brown sugar, flour, baking soda and salt for the crust. For the cream cheese spread, you'll need an eight-ounce brick of cream cheese, more butter, pure almond extract, milk and a lot of powdered sugar. This delicious recipe calls for blueberries, strawberries, blackberries, and red raspberries, but you could add slices of Kiwi or banana, peach quarters, pineapple bits, or mango chunks. Have fun decorating the fruit pizza and get creative, making circular patterns as you go. Mom will love it! And don't forget to lick the bowl from the cream cheese spread to reward yourself for a job well-done.
Sweet and down home strawberry shortcakes
A down home dessert that looks beautiful on the plate and tastes even better, these strawberry shortcakes made with fresh fruit are a real treat. Every forkful is a sheer delight and will drive you — and Mom — to seek out another square of deliciousness. Mom will surely fall in love with these fresh cakes, and better yet, they don't take much effort to make.
This particular strawberry shortcake recipe relies on the decadence of a rich homemade buttermilk biscuit instead of a sponge cake, and it works. The bottom buttermilk biscuit is slathered with vanilla-flavored whipped cream and macerated strawberries and then topped with another biscuit. This recipe calls for homemade buttermilk biscuits that only require flour, baking powder, butter, and buttermilk. Be sure to pick beautiful red and succulent strawberries that you'll coat with sugar and allow to macerate, which is a fancy way of saying let them soften in their own sugary syrup. Homemade whipped cream is made possible by adding vanilla to heavy cream and whipping it to its finished form. Next, assemble the shortcake and eat! It's truly a fantastic and unique dessert that's just as sweet as Mom.
Lovely lemon meringue pie
Baking a lemon meringue pie may seem a bit intimidating, but our recipe is super easy to follow and will yield a beautiful and amazing delicacy that Mom will truly love to enjoy on Mother's Day. With its light and airy meringue topping and tart lemon filling, the gift of a lemon meringue pie will also win over the hearts and stomachs of everyone at your celebration.
The homemade pie crust is easy to make, too. Just pulse almonds, sugar, and graham crackers in a food processor until a fine crumb forms, and then add in melted butter and continue pulsing into it's ready to press into the pie plate. To create the lemon filling, whisk together egg yolks in a bowl and then bring it to a gentle boil in a pot water, sugar, cornstarch, salt, lemon juice, and lemon zest. You'll need to temper your eggs, so just follow the directions closely at this point. For the meringue, you'll need only cornstarch and distilled white vinegar, which you won't even taste in the end product. When everything is ready, slide it into the oven and bake. This lemon meringue pie will be a huge hit during your Mother's Day gathering.
Beautiful banana pudding dessert
There's just something about a colorful dessert presented in a glass dessert cup that ramps up the elegance of a special occasion. If you're looking for a polished dessert for Mother's Day that's actually easy to whip up, check out this recipe for no-bake banana pudding. Brimming with bananas and vanilla wafers in a fantastic whipped cream base, Mom will fall in love with this tantalizing dessert that's as delicious as it is gorgeous.
This yummy treat calls for store-bought banana instant pudding, healthy bananas, cream cheese, Cool Whip, and vanilla wafers. It takes just takes 10 minutes to prep and 30 minutes to cook, leaving you lots of time to hang out with Mom on her special day instead of in the kitchen. Other ingredients you'll need include a can of sweetened condensed milk, cream cheese, milk, and vanilla extract. And assembling this dessert is half the fun: Any container could be used, but glasses, particularly mason jars, make for a beautiful presentation that Mom will love for her special day.
Bountiful baklava
For an interesting twist on a Mother's Day dessert, give this recipe for baklava a shot. With roots stemming from Greece, this honey-soaked pastry is believed to be at least 3,000 years old if not older, according to Great British Chefs. Even though it looks like it could be a doozie to prepare, it really isn't.
All you'll need is granulated sugar, honey, lemon peel, butter, cinnamon, pecans, and frozen phyllo dough. What's phyllo dough? They're exceptionally thin sheets of dough usually found at the grocery store in the freezer section. The key to making a big pan of baklava begins with the syrup that's poured over the pastry to give it a delicious boost in flavor. The baklava filling is comprised of chopped pecans and cinnamon. The finishing touch requires layering butter-brushed phyllo with the cinnamon-flavored pecans over and over until you run out. Just bake it, pour the sugar-honey syrup across the dessert and allow your creation to soak up the sweet syrup for four to six hours until it's ready to serve. Mom will be quite impressed with your culinary skills if you present her with this dessert!
Creative crescent roll cheesecake
If you're in a pinch on Mother's Day and time is ticking away, then this recipe is perfect. There's nothing quite like rich and creamy cheesecake, but it does take a bit of time to prepare — this recipe for crescent roll cheesecake, however, shaves your prep time drastically.
Your shopping list for this dessert is pretty short also: two cans of crescent rolls, two packages of cream cheese, sugar, vanilla extract, cinnamon, and powdered sugar. That's it! This dessert is so easy to make that the kiddos can join in and help. Just preheat your oven, press the crescent roll dough across the bottom of a greased 9×13-inch baking pan before turning your attention to the cream cheese filling. Soften the cream cheese, and then, blend together your sugar and vanilla extract with it until its smooth. Spread it across the crescent rolls, place another layer of crescent rolls across the top, and bake. Once your cake is hot out of the oven, sprinkle cinnamon and powdered sugar across the top and dig in — Mom will be so impressed!
Fun and fancy fruit cake
Many people think of Christmastime when they think about fruitcake, but this recipe would work wonderfully for Mother's Day, too. This fruitcake is chock full of six different types of dried fruit and dark rum. Did we have you at rum? The cake also becomes truly invigorating when served warm with a scoop of cold vanilla ice cream.
You'll need a good number of ingredients for this recipe, but making it won't take long at all. You'll need raisins, dried apricots, dried cranberries, dried figs, dried cherries, dried prunes, dark rum, flour, baking powder, ground cinnamon, ground ginger, salt, unsalted butter, brown sugar, eggs, lemon zest, orange zest, orange juice, and chopped pecans. Soak the fruit in rum for 24 hours, and the next day, start whipping up the fruitcake. The batter will be heavy and thick as it's laden down with chopped pecans and dried fruit, but it bakes out to be a most delicious dessert for Mother's Day.