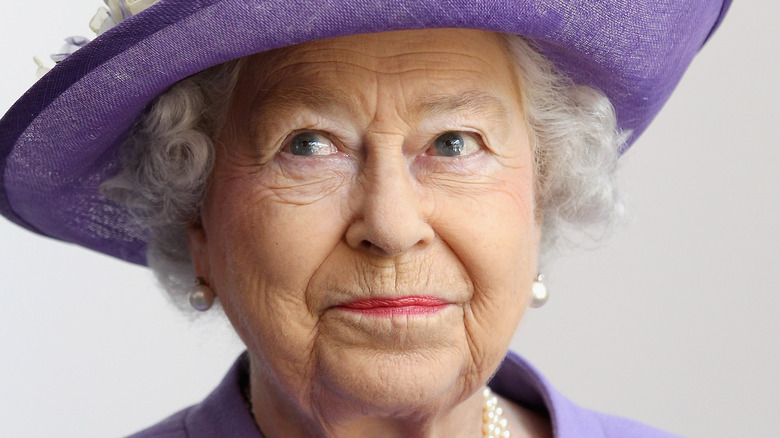 If Queen Elizabeth II were one to take commercial flights, she'd have some serious frequent flyer miles. As of Her Majesty's 90th birthday, she had taken some 271 foreign trips and traveled over a million miles in her lifetime. To put that into perspective, The Telegraph reported that would be about the same distance as 42 trips around the circumference of the Earth.
The queen's longest trip was a 44,000-mile tour back in 1953, but she spent the most amount of time traveling to different countries in the 1970s. And while you might feel satisfied with one vacation per year, the queen took an astounding 73 trips in a 10-year period, or an average of about seven per year.
Since Her Majesty is the very definition of well-traveled, it would make sense that she's got her packing list down to a science. And, while it's not surprising that she has a collection of vacation must-haves, some of her travel necessities are downright strange. Here are some of the most surprising things the queen never travels without.
Some serious baggage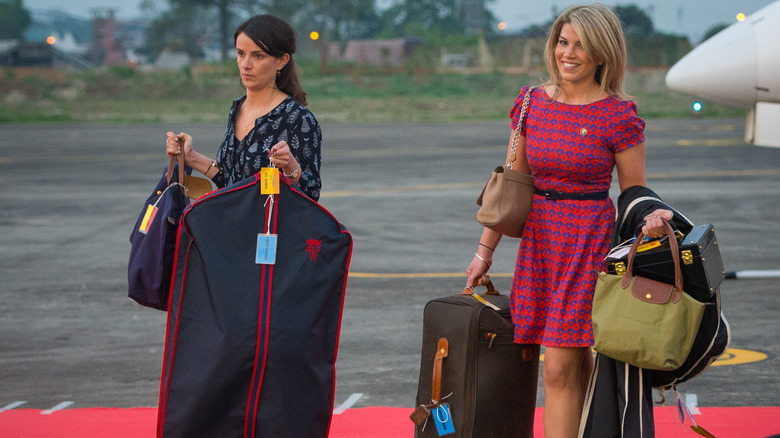 If you travel with any sort of frequency, you've likely developed a preference for luggage. In that sense, the queen is no different. According to the luxury luggage label Globe-Trotter, Queen Elizabeth II chose to use the brand on her honeymoon in 1947. The site explains that the queen "continues to use her cases to this day." How many of us can say we've used the same suitcases for over seven decades?
While Queen Elizabeth II is considered a "distinguished client," she's far from the only one who sports Globe-Trotter bags. Back in 1924, Sir Winston Churchill was a fan of the brand and carried a "Dispatch Case." You may have also spotted a Globe-Trotter belonging to Bond, James Bond, in "Spectre."
Other royals are also loyal to the brand. Prince William and Kate Middleton's luggage is believed to be from Globe-Trotter's limited edition Goring Hotel collection, according to Hello! magazine. That is quite the endorsement.
Not your standard LBD
A little black dress is a classic travel staple. So, that's why the queen packs one, right? Not exactly. According to Express, the reason is actually really, really sad.
When the queen's father, King George VI, passed away suddenly in 1952, Her Majesty was away in Kenya with her husband. As his death was unexpected, the queen hadn't thought to pack a mourning outfit. The royal couple flew back to London, but deplaning without the proper attire would've been considered inappropriate. The queen actually had to wait for someone to bring her a black dress. Now, Queen Elizabeth II, as well as all members of the royal family, are required to pack a black outfit when traveling.
Although black can occasionally be worn for other reasons, etiquette expert Alexandra Messervy told InStyle: "Generally it is thought that black is not usually worn unless in mourning, although Diana Princess of Wales did occasionally wear it for evening functions, and The Duchess of Cambridge has been known to do so."
What's a vacation without gin?
As the queen travels an awful lot, it only makes sense that she would want to keep as much of her everyday routine as unchanged as possible. That also means her alcohol intake remains pretty much the same no matter if she's in Malta or the United Kingdom.
The Independent reported Margaret Rhodes, the queen's cousin, as saying that the monarch's alcohol intake "never varies." All told, she reportedly consumes four alcoholic beverages each day, according to her cousin. Her first drink, a gin and Dubonnet, is apparently had before lunch and is served over ice with a slice of lemon. During lunch, she is said to opt for wine. Before the day is done, she may also enjoy a dry Martini. In the evening, she reportedly relaxes with a glass of champagne.
However, the queen's former chef Darren McGrady disagreed. "She'd be pickled if she drank that much," he told CNN. However, he did confirm that her favorite drink is a gin and Dubonnet and that she does have a glass of wine with dinner at times.
Afternoon tea is essential
Alcohol is not the only beverage the queen is reportedly unwilling to travel without. According to Gordon Rayner, a chief reporter who traveled on royal tours with the queen for some 20 years, there's always time allotted for afternoon tea. "Even if she's on a flight at tea time, out will come a cuppa, a Dundee cake, and some scones and clotted cream," he wrote in an article for The Telegraph. Dundee cakes, or fruitcakes topped with almonds, aren't very popular here in the United States, but, since the queen loves them enough that they fly alongside her, we might just have to see what they're all about.
Despite the queen's daily afternoon tea sessions, Rayner was quick to point out that Her Majesty's "work rate remains ferocious, particularly so for a woman of her age." Even if you were to just count her time spent traveling, there's no doubting the truth of that statement.
Her very own TP
Turns out that, as the queen of England, Queen Elizabeth can request her preferred kind of toilet paper when she travels. And, really, why shouldn't she? You just never know what the TP is going to be like until you're there, right?
Chief reporter Gordon Rayner explained in an article published in The Telegraph, "Sanitary ware is marked or sealed with stickers to warn others that they are reserved, as I have noted myself when blundering into the wrong gents' (and being faced with a choice of breaking protocol or crossing my legs)." That's right, the toilet paper is sealed. You can't get much more royal than that.
Rayner also revealed what one former aide told him: "Hosts spend more time worrying about the loo arrangements than anything else, down to what colour the towels should be and whether the loo roll is a suitable brand." We get it.
Numbered outfits and coded accessories
Even if you're incredibly organized while packing for a trip, you probably don't feel it necessary to number your outfits. The queen of England, however, always brings numbered outfits with her while traveling. According to a piece published by The Independent, "at least three outfits per day" are planned for Her Majesty. Those outfits all get ironed before being numbered and are eventually packed into "blue steel wardrobes on wheels." The queen also needs to have access to some accessories while traveling — and those are "coded" before being packed.
Prior to embarking on a trip, a test run will be performed to make sure all of the queen's luggage can fit through stairways and openings. There's even a science to how the royal luggage is taken off the plane once the monarch arrives at her destination. The queen disembarks before the luggage, but this gets a little tricky because they "must be waiting in her suite for her arrival."
The queen's giant entourage
While you may have heard about the queen's solo trip with her granddaughter-in-law Meghan Markle in 2018, there's really no such thing as traveling "solo" when you're a member of the royal family, least of all the queen. According to Gordon Rayner, Her Majesty brings with her an entourage — and it's not just a handful of folks. Her group "typically runs to 34 people," he explained in an article published in The Telegraph.
The nearly three dozen people include staff from the Master of the Household department, who work to arrange both catering and traveling details. There are also a ton of secretaries. In fact, even the secretaries have secretaries. "Her private secretary and his deputy, a secretary for each of those secretaries, [and] two secretaries for the Duke," Rayner listed. But that's not all. There are also two "dressers" or stylists, a hairdresser, a valet, two ladies-in-waiting (assistants to the queen), as well as military personnel, members of the press, and police bodyguards. Whew.
This cure-all for jet lag
With so much international travel, the queen is bound to get jet lagged from time to time. Lucky for her, she's discovered a method that helps. According to The Independent, Her Majesty looks to homeopathic medicines, including barley sugar.
"What the Queen is doing by having barley sugar is essentially using her body's sugar metabolic pathways to help adjust her body clock," General Practitioner Nick Knight, who specializes in lifestyle medicine, told The Telegraph. The doctor further explained, saying, "It is a little niche but essentially the same should happen if you were to have your breakfast, lunch and dinner at times that match your destination before you get there, regardless of whether you're hungry or not."
With, or without, barley sugar, Dr. Knight said the key to beating jet lag is maintaining your daily habits while in a new time zone. The queen definitely has that part down pat.
Don't forget the soap
Depending on the reason for why the queen is traveling, the contents of her luggage may vary slightly. Although The Independent says "two trunks of dispatch boxes, nine briefcases and five boxes of personal stationery" accompany the queen on every trip, some trips may require extra luggage. When visiting China, for example, the queen needed an extra 12 boxes just to hold presents for other heads of states.
The queen also makes sure to pack some things to keep her occupied during any downtime she may have, like crossword puzzles and magazines. During summer trips to Balmoral Castle, she's even been known to bring pork sausages from Harrods and shortbread from Buckingham Palace.
If you're one to travel with your own pillows, you and the queen have that in common. She also travels with her preferred pillows, as well as a hot water bottle, some framed family photos (aww!), and her favorite "pine scented soaps and talcum powders."
Her own supply of blood
While dry shampoo and travel-size toothpaste might make it on your list of vacation necessities, the queen travels with her very own supply of blood. Um, what? For real. According to Gordon Rayner of The Telegraph, the queen's 34-person entourage also includes a Royal Navy doctor. Ahead of a royal tour, he is tasked with scouting out nearby hospitals just in case one ends up being needed while the queen is traveling. "In countries where a reliable blood supply is questionable," Rayner explained, "the Queen and the Prince of Wales both travel with their own personal packs of blood following in their convoy wherever they go." This certainly applies a whole different meaning to "BYOB."
In addition to providing packs of blood for the queen, the on-call doc also keeps with him a medical bag that houses a mobile defibrillator and "all manner of emergency medicine." Better safe than sorry, right?