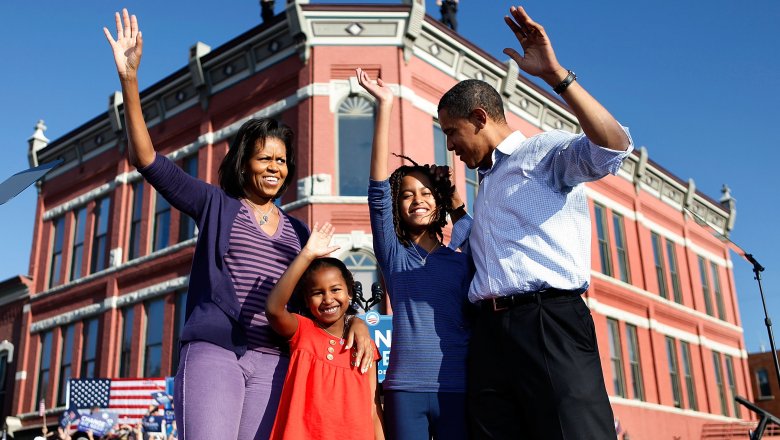 During their dad's two terms in the White House, "first kids" Sasha and Malia Obama have transformed from cute tweens to sophisticated fashion icons right before our eyes. Let's take a look back at some of the greatest moments in sister style.
When the Obama sisters stepped out at the Democratic National Convention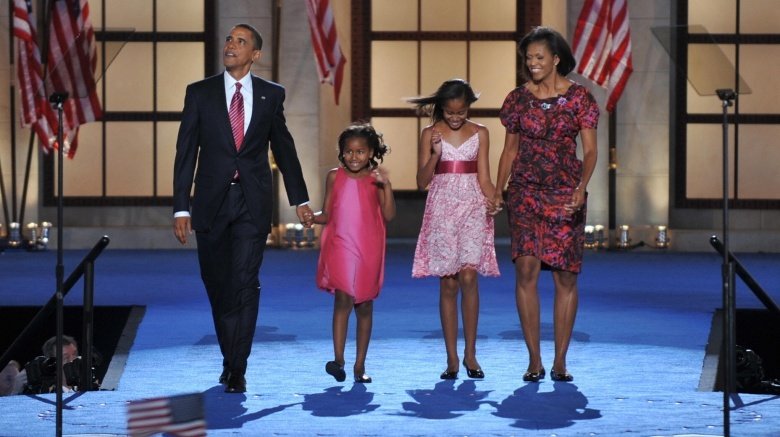 The future first family looked perfectly put together in rich magenta hues at the 2008 Democratic National Convention. This event marked the beginning of the Obama family's presidential journey. At the time, Sasha and Malia were just 7 and 10 years old, respectively, yet they already exhibited the style and grace of seasoned political pros.
The Obama sisters made a colorful crew on Inauguration Day
For Barack Obama's first presidential inauguration in January 2009, the Obama sisters stepped out in colorful wool coats and winter accessories designed especially for them by J.Crew. Malia, 10, looked stunning in sapphire blue, while Sasha, 7, appeared age-appropriate in tones of orange and pink. Over the years, the first lady and her daughters have frequently turned to this iconic American brand for classic statement pieces.
Following the inauguration, J. Crew stocks jumped 10 percent, reported The New York Times, and its web site temporarily crashed due to the overwhelming volume of traffic looking to mimic the first family's style.
And puppy makes five
In April 2009, the White House announced that the Obama family had accepted a gift from Sen. Ted Kennedy, a Portuguese water dog named Bo. Here are Sasha and Malia getting to know Bo—and the strength of his leash—on the South Lawn of the White House on April 14, 2009. The puppy's photo op also gave the nation a chance to see the girls dressed casually, just like any other kids.
The Obama sisters' Sunday best
Nearly two years into Obama's first term, 9-year-old Sasha and 12-year-old Malia continued to epitomize elegance in and around Washington D.C. Notice the sibling sophistication during this visit to St. John's Episcopal Church, known as the "Church of the Presidents" on September 19, 2010.
The Obama sisters went jet-setting in style
When your father is President of the United States, you're inevitably going to do some world traveling. The adorable tweens donned patriotic patterns to meet Brazilian President Dilma Rousseff at Palacio do Alvorada in March 2011.
Christmas in Washington for the Obamas
The Obama sisters dazzled on stage in 2011 for the 30th annual Christmas in Washington concert held at the National Building Museum. Joined by plenty of music celebrities, including Justin Bieber, Jennifer Hudson, and Cee Lo Green, Sasha and Malia stood out from this A-list lineup in stunning holiday frocks. Malia, 13, looked all grown up in a mustard yellow satin dress with bell sleeves by Elizabeth and James, and Sasha, 10, appeared lovely in lavender.
The Obama sisters looked like a million bucks…on a budget
When you're as powerful as the Obama family, one would assume the price tag of the kids' wardrobes would be the equivalent of a year's worth of rent. Well, think again. The first daughters have routinely proved that you don't need to spend a lot to look like a million bucks. A classic example of this: the family's trip to the Nickelodeon 25th Annual Kids' Choice Awards in March 2012. Sasha and Malia donned affordable and chic ensembles by U.K. online shopping brand ASOS. According to NBC News, Malia's leather belt retailed for about $36 and Sasha's mono print dress cost about $75.
Where did the time go?
Sasha and Malia had everyone asking, "Where does the time go?" when they appeared at the 2012 Democratic National Convention looking poised and oh so sophisticated. Gone were the doll-like pink dresses of their first inauguration. For this occasion, Malia, 14, continued to prove she is the spitting image of her mother in a chic blue dress by H&M and nude ballet flats. Sasha solidified her standing as the most fashionable 11-year-old in the world in a printed dress by Anthropologie, paired with a studded yellow belt and silver flats.
The Obama sisters were a polished pair on their second Inauguration Day
At the start of President Obama's second term in office, it was remarkable to witness just how much the first daughters had grown up in four short years. Entering the inaugural ceremony in complementary coats, Malia wore J.Crew while Sasha opted for Kate Spade. The two looked incredibly mature, but when they pulled out a cell phone for obligatory selfies, these two proved that no matter how grown up they looked, they were still just kids.
Totally in demand
Need more proof that Sasha and Malia are trendsetters? Sasha, 12, created such a frenzy after she donned this $18 unicorn sweater from ASOS to a college basketball game, that fans actually contacted the company demanding the sweater be reissued. Now, that's what the fashion industry would call a slam dunk.
The Obama sisters displayed fashion-forward diplomacy in China
On a trip to China to visit President Xi Jinping and his wife Peng Liyuan, the Obama ladies stunned in shades of red. Twelve-year-old Sasha's crimson dress was cute and flattering next to her mother's outfit, but 15-year-old Malia's pick snagged all the headlines. The New York Daily News called the $112 two-tiered floral pattern from Topshop "the frock heard round the world." It reportedly sold out of stores soon after photos of the young lady emerged.
A velvet vision and a LBD
In 2014, Sasha and Malia once again stole the show at the annual Christmas in Washington event, each donning age-appropriate holiday dresses that walked the fine line between fun and tradition; girls and women. Malia, 16, wore a little black dress with floral tights and Sasha,13, choose a burgundy velvet piece as they met with former patients of the Children's National Health System.
Che bello! The Obama sisters look lovely in Italy
Summer 2015 was a season packed with travel for the Obama ladies. Arriving in Milan, Italy in June with their mother, Sasha and Malia both sported a chic and effortless sundress style. Sasha, 14, who is almost as tall as her 5-foot-11-inch mother, picked a seersucker dress by American Apparel and a pair of leather gladiator sandals, while Malia, 16, flaunted a simple gray heathered dress.
Giving thanks for dad jokes and stylish looks
In November 2015, Sasha and Malia looked terrifically trendy as they stood by their dad's side during the White House's annual turkey pardoning ceremony. Sasha, 14, rocked an American Apparel sweater-jean skirt combo paired with studious glasses. Malia, 17, also donned an American Apparel top under a color-blocked jacket, with leggings and boots. The best part of these outfits? Both girls accessorized with big grins while enduring what appears to be a classic "dad joke."
Sophistication at the state dinner
In March 2016, Malia and Sasha Obama attended their first state dinner at the White House wearing embroidered Naeem Khan gowns worth nearly $20,000 apiece. It was crystal clear to everyone at the event that these little girls were growing up fast.
President Obama grew emotional while discussing his daughters at the event. "When I first elected to this office, Malia was just 10 and Sasha was 7," he said. "And they grow up too fast. Now Malia is going off to college…and I'm starting to choke up." We don't blame you, Mr. President.
Traveling the world and adopting local customs
In July 2017, the Obamas took a trip to Barack's childhood stomping grounds in Indonesia, but this trip was a little bit different than the former president watching his mother do anthropological work in the ancient city of Yogyakarta. The family was invited by Indonesian president Joko "Jokowi" Widodo to visit the presidential Bogor Palace in West Java. What they ended up with was an exciting 10-day vacation where they went white water rafting on the Ayung River, visited Yogyakarta, and hit up some of the local temples.
During their visit to Bali's Tirta Empul temple, which is dedicated to the Hindu god of water, Sasha and Malia rocked laid-back athleisure looks. According to People, both of the girls wore baseball caps while their father opted for a casual but put-together short-sleeved polo. The Obama sisters, along with mama Michelle, accessorized with matching yellow sarongs. According to The Huffington Post, sarongs are given to tourists so they can cover up before entering a temple.
Beachside getaways with friends
Malia found herself back in the headlines in 2019 — Well, the tabloid headlines, that is. According to the Daily Mail, the former First Daughter was spotted drinking an $80 bottle of Whisper Angel rose at a hotel pool in Miami. The only problem was Malia was underage — the scandal! It's unclear how the Harvard student (or her friends) obtained the vino, but the unnamed "exclusive five-star hotel" staff apparently didn't intervene. However, somehow the paparazzi got wind of the private party and was able to snap some candid shots. Malia looked ultra-chic in a black one-piece, wearing her braided hair half tied up in a pink scrunchie. Yes, scrunchies are totally back.
Sasha also enjoyed spending some time in the Miami sun. In 2017, she was spotted with Joe Biden's granddaughter Maisy in South Beach. The pair were staying at the luxurious Setai hotel, and Sasha rocked a sleek black bikini top with printed shorts. She also wore a hat from Drake's OVO clothing line, which eventually landed her an Instagram shout-out from the rapper.
Malia Obama catches London's eye
In July 2018, Malia hopped over the pond to visit her British boyfriend Rory Farquharson. According to The Telegraph, the pair met at Harvard and were first spotted kissing during a Harvard vs. Yale football game. Oh young love!
During Malia's London visit, the former first daughter looked absolutely smitten with the former Rugby School head boy. The pair packed on the PDA in an underground station and took a romantic walk over Tower Bridge, where they were spotted arm-in-arm. According to the Daily Mail, they also likely went to Bridge Theatre to see Alan Bennett's Allelujah!
Malia was rocking a London-chic look with sensible, $160 Doc Martin boots and pink, wide-legged pants cropped below the knee. She topped the outfit with a white crop top and a light wash denim jacket for the notoriously crispy English breeze. Her accessories were a yellow scrunchie around her wrist (girl loves a good scrunchie) and a Mansur Gavriel mini bucket back in the shade "rococo."
Cool kids in the south of France
When the Obama sisters go home for summer break, they don't just chill out at mom and dad's $14.85 million Martha's Vineyard estate. The pair jetset to Europe. What a life, right? In June 2019, the Daily Mail spotted the girls out and about in the south of France at the famous L'Isle-sur-la-Sorgue Market — and of course they looked stunning.
On their idyllic day out, Malia opted to wear the popular Mansur Gavriel bucket bag (not shown) in the shade "Rococo." The tab reports that this celeb favorite has been worn by the likes of Sienna Miller and Naomi Watts. The eldest Obama sister completed her look with an oversized, dark denim jacking, giving herself just a little bit of rock n' roll edge as she tasted fresh strawberries.
Sasha also looked like one of the cool kids when she was browsing for antiques. The youngest Obama daughter completely pulled off the bucket hat trend, which has somehow seen it's way back from the '90s. That ain't easy! The 18-year-old also wore a classic white crop top with a pair of high-waisted blue jeans and an oversized, army-inspired jacket. It doesn't get more casually cool.