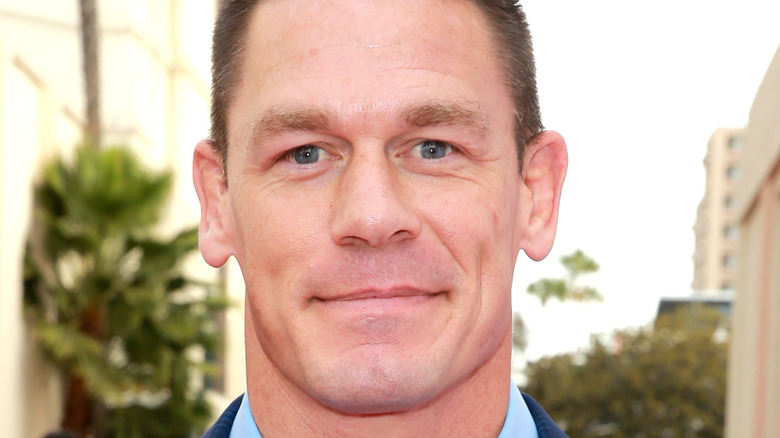 A physically fit beast in the ring with a charming smile, John Cena is one of the most famous pro wrestlers ever. Fans of all ages loved this baby face, which helped him expand his appeal in entertainment. As a family-friendly hero, he incorporated well into children's features like "The Flintstones and WWE: Stone Age Smackdown." And much like Dwayne "The Rock" Johnson before him, Cena successfully transitioned from pro wrestling to the big screen, with movies like "Trainwreck" and "The Suicide Squad." But he often kept one eye back on the platform that made him famous. "I really like it in the ring," Cena told The New York Times. "I try to pick opportunities that don't take me away from WWE for too long. I try to do opportunities that can really help expand our audience and bring new eyes to our product."
The big man has faced even bigger setbacks in his life, from his childhood, to dating, and trying to make it in Hollywood. But along the way, Cena continued to dominate in the ring and had 16 wins as of 2021, tying him with Ric Flair for the most WWE championships, per Bleacher Report.
Get ready to enter the ring for the untold truth of John Cena.
John Cena's surprising talent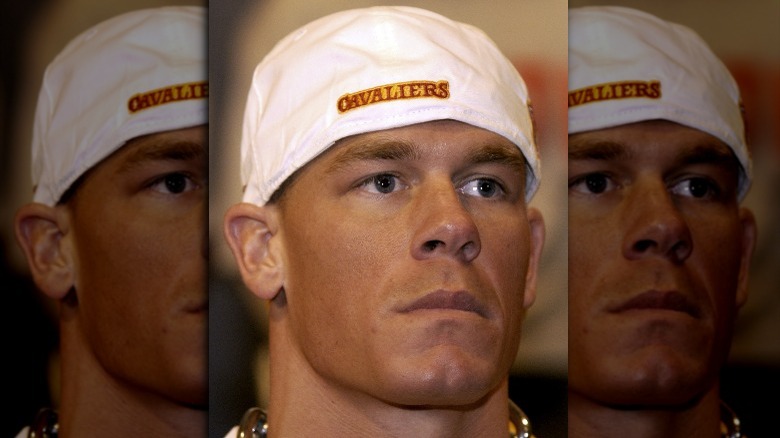 John Cena's time in the WWE almost ended as soon as it began. As he shared in the "Ruthless Aggression" documentary, what he was doing in the ring early in his career "just wasn't working" and he was set to get the chop during the company's "Christmas cuts." However, that all changed after he started freestyle rapping with other wrestlers on the tour bus. In the doc (via Sportskeeda), he said his rhymes eventually caught Stephanie McMahon's attention. "She was like 'would you like to do this on television', I said 'absolutely,'" Cena recalled. With that, the Doctor of Thuganomics character, a rapper who would rattle off rhymes when he wasn't grappling, was born. As the WWE recounted, Cena would go on to release a real-deal rap album called "You Can't See Me" in 2005 with his cousin "Tha Trademarc," and it reached No. 15 on the Billboard 200..
The wrestler eventually stopped laying down bars, telling GQ that rap is "a young man's game." And while he has pivoted away from being "the rap guy," he said, "I've never lost my connection to hip-hop, I just don't know what's popular today."
Then, at the 2019 WrestleMania event, Cena delighted audiences when he reprised his early role. Wearing a gigantic chain around his neck post-match, Cena explained in a WWE interview, "I wanted to do something that would be a nice surprise and a bit of entertainment."
A life-changing present for John Cena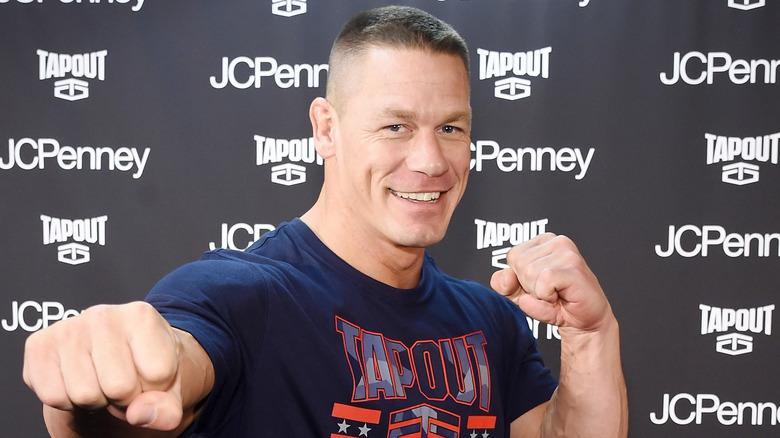 As a young teenager, John Cena wasn't known as the buff, wrestling type. He explained in an interview for The Sun, "I remember the walk to the school bus, at the very least, five times, being shoved down, toppled down." He also revealed to Men's Journal that he would get "beat up and picked on in school." Fed up with the disrespect, Cena decided to make a change and get ahold of his very own weightlifting gear. "I got tired of getting beaten up and I asked my dad for a weight set and he got me one at 13," he told People. "I started working out and I haven't stopped since."
It was a gift that changed young Cena's life. Not only was he, as he said in Men's Journal, "just stronger than everybody" after a few years of lifting, but his future as a professional wrestler and action star was set in motion. Decades later, Cena continues to do impressive work in the gym. In 2015, he posted a video on Twitter to show off his bench press ability. According to Cena, he cleared 463 pounds, noting that "this years @NFL combine top calculated bench press was 473lb."
Suffice to say, Cena can lift a lot of weight, and reps have been the secret to his success. When WWE.com asked him to share the best way "to increase his max bench press," he replied, "Bench!" That's right, all it takes is hustle, loyalty, respect… and bench.
John Cena hit the books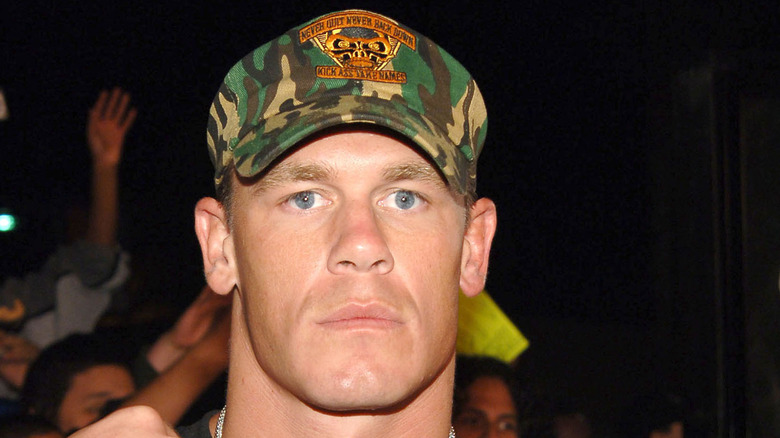 For higher education, John Cena stayed in his hometown state of Massachusetts to attend Springfield College. While at school, he studied exercise physiology to better understand weightlifting and, as he told Men's Journal, "just to know the basics." He went on to explain that with "a general knowledge about how the body works, you can tell when your body's worn and when it's not, what you can take, what the human body is capable of." And even though he focused on weightlifting and understanding his body, Cena still felt he was unequipped to play football. According to the future wrestler, "I was way too small."
After college, Cena worked as a limo driver for a short stint. Reflecting on this gig in a 2021 interview with Bloomberg, he revealed that his performance in the gym didn't exactly translate well to the road. "I was not a good limo driver — on my first pickup, I was three hours late," Cena remembered. According to the wrestler, he "never traveled" and didn't understand how to navigate to and from Boston Logan International Airport — arguably an important skill for a limo driver in the Boston area.
And though he went on to be a famous Hollywood actor, Cena imagined he could have gone a different route career-wise. He told Men's Journal that if he never made it big, "I would be teaching somewhere — most likely either U.S. History or physical education, and I would be coaching football." Or alternatively, Cena felt he would "be involved somehow in the armed services" like the Marines.
John Cena's early years in Los Angeles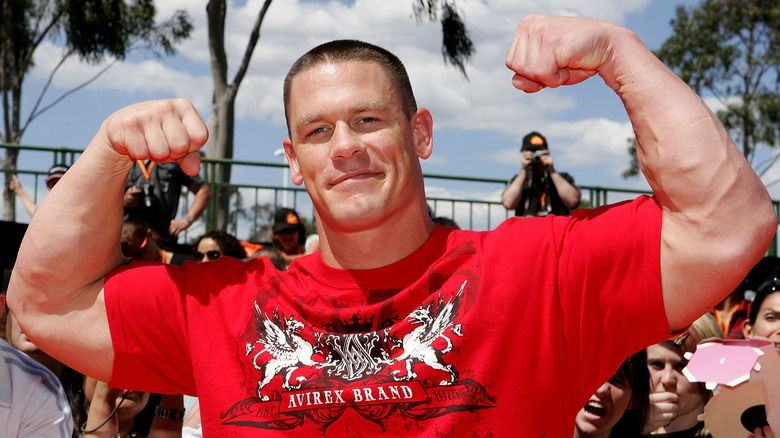 In 1999, John Cena made the move from the East Coast to the West Coast and set his sights on Los Angeles in search of fame. But he had a tough time convincing his family the plan would work. "Dad told me I would be home with my tail between my legs in two weeks," Cena explained in an interview for The Sun. Though this didn't deter the future star, he shared that when he initially tried to get his career off the ground in the City of Angels, it wasn't easy on his wallet. "I went through my resources quickly and had to think on my feet," he said. "I didn't want to go home crying." And when Cena said he exhausted his resources, he meant nearly everything. The wrestler revealed that he ended up homeless while in LA. "I slept in my car for a while, which happened to be a very roomy 1991 Lincoln Town Car. I had my clothes in the trunk and I slept in the back seat," he explained to the outlet.
While living out of his Lincoln, he told The Sun that he worked at a gym where he would "use the locker rooms and the shower" every day and kept grinding. Fortunately, this chapter of his life did not last too long, and he was able to build an incredible, multifaceted career from nothing, similar to Dwayne "The Rock" Johnson with only seven dollars to his name.
John Cena is a big family man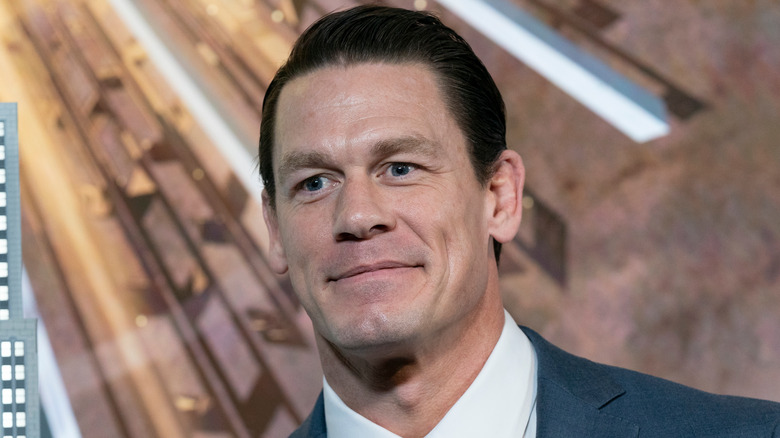 John Cena is one of five brothers in his family. And perhaps unsurprising given his future career as a wrestler, he and his siblings fought with each other often as kids. He told Seth Meyers that he'd been "chased with a chainsaw, with kitchen knives, set on fire" by his brothers. And just in case all of that wasn't creative enough, he said something once happened with a beehive and mustard? "There was certainly competition to define our identity — wanting to be heard. All that comes along with being a sibling," John said to The Sun about his brothers.
Years later and the boys were still going head-to-head with each other. During an interview with Jimmy Fallon, the wrestler said that he shelled out for an open bar for his brother Mark Cena's wedding. "That's my gift to the bride and groom that nobody would have to pay for anything," John said. But he went on to explain that this gesture turned out to be "a mistake when my brother Dan and I got into a fistfight in the middle of the dance floor and closed the wedding down." The melee stunned the bride's family, but it was old hat for the Cenas — and no, it didn't spark a family feud. As John said when he and Dan appeared on "The Kelly Clarkson Show," his police officer sibling is "a wonderful brother."
John Cena falls into the wonderful world of wrestling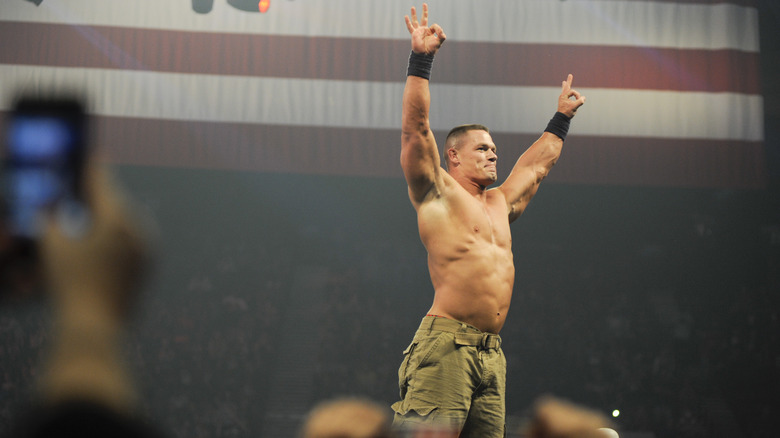 While living and struggling to earn money in Los Angeles, John Cena worked at a gym, and according to The Sun, his wrestling career kicked off when another trainer recommended he give it a go. Though Cena aspired to become a professional bodybuilder, he reportedly "switched his focus to wrestling after striking up a friendship with the wrestler Mike Bell," via The New York Times. Cena then joined the Ultimate Pro Wrestling league in California to begin his career in the ring. As WWE recounted, he joined the Louisville promotion Ohio Valley Wrestling and went by the name "The Prototype." A video by WWE showed footage of a charismatic Cena during his time with OVW.
Looking back at the start of his career, Cena elaborated on the wholesome way he became involved. In an interview for People, Cena recalled, "One of my friends in a casual conversation was like, 'Hey, we're training down in Orange County to be wrestlers. Do you want to join?'" He joined the guys because he admitted he thought wrestling could be "a sick a** hobby." And luck would help Cena turn wrestling from a one-time hobby into a career starter. According to The New York Times, Cena reportedly made his debut on TV because "Vince McMahon, the chairman of W.W.E., agreed to let him replace a wrestler who had come down with the flu."
Inside John Cena's relationships with other famous wrestlers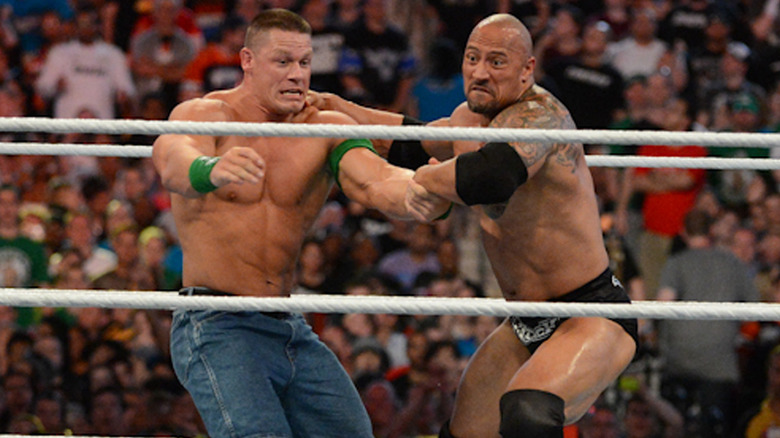 One of the greatest rivalries in the history of World Wrestling Entertainment was between John Cena and The Rock, as recapped in a video by WWE. But Cena later admitted the feud went too far outside of the ring. In a Q&A (via The Sun), Cena confessed about Dwayne Johnson, "I said some things that were less than nice. He said some things that were less than nice." He previously criticized Johnson for pursuing a career in acting… which is a career he also ended up pursuing.
Cena now takes issue with his own remarks. As he said in Sports Illustrated, "For me to not be able to see Dwayne's vision on what he wanted to do personally, and how his personal success could affect a growing global brand, that was just ignorant on my part."
Cena grew to respect and love the times he had in the ring with The Rock, telling Men's Journal, "[Johnson] tends to bring out the best in everyone. And that's, I guess, thinking about it in retrospect, that's why I admire him so much." And in a 2021 video for Esquire, he called The Rock an "electrifying" wrestler who pushes his opponents "to be at his level." He also had nice things to say about Dave Bautista, another wrestler-turned-actor. Even when Bautista said he never wanted to be in the same film with other wrestlers, Cena said he respected the decision to pave his own way in film.
John Cena is fluent in Mandarin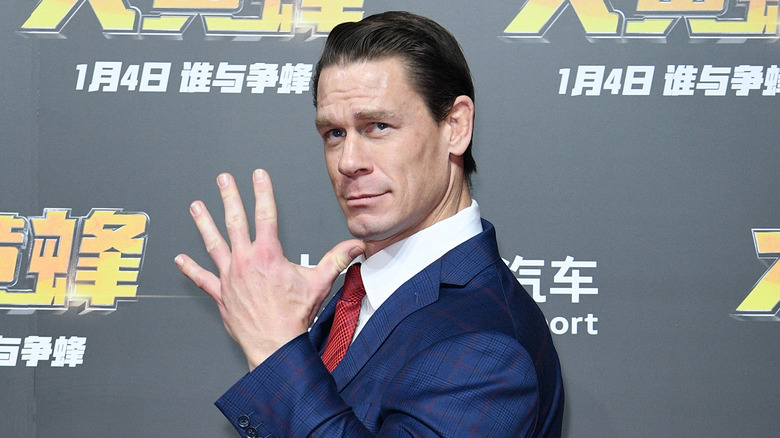 Another one of John Cena's many talents? He speaks Mandarin. As he shared with The Straits Times in 2017, he'd "been studying Mandarin for five years" in order "to get our global company to be a true global company."
In a press conference for the WWE held in China, Cena chatted in Mandarin the entire time. He also showed off his language skills in the movie "Trainwreck." In an intimate sex scene with star Amy Schumer, Cena slipped into the foreign language for comedic effect. "I was just trying to think of the most unsexy stuff possible, 'cause that was kind of the whole scene," Cena told GQ. The wrestler revealed that when translated, "I was just saying the most Rosetta Stone things, like 'China is an important country.' I was just trying to go off the theme of 'dirty talk going horribly wrong.'"
Cena also recorded an apology video in Mandarin after he said "Taiwan is the first country that can watch [F9]" while promoting the "Fast & Furious" flick in 2021, per The New York Times. Since the Chinese government considers Taiwan a part of China, his remarks ruffled some feathers. In a video posted to the Chinese social network Weibo, Cena said in Mandarin, "I'm very sorry for my mistakes. Sorry. Sorry. I'm really sorry. You have to understand that I love and respect China and Chinese people."
The social media prowess of John Cena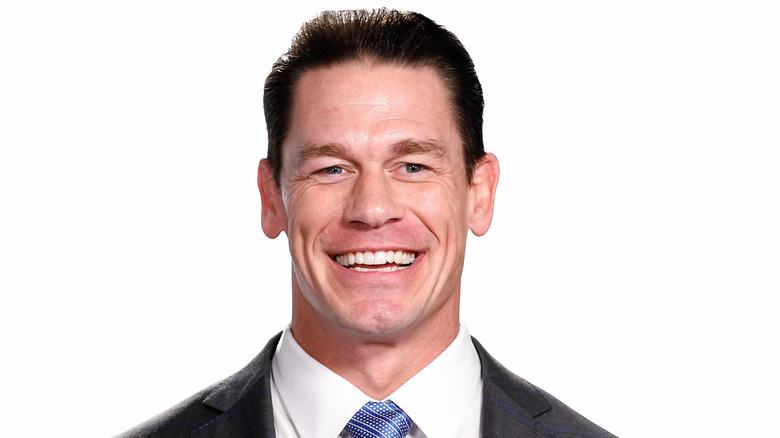 Fans of John Cena might be perplexed by his Instagram account. Often, the actor posts seemingly random photos, with no context or captions to help make sense of it all. In an interview for Esquire, Cena revealed what's really going on behind his posts. With each picture, Cena said he purposely provides "no explanation, for interpretation of the audience." That said, he did add, "Please don't get me wrong, there is a method and value to every single thing that I post on Instagram. But if I tell you, it ruins what I'm trying to do." While fans may pull their own interpretations from his posts, he laughed, "You'll never figure it out." You can't see me-aning.
On the flip side, he uses his Twitter to promote positivity and messages of encouragement. While speaking with Complex, Cena revealed that he got into Twitter for therapeutic reasons. After "understanding the value of self-love," he used the social media platform as a way to show his vulnerable side, where he could broadcast his "journal-type thoughts." And he found similar positive messages from BTS fans — the BTS Army — regarding the album "Love Yourself." As Cena told Complex, "BTS allowed me to realize that I'm not alone." The wrestling legend then became more interested in BTS' music for their catchy pop sound and songs with "good boom-bap beats."
Comedy calls to John Cena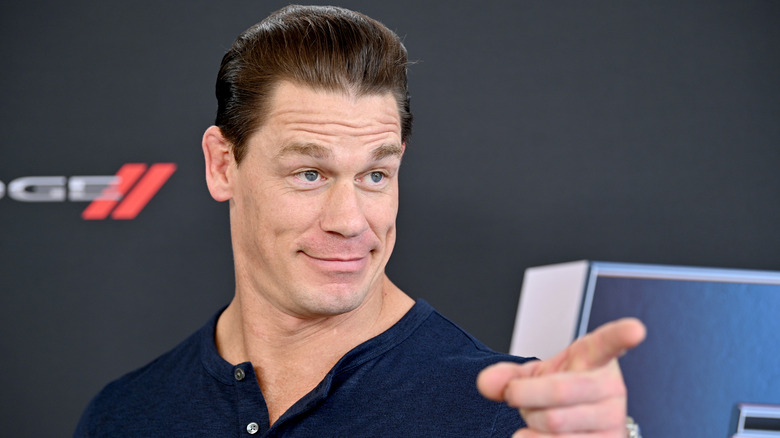 To try the film industry, John Cena followed a similar path as other famous stars like Sylvester Stallone and Arnold Schwarzenegger with roles in action films. However, as he told The New York Times, those actioners didn't totally click for him. "Doing action wasn't a real good fit for me because it's the opposite of how I work," Cena he said, citing the "extremely choreographed and extremely scripted" factor.
Cena then changed gear and looked to comedic roles. His breakthrough came in the Judd Apatow helmed "Trainwreck." As he recounted in The New York Times, Apatow told him to "throw the script away and just talk about whatever" with star Amy Schumer during the audition. Cena explained he and Schumer "had a nice exchange and it was like, 'Yeah, O.K., he's more than just a big guy.'"
The same year as "Trainwreck," 2015, Cena appeared in three other comedies: "Daddy's Home" with Will Ferrell, "Sisters" with Tina Fey, and an episode of "Parks and Recreation." Similar to his audition with Schumer, Fey said Cena had great comedic timing. "He's just a fantastically funny improviser. If you said anything, he was perfectly ready to react to it," she said in The New York Times.
John Cena's strict regimen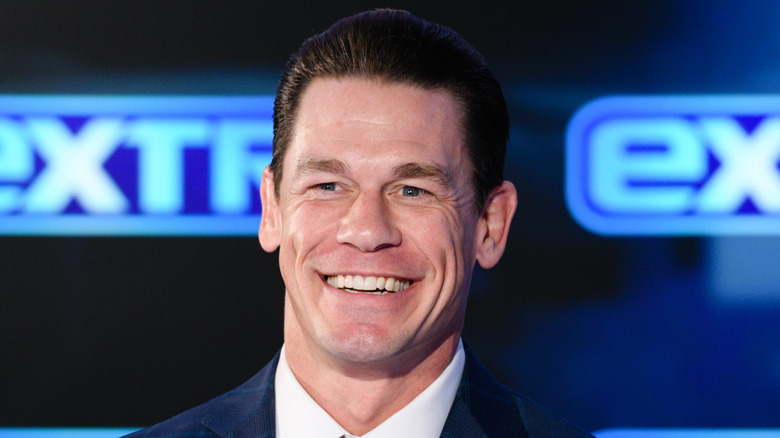 To help maintain his impressively big physique, John Cena takes a holistic approach to wellness. He explained to Men's Journal that in terms of his diet, he consumes "a lot of meal replacements just due to time constraint." The wrestler explained that while he doesn't typically prepare his own meals, "I eat well." Cena added, "I just don't make bad decisions. I stay away from fried foods [and] desserts." He shared a similar story in an interview for "Good Morning America." Cena believes consistency is the key to long term health and wellness, but he did reveal that he doesn't only eat healthy foods. As far as a guilty pleasure goes, Cena said he is "like the cookie monster."
Of course, Cena works out with weights but he also likes more mindful practices. For example, he told People, "I do 35 to 40 minutes of uninstructed yoga at the end of every workout." And whether practicing yoga or lifting heavy heights, Cena said he won't "take my phone with me. I'm present." The wrestler explained how stretching and mobility have been important to his routine. And Cena compared the human body to a car, with indicators to potential problems that shouldn't be ignored. While this may seem like a lot to take on, he keeps his health and fitness plan simple: "Get enough rest and make good choices."
Who is John Cena's wife?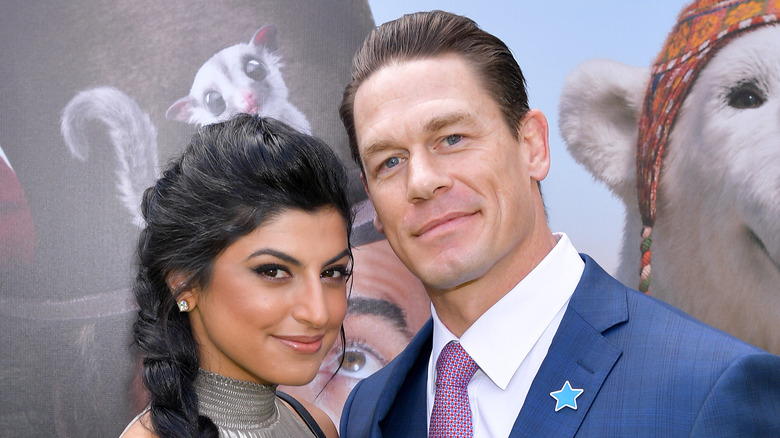 Between 2009 and 2012, John Cena was married to high school sweetheart Elizabeth Huberdeau, via E! News. However, things apparently fell apart when, according to TMZ, an issue with a contractor supposedly "caused unbearable strife between him and his wife." The two divorced and Cena's ex reportedly claimed the wrestler cheated on her during their marriage, via TMZ. His next relationship after Huberdeau was with WWE star Nikki Bella. Outside of the ring, she is known for her work in "Total Divas," as well as the spinoff she and twin sister Brie Bella landed called "Total Bellas." Nikki and Cena were together for six years, even getting engaged at WrestleMania. But in 2018, the couple broke things off. Following a quick reconciliation, Nikki told People, "After much time and soul-searching alone and together, we have decided to officially part ways."
The following year, Cena officially moved on. In October 2019, he attended the premiere for "Playing with Fire" with his new girlfriend, Canadian electrical and electronics engineer Shay Shariatzadeh. The pair was rumored to be engaged in 2020, and before the end of the year, Cena and Shariatzadeh tied the knot. The newlyweds reportedly were married in a secret ceremony held in Tampa, Florida, according to PWInsider.
John Cena is a gifted storyteller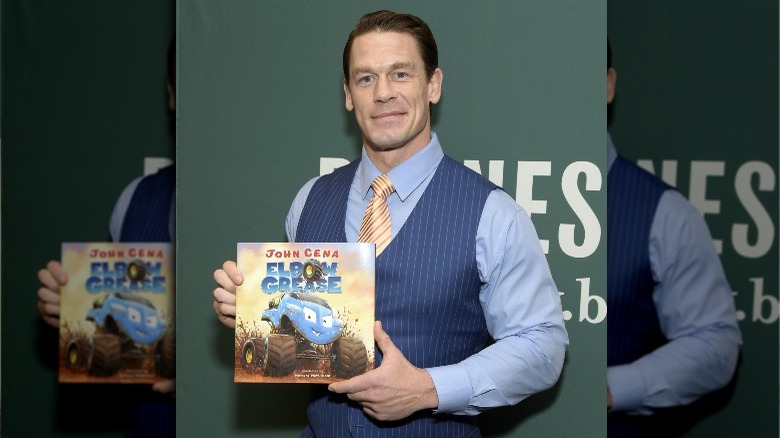 Outside of wrestling and acting, John Cena became an author. As he said on "Good Morning America" in 2020, he created the children's book series "Elbow Grease" about cartoon monster trucks after noticing that "a lot of young kids and families" made up his fanbase and "really attached" to his motto, "Never give up." He continued, "So as my in ring career dwindles and I'm not as prevalent, I wanted to continue to send that message." One might say "Elbow Grease" will car-ry on his legacy.
Cena said that while the books are about monster trucks, there are "underlying themes of perseverance, self-worth, managing emotions, confronting fear, being okay with who you are" as well as nods to "grit, which is a really essential topic that needs to be discussed if you're gonna have any long-term success in life." Not bad points to drive home.
And he does not stop there. When the WWE Superstar stopped by New York City BookCon in 2019, he shared that including a female mechanic in the series is a "casual" way to tackle expectations surrounding gender roles and indicate that "anyone can do anything." He also noted that the books show that winning isn't everything, but staying true to who you are is crucial. As the movie star told the audience, "It's okay to be different. And it's okay to be you."
John Cena is a charitable man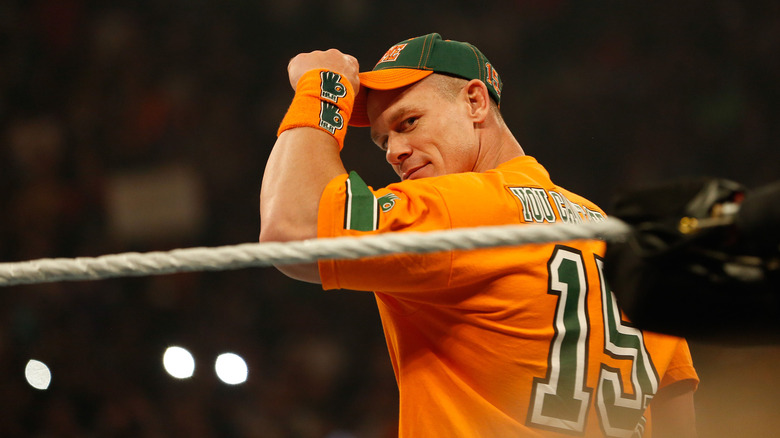 Throughout his career, John Cena has been extremely generous with his time to give back to others. Take in 2012, for example, when he partnered with the WWE for Breast Cancer Awareness Month and helped raise over $1 million for Susan G. Komen — in a matter of weeks. Though he admitted professional wrestling was perhaps behind other sports in supporting the cause, Cena told Men's Journal that "we were certainly one of the most effective." The big man also participated in the "Tribute to the Troops" specials with WWE. As Cena explained to the publication, "I admire the military. I guess in a world of villains and heroes, they're my heroes.
Cena's most impressive charitable work is with the Make-A-Wish Foundation. In 2018, the AP reported the wrestler and actor had "fulfilled nearly 600 wishes for the Make-A-Wish Foundation, more than any other celebrity." He told the outlet that he considers it an honor when a child wants to spend the day with him, and he has no interest in slowing down on granting the wishes. As he said in the AP, "I'll do that as long as I can, as long as they're asking me to do it."
On a 2021 episode of the "Grilling JR" podcast, legendary wrestling commentator Jim Ross praised Cena's work with Make-A-Wish. "I've always admired John for many things but his commitment to the Make-A-Wish kids, these terminally ill children was really, really special," he said.
How much is John Cena worth?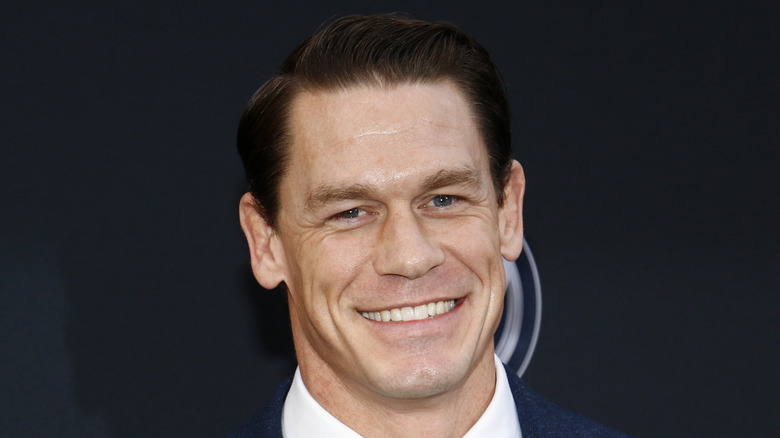 In 2016, John Cena was the highest paid wrestler for the WWE, with Forbes reporting he earned $9.5 million that year for his time in the ring. And "Cena not only has the biggest base salary of any weekly performer, but he also blows away the competition when it comes to merchandise sales." In addition to his big payouts from the WWE, Cena also was in successful films like "Daddy's Home" and "Bumblebee," which further added to his bank account. Then add in revenues from his book series and other ventures like sponsorships and commercials (the new voice of Honda, anyone?). All combined, Cena was worth $60 million as of 2021, estimates Celebrity Net Worth.
With some of that money, Cena purchased many cool cars. One of the craziest is the InCENArator, a custom Corvette created by the Parker Brothers that was featured on SyFy's "Dream Machines." According to Top Gear, "Cena's only instruction to the brothers was to 'make it look like it's from the year 3000.'" They sure ran with that, equipping the ride with a flamethrower, as well as "a glass clamshell opening roof and jet-turbine inspired 24-inch rims." In addition to the InCENArator, Cena owns other supercars like the Ford GT, according to GQ. But as the publication noted, "the odd one out" is his 1991 Lincoln Continental — the same one he used to live in when first moving to Los Angeles.