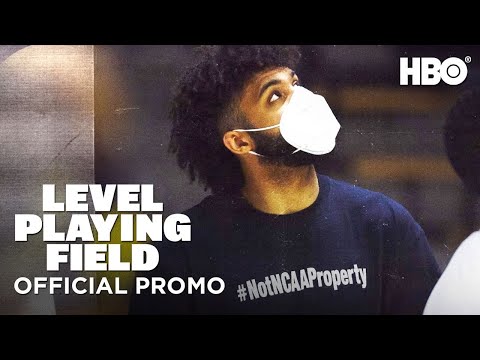 HBO Sports and Vox Media Studios have teamed up on Level Playing Field, a sports documentary series featuring a range of stories that illuminate how public policies have contributed to inequities in the sports landscape and society at large. The four-part documentary series is set to debut Tuesday, September 14 (8:00 – 8:30 p.m. ET/PT), with half hour episodes airing the following Tuesdays at the same time. Level Playing Field will be available on HBO and to stream on HBO Max.
The series examines how multi-billion-dollar industries in and out of sports have historically underpaid their most valuable assets, politicized community-based initiatives, and stifled the voices of athletes of color. Featuring stories and insights from sports and policy changemakers including the WNBA's Elizabeth Williams, U.S. senators Cory Booker and Raphael Warnock, Rep. Joaquin Castro, and sports journalist Jemele Hill among others, the dynamic four-part series looks at the far-reaching twin impacts of legislation and activism as they intersect with sports.
The four episodes will span subject matter such as sports, race and social policy, the ever evasive NCAA coined term "student athlete", immigration and politics.
The HBO Sports presentation Level Playing Field is produced by Vox and Vox Media Studios. Episode directors include Akil Gibbons (Midnight Basketball), Joe Posner (Misclassified), Sam Ellis (The Backstretch), and Rebecca Stern (The Assist). The series is executive produced by Mike Jacobs, Joe Posner, Emily Anderson, Chad Mumm, and Mark Olsen, and co-executive produced by Mac Schneider and Marina Stadler.
Scroll to the top to view the trailer for HBO's Level Playing Field.