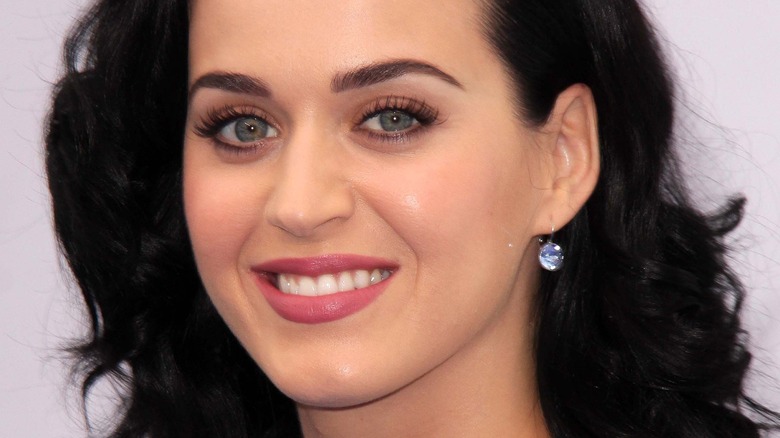 It's pretty safe to say that if you're lucky enough to land a judging spot on "American Idol," you're making bank. And we mean serious bank.
Ever since the talent search that brought us stars like Kelly Clarkson, Carrie Underwood, Jennifer Hudson, and Adam Lambert first debuted on Fox in 2002, fans have been fascinated with the ever-changing roster of celebs imparting wisdom from the judging panel. It seems that as soon as a famous booty sits in one of those chairs behind the star-powered desk, whether it was on Fox's original series or ABC's reboot, they're onto a multimillion dollar paycheck that would make anyone jealous.
Some of the most well-known and wealthiest stars in the world have taken turns in the judging chair, from Jennifer Lopez, to Mariah Carey, to Ellen DeGeneres. But just how much are the "American Idol" judges of the past and present actually worth? Who's the richest celebrity to ever grace the judging panel in the show's history? The answer may just surprise you.
Kara DioGuardi made millions from her short American Idol stint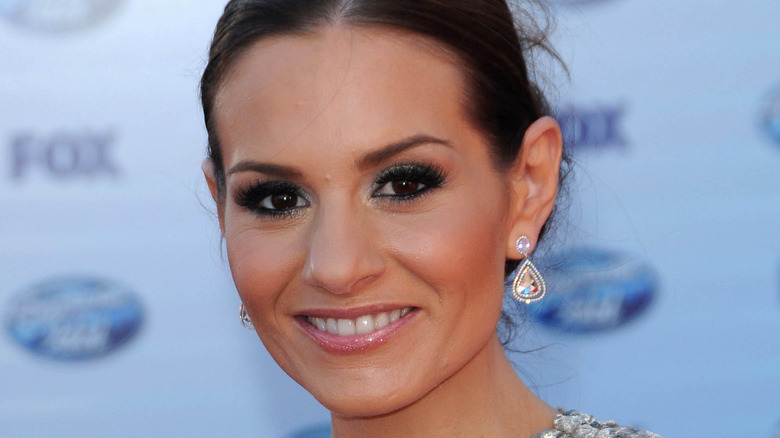 Kara DioGuardi marked the first big change in the original judging line-up when it was announced in 2008 that she was joining "American Idol." DioGuardi served out two seasons alongside Simon Cowell, Paula Abdul, and Randy Jackson. Her "Idol" salary figures remain elusive, but both she and Abdul, who reportedly earned $2 million per year (per The New York Times), entered contract renegotiations at the same time
Though she's amassed the least wealth of all the "American Idol" judges, DioGuardi still has an impressive bank balance. Celebrity Net Worth reports that she's worth $25 million, much of which comes from her supreme songwriting talents. The star has written a slew of hits, including Carrie Underwood's "Undo It," Hilary Duff's "Come Clean," and Pink's "Sober."
DioGuardi is all about giving back, and she uses her time as a talent judge to help others. She co-founded the Inspired Nation charity in 2016, which, per Music Business Worldwide, "aims to redefine vocal competitions not just as a way to celebrate talent and foster confidence, but as a conduit for youth appreciation and community activism." As a Mechanical Licensing Collective board member, she is also dedicated to helping other songwriters get paid fairly for their work. DioGuardi told Music Business Worldwide, "You can't play or stream a song 500 million times and the songwriter gets $5k or whatever it is, that's just way below what they should be compensated. We have to change the legislation around that."
What did Paula Abdul walk away with?
Surprisingly low on the list is one of the original stars who made "American Idol" such a success. Paula Abdul was right there with Simon Cowell and Randy Jackson when the show first began, joining the panel after a successful singing career with hits including "Straight Up," "Forever Your Girl," and "Opposites Attract."
All of Abdul's hard work amounts to an estimated net worth of $30 million, much of which came from her time on the show. According to The New York Times, Abdul made around $3.5 million per season during her "Idol" stint, with about $2 million in the form of cash and $1.5 million allotted to "wardrobe and other expenses." She reportedly decided it was time to go after requesting to be paid around $10 million. Fox, apparently, denied that pay increase and instead offered her a maximum of $5 million per season, which Abdul turned down.
But despite waving bye bye to "American Idol" (and potentially $5 million a year) in 2009, it doesn't seem like Abdul has been hard up when it comes to cash. In 2012, the Los Angeles Times took a peek inside her stunning 4,679-square-foot house in Sherman Oaks, which she put on the market for almost $1.9 million. Two years later, the star showed off her posh LA condo during an episode of Australia's "Studio 10," proving she wasn't exactly hurting for cash after her "Idol" departure.
Randy Jackson has found success in multiple music industry roles
Randy Jackson was an original member of the infamous judging trio that made "American Idol" such a success. One of the talent search's longest standing judges, Jackson stayed with the series for over a decade. He announced his exit in 2013, before spending a year as competitor mentor and then being replaced by Scott Borchetta.
According to Billboard, Jackson earned himself between $5 million and $6.5 million a season towards the end of his run on "Idol" — not bad at all. Much of the star's estimated $50 million earnings also stems from his career in the music business, as he's served as the bassist for the band Journey and is a hugely successful music producer. Jackson even dabbled behind the scenes in the TV world as an executive producer on the MTV show, "America's Best Dance Crew."
With an eight-figure net worth, Jackson is clearly clued-up when it comes to money, and he shared a few tips with Forbes in 2015. His best pieces of advice? Putting together a "priority list" by asking, "What's important to you?" and "How am I going to make money and grow?" Keeping good company is also important. "You've got to surround yourself with people who compliment you. People with like mind, heart and spirit. That's key. Get rid of all the negativity around you and surround yourself with people who inspire you. You've got to have that," he said.
How much did American Idol add to Harry Connick Jr.'s net worth?
Harry Connick Jr. brought his years of musical talent to "American Idol" in 2013 after previously making a couple of appearances on the then-Fox show to share his wisdom with the contestants. Connick Jr.'s permanent position came as the series underwent a big overhaul on the judging panel. The newbie sat with Jennifer Lopez and Keith Urban.
Connick Jr. served as a judge from Seasons 13 to 15 until Fox canceled the series in 2016. The musician reportedly made $3.5 million for the final season, sources told The Wall Street Journal. That salary contributed to the star's respectable sum of approximately $55 million. It sounds like Connick Jr. knows exactly how to live the high life with his paychecks, too, and who can blame him?
In 2017, fans got a peek inside the singer and actor's Connecticut home. He and his wife, model Jill Goodacre, had lived in the 4.61-acre estate for 20 years and raised their daughters there. The Wall Street Journal reported that Connick Jr. put the house on the market for $7.5 million. The family must have been looking to make a sizable profit from the sale, too, as Connick Jr. initially bought the home in 1998 for $1.54 million, renovating and adding to it over the years.
With savvy flipping like that and seven-figure paychecks, it's no wonder Harry Connick Jr. is a multi-millionaire!
Keith Urban has spent his wealth on homes all over the world
Harry Connick Jr.'s former co-judge, Keith Urban, has around $20 million more than Connick Jr. in the bank. Urban is said to be worth $75 million, largely thanks to his career as one of country music's biggest stars.
As for how much Urban earned for imparting his wisdom on "American Idol?" Well, there have been some contesting reports. The Wall Street Journal reported that Urban made the same as Connick Jr. by the final Fox season, $3.5 million, though Reuters claimed in 2013 that his paycheck was a little closer to $8 million when he first joined, working with Randy Jackson, Mariah Carey, and Nicki Minaj. (Who could forget that infamous feud between Carey and Minaj?)
Keith Urban earned his dollars, but he's even richer when his net worth is taken into account alongside that of his wife. Nicole Kidman is worth an eye-watering $250 million. Urban and Kidman live in luxury, with the former reportedly treating his wife to a $52 million apartment in New York City in 2017. Now that's a present!
But that's not all. Per Business Insider, the couple has also owned a $10 million New York City apartment, a $3.47 million property in Nashville, and a $4.7 million Beverly Hills mansion, as well as a $4.1 million farmhouse and two penthouses (costing $4.16 million and $4.85 million, respectively), in Australia.
Nicki Minaj cashed in on one American Idol season
Bringing that Superbass! There's no doubting Nicki Minaj is one very rich lady who ranks highly alongside her fellow "American Idol" judges. According to Celebrity Net Worth, the rapper has amassed a whopping $100 million over the span of her career and made some serious bank from the show, despite only appearing on the singing series for just one season.
Per Reuters, Minaj reportedly made more than a tenth of her net worth from appearing as a judge on Season 13 back in 2012. She's said to have been paid $12 million for her work with Randy Jackson, Keith Urban, and Mariah Carey.
The artist's high estimated net worth stands in stark contrast to her upbringing. Minaj didn't have as much growing up, and she vowed to do whatever it took to make sure she always had money in the bank as an adult. "I never want to go back to being poor. Once you have a taste of that you will always be driven. I know what that felt like and I don't want to feel it ever again," Minaj explained (via Contact Music). "My childhood was crazy but it got me to the point where I had so much faith in whatever I was doing. I just always feel where there's a will there's a way and I live my entire life that way now."
How Steven Tyler spent his Idol dough
Next up is Aerosmith legend Steven Tyler. When "American Idol" underwent a transformation in 2010, Tyler lent his musical knowledge to the show with fellow newcomer, Jennifer Lopez, and veteran judge, Randy Jackson, on the panel. The rocker judged for two seasons of the series, from 2011 to 2012.
Celebrity Net Worth puts Tyler's fortune at a huge $150 million, and a small portion of his overall net worth came from his two-season judging stint, as the Los Angeles Times reported that he made between $8 million and $10 million per season.
Tyler's net worth could have been a lot higher though, as the star has been very open about how he spent millions on his drug habit over the years. In 2011, he revealed in his book, "Does the Noise in My Head Bother You?," that he estimated he'd spent around $20 million on drugs over the years (via Daily Mail). Tyler — who's worked hard on his sobriety — appeared to downplay that figure during an appearance on "The Late Late Show with James Corden" in 2018, instead claiming it was "about $2 million."
The star still had plenty of cash to play with, and he seems to have a penchant for cars. GQ shared a rundown of his motor collection, including a Hennessey Venom GT Spyder reported to have set him back $1.1 million. Whoa.
Luke Bryan has put his music money to good use
As one of country music's biggest names, Luke Bryan has made major moolah. Bryan joined the "American Idol" judging panel alongside Katy Perry and Lionel Richie when ABC rebooted the phenomenon in 2018, and with his role as talent show judge came a hefty paycheck.
According to Page Six, Bryan was initially offered $2.5 million to appear on the show, but reportedly negotiated and upped that to around $7 million, knowing Katy Perry was locked in for much more. However, The Wall Street Journal put Bryan's initial figure a little closer to $12 million, a nice sliver of his reported $160 million fortune.
The country superstar is almost as famous for his southern drawl as he is for his charity work, which includes using tour proceeds to supply more than four million meals to those in need, as well as donating "college scholarships to farming families" through his Farm Tour. Bryan has supported a slew of other charities, including Make-a-Wish, Monroe Carell Jr. Children's Hospital, Shriner's Hospital, St. Jude Children's Research Hospital, the CMA Foundation, and more (via Outsider). The singer is such a do-gooder that he was surprised with the Artist Humanitarian Award during an appearance at the Country Radio Seminar in February 2021, but he admitted, "There's always more work to be done."
We love to see stars giving back!
An 'extraordinary extravagant lifestyle' has accompanied Lionel Richie's wealth
After multiple decades at the top of his game, it's no surprise that "American Idol" reboot judge Lionel Richie places highly on the net worth scale. The music legend — who is dad to Sofia Richie and Nicole Richie — has a gigantic estimated total of $200 million.
As for how much of that comes from his "Idol" salary? Well, as with Luke Bryan, Page Six reported in 2017 that Lionel Richie was supposedly offered $2.5 million to judge, but he, too, declined that payment before settling on an annual salary of $7 million (still a whole lot less than Katy Perry was making). The Wall Street Journal claimed it was more like $10 million for Richie.
Having hundreds of millions in the bank, it's no surprise that Richie knows how to spend. Back in 2004, his former wife, Diane Richie, lifted the lid on their lavish lifestyle as part of their divorce settlement. According to a declaration obtained by The Smoking Gun, Diane claimed that she and Lionel "had an extraordinary extravagant lifestyle. [We] regularly spent in excess of $300,000 a month. We could comfortably afford to spend unlimited sums of money on everything and anything we chose. I had no limit on what I could spend." The two lived in a mansion "worth in excess of $40 million" in Beverly Hills with nine full-time members on staff. Well, there you have it.
Mariah Carey can handle some flabbergasting price tags
It might not be surprising to know that Mariah Carey, one of the most bankable divas on the planet, climbed so high on the "American Idol" ladder of wealth. Celebrity Net Worth reports that the legendary singer has a jaw-dropping estimated $320 million to her name.
Though her infamous feud with Nicki Minaj might have made the headlines more than "American Idol's" talent at the time, she did pretty well to say she only stuck around for one season. Per Reuters, Carey reportedly raked in $18 million for her "Idol" run — not bad for just months of work!
Of course, Carey has made no secret of her love for the finer things in life, and it's become one of the qualities the world loves most about the always-sparkly star. The mom of twins has made noteworthy purchases, one being her $662,500 white piano, once owned by Marilyn Monroe. ET reported that Carey and then-fiancé, James Packer, owned his-and-hers yachts, too! "His" yacht reportedly cost $340,000 per week, not including expenses.
The lavish lifestyle she lives today is a far cry from how Carey grew up, though. On an episode of "Mariah's World" in 2016 (via E!), Carey recalled a time when she literally had to sleep "on a mattress on the floor" because she had so little money when trying to make it as a singer.
Take Katy Perry's Idol earnings 'with a grain of Himalayan salt'
One of the most controversial paychecks in "American Idol" history belongs to Katy Perry. The star is reported to be worth a massive $330 million, but it was her deal to judge talent on the ABC "Idol" reboot that really had people talking. In 2018, The Wall Street Journal claimed Perry was being paid $25 million, which raised a few eyebrows, including those of her fellow judges, who weren't paid so much for the gig.
Perry's massive figure caused such a stir that Paula Abdul was asked for her take following reports that Fox would not pay her more than $5 million per season in 2009. When Andy Cohen asked the former judge about the matter on "Watch What Happens Live" in 2019, she replied, "Well, good for her. Good for her! Why not?"
As for what Perry had to say, Howard Stern questioned the star about her salary in July 2020, even asking if she felt guilty. Perry cheekily replied (via Cheat Sheet), "Why?" and pointed out, "Simon Cowell did very well on that show and he was a great asset to the show. It's exciting for a woman to be in that position as well, in that financial bracket. Why not?" She also appeared to deemphasize the figure, saying, "It's not always what's reported. … Let's just say that those things are to be taken with a grain of Himalayan salt."
Jenny from the Block's hard work paid off
It's no shocker that Jennifer Lopez has done well for herself financially. According to the Daily Mail, when it was first announced Lopez would be joining the show as a judge during its Fox days back in 2010, she signed on the dotted line for a salary of around $12 million a season, upping that amount to $15 million for the subsequent season. The star reportedly "walked away" when her request for another $2 million was denied.
J-Lo then returned to the series for Season 13 — with a big pay bump. The Daily Mail reported that Lopez's paycheck was inflated by $2.5 million, putting her salary at $17.5 million a season. But that's just a drop in the ocean compared to her actual net worth. The multi-hyphenate is celeb is worth a resounding $400 million.
That figure is a far cry from the life Lopez used to live. "Jenny from the Block" has been open about the struggles she faced while trying to make it as a dancer, admitting there were days when she had so little money that she'd survive on a single slice of pizza a day. "That's how I lived. I did that for a couple of years before I got my first big job," Lopez revealed while promoting "World of Dance" (via People). "I wouldn't trade it for the world. For me, coming from that struggle, this is a dream come true for me. I don't say that lightly."
Ellen DeGeneres didn't stick around the Idol stage for too long
How could we forget Ellen DeGeneres' infamous "American Idol" tenure? In addition to her long-running talk show, "The Ellen DeGeneres Show," she signed on to appear on five seasons back in September 2009, initially judging with Simon Cowell, Kara DioGuardi, and Randy Jackson (via Deadline).
As for how much she was paid for the trouble? Well, DeGeneres hasn't spoken about exactly how much, but an agent (per Entertainment Weekly) estimated a salary between $5 million and $7 million, which contributed to the star's reported $500 million fortune. DeGeneres didn't stick around for long, though. By July 2010, after appearing on just a handful of episodes, the comedian tweeted she was leaving.
Despite some controversy surrounding her talk show, there's no doubt DeGeneres has done a lot of good over the years. In April 2021, she announced that she and her wife, Portia de Rossi, had "personally" donated $1 million to the All-In Challenge, which raised funds for those particularly vulnerable amid the coronavirus pandemic. "I usually don't talk about my personal donations. It's something I keep private," Ellen said. "But I'm really hoping that this inspires anyone who's in a position to help, to help." But the star isn't afraid to splash the cash for herself, either. DeGeneres is notorious for her hefty portfolio of California homes, with Architectural Digest reporting that she's owned "upwards of 20" million-dollar properties over the years. DeGeneres and de Rossi have even sold one of their palatial estates to Ariana Grande.
Simon Cowell wins the day with his Idol millions
Here we are! The richest "American Idol" judge of all time (as of this writing). Ranking above some of the wealthiest stars in the world with millions of records sales and tours to their names, it's actually Simon Cowell who comes out on top as the richest of the show's judges, past and present. Celebrity Net Worth puts the sharp-shooting music mogul's net worth at a staggering $600 million. Even more impressive? If that figure is accurate, the Brit is surprisingly worth more than his original co-judges, Paula Abdul and Randy Jackson, combined and multiplied by seven. Yes, seven.
When it comes to Cowell's time on the Fox show, The Hollywood Reporter (via MTV News) stated in 2009 that he reportedly made around $36 million per season, but was alleged to have been in talks to raise that figure to $45 million a year.
As for what Cowell does with all that cold, hard cash? It seems like property is one of his biggest things to splash out on. Hello! reported that he owns a $24 million beach house in Malibu, while The Sun revealed he has a mansion worth over $20 million in London. Cowell also seems to love spending his millions on cars, reportedly including a Jaguar Eagle Speedster at nearly $900,000.
Note to self: Become a judge on "American Idol."