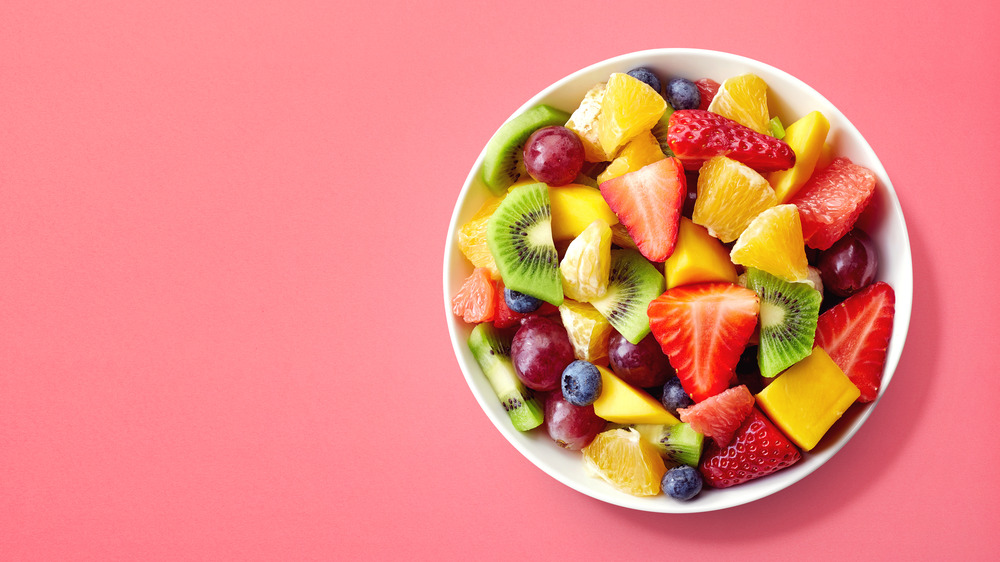 Appetizers are great for parties, mingling, or just getting your family eating and out of the kitchen while you prepare a main dish. If you're serving a crowd that includes vegetarians, you'll want to have meat free options that are more than an afterthought. While shrimp cocktails, meatballs, chicken wings and other meat-based starters are common, vegetarian appetizers can appeal to everyone, often adding flavor and healthy options to your hors d'oeuvres. And aside from introducing inclusive options to your appetizer spread, many vegetarian dishes can add lots of color and freshness that you just can't get from meat.
Read on to see some of the most appealing vegetarian appetizers you can make to impress your guests whether they eat meat or not.
Fried zucchini is a vegetarian appetizer for guests of all sizes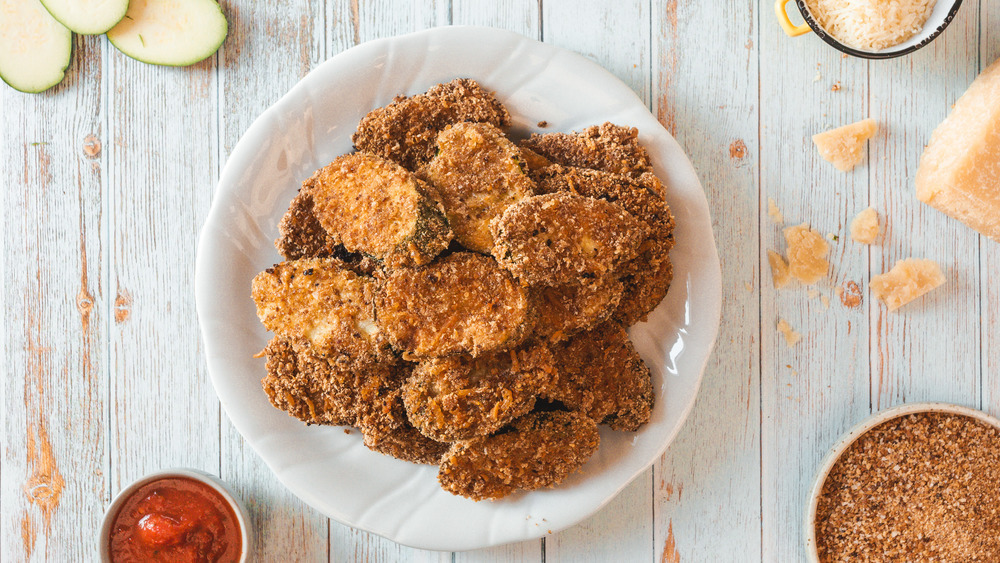 Fried zucchini is a popular Italian appetizer that's especially appealing in the summer when squash is in season. You and your guests can feel good about eating your veggies – but they're more fun to eat fried. This recipe is incredibly simple — with zucchini, eggs, flour, Parmesan cheese, and seasoned breadcrumbs with salt and pepper fried in canola oil. Just slice the squash into slices, dredge, and dip, then fry the zucchini until it's golden brown. Serve your fried zucchini with marinara sauce or ranch dressing.
Caprese salad is a refreshing and colorful vegetarian appetizer
There's something magical about the combination of mozzarella, tomatoes, and fresh basil with olive oil and balsamic vinegar. There's a lot of flavor packed into this recipe for Caprese salad, but the dish is still light enough to serve as an appetizer before your main meal. And all the color makes this salad a visually appealing addition to your appetizer spread, too. Alternatively, you could use burrata cheese instead of fresh mozzarella.
This appetizer requires no cooking and takes just 10 minutes to make, so you could plate it just before guests arrive. It's up to you how you want to serve up your Caprese salad: You can slice and stack it, dice ingredients, or even assemble them on a toothpick for easy snacking.
An easy baba ganoush for a vegetarian appetizer that's built to impress
Dips are always an appetizer hit — and baba ganoush is a smoky eggplant dip similar to hummus. It's vegetarian, vegan, and even low carb. If you've ever made hummus, you'll recognize similar ingredients in this easy recipe: olive oil, tahini, lemon juice, and spices. But instead of chickpeas, you'll use roasted eggplant and tomato. You'll also add in paprika and cumin for a smoky flavor boost.
Once the vegetables are roasted for an hour, you can mix up the ingredients in either a food processor or blender. Garnish your dip with tomatoes and parsley, then serve it up with chips, flatbread, or crudité such as red peppers, carrots, and cucumbers.
Gazpacho is a vegetarian appetizer perfect for summer
Gazpacho is a light and refreshing soup that works perfectly as a vegetarian appetizer — especially if you serve it in shot glasses. This recipe combines broiled and fresh vegetables and is served cold. It takes just 10 minutes to prep, and you can even make it ahead and freeze it, or at least stash it in the fridge for a couple hours to let the flavors meld together before you plan to serve it. It's served cold, so all you have to do is plate it and garnish before you're ready to eat.
Buffalo cauliflower wings will be a vegetarian appetizer hit at your gathering
Buffalo wings are an appetizer staple, but if you're going meatless, chicken wings just won't do. The versatile cauliflower is a strong alternative that's friendly for vegetarians and vegans alike who want the zip and spice of Buffalo wings without the meat. These Buffalo cauliflower wings are dredged in batter, dipped in spices, baked, and broiled, then served with ranch sauce for dipping.
Add a pop of color with beet hummus as your vegetarian appetizer
Vegetarian guests are likely already fans of hummus, but add beets and you'll take your hummus game to another level. Beets add beautiful, enticing color, vitamins and minerals, and a sweet, earthy flavor you're not going to get from regular hummus. To make this beet hummus, you'll start with the basic players of hummus: chickpeas, lemon, tahini, garlic, salt, olive oil, and cumin. You'll also add a medium beet to the mix, and you can add sesame seeds and chopped parsley for garnish if you'd like. Roast the beets first to bring out a caramelized, sweet flavor before you blend up your hummus. It's great served with bread, vegetable, or crackers.
Falafel collard wraps for a vegetarian appetizer that'll wow your guests
These falafel collard wraps offer a vegetarian treat that's colorful, light, and brings together a blend of flavors with Greek yogurt dipping sauce.
You'll start by making falafel and baking the balls for about 30 minutes until they're golden brown. While they're baking, you can put together your tzatziki sauce and refrigerate it. Next, you'll steam the collards to turn them bright green and soften them, then cut the stems out. Finally, wrap it all up: the falafel, optional hummus, sliced bell peppers, and tzatziki on the softened collard leaves, and serve with tzatziki for dipping.
Mini frittatas are an adorable and versatile appetizer dish for ovo-vegetarians
Served in bite sized portions and easy to make ahead of time, mini frittatas make a great brunch appetizer for ovo-vegetarians – who avoid meat, fish, and dairy, but do eat eggs. And with vegetable and cheese in the frittatas, you can make a versatile vegetarian bite that's low carb, too. Add caramelized onions and herb soaked broccoli to your egg mix, then bake until the edges are browned — about 12 minutes. They pair well with a warm salad or breakfast foods, such as muffins or bagels.
Cabbage steaks for a quick and healthy vegetarian appetizer
Cabbage isn't an especially popular vegetable, but it's light and highly nutritious – and particularly tasty when it's roasted as a cabbage steak. Plus, with just three ingredients and a prep time of five minutes, you can put together an impressive vegan appetizer with low effort and an even lower price. All it takes to make cabbage steaks is a head of cabbage, olive oil, and garlic powder, so you probably just need to add cabbage to your shopping list to plan this appetizer. A head of cabbage makes about six to eight rounds, and most of the work is just cutting it up and placing it in the oven.
Cucumber tomato salad is a vegetarian appetizer that's easy yet delicious
Salads can bring color and freshness to your appetizer spread, and this cucumber tomato salad certainly delivers. It's easy to chop up and prepare, and tastes better if you prep it ahead of time and give it some time in the refrigerator to let the vinegar slightly pickle the vegetables before you serve it up. There's a lot of crunch, texture, and flavor, especially if you use the freshest vegetables you can find. The dressing is incredibly simple: You'll just combine red wine vinegar, olive oil, and salt and pepper.
Mozzarella sticks are a vegetarian appetizer the whole party will enjoy
Mozzarella sticks are a classic appetizer whether you're a game day host or just looking for a fried cheesy fix. Yes, you could hit the frozen aisle, but these are easy enough to make at home and offer more flavor than you can get from a grocery store freezer. Plus, you get more control of the ingredients, which can be helpful if you want to opt for gluten free breadcrumbs, or add some extra spices to the breading.
These are another appetizer that you can make ahead and serve up later: Just freeze uncooked sticks and fry them for about 10 minutes, and they'll be ready to eat. You can serve them with pretty much any sauce — marinara sauce is a classic choice, but you could try salsa, BBQ sauce, sour cream, and more.
Copycat Outback Bloomin' onion is a vegetarian appetizer that everyone will enjoy
Outback Steakhouse sells millions of Bloomin' Onion appetizers every year, and it's no surprise why: They're deep fried, tasty, and a crowd pleaser even among those who don't eat meat. Making a copycat Bloomin' Onion at home might seem a little intimidating, but it's surprisingly simple and doesn't call for any special equipment or ingredients. Choose a sweet onion, season your flour, cut the onion into a bloom, and batter it before frying in a large Dutch oven.
Chia seed pudding for a vegetarian appetizer that can double as dessert
Chia seed pudding can bring a healthy, colorful, and sweet treat to your vegetarian appetizer spread. The seeds are exceptionally healthy with proteins, fiber, antioxidants and omega-3 fatty acids. You can make these ahead of time if you'd like, but you don't have to. They take just one minute to prepare and 10 minutes to cook — and you can serve it up right away without refrigeration. Just combine milk (dairy or plant based) with chia seeds and honey. You can add vanilla extract if you'd like, and top with fresh fruit, more honey, chocolate, or other garnishes.
Asparagus Gruyere tart is a vegetarian appetizer upgrade
This savory tart puts asparagus front and center, and it's very simple to make. Find fresh asparagus and turn it into an impressive appetizer with this asparagus Gruyere tart. It has a flaky crust, lots of cheese, and lovely green stalks for visual appeal. Plus, it comes together quickly with frozen puff pastry. Bake the puff pastry, assemble the ingredients, and bake about 20 minutes before serving. All in all, it takes less than an hour to make this gorgeous vegetarian appetizer.
Bruschetta is a vegetarian appetizer classic
Bread is a versatile, friendly appetizer that's easy to please crowds. Whether you're serving them as an appetizer or along with a soup or salad, it's hard for guests to resist the power of bruschetta – it is, after all, bread bathed in garlic. Preparing bruschetta is simple: slice the bread, broil, then rub mashed garlic on top and brush it heavily with olive oil before topping off with salt. If you want to take it up a notch, you could add pesto, chopped tomatoes, and other classic bruschetta toppings.
Jalapeno poppers for a vegetarian appetizer with a kick
Jalapeno poppers are a classic appetizer. Although they don't exactly have the health appeal of salads or hummus, they are a vegetarian option when you omit the bacon and can please a crowd of herbivores and omnivores alike. Spicy, savory, and creamy all at once, these poppers are easy to prepare and fun to eat.
Cut open and scrape the jalapenos — ideally wearing gloves — then fill with cream cheese spiced with Sriracha sauce. If you're omitting bacon to make vegetarian poppers, you could mix in a vegetable for a little interest, such as green onions. Coat the peppers in breadcrumbs, then bake for about 20 minutes.
Pierogies are a hearty vegetarian appetizer for all seasons
Comfort foods make great appetizers, and it's tough to beat a mixture of potatoes and cheese in a chewy dough on comfort. These pierogies might seem intimidating to make, but they're within reach for home cooks and come together with simple ingredients: potatoes, flour, egg, olive oil, onion, butter, sour cream, and strained cheese.
You can make your own dough and work on the filling while it rests. A round cookie cutter makes it easy to cut out the dough and add the filling. Boil pierogies until they float, then serve with browned onions and sour cream. This recipe makes enough for a party, or for you to freeze extras to enjoy later.
Spanakopita is a vegetarian appetizer that's easier to make than it looks
This spanakopita might seem like an intimidating dish, but it takes less than an hour to put together. And with layers of flaky dough and bright green spinach, it looks really impressive when served as an appetizer. Store bought phyllo dough, spinach, onions, feta, and Greek yogurt are the major players in this recipe.
Start out with a layer of phyllo dough, pour your spinach mixture on top, then add another sheet of phyllo dough. You'll repeat this process until you have eight layers of phyllo with the spinach layers sandwiched in between. It bakes for about 25 minutes and is ready to serve about 10 minutes later.
Naan is a vegetarian appetizer that's addictive and great for dipping
This freshly made naan can add a lot of carb comfort to your appetizers without a whole lot of work. Although prep time takes two hours, most of that is resting the dough — it takes just five minutes to cook the naan up in a frying pan once the dough is ready.
Naan is naturally vegetarian, and it can be vegan if you use plant-based yogurt. You can serve this bread up brushed with melted butter and herbs, or as a dip delivery system.