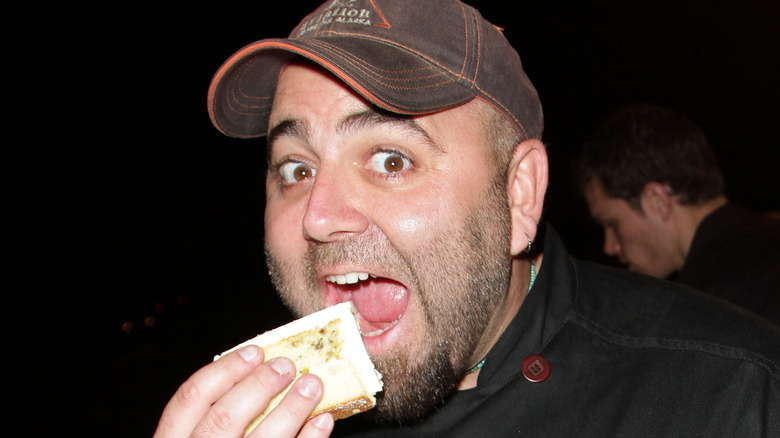 In 2006, a new TV star named Jeffrey Goldman or, more informally, "Duff", emerged from the Food Network. It was, at the time, a pretty unlikely place. That narrative reality series, "Ace of Cakes," concerned the activities and personalities of Charm City Cakes, a modest and inventive Baltimore bakery. That's where Goldman and his crew of equally affable bakers, designers, and office personnel took a throw-it-at-the-wall-and-see-what-sticks attitude and often got some magical results. Duff's team produced gorgeous, elaborate, and seemingly impossible cakes, masterfully crafted and decorated at museum level quality for high-end clients. Duff Goldman especially was an instant hit with "Ace of Cakes" viewers. He's a gregarious, approachable guy who is as layered as his cakes are, not to mention a pastry chef who knows his way around metal fabrication equipment.
With Goldman at the helm, "Ace of Cakes" established the beats and tropes of reality TV and food-oriented shows, helping Food Network move into a new era of programming beyond what had become pretty de rigeur cooking demonstrations. It all seemed surprising and abrupt, then, when the channel shuttered "Ace of Cakes" in 2011. A decade on, there are some answers and explanations for why Goldman's smash-hit reality show had to conclude.
"Ace of Cakes" ran its course, and ran it quickly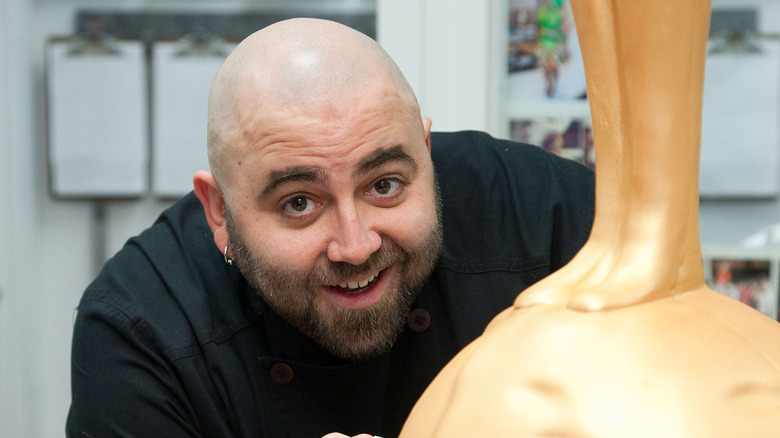 According to The Hollywood Reporter, it was officially game over for "Ace of Cakes" in November 2010. Duff Goldman, the show's star and proprietor of Charm City Cakes in Baltimore, Maryland, left a statement on his company's website confirming the news that Food Network had shared with outlets.
Goldman also revealed that the series had long finished production on what would ultimately be the final season of "Ace of Cakes." That batch of episodes represented season Ten of the popular cake-based reality series, a finale that would bring the total "Ace of Cakes" episode count to 116 episodes.
Now, that's a lot of hours of television about the behind-the-scenes activities going on at a small cake bakery. So, many have concluded that "Ace of Cakes" may have just might run its course. There just weren't too many cake-related premises the show couldn't possibly have left unexplored after a given point, at least not without getting ahead of itself or jumping the shark, cooking show-style. The cast and crew also produced a voluminous amount of material in a relatively compressed time period, given that "Ace of Cakes" baked up more than 100 episodes over the span of just five calendar years.
For Duff Goldman to work elsewhere, "Ace of Cakes" had to end
In the first decade of the 2000s, Food Network found a level of popularity it had never seen before. It began downplaying its traditional lineup of cooking shows somewhat in favor of the booming phenomenon of reality programming. Reality shows told sitcom or soap-style narrative stories, but crafted them around compelling characters who also happened to be real people.
Food Network stars became bonafide TV stars in this fashion, and one of the biggest breakout personalities of the Food Network in the early 2000s was Duff Goldman. He was an easy-going, self-deprecating, but also remarkably talented cake-baking star. It's no surprise that, after more than 100 episodes of "Ace of Cakes," the Food Network was eager to exploit Goldman's celebrity and also allow the newly minted star to stretch his creative muscles.
When confirming the cancelation of "Ace of Cakes" to The Hollywood Reporter, Food Network's general manager Bob Tuschman said that it wasn't all over for Goldman. Indeed, he mentioned that the channel was in the process of developing some new shows that would revolve around the star baker. Over the next few years, the cake master would be all over Food Network, both as a producer and as an on-air personality. In addition to appearances on "L.A. Sugar" and "The Best Thing I Ever Made," Goldman served as a judge on "Donut Showdown" and "Kids Cook-Off" and hosted "Duff Till Dawn," "Sugar High," and "Cake Masters."
The cake show phenomenon was petering out
In November 2010, right around the time that Food Network formally canceled "Ace of Cakes," the NBC sitcom "30 Rock" (for which Duff Goldman once made cakes as a prop and for a cast party, per IMDb) featured an exchange in which Liz Lemon (Tina Fey) claims that the most intelligent thing she ever said came out of her mouth was "three years ago, when I said there should be more TV shows about cake."
The joke poked fun at cake-loving Liz Lemon and also at the TV cake show fad. Around that time, viewers had their pick from "Ace of Cakes," "Cake Boss," "Fabulous Cakes," "Amazing Wedding Cakes," "Sweet Genius," "Cupcake Wars," Ultimate Cake Off," "Staten Island Cakes," and "The Cupcake Girls," to name only a bare few from a very crowded pack.
That's a major saturation of entertainment about one subject, to say the least. And, as happens often to any fad that comes on quickly and intensely and hangs around for a while, it eventually began to wear out its welcome. Audiences and consumers often look away from the fad they once heavily embraced. When that happens, it's usually the end of the line for a former craze. This is what happened with cake television, as the cakes-on-cable-TV fad faded as the first decade of the 21st century came to a close. Late 2010 was thus a natural time for "Ace of Cakes," which helped start the craze, to end.
Duff Goldman had a lot of work to do
After showing off his amazing cake-baking and cake-decorating skills over dozens of episodes of "Ace of Cakes," Duff Goldman became quite famous. Ultimately, his name became synonymous with high-quality and seriously well-regarded desserts. As an expert on all things cake, he naturally became a very in-demand figure in the worlds of food and food business by 2010, when "Ace of Cakes" was on its way out. All of his side ventures took up a lot of time and energy that otherwise would have been devoted to "Ace of Cakes," at least so long as it had remained in production.
Few things are more time-consuming and labor-intensive than expanding a business, however, and Charm City Cakes was booming. According to the Baltimore Sun, Goldman put in the effort to meet the demand for his creations by opening new branches of his flagship bakery. In 2011, Charm City Cakes West opened in Los Angeles and, six years later, he added a second Baltimore outlet.
He also partnered with Gartner Studios to launch The Duff Goldman Collection, 70 cake baking and decorating products sold exclusively at the arts and crafts chain Michaels. Goldman also expanded his cake empire into ice cream, according to Eater. He appeared on the packaging for a series of Blue Bunny flavors inspired by famous cake varieites, including Chocolate Lovers Triple Chocolate Cake, I Do I Do Wedding Cake, and Red Carpet Red Velvet.
The "Ace of Cakes" cast got too good at making cakes
One of the same reasons why "Ace of Cakes" ended also serves as an explanation as to why a reboot of the reality series is probably not in the cards. By the time "Ace of Cakes" debuted in 2006, Duff Goldman's Charm City Cakes had only been around for four years. By all accounts, Goldman was a professional neophyte, as were most of his employees and colleagues. Their innate fly-by-night attitude and gregarious, charming lack of experience are what made the show so special and eminently watchable.
"The thing about 'Ace of Cakes' was, I didn't know what I was doing, right? I'd never worked in a cake shop before," Goldman told Mashed in 2021. "So everything we were doing on that show, we were just making it up." Viewers clearly loved it.
The many entertaining baking mishaps that ensued — quite a few of which were caught on camera — came about because, as Goldman simply said, "we were learning." All told, "Ace of Cakes" was a show about people figuring out how to operate a business at every level. After ten seasons, Goldman and company had figured it out, making Charm City Cakes one of the top bakeries in the country. Yet, this wouldn't make for a show as interesting as early seasons of "Ace of Cakes." "It was a very special time and place that I'm just not sure we can ever really recreate," Goldman explained.