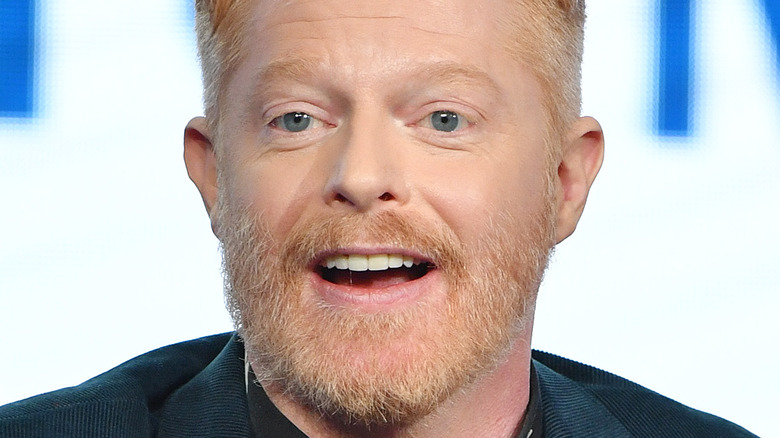 Sometimes good things aren't meant to last. Other times, they are meant to run for nine seasons, amass 200 episodes, go off air, and be rebooted eight years later. Such is the case with what is arguably the most purely "good" show on TV, "Extreme Makeover: Home Edition." This all-American gem began airing on ABC in 2003, where high levels of public interest secured its coveted Sunday night slot, as noted by The Hollywood Reporter. There, each hour-long installment averaged around 15.8 million viewers and absolutely captured the heart of the nation.
During its first run, host Ty Pennington and co. renovated over 200 houses, shocking families over and over again in the wake of his signature, "Move. That. Bus!" They eventually branched out into daycares, schools, and firehouses too. In the final season, the show even got fancy with their special guests (hello, Michelle Obama and Kim Kardashian). In 2020, HGTV picked up where Pennington left off, bringing a new team of designers and a few fresh twists to their reboot. Read on to learn more about what the cameras aren't capturing on the "Extreme Makeover: Home Edition" reboot.
Just how real and life-changing are the renovations?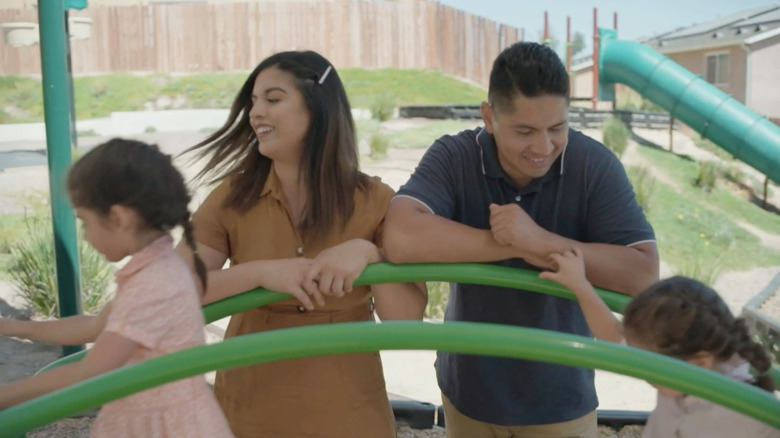 We know, we know: the emotions run heavy on this reality TV classic. But, as anyone even remotely familiar with the genre knows, they are designed to peak and flow in exactly the way they do on camera. Still, the true test of just how real any given reality show is ends up being not how moving an episode is, but how long those emotions actually endure once the cameras switch off.
According to one of the reboot's designers, Darren Keefe, when it comes to "Extreme Makeover: Home Edition," the gratitude for renovations is so authentic that audiences might even be missing some of it. To the Los Angeles Times, he described seeing Jeff and Emily Holtzclaw, a couple from the show whose home had just been renovated, "sitting on the front porch looking into each other's eyes," adding, "And it wasn't part of the television show, just these little moments that kind of sneak up on you. They didn't have to say anything. It was such a beautiful moment, this recognition that everything was going to be OK."
Extreme Makeover: Home Edition wants to avoid making the original show's mistakes
When it came to happiness lasting long after the camera crew left, the original ABC version of "Extreme Makeover: Home Edition" struggled. The problem became widely reported on: when families finally settled into living in their beautiful new homes, many couldn't afford to stay. Between higher taxes, utility bills, and upkeep, what started as a dream became a costly burden for people who were often already scrambling.
Designer Carrie Locklyn addressed this problem directly when speaking to the Los Angeles Times, explaining that the reboot has taken a more proactive approach to ensuring the new homes are helpful and not ultimately harmful to families. "We were very aware and took precaution in creating homes that they could stay in and grow in. And ones specific to their needs, so they didn't have that kind of shock value going into the house," she said. She also noted that the show went even further to help families' financial situations by offering college scholarships and installing solar power technology.
Here's who's actually watching Extreme Makeover: Home Edition
We don't know about you, but when we used to settle in to the original "Extreme Makeover: Home Edition," it was a full-family show. Perhaps it was just the nature of it being on broadcast television on a Sunday night, but we would pile onto the couches all together with bowls of popcorn, ready to watch the new episode and inevitably watch Mom cry at the end.
According to the numbers, the audience for the reboot of "Extreme Makeover: Home Edition" looks a little different. The premiere, which went live on HGTV on Sunday, February 16, 2020, raked in 4.2 million viewers, with three days of DVR catchup included in that number, according to The Wrap. This put it well within the top five cable programs for that night and time slot, and it was also within the top five for "upscale" (or "wealthy") people in the 25 to 54 year-old demographic.
As The Wrap went on to report, the series was particularly popular with "upscale" women between 25 and 52, ranking in the top three cable shows in its time slot. To us, this tracks with HGTV's typical audience.
The application process is actually pretty simple
As any "Extreme Makeover: Home Edition" fan knows, the show is formulaic — in the best way possible. When you flick on an episode, you can depend on it following the same soothing narrative structure, from the family's video submission explaining why they need a home makeover to the surprise construction crew drop-in — and all the way through renovations to the final "Move. That. Bus!" What we don't see, though, is the nitty-gritty of the application process: The moment a person sits down at the computer with the intention of nominating themselves or another for an extreme home makeover.
It turns out, that process is less involved than we thought it might be. According to House Beautiful, hopefuls simply submit a 50-question application, hand over everyone in their family's social media handles, and upload one or two optional videos introducing the family and showing producers around their house. Applicants also have to note what make their circumstances different than others' and list five major repairs their home desperately needs. Not so bad, considering the potential reward!
The hosting gig came as surprise to Jesse Tyler Ferguson
When rumors started swirling about the potential comeback of "Extreme Makeover: Home Edition," many fans suspected its return might be synonymous with that of Ty Pennington's, who hosted the original nine seasons from 2003 through 2012. In a shock to everyone — including the new host himself — HGTV went a different route, approaching actor Jesse Tyler Ferguson to helm the ship instead. Ferguson was surprised by the offer, as he explained to Us Weekly – reality TV was a twist from what he'd been preoccupied with previously (11 seasons of ABC's hit show "Modern Family"). Despite the vast differences, though, Ferguson said committing to the show seemed like "a no-brainer."
"A show like this has such an amazing human connection story," he said at the time. "There's just so much negative news in our world, so I'm excited for people to see heartwarming stories and humans helping each other and being selfless."
It was surprising to Ty Pennington as well
Viewers and Jesse Tyler Ferguson weren't the only ones surprised by HGTV's decision to switch up the "Extreme Makeover: Home Edition" hosting gig: The news also came as a shock to former host and fan-favorite alum Ty Pennington.
He took to Instagram to explain his reaction in August 2020, first referencing the then-ongoing pandemic and then proceeding to preface his reaction with the understanding that he had only lost a job — many people at the time were losing everything. According to his post, when HGTV asked him to come back, it was just as a "special guest." They told him that they'd given his job to Jesse Tyler Ferguson, a change that incited some serious self-doubt, confusion, and pain for Pennington. He captioned his post with these confessions, admitting that his "ego took a huge punch," but then added that he eventually had a realization.
"The job was never about me! It was about one lucky person, being helped by an amazing team, and making a difference in a community," he shared, adding, "Honestly, it WAS and always will be, one of the best experiences I've ever had. Every single person involved is affected by the positive impact it has on the family."
But Jesse Tyler Ferguson and Ty Pennington didn't let it get between them
Eventually Ty Pennington did return to "Extreme Makeover: Home Edition" as a "special guest"; he agreed to be a part of an episode that aired in March 2020. He explained that coming back was akin to a family reunion for him, since most of the producers, carpentry people, and behind-the-scenes staff on the show have remained the same. He traveled the country with them for 10 years, so, as he pointed out when promoting the show, the bonds are very real.
In an Instagram post, he elaborated about his decision to return, which apparently was a bittersweet one. He added, "I have to say, watching someone else do my job, really made me appreciate the incredible opportunity I was given back in the day. And how lucky I was that it came so naturally to me, and how much I loved being part of an amazing team!"
Jesse Tyler Ferguson appreciated the olive branch of sorts. He told Us Weekly, "Knowing that he's such an accomplished carpenter and knowing that I'm not, I love that he's given me his blessing."
Jesse Tyler Ferguson gets genuinely close with the families he helps
Since Jesse Tyler Ferguson stepped into the "Extreme Makeover: Home Edition" role, he's been doing a genuinely incredible job, taking care to connect with the families he meets off-screen as well as on. While the role of host is demanding and busy, Ferguson told The Wrap that he takes care to actually spend time with the people whose home renovations he's helming. In these more intimate, hours-long discussions, which simply can't make the final cut for timing purposes alone, he develops a deep understanding of the family's unique struggles. Then, after the taping wraps and the crew heads out, leaving the family with their brand-new renovation, Ferguson continues to keep up with them.
"I follow them all on social media and I keep in touch and it's like they've become friends of mine," he said, at the end of taping the first season of the reboot. "It's a reminder to me that I don't always have to worry about all the things that I've been worried about for the past 11 years. The majority of people are good people."
Many of the cast members had roundabout ways by which they got to the show
Jesse Tyler Ferguson wasn't the only new cast member brought on by HGTV. The new design team includes Breegan Jane, Darren Keefe Reiher, and Carrie Locklyn, all of whom found their way into home renovations in a bit of a circuitous manner. Locklyn, for example, left her hometown of Cape May, New Jersey, at 17 to pursue acting and dancing professionally, as she shared with The Press of Atlantic City. She ended up working on luxury cruise lines, and was even a dancer on one of Mariah Carey's tours. "I did organization and decor as a side job. It became my main job once I stopped dancing. I have a passion for organization and design," she told the publication.
Reiher, meanwhile, came to "Extreme Makeover: Home Edition" by way of Ireland and then Los Angeles, where he originally moved to try acting for a live (via House Beautiful).
Jane, on the other hand, got her start in marketing as a creative director for a company that made extravagant yachts.
Extreme Makeover: Home Edition has ties to your other favorite shows
The production company behind the reboot of "Extreme Makeover: Home Edition" is called Endemol Shine. It helmed the series, helping it land at HGTV. If their name sounds familiar to you, it's probably because you've seen it many times in the credits of a smattering of your other favorite shows. Yes, Endemol Shine is the powerhouse behind iconic hits on a wide variety of networks, as Deadline noted. Perhaps most recognizably, it produces the legendary TV staple "Big Brother" on CBS.
But their empire goes far beyond just "Big Brother" and "Extreme Makeover: Home Edition." The company has produced "Wipeout" on TBS, "Lego Masters" on Fox, and "Foodtastic" on Disney+. An apparent fan of reboots, it also helped launch the reboot of "The Biggest Loser" on USA Network. Endemol Shine also produces the reality TV series "MasterChef" and "MasterChef Junior," both on Fox.
The reboot's first season filmed just in the nick of time
As anyone with even a slight handle on the entertainment industry knows, the coronavirus pandemic was less than ideal for television production. That's actually an understatement, as COVID-19 absolutely toppled the business, bringing almost all production to a forced halt for months on end.
Luckily for "Extreme Makeover: Home Edition," they were one of the fortune batch of shows that reaped both the benefits of both filming just in the nick of time before the pandemic began and also airing largely during the early pandemic, when everyone was beginning to quarantine. It turns out that people staying in their homes and having nothing to do bodes well for reality television viewership.
The reboot began prepping in May of 2019, and filming began in August, according to The Press of Atlantic City. Thankfully, they were able to piece together 10 episodes before the pandemic changed everything.
Extreme Makeover is on a tight timeline
While 10 episodes may not sound like a lot, the reboot of "Extreme Makeover: Home Edition" went at lightning speed to film those 10 episodes in just two months. The show turned their cameras on in August 2019, and, in an impressive hustle, the season wrapped by November, according to The Press of Atlantic City. Filming more than one episode a week is nothing to shrug off.
The show's production schedule was presumably made easier by their commitment to staying on the West Coast, at least for the first season of the reboot. The show filmed between California and Utah, and the series was opened up to new kinds of people who might need a renovation like renters and people planning on relocating. As Brady Connell, an executive producer on the show, explained to Daily News, "If there is a family out there and they have a home that just doesn't work for them anymore and it just needs to be remodeled, that is something we're looking at doing. It doesn't have to be a knockdown."
All around, with so much to coordinate in just a couple of months, we think the team behind "Extreme Makeover: Home Edition" is pretty impressive.
Families actually don't know they've been chosen until the crew shows up
Everyone wonders the same question about reality TV: How much of this is actually real? When it comes to "Extreme Makeover: Home Edition," in particular, the most questionable part has always been the "surprise" element at the top of the show. We've all had discussions about this, asking in equal amounts disbelief and awe, "This family really had no idea an entire construction and camera crew was about to show up at their house and tear the whole thing down?" After all, what if they had a party planned the next day? What if they had houseguests?
Turns out, we had nothing to question. While families don't officially know that they have been chosen for an extreme home makeover, they are told that they're in the running. As Pedro Jauregui, a makeover recipient, explained to the Daily Bulletin, his family knew they were being considered. But it wasn't until Jesse Tyler Ferguson showed up at his door, crowd of volunteers in tow, that they knew they'd been chosen. Still, we wonder if they're given a heads up when the show's team is heading over.