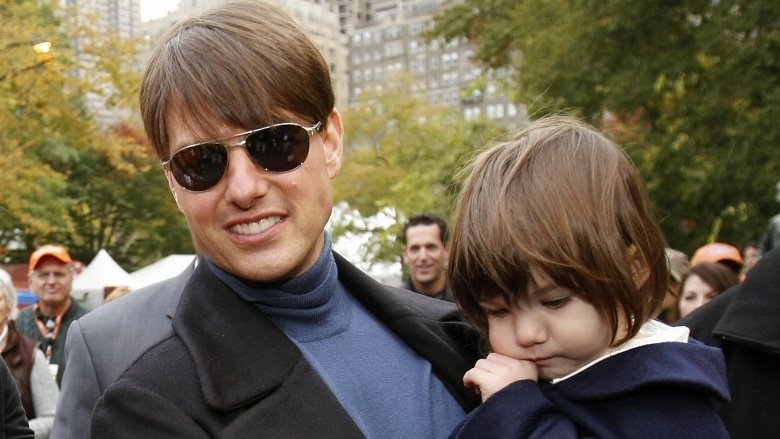 Tom Cruise allegedly hasn't seen his beloved (and infamous) daughter Suri, whom he had with ex-wife Katie Holmes, in a really long time—we're talking years, according to the tabloids. What's going on? Here's what the tabloids have claimed.
Is he not interested?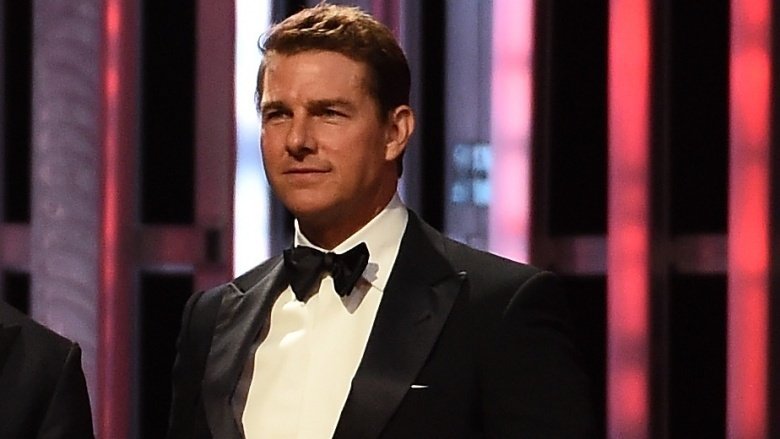 A source told the National Enquirer (via The Sun) in 2015 that Cruise just isn't present, physically or mentally, for Suri. "He doesn't seem interested in being part of Suri's day-to-day life. Katie does her best to be a hands-on mom, but there's no replacing her father."
According to a 2016 report in Us Weekly, sources claim, "Tom hasn't seen or even called Suri in about three years," and has "no relationship" with her. Insiders also told InTouch that Cruise has been in very close proximity to his little girl without actually seeing her. A source told the mag that in July 2015, "[Cruise] was just blocks away from Suri [in New York City] and he didn't spend a moment of time with her…there was no connection made with Suri that day."
He's super busy
Cruise's career has surged in the last few years. After the success of Jack Reacher (2012), he starred in the critically acclaimed Edge of Tomorrow (2014), followed by Mission Impossible: Rogue Nation (2015). The film Jack Reacher: Never Go Back (2016) raked in more than $100 million at the box office in less than two weeks, and in 2017 alone, Cruise starred in both The Mummy and American Made. If that wasn't enough, he's slated to star in M:I 6-Mission Impossible (2018), Luna Park, and Top Gun: Maverick (2019).
A source told InTouch Cruise missed Suri's 10th birthday in April 2016, making it the third in a row he's supposedly skipped. "[He was] in the middle of filming The Mummy and couldn't tear himself away," the insider said. "It's his usual excuse."
With a work schedule that hectic, it's not surprising the actor hasn't had a ton of time to dedicate to his daughter. Cruise himself admitted as much in 2013 during a deposition pertaining to his lawsuit against Bauer Publishing. During the legal proceedings, Cruise claimed his intense work schedule was the reason he had not seen his daughter in more than 100 days.
TomKat's alleged custody situation
Following their 2012 divorce, Cruise and Holmes reportedly reached an agreement that gives Holmes primary custody of Suri. A source told Us Weekly that the actress initially requested sole custody but compromised in the final agreement. "Tom will be allowed to see Suri, but there will be guidelines for the visits… There are a lot [of provisions] there… From what I heard it was complicated, and one of the provisions is confidentiality."
Scientology may be getting in the way
Cruise's dedication to the Church of Scientology may play a role in his alienation from Suri. A source told InTouch, "Suri hasn't been labeled a 'suppressive person,' but Katie has, and her closeness to her daughter likely makes seeing both off-limits to Tom." A "suppressive person" in the Church of Scientology is essentially anyone who dares to defect from or speak out against the church. A former member of the Church of Scientology told the National Enquier (via the Daily Mail), "It's possible Tom won't see Suri because he thinks Katie and her family are speaking negatively about Scientology."
In an episode of Watch What Happens Live, former Scientologist Leah Remini told host Andy Cohen, "The policy with the church is that you can't be connected to someone who has committed a suppressive act, which I have, which Katie has."
Holmes is dating Cruise's pal
For years after his split from Holmes, Cruise seemingly stayed single, but she has since moved on…with one of his friends. Page Six reported that Holmes and Cruise's pal, actor Jamie Foxx, have been dating on the sly since 2013.
Holmes is "head over heels for him," a source told Page Six in 2015. "But they don't want to fuel any of the rumors so Jamie has been avoiding attending parties she's been going to… Katie and Jamie have a fun and playful relationship and have gotten even closer in the past few months. Suri gets along with him super well, too."
After years of dodging the tabloids, Holmes and Foxx finally took their relationship public-ish in September 2017 with a trip to a beach in Malibu, where they were photographed holding hands.
He's private
While Cruise and Holmes have never publicly commented on his relationship with Suri, it may be that he has seen her, and that the paparazzi simply haven't caught their interactions. InTouch notes that the last time Cruise was seen publicly with Suri was in September 2013, but that doesn't necessarily mean he hasn't seen her privately, away from prying eyes. In fact, TMZ reported in 2015 that Cruise had spent plenty of time with Suri.
The action star and his other children (Connor and Isabella, adopted with ex-wife Nicole Kidman) rarely get papped in their everyday lives, so it makes sense that he may be extra protective of Suri's privacy as well.
Is Cruise turning things around?
Rumor has it Cruise finally reunited with Suri over the summer in 2016. According to Us Weekly (via the Daily Mail), the actor "had her flown to England to spend five days with him" and celebrate his 54th birthday in July 2016.
Us Weekly also alleged Cruise was dating an unnamed British woman he met while filming The Mummy. "He's serious about this relationship and wants to make it work," an insider told the tab in October 2016. "Tom wants some companionship."
Alas, those rumors may just be rumors after all. "Nothing has changed," reported Gossip Cop in October 2016. "They remain out of contact as they have for years now." A rep for Holmes reportedly told Gossip Cop the Us Weekly story was "false."
Most recently, in September 2017, InTouch reported that Holmes had reached out to Cruise "in the hopes of opening a dialogue about resuming contact with Suri." Again, these are just rumors.
What about his other children?
While Connor and Isabella's relationship with Kidman is currently up for debate, it would appear Cruise has maintained a seemingly more significant role in their lives.
In October 2015, People reported that while Cruise did not attend Isabella's secret nuptials, he paid for the wedding and the party. Connor reportedly visited Cruise on the set of Jack Reacher in January 2016 and had only positive things to say about his dad later that month.
What could be the reason behind allegedly choosing to bond with two of your kids, but not the third? Like all families, we're guessing the backstory is pretty darn complicated. Regardless, Suri seems to be doing just fine, with or without her dad.
Keep reading for an inside look at Suri's fabulous life with her mom, who is striving to give this Hollywood kid a "stable, innocent childhood."
Suri is bicoastal
While Holmes extolled the joys of raising her daughter in New York City, the actress purchased a home in Calabasas, Calif. in 2014, relocating to the West Coast after living full-time in New York City since 2012. The move supposedly happened so Holmes could more intensely focus on her acting career, but some sources say she decided California was a better environment for her daughter.
It's not totally clear if they're in California for keeps. In 2015, Holmes reportedly began renting a $25,000 per month penthouse in the Chelsea neighborhood of New York City. The mother-daughter duo has also been spotted in and around Manhattan in recent years, where Suri has done everything from hail her own cab to (Gasp!) take the subway.
"There is so much at your fingertips," Holmes said of New York City in 2016. "I love [the Museum of Modern Art]," she says. "We just saw the Picasso exhibit. And the Met, of course, I love the gallery district, the Natural History Museum."
She's in school
Suri was a student at The Avenues, a private K-12 school located in New York's Chelsea neighborhood. She reportedly attended the school, which comes with a price tag of more than $45,000 a year, beginning in 2012. The Avenues boasts cutting-edge technology and esteemed faculty. The Avenues reportedly requires each student to become proficient in a foreign language, with immersion beginning in nursery school, and emphasizes study abroad. The school opened a branch in London in 2016, and the city's elite are undoubtedly clamoring for spots.
Suri's attendance at the school initially worried parents, what with the constant media presence, but now that she is supposedly back on the West Coast, things have likely returned to normal. She was spotted wearing a school uniform while out with her mom in October 2016, so she's undoubtedly attending another fancy private school in the Los Angeles area.
She loves Broadway
When you're the daughter of an actress growing up in New York City, it's inevitable that you're going to fall in love with the theater, and, indeed, Suri has attended her fair share of Broadway shows, including Cats, School of Rock, and Kinky Boots. In July 2017, Holmes and Suri saw the insanely popular high-school musical Dear Evan Hansen, then hung out with the show's Tony-winning star, Ben Platt, backstage.
She spends time with her mom's family
Holmes is the youngest of five siblings, so Suri has reportedly spent time bonding with family in her mom's native Ohio. Mid-divorce in 2012, Holmes took Suri to the local mall, and on an ill-fated trip to a park in Toledo in 2013, Suri suffered a broken arm while cartwheeling down a hill. For Thanksgiving 2016, the family made a visit to Toledo's Dave and Buster's for a video game adventure.
In August 2017, Holmes posted a picture of a family gathering to celebrate her sister's birthday. "Happy Birthday to my beautiful, courageous, fun, funny, amazing sister!!!!!!! We love uuuuuuuuuu!!!!!!!" the actress wrote on Instagram (via People) alongside a giant family photo featuring a beaming Suri.
She has serious birthdays
Suri turned 10 on April 18, 2016, and Holmes marked the occasion with more than one celebration, including a sophisticated lunch at New York City's Tavern on the Green with her friends and Holmes' parents, followed by a foray into Central Park. Suri, 50 of her closest friends, and their parents also partied at Dave and Buster's with Georgetown Cupcakes, which have apparently made an appearance at more than one of her birthdays.
On her actual birthday, which fell on a Monday, Suri and Holmes decided to go low-key when they dropped by a Crocs store to support a children's cancer charity.
For Suri's 11th birthday, her mom went all out again, with three birthday cakes, balloons galore, and adventures on the beaches of Florida with her family and friends.
She attends awards shows
If you have connections, why not work them? In 2015, Holmes took her daughter to the 28th Annual Kids' Choice Awards, where Suri got to throw around a bunch of confetti, and hang out with David and Victoria Beckhams' brood, the Jolie-Pitt clan, as well as Nick Jonas and her mom's main squeeze, Foxx. And speaking of Foxx…
She's bonding with her mom's beau
In August 2017, spies for the Daily Mail reported that Foxx had spent the day in California with Holmes and Suri after the mother-daughter pair had gone on a "back-to-school shopping spree."
"Jamie was later seen making his way through the same area to pick up some treats from a local frozen yogurt store before driving over to Katie's multi-million dollar home in his Mercedes SUV," the Daily Mail reported.
Actual photographic evidence of the trio together has yet to surface. However, given that Holmes and Fox are apparently finally comfortable taking their relationship public, could a family outing soon be next?
She's into roller coasters
Although Holmes has relocated back to the West Coast, she still seems undeterred by the press and continues to strive to give her daughter a shot at being something like your average kid. In February 2017, Holmes' nephews visited California, and the family hit the legendary Pacific Plunge roller coaster. This ride is no joke—it takes you nine stories and 150 feet in the air before plummeting back to Earth at a serious speed. Holmes' Instagram documented the trip, and Suri appears to be all smiles. It's not the first time the little lady has indulged her possible adrenaline addiction; she and her mom were seen tackling Thunder Mountain at Disneyland in 2015.
She goes to the salon
Holmes is known for her beauty and style—she's been dressed by designer Zac Posen, served as the face of Miu Miu, Ann Taylor, and Bobbi Brown Cosmetics, and started her own clothing line with stylist Jeanne Yang. As such, a day at the salon with her daughter is hardly going be ordinary. The two visited Serge Normant's salon in April 2017 and, via Holmes' Instagram, Suri can be seen fiddling with a bow in her hair.
She's political
Holmes isn't afraid to get political on social media. You can find quotes about feminism from Maya Angelou and Gloria Steinem on her Instagram, along with words from Martin Luther King Jr. and Toni Morrison. There are also numerous pictures of Hillary Clinton, whom Holmes and Suri met, at a fundraiser for Clinton's presidential campaign in December 2015.
Suri also watched the presidential debates with her mom. "It's wonderful to have my 10-year-old see a woman up there doing well and being very clear and thoughtful in her responses and in her passion for what she wants to do for our country," Holmes told People in October 2016.
Clinton's loss was apparently personal for both mom and daughter. Holmes told Jenna Bush Hager in March 2017: "I know that it hurt my child so much as a 10-year-old, and it really made me think, 'Oh we have…a long way to go as women.'"
She visits her mom on set
Suri definitely enjoys the perks of having a famous mom when she visits Holmes on set. While filming and directing an episode of The Kennedys After Camelot (2017), Suri reportedly stopped by to receive the royal treatment from hair and makeup and to sit in her very own director's chair. According to Holmes' co-star Kristin Booth, Suri's definitely not one of those nightmarish celebrity kids. "I love when she would come into the trailer," said Booth.
When Holmes appeared on Good Morning America, Suri hung out backstage with a kangaroo, courtesy of animal activist and fellow guest of the show Jack Hanna.
She is her mom's top priority
Despite her fame, fortune, and success, the Dawson's Creek (1998-2003) alum says motherhood will always be her top priority.
"This business is so unstable, and you never really know where you're going to be…" she told Town & Country in 2017. "My child is the most important person to me, and her upbringing is paramount to my work right now." She added, "I feel so blessed to do what I do, but there's nothing in the world better than watching your child succeed."
With that kind of mindset, it's no wonder Suri appears to be having the best childhood ever.