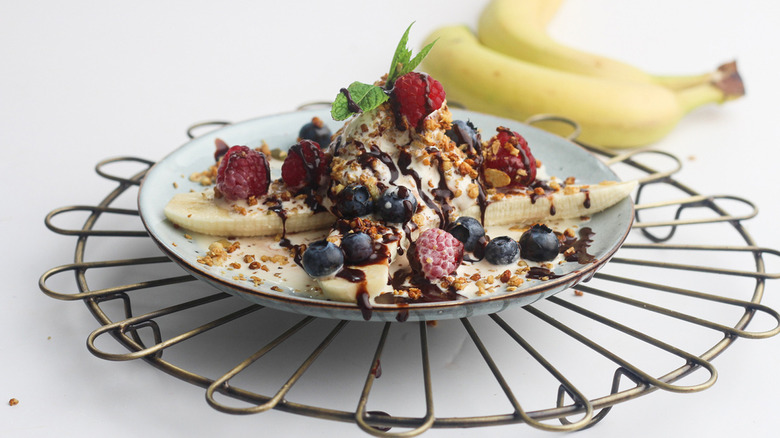 If ice cream is your weakness and you adore banana splits but can't afford the calories or insanely high sugar load, look no further than this fantastic recipe for a healthy banana split from Susan Olayinka. As a healthy living advisor and food blogger, Olayinka loves to create and convert traditional recipes into healthy versions that are easy to prepare too. It may sound odd to put the words "healthy" and "banana split" in the same sentence, but Olayinka has designed a delicious alternative to the regular banana split that isn't topped with globs of whipped cream and calorie-laden vanilla, chocolate, and strawberry ice cream.
Even sweeter than the fact that this recipe is healthy is that it only takes five minutes to assemble this masterpiece. You won't be waiting long until that first yummy spoonful. The half a dozen ingredients required are easy to find in the store and can be modified to fit your personal taste preferences. Grab a plate and a spoon, and get ready to dig into this delightfully healthy banana split recipe.
Gather up the ingredients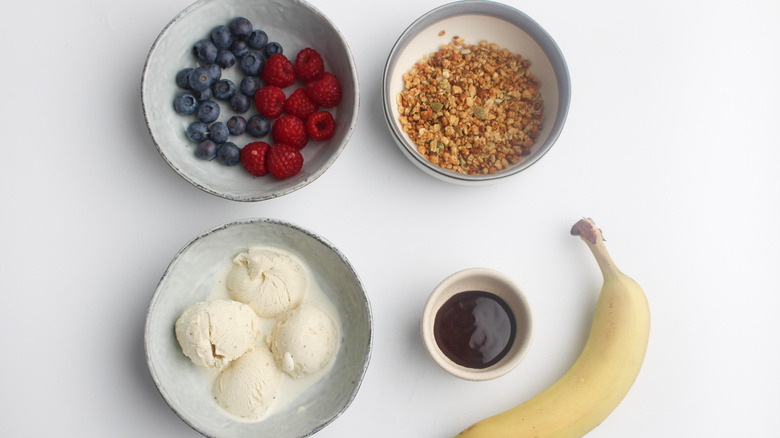 In just a few minutes, you'll have an amazing dessert ready to devour that's perfect when you're craving something sweet. It's even wonderfully adaptable for when you have guests over — just increase your ingredients by the amount of people you'll be serving. For one plate of a healthy banana split that you could share with someone — but won't want to — you'll need a banana, Greek yogurt ice cream, and fresh blueberries and raspberries. Grab some healthy granola and pick up a bottle of dark chocolate sauce, and you have all the fixings for a fabulous treat.
Is Greek yogurt ice cream really healthier?
If you're wondering if swapping out regular ice cream for Greek yogurt ice cream really makes a big difference in the healthiness of this recipe, the easy answer is yes. You'll generally find that frozen yogurt has fewer calories, calories, and saturated fat than regular ice cream. And when you take out the less-than-healthy toppings and add in some fresh fruit instead, it all adds up to be a pretty healthy dessert. Oliyanka's recipe ensures that we keep it delicious with just a hint of chocolate as well.
The easy way to split a banana
Take the banana, and slice it in half with the peel on. That's right, Olayinka wants you to slice the banana with the peel on. "Yes, it's so much easier, as I find the banana breaks without the peel on, as it's not as firm," she said. "Yellow [bananas] are always my go-to. But not with black spots."
Another surprisingly easy but messier way to halve a banana is to peel the banana first then insert your finger into the apex of the banana and add pressure. The banana will yield to the pressure and split — but often into thirds and not in half.
If you use Olayinka's method to cut the banana first, be sure to peel it next.
Smother the banana with yumminess
Lay the halves of banana on a plate face-side up and side-by-side where they touch in the middle of the plate, then top them with a hearty scoop of Greek yogurt ice cream. While Olayinka prefers vanilla for this recipe, you can use any flavor you would like, even Neapolitan style, like a traditional banana split.
"Definitely [use] any flavor, but vanilla is the best," she said. Next, sprinkle healthy granola all across the ice cream and banana slices, followed by fresh ripe red raspberries and blueberries. Olayinka also prefers a low-sugar and high-protein granola for this recipe to keep it on the healthier side.
Alternative ingredients
If you just aren't keen on blueberries and red raspberries, and that's perfectly fine — you can swap them out for your favorite fruit instead. Choose something that pairs well with the Greek yogurt ice cream.
"All berries would work well. Even cherries would do," Olayinka said. Crushed pineapple, sliced strawberries, black raspberries, and other naturally sweetened fruit could make a tasteful substitution. If you're feeling wild, try sliced peaches, kiwi slices, or even frozen grapes.
The final touch
The last step to create this delectable dessert is to drizzle dark chocolate sauce all over the bananas, Greek yogurt ice cream, granola, and fresh fruit. Opting for a dark chocolate syrup is a healthier choice than milk chocolate, and it offers a deeper, richer flavor you're sure to love if you're a chocolate lover. Adding a sprig of mint on top can add a bright pop of color to your banana split that makes it look even more appetizing.
Now, dig in and enjoy!
1 banana
½ cup Greek yogurt ice cream
¼ cup raspberries
¼ cup blueberries
1 tablespoon granola
Dark chocolate sauce
Slice the banana in half with the peel on.
Peel the banana.
Lay the banana out on a plate face-side up, then top with Greek yogurt ice cream, raspberries, blueberries, granola, and dark chocolate sauce.
Serve immediately.