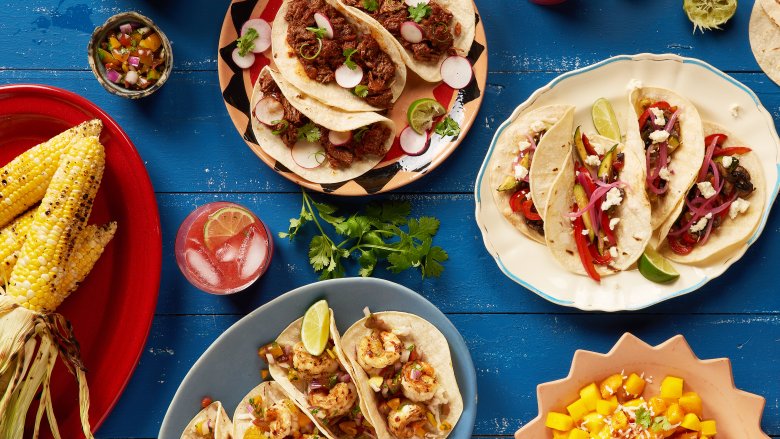 Although tortilla-wrapped meats have been gobbled down in Mexico since ancient Aztec times, the taco didn't appear in America until around the 20th century. From there, it took about 50 years before fast-food eateries started serving a fully Americanized taco with ground beef, iceberg lettuce, and a prefabricated taco shell. Glen W. Bell Jr. led the way, hawking his first hard-shell taco from his hamburger stand to a customer in 1951. After Taco Bell came hundreds of competitors, from the plucky Del Taco to the progressive Baja Fresh.
Let's be clear: there are also thousands of authentic, incredible, madre-y-padre Mexican taquerias across the U.S. This is not a roundup of those. No, this is an ode to the omnipresent, highly Americanized chains serving Mexican-inspired fast food — a cuisine that is not authentic Mexican, but delicious when devoured at 2 a.m. after una noche de fiesta all the same.
Here, we've ranked some of the very worst and very best Mexican, Mexican-inspired, Mexican-ish, and Tex-Mex fast-food chains in the U.S.
10. Chipotle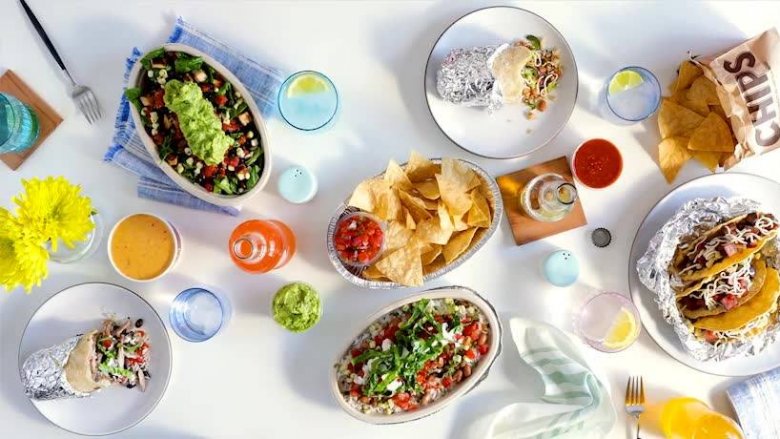 It's risky ranking Chipotle at the bottom of a Mexican-American food roundup, considering the sheer size and ferocity of Chipotle's die-hard fan club. These are fans who didn't think twice after Chipotle was hit by a series of food-borne illnesses — including salmonella, E.Coli, and norovirus — over the last handful of years. Chipotle aficionados need their fix, and "totally willing to throw up a little" to get it.
Scary puking Chipotle addicts be darned! — the truth must be told. We're not one to hold a grudge when it comes to burritos, but even after Chipotle closed its locations to talk about food safety, it's continued to be hit by foodborne illness nightmare after foodborne illness nightmare. Most recently, hundreds of people were hit with clostridium perfringen, a common cause of food poisoning, after eating at one Chipotle location in Ohio. Aye, Chipotle!
If gastrointestinal diseases aren't enough to keep you away, the annoying charges Chipotle tacks on probably won't keep you out, either. But we're just sayin': In addition to making you cough up for queso and chips, the chain notoriously charges an additional $1.95 for guacamole. To put that in perspective, that's around an extra $200 per year if you indulge in Chipotle with guac twice a week.
9. Taco Bell
Let's do a compliment sandwich (er, compliment taco?) for Taco Bell.
First, the good: As food historian Jeffrey Pilcher explained to NPR, Taco Bell was largely responsible for kicking off the obsession with Mexican food in America, a country that had until then regarded it as weird, spicy, and potentially contaminated. Had there not been a Taco Bell, would our love of tacos have blossomed as fast as it did — if at all?
Now, the bad: America's first "Mexican" chain is debatably the least Mexican joint of any on this list. Sure, there are variations of tacos and burritos that at least resemble their Mexican counterparts — albeit covered in weird, bright yellow, fake-looking cheese. But then there are monstrosities like the "Mexican" pizza and Triple Double Crunchwrap.
So un-Mexican is the menu of Taco Bell, it baffled Mexicans and had to be re-branded when the chain attempted to open a location in Mexico in 1992. Taco Bell was chased out of Mexico within two years of opening, and was chased out a second time when it attempted to open again in 2007.
To end our compliment taco with a positive: There may not be any Taco Bells in Mexico, but in here in the good ol' U.S.A, the chain was just voted America's favorite "Mexican restaurant" — though this may constitute as more of a shame on Americans as it does a compliment for Taco Bell.
8. Taco John's
Only six years after Glen Bell opened the first Taco Bell, Korean War veteran John Turner opened the first Taco John's (originally called Taco House). Turner had been inspired to open the chain after working as a McDonald's manager, if that tells you anything about the authenticity of the cooking you can expect at Taco John's. But authenticity didn't matter much at early Taco John's locations, which tended to pop up in rural areas of the Midwest where there were few or zero Mexican restaurants.
Taco John's is perhaps best known for its signature Potato Olés, deep-fried potatoes you can order topped with nacho toppings — so they're like nachos, but extra unhealthy. Like, 1090 calories and 21 grams of saturated fat unhealthy.
Beyond that? It's hard to mess up taco shells, beef, and cheese. Our biggest gripe with Taco John's is that their "crispy" tacos are often served quite soggy. Also, since 1989, the Taco John has held tyrannical reign over their trademarked term "Taco Tuesday," occasionally delivering cease and desist letters to Mexican eateries that used the phrase.
7. Taco Cabana
Like the majority of major "Mexican" fast-food chains in America, Taco Cabana wasn't founded in Mexico or by a Mexican. It was, however, founded in San Antonio, Texas in the 1970s, which is at least geographically and culturally closer to Mexico than Cheyenne, Wyoming.
Geography aside, Taco Cabana does deliver a number of attractive perks. First, it's open 24-7. Second, Taco Cabana actually serves beer, margaritas, and sangrias, which — as we all know — make even the driest tacos go down smoother. Third, the chain has a whole menu devoted to breakfast tacos, a distinctly Texas creation involving soft flour tortilla, and various combinations of eggs, cheese, and meats. And finally, there's Taco Cabana's self-serve salsa bar, which empowers you to shower your dishes with different salsas, pico de gallo, sliced jalapeno, and cilantro to your tummy's content.
So why doesn't Taco Cabana rank higher? Aside from their delicious breakfast tacos, TC dishes tend to lack the authenticity and flavor of genuine taquerias or the increased focus on fresh ingredients of many competitor chains.
6. Baja Fresh
The aptly named "Baja Fresh", on the other hand, places great focus on fresh ingredients. Opened in 1990, the California-based chain was started around the same time as competitors Chipotle and Qdoba — but is pretty far ahead in terms of clean eating.
Chipotle made a pledge to serve naturally raised meat back in 2008, and has since made certain everyone understand its commitment to "real ingredients" through its Food With Integrity campaign. But long before Chipotle launched the campaign, Baja Fresh was already serving grass-fed beef, handmade salsas, and farm-fresh ingredients. Whole foods are folded into a menu of diverse burritos, tacos, quesadillas, and salads. The chain even offers a decent-sized kids menu comprised of a quesadilla, taquitos, platter, or burrito.
Unlike the vast majority of fast-food eateries, Baja Fresh makes everything fresh, in-store from scratch. The chain prides itself in having not a single freezer or can opener in any of its restaurants.
5. Qdoba
Founded around the same time and place as Chipotle — Denver in the early '90s — Qdoba managed to develop a cult following even in the shadow of its more high-grossing competitor.
Fans know Qdoba is superior to Chipotle in several ways. Perhaps most notably, Qdoba doesn't charge extra for guac or queso like Chipotle does. And while Chipotle's version of queso was widely deemed a big fat flop, Qdoba's classic queso, by comparison, has long been lauded for its velvety texture and smoky taste. And as Chipotle deals with menu fatigue, Qdoba keeps it fresco with a more diverse menu of tacos, taco salads, burrito bowls, nachos, soups, and even breakfast at participating locations.
Qdoba vs. Chipotle is a debate as old as time, inspiring many a Reddit thread, blind taste test, and nutrition analysis. In the end, Qdoba wins because it doesn't charge for extras and gives us way more choices.
4. Del Taco
Speaking of debates as old as time, the Del Taco vs. Taco Bell one is another one. Like many great rivalries, Del Taco and Taco Bell's was born from a friendship: Del Taco's founder Ed Hackbarth worked as a manager at Bell's Hot Dog alongside owner and future Taco Bell-founder Glen Bell. After the two went their separate ways, Hackbarth opened the first Del Taco in Yermo, California in 1964.
Now, there are more than 500 Del Taco locations in 16 states. This is a tiny force compared to Taco Bell's 6,000+ locations around the world, but Del Taco will always be the one true taco chain in the eyes of many West Coasters.
Del Taco sets itself apart from Taco Bell and the rest of the Mexican chains on this list by not shying away from Western food. This includes not just Western-ified tacos, but full-blown burgers and crisp, crinkle-cut fries. You want a taco but your friend wants a burger? Del Taco it is!
Word on the street is you can order any menu item "bold", and they'll serve it to you stuffed with fries and showered in their secret sauce. That means, unofficially, Del Taco serves fry-stuffed milkshakes. So like, enough said?
3. El Pollo Loco
El Pollo Loco is one of the few Mexican fast-food restaurants on this list actually founded by Mexicans. To be specific, it was founded by Francisco "Pancho" Ochoa, who immigrated from Sinaloa, Mexico with nothing but a dream and his mother's secret chicken recipe. He and his wife, Flerida, opened a roadside chicken stand on Alvarado Street in Los Angeles back in 1975. When the restaurant first opened in 1980, El Pollo Loco exclusively sold grilled chicken and red salsa that drew long lines of hungry customers.
Today, the tiny storefront has expanded to more than 480 locations nationwide. At Pollo Loco restaurants, poultry is marinated in citrus and fire-grilled over an open flame behind the counter. The staff hand prepares freshly grilled chicken into a fairly authentic selection of dishes, including tacos, quesadillas, and Sinaloan-style chicken dinners. Their focus on grilled chicken makes El Pollo Loco one of the healthiest chain restaurants in all of the U.S., and arguably the healthiest choice on this list.
2. Torchy's Tacos
Another Texas-born taco chain, Torchy's Tacos, was hailed as the king of all Americanized, quick-service taquerias in Austin for years before expanding to locations throughout Texas, Colorado, and Oklahoma.
It's hard to even look at Torchy's menu without getting excited. The carta focuses almost exclusively on breakfast and traditional tacos, with creative, responsibly sourced fillings like hand-battered fried avocado, portobello mushroom, slow-roasted green chile pork, and cornmeal-crusted catfish. Aside from tacos, Torchy's offers street corn with queso fresco, made-from-scratch brownies, and deep fried chocolate chip cookies. You can wash it back with frozen or on-the-rocks margaritas, artisanal cocktails, and craft beer.
As Zagat reported, Torchy's also offers a secret menu with seven different tacos — like the Jack of Clubs with fried eggs and potatoes, or the Hipster with panko-fried tuna and green chiles. With its thoughtful, ever-evolving selection of secret and not-so-secret offerings, it comes as no surprise that Torchy's is routinely heaped with awards and attracts fans like former president Barack Obama.
1. Moe's Southwest Grill
Founded in Atlanta, Georgia in 2000, Moe's is a relative newcomer in the fast-casual Mexican chain game. The newbie grew quickly, expanding to 700 locations by late 2017. It currently enjoys the position of top Mexican restaurant chain on Ranker, and knocked Chipotle out of its place as America's favorite Mexican restaurant brand in 2016 and 2017.
So what makes Moe's Southwest Grill so chido? Even though it's almost seven times bigger than Baja Fresh, Moe's manages to offer the same — if not superior — caliber of freshness. We're talking grain-fed pork, grass-fed steak, and organic tofu. At Moe's, there are no freezers or microwaves, and grilled veggies are cooked on a separate grill for vegetarians.
Walk into any location in the country, and you'll be greeted with a friendly "Welcome to Moe's!" You'll also be treated to free, freshly fried tortilla chips which you can pair with natural salsas from their salsa bar. Don't expect such a warm greeting or generous freebies from certain other Tex-Mex chains with names rhyming with shmipotle.