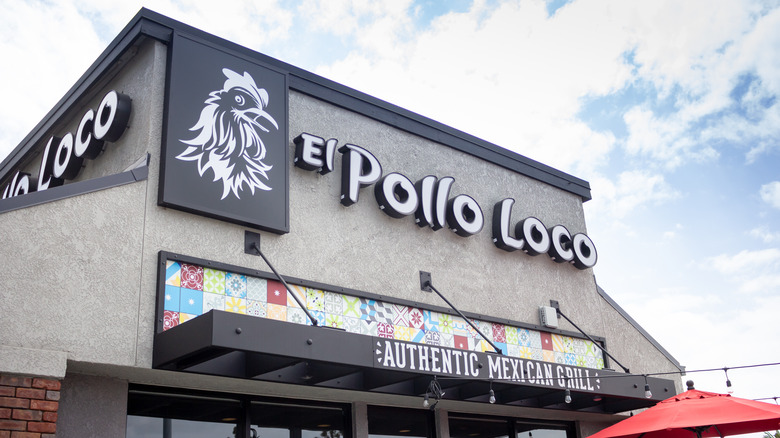 You've probably been to Chipotle countless times, but when was the last time you found yourself at El Pollo Loco? This chain isn't everywhere in the U.S., but if you're lucky enough to live near one, then you know what all the hype is about. It's known for its Sinaloan-style chicken and Southwestern cuisine, and some have even claimed that it could become the next Chipotle. While it may not be there yet, more and more people are taking notice of this fast casual spot that serves up healthy-ish and veggie-forward dishes … including menu items for people with special, specific diets.
Before you make your way to El Pollo Loco, though, you should familiarize yourself with the menu. That way, it'll be easier to order exactly what you want to try when you're there. If you're having a hard time choosing, though, you've come to the right place: We're ranking some of the most popular El Pollo Loco menu items from worst to best. Start at the top to find out what you should avoid, and make your way down to the bottom to get a better idea of what you definitely won't want to miss out on. Let's take a closer look.
21. Cilantro Lime Cauliflower Rice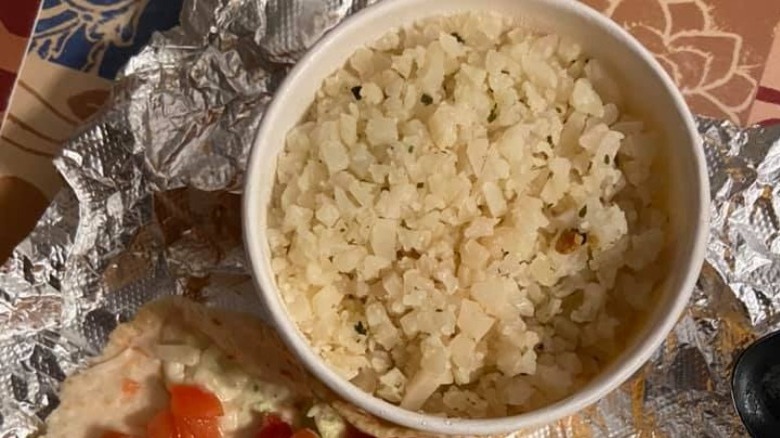 One thing that we love about El Pollo Loco is the fact that they go above and beyond to provide options for those who have dietary restrictions. That's a smart move, since plenty of people eat special diets these days, and often, these substitutions actually taste good. However, there's one diet-friendly item on the menu that we really don't like: the cilantro lime cauliflower rice.
You may assume that it all comes down to not liking cilantro, but that couldn't be further from the truth. The cilantro in this dish is delicious, and it pairs exceptionally well with the lime. The problem is the fact that this "rice" is made from cauliflower. When you order it, you may be expecting a rice-like experience, but that's not what you're going to get. Instead, you'll basically just get a bunch of ground-up pieces of cauliflower.
It's not that the cauliflower is bad, either. But we would have preferred plain cauliflower in its original form with the seasoning on it instead. Calling this stuff rice just makes you feel disappointed as soon as you take your first bite. Order something else instead.
20. Coleslaw
There are so many veggie sides at El Pollo Loco, and we're incredibly grateful for that. It makes it way easier to eat healthy, and several of the options are actually really tasty. But when it comes to the coleslaw, you shouldn't be expecting much. When you first open the container, the first thing you'll likely notice is the fact that the coleslaw just doesn't look that fresh — not exactly what you want from a fresh veggie situation. Because of that lack of freshness, the veggies seem a bit soggy. However, there's not even that much sauce to flavor the salad, so it doesn't even redeem itself when it comes to flavor.
It's mostly made of green cabbage, though we would have liked more carrots and red cabbage in the mix. And while the other veggie sides feel healthy, this one is just going to leave you feeling less than satisfied. Want a serving of veggies without subjecting yourself to the coleslaw? Try the Loco side salad instead.
19. Rice and Bean Cup
Just for the record, we have no problems with rice and beans. It's one of the most delicious dinners you can make. Not only is it super inexpensive, it's also exceptionally easy to throw together. So when we say that we don't like the rice and bean cup at El Pollo Loco, just know that it has everything to do with this specific dish. When you order this side, you may be expecting white rice and black beans, but that's not what you're going to get. Instead, you get a sort of Spanish-inspired rice with pinto beans.
What's wrong with that? Well, despite the rice's appealing color, there's not much flavor to it. We think the addition of some spiciness would go a long way, despite the likely lack of wide appeal. The pinto beans are used in a lot of the dishes on the menu, so they're not particularly flavored either. Mix it all together, and you have a bland, somewhat tasteless cup of rice and beans.
Sure, it may be okay to get as a side if you're just planning on adding it to the other menu items you buy. But don't try it on its own and expect it to be amazing — you'll be disappointed.
18. Queso Blanco Burrito
We don't know quite how to feel about the queso blanco burrito. While the flavor of it isn't bad, when you bite into it, it's kind of like biting into a mushy mess. The flour tortilla contains guacamole, pinto beans, queso blanco, and pico de gallo. Do those ingredients taste great together? Of course. But since there's not much that gives this burrito substance, it just feels overwhelmingly soft. You will find chicken in this dish as well, but we don't think there's enough of it to make this burrito actually appealing. It all comes down to the texture.
Additionally, if you taste the cheese by itself, you'll realize that it's not all that good. And since it's kind of supposed to be the star of the show in this dish, we weren't too pleased with the results. Is this the worst item on the menu? No. But there are much better burritos out there to try, so you may want to pass up the queso blanco burrito.
17. Macaroni and Cheese
When you think of Southwestern food, what usually comes to mind? If you're like most people, you're not going to be thinking about mac and cheese. That's why we were so confused to see macaroni and cheese on the sides menu at El Pollo Loco. To be honest, it just seems like a random afterthought. It doesn't pair particularly well with anything else on the menu, even though most of the other side dishes seem relevant to the restaurant's cuisine in some way.
While you might assume that this is the worst mac and cheese ever, that's not the case. It's just … okay. There's nothing special about it, so you won't be missing out if you decide not to get it. The pasta feels really overcooked, and there's too much watery sauce to truly enjoy the dish. While it might be an option for young children who tend to be picky eaters, we think that most adults are going to turn up their nose at this menu item.
16. Homemade Tortilla Soup
Sometimes, you visit a fast food restaurant because that's truly the kind of food you want. Other times, you'll go to a fast food restaurant just because you're on the run and you need to grab something quickly. And that's exactly what we think the homemade tortilla soup is on the El Pollo Loco menu for. Would we go out of our way to grab this soup? Definitely not. But if it's a cold day or you aren't feeling well (or even if you're just looking for a smaller, lighter option), then the tortilla soup may be a viable option.
This soup isn't particularly flavorful, so it's nothing to get excited about. However, it doesn't taste bad — the broth is relatively salty, which we love. There are tons of veggies packed into this dish, so at least it feels like you're doing something positive for your health. And the crunchy tortilla strips on top add just enough crunch to give this soup some much-needed texture.
If you just happen to pass an El Pollo Loco and are looking for something nice and light to eat, the tortilla soup should be on your radar. But if you want the best the restaurant has to offer, just forget about it.
15. Cinnamon Churros
Churros are one of the most famous desserts of all time, so we weren't too surprised when we saw them on the menu here. And if you're looking for a sweet treat to try after your meal, then we can understand why you would want to pick some up. But something to remember: These are not real churros. If you've ever had high-quality churros or tried the dessert outside of the United States, there's a good chance that you're going to be disappointed by the churros you'll find at El Pollo Loco. They're not as crispy as you might be used to, and they're a lot sweeter — but not in a good way.
That being said, if you don't have a lot of experience with churros, then you may not mind this snack too much. After all, how can you not like fried dough that's been dipped in cinnamon and sugar? One thing is for sure … it's definitely going to satiate your sweet tooth. They come in a pack of two, so you also have the option of sharing with family or friends. How fun is that?
14. Double Chicken Avocado Salad
If you're looking for a dish that's packed with protein and that tastes good at the same time, the double chicken avocado salad is probably right up your alley. First of all, you should know that if you're on a keto diet, this salad is going to meet your dietary needs. It's high in fiber and protein and relatively low in carbs. Plus, there are a ton of veggies that are going to give you the vitamins and minerals you need to get through the day.
As you can probably guess by the name, you're going to get a double portion of chicken in this salad. While that may be great when it comes to getting gains in the gym, it doesn't do much for the flavor. Sure, the chicken at El Pollo Loco is delicious, but when there's so much of it in one dish, it can be too much.
Similarly, there's a lot of avocado in this salad as well. We all love avocado, but since it's there more for fat and creaminess than flavor, we wish there wasn't quite as much of it as there is — that way, the salad would be a bit more balanced.
13. Chicken Avocado Street Taco
If there's one kind of street food to rule that just about everyone likes, it has to be the street taco. Who doesn't love a tiny little taco packed with a mixture of savory ingredients? Though you may not be able to get to Mexico city to grab a street taco, we're betting that you can at least make your way to an El Pollo Loco. That's where you can grab a chicken avocado street taco. Of course, the star of the show here is the chicken, and it's surprising how much they can fit into such a small tortilla. Then comes the avocado and the other fresh veggies, like lettuce and tomato.
While we do love avocado, we think that there's just too much of it in this dish. Again, avocado is there more for texture than flavor, so we would've liked it more if the focus were more on the other veggies. That being said, it's a solid street taco if that's what you're looking for. And if you want to mix and match, you're in luck: You can pick up a six-pack of tacos to share with your friends or family.
12. Chips and Guacamole
At pretty much any Mexican restaurant in the U.S. you visit, you're going to automatically get tortilla chips and salsa when you sit down to the table. But if you want to take things to the next level, you need to go ahead and order the guacamole. If you love avocados, then guacamole is basically the go-to dip of choice. And that's why you should consider getting the chips and guacamole when you're at El Pollo Loco.
The chips here are super crunchy, and they have just enough fattiness to make them addictive. They're not too oily, but they're not boring and dry either. The guacamole itself is nice and fresh and adds the perfect texture to the crunchy chips. Altogether, it's an excellent side dish.
You may be wondering, then, why this menu item doesn't rank higher on our list. That's simply because there's nothing too special about this order. It's something you can get just about everywhere, and these chips and guac don't necessarily stand out. That doesn't mean they're not tasty, though!
11. The World's First Keto Burrito
El Pollo Loco does not mess around when it comes to providing its customers with keto options, which is just one thing we love about the brand. Therefore, you shouldn't be surprised to see the World's First Keto Burrito on the restaurant's menu. This burrito comes in at only 430 calories, which makes it a super healthy choice for lunch or dinner. And when you add in the fact that it's absolutely packed with veggies, it's clear why health-conscious eaters love this option.
You'll get lots of greens in your burrito along with avocado, queso, and of course, plenty of chicken. Like all the keto options on the menu at this spot, they really pack in the chicken, so make sure you're hungry before you order this dish. It all comes together in a flour tortilla for easy eating.
Is this burrito the best burrito on the menu? Not really. This is something you order more for the health factor than the taste. However, if you do want something healthy, this burrito is a fantastic option because it tastes great and it will help you feel full. Give it a try the next time you need a post-gym snack.
10. Chicken Nachos Combo
So, you're super hungry and you want ot order enough food to get you through the rest of your day? Well, you're in luck because the chicken nachos combo is almost definitely going to get you full in no time at all. You don't always want tacos, a burrito, or a bowl, so we love that this is an alternative option available to us. And while it may not be our favorite item on the menu, we have to admit that it's pretty good.
It all starts with those crunchy, lightly oiled tortilla chips that seem to pair well with everything. Then comes the bean and cheese mixture that adds a ton of both flavor and substance to the dish. Of course, you can't have El Pollo Loco without a healthy serving of chicken on top as well. Finally, guacamole adds a much-needed creamy factor to the mix, while the fresh salsa provides some acidity and brightness to the nachos.
Not feeling super hungry but still want to try out this tasty dish? It may just be the best dish at the restaurant to share with friends.
9. Chicken Tinga Burrito
Have you ever heard of chicken tinga? It's a Mexican favorite, and we love how those flavors are utilized in this tasty burrito. Tinga generally consists of tomatoes, chipotle chilis, and onions, and all of those ingredients come together to season the chicken to perfection in the chicken tinga burrito at El Pollo Loco. It tastes a lot different than most of the other chicken on the menu, and that's just why we like it — it's something different and delicious. It has a slight smokiness to it that's surprisingly interesting for a chain restaurant.
It doesn't stop there. This burrito also comes with pinto beans, seasoned rice, house-made pico de gallo, queso fresco, and of course, plenty of fresh avocado. It's not too heavy, but it certainly packs in plenty of flavor.
Worried about spice? While the chicken tinga burrito does have a slight kick to it, we certainly wouldn't describe it as spicy, so it's great even for those who prefer something that's on the milder side. Give it a try if you're interested in trying chicken tinga.
8. Mashed Potatoes and Gravy
Look, we know that El Pollo Loco isn't exactly the ideal spot to grab your Thanksgiving classics. The food is mostly inpsired by Mexican and Tex-Mex cuisine, so you may be surprised to see mashed potatoes and gravy on the menu. While you may recoil at the sight of something so not-Mexican at this taco spot, you may not want to turn your nose up at it just yet. That's because these mashed potatoes and gravy and actually pretty tasty.
The one downside to this dish is the fact that the potatoes are very, very smooth and creamy. Some people like that — others, like us, prefer more texture to our potatoes. But we're not going to complain too much because the flavor of these mashed potatoes is solid. Since it's such a bland food by nature, that's certainly a big accomplishment, so we have to hand it to El Pollo Loco for pulling it off so well.
Where the magic really comes in, though, is with the gravy. This silky smooth gravy is super salty but in the best possible way. Mix it into the mashed potatoes, and you have a side dish that you may just ignore your main course for. And while mashed potatoes and gravy may not pair particularly well with a burrito, it's great with the chicken meals.
7. Chicken Meals
Speaking of the chicken meals, you were probably wondering where they ranked on our list. Well, they're pretty close to the top considering how good the chicken is at El Pollo Loco. This isn't just one menu item — there are a few different options in this category. First of all, you get to choose how many pieces of chicken you want (and what kinds of pieces). Choose from a two-, three-, or four-piece chicken meal, or just grab your pieces of chicken a la carte.
But it's about more than just the chicken: You also get to choose side dishes when you go with this option. The mashed potatoes would be our first choice, but you can also get other sides such as mac and cheese, broccoli, and a side salad. We would recommend staying away from the coleslaw, but you should go for it if that's what you really want.
The chicken in these dishes is incredibly tender and juicy, and we like this meal because the chicken gets a chance to stand on its own. That way, you can tell that the chicken here is a cut above the rest. While it may be the less Tex-Mex-inspired meal on the menu, we think El Pollo Loco is definitely giving other chicken joints a run for their money.
6. Grande Avocado Chicken Bowl
You know how we feel about the chicken avocado salad, but what if you were to make that meal heartier? You'd probably end up with the grande avocado chicken bowl. We'll tell you right now that this is the ideal meal to get at El Pollo Loco if you're incredibly hungry and don't want to have to order more than one entree. Why? Because this bowl really is huge. First, it's going to fill you up with plenty of seasoned rice. The heaping servings of pinto beans and chicken are going to up the protein factor and make this bowl even more satiating. The veggies, like the pico de gallo, corn, and avocado, add most of the flavor to the bowl, and they're so fresh that they will make you want to dig in right away.
Once you add that little dollop of sour cream on top, it becomes obvious why the grande avocado chicken bowl is one of the best of the bunch when you make your way to El Pollo Loco. Just a warning, though: This is not for the faint of heart. Don't order this menu item unless you're ready to eat your heart out or share with others.
5. Chicken Taco Al Carbon
It's always nice to try something new and interesting at a restaurant, but sometimes, you want something that's going to be on the simpler side. After all, some of the best dishes in the world are really quite simple. That's why you may want to check out the chicken taco al carbon at El Pollo Loco. The fire-grilled chicken is the star of the show in this taco, and it lends it a nice smoky flavor that you won't get from most other items on the menu.
Don't expect the other fillings to be too out of the ordinary here. Along with all that delicious chicken, this taco also contains onions and cilantro. Both ingredients provide a wonderful freshness that plays off the richness of the chicken while keeping it light. And the onions add a but of crunch that takes the texture to the next level. Unfortunately, these bad boys come with a flour taco, which we aren't huge fans of. However, they're still incredible in their simplicity. Might be worth a try if you want to taste a timeless classic.
4. Vegan Chickenless Pollo Burrito
It's not everywhere you can find a quality vegan burrito, much less at major chain restaurants. But no worries because that's exactly what you're going to find at El Pollo Loco. Look no further than their vegan chickenless pollo burrito. Now, does the chickenless chicken taste just like the real thing? No. But is that bad? Absolutely not. This faux chicken actually tastes amazing as long as you accept that it's just not the same thing as the real stuff. It's cooked in an adobo sauce that's unbelievably flavorful.
But that's not all that comes in this burrito — it's packed full of lots of other delicious ingredients as well, like fire-roasted pepper, onions, lettuce, and fresh tomatoes. Don't forget the black beans for an added boost of protein and avocado for that creamy texture you love as well as a pop of color.
Of course, this is a fantastic menu item for all the vegans out there, but you don't have to swear off meat entirely to enjoy this meat-free classic. Give it a try if you're feeling adventurous: We think you're going to like it.
3. Chipotle Chicken Avocado Burrito
We love the vegan chickenless pollo burrito, but what do you do if you're looking for the absolute best burrito on the menu? That's when you have to turn to the chipotle chicken avocado burrito. It really packs in the flavor like nothing else. First, the chicken is cooked to perfection. While all the chicken at El Pollo Loco is pretty good, we especially like this stuff because it has a hint of spiciness to it that comes from the chipotle salsa. (Don't worry if you're not that tolerant of spice, though — the heat isn't too intense.)
And when you have a dish that's slightly spicy, it pairs exceptionally well with an ingredient like avocado. Since avocado is fresh, creamy, and somewhat lacking in flavor, it really complements the intense taste of the chipotle well. And of course, you'll find lots of other ingredients in the flour tortilla that comes with this entree, like rice, sour cream, shredded cheese, and more. When it comes all together, you have a savory burrito you'll want to eat on the daily.
2. Classic Tostada Salad
Who said that salads had to be boring? You're definitely not going to get bored of your meal when you order a classic tostada salad. Of course, it all starts with a bed of fresh greens that will make you feel super healthy. But it gets even better from there. That's because the whole dish is served in a tostada bowl. And yes, you're totally encouraged to break off pieces of bowl as you go. Then comes the rice, beans, lettuce, pico de gallo, chicken, sour cream, and more. Mix these ingredients up in the tostada bowl, or just pick through them one at a time. No matter how you decide to tackle this salad, it's going to be a hit.
Is this the healthiest salad in the world? We'd wager that it's not. But sometimes, a good salad is just about enjoying yourself. So dig in and enjoy everything this dish has to offer.
1. Original Pollo Bowl
When in doubt, stick with the classics. That's exactly why we love the original pollo bowl. Just because a recipe is simple and classic doesn't mean that it's one of the most delicious items on the menu. How can you not love a bowl that starts off with seasoned rice and beans, only to be topped with all of your favorites? Of course, there's all that grilled chicken that El Pollo Loco is known for. Onions, pico de gallo, and cilantro also play major roles in this bowl, adding just the right amount of freshness. We suggest ordering this item with a side of chips, but it's good on its own, too.
So, what are you waiting for? If you've never had an original pollo bowl before, it's time to go out and see what all the hype is about. You may just fall in love with this dish, too. And if not? There are so many other delicious options to choose from at El Pollo Loco.