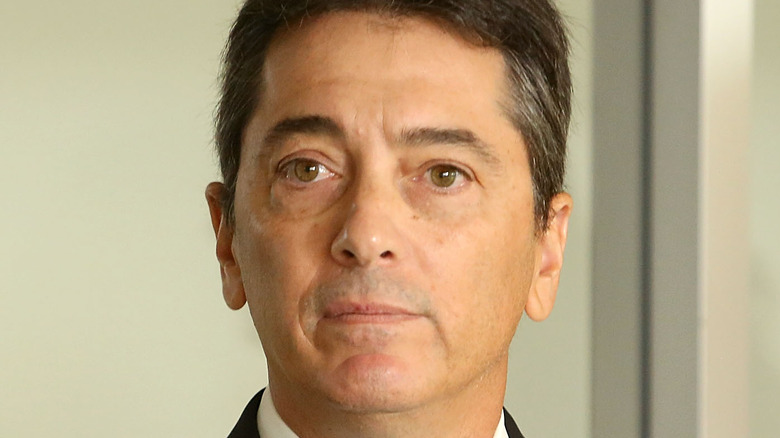 The following article references sexual assault allegations, suicide, and domestic violence.
After hearing about a TV star getting arrested for a serious crime, it could be easy to wonder how someone with so much to lose could land themselves into such trouble. Well, the answer to that question seems pretty easy, because besides the fame, money, and adoration, TV stars are just like anyone else. And like many regular humans, they're prone to make incredibly bad choices that could change their life forever. Take actor Jussie Smollett, for example. In 2015, it seemed like he was on top of the world after his show "Empire" took off and he became an instant star.
But then in February of 2019, Smollett was arrested and accused of filing a phony police report, because in January of that year, the actor, who's Black and gay, told Chicago Police that he was attacked by two white men, who hurled racial and homophobic epithets at him. But investigators didn't buy his story and filed charges. However, Smollett is far from the first TV star to be associated with a significant crime. So for this one, we listed some of the TV stars from '80s sitcoms who've been arrested for something serious, whether it had to do with drugs, a violent altercation, or just being at the wrong place at the worst possible time.
Bill Cosby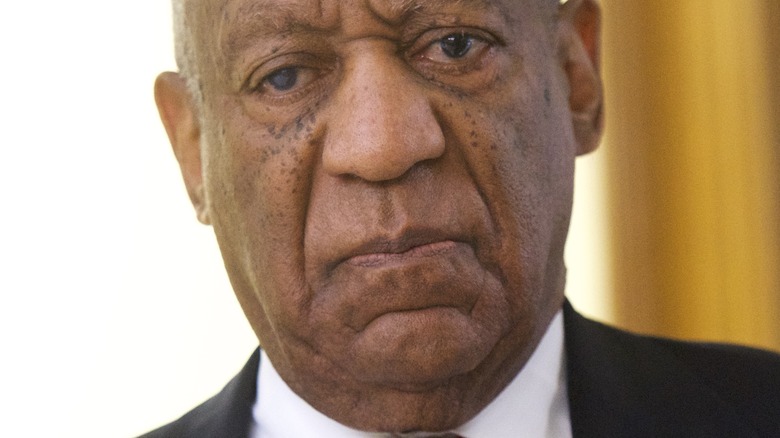 Bill Cosby has been on television since the 1960s, co-starring in the series "I Spy," and by the time the '70s rolled around, he was seen regularly on the animated show "Fat Albert and the Cosby Kids." But despite how popular Cosby was in those two decades, he reached another level of fame in the '80s with "The Cosby Show." During the series, which ran on NBC from 1984 to 1992, the comedian played Dr. Heathcliff Huxtable, an OB/​GYN, a wise father, and an all-around good guy. But that image would be decimated after a number of women said that Cosby drugged and sexually assaulted them, and as USA Today reported, the number of accusers grew to 60.
At first, it didn't seem that Cosby would be charged for the alleged acts due to statute of limitation laws but that changed after a Temple University worker named Andrea Constand testified that he drugged and sexually assaulted her in his Philadelphia home in 2004, per NBC News. According to CNN, Cosby was then charged with three felony counts of aggravated indecent assault and was sentenced to 3-10 years of prison in 2018. But in June of 2021, the Pennsylvania State Supreme Court overturned Cosby's ruling, partially because a prosecutor made a deal with Cosby years ago and said he wouldn't prosecute him if he agreed to give a deposition in Constand's civil case, according to the AP. Cosby was released from Pennsylvania's SCI Phoenix on Wednesday, June 30, 2021, after serving more than two years of his sentence.
If you or anyone you know has been a victim of sexual assault, help is available. Visit the Rape, Abuse & Incest National Network website or contact RAINN's National Helpline at 1-800-656-HOPE (4673).
Todd Bridges
When the NBC sitcom "Diff'rent Strokes" aired between 1978 and 1986, Todd Bridges, who played Willis Jackson, probably sat in a lot of comfy trailers between scenes. But by 1989, he'd be sitting in the back of a cop car in North Hollywood, California, after being accused of attempted murder. According to the AP, a 23-year-old Bridges and another man named Harvey Duckett had an altercation with Kenneth "Tex" Clay, a convicted drug dealer, who believed the two men were breaking into a vacant house that was connected to drug activity.
The AP noted the actor was arrested at the same house in January of that year on cocaine-related charges. And on the day Bridges and Duckett were approached by Clay, Bridges was accused of shooting him five times, while Duckett stabbed him. But in November of 1989, while being represented by famed attorney Johnnie Cochran, the '80s star was found not guilty of attempted murder, as well as attempted voluntary manslaughter, according to UPI. And as the AP reported, the following year, Bridges was acquitted again after he was retried on the sole count of assault with a deadly weapon.
Things took a positive turn for Bridges: As he told Page Six in 2021, he has been sober since 1993.
If you or anyone you know is struggling with addiction issues, help is available. Visit the Substance Abuse and Mental Health Services Administration website or contact SAMHSA's National Helpline at 1-800-662-HELP (4357).
Dustin Diamond
Neither Dustin Diamond or his character Samuel "Screech" Powers on NBC's "Saved by the Bell" were associated with violence, so some might've been shocked when the AP reported the actor was arrested for stabbing a man in 2015 on Christmas Day. Per the report, Diamond and his girlfriend Amanda Schutz got into a physical altercation with a group at a restaurant in Port Washington, Wisconsin. According to the AP (via The Hollywood Reporter), Schutz became upset when people began taking photos of her and Diamond. But according to the actor's version of things, the group was extremely rowdy, and he eventually saw Schutz being held by two men while she was bleeding.
That's when Diamond acted and claimed he stabbed the victim with the pen he was using to sign his check. Later, however, the California native admitted to carrying a knife but said he didn't stab anyone intentionally — he was just swinging his arms around trying to free himself after being grabbed. Eventually, Diamond was charged with recklessly endangering public safety, faced a 10-year prison sentence, and pleaded not guilty. In the end, he was found guilty of the disorderly-conduct-with-a-dangerous-weapon charge, as well as carrying a concealed weapon. According to CNN, he was sentenced to 120 days in jail, 15 months of probation, and had to pay $1,000 in restitution. Sadly, Diamond died in February of 2021 after being diagnosed with stage 4 small cell carcinoma just one month prior. He was 44 years old.
Brian Bonsall
You remember Brian Bonsall, right? He was the little kid who played Andy Keaton, the youngest sibling on "Family Ties." After the show, he had several run-ins with the law. According to the AP (via 19 News), in 2007 he was accused of assaulting his girlfriend in Boulder, Colorado, where he resided. He was charged with second-degree assault and false imprisonment soon after but claimed self-defense. Based on his version of events, Bonsall said that his girlfriend stabbed him in the arm, which she denied. According to Deseret News, he pleaded guilty to third-degree assault and got probation.
In 2009, Bonsall landed in hot water with cops again when they responded to a report of two people fighting in a Boulder, Colorado, apartment building. According to Daily Camera, his friend Michael Trujillo said the actor "picked up a stool, broke it over a stair railing and hit him five to six times in the face." He faced charges of third-degree assault and was dinged for failing to miss a court appearance regarding the 2007 arrest. According to the AP (via ABC30), he also got in trouble with authorities in 2010 for smoking marijuana — a violation of his probation. The Daily News reported he pleaded guilty and received probation for the 2009 incident.
Speaking with StarTrek.com in 2016, Bonsall said, "I'm not proud of my past mistakes but you live and you learn, I guess… hopefully. I've learned a lot about myself, that's for sure."
If you or someone you know is dealing with domestic abuse, you can call the National Domestic Violence Hotline at 1−800−799−7233. You can also find more information, resources, and support at their website.
Gary Coleman
On July 30, 1998, when former "Diff'rent Strokes" star Gary Coleman was arrested for assault and battery for punching a fan in the face who wanted an autograph, many seemed really taken aback. And that level of shock probably deepened when people learned that Coleman, who was one of TV's biggest stars in the '80s, was working as a mall security guard. As Court TV detailed, Coleman was shopping at a uniform store to purchase a bulletproof vest for his security guard job when Tracy Fields, a Los Angeles bus driver, asked for the autograph.
But Coleman only signed his name and Fields got upset because he didn't write a kind message to her as well. According to the actor's court testimony (via Court TV), the woman was "really rude" to him. "She wouldn't leave me alone. I was getting scared, and she was getting ugly," said Coleman. However, before the trial ended, Coleman, who was facing one year behind bars, pleaded no contest to disturbing the peace and avoided jail time. He was also placed on one year of probation, had to pay a $400 fine, and was ordered to take anger management classes. Tragically, in May of 2010, the former TV star died after falling accidentally at his house in Santaquin, Utah (per Today).
Rick Schroder
In 2019, former "Silver Spoons" star Rick Schroder was accused of hitting his girlfriend twice, resulting in two arrests. The first incident took place on April 2 in the actor's home in Topanga, California, according to CNN, but the details are fuzzy. The AP reported Schroder's girlfriend said the incident was "a big misunderstanding" after police arrived, and because there was no proof of the alleged assault, there were no charges filed.
According to the AP, on May 1, 2019, Schroder was taken into police custody after his girlfriend phoned 911 and said that he punched her. But later that month, prosecutors said they wouldn't be pressing charges. Per the AP's report, not only did "prosecutors say she was uncooperative" during the investigation, but she claimed that Schroder "hit her by accident because she startled him as he was sleeping." The woman also said that he used alcohol and Ambien before bed, according to legal documents obtained by NBC Los Angeles, and the former "NYPD Blue" star spent around six hours in the pokey before being released on $50,000 bond. He denied the accusations.
If you or someone you know is dealing with domestic abuse, you can call the National Domestic Violence Hotline at 1−800−799−7233. You can also find more information, resources, and support at their website.
Mackenzie Phillips
Mackenzie Phillips, who starred in "One Day at a Time" as Julie Romano, had a longtime battle with substance abuse, which eventually got her fired from the show. There was a period, however, when it seemed Phillips got her addiction under control, but a 2008 arrest would prove otherwise. At the time, Reuters reported the actor was arrested and taken into custody at Los Angeles International Airport. "Following a secondary screening, she was found to be in possession of what appeared to be cocaine and heroin," authorities told the outlet.
Talking to People about the arrest in 2016, Phillips said the incident was a turning point. "There was an element in me — I had been clean and sober for a long period of time before — so there was this sort of … 'I know I can get sober but not today. Maybe sometime in the future,'" she explained. "There was a day that came that the decision was made for me. I was taken away in handcuffs at Los Angeles International airport for possession. Sometimes the universe has a plan to stop you in your tracks to save your life. That was that day for me." In 2016, Breathe Life Healing Centers announced Phillips joined their team as an addiction counselor.
If you or anyone you know is struggling with addiction issues, help is available. Visit the Substance Abuse and Mental Health Services Administration website or contact SAMHSA's National Helpline at 1-800-662-HELP (4357).
Dana Plato
One could say the troubles that surrounded Dana Plato after being on television led to a deeper look into child stars and how they've been affected by fame, money, and overall stardom. Not unlike her "Diff'rent Strokes" colleagues Todd Bridges and Gary Coleman, she went through some difficult times after the series.
As NBC 3 News recounted, Plato was arrested for robbing $160 from a Las Vegas video store with a pellet gun in 1991. Not only was she caught after returning to the scene of the crime while police were still investigating, but the clerk recognized her during the robbery. Her bail was set at $13,000, and Sin City staple Wayne Newton ponied up the cash to help her out. She was hit with probation, and according to the AP, "she was given another five years' probation for forging prescriptions for Valium" in 1992.
Sadly, the way it appeared, Plato continued to have personal struggles after the robbery, and she died on May 8, 1999, in Moore, Oklahoma. Her death was later ruled a suicide by the deputy state medical examiner.
If you or anyone you know is having suicidal thoughts, please call the National Suicide Prevention Lifeline​ at​ 1-800-273-TALK (8255)​.
Gary Dourdan
Many were probably first introduced to Gary Dourdan as the character Shazza Zulu in NBC's "A Different World," but that was far from his last role. But in November 2011, he was in serious legal trouble after his ex-girlfriend Nicole Cannizzaro claimed he broke her nose in a violent attack. As TMZ reported, Cannizzaro alleged Dourdan began hitting her while she was shopping at Whole Foods with his son. She said she then went to the actor's apartment and was attacked for a second time. Dourdan was charged with felony assault and battery. A judge also granted Cannizzaro a restraining order against Dourdan, who denied the allegations once a trial date was set. "I have been waiting a long time and I haven't had a voice," he told E! News in 2012. "I did not do this."
Based on Dourdan's explanation, he discovered his child missing on the night of the incident and found him shopping with Cannizzaro at Whole Foods. According to E! News, he said that "he put his son into a cab and when Cannizzaro tried to get in as well, Dourdan pushed her away." He then claimed that Cannizzaro went to his place and "broke in through his garage and was throwing power tools around" right before going to a personal injury lawyer. In the end, TMZ reported Dourdan took a plea deal and received five years probation, while also having to take 52 weeks of domestic violence and drug counseling.
If you or someone you know is dealing with domestic abuse, you can call the National Domestic Violence Hotline at 1−800−799−7233. You can also find more information, resources, and support at their website.
Scott Baio
Presumably, when most thought of Scott Baio, they probably only thought of Chachi, his character on "Happy Days" or maybe Charles, his role on "Charles in Charge." But after 2018 rolled around, his reputation took a huge hit since his former "Charles in Charles" castmate Nicole Eggert alleged he sexually assaulted her when she was a child. "Ask @scottbaio what happened in his garage at his house when I was a minor," she wrote in a now-deleted tweet (via People). Baio defended himself on Facebook Live and said he had sex with Eggert, but not until after the show ended and she was 18 years old. He also brought up an interview Eggert had on "Nik Richie Radio," where she alleged Baio molested her when she was underage (via The Blast). Eggert also shared her story on "Megyn Kelly Today." "The issue with him is that he was our boss," Eggert told Kelly. "He also was telling me, 'You can't tell anybody, this is illegal, I will go to jail.'" Following Eggert's interview, Baio appeared on "GMA" where he denied the allegations.
Then in February 2018, Alexander Polinsky, who also played on "Charles In Charge," alleged he suffered abuse and "mental torture" from Baio while claiming that he bragged to him about bedding "young girls and co-stars of the show," according to The Hollywood Reporter.
The charges against Baio were dismissed in June 2018, with the DA citing the statute of limitations, according to People.
If you or anyone you know has been a victim of sexual assault, help is available. Visit the Rape, Abuse & Incest National Network website or contact RAINN's National Helpline at 1-800-656-HOPE (4673).
T.K. Carter
Actor T.K. Carter is largely known for being in a slew of TV shows and movies in the '70s and '80s, but some probably know him from playing teacher Mike Fulton on "Punky Brewster." In 1991, however, his name became associated with what seemed to be a pretty bizarre crime for a famous, seemingly successful actor to commit. According to the AP, "Carter walked up to a woman in her driveway and demanded her luxury car." She alleged he punched her in the stomach before making off with her vehicle, and she reported the car as stolen.
According to the Los Angeles Times, when cops eventually caught up with Carter, he was apparently "standing against a car and babbling incoherently." Per the AP, after the actor was arrested, he paid his bail, which was set at $10,000. For some reason, details about the case after his arrest are scarce. But either way, the crime didn't seem to slow down Carter's acting career much, as he played in well over 20 shows after that 1991 incident, including "How to Get Away with Murder" starring Viola Davis.
Joyce DeWitt
Who would think that Janet Wood would spend a night in jail? Probably not many, but that's what happened on July 4, 2009. Well, it wasn't Wood who got put in cuffs — it was the woman who played her on "Three's Company." According to the AP (via Access), Joyce DeWitt found herself in hot water "after she drove past a barricade near a park in El Segundo." The officer who pulled her over put her through field sobriety tests, which she did not pass.
From there, she was booked and charged with one count of driving under the influence and one count of driving with a blood-alcohol level over .08%, according to ET (via The Atlanta Journal-Constitution). She was released on bail the next morning after plunking down $5,000. According to NBC Los Angeles, the West Virginia native eventually pleaded no contest to misdemeanor DUI, received three years probation, and was ordered to pay a $510 fine, along with added penalty costs. She also had to complete a nine-month alcohol program. It's safe to assume that DeWitt will hop in a cab these days if she's had too much to drink or give an Uber or Lyft driver a memorable shift.
Lori Loughlin
It was the college admissions cheating scandal that made all kinds of headlines, presumably shocked many, and got former "Full House" actor Lori Loughlin a stay in a Dublin, California, federal prison. In March 2019, it was revealed that Loughlin and dozens of others, including "Desperate Housewives" alum Felicity Huffman, were involved in the college admissions scandal known as "Operation Varsity Blues." Both Loughlin and husband Mossimo Giannulli were hit with multiple charges, including one count of conspiracy to commit mail fraud and honest services mail fraud.
According to NBC News, Lori Loughlin and Mossimo Giannulli reportedly paid half a million dollars to a man named Rick Singer and Key Worldwide Foundation to "bolster their two daughters' chances of gaining admission to the University of Southern California." Then after first pleading not guilty, the actor and her husband accepted a plea deal and admitted to one count of conspiracy to commit wire and mail fraud. Loughlin turned herself in to begin her two-month prison sentence on October 29, 2020, and was released in December of that year. She also has been placed on two years of supervised release, has to pay a $150,000 fine, and do 100 hours of community service, according to CNN. Her husband, meanwhile, was sentenced to five months of prison and also received two years of supervised release.
Tracey Gold
When former "Growing Pains" star Tracey Gold's mugshot surfaced after being booked for felony drunk driving in 2004, her eyes were wet with tears and she appeared unhappy. But she also probably felt relieved that her family survived what could've been a tragic accident. As Today reported at the time, Gold flipped her SUV on a California highway. Her husband, Roby Marshall, and their three children were all in the vehicle. The crash left her husband with an injured neck and one of her children with a broken collarbone. Somehow Gold, whose alcohol level was over the legal limit, escaped injury. Then after posting bail, she was released from police custody, only to face all of the legal drama that was in store.
On January 6, 2005, Gold — who played Carol Seaver on the sitcom — pleaded guilty to drunk driving, per Today. And as the AP reported at the time (via People), she pleaded guilty to a second felony charge, which landed her "three years' probation, completion of 30 days of work release supervised by the jail and 240 hours of community service."
"I didn't listen to my inner voice that night," Gold told Oprah Winfrey in 2005. "Because my own code of ethics is that I don't drink and drive. It felt like a dream. It felt like I couldn't believe this was happening. Five minutes ago, I was at a barbecue … everything was okay. In a flash, things had changed."