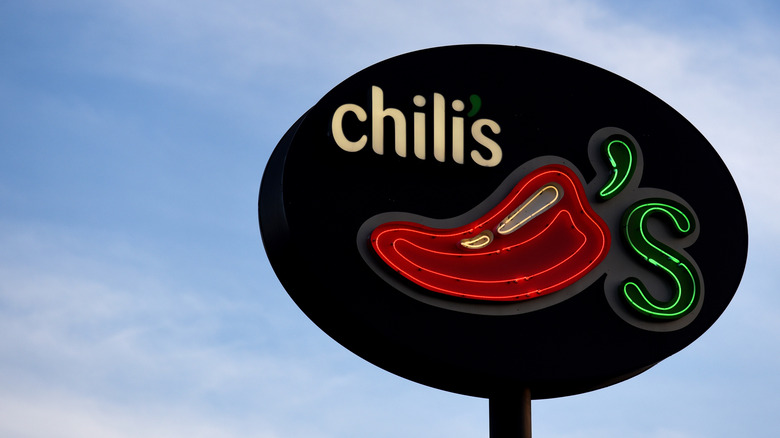 Sometimes, when you go out to eat, you want to stick with something familiar and comforting. And if you live anywhere in the U.S., then Chili's might just fit the bill for that. While Chili's might be struggling, that doesn't mean you shouldn't stop in for a familiar favorite. Who doesn't want some of those famous Big Mouth Bites?
However, if you haven't gone to Chili's many times or you haven't been there in a long time, you may be asking yourself what makes the most sense to order? There are so many choices, after all, and you want to pick what's going to taste the best. Because here's the truth: While Chili's has some amazing menu items to choose from, a lot of them aren't nearly as good. In fact, we'd venture to say that some of them are downright bad.
Clearly, you'll want to avoid those orders if you can. So, before the next time you head to Chili's, take a look at our ranking of some of the most popular items on the menu. This ranking doesn't include everything you'll find at Chili's, but it covers a lot of what you might consider ordering. That way, you can order the best meal possible. Let's take a look.
21. Southwest egg rolls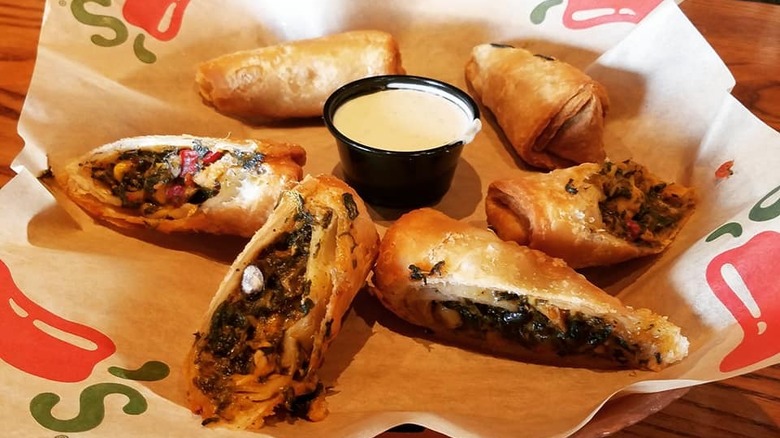 When you first arrive at the restaurant, you're likely to start with some appetizers. If you're going out and spending money already, you might as well treat yourself, right? There are a lot of items that may jump out at you, but if there's one you should definitely avoid, it's the Southwest egg rolls. This is one of those cultural mashups that should have never really happened — it takes two delicious foods and puts them together in the most basic and derivative way possible, resulting in an appetizer you probably won't want to eat.
Flour tortillas are stuffed with black beans, chicken, corn, red peppers, spinach, and jalapeno jack cheese. They're then fried until they become crispy, and they're served with a side of avocado ranch. We don't know where the spinach came from here, as that seems like kind of a random addition. And despite all the veggies, this appetizer still feels super unhealthy because it's as oily as can be. Plus, they're barely egg rolls at all, so if you're looking for some kind of notable Asian influence, you're going to be disappointed.
This seems like a gimmicky appetizer, and it doesn't even taste good. That's why you'll never find us ordering this dish at Chili's.
20. Classic ribeye
Every once in a while, you might want a good steak. Steaks are expensive for a reason — it's a lot of meat, and it feels pretty luxurious, which is why you may not mind spending a little bit more for a great cut of meat. However, if money is tight, we think you're much better off buying and cooking a steak at home than you are ordering the classic ribeye from Chili's. While you may not pay as much as you would if you were to get a steak from a nice steakhouse, there's a reason for that.
Unless you get really lucky, your steak probably isn't going to be cooked that well (unless you like it well-done, which is your prerogative but highly discouraged by … well, just about everyone). Just think about it: Chili's doesn't specialize in steaks, so you're going to get an average one at best. And though a steak might be on the cheaper side here, you still shouldn't waste your money unless you know you're going to get something really impressive.
Our advice? Skip the huge slabs of meat and go for something that you can't get anywhere else instead. You can always go to a steakhouse some other time.
19. Ancho salmon
We love salmon, especially when it's cooked to perfection. But we'll admit it: it's easy to make a mistake when cooking salmon. It can be a difficult food to cook because it can easily get dried out, leaving you with an unpalatable hunk of seafood that you have to drown in sauce just to choke down. Obviously, that doesn't sound like a fun experience, which is exactly why we wouldn't recommend the ancho salmon from Chili's.
As you might expect, they're not exactly experts at making seafood at Chili's. You may get lucky with a particularly good piece of salmon, but in our opinion, it's not worth the risk of getting something you won't even want to finish. To top it all off, the amount of salmon that you'll get in this dish is pretty paltry, and you'll almost certainly be hungry for more. You can fill up on the broccoli and Mexican rice that come on the side, but they are about as bland as can be.
While we admit that the spicy citrus-chile sauce in this dish is good, the sauce alone can't save a hunk of dried-out salmon. That's why we think you should pass this one up entirely.
18. Cajun shrimp pasta
If you want something nice and light when you go out to dinner, you may think about ordering the Cajun shrimp pasta. Get one look at this meal, though, and it'll be clear that it's far from light or healthy. In fact, it boasts a whopping 1,090 calories. That might not be bad if it actually tasted good, but unfortunately, that's just not the case. Instead, you'll be wasting all those calories on an excessively creamy sauce that drowns out just about every other flavor in the dish.
The alfredo sauce here is not, as you may have guessed, Cajun, but rather, it's incredibly bland. It doesn't even taste cheesy, necessarily — more of a generic white sauce that turns everything it touches into a cafeteria lunch. It coats pasta that's way too overcooked, ultimately leaving you with a gummy feeling in your mouth. If you think that sounds unpleasant, you're right.
The shrimp in this dish isn't bad, especially if it's cooked well, and it plays nicely with the green onions that are sprinkled on top. But considering you'll have to eat it with all that pasta, we certainly wouldn't recommend this menu item to anyone we're dining with.
17. California turkey club
Are you interested in eating the most boring sandwich you've ever tasted? Okay, that might be a little harsh, but we just can't support the California turkey club at Chili's. We think this sandwich might be okay if you didn't have any other choices, but that's just not the case at this restaurant.
On the sandwich, you'll find bacon, red onion, Swiss cheese, lettuce, tomato, avocado, and of course, turkey. The turkey is really dry here, and you may be disappointed to find that you won't get as many veggies as you might be expecting. The cilantro pesto definitely takes the sandwich up a notch, but it still doesn't save it from its fate as a boring sandwich at the end of the day.
This is something you could easily make at home, and it would probably taste better there, too. Therefore, we don't think there's any reason why you should get it when you go out to a restaurant like Chili's.
16. Original chicken crispers
Chicken tenders seem like a standard choice at a lot of American restaurants. It's one of those dishes that's pretty hard to mess up. After all, it's just breaded chicken that you can dip in a variety of sauces. What could go wrong? But in our opinion, the original chicken crispers at Chili's are not the way to go. The breading on these things isn't as crunchy or crispy as you might expect, but they still feel pretty oily. And we wish the chicken were more tender, but it's just not.
Then, let's talk about the sides. This chicken comes with fries and corn on the cob, which results in a lunch or dinner that's basically just a blob of beige. You may not be going for the healthiest thing on the menu, but don't you want at least a little bit of color on your plate?
The honey mustard sauce that comes with the chicken is the saving grace for the whole dish, but we're guessing that you don't want to order an entree because of the sauce alone.
15. Texas dry rub ribs
When you want an iconic dish, you should generally go to a restaurant that's known specifically for that. That way, you know you're getting something that's high-quality and cooked to perfection. That's why we wouldn't recommend getting a steak at Chili's. We have the same feeling about many of the ribs you'll find at this restaurant, like the Texas dry rub ribs.
If there's an operative word in the name of this dish, it's dry. Sure, we love a dry rub — who doesn't love eating ribs without getting all messy? — but this dry rub is just not it. It doesn't have much flavor at all. More than anything, it's just salty. While we don't mind a bit of saltiness on our meat, we want something that's more interesting than that if we're ordering from a restaurant.
The meat itself doesn't fall off the bone as we want it to, so we'd rather opt for a cheaper entree. This definitely isn't the worst meal you can order at Chili's, but it's far down enough on our list that we would suggest you skip it entirely.
14. Carnitas fajitas
When you don't know what to order at a restaurant, some menu items seem like they're going to be safe no matter what. For example, how can you mess up fajitas? Sure, Chili's may not be a Mexican restaurant, but considering that it carries a lot of different Mexican-inspired dishes, it may not seem like a bad move. That's partially true, though we still aren't going to put the carnitas fajitas anywhere near the top of our list.
This entree boasts a lot of veggies, which we definitely like. The mango-habanero sauce you'll get when you order this dish is really good too — and a good sauce can definitely take a dish to the next level. Our complaint here is with the meat itself. Unfortunately, there's a good chance it's going to be quite dry. Since there are so many other textures and flavors at play here, that may not be as big a deal as it would with any other meat dish, but it's still not ideal.
13. Mushroom Swiss burger
At a restaurant like Chili's, it makes sense to order something like a burger. Since Chili's specializes in typical American food, a burger is definitely a safe route to take, and since there are so many different burgers to choose from, you should be able to find one that tastes amazing to you. But we probably wouldn't place the mushroom Swiss burger at the top of our list.
Don't get us wrong: The burger itself isn't bad. The beef is tasty and well-seasoned, and it comes on a delicious buttery bun. The garlic aioli is also a nice addition that adds a little something extra to the mix. However, the mushrooms feel a little rubbery, and the Swiss does nothing for the burger at all.
Overall, it's kind of a boring sandwich, and we think there are much better burgers on the menu. If you're just dying for some mushrooms on a burger, though, go for it! It's certainly not the worst dish you could order from Chili's.
12. Skillet chocolate chip cookie
Let's be honest: The portion sizes at Chili's are out of control. When you eat out here, you'll almost certainly want to take a to-go box with you when you leave. Therefore, once you've finished your appetizer and an entree, there's a good chance that you won't have any more room for dessert. However, for those who always have extra room for something sweet, there's the skillet chocolate chip cookie.
Just be warned that this dessert is very, very indulgent. In fact, it's probably better to share it because one person is unlikely to be able to finish the whole thing. The cookie comes, as the name suggests, in a skillet, which means it's still warm. It's then topped with vanilla ice cream and hot fudge.
While all of this sounds delicious, we think it's just a bit too heavy. For people with a sweet tooth, though, it may be a good option. We really think it all comes down to how much of this dessert you eat. A few bites, and there's a good chance you'll love it. But if you have to down the whole thing yourself, you may have a sugary stomach ache by the time you get done.
11. The Boss Burger
You already know how we feel about the mushroom Swiss burger, but what about some of the other burger options on the menu? The Boss Burger is likely on your radar as well, and we can't blame you once we see everything that's in it. The smoked brisket and tender rib meat make the protein in this burger super tender and delicious. The veggies like lettuce and tomato add a note of freshness, which is something that makes a good burger and makes it great.
Where we hesitate, though, is with all the other meat. This burger also boasts bacon and sausage. That's not to mention the slice of cheddar cheese, which adds even more heaviness to the equation. Overall, we think that it's just too much. It might taste good for the first few bites, but it's going to be difficult to get through the whole thing.
Maybe if you're super, super hungry, this burger is the way to go. If you're looking for something on the lighter side, though, this is clearly not the one you should choose.
10. Chicken fajitas
The carnitas fajitas may not have been our favorite dish on the menu, and the chicken fajitas aren't necessarily our favorite either. However, we do think that they're a lot better than the carnitas, and they're a solid option is you're looking for some Mexican-inspried fare. Here, too, you'll get plenty of veggies (and honestly, that can be difficult to find in a dish at a place like Chili's). The main difference here is the fact that the chicken isn't quite as dry.
This meal also comes out looking quite colorful, which makes it even more appealing. At a restaurant with so many dishes that just look vaguely beige, it makes a big difference. Again, is this the finest Mexican cuisine you'll ever eat? No, of course not. But if you have a massive craving for fajitas and just happen to find yourself at Chili's, it makes sense to order this dish.
9. Bacon avocado grilled chicken sandwich
There are so, so many entrees at Chili's that are just too heavy, certainly heavier than what you might eat on a daily basis. While that may be okay from time to time, you don't always want to eat something that's going to land like a bomb in your stomach. That's why we sometimes prefer to grab something like the bacon avocado grilled chicken sandwich. It still has a feeling of indulgence to it, but it doesn't go too over the top.
When you order this meal, you'll actually get two little sandwiches, which are actually easier to handle than one big one. These sandwiches are filled with grilled chicken, Swiss cheese, and avocado. Of course, this being Chili's, you shouldn't be surprised to see that it comes with bacon as well. There are also veggies like sauteed onions, lettuce, and tomato, and it's all topped with a cilantro pesto mayo. The roll is nice and buttery, which is a nice addition.
We like this option because it's filling but not too filling. We wish the flavor were a little more interesting, but it's still a relatively good choice if you're in the mood for a sandwich.
8. Loaded boneless wings
Here's another appetizer that you might want to try out — but we like this option way, way better than the Southwest egg rolls. The loaded boneless wings are pretty intense, so keep that in mind. The boneless wings form the base layer of the dish. They are then smothered in ranch dressing. If you're not a ranch fan, you can probably excuse yourself now and move on to the next menu item. But if you happen to be a fan of ranch, then you're likely going to love this.
It's then topped with a ton of extras, like shredded cheese, bacon, and chopped green onions. These additions really take the dish to the next level because they add more flavor and texture (and the onions add some much-needed fiber).
This appetizer may have been ranked higher if it weren't for the fact that there's just so much ranch covering the wings. We think it might have been better if you could just dip the wings in the ranch, but it's true that would look a lot less impressive. We'll let you be the judge of whether this is an appetizer you want to try or not.
7. Big Mouth Bites
Look, just about everyone loves their favorite food in a miniature form. It's not even about the taste — there's something just so appealing about digging into something that's cute and smaller than you may expect. That's why the Big Mouth Bites have landed closer to the top of our ranking. Are they breaking culinary boundaries when it comes to flavor? Absolutely not. Basically, they're just your average burgers: They come with bacon, cheese, sauteed onions and a ranch sauce (yes, ranch again — it's Chili's). But their tiny size makes them something special in the world of national restaurant chains. Instead of getting one burger, you'll get four little ones.
Clearly, this is a dish that's great for kids because they can more easily pick up the tiny burgers. But it's also fun for adults who just want something different for a change. If you're not too much of an adventurous eater but want to try something new, the Big Mouth Bites may just be for you.
6. Molten chocolate cake
For those looking for the most over-the-top (but actually really delicious) dessert on the menu at Chili's, the molten chocolate cake is the way to go. There are variations on this dessert at a ton of national chains, but we think that Chili's does it best. Maybe it has to do something with the presentation. When you order this dessert, it will come out as a mountain of chocolate cake. On top of the cake, you'll find a generous scoop of ice cream. The whole thing will be topped off with fudge sauce that drips down the sides of the cake.
But there's more. Once you cut into the dessert, molten chocolate will start flowing out of the middle like lava. Soon, the dessert will be sitting in a pool of melted ice cream and chocolate, resulting in one of the richest treats you can find on the menu.
Of course, this isn't something you want to order unless you're really hungry. Even then, it's best to share this dessert amongst a few people because it is kind of overwhelming. However, when it comes to the desserts at Chili's, we think this one takes the cake.
5. Quesadilla Explosion Salad
We're just going to start off with what may already be obvious here: The quesadilla explosion salad isn't a salad you're going to want to order if you're trying to find the healthiest thing on the menu. For one, the whole salad comes out to 1,340 calories. Yes, that is a lot for a restaurant salad. But even if you didn't know the calorie count, any salad that features quesadillas in the mix probably isn't going to be your best bet health-wise.
If you're just looking for a salad that tastes delicious, though, then this one will almost definitely get the job done. The lettuce is topped with chicken, shredded cheese, salsa, and tortilla strips. It also has a splash of balsamic vinegar on top that provides some much-needed acidity. The quesadillas are placed around the outside of the plate for decoration (but also for eating).
Yes, this salad is a bit over the top, but it also tastes really good. It has the perfect balance of both fresh and more indulgent ingredients. Give it a try if you're pondering the salad menu.
4. Honey chipotle ribs
The Texas dry rub ribs may not have been our favorite in this ranking, but the honey chipotle ribs are a whole different story. We don't know if it has something to do with the sauce, but it seems like these ribs are a whole lot more moist and tender, which is what you're looking for in a good cut of meat. One thing is for sure, though: The sauce adds an incredible kick of flavor. You've got the heat from the chipotle, but don't worry — it's not too spicy. Then, you've got the sweetness of the honey and the umami notes from the meat mingling together to create something spectacular.
Unfortunately, these are a lot messier to eat than the dry rub ribs, so it may not be something you want to order when you go out to eat in a restaurant. But if you're open to making a bit of a mess and want to taste some of the best meat on the menu, then these ribs should be at the top of your must-try list.
3. Fried pickles
There's one common appetizer you'll find at a lot of restaurants that nearly always comes out at the top, and that's fried pickles. We love fried pickles because they're not that easy to mess up, and they always get a meal off to a great start. You've got the crispiness of the batter that pairs perfectly with the acidity of the vinegar in the pickles. Then, you usually dip them in something creamy, which adds yet another dimension of flavor to the mix. How could you go wrong with that?
Chili's certainly can't because their fried pickles are pretty incredible. In fact, they're our favorite appetizer at the restaurant, despite a long list of far more novel creations. The fried pickles are pretty indulgent, but because you don't get a lot of them, you won't ruin your dinner by starting off with an order. You should definitely give them a try the next time you find yourself at a Chili's.
2. Caribbean salad with seared shrimp
Who knew a salad would make our top two? But in the sea of frankly overly heavy entrees that you'll find at Chili's, the Caribbean salad with seared shrimp is seriously one of your best options. At just 530 calories, it's one of the more reasonable offerings on the menu, but that definitely doesn't mean it's lacking in taste. The seared shrimp is cooked perfectly, and the addition of mandarin orange, pineapple, and dried cranberries adds a touch of sweetness that goes really well with seafood.
But there's plenty of savory flavors going on as well. The green onions and cilantro add a pop of strong flavor, and the red bell peppers and honey-lime dressing bring it all together. The result is a super-fresh healthy salad that you can eat all of without being too full. It's simple, but it's put together well, and it's something that we would actually enjoy eating on a regular basis.
1. Mango-chile chicken
While the mango-chile chicken may be slightly heavier than the Caribbean salad with seared shrimp, it's still one of the lighter options on the menu, and that's just how we like it. This chicken is seasoned with a blend of chile and mango glaze. It has a salty-sweet-spicy thing going on that we can't get enough of. We also love how fresh it is. On top of the chicken, you'll find avocado, mango, pico de gallo, and cilantro. It gives the chicken a lovely summery taste to it.
This dish also comes with a side of broccoli and rice to round out your meal. At just 510 calories, it's one of the most reasonable items on the menu, but it's still surprisingly filling. It's a nice change of pace from the other dishes that Chili's offers, so it's worth giving it a try at least once. And when you choose this entree, you'll have even more room to try out those appetizers and desserts — and that's half the fun anyway!