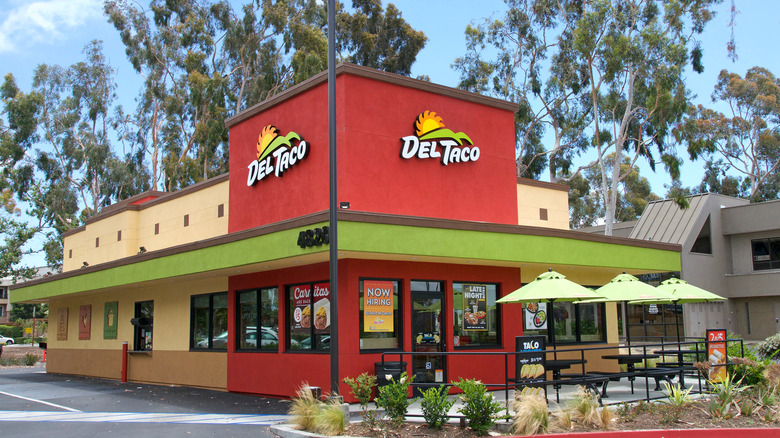 Do you ever feel like eating Tex-Mex food, only to be disappointed when there's not a good restaurant anywhere nearby? Or maybe you love Mexican food, but you just don't have the cash to be doling out the dollars for a restaurant meal on a regular basis. Whatever the case may be, every once in a while, a trip to a fast food taco joint isn't going to hurt you. Taco Bell? No, we mean Del Taco! While this popular chain restaurant isn't available everywhere in the U.S., if it's in your town, you're definitely in luck.
There are a variety of fresh-tasting tacos, quesadillas, burritos, and more you can get from this hot spot. But there are also some menu items that we don't particularly like. If you want to know which ones to avoid and which ones to order the next time you go through the Del Taco drive-thru, then we've got good news for you. We've ranked our favorites (and our least favorites) in order from worst to best, so you can get a better idea of what you should order the next time you're there.
Just keep in mind: This doesn't include every item on the menu, and you may or may not disagree with us on some of these. Just keep an open mind, and remember: It never hurts to do your own research when it comes to food.
19. Crinkle Cut Fries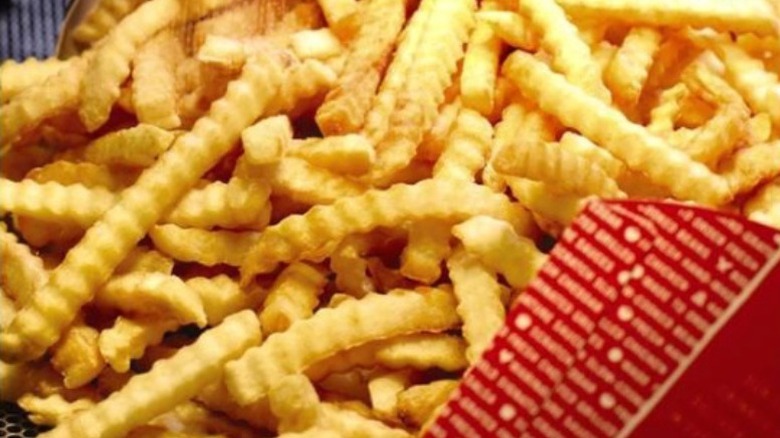 It probably won't surprise you to discover that the fries you'll find at Del Taco aren't exactly the best on the fast food market. Sure, they've got some tough competitors (looking at you, McDonald's fries), but you may not expect them to be such a dud. Unfortunately, you're not going to get a great fry experience when you make your way to Del Taco.
First of all, these fries aren't salty enough. That may be a good thing if you're trying to watch your sodium intake, but if you actually want to enjoy your meal, it's not exactly ideal. Second of all, they don't have the crispiness you've come to expect from some fast food fries. Instead, they're kind of soggy and flimsy. They just feel like a blob of nothingness in your mouth. And while you probably could shovel them down if you were really hungry, what's the point of that when there are so many other delicious menu items available at Del Taco?
Del Taco is known for its Tex-Mex food, and French fries don't really fall into that category. Therefore, it's not too much of a surprise that they landed in last place on our list. If you have the choice of getting another, different side, we would totally recommend it.
18. Mini Cheddar Quesadilla
Now we turn to a menu item that's a bit more expected at a taco restaurant: the Mini Cheddar Quesadilla. We should start off by saying that we have nothing against quesadillas in general. After all, how can you beat the beautiful simplicity of cheese and a tortilla working together to create a mouthwatering culinary experience? But when it comes to the Mini Cheddar Quesadilla from Del Taco, you're better off ordering something else.
Sure, this may be designed as a side dish, but it really has nothing going on in it. It's literally just cheddar cheese and a flour tortilla. Not a bad combination, technically. But there's no reason to pay for it from a restaurant (even a fast food place) when you could make it so easily at home. Just put a tortilla in the microwave with some cheese on it, and you'd have the exact same thing.
Sure, we get it. If you're going through the drive-thru with some picky kids and you don't know what to get them, the Mini Cheddar Quesadilla may be a smart choice. However, nobody over the age of 10 should choose this over anything else on the menu if they know what's good for them. Don't you want some meat, some vegetables … anything else? While this menu item doesn't taste bad, there's just no reason to choose it over everything else on the menu.
17. Donut Bites
If you're the kind of person who always has to have something sweet after a savory meal, you're not alone. It feels great to finish off a salty, umami entree with something that tickles some different taste buds. But if you're looking for a sweet treat from Del Taco, we personally wouldn't recommend the Donut Bites. They're basically donut holes, but for some reason, they're not called that. You'll get a pack of four fried pieces of dough that have been powdered in cinnamon sugar.
Cinnamon sugar may sound good, but in all reality, it's way, way too much sugar. These things are sickly sweet — it makes sense that they only give you four of them, because you probably wouldn't be able to eat more than that. And we're slightly distrubed that Del Taco says that you can eat them for breakfast. Sure, you could — but should you? If you care about your health in any way, it's probably not the best idea.
But our main complaint with this dessert from Del Taco is just the fact that it's so basic, and frankly, boring. You can get donut holes anywhere (and they will usually be better than these). Basically the only reason you would buy these is if you were too lazy to find another drive-thru for dessert. Try them if you want, but we wouldn't waste our money.
16. Breakfast Toasted Wrap
Let's just be clear here: the Breakfast Toasted Wrap is actually a pretty good idea. And when you compare it to some of the other fast food breakfast options out there, it starts looking pretty tasty. However, we thought that this menu item was lacking in taste. Though it has a lot of potential, it's missing something savory that could give it a little flavor boost.
What is it, you ask? Great question. Inside a flour tortilla, you'll find scrambled eggs, cheddar cheese, hashbrown sticks, and salsa. You can keep it vegetarian, or you have the option of adding in bacon or carne asada. It's a handheld breakfast you can eat even when you're on the go. Our problem, though, was that the whole thing is kind of boring. We would've liked them to add more salsa on top of the other ingredients so the dish had more freshness and kick. But as it was, it was kind of on the boring side.
That being said, including the hashbrowns in the tortilla instead of alongside it was a great idea, and we wish more fast food restaurants would do this with their breakfasts!
15. Signature Taco Salad
Maybe you're trying to eat healthy, but you find yourself at the Del Taco drive-thru anyway. That may not be the ideal place to be if you're looking for something that's got plenty of nutrients, but sometimes, you have to take what you're given. You look over the menu and decide that a salad might be your best option. If you want to keep it classic, the Signature Taco Salad might seem like a no-brainer.
But when you actually get this salad, you may not be too pleased with your choice. Beef, cheese, avocado, black beans, cilantro, sour cream, pico de gallo, and crunchy corn chips sit atop a bed of lettuce, waiting for you to dog in. However, we were disappointed that the toppings were kind of sparse, while there was plenty of average-looking lettuce. The cheese and the sour cream take down the health factor considerably, so what you're left with is a meal that's only vaguely appetizing and probably doesn't fit into your diet anyway.
Our advice? If you're taking a trip to Del Taco, order something that actually sounds good to you. Then, go back to your healthy eating habits when you're home and can make a salad you'll actually enjoy.
14. Epic Scramblers
Now, Del Taco may not be our first choice for breakfast fare, and you already know how we feel about the Breakfast Toasted Wrap. But if you still find yourself there in the morning and want to try something slightly more delicious, you may want to try the Epic Scramblers. They're basically big burritos filled with egg, hashbrowns, cheddar cheese, and pico de gallo salsa. You can also choose to fill these with either carne asada or with bacon, so you get to do a bit of customization here.
While these are still not the most flavorful items on the menu, they are better than the Breakfast Toasted Wrap. Why? Well, the addition of red sauce goes a long way in making these things appetizing. The fresh sauce adds a bit of a zing that you'd miss if it were gone.
Is this the most groundbreaking fast food breakfast we've ever seen? No. But will it fill the void if you just happen to pass a Del Taco on your way into work? Definitely.
13. Chicken Rollers
Next on the list are the Chicken Rollers. This basic dish is on the buck-and-under menu, so you won't have to spend a bunch of money just to get a taste of what it offers. And while it may not be the tastiest thing you can order from Del Taco, it's not a bad choice if you're looking for something inexpensive or you're just not that hungry.
Chicken Rollers are essentially tiny burritos. They're not going to be packed full of ingredients like you would get if you ordered a regular burrito. Instead, they're rolled flour tortillas with just a little bit of filling. The filling is pretty basic. It contains grilled chicken, your choice of cheese, and a sauce of your choice. One thing we love about this treat is the fact that you can customize it however you want. However, you're not getting much food here, and it's so simple that we can't help thinking that we might as well just make it at home.
If you order the Chicken Rollers, though, you can expect them to taste pretty good. Just a fair warning: If you're looking for an entire meal, you'll probably want to order something else along with this dish. It's not likely to fill you up if you're super hungry.
12. Deluxe Chili Cheddar Fries
Now, you've already heard our opinion on the fries you'll find at Del Taco: They're not good. If you're looking for fries specifically, you'd better go somewhere else. But that doesn't mean we completely hate the Deluxe Chili Cheddar Fries you'll find at Del Taco. Sure, they start with fries that we just can't get into. But somehow, when you top those fries with a ton of flavorful ingredients, they start to taste better than you might expect.
Despite the less-than-impressive base, we love that these fries are loaded with beef chili, cheddar cheese, and sour cream. We know that sounds pretty heavy, but don't worry — there are also diced tomatoes and onions on top that give it the freshness you're craving. When you bring all the ingredients together, it makes something pretty special.
The fries may not be that good, but we love the fact that you can get them covered in so many other tasty ingredients, which is why the Deluxe Chili Cheddar Fries have made it so far up on this list.
11. Mini Shake Poppers
These days, boba, or bubble tea, is all the rage. And it makes sense: It's basically a dessert you can drink. The tea itself is usually pretty good, but when you add in the tapioca or jelly balls in the bottom for some texture, it takes the treat to a whole new level. It doesn't surprise us, then, that Del Taco has tried to capitalize on the success of this famous dessert drink. Perhaps that's why they have Mini Shake Poppers on their menu.
The drinks are made with the restaurant's premium shake and feature "round bursts of blueberry or peach fruit juice." While it may not technically be boba, it sure looks like it. On their own, these sweet treats aren't bad, and they actually are great for a small but satisfying dessert. They have a fruity kick that breaks up the sweetness just slightly.
However, when compared with actual boba, they're a little less impressive. We don't want to draw any false equivalencies, but Del Taco knew what they were doing when they made this very boba-like drink, so they can't blame us for comparing them.
10. Grilled Chicken Taco
You may wonder how we've gotten this far in our list without any mention of a taco. Well, that's because this ranking is organized from worst to best, and we have to admit, Del Taco knows what they're doing when they make tacos. Now, are these the most "authentic" tacos in the world? We're guessing probably not. But what does "authentic" even mean, anyway? And if the food tastes good, that's all you need to know!
Luckily, the grilled chicken taco certainly gets the job done. If you're looking for something standard that's probably always going to taste good, this may just be the way to go. A warm flour tortilla houses chicken, lettuce, and cheddar cheese. There's also a special "secret sauce" that gives this taco a burst of flavor it wouldn't otherwise have. It all comes together in a convenient package that's easy to eat even if you're in the car.
This specific taco didn't rank higher on our list just because it's so basic — you can get the same thing at just about any taco joint you go to. But since Del Taco did such a good job with this standard dish, we can't help but to give it a thumbs up.
9. Pollo Asada with Avocado Bowl
If you're really looking for something that's on the healthier side at Del Taco, do we have an option for you: the pollo asada with avocado bowl. This is one of Del Taco's Fresca bowls, and though we were hesitant when we first saw it, we've now decided that it's a decent menu item — and it's even better once you consider how healthy it is … on most fronts, anyway.
PopSugar listed this dish as one of the "healthiest things you can order at Del Taco." This is what they had to say about the nutrition information: "The pollo asado bowl is a tortilla-free alternative to a burrito; it has 570 calories coming from 23 grams of fat, 61 carbohydrates, and 31 grams of protein, with 8 grams of fiber and only 5 grams of sugar. It also brings in 30 percent of your daily vitamin C and 25 percent of your iron, but a whopping 1,370 mg of sodium (which is even less than the green chile chicken version of this meal, actually)."
So yes, while it still has an incredible amount of sodium, it's not too bad for you on the health front. And the taste? It's definitely good, but we probably wouldn't rank it any better than something you would find at a place that's known for its bowls, like Chipotle. Overall, though, this is a great option for those who are trying to eat a bit healthier.
8. Bean and Cheese Crunchtada
Calling all veggie lovers and vegetarians! You're going to love the item that's next up on our list: the bean and cheese Crunchtada. This may be a simple recipe, but it's also surprisingly delicious — and something that you'll undoubtedly want to try. It has, as you've probably guessed by now, beans and cheese, but that's not all. You'll also enjoy the lettuce and salsa that rests atop the crunchy tostada. The flavors mix and mingle really well, and you might even forget that you're eating a completely meat-free meal.
That being said, if you get just one of these bad boys, it's almost certainly not going to fill you up, especially if you were feeling pretty hungry before you made it to the drive-thru. It's also a bit difficult to eat: This is not something you're going to want to take with you in the car. With a tostada this crunchy, there are going to be a lot of crumbs. Despite its lack of portability, though, we definitely liked this dish and would certainly order it again.
7. 3-Layer Queso Nachos
Just because you're going to a fast food joint doesn't always mean you want a whole meal. What if you just need a quick snack or a pick-me-up? If that's what you're looking for, Del Taco is actually a perfect place to be because it has lots of these small, snack-y items. One of those items is the three-layer queso nachos. This dish is simple, but it's one that you'll probably like if you're looking for something that's on the lighter side.
First, it starts with tortilla chips. No surprise there. Then, they add on queso blanco, slow-cooked beans, and a tangy green sauce. While all of these ingredients taste good, the green sauce is where it's really at. It adds an acidity that seriously takes these nachos to the next level.
One thing we don't like about these nachos, though, is the fact that they're really hard to eat. Not only are they messy, but sometimes the queso can get a little dry and make all the chips stick together. You're going to need a napkin and a table to eat if, but you're going to enjoy it when you do.
6. The Del Taco
If there's one thing you have to order at Del Taco, it's The Del Taco, right? This taco actually comes in two varieties, so you can choose whichever one you prefer. If you don't mind a messier taco, you should go straight for the crunchy shell. There's something about the crunch that really takes this taco to the next level. If you'd prefer a soft shell, though, that's available too.
Then come the toppings. The seasoned beef is exactly what you think of when you think of the "taco meat" your mom used to make. Then it's piled high with tomatoes, cheese, and lettuce. Altogether, it creates a mouthwatering snack or meal if you order several at a time. If you love a standard Americanized taco, then this might just be your go-to at this restaurant.
The only reason we didn't rank it higher was because of the lack of sauce. Sure, you can always ask for some salsa on the side, but we think it would be tastier if it came in the taco. Even without the sauce, though, this is surely a fast food taco that you're going to enjoy.
5. Epic Fresh Avocado Burrito
Sometimes, you want something that's really going to fill you up and keep your hunger at bay. But that doesn't necessarily mean you want something that's too heavy on your stomach. If that's the way you're feeling, you might want to try the Epic Fresh Avocado Burrito. First of all, this line of burritos is described as "epic" for a reason. They're pretty massive, which means that it's pretty much all you need to order if you're just trying to fill up and be on your way.
However, we like this one specifically because of the amazing mixture of ingredients. You can choose which kind of meat you want with the option of grilled chicken, carne asada, or even Beyond Meat for all the vegetarians out there. Then, once you add in the rice, beans, pico de gallo, sliced avocado, and salsa, you really have a masterpiece. We loved that this burrito was so refreshing and healthy-feeling, so it's definitely something that we would order again.
4. 8-Layer Veggie Burrito
Something that we absolutely love about Del Taco is the fact that it's such a welcoming place for vegans and vegetarians. A lot of the time, it's hard to find a veggie meal at a fast food restaurant. But at Del Taco, vegetarians actually have a wealth of options available to them. Our favorite, though, has to be the 8 Layer Veggie Burrito. While this recipe may be simple, the flavors come together to create something truly special.
It starts with the seasoned, slow-cooked beans. Then, you add in the cilantro rice, cheese, red sauce, and sour cream. And you can't forget all the fresh ingredients, like tomato, lettuce, and guacamole. Then it's wrapped up and passed out the drive-thru window.
This burrito is seriously out of this world. It's filling, but since it's all veggies, you don't have to worry about it being too heavy. The beans and the guacamole together make this burrito maybe a little bit too creamy, but we're not going to complain too much about that considering how delicious it tastes. Vegetarians out there, you're going to want to give this one a try.
3. Caramel Cheesecake Bites
Are you looking for a dessert from Del Taco that you can really enjoy? You already know that we aren't a huge fan of the donut bites, but luckily, that's not all they offer. If you're looking for something a bit different, you should opt for the caramel cheesecake bites. After all, who doesn't like cheesecake?
As the name suggests, this dessert involves little bites of cheesecake. But what makes this menu item special is the fact that the cheesecake bites are wrapped in a crispy shell. That gives you some texture that you wouldn't normally get from a dessert like this. Add in the gooey caramel, and you have a dessert that's designed to please.
We should warn you: This stuff is really sweet. Like, really sweet. But somehow, that sweetness isn't overpowering. If you're looking for an ideal way to end your meal at Del Taco, we have to recommend the caramel cheesecake bites. Chances are, once you taste them, you're going to want to go back for more.
2. Bacon Double Del Cheeseburger
Now, considering that Del Taco is, as the name suggests, a taco restaurant, you may not expect that the burgers there would be that good. If that's what you assumed, though, we're here to tell you that you're 100% wrong. The burgers at Del Taco are actually out of this world, and you have to try them the next time you're in the drive-thru. There are a few different options, but we have to recommend the Bacon Double Del Cheeseburger.
This burger is not for the faint of heart. It starts with double patties that will definitely fill you up. Then, they add some crispy bacon into the mix for a bit of crunch and fattiness. Lettuce, tomato, and cheese are added to the mix so you get the classic burger experience.
We love that the meat is so juicy in this burger, and the freshness from the veggies really breaks up all that meat. This sandwich may be messy, but you're not going to mind a bit of a mess when you realize how good it tastes. Just keep in mind: It may be difficult to eat on the go.
1. Habanero Crispy Chicken Taco
If you're truly looking for the best of the bunch when it comes to Del Taco's menu, the first thing you have to order is the habanero crispy chicken taco. The first time you bite into this taco, it's like all your fast food taco dreams are coming true. That's because it's an amalgamation of so many different fast food classics. First, you start off with the crispy breaded chicken. Is this standard for a taco? No. Is it amazing regardless? Absolutely.
Add in some crispy lettuce and the obligatory cheese, wrap it in a warmed flour tortilla, and you're good to go. But wait! You're forgetting the most important ingredient: the creamy habanero sauce. This sauce definitely has some heat to it, so if you don't like spicy food, you may want to skip this one. If you love spice, though, you're going to fall in love with this sauce. It's got both a kick and a creaminess to it that will make you fall head over heels.
If you're anything like us, you'll realize that this is the best taco on the menu. While you might want to try some other options, we think you'll be coming back to this one time and time again. Give it a try the next time you pass Del Taco — you can thank us later.