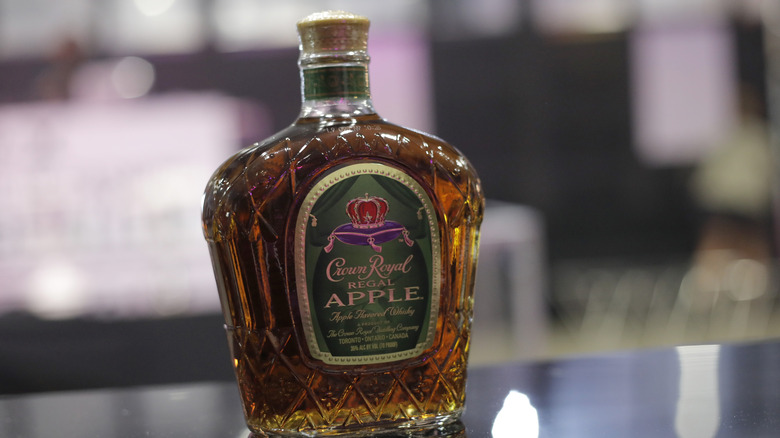 Flavored booze can be a hit-or-miss proposition. The cheap stuff usually whiffs big time, dominated by an off-putting chemical taste and aroma that gives off the impression that your liquor was created in a lab rather than a distillery. Like medicine, it is best to down this swill as quickly as possible so all that nastiness doesn't linger. Otherwise, it is advised to make the best effort to drown out a shot with mixers.
But there are plenty of options on the market that feature a flavor addition that doesn't taste like an afterthought and Crown Royal's forays into flavortown certainly fall into the handled-with-care camp. The offerings from the mid-tier Canadian whisky producer are some of the best in the category, particularly since the added natural flavors actually taste like the real thing and tend to be well integrated.
Restraint also factors into the distillery's portfolio. A mere seven Crown Royal flavored whiskies have been released so far and since some are limited releases, only a handful are available at a given time. The bottles tend to be in the $25-30 price range which is just about right for the quality of the contents. And yes, they all come packaged in the distillery's signature fancy velvet pouch with different colors reflecting each flavor.
Below we've ranked the full Crown Royal flavored whisky lineup.
7. Crown Royal Texas Mesquite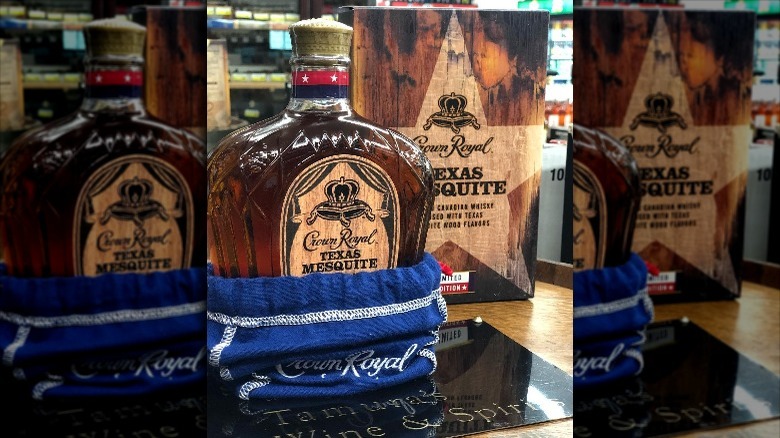 If you are thirsting for a refined sipper, it's probably best that you don't mess with Texas Mesquite. According to The Manual, this Great White North meets American South whisky is a throwback homage to the Canadians who traveled with a bottle of Crown Royal when they went to work on the oil fields in the Lone Star state. Plus, as the Houston Chronicle noted, Texas happens to be the distillery's biggest market so with that in mind the mashup choice makes sense.
While bringing a taste of barbecue to booze may seem odd, mesquite whiskies have been trending in recent years and smokiness has long been a celebrated flavor profile of heavily peated scotch from the Island of Islay. But Ardberg and Laphroaig this is not. In its tepid C- review, Whiskey Reviewer revealed it was turned off by the predominant booze-forward aroma of Texas Mesquite, and while the smoke is definitely present on the palate, The Whiskey Jug found the overall taste to be overly sweet.
Since this was a 2018 limited release, it is tough to track down and certainly not worth the effort of the hunt. You are better off simply smoking a nice slab of brisket and pairing it with a glass of good old reliable Crown Royal Black.
6. Crown Royal Salted Caramel
This seasonal release was introduced a few years ago and has since become a staple of Crown Royal's winter lineup. Just as its flavor profile straddles both sweet and salty, the opinions on the whisky are generally polarizing.
On the positive side, Salted Caramel earned top honors at the 2019 Canadian Whisky Awards for Flavoured Whisky Multi-Market. That high distinction is backed up by plenty of glowing reviews including high marks from Bachelor on the Cheap who proclaimed in a five out of five-star rave, "Crown Royal is a fine whiskey and this is an excellent pairing. You get the notes of caramel and thankfully it's not too sweet."
But for every fan there seems to be a detractor. "The palate takes no real detours," noted Drinkhacker in a dismal D+ review of Salted Caramel. "If there's a real whisky underneath all of this, it sure isn't easy to spot." Salty, indeed.
If you buy a bottle of Salted Caramel and it ends up falling short when served neat, consider adding it to your eggnog or pull a Lebowski and roll with it in a creamy White Russian.
5. Crown Royal Honey
When it comes to honey flavored whisky, Crown Royal's version is quite simply the bee's knees. Or rather, it was the bee's knees. The bottle made a brief appearance in the summer of 2016 and then buzzed off, never to be imbibed again.
That's a shame since the whisky had its fans. "Crown Royal Honey Whisky is sweet without being syrupy and while clover honey, and cinnamon flavor lead, there is enough Crown Royal Whisky taste to put a smile on your face," proclaimed Best Tasting Spirits.
But if you want to get your hands on some of that sweetness, prepare to frown. According to Wine Searcher, Honey is currently the priciest of the Crown Royal flavored whiskies with the price of a bottle now averaging $91. No, it's not worth that investment but if you happen to have a reserve stash mix it with lemon juice and simple syrup for a sweet and tart Honey Gold Rush.
4. Crown Royal Maple
Canada produces 71 percent of the world's maple syrup, plus the maple leaf is prominently featured on the country's flag and it is the namesake for Toronto's professional hockey team. With that in mind, since we're talking Canadian whisky here, maple is an, or rather, the obvious flavor choice for Crown Royal. Debuting nearly a decade ago, it marked the first flavored whisky in the company's portfolio.
It's no surprise that Crown Royal went the extra kilometer for this limited release. Beyond simply enhancing the whisky with natural maple flavoring, it's given some time to rest in maple-toasted oak. The result is a boozy breakfast in a bottle and according to Whiskey Apostle rates as a stand-out sipper. Wine Enthusiast is also a fan and recommends it for an extra sweet whiskey sour.
Unfortunately, Crown Royal Maple is shelved for now which, quite frankly, doesn't make much sense. Be warned that if you desperately want to indulge in that perfect whisky and pancake pairing you may have to drop three figures for the privilege.
3. Crown Royal Peach
Crown Royal had an instant sensation on its hands when the distiller unleashed its fresh Georgia peach-flavored whisky in 2019. In fact, according to VinePair, demand was at one point so high it became a red hot commodity on the black market which led to a man in Pittsburgh getting arrested for trying to flip bottles on Craigslist.
The good news is now there is absolutely no need to buy Crown Royal Peach from a stranger's trunk. The limited release tag has been lifted and you can easily procure a bottle at major retailers such as BevMo and Total Wine.
Though the taste certainly doesn't rise to the level of that initial hype, the juicy stone fruit flavor is prominent without overwhelming the whisky and is enjoyable served solo or on the rocks. For cocktail options, there are plenty of those including a peaches and cream (soda) pairing and a mimosa-esque fizz made with champagne and orange juice. If you want a pre-packaged cocktail, Crown Royal recently released its Peach Tea Whisky which is available in cans. But take note, reviews have been middling.
2. Crown Royal Vanilla
This gem of a flavored whisky is far from vanilla, at least in the boring sense. While vanilla flavoring can often taste faker than one of those robotic "there is a warrant out for your arrest" scam calls, Crown Royal Vanilla manages to capture the true essence of the pricey bean.
In a press release for the whisky's initial 2016 release, brand director Jim Ruane noted that vanilla was a natural pairing with Crown Royal. "Infusing our Crown Royal whiskies with the flavor of Madagascar Bourbon Vanilla allows us to highlight the vanilla notes found in many whiskies, including Crown Royal Deluxe, and share a delicious new offering with consumers," he said.
That is certainly the case here with the vanilla addition successfully enhancing the whisky's tried and true vanilla notes without becoming overwhelming. Serve straight on the rocks or, better yet, mix with Coke for an amped-up vanilla cola.
1. Crown Royal Regal Apple
There is a multitude of reasons why Crown Royal Regal Apple is straight-up awesome sauce, but one, in particular, stands out to us. It has to do with how the distillery derives the natural flavor that is added to the whisky and, according to Crown Royal, it begins with "selecting the perfect raw Regal Gala apples that already contain the desired apple notes. To maintain the essence of the Regal Gala apple, the apples start in a mixture of water and alcohol. The mixture is then distilled and specific selections are collected based on aroma. The aromatic fractions are blended to achieve the resulting apple flavor characteristics of the Regal Gala apple."
In other words, don't expect the artificial, overly saccharine candy apple taste that is the standard in too many apple-flavor booze options. Instead, the refined sweet and tart fruit notes blend seamlessly with the hints of vanilla and spice from the whisky achieving near-perfect harmony. It's not a huge surprise that Influenster ranks Regal Apple at the top of its whiskey category.
For cocktails, try a sweet and spicy Ginger Apple Cooler which brings maple syrup, lemon juice, and ginger beer into the fold. If you want to indulge your sweet tooth, how about apple pie in a glass? Then again, keeping things simple and enjoying Regal Apple on its own may just be your best bet.