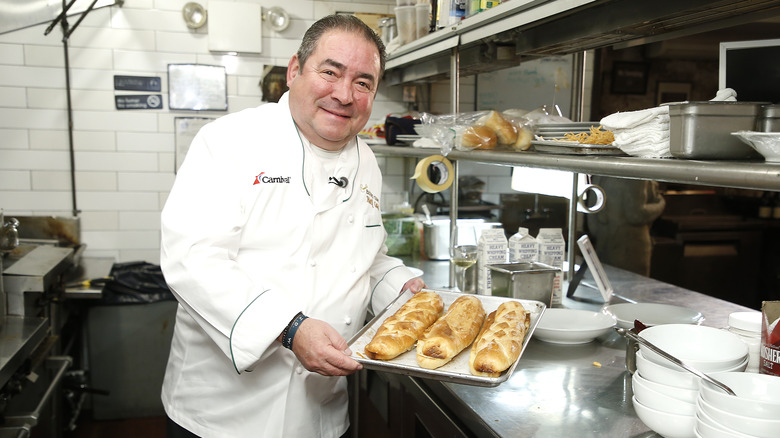 With his big smile, bigger face, and award-winning Creole cooking, what's not to love about celebrity chef Emeril Lagasse? Well, if you're one of the people he's crossed in his professional or personal life, that's actually quite a lot. Turns out, the guy who loves, "kicking it up a notch" has made more than a few enemies during his decades-long road to fame and fortune. Of course, it shouldn't be that much of a surprise, as most celebrity chefs have found themselves in some kind of public spat during the course of their careers.
But there's something about Emeril that seems to really get under people's skin, even if it's simply the way he looks. In his 2000 book, "Kitchen Confidential," the late Anthony Bourdain wrote of his "naked contempt" for the "Ewok-like Emeril Lagasse" (via ABC News). He later went on to trash Emeril's Food Network shows (via Grub Street). And while Anthony Bourdain and Emeril Lagasse eventually buried the hatchet, became friends, and even did some TV work together before Anthony Bourdain's 2018 death, per HuffPost, not everyone has decided to kiss and make up with Emeril. Who else has had beef with him? Read on for the people who can't stand Emeril Lagasse
Tommy Lee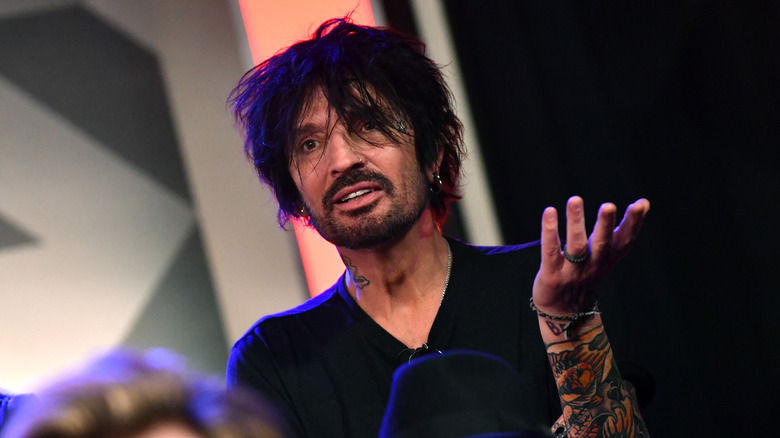 You'd think family-friendly TV chef Emeril Lagasse and heavy metal drummer Tommy Lee of Mötley Crüe wouldn't be a likely pair to cross paths. But they had a juicy online war of words in 2019 when Tommy Lee was ejected from the chef's New Orleans restaurant, Emeril's Delmonico. "Hey @Emeril I was just at your restaurant in New Orleans and was aggressively asked to leave because I was upset about removing my hat," the rocker tweeted at Emeril. "I removed it and they still came up to the table and gave me a hard time. Wtf dude????" USA Today also reported that on his way out, Tommy Lee hurled profanity at the staff.
Instead of apologizing for Tommy Lee's unpleasant dining experience, Emeril had a surprisingly salty retort, making fun of the amount of attention Tommy was bringing to himself over the matter. Per USA Today, he even compared it to the then-new Popeyes chicken sandwich, which at the time had just gone viral.
Not finding Emeril's reaction funny, apparently, Tommy Lee went to TMZ to further complain about the way he and his wife Brittany Furlan had been treated. Delmonico then replied with its own public statement, defending its decision to boot him (via Delish). To this day, it's unclear if Tommy Lee has frequented another Emeril Lagasse restaurant — but we're guessing he's probably chosen some other places.
The Food Network
The Food Network helped give Emeril Lagasse his big break, but it also gave him the boot. Starting in 1993, Emeril starred in a pretty staggering three shows on the network: "How to Boil Water," "The Essence of Emeril" and finally, the successful and award-winning, "Emeril Live," which ended its run in 2007. It was suddenly canceled, much to Emeril's shock and dismay. "Why are they doing this," Emeril recalled thinking. "How can this be real?" (via NPR).
Ultimately, the Food Network's decision had to do with the show's high budget, according to NPR. But the New York Times also pointed to the Food Network's declining ratings, tough competition from fledgling shows like Bravo's "Top Chef," and the network's desire to focus on newer, fresher talent at time, like budding star Rachael Ray. In other words, it seemed that Emeril had become little more than stale leftovers.
Emeril has since admitted he was unhappy with the decision. In fact, he's come out and said that he was pretty hurt by the whole affair. "When it ended, everybody felt like it was time for a little break," Emeril told GQ in a 2016 interview. "I didn't necessarily think that, but that's what everybody else thought, that maybe it was time for a break from Emeril."
Rachael Ray
When Emeril Lagasse parted ways with the Food Network, it seemed like he took a serious grudge against Rachael Ray with him. The Daily Beast writes that Emeril once said that Rachael Ray "doesn't know anything about food … I would not put her on." He has not been the only public figure to pick a bone with Rachael, however. In the past, culinary legend Martha Stewart icily noted in a Nightline interview that the recipes in Rachael's cookbook were "not good enough for me," adding that, in her opinion, Rachael is "more of an entertainer than she is, with her bubbly personality, than she is a teacher, like me." Ray apparently never said anything about either Stewart of Lagasse's takes on her cooking skill, but we can't imagine she was thrilled to hear it.
But like Martha Stewart – who later made an on-air apology for those cutting remarks, per ABC News — Emeril Lagasse also made peace with Rachael Ray. In recent years, Emeril has gone on to make several appearances on Rachael's successful daytime talk show, including a 2019 cooking segment for Father's Day that included his son, EJ (via Rachael Ray). "What I love about food is that it brings us together," Rachael noted. "It is the most basic way that we nurture one another. I love you both for being here."
The knife company that sued him
Emeril Lagasse and Martha Stewart have more in common than their one-time feuds with Rachael Ray. The duo was also named together in a 2014 lawsuit involving the high-end German cutlery brand Wüsthof, beloved of many other chefs. In short, the suit alleged that Emeril and the Home Shopping Network were selling knives they claimed were made by Wüsthof in Germany but were, in fact, cheaply manufactured in China, according to Hollywood Reporter.
Why was Martha Stewart roped into all this? Her company, Martha Stewart Living Omnimedia, owned Emeril's product line and was therefore also to blame, the suit stated. Wüsthof quickly distanced itself from the entire affair, saying their company had nothing to do with the supposedly shoddy knives.
Customers were angry, disappointed, and wanted a lot more than just their money back. Forbes reported that they were demanding $2 million each time the knives were even mentioned on air by HSN. The case was eventually dismissed but there's no doubt that Martha Stewart — who had already had her reputation sullied by the 2003 financial scandal that resulted in a five-month prison sentence, according to the New York Times – did not appreciate being dragged into yet another ugly legal battle. But it's Martha who had the last laugh, at least in terms of cash. She held onto Emeril's product license and, in 2019, sold her entire company in a deal worth $353 million (via Forbes).
People who bought his air fryer
Another product bearing the Emeril Lagasse name that consumers had a problem with: his air fryer. WINK news in Fort Myers, Florida spoke to a local woman who claimed that her Emeril Lagasse Airfryer 360 malfunctioned and put her in serious danger. After using the machine to make garlic bread earlier one evening, she woke up in the middle of the night to the sight and smell of heavy smoke coming from the kitchen. She immediately unplugged the machine but stressed it had definitely not been turned on when she went to sleep. Per the report, she sent it back and received a refund.
Other consumers took issue with the gadget as well, with plenty of Amazon reviewers slamming its quality and abilities "Just an overpriced toaster oven," sniffed one. Several also called out Emeril Lagasse personally, with another person writing: "Not what I expected from Emeril. Everything has to cook longer than it says. " And, as one more added, "I bought this because Emeril's name was associated with it. I was very disappointed."
The chef who bought his kitchen clogs
Did you think we were done naming all the Emeril Lagasse products that people were displeased with? For those looking to walk the walk in the kitchen just like him, Emeril Lagasse announced a line of restaurant clogs in 2016. Emeril endorsed them with a statement on his website that read: "As someone who's worked in the kitchen for over 20 years, I know how difficult it is to find a comfortable shoe that can handle the wear and tear of being on your feet all day. I wanted to create a reasonably priced, better looking and higher quality line of shoes that are comfortable and attractive." But was it really all that good for the "reasonable" price tag?
The line promised to repel liquid and food, resist stains, and provide "24-hour comfort" with "maximum support." Not everyone found this to be the case, however. While there were many positive reviews of Emeril's clogs on Amazon, there were also more than a few dissatisfied people. As in, really dissastisfied. Unhappy reviewers cited their poor quality and complained of discomfort. The harshest review perhaps came from a fellow professional, who presumably knows exactly what a good chef's clog needs to be. "I'm a chef for a casino," a one-star reviewer wrote frankly. "These are the worst shoes I've ever bought."
The co-stars of his short-lived sitcom
In 2001, Emeril Lagasse was given his big break as an actor. NBC created a sitcom with a starring role for Emeril that should not have been too much of a stretch: playing a celebrity chef with his own television show, naturally called "Emeril." At the time, Emeril was at the height of his fame and the show had the added bonus of "Designing Women" creators Linda Bloodworth-Thomason and Harry Thomason onboard. Undoubtedly, there were really high hopes for its success.
Yet the series tanked, with the LA Times calling it unfunny and dinging Emeril for his poor acting skills, especially when contrasted with those of the professional actors working around him. That supporting cast was made up of TV actresses including Sherri Shepherd, Carrie Preston, Lisa Ann Walter, and Tricia O'Kelley. The show was canceled after just a few months, with only seven of its 10 episodes even making it to air (via NY Daily News).
Roles in Hollywood are notoriously hard to come by and there's no doubt the other cast members felt let down, particularly by the loss of a steady paycheck and likely by Emeril's frustrating lack of acting ability. But, to Emeril's credit, they probably also missed all the free meals, too. In an interview with TVLine, Carrie Preston later recalled Emeril cooking gumbo and porterhouse steaks for the cast. "He had a working kitchen on set," she said "It was definitely one of the perks of the job."
The state of Florida
In 2018, Emeril Lagasse found himself caught up in yet another legal battle, this time over finances when the Florida House of Representatives accused a producer on one of his shows of misusing state funds. AP News reported that the tourism organization Visit Florida — which relies primarily on money from the local government — paid the Cooking Channel's show "Emeril's Florida" at least $10 million over a five-year period. By having the show film in Florida, they hoped it would promote tourism in the state. However, the state believed both Emeril and one of the show's producers, Pat Roberts, had pocketed too much cash from the deal. Per Politico, the state claimed Emeril himself made $4 million while Roberts made $1.5 million from the shady deal.
The state sued for the right to examine the show's financial records, which Roberts tried to block. Previously, the Tampa Bay Times reports that the Florida House of Representatives had sued rapper Pitbull for the same reason, demanding to see records of where the state money went when the superstar filmed the music video "Sexy Beaches" there. Pitbull, unlike the producer of Emeril's show, complied immediately. Thanks to a subpoena, Roberts was eventually forced to give Emeril's records (via AP News). Regardless, at least a few officials for the state of Florida surely held a grudge against Emeril and his show for all the hassle.
This bitter Top Chef finalist
In 2012, Emeril Lagasse was part of an episode on Bravo's "Top Chef" that potentially featured the show's sorest loser. On Season 9 of the Emmy award-winning cooking competition, Emeril was on the panel of judges that determined whether the winner would be Paul Qui or Sarah Grueneberg. Per The Hollywood Reporter, Sarah's meal was inspired by her German-Italian roots while Qui stuck to his specialty of Pan-Asian cuisine. In the end, Qui won.
Still, judge Tom Colicchio praised Sarah's efforts, calling the ruling, "as difficult a decision as we've ever made" (via Reality Blurred). But Sarah apparently had some choice words for another judge, Emeril Lagasse. Although she initially denied it, Sarah admitted to Andy Cohen during the show's reunion that, in the heat of the moment, she may have told Emeril to "f–k off." Judging by the look on Tom Colicchio's face when she contested the story, it seems like she may have said something of that nature.
However, she was immediately apologetic on the reunion show, tearfully saying, "I was really emotional and really sad, but I don't remember saying that. And if I said that, I didn't mean that at all […] Emeril is like, he's the chef that I grew up looking up to and I felt like through the whole competition he was really, really pushing me. And I love him." Emeril got over the alleged slight and gave her kudos right back, telling her: "I love your food."
Anyone who wants to license the word "bam!"
Just like Paris Hilton has trademarked the phrase, "That's hot" (via Wall Street Journal), Emeril Lagasse owns the rights to the exclamation he is most famous for: the word "Bam!" That's right, according to CNN, his company, Emeril's Food of Love, exclusively owns the right to use the word for product licensing. Only Emeril Lagasse can profit off of it, so long as the word is used with an exclamation point. Anyone else looking to incorporate it into anything is out of luck and probably pretty resentful. After all, it's just a single word, right?
As for the origin of "Bam!" Emeril told Bon Appétit that it stemmed from the early days of his show, "Essence of Emeril". His small production staff would get tired after eating the big lunches Emeril cooked for them. So, to wake everyone up, he'd increase the spiciness of the food and "Bam!" became a shorthand for the effects of the increasingly hot foods.
He then started using the phrase on air. "I never knew it would be the phrase it is today," he confessed. Does it bother him that fans yell it at him wherever he goes? "I mean, it is what it is," he said. As for trying a new phrase, that's a no-go, too. "I wouldn't change it. I've tried, believe me. I've tried "pow." I've tried all kinds of things. Bam is just kinda me." Others may wish he'd lay off, regardless.
Food snobs
Although his restaurants are considered highly successful and his cooking has won prestigious awards from the James Beard Foundation, Emeril Lagasse has insisted he's not a food snob. "Absolutely not," he told Grub Street. "I mean, I can go to any regular restaurant and find good about it." Even so, don't expect to catch him pulling up with his family to a McDonald's or Burger King drive-thru anytime soon. "My children will never, ever eat at fast-food restaurants," he insisted. "It's strictly not allowed."
Interestingly, however, the quality of Emeril's brand waded into questionable waters when it released a line of canned pasta meals. You know, like the kind you see from Chef Boyardee. Many people ravaged Emeril for the move. On a Reddit thread titled, "Further proof that Emeril is a total joke and a disgrace to real chefs everywhere," it was plain that folks weren't pleased. As one commenter summed it up: "I agree with you that the guy has sold out as a chef. However, if you visit either of his restaurants in Orlando, they're phenomenal. I'm sure a big part of that is because they have real chefs there creating the menu."
Others wondered if Emeril himself would dare to eat some of the canned product bearing his name. Still, it's most likely Emeril Lagasse who had the last laugh. In an interview with Cigar Aficionado, he once estimated his net worth at $150 million a year. Bam, indeed!