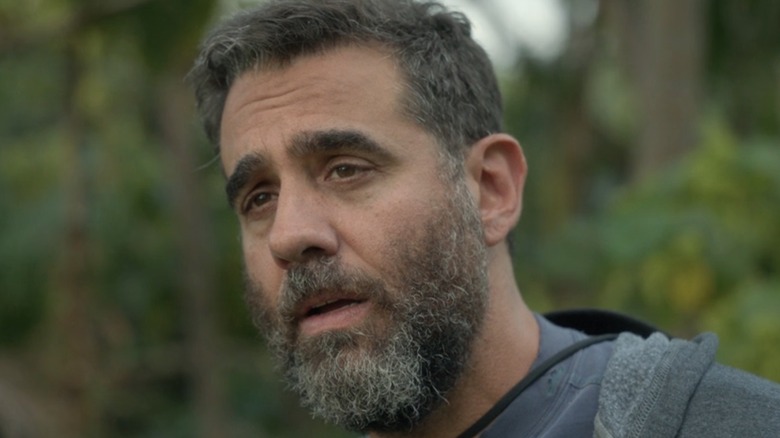 Hulu's "Nine Perfect Strangers" has officially debuted, bringing with it an array of fantastic performances and a compelling story. Based on Liane Moriarty's novel of the same name, "Nine Perfect Strangers" follows a group of strangers who descend upon a high-profile wellness retreat that offers the deep healing they desperately want. In each episode, we watch characters embark on their various journeys while under the guidance of a mysterious guru named Masha (Nicole Kidman). In addition to Kidman, the series has a number of notable actors filling out its cast, including Melissa McCarthy, Samara Weaving, Manny Jacinto, and Luke Evans. Among all of these performers, the one who stands out is Bobby Cannavale as Tony, an ex-football player grappling with addiction.
No stranger to blockbuster films and television shows, Cannavale has carved out a strong career as a character actor during his time in Hollywood. With a long list of notable IMDb credits stretching back to the mid-'90s, there's a good chance you have seen him in several projects over the years. On that note, here are some of Cannavale's most recognizable movie and TV credits to help remind you why he looks so familiar.
Cannavale helped Samuel L. Jackson fight snakes on a plane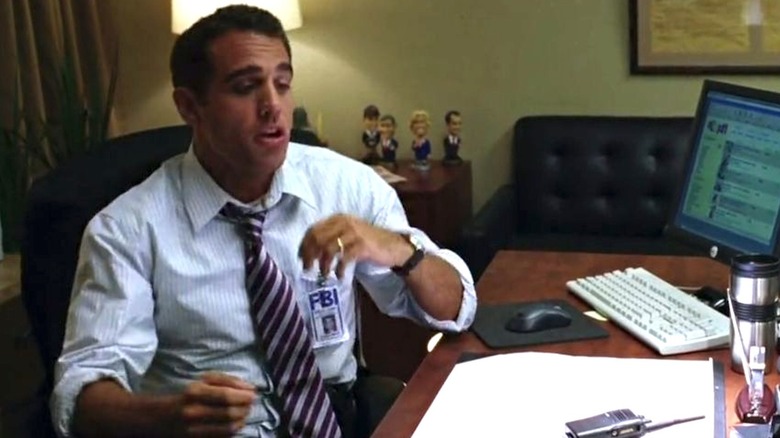 "Snakes on a Plane" remains one of the most memorable movies of the '00s. The film follows Neville Flynn (Samuel L. Jackson), an FBI agent tasked with keeping a witness alive on a plane that has been flooded with snakes by crime lord Eddie Kim (Byron Lawson). In the film, Bobby Cannavale portrayed FBI agent Hank Harris, Flynn's contact on the ground who works behind the scenes to coordinate a response to the snake infestation and help bring down Kim.
Though it hasn't endured in ways that some may have hoped for since its release in 2006, "Snakes on a Plane" developed a cult-like following long before its release due to its bizarre title. It is also remembered for at least one boundary-pushing scene and a particular, profanity-laced line of Jackson's. "Snakes on a Plane" is also, arguably, one of the weirdest movies Jackson has appeared in, but, to this very day, he remains proud of it.
Cannavale played a cop with anger issues in The Other Guys
Few actors are able to walk the line between comedy and drama quite like Bobby Cannavale. One particular film that highlights his comedic chops like Adam McKay's 2010 flick, "The Other Guys." In this buddy cop comedy, Cannavale plays NYPD officer Jimmy, a rough New Yorker with a serious anger problem. Jimmy is part of an anger management group Terry (Mark Wahlberg), a fellow police officer, joins early in the movie. Jimmy complains about a lot of things during meetings. However, his biggest gripe is the fact that Terry once shot Derek Jeter, costing the Yankees a World Series title.
Like many Adam McKay/Will Ferrell collaborations, "The Other Guys" has a stacked cast of supporting players in addition to its leads. Besides the scene-stealing performance from Cannavale, the film's ensemble also includes Steve Coogan, Dwayne Johnson, Samuel L. Jackson, Michael Keaton, Damon Wayans Jr., and Rob Riggle. Cannavale doesn't get a lot of screen time in the film with such a stacked cast, but he makes the most of what little he's given.
Cannavale juggled detective and step-dad duties in Ant-Man
The Marvel Cinematic Universe is now arguably the dominant force in blockbuster filmmaking, and Bobby Cannavale has become part of it — albeit in a relatively minor role. The actor has a recurring role in the "Ant-Man" franchise as Paxton, a San Francisco detective engaged to Maggie (Judy Greer), the ex-wife of brilliant criminal Scott Lang (Paul Rudd). Introduced as a soft antagonist to Scott, aka Ant-Man, in the original film, Paxton eventually learns of Scott's alter ego and admires his bond with Cassie, Paxton's step-daughter. The leads to Paxton and Scott developing a friendship in "Ant-Man and the Wasp."
One thing that sets Cannavale's performance apart in the "Ant-Man" franchise is that he's not exactly a bad guy. He and Scott are at odds in the first film. This is best exhibited during a tense conversation between Paxton and Scott during Cassie's birthday party, wherein Paxton tries to set firm boundaries following Scott's release from prison. The conversation also reveals how much Paxton adores Cassie; his affection as a step-dad reveals his willingness to mend fences with Scott. By the time "Ant-Man and The Wasp" rolls around, he's a genuinely supportive friend, and there are warm feelings between the two. At this time, it's unclear if Cannavale will return for "Ant-Man and The Wasp: Quantumania," the third movie in the "Ant-Man" solo franchise.
Cannavale played a slick record exec on HBO's Vinyl
Bobby Cannavale appeared on several HBO series over the course of his career, with credits including from "Oz" to "Six Feet Under." However, his biggest starring role to date on the premium cable network is Richie Finestra in "Vinyl," the short-lived show co-created by Martin Scorsese and Mick Jagger. On "Vinyl," Richie is a record executive looking to revitalize his brand. Cannavale portrays him as a once-successful man at the end of his rope in an industry characterized by rampant sex, drugs, and alcohol consumption. In addition to Cannavale, the series also included Ray Romano, Jack Quaid, Olivia Wilde, and Juno Temple.
Following its 2016 premiere, "Vinyl" reviews largely praised Cannavale's performance as one of the series' strong suits (via Rotten Tomatoes). Despite this, the series ultimately did not survive beyond its freshman season. "Vinyl" was initially renewed for a second season, but HBO reversed the decision several months after renewal was announced (via The Hollywood Reporter). As such, "Vinyl" now stands as a one-season testament to Cannavale's chops as a leading man on the small screen.
Cannavale was the ultimate bad guy in Jumanji: Welcome to the Jungle
One of the biggest blockbuster surprises of 2017 is "Jumanji: Welcome to the Jungle." A video game-centric reboot of 1995's "Jumanji," "Welcome to the Jungle" sees Bobby Cannavale step into the villainous role of Van Pelt, a reimagining of the character originally played by Jonathan Hyde. As Van Pelt, Cannavale spends most of his screen time in "Welcome to the Jungle" chasing after the movie's central quartet of avatar heroes played by Dwayne Johnson, Jack Black, Karen Gillan, and Kevin Hart.
"Jumanji: Welcome to the Jungle" was a massive box office hit when it debuted, earning over $400 million domestically and more than $950 million worldwide (via Box Office Mojo). This was likely due, in large part, to the immense charisma of the film's ensemble. Despite the chemistry and delightful hamminess that everyone brought to the proceedings, Cannavale did not return for "Jumanji: The Next Level." With Van Pelt vanquished, the franchise brought in "Game of Thrones" alum Rory McCann to play the new big bad.