We live in a time in which a given band's name can be shocking or offensive, and no one bats an eye. It wasn't always this way. Used to be, certain band names were just odd. Were you to take a trip to your local record store in the late '60s, not only could you expose yourself to new sounds, you could also find a whole host of bands whose names would compel you to either nod your head in appreciation, or scratch it in puzzlement.
That "be-in" you were planning to be at on Friday? Would the new Frumious Bandersnatch or Jefferson Airplane records be good accompaniment? Or if your friend Sunlight Anderson and her boyfriend Winter Cod were bringing the snacks, you'd definitely want to consider buying that Peanut Butter Conspiracy record, along with the new single by the Red Crayola with the Familiar Ugly. You just knew if Wildflower Harrison and Chuckie were going to be there, they'd be bringing Big Brother and the Holding Company and Thirteenth Floor Elevators albums, since people would want something to chill out afterward. Maybe pick up those Creedence Clearwater Revival singles and the Chocolate Watchband album — they'd do fine.
Fast-forward 50 years. There are barely any record stores to go to anymore. You're worried about your grandkids, though. The oldest one, LeBon, wears a T-shirt bearing the name of a band called … And You Will Know Us by the Trail of Dead. His favorite group is something called Five Finger Death Punch, and his girlfriend supposedly knows someone in a band called Death Cab for Cutie.
The younger one, Ridgely? Well, goodness only knows what his favorite bands sound like. You took a peek at one of his playlists earlier, and were aghast at what you saw. Thirty-five names that cannot be repeated in polite company; they might even be a problem in impolite company. They are not for the easily offended, that's for sure.
Scroll down and see for yourself. 35. Butthole Surfers
If you're offended by this one, you might have a hard time with the rest of the list. Just FYI. Because we're pretty sure you can say all those words on the Disney Channel.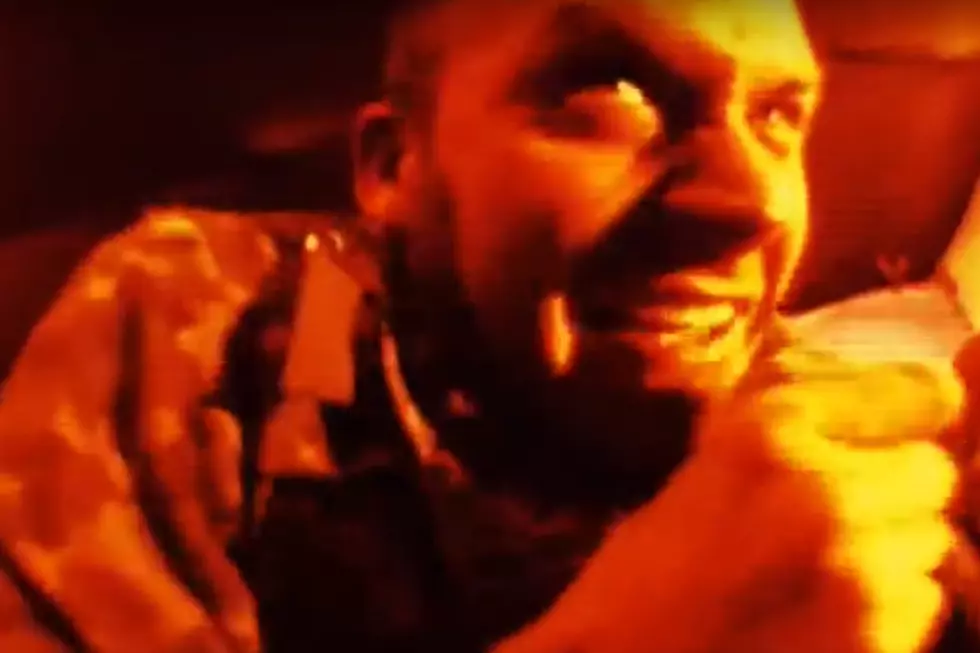 34. Cattle Decapitation
The singer in this band looks a little like Ed Kowalczyk, from the band Live. However, he sounds like Cookie Monster, waking from a nightmare in which another, smaller Cookie Monster was trapped in his belly and had somehow clawed his way out.
33. A–holeparade
What do you call a bunch of profoundly unpleasant people walking in a line down the middle of a road? Whatever you call it, they sure sound angry about something.
32. 1000 Homo DJs
Ministry's Al Jourgensen's side project released a total of two singles, one of which was a pretty slammin' cover of Black Sabbath's "Supernaut."
30. Gaye Bykers On Acid
This band's last studio album was called Pernicious Nonsense. They broke up, but came back in 2016 for a nine-show tour.
29. Meat Sh–s
Was it the tacos? It was probably the tacos. They were a little spicy. Well, okay, they were very spicy. Grindcore doesn't usually make you do that.
28. Cancer Bats
These guys actually rock; their song "Hail Destroyer" will get you nodding your head. The person sitting next to you will begin nodding hers, too. Next thing you know, the whole bus will be grooving. To Cancer Bats.
27. F— The Facts
26. Jon Cougar Concentration Camp
It would probably be a lot easier to be angered by the name of this San Diego punk outfit formed in 1994 if it wasn't also kind of outrageously hilarious.
25. Heaven Shall Burn
All things considered, it's a pretty reasonable name for a German extreme metal band. It also sounds like it could be a tolerable Keanu Reeves movie.
24. Viet Cong
If you're offended by an indie group taking the name of the political group the U.S. fought against in Vietnam, you probably also need to be angry at Joy Division and New Order — both of which have Nazi connotations.
23. The Dicks
Maybe all the members of this Austin punk group were just all named Richard. Although they did release a live album called Dicks Live! Hungry Butt.
22. Diarrhea Planet
Frontman Jordan Smith said his Nashville punk collective intentionally sought a name that would be "annoying" and "immature" but without "any real cuss words in it" because it would be too obvious.
21. Revolting Cocks
20. Nashville Pussy
Call them psychobilly, sleaze-rock or cowpunk. Just don't call this Nashville group anything in front of your mom.
19. AIDS Wolf
Named for an urban legend about wolves infected with AIDS instead of rabies, the Canadian noise-rock outfit should really hang out more with their countrymen, Cancer Bats.
18. Toxic Holocaust
It almost sounds like it could be the name of a Dethklok side-project on Metalocalypse, but it's the real name of a Portland thrash metal band.
17. Circle Jerks
16. Dayglo Abortions
15. F—ed Up
14. The Jesus Lizard
Christians have long had a hard time with these longtime noise-rock purveyors, but "Jesus Lizard" is actually the common name for a South American lizard that can run across water.
13. Dying Fetus
There's an Australian band called Foetus that used to go by "Scraping Foetus Off the Wheel," but since they softened it up, this metal band has the worst fetus-related name this side of Aborted Fetus.
12. Dead Kennedys
11. Funeral Rape
If you ask us, that photo is almost more offensive than the name of this Italian grind outfit. Still, funeral rape sounds like just about the worst thing a human person could ever do.
10. The Slits
9. Eyehategod
Obviously, the name of this New Orleans sludge outfit doesn't offend atheists (and only makes agnostics ambivalent). But it should probably offend anyone who's a stickler for grammar.
7. Impaled Nazarene
6. Prostitute Disfigurement
5. Rapeman
4. Cripple Bastards
Perhaps the word "cripple" means something different in Italy where this grindcore band is from. But it doesn't. And the second word is definitely universal.
3. C–k and Ball Torture
Of all the bands here, this German grind trio have the name you should most refrain from Googling. Please believe me.
2. The Crucif—s
1. Anal C—