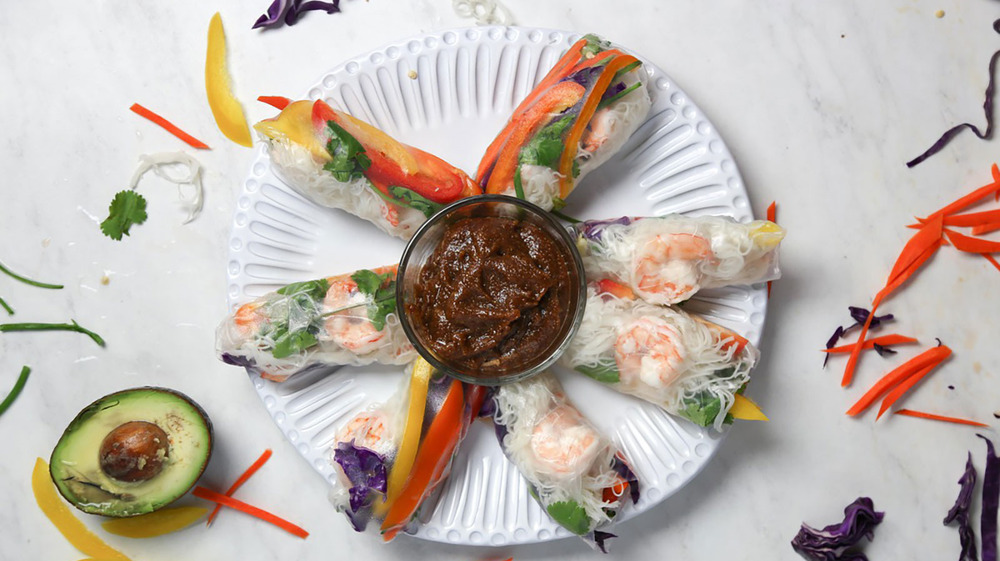 The endless question of what to eat for lunch gets a bit harder when you want to keep things healthy. Leftover frozen pizza? Probably not the best idea (except our low-calorie version below). Frozen burritos with ingredient lists bigger than your extended family? You should probably avoid those like you avoid your awkward cousin.
Processed and ready-to-eat foods can just be thrown in the microwave to reheat, but do you really want to be eating boring salads all the time? Or cooking something hot from scratch? Is that really how you want to spend your midday break? Suddenly, opening another can of low-sodium soup sounds like an easy compromise.
But wait!
That's where this list comes in, with options from healthy pasta and chili to Vietnamese shrimp rolls and three options with avocado as king, we've got you covered. Plus, some weird ways to wrap things up that aren't rice paper and a whole lot of marinated fish that'll have you thinking about margaritas and how it's happy hour somewhere. Day drinking aside, these recipes are sure to level up your lunch.

Avocado tomato salad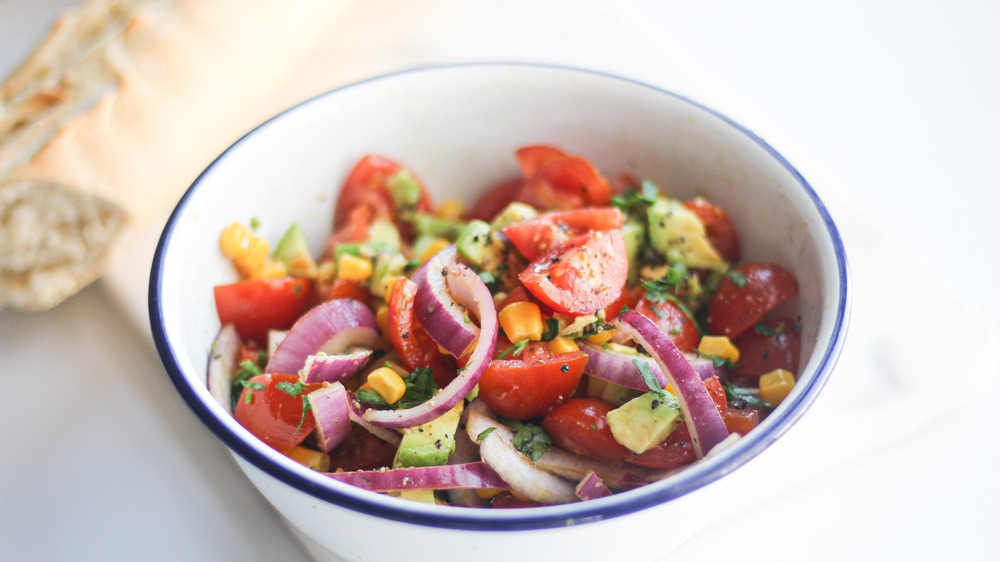 There's maybe nothing simpler than this avocado tomato salad for a hearty, plant-based lunch. Take some cherry tomatoes and add heart-healthy avocado, red onion, a can of corn, balsamic vinegar, salt and pepper and you're done. Packed with plenty of vitamins, minerals, and fiber intake, you'll get a lot of nutrients in a single meal and all you need to have on hand are three fresh ingredients. Recipe author Susan Olayinka says it also pairs well with bread or pasta, or mixed into rice or quinoa, making for a more substantial lunch if desired. Choose the ripest, juiciest tomatoes you can, because with so few ingredients, every one of them has to sing.
Minestrone
As recipe author Sher Castellano says, this minestrone is an anytime kind of soup. Make a big batch for dinner and you'll have leftovers for lunch. Or make a big batch at lunch and enjoy it for the rest of the week. It's chock full of vegetables, beans, and optional pasta, and the best part is you don't need Master Chef-worthy knife skills! The word rustic basically means you can hack away at those carrots and they'll still cook just fine. That's what teeth are for anyway, right? Chop those celery however you'd like. No need for a brunoise for this stomach-warming meal.
Spicy lentil soup
This spicy lentil soup is not a winter-only meal. It's the kind of dish that's going to fill you up with savory and satisfying lentils any month of the year. It's high in protein, with that addictive al dente chew of the lentils and a savory broth that doesn't need a cabinet full of spices –– just crushed red peppers, a bay leaf, and salt and pepper. Fun facts about lentils: they can help reduce inflammation and blood sugar levels, unlike those highly refined carbs in the fast food burger you thought about ordering before you realized that this meal would be way better for you, right?
Vegetarian mushroom goulash
This is not your (Eastern European) grandma's goulash. Instead of the meat-heavy stew that tends to bog you down like the morning after too many Shirleys without the Temple, this vegetarian mushroom goulash features a hearty mix of carrots, potatoes, cabbage, garlic, thyme, and mushrooms braised in red wine and tomato paste. It takes more than two hours to make, so it's not a last-minute lunch solution, but it's well worth it. And those two hours are pretty hands-off, so you can get on with your morning and it'll be there for you when you need it — like your best Hungarian friend.
Vegetarian chili
This vegetarian chili is up there with lentil soup for the title of "best vegetarian quick lunch bowl." Instead of stewing forever on the stove, though, the trick is to use a jar of salsa, canned beans, and a commercial chili seasoning blend (or substitute with homemade taco seasoning), then add cayenne to taste. Lunch will be ready in a flash.
Recipe author Kate Shungu recommends red kidney beans, black beans, and pinto beans, but you can use pretty much any bean, including cool heirloom beans. Look for low-sodium cans of beans, tomato sauce, and salsa or your intake could end up being over 1,500 mg of sodium per serving! That's a sneak attack of a high-sodium lunch!
Tomato soup
If your childhood memories of tomato soup involve reheating it from a can, this recipe from Maren Epstein might blow your mind. It's as simple as cooking onions, garlic and some spices, then adding tomatoes and vegetable stock (and a little butter at the end to make it decadent). There are zero preservatives and it's ready in 35 minutes. Now that's healthy comfort in a bowl. Serve with a grilled cheese for a classic pairing.
Chicken noodle soup
If your childhood comfort food wasn't tomato soup (see above), it was probably chicken noodle soup, and it turns out there's a good reason for that: a real, homemade chicken broth is supposed to help you heal, according to Alive. So it really is good for what ails you! But did you know it's easy to make your own chicken noodle soup? And you'll probably want to, because the canned version doesn't often have the same health properties. With a high-quality, store-bought chicken broth, this meal comes together in 20 minutes, giving you a week's worth of comforting lunches
Onigiri
Eating a couple of these completely snack-able Japanese rice triangles called onigiri can turn into a filling meal pretty quickly. They're also lots of fun to make, since you can stuff them with just about anything (recipe writer Cindy Chou recommends flaked salmon and umeboshi paste, aka Japanese pickled plums). Adding a strip of nori as a wrapper turns them into an easy-to-handle surprise sandwich — the surprise is because you're likely to forget which ones are stuffed with which filling …
Shrimp rolls
These shrimp rolls are packed full of flavor, from bursts of cilantro and chives to juicy shrimp and sweet-and-salty peanut butter sauce. They're cooling, fresh, and light, making them a perfect meal hotter days, but just as tasty year-round. And once you get the hang of rolling them up in rice paper rolls, they come together in no time. The trick is to soak the papers just enough before wrapping (and don't worry about tears — they happen). You'll have ten gorgeous rolls for whoever inhales them first. On your mark, get set …
Broccoli salad
Yes, broccoli salad, but not just any broccoli salad! That might sound a little too healthy for you, but this one is a filling mix of dried cranberries, apples, carrots, red onion, and salted peanuts in a sweet mayo dressing. This lunch may be packed with nutrients, but it doesn't sacrifice on flavor. It's not low fat, but you've got lots of fiber and vitamins in there, plus tons of crunch and creamy textures. It's definitely an all-around winner. Extra points if you make your own homemade mayo.
Caprese salad
This classic Italian Caprese salad from the province of Campania is about as simple as an avocado tomato salad, but with fresh mozzarella, heirloom tomatoes, and basil in place of avocado and red onion. There's also olive oil (in true Italian fashion) to replace the fat of the avocado. Add some bread on the side (focaccia, ciabatta, etc.) to soak up that extra vinaigrette and to make a more substantial meal. The result is a creamy, dreamy, healthy lunch made in heaven, whatever side of the ocean you're on.
Nicoise salad
More substantial and varied than a Caprese salad, this French niçoise salad features tuna, olives, hard-boiled egg, potato, green beans and lettuce. That means there's also more prep involved, but the variety of textures and flavor is hard to beat. The French just do it better.
Use tuna packed in water instead of oil for a lower-fat version, or use tuna packed in oil and reduce the amount of olive oil in the dressing. You can also use different types of lettuce besides baby gem, but they're wonderfully tender.
Greek salad
Greek salad is pretty similar to Italian Caprese salad (but don't tell that to an Italian or Greek person). The base is tomatoes and cheese in ample amounts of healthy olive oil. But the type of cheese varies: Greek salad comes with feta cheese. And Greek salad is often a lettuce-free creation, though this recipe gets some extra fiber from some crunchy iceberg lettuce tossed in with the cucumber, tomatoes, olives and salty feta. Layering the vegetables makes for a pretty presentation, but if you're dining solo and don't feel like being artistic, remember that it's all going to end up in the same place anyway.
Healthy egg salad
Egg salad isn't known for being especially good for you, as it usually is laden with high-preservative, high-cholesterol mayo. But this version from recipe developer Mackenzie Burgess is lightened up by swapping the mayo with non-fat Greek yogurt and mashed avocado, with walnuts in there for extra crunch. While the slight green tinge might be off-putting to some, the flavor is spot-on. Just think of it as egg salad meets guacamole, aka ingenious.
Avocado toast
When you really can't be bothered to make a proper lunch, that's when avocado toast saves the day. Mash it (make sure it's ripe first) and add a little lemon juice, salt, and pepper, and spread it on toast. Then think about adding some chili flakes, cilantro, goat's cheese, chives or eggplant caponata, before inevitably deciding not to and just scarfing down the seasoned avocado. Don't forget the lemon juice and salt, though! Without them, your lunch might be very bland.
Keto chicken wraps
This protein-heavy lunch recipe for keto chicken wraps calls for one pretty unique ingredient: a cheese wrap. They're made entirely of cheese. No, you don't make them yourself, thank goodness. Once you have them, the rest is easy: sear some chicken and add it to the wraps with some ready-made salsa and guac, and some freshly sliced tomato. Lunch — done. Soon you'll be wrapping everything in keto-friendly cheese, without the greasy feeling of trying to wrap thinly sliced cheddar around your salsa, which is probably a disaster waiting to happen, but maybe not? Dare you.
Lettuce tacos
Another way to wrap your protein up is with lettuce. These lettuce tacos skip the tortilla and swap in some iceberg lettuce instead for a low-cal and low-carb variation. Then you just season your ground chicken or turkey, sauté it, and spoon it onto the lettuce leaves with some fresh cotija cheese, diced tomatoes, and cilantro. It's hot and cold, creamy and savory, crunchy and smooth, and salty and juicy. Basically, someone could write a book about it. Oh wait.
Low-calorie pizza
The trick to this low-calorie pizza that makes it acceptable to eat it in its entirety without breaking your caloric bank for the day because the crust is lavash bread. The second trick is adding just enough ham and cheese for flavor, but not so much as to call it an indulgence. And that's fine because it means you'll have leftover meat and cheese in the fridge for the next time you want to make this. Which will be soon.
Falafel collard wraps
Even lighter than lavash when it comes to replacing carbs and wraps are the collard greens that enrobe baked falafels with homemade tzatziki sauce and optional non-homemade hummus in this recipe from author Maren Epstein. With savory chickpea balls, juicy red peppers and creamy sauces, these falafel collard wraps are a decadent tasting — but deceptively light — dish, skipping the high oil content that comes from traditionally deep-frying the falafels. It also guarantees leftovers for the next day.
Strawberry salad
This strawberry salad is at its best when strawberries are in season — not necessarily where you live, but hopefully a place that doesn't require them to be picked so far in advance for shipping that they arrive bland and with tops hinting at white or green. The honey-balsamic vinaigrette on top of them is going to help enhance their flavor a lot anyway, but with so few other ingredients (greens, sunflower seeds, and feta), every element needs to be at its best. Because when they are, this salad shines.
Fish ceviche
Don't want to turn on the stove? No problem. For this fish ceviche, marinate some high-quality fish in a lime-heavy leche de tigre with mirin and soy sauce, then toss it in a bowl with mango, cucumber, orange juice, onion, cilantro, and radishes. It's crunchy, soft, sour, and sweet in all the right ways. Oh, and it's gorgeous. Definitely worthy of making your friends jealous with on Instagram. Or you could just eat it and keep it your little healthy lunch secret.
Aguachile
Ceviche's avocado-lovin' cousin, this aguachile calls for lime-marinated shrimp in a pureed sauce of cilantro, hot peppers, and olive oil. The creamy avocado is the perfect balance to the sour liquid, and there's no sugar or other sweeteners like fruit or sweet potato, making it a punchy, green-heavy dish. The shrimp are naturally slightly sweet, though, which brings down the sourness just enough to make this completely addictive. Serve with crunchy crackers for texture and some extra hot peppers if you like your spice.
Poke bowl
If you love Hawaiian poke bowls, you should know how easy it is to make your own at home. There's still some prep involved in this simplified poke bowl recipe, which calls for sushi-grade yellowfin tuna (look for a sustainable version) marinated in soy sauce and sesame oil atop unseasoned sushi rice with cucumber ribbons and sliced watermelon radishes. But the results -– and the fried garlic chips for garnish –- are worth it. You can always add your other favorite poke ingredients if you've got extra time to prep them: edamame, carrots, seaweed salad, and avocado, for example.
Pasta primavera
Pasta is healthy, you ask? It can be. This primavera pasta is packed with vegetables and herbs –- asparagus, yellow squash, zucchini, fresh basil leaves –- with plenty of heart-healthy olive oil. As it stands, the meal clocks in at 52 grams of carbs, 19 grams of fat, and 444 calories per serving, but for a lighter version, go gentle on the shredded Parmesan and oil. The spiraled shape means there's a great texture to contrast the juicy vegetables.