There's something truly special about great movie trilogies. These epic series — The Lord of the Rings, The Dark Knight, Star Wars, and The Evil Dead, to name a few — take the standard three-act narrative structure and expand it over the course of three films. And after we watch that final chapter, the audience is content with a story well-told, and Hollywood executives are rolling in the dough.
But not every trilogy goes as planned … and some never even get to the finish line. After all, it's hard enough to make one successful movie, let alone three. So it's no surprise that many would-be trilogies never reach that final third film. Maybe they bombed at the box office, perhaps they were savaged by critics, or maybe there was behind-the-scenes drama. Whatever the reason, and whether or not they deserved another installment, these movie trilogies were stopped in their tracks and will never be completed.
Studios said no to a Hellboy trilogy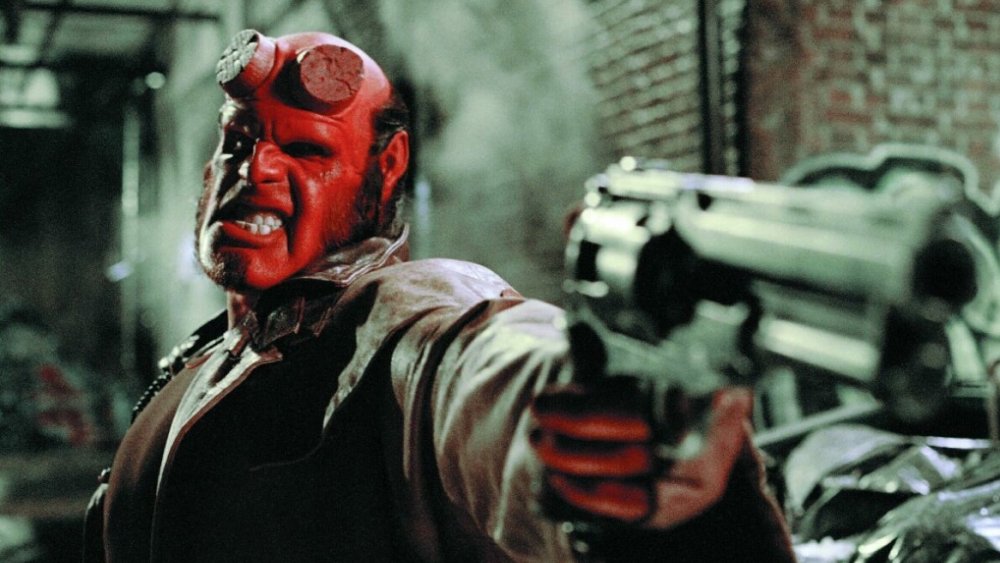 Comic book movies took off in the early 2000s, with ravenous studios giving obscure characters the big-screen treatment in the hopes of mining gold from pulp. So fan's hearts fluttered when geek god Guillermo del Toro took on an adaptation of Mike Mignola's Dark Horse comic series, Hellboy. Guillermo del Toro proved his fanboy bona fides when he chose not to cast an A-list leading man. Instead, he hired the picture-perfect character actor Ron Perlman to play everyone's favorite cigar-chomping, monster-busting, gun-wielding, rosary-praying demon. Critics were into Hellboy, too, giving it an 81 percent Tomatometer score, but its $59 million domestic and $99 million worldwide gross on a $66 million budget caused Revolution Studios to jump ship.
So Universal picked up the rights and greenlit Hellboy II: The Golden Army for $85 million. It paid off, with even better reviews and a $168 million worldwide gross. Alas, Hellboy II had the bad luck of opening one week before The Dark Knight broke records, and it dropped a mind-boggling 70 percent in its second weekend. So while Guillermo del Toro hoped to complete the trilogy, he knew his budget of $120 million was a tough sell. Finally, del Toro Tweeted in 2017 that Hellboy was 100 percent not happening. Lionsgate rebooted the series in 2019 with Neil Marshall as director and David Harbour as the big red guy, but moviegoers and fans said "hell no" to the new Hellboy, which earned a 19 percent Tomatometer score and $44 million worldwide on a $50 million budget.
Spider-Man's reboot was less than amazing
Spider-Man is really popular. The world's favorite wall-crawler broke the opening weekend record twice on his own and then two more times with the Avengers. The first Spider-Man sent the comic book movie renaissance into overdrive in 2002 when it became the first film to earn more than $100 million in a single weekend. Spider-Man 2 continued the trend, and while Spider-Man 3 ended the first series with a creative whimper, the Sam Raimi Spider-Man films still earned more than $2.5 billion worldwide on a $597 million budget.
Sony rebooted the series eight years later, this time with Andrew Garfield in the tights and Marc Webb in the director's chair for 2012's The Amazing Spider-Man. The box office results were solid ($757 million worldwide on a $220 million budget), and the reviews were strong, so before a sequel was ever released, Sony announced a third and fourth film, as well as spinoffs for Sinister Six and Venom, effectively launching a Spidey Cinematic Universe. The Amazing Spider-Man 2 arrived in 2014, but despite earning $708 million worldwide on a smaller $200 million budget, the lower gross and horrible reviews meant Spidey was headed in the wrong direction. Luckily, Disney swooped in and brought the web-spinner back to his record-breaking ways in the MCU, while Sony scored huge with Venom and won an Oscar with Spider-Man: Into the Spider-Verse. But while Spider-Man is as popular as ever, Amazing Spider-Man 3 has been squished.
Tron's Legacy is financial failure
Tron was always a tough sell for a blockbuster franchise. The original film bombed in 1982, earning $26 million on a $17 million budget, but it built enough of a cult following in the 30 years since its release that Disney felt confident enough to spend $200 million on a sequel (about ten times what the original film made) and release it during the competitive Christmas season. But Tron: Legacy underperformed, earning $172 domestically and $400 million worldwide in 2010, with a 51 percent Tomatometer score. Those box office numbers aren't terrible considering this was a franchise relaunch three decades after the original film bombed. But with a budget that astronomical, Disney wisely realized its money was better spent on making Marvel movies, as the Mouse House had just acquired the comic book company in 2009.
However, before Tron: Legacy was even released, the film's screenwriters were already working on a script for a third film. But after Tron: Legacy's lackluster box office results — plus Disney's desire to produce live-action movies based on more popular, pre-existing IP (a la Star Wars) — the possibility of Tron 3 was dicey. Finally, Disney officially announced in 2015 that there wouldn't be a Tron 3. While there was talk of a Tron series on Disney+, those ideas were scrapped before it was ever officially announced. Still, Tron: Legacy's director Joseph Kosinski is holding out hope, and he believes there are Tron fans at Disney who want to make a sequel happen. Consider us skeptical.
F4's forays into film have been less than fantastic
The Fantastic Four have had a rough time at the box office, starting with the 1994 film that's so bad it wasn't even released. In 2005, the trend continued when Fantastic Four earned an atrocious 27 percent Tomatometer score. However, Fantastic Four's light tone stood out against the doom-and-gloom movies released that summer (Star Wars Episode III: Revenge of the Sith and Batman Begins), and it earned $154 million domestically and $333 million worldwide on a modest $87 million budget. Fantastic Four: Rise of the Silver Surfer did just as badly with critics, and this time, it couldn't count on counter-programming during the stacked summer of 2007 (Transformers, plus sequels to Spider-Man, Shrek, and Pirates of the Caribbean), earning only $131 million domestically and $289 million worldwide on a $120 million budget.
While all five main cast-members were signed to a three-picture deal, a 13 percent box office drop with a 25 percent higher budget gave Fox executives pause. Whatever fans the film had left all had their hopes dashed when a pre-Captain America Chris Evans said a third film probably wasn't happening. But even though that trilogy was doomed, Fox tried to relaunch the series in 2015, this time with a dark, bleak tone that was totally off the mark, resulting in the worst reviews and box office performance yet, with just $167 million worldwide on a $120 million budget. Marvel Studios president Kevin Feige recently teased the Fantastic Four's MCU debut, so here's hoping the group finally get their cinematic due.
Studios break their covenant with Alien
The Alien franchise is a classic movie series that should've stuck with just two films. Ridley Scott made one of the greatest sci-fi/horror films of all time with 1979's Alien, while James Cameron followed it up with one of the greatest sci-fi/action movies ever with 1986's Aliens. If only it ended there. While Alien 3 has been reappraised in recent years, studio interference forced director David Fincher to disavow the film, which underperformed compared to its all-time classic predecessors.
But you just can't keep a good Xenomorph down. In 2012, Ridley Scott returned to the director's chair after 33 years to direct the much-anticipated Alien prequel, Prometheus. The film received so-so reviews, but it still earned $402 million worldwide on a $125 million budget. Despite the lukewarm audience response, Scott had the confidence to announce his plans for three Prometheus sequels. But while Alien: Covenant earned a profitable $238 million worldwide on a tight $97 million budget in 2017, it suffered a steep 41 percent drop from Prometheus.
While Ridley Scott and his cast are said to still be onboard for a sequel, to be titled Alien: Awakening, a third film wasn't greenlit before Disney's $71 billion purchase of Fox. While Disney certainly still sees money in the Alien franchise, we doubt the studio wants a Prometheus sequel given Covenant's diminishing returns. Frankly, we're predicting another Ripley movie, in the vein of Star Wars: The Force Awakens.
The Millennium trilogy gets murdered
The late Swedish novelist and journalist Stieg Larsson was only able to complete three novels in his Millennium series before dying of a heart attack at age 50. His novels were published posthumously, becoming international best-selling hits. While David Lagercrantz published three more novels, Larsson's original adventures of journalist Mikael Blomkvist and hacker Lisbeth Salander are affectionately known as the Millennium trilogy.
Sony Pictures saw dollar signs in the popular series and assembled an all-star cast and crew to make a movie. David Fincher, director of Fight Club and Seven, was perfectly suited for this dark, sordid material, while Daniel Craig and Rooney Mara seamlessly brought Mikael and Lisbeth to life. The Girl with the Dragon Tattoo won raves from critics, but it wasn't a runaway hit, earning $102 million domestically and $232 million worldwide on a $90 million budget in 2011. Sony wanted to cut costs on the sequel, but Daniel Craig, fresh off Skyfall's global gross of $1 billion, wanted a raise.
As a result, the studio squashed any hopes of a Mara/Craig trilogy. Instead, Sony opted to go with an entirely new cast seven years later with the 2018 sequel/reboot, The Girl in the Spider's Web, casting Claire Foy as Lisbeth and Sverrir Gudnason as Mikael. But not even the film's modest $43 million budget could save it, as critics ravaged it and audiences killed it with $14 million domestic and $35 million worldwide gross. The Millennium trilogy was a product of its time, and that time appears to have passed.
Snyder was cut from the Justice League trilogy
If you told us ten years ago that a movie with Iron Man, Thor, and Hawkeye would make more money than a film with Batman, Superman, and Wonder Woman, we would've called you crazy (after we squealed with delight to learn there'd be Avengers and Justice League movies in the future). How did this happen? Many reasons, but the shocking underperformance of the DCEU has mostly fallen at the feet of Zack Snyder. Snyder was handed the reins to the DCEU after Man of Steel made $667 million worldwide on a $225 million budget — and also because Christopher Nolan probably wasn't interested. Despite fan's disappointment with Man of Steel and Batman v Superman: Dawn of Justice, each made money, mostly because they featured the most popular superheroes ever.
Still, we had dreamed about these movies for decades — was this the best we were going to get? Fans finally had enough, and Snyder's Justice League (which, to be fair, was re-shot and re-edited by Avengers director Joss Whedon) sucked Kryptonite, earning $655 million worldwide on a $300 million budget, a slim profit but unacceptable when your movie features the Mt. Rushmore of Superheroes. Where would Snyder have gone with the series? According to Kevin Smith, the two Justice League sequels would've featured the Green Lantern Corps and Darkseid. While the original "Snyder Cut" is said to be in play for HBO Max, we can guarantee Warner Bros. won't be spending money on any sequels.
Here's why we'll never see a Gremlins 3
Gremlins are based on magical nymphs from old English folklore, and eventually, they were blamed by RAF pilots for mysterious mechanical issues that brought down planes during World War II. Gremlins appeared again in the classic Twilight Zone episode "Nightmare at 20,000 Feet" before they became a household word in 1984's classic comedy-horror hybrid, Gremlins. Boosted by strong reviews, Gremlins became a huge surprise hit, earning $153 million worldwide to become 1984's fourth highest-grossing movie. Not bad for a film with a bizarre premise and no stars, though it helps when Steven Spielberg is your producer.
Gremlins 2: The New Batch earned a respectable amount of critical praise in 1990, but the mogwai magic had worn off, and the film only made $41 million. The lesson? Don't feed mogwai after midnight, and don't wait six years between sequels. The Gremlin franchise was put on ice for decades, but screenwriter Chris Columbus said Gremlins 3 was on its way in 2018 and would be a full reboot. However, no official announcement was ever made, but in April 2020, The Hollywood Reporter reported that a new Gremlins was set to arrive on HBO Max, presumably as a series. So while we expect there to be more Gremlins in the future, a third film in the original franchise will never see the light of day (which is for the best, as sunlight kills them y'know).
Disney should've been smarter about John Carter
Disney seems invincible, especially since 2019 was their most successful year in history. But remember, in 2012 ,Disney released what may be the biggest bomb of all time, John Carter. Based on Edgar Rice Burroughs' 100-year-old book series, John Carter is about a Civil War vet who's transported to Barsoom, a Mars-like planet where he must defend humanoid aliens against 12-foot tall extraterrestrial barbarians.
Okay then.
Sound like a stretch? Disney didn't think so and spent an astronomical $250 million on the film (some reports have it as high as $300 million), the most ever for a non-sequel. (For context, the first Avengers movie cost $220 million.) In the end, John Carter made only $73 million domestically and $284 million worldwide, weak numbers for a modestly budget film but absolutely devastating for a $250+ million one. In fact, if not for The Avengers' record-breaking run in the summer of 2012, John Carter's failure (it lost at least $200 million) might've sunk the Mouse House's live-action film division.
Since then, director Andrew Stanton has revealed there were plans for a trilogy, with the next two films already having titles and plots based on Burroughs' books. John Carter's collapse obviously killed those dreams, but Edgar Rice Burroughs' estate regained the rights in 2014, hoping to bring the character back to the big screen. We predict we'll make it to Mars before that happens.
The failure of the Titans trilogy was mythic
While Leonardo DiCaprio followed up his role in a James Cameron record-breaker by making Steven Spielberg and Martin Scorsese movies, Sam Worthington followed up Avatar with … Clash of the Titans. So yeah, not quite the same, but hey, maybe it seemed like a good idea at the time. A remake of Ray Harryhausen's 1981 all-star classic, the 2010 Clash of the Titans also had a stacked cast with Liam Neeson, Ralph Fiennes, and a kraken. However, the groan-inducing tagline summed up exactly what kind of movie this was: "Titans will clash!" Uh … yeah, we hope so. That's like giving Mad Max the tagline "Max is mad!"
Needless to say, reviews were brutal, but the movie made enough money to buy real estate on Mount Olympus, earning $163 domestic and $493 worldwide on a $125 million budget. Wrath of the Titans (tagline: "Feel the wrath!") did just as bad with critics but much worse with audiences, making $302 million worldwide on a $150 million budget. Warner Bros. was already planning a third Titans film, but the sequel's steep 40 percent decline gave the suits pause. By 2013, the film's producer, Basil Iwanyk, declared Titans 3 D.O.A. unless there were fresh ideas, though we'd think Greek mythology would provide enough plots for 10,000 Titans movies. Actually, never mind, we don't want to give them any ideas. But hey, while Worthington's post-Avatar career has disappointed, at least now he can look forward to more Avatar!
Tom Cruise's Jack Reacher falls short of expectations
Lee Child's ex-military policeman Jack Reacher has appeared in over 20 novels. Not once is he described as looking like Tom Cruise. Jack Reacher is 6'5" with hands the size of dinner plates, while Cruise is about 5'7" with hands the size of that little plate you put under a tea cup, so Reacher looks like Tom Cruise ate a much taller Tom Cruise. While Reacher die-hards were upset with Cruise's casting, we've been suspending our disbelief with his movies for nearly 40 years. What's a few inches when you're the guy who straps himself to planes?
And while Cruise's stature was below average, Jack Reacher was an above-average crime thriller, earning a 63 percent Tomatometer score and $217 million worldwide on a $60 million budget. Say what you will about Cruise, the dude is money. However, the sequel's subtitle Never Go Back unintentionally served as a warning, as it earned a 37 percent Tomatometer score and $159 million worldwide on a $60 million budget — still profitable but a troubling 27 percent drop. Clearly, fans rejected Cruise in the role. While series creator Lee Child had nothing but nice things to say about Cruise as a person, he agreed with readers that Reacher's physicality was critical to the character.
RIP to a Turtles trilogy
Despite the character's popularity, the Teenage Mutant Ninja Turtles have no box office staying power. The first film trilogy started strong when Teenage Mutant Ninja Turtles earned $202 million worldwide on a $13.5 million budget in 1990. However, 1991's The Secret of the Ooze dropped 62 percent to $78 million worldwide, while the third film took a shell-acking at the box office in 1993, earning $42 million on a $21 million budget. As a result, America's favorite talking, martial arts-fighting terrapins went on a 21-year hiatus from live-action, big-screen adventures (2007's TMNT was animated).
Following the enormous success of the Transformers films, Paramount saw dollar signs in making movies based on other characters from super popular '80s toy lines and TV shows, so the studio decided to give the reptiles another a chance. Released in 2014, Teenage Mutant Ninja Turtles was no slow-moving tortoise, earning $485 million worldwide on a $125 million budget. Paramount was feeling confident, so they upped the budget for 2016's Teenage Mutant Ninja Turtles: Out of the Shadows to $135 million, but this time, the turtles only brought $245 million worldwide, a 50 percent drop that made this over-budgeted followup a box office bomb.
Paramount wasn't going to make the same mistake as New Line Cinema did with the first series, and the studio pulled the plug before making a third film. By late 2016, one of the film's producers was already saying, "I don't think there's Turtles 3, but I wouldn't say there's never going to be another Turtles movie." If filmmakers need a plot for Turtles reboot, we suggest Saturday Night Live's "Middle-Aged Mutant Ninja Turtles."
ID4 3 is DOA
Independence Day was one of the seminal summer movies of the 1990s. It blew up the box office in the summer of 1996, earning $306 million domestic and $817 million worldwide to become the highest-grossing movie of the year. When a movie makes that much money, especially on a modest $75 million budget, it usually means sequels. Lots of them. But a funny thing happened on the way to outer space. Summer after summer, big movies came and went, but an Independence Day sequel was never one of them.
But 2015 was the year of nostalgia, as the year's two biggest blockbusters were long-awaited, much-anticipated sequels to franchises from the past — Star Wars: The Force Awakens and Jurassic World. Based on those two films' success, Fox figured that Independence Day: Resurgence would be the next sequel to a beloved blockbuster that would rule the summer. Boy, were they wrong.
There were a few problems. One, Resurgence didn't feature original star Will Smith, who opted not to return and had his character killed off. Second, this film wasn't just bad — it was really weird. Consequently, Independence Day: Resurgence seriously underwhelmed with $384 million worldwide on a $165 million budget, an alarming 53 percent drop that's even more startling considering the 20-year difference in ticket price inflation. So, clearly, moviegoers were over the series. Given producer Dean Devlin is over it, too, and the Disney-Fox merger shakes up all of Fox's slate, there's no way we'll see an ID43.
The strange story of the Burton/Schumacher Batman
The Tim Burton/Joel Schumacher Batman franchise broke the opening-weekend record three times (tied with Jurassic Park and The Avengers), but neither set of films ever got a proper send-off. Sure, while all four films are technically part of the same series, they feel like two different franchises, as each director started strong but got cocky and went totally off the rails in their second film.
Batman Returns is arguably the most Tim Burton-y movie ever, while Batman & Robin is definitely the most Schumacher-y. After moviegoers rejected each director's second film, neither director got to complete his trilogy. While Tim Burton never got to the scripting stage on Batman III, rumors circulated that Michelle Pfeiffer was returning as Catwoman and Robin Williams was set to play the Riddler. However, after Batman Returns terrified children and dropped 36 percent from Batman's worldwide gross, Burton was politely asked not to return, and Michael Keaton bailed.
Joel Schumacher brought the series back to its record-breaking ways with Batman Forever in 1995, so Warner Bros. was already planning a third Schumacher Batman movie (the fifth in the series) before Batman & Robin was even released. Screenwriter Mark Protosevich even penned a dark outline titled Batman Unchained with Scarecrow as the villain (Schumacher wanted Nicolas Cage for the role). However, Batman & Robin's critical and commercial failure in 1997 put Batman back in the cave for eight years, until Christopher Nolan rebooted the series with Batman Begins. Thankfully, Nolan got to complete his Dark Knight trilogy.
Kick Ass kicked the bucket
Bringing a hilariously gruesome irreverence to comic adaptations years before Deadpool, director Matthew Vaughn's Kick Ass was a hit with critics and audiences too, earning $48 million domestically and $97 million worldwide. Universal wisely played it safe, only spending $28 million on the sequel, but made a few critical errors. One, it was a sequel to a modest hit that came out in 2013, a full five years after the original. Second, directing duties switched to Jeff Wadlow, as Vaughn was occupied with X-Men: First Class in 2011 and Kingsman: The Secret Service in 2014.
Critics KO'd Kick Ass 2 with a 32% Tomatometer rating, and it dropped 36% from the first film, earning $28 million domestically and $63 million worldwide. While Vaughn announced his goals for a prequel and a sequel in 2015, he focused on The Kingsman series instead. Given Kick Ass 2's diminishing returns and the several years that have passed, we don't see a third film to the modestly successful franchise happening.
We'll be waiting forever for 28 Months Later
Before Zack Snyder's Dawn of the Dead made bank and AMC's The Walking Dead made history, Danny Boyle's 2002 hit 28 Days Later was the little undead flick that could. Critics gave it an 87% Tomatometer score and audiences were generous too, delivering a $45 million domestic, $82 million worldwide take against an $8 million budget. Profits like that spell a sequel, but it would be four years before 28 Weeks Later arrived on the big screen.
While Boyle passed directorial duties on to Juan Carlos Fresnadillo so he could work on Sunshine, the film still earned a 71% Tomatometer rating. Alas, audiences were less enthused, as the $15 million budgeted sequel earned $28 million domestic, $64 million worldwide — still highly profitable, but a 22% drop from the first film despite costing twice as much.
Even though the numbers were trending downwards, Boyle told MTV there were ideas for a third film, though screenwriter Alex Garland said copyright issues with the rights holders to the original film were holding them back. However, while promoting Yesterday in 2019, Boyle told The Independent there was a "wonderful" idea for a third film. As much as we'd love for 28 Months Later to give the series a proper sendoff, a sequel to a nearly two-decade old franchise—whose last film dropped significantly — would be undead on arrival.
Did controversy kill Kill Bill Vol. 3?
With a combined $1.2 billion domestic and $2.29 billion worldwide box office, Quentin Tarantino can pretty much call his own shots. Still, one of his hardest sells was Kill Bill, a kung-fu/spaghetti western/revenge thriller mishmash that was originally meant to be one four-hour film, but was wisely split into two releases. Kill Bill. Vol. 1 sliced up a 85% Tomatometer rating, and earned $70 million domestically and $176 million worldwide. Kill Bill Vol. 2 got a comparable 84% score from critics, but with less wall-to-wall action earned $66 million domestically and $153 million worldwide — a 14% drop.
While the Kill Bill films were modest successes, Tarantino went over budget and over schedule, forcing him to cut a climatic beachside battle between the Bride and Bill, and missing the Cannes film festival. He revealed plans for a Vol. 3 in 2004, saying it would feature Vernita Green's daughter seeking revenge against the Bride, and he would film it 15 years later. While 15 years seemed like an impossibly long time then, 2019 came and went with no Vol. 3, and Tarantino conceded in 2012 that a third film was "probably not" happening. "Probably not" seemed to turn into "definitely not" when Uma Thurman called Tarantino out for a stunt that nearly killed her, though the two apparently mended fences, and Tarantino now says Vol. 3 is "definitely in the cards." We've heard that before, so consider us skeptical.
A Chinatown trilogy? Forget it, Jake
Chinatown brilliantly mixed the film noir genre of the 1940s with the New Hollywood aesthetic of the 1970s, becoming one of the defining films of the decade. While its $29 million box office didn't break records in 1974, its 11 Oscar nominations and one win (Best Screenplay for Robert Towne) at the 1975 Academy Awards cemented its sterling reputation, especially as it went toe-to-toe with The Godfather Part II. While Chinatown is remembered as an all-time great, its 1990 sequel has been practically forgotten.
Jack Nicholson returned as gumshoe J.J. "Jake" Gittes in The Two Jakes, also stepping in for Roman Polanski as director (for obvious reasons) in the sequel written once again by Robert Towne. The Two Jakes' 68% Tomatometer score wasn't bad, but hardly a worthy followup to the original masterpiece. Its box office was atrocious, earning just $10 million. Turns out a "16 years later" sequel to an original that wasn't a huge box office hit wasn't a wise financial move (which would be repeated by Tron: Legacy in 2010 and Blade Runner 2049 in 2017… Hollywood never learns). Nicholson told MTV in 2007 that a third film would have been set in 1968, and been about Jake's divorce, with the title Gittes vs. Gittes. Given Nicholson effectively retired in 2010, this pulp detective take on Kramer vs. Kramer will probably never happen.
Escape from Earth got Snake bit
Escape from New York introduced one of the most iconic characters ever in the eye-patch-wearing, smack-talking Snake Plissken, played with a rebellious swagger by Kurt Russell. While the film made a profitable $25 million worldwide on a $6 million budget in 1981, it wasn't the kind of breakaway blockbuster that demanded an immediate sequel. Carpenter and Russell focused on other projects in the 1980s, including their equally beloved collaboration Big Trouble In Little China.
Meanwhile, Escape from New York's reputation continued to grow, so in 1996 the duo returned for Escape from L.A. Releasing a sequel to a cult hit 15 years after the original was a risky bet, especially with a $50 million budget, twice what the original film even made. Escape from L.A. face-planted with critics and bombed with crowds, earning just $25 million worldwide — the same as the first film, but selling far less tickets after 15 years of inflation, and with ten times the production budget.
While an Escape From sequel wasn't going to theaters, there were plans for a TV series in the early 2000s, but it was never picked up. While seeing anyone besides Russell wearing the eyepatch seems sacrilegious, a remake was announced in 2015, with Robert Rodriguez set to direct, though the screenwriter has more recently said that the project is still in development.
The Golden Compass was an epic failure
In the wake of The Lord of the Rings and Harry Potter films' success, fantasy novels become as hot a property as comic book adaptations. One of the surefire winners seemed to be Philip J. Pullman's His Dark Materials, a grim epic that had everything a fantasy fan could ever want. There was just one issue: His Dark Materials has a storyline about the evil Magisterium that is unapologetically anti-Catholic.
New Line Cinema, the studio that had brilliantly guided LotR into the record books, also thought it was a good call to release this anti-religion fable during the Christmas holiday season, leaving one to wonder if any studio executives had even read what they were buying. While The Golden Compass was stripped of its religious themes, its reputation took root and the film was protested by Christian groups. However, its biggest sin among non-religious moviegoers was that it was just plain bad, with a 42% Tomatometer score. On an epic $180 million budget, it earned just $70 million domestic and $372 million worldwide, putting the nail in the film trilogy's coffin.
Conan's legend is over
Conan the Barbarian introduced Arnold Schwarzenegger to the world — or at least to those of us who don't watch bodybuilding competitions or terrible comedies. Finding the right role for the mountain-sized, Austrian-accented Arnie proved challenging, especially coming off a decade where the "biggest" movie stars were smaller than Arnie's breakfast. Schwarzenegger found the perfect part for his glistening pecs in 1982's Conan the Barbarian, which earned $38 million domestically and $79 million worldwide on a $20 million budget. A sequel was pushed into production, yet despite its lower $18 million budget, Conan the Destroyer proved Conan was a one-hit wonder, bombing with $26 million worldwide in the summer of 1984.
Arnold wasn't heartbroken for long, as James Cameron's low-budgeted The Terminator became a massive hit just a few months later, making Schwarzenegger one of the biggest stars of the '80s. The proposed Conan 3 became the atrocious Kull the Conqueror, proving Arnold made the right call in passing on it. However, after conquering California politics, Arnold sought to make The Legend of Conan, playing the barbarian as an aged king. When that project died a grisly death, an Amazon series was announced, but that was also scrapped, with Arnold claiming the rights holders were the issue. While the screenwriter hoped to breathe "new life" into Conan 3, Terminator: Dark Fate's box office death probably permanently stalled any hope for Schwarzenegger nostalgia projects.
Timothy Dalton says "bye" to Bond
There have been many films in the official James Bond series. Sean Connery and Roger Moore played the character the most times (Connery once in the unofficial Never Say Never Again), with Daniel Craig and Pierce Brosnan not far behind. Timothy Dalton was set to play the legally lethal spy three times, an informal trilogy in the larger series, but only got two. Dalton's trilogy capper, what would have been the 18th film in the official series, never came to pass.
Despite its reputation as a franchise killer, License to Kill made $34 million domestically and $156 worldwide on a $42 million budget — a profitable sum, but not even in the top 15 during a historic summer dominated by Batman and Indiana Jones and The Last Crusade. Still, Dalton was all set to return for his third and final Bond film, which was set to feature a British-Chinese megalomaniac using the threat of nuclear meltdowns to force the British to return Hong Kong to China. However, legal wrangles halted pre-production for years. By 1994, Dalton finally dropped out. It may have been the best thing for the series as Goldeneye made $356 million worldwide, launching Brosnan's highly successful run as the super spy.
Nile killed the Romance
Before 1985's mega-hit Back to the Future, director Robert Zemeckis took the romantic comedy/action-adventure hybrid nobody wanted and turned it into a major hit. Romancing the Stone had a modest $10 million budget, but legged it out from a $5 million opening to $75 million domestically and $115 million worldwide. The spring release wasn't just Fox's biggest hit of the year; it was their only hit. So naturally, they wanted to rush through a sequel. The only problem? Stars Michael Douglas and Kathleen Turner didn't want to do it, which is really saying something considering Douglas was also a producer.
Fox exercised its sequel option and even threatened to sue Turner for $25 million when she tried to quit. The troubled production didn't improve anyone's mood either. The Jewel of the Nile miraculously made it to theaters 19 months after Stone, but only made $68 million worldwide. A proposed third film, The Crimson Eagle, was not a high priority for anyone at the time, though Douglas did drop out of 1997's U-571 a decade later to return for a sequel that never happened. In 2008, a new sequel, Chasing the Monsoon, was announced, with Douglas' wife Catherine Zeta-Jones replacing Turner. That project quickly became a remake instead, potentially starring Gerard Butler and Katherine Heigl, but in 2011 it was shelved for a TV series instead. With no news since, it's safe to say this romance is dead.
Speed 2 sunk without Keanu
Take action star Keanu Reeves, America's sweetheart Sandra Bullock, and Dennis Hopper being creepy Dennis Hopper, and you get the 1994 hit Speed. While Speed's "Die Hard on a bus!" vibe powered it to $121 million domestic and $283 million worldwide on a $30 million budget, it was actually based on a story by master Japanese filmmaker Akira Kurosawa. Unfortunately, Kurosawa never conceived of a sequel and Reeves was out too, a decision he said landed him in "movie jail" with Fox for years.
Bullock was back, with Jason Patric replacing Reeves as her supercop boyfriend, and Willem Dafoe giving Hopper a run for his money in the scenery-chewing psycho villain department. Alas, Patric was no Reeves, plus the movie was really, really bad (a 4% Tomatometer score… yikes), so Speed 2 — Cruise Control sank with $48 million domestic and $150 million worldwide on a $110 million budget, a 47% drop despite costing four times as much. Ouch. While Reeves indicated in 2014 he'd be interested in returning, the John Wick series took off, Reeves became the internet's boyfriend, and he decided returning to play Neo in The Matrix 4 was a safer bet.
Percy Jackson has faded into myth
Based on the popular YA book series, Percy Jackson & The Olympians: The Lightning Thief is about a teenager who discovers he's descended from a Greek god. Hey, high school was weird for all of us, right? Critics gave it a mediocre 50% Tomatometer score, but its release during the normally non-competive February powered the family film to a $88 million domestic, $223 million worldwide take, a narrow victory on a $95 million budget. Critics were even less impressed with 2013's Percy Jackson: Sea of Monsters, striking it down with a 42% Tomatometer score.
Despite shaving $5 million off the first film's budget, Sea of Monsters only managed $68 million domestically and $200 million worldwide. Even worse, its $14 million opening weekend was less than half the first film's $31 million, indicating a major drop in audience interest. Star Logan Lerman told The Independent in 2014 that he'd be happy to return for a (contractually obligated) third film, but eventually confirmed in 2020 that Percy Jackson 3 wouldn't be happening. Instead, the franchise made the leap to the small screen in 2020, with a television series distributed by the Disney Plus streaming platform.
There's no love for this horror/video game hybrid
Video game adaptations and horror movies are the two most maligned genres in movies, so combining both could have reached a sub-0% Tomatometer score. While 2006's Silent Hill wasn't that bad, it still only managed an atrocious 31% Tomatometer score. The box office was on par for horror films, earning $46 million domestically and $94 million worldwide, but its inexplicably high $50 million budget put its profitability in doubt. It would be another six years before 2012's Silent Hill: Revelation 3D, a film that is in the running for "clunkiest sequel title ever," arrived to a downright disastrous 20% Tomatometer score.
While Open Road Films wisely spent just $20 million this time, making a sequel six years after a mediocre first film is rarely a wise decision. Silent Hill: Revelation 3D earned a mere $17 million domestically and $55 million worldwide, a 42% drop from the first film, though ironically it was probably more profitable given the much smaller budget. While a trilogy was never announced, fans held out hope until Silent Hill: Revelation 3D broke their hearts. The director even apologized, describing it as a "nightmare dance," which would be a cool title for a sequel that will never happen.
The Divergent Series will never ascend
If you want to add prestige to your YA movie, turn the final film into a two-parter. Voila, Twilight Saga: Breaking Dawn instantly becomes The Godfather Part II! OK, not exactly, but it was a trend in YA movie adaptations that included Harry Potter and The Hunger Games. Also, let's be honest, it's also just an easy way to make more money, especially when you film the two parts at once. After all, who'd be dumb enough to only film Part 1 of a two-parter, right… right? Enter The Divergent Series.
The first managed $276 million worldwide on a $85 million budget, while the second made $295 million against a $110 million budget, though its domestic opening weekend and box office were smaller. That should have been a clue, but Lionsgate, chasing their success with The Hunger Games, went full steam ahead on a two-part conclusion. Wrong move.
The Divergent Series: Allegiant tanked with $66 million domestic and $172 million worldwide on a $110 million budget. Spending the money to properly conclude the trilogy would be suicide, so The Divergent Series: Ascendant was announced as a TV movie instead, before being cancelled. The Divergent Series is an interesting inclusion on this list, for although it had three films, the series will never be completed.
Stargate's fate is sealed
Stargate never had a trilogy despite "the franchise" being financially successful. Of course, it helps when there's only one film in the series, but still. Stargate caught the moviegoing world off guard in 1994, setting a new October opening weekend box office record at the time with $16 million, eventually earning $71 million domestic and $196 million worldwide. Filmmakers Roland Emmerich and Dean Devlin had planned a trilogy of films, with each movie focusing on a different mythology.
However, they parlayed their Stargate success into one of the biggest hits of the '90s with Independence Day (and then one of its biggest disappointments, Godzilla). Meanwhile, MGM put the film series on hold thanks to the success of the TV series, which started in 1997 with Stargate SG-1. Twelve years after the original, Devlin revealed plans for a sequel at 2006's San Diego Comic-Con, but it would be another eight years before a new Stargate was announced — and this time it would be a remake. However, the failure of Independence Day: Resurgence in 2016 killed any interest in reviving Emmerich and Devlin's other 1990s sci-fi property, and the Stargate trilogy was officially canceled in 2018.
The chances for a Wayne's World trilogy are not excellent
The Wayne's World franchise is the most successful SNL film series ever, earning $169 million domestically and $231 million worldwide. Getting that much dough usually spells sequels, but instead, we wound up with mediocre SNL movies like A Night at the Roxbury, Superstar, and The Ladies Man. What gives? For one, Wayne's World 2 absolutely plummeted, earning $136 million less in 1993 than Wayne's World did in 1992. It was still profitable, but that's a scary 76% drop. Paramount may have still been willing to produce Wayne's World 3, but it sounds like the creative team wasn't interested.
Mike Myers left SNL in 1995 and went on to star in the hugely successful Austin Powers and Shrek franchises. Meanwhile, Dana Carvey starred in his own short-lived TV show, The Dana Carvey Show, starting in 1996. In 1993, Entertainment Weekly reported that "the ego-swelling success of Wayne's World is taking its toll on the relationship" between Myers and Carvey, which started with Myers' first draft of Wayne's World 2, which included plenty of Wayne … but not a lot of Garth. Couple that with Carvey's medical issues and the fact the two didn't speak for years, and it's no surprise we never saw Wayne's World 3, and we probably never will. The duo reunited for an Uber Eats commercial during Super Bowl LV, which is probably as close to a third film as we'll ever get.
We doubt we'll see Denzel Washington in The Equalizer 3
When it comes to box office bankability, Denzel Washington is the king of Hollywood. No special effects needed for this star — just a cool premise will do. Enter The Equalizer, a gritty crime series based on a largely forgotten 1980s TV show. Washington plays Robert McCall, a former Marine who comes out of self-imposed retirement to take on Russian mobsters. The Equalizer ($101 million domestic and $192 million worldwide) and The Equalizer 2 ($102 million domestic and $190 million worldwide) earned similar numbers, though the sequel cost 29% more. At a time when movie studios are counting every penny, Sony Pictures was probably trepidatious about spending more but potentially earning less on a hypothetical Equalizer 3.
Denzel Washington doesn't seem interested in sequels in general, as The Equalizer 2 was his first and, thus far, only sequel. One person who is very interested is director Antoine Fuqua, who told The Hollywood Reporter in 2018, "Personally, I'd love for it to happen. … It would be great to do it again with Denzel. I'm looking forward to The Equalizer 3, if that happens." It hasn't, and it doesn't look like it will, at least not on the big screen with Washington. CBS rebooted the series for TV, premiering the show right after Super Bowl LV on February 7, 2021. Robert McCall is now Robyn McCall, with Queen Latifah stepping in for Denzel Washington, proving if you don't have the king, then get the Queen.
Rob Schneider said 'goodbye' to Deuce Bigalow: Male Gigolo
SNL-alum Rob Schneider had a solid career in Hollywood as "Adam Sandler's friend" for nearly ten years when he graduated to above-the-title status with Deuce Bigalow: Male Gigolo. Okay, its 22% Tomatometer score wasn't exactly Citizen Kane, but it made more money than anyone could've rightly expected, earning $92 million worldwide on an $18 million budget. While Schneider continued to play scene-stealing backup roles for his A-list superstar friend, he got to be the center of attention himself in 2001's The Animal and 2002's The Hot Chick, launching his "Rob Schneider is _____" tagline phase.
It wasn't until 2005 that Schneider returned to his signature role for Deuce Bigalow: European Gigolo, but after six years, the audience had moved on. Besides its atrocious 9% Tomatometer score, Deuce Bigalow: European Gigolo made $45 million worldwide on a $22 million budget, earning a thin profit at most. Still, with moviegoers' nostalgia for characters they grew up loving, might we see Deuce Bigalow (Saves Christmas; Goes To Camp; vs. Kong) Gigolo? Not with Rob Schneider.
In 2008, Schneider is reported to have said (via Digital Spy), "I'd love to do a third Bigalow movie. The only reason why I did the second one is because everyone was asking for it, but it notably failed." Five years later, Schneider changed his tune, telling the Pittsburgh Post-Gazette in 2013, "You're not gonna see another Deuce Bigalow out of me." A Gigolo without Schneider is no Bigalow.
Is Adam Sandler too grown up for Grown Ups 3?
There are actually two Adam Sandlers. One is the gifted actor of Punch-Drunk Love and Uncut Gems. The other is, well, Adam Sandler. Alas, most of Sandler's $5.5 billion in worldwide grosses have come from his comedies, which is why there are so many. For example, take the Grown Ups series, Sandler's "hanging out with his friends" franchise, co-starring Kevin James, Chris Rock, David Spade, Rob Schneider, and Salma Hayek as Sandler's wife (smooth, Sandler, smooth). Grown Ups earned $272 million worldwide in 2010, and Grown Ups 2 made $247 million in 2013, making Grown Ups Sandler's highest-grossing franchise besides Hotel Transylvania.
Even with that much talent ballooning the budgets up to $70-80 million, that profitability usually spells sequels, yet we've gotten none. Maria Bello (who played Kevin James' wife) told Flickering Myth in 2016 that she'd love to come back, saying, "Boy, it's fun to work with those guys." On January 6, 2020, Sandler fanatic/comedy writer-producer Tom Scharpling posted his unsanctioned script on Twitter, writing (via Vulture), "In April 2019, I wrote a script for GROWN UPS 3. I was not asked to write it. It is the best thing I will ever do in my life, professional or otherwise." While the script — a meta "making of" Grown Ups in which cast members are being killed — went viral, it also went nowhere. Given that Sandler is busy making Hotel Transylvania, Netflix films, and critically acclaimed movies, we think he may be too grown up for Grown Ups 3.
The Mortal Kombat trilogy received a fatality
Video game movies are synonymous with "awful," but for one, brief, shining moment, it looked like the Mortal Kombat series would break the curse. Don't get us wrong, 1995's Mortal Kombat is still "bad" (though its 46% Tomatometer score is still in the top 10 for video game movies) but in an awesome way. It also made a lot of money, earning $122 million worldwide on a $20 million budget. Besides, there's a 100% chance you heard the Mortal Kombat theme song somewhere in the 1990s (a dance club if you were over 18 or a skating rink if you were under 18). The studio rushed a sequel, which always turns out well, and despite its $30 million budget, Mortal Kombat: Annihilation looks like a SyFy Original. Its 2% Tomatometer score is the second worst in video game movie history, while the $51 million worldwide was a horrible 58% drop. That's a franchise fatality.
New Line Cinema had been banking on at least three Mortal Kombat films and signed Robin Shou, who played Liu Kang, to a three-picture deal. However, Annihilation, well, annihilated any chance of that happening. However, a third film — reportedly titled Mortal Kombat: Devastation — spent more than a decade in development hell before Warner Brothers purchased Midway Games, former owners of Mortal Kombat, for $33 million. Rather than throw good money after bad, Warner Bros. is relaunching a R-rated reboot with a new cast, giving the final fatality to Mortal Kombat 3.
We think Jim Carrey is unlikely to wear The Mask again
Jim Carrey had pretty much the best year ever in 1994, starring in back-to-back-to-back hits Ace Venture: Pet Detective, The Mask, and Dumb & Dumber. The Mask was the biggest hit of the bunch by far, earning $351 million. Those are Batman-level numbers for an ultra-violent and frankly disturbing C-list character from Dark Horse Comics. Despite The Mask's insane profitability (it cost just $18 million), the only sequel was 2005's horribly stupid misfire, Son of the Mask, which tanked with $59 million on a $100 million budget.
Carrey wisely sat that one out, given his long-standing distaste for sequels. However, it sounds like Carrey may be open to putting back on the mask, as he told ComicBookNews.com in 2020, "It would depend on a filmmaker. … I don't want to just do it. But I would only do it if it was some crazy visionary filmmaker." So Michel Gondry or Lars Von Trier's The Mask? Granted, Carrey sounds lukewarm about it, but there were rumors in 2020 that Warner Bros. was considering both a female-led reboot more in line with the grimdark comic and two new Mask movies starring Carrey, presumably erasing Son of Mask entirely.
However, there haven't been any updates on the franchise since those very tenuous rumors made the rounds. And given Carrey's apparent apathy, we'd be surprised to see one sequel, let alone a Carrey trilogy.
Ending this lurid franchise is a Basic Instinct
The Basic Instinct movies draw a parallel between sex and murder, implying both are, ahem, basic instincts. And both seem to make lots of money at the box office. Basic Instinct certainly did that in 1992, earning $117 million domestically and $352 million worldwide, despite its mediocre 54% critics score and 63% audience score. "Strike while the iron's hot" may not be a basic human instinct, but it is Hollywood's mantra, so it's surprising it took 14 years for a Basic Instinct 2 to arrive on screens. Michael Douglas was out, but Sharon Stone returned as the psychotic cougar/novelist Catherine Tramell. While the first movie made Stone a star, the sequel probably killed any chance of her headlining a film again.
Its 6% critics' score and 26% audience score was bad enough. The $35 million box office on a $70 million budget was much worse. You'd think that'd kill the franchise, but according to a 2006 Empire Online article, Stone was optimistic about a sequel, and she even hoped to direct. "There's a script for the next part of the story, but I would like to direct it rather than star in it." According to a 2013 HuffPost article, Stone changed her mind about not starring in the film, and that she was still "eager" to give Tramell "closure." Moviegoers already had closure back in 1992. Now, it's time to let this franchise die. We'll bring the ice pick, if necessary.
We'd be shocked if there's ever a Crank trilogy
In Crank, Jason Statham has to keep his adrenaline going to stay alive, by any means necessary. In Crank 2: High Voltage, Statham's heart is replaced with a battery that needs constant jolts of electricity. What would've happened in Crank 3? Would Statham's organ system have been replaced with a nuclear reactor so he becomes a human Godzilla? Sadly, we'll never know. Crank cost $12 million and made $43 million worldwide. Cue sequel. Crank 2: High Voltage cost $20 million and made $35 million worldwide. Game over … right?
Well, co-director Mark Neveldine was confident the franchise would keep going, telling Empire Online in 2011, "Crank 3 is going to happen, the studios are really excited about it — it's just all about timing." Four years later while promoting Spy in 2015, Statham told We Got This Covered, "I'd love to do it! [Neveldine and co-creator Brian Taylor] have to get their heads together, and if they want to do it, then there's a conversation."
Gotta hand it to Statham, that's how to give a non-answer answer. In 2018, Taylor told The Movie Crypt podcast (via Entertainment Weekly) that given Crank 2's disappointing box office, "It's got to be a great idea. … Something insane. … Crank 3 should be as exponentially more f***** up than Crank 2 as Crank 2 was [with] Crank 1." Given it's been 11 years since Crank 2 tanked, the most "insane" idea would be trying to relaunch this franchise.
It's time for The Blues Brothers to exit the stage
The Blues Brothers was one of the best comedies of its era, while Blues Brothers 2000 was among the worst SNL movies ever. Nearly 20 years separated The Blues Brothers and Blues Brothers 2000, but given the sequel lacked John Belushi — or, y'know, any redeeming value — it absolutely tanked, earning just $14 million. About 17 years later, commemorating the original's 35th anniversary, Dan Aykroyd told CBS News that if Universal ever wanted to make a third film, "I have a story, of course, but it involves handing it off to a younger generation."
Aykroyd was even more emphatic in a 2015 interview with The Daily Mail UK, telling them that the Blue Brothers "will" return for a DVD and VOD special, with Jim Belushi stepping in for his late brother. "The focus will be on Elwood helping find a new generation to lead the blues," said Aykroyd. "And that idea is handing down to a new generation. Finding a pair of girls who are 20, 21, [and] want to be the Blues Sisters." In a 2018 interview with ET Canada, Aykroyd even revealed his dream cast for the Blues Sisters, saying, "I like Lupita Nyong'o, and I like Taylor Swift." We love Aykroyd, but given that it's been four decades since the original and two decades since the disastrous sequel, it's time to drop the curtain on The Blues Brothers 3 or (The Blues Sisters).