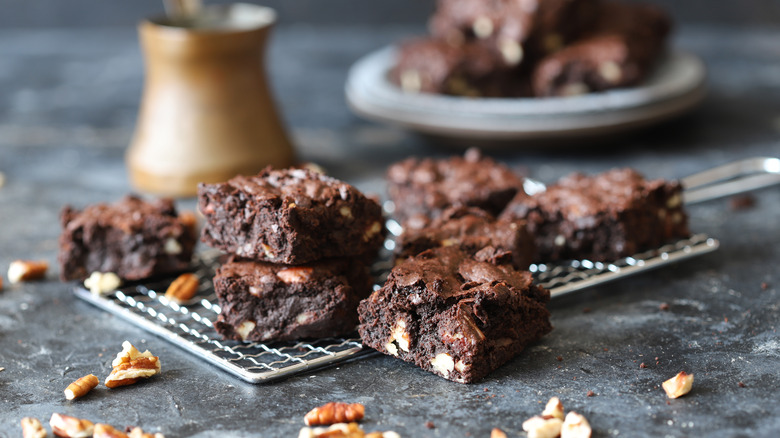 Whipping up a killer, homemade dessert is one of those "sounds good in theory" types of goals. But when the rubber hits the road, the planning required — finding a recipe, buying the ingredients, making the time to prep and bake and frost and decorate — often ends up overpowering the motivation to follow through.
Here's the thing, though — all you really need is a couple of simple recipes you can commit to your memory and whip out at a moment's notice. The reality is that making a homemade dessert doesn't have to be hard. If you keep items like Nutella, vanilla ice cream, frozen berries, cream cheese, and baker's chocolate on hand, you can mix and match them with standard pantry staples (items like salt, flour, and sugar) to make a dessert with just a few items in less than an hour. Simply choose two to three recipes from this list, buy the ingredients, and make them one time. After a single go-round, chances are you'll have them memorized. These recipes really are that easy to make.
This fudge recipe only has two ingredients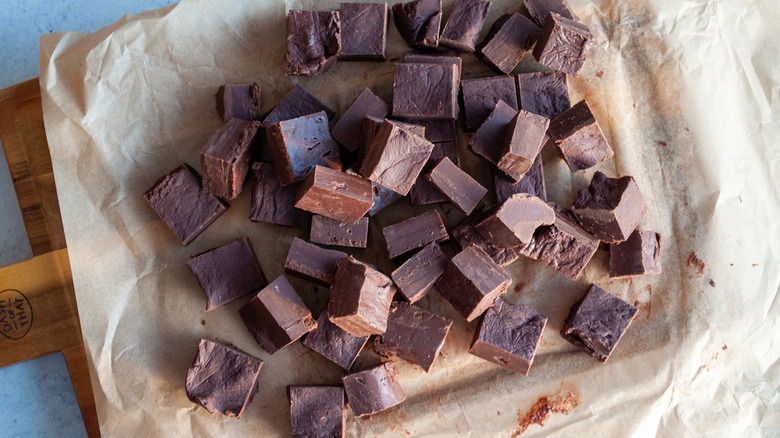 Fudge just sounds like it would be hard to make, doesn't it? Like, isn't fudge-making reserved for experienced candy makers at chocolate shops? Well, it's time to put those assumptions aside because this fudge recipe calls for just two ingredients (chocolate chips and condensed milk) and 10 minutes of your time. Granted, you'll also need to give it time to cool in your fridge for at least four hours, but that's a small price to pay for 64 pieces of homemade fudge. Just make a batch on a Sunday afternoon and you can enjoy the fruits of your labor all week long.
Make a vanilla cake that requires only three ingredients
Hey, guess what? Even if you're using a boxed mix, cake made at home is still homemade cake. Especially when you switch out the box's instructions to make a cake that's moist and flavorful. This vanilla cake recipe requires nothing more than a box of vanilla cake mix, vanilla ice cream, and eggs. After mixing all the ingredients together and pouring into a bundt cake pan, all that's left to do is to bake your cake for 45 minutes. Just like that, you have a flavorful cake that's ready to serve. Top with a glaze, frosting, syrups, or fresh fruit and your work is done.
You'll want to make these easy Nutella cookies every week
If you love Nutella, you're going to adore these simple, three-ingredient Nutella cookies. All you need is Nutella (obviously), flour, and an egg. After you whisk the egg and mix it with the flour, you simply stir in the Nutella, place the dough on a baking sheet in golf ball-sized dollops, and bake at 350 degrees Fahrenheit for 13 minutes. See? The recipe couldn't be easier to remember. So the next time you're craving cookies and have 25 minutes to spare, pull this recipe out of your memory bank and put it to use.
These Dutch babies couldn't be easier to whip up
Dutch babies (a pastry-like, pancake-like, crepe-like, light and toasty popover bread) may not be the first thing to come to mind when you think "dessert," but if you haven't tried one of these bad boys yet, you're in for a treat. Not only is the Dutch baby itself delicious, you can load it up with whatever sweet fillings you want to give it the taste sensation you're going for. All you need to make one is flour, milk, eggs, and butter (you probably already have those items in your pantry, right?), along with a cast iron skillet and the toppings of your choice. Fresh fruit, powdered sugar, and syrup (or even drizzles of chocolate sauce) are all good options.
Who knew you could make cherry cobbler with just three ingredients?
All you have to do to make this incredibly simple three-ingredient cherry cobbler recipe is to keep a few essentials on-hand at all time. In this case, all you need is a box of white cake mix, two cans of cherry pie filling, and a stick of butter. Yep, that's it. Simply melt the butter, dump the cherries in a pan, mix the butter and cake mix together to make a crumbly topping, pour it on top of your cherries, then bake for 40 to 45 minutes. You could probably do the whole thing in your sleep.
Cranberry orange cheesecake sounds like it would be hard to make (it's not)
The best part of this cranberry orange cheesecake recipe is that there's no baking required. It may take two attempts before you memorize the recipe, as there are a few more ingredients, but truly, it won't be hard to remember once you have a few attempts under your bet. For one thing, the crust itself only requires vanilla wafers and butter. Then the filling consists of nothing more than blended cranberries, whipped cream, cream cheese, and the juice and zest from an orange. Once you've combined the appropriate ingredients, you simply fill your crust, allow the cake to harden up in the fridge, and it's ready to serve!
You only need two ingredients to make a copycat Oreo Blizzard
Craving something sweet and cold for dessert? Look no further than this copycat Dairy Queen Oreo Blizzard. You only need two ingredients — Oreos and vanilla ice cream — to whip up a 16-ounce serving in just five minutes. And of course, you can always double, triple, or quadruple the recipe to make the ice cream treat for your whole family, and you can substitute other add-ins as well, like M&Ms.
You only need three ingredients to make berry cobbler
Here's the thing about homemade berry cobbler: Once you've learned how to master one three-ingredient recipe, you can simply switch out the fruit used and serve up any number of different cobbler recipes. This recipe calls for nothing more than butter, yellow cake mix, and eight cups of frozen or fresh mixed berries. If you keep frozen berries in your freezer and a box of extra cake mix in your pantry, you can literally have this dessert on your table in less than an hour.
Make Christmas candy easy with 2-ingredient peppermint bark
Peppermint bark looks and tastes like a fancy treat, but this three-ingredient candy is incredibly easy to make. All you need is candy canes, two bars of semi-sweet baking chocolate, and a bar of white almond bark. Aside from that, all you have to do is melt the two chocolates, mix your crushed candy canes into the almond bark when it's still melted, then pour them (first the baking chocolate, followed by the almond bark) into a baking dish. You then allow the whole pan to cool for roughly two hours and just like that, you've got a whole lot of peppermint bark ready to eat or share.
You'll wonder why you took so long to make cookie butter cake
There are lots of easy ways to level up your cake mix game, and one super simple method is to turn your basic box of yellow cake mix into a cookie butter cake. All you need is a jar of cookie butter, a box of cake mix, butter, eggs, and water, and in just 50 minutes you'll have a delicious cake ready to serve. And to do to top it off? Heat up a little more cookie butter and drizzle it over the top of your cake.
Who knew you could make pumpkin pie with only 5 ingredients?
Surely one of the reasons pumpkin pie only makes a grand appearance roughly once a year is due to how hard it is to make, right? Nope, that's where you're wrong. This five-ingredient pumpkin pie requires nothing more than a pre-made pie shell, a can of pumpkin puree, condensed milk, pumpkin pie spice, and eggs.
All you have to do to make the pie is whisk together the filling ingredients (that's everything but the pie crust, just in case you were wondering), spread inside your pie crust, and then bake for roughly an hour. The only tricky thing about this recipe is after the first 15 minutes of baking, you'll need to reduce the heat of your oven from 425 to 350 degrees Fahrenheit. Once it's baked, simply allow it to sit and cool for about two hours before topping with whipped cream and serving.
You'll be surprised how easy it is to remember this key lime pie recipe
If you love the tart, tangy flavor of key lime pie, you're going to be psyched to learn you can memorize this simple, five-ingredient key lime pie recipe in no time at all. Really, all you need is a pre-made graham cracker pie crust, sweetened condensed milk, lime juice, Cool Whip, and lime zest as a garnish. If the ingredients are simple, the preparation is even simpler. Just fold together the condensed milk, Cool Whip, and lime juice before filling your pie crust with the mixture, and then pop the pie in the freezer and freeze for at least two hours before topping with lime zest and serving cold.
You'll only need chocolate and strawberries to make this dessert
If chocolate-covered strawberries aren't in your regular "sweet treats" repertoire, you should be asking yourself, "Why not?" All you need is right there in the title: chocolate and strawberries. Then, of course, you can add whatever extra garnishes you choose, with nuts, white chocolate, and sprinkles as some good options. The only trick is choosing sufficiently large strawberries and making sure you dip them when the chocolate is completely melted. But after a few practice runs, you're practically guaranteed to be a pro.
Whip up these peanut butter cookies that only have three ingredients
A lot of cookie recipes require a slew of ingredients, but not this simple, three-ingredient recipe for peanut butter cookies. In fact, all you need is peanut butter (that should be a no-brainer), eggs, and sugar. The ingredients themselves should be a giveaway that these cookies are going to be especially peanut buttery, and they also lend themselves to add-ins, like chocolate chips or shredded coconut. Or, you could even spread a dollop of ice cream between two cookies for an easy and delicious ice cream sandwich.
You'll make sugar cookies every week when you memorize this simple recipe
If you're looking for a more versatile but equally simple cookie recipe, consider this three-ingredient sugar cookie recipe. You can frost them, top them with drizzled chocolate or powdered sugar, or add your choice of sprinkles. Regardless, all you need to whip up a batch is flower, sugar, and butter. They'll taste a little more like a shortbread cookie than the chewier sugar cookies you may be used to (without leavening or eggs, it's hard to get the usual texture), but regardless, they'll still be tasty, and when you're craving something sweet, it's hard to go wrong with this simple yet delicious recipe.
You'll make this simple peanut butter frosting over and over again
Okay, so a simple recipe for frosting isn't technically a dessert, but if you've ever eaten pre-made frosting straight from a jar, you know that a spoonful or two can really hit the spot. Plus, by logging this peanut butter frosting to memory, whenever you're making a cake or cookie, you can whip up a batch of frosting to maximize the flavor. All you need is peanut butter, butter, and powdered sugar (and if you're inclined, you can add a little vanilla extract). With just five minutes of mixing, your frosting will be ready to go!
The perfect summer peach cobbler only has 3 ingredients
Peach cobbler is the quintessential summer dessert that should be served at every barbecue, pool party, or picnic with friends. And lucky for you, just like the other cobbler recipes on this list, the peach version couldn't be simpler. All you need is two cans of sliced peaches, a stick of butter, and a box of yellow cake mix. And, just like with the other cobblers, you simply mix the melted butter and the cake mix to make your crumble and pour it on top of your peaches in a baking dish before popping in the oven. In just an hour you'll have the perfect cobbler to take to your next get together.
When you're craving a Frosty, try this 3-ingredient copycat
There's something so incredibly satisfying about the flavor and texture of a Wendy's chocolate Frosty. But if you're not in the mood to drive through the drive-thru, you can still satisfy your craving at home. All you need is whole chocolate milk, sweetened condensed milk, and Cool Whip.
The trick is freezing the chocolate milk in ice cubes in advance, which, admittedly, takes about five hours. But once they're frozen, you simply blend them in your blender with the other ingredients until they're smooth. Just like that, you have a 16-ounce copycat Frosty ready to enjoy. If you try the recipe once and decide it's a keeper, it's a good idea to just keep an extra tray of frozen chocolate milk at-the-ready in your freezer so you don't have to wait around when the craving hits.
You'll add this simple marshmallow pumpkin cake to your permanent memory
Never heard of a marshmallow pumpkin cake before? Well, you're in for a treat. This three-ingredient cake requires nothing more than a box of white cake mix, a can of pumpkin pie mix, and a container of marshmallow creme. To make your cake, you simply mix the cake mix with the pumpkin pie mix before baking. When your cake is ready and you've given it time to cool, whip up the marshmallow creme with a little warm water to give it a nice, spreadable consistency, and then use it as a frosting. And if you're inclined, you can give the marshmallow topping a nice toasted flavor with a quick hit of a kitchen blowtorch. Just like that, you have the perfect fall cake to keep at-the-ready whenever you're craving something sweet.
This creamy, chocolate mousse only has three ingredients
When you want to have single-serving chocolate desserts at the ready for a dinner party, there's nothing that's much more satisfying than chocolate mousse. It looks and tastes like it's hard to make, but it's blissfully simple. All you need is semi-sweet chocolate chips, sea salt, and whipping cream. After you warm a portion of the cream and pour the warm cream over the chocolate chips to allow the chips to soften, you simply stir in the salt. You use an electric mixer to whip the remaining cream, then add the chocolate cream to the mixer and continue to mix until the texture is creamy and the color is even. The whole process only takes a few minutes. Then, simply distribute between separate serving dishes and store in the fridge to chill until you're ready to enjoy.
The easiest ice cream you'll ever make
Ice cream seems like a challenging dessert to make from scratch — that's why there are ice cream-making machines, right? But really, it's possible to make a two-ingredient ice cream recipe that requires zero churning. Simply grab sweetened condensed milk and heavy cream (and vanilla extract, if you want that vanilla flavor). Use a stand mixer to whip your heavy cream, fold the cream into your condensed milk, then freeze in a loaf pan until firm. When the ice cream has the right consistency, enjoy plain, add the toppings of your choice (fresh fruit or chocolate syrup are good options), or use it as a filling between cookies.