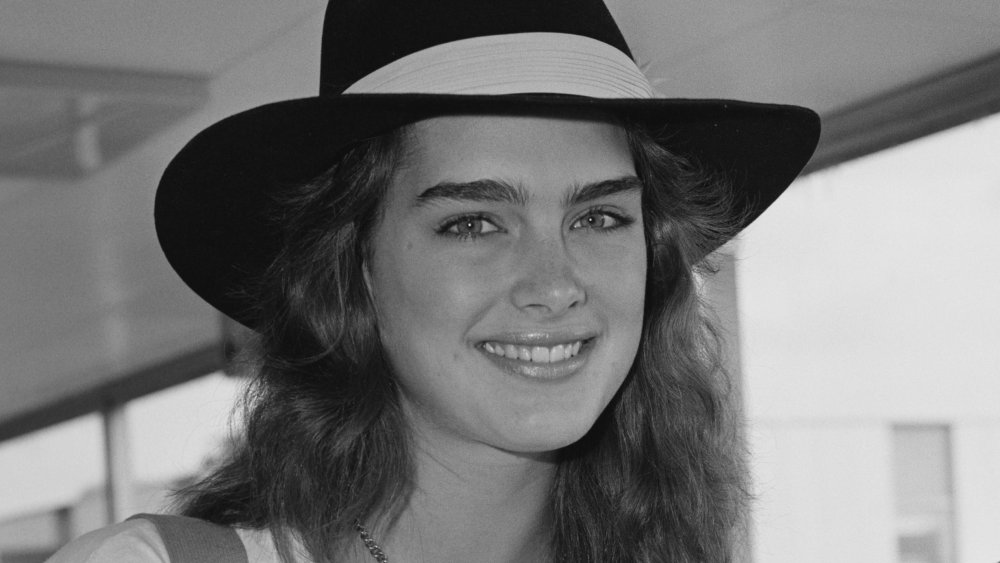 Child models are just born beautiful — or so it seems — and are practically destined to grace the pages and covers of magazines. These models often become iconic in their youth, in large part due to their good looks and the keen eye of a photographer who manages to catch them in just the right pose, in just the right moment. Many of these lucky few go on to have successful careers into adulthood too, proving they have an innate prowess and, of course, lasting staying power.
That's not the case for everyone, though, as some folks chose to follow a different path upon coming of age and becoming independent entities. Career model or not, though, it's always fascinating to discover what popular childhood models look like when they're all grown up. So, if you're curious about what your favorite famous beauties look like as adults, scroll on down to find out!
Former child model Kaia Gerber looks just like her supermodel mom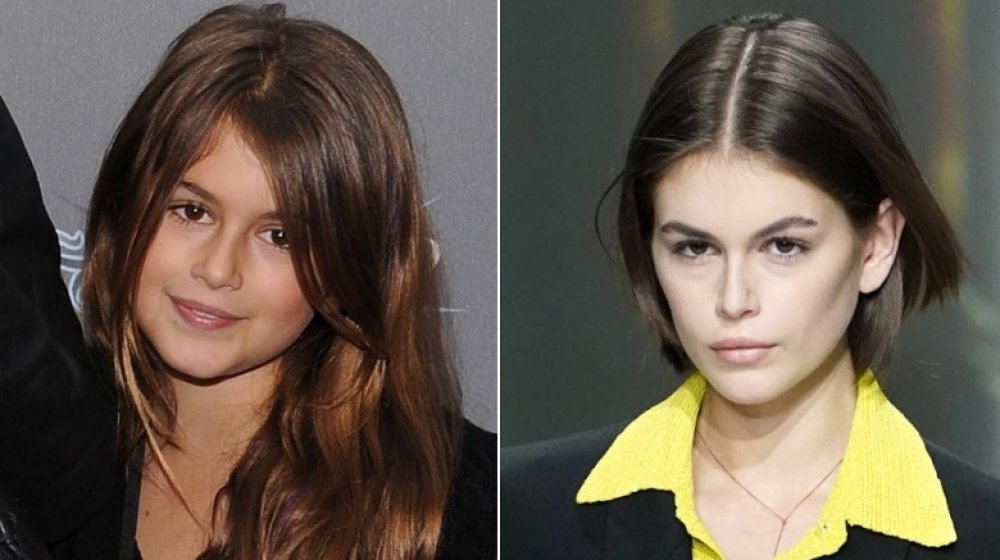 Model Kaia Gerber, the daughter of iconic supermodel Cindy Crawford and businessman Rande Gerber, landed her first modeling job when she was only 10 years old. However, after stirring up a bit of controversy over a short skirt, Gerber's mother put the kibosh on her modeling career — at least temporarily, according to Daily Front Row (via HuffPost).
Once Gerber was a little bit older she returned to the world of modeling and has been killing it in the industry ever since. And it's not lost on her that she's a spitting image of her mother, though it's something that's become more apparent to her as she's gotten older.
"It's everything from our mannerisms to our voices," she penned in an essay for Vogue. "It used to be that I didn't see it at all, but now I will look at a picture and have to take a moment before realizing which one of us it is." Gerber added that if you have any difficulty telling the two of them apart, her mom has the iconic mole; she doesn't.
Gigi Hadid went from popular child model to world-famous supermodel
If anyone was born to be beautiful as a career, it would be Gigi Hadid. The daughter of real estate mogul Mohamed Anwar Hadid and reality star Yolanda Hadid, Hadid started modeling when she was just 2 years old. But like her friend Kaia Gerber, Hadid took a break after her early modeling gigs to have a normal life. "A lot of people make assumptions about my family, but our childhood wasn't 'Hollywood,'" she explained in an interview with Vogue. "I modeled when I was young but my mom intentionally had me stop before it ever felt like a job."
These days, Hadid is one of the most famous models in the world, with millions of Instagram followers and an insanely successful career. "There are still dreams coming true that I didn't even know I could possibly dream when I started," she continued. She added that a lot of what she does for work feels surreal. That makes sense given there are very few accomplishments that Hadid can't claim as her own.
Popular child model Jade Weber has grown up to be gorgeous
Some models land their big break by accident, which was the case for influencer and model Jade Weber. When she was 9 years old, she tagged along with her brothers who were getting headshots taken and managed to catch the attention of a modeling exec. "The photographer thought I should become a model, so she sent a picture to her sister and it turns out her sister was the director of an agency," she revealed in an interview with Flawless Magazine. In that moment, a young Weber decided to give modeling a shot.
Later, Weber was cast in the Hayden Summerall video for a cover of "Can't Feel My Face" and started getting various modeling jobs around the world. As for her future ambitions, Weber noted that she hopes to travel to France for work. "My dream modeling job would be to work for Dior, or Chanel," she continued. "I am French and that would mean a lot to me."
Former child model and actress Lindsay Lohan is still a fiery beauty
You might know Lindsay Lohan from her breakout role in the 1998 remake of the classic film The Parent Trap. But before Lohan charmed her way into the hearts of millions as Hallie Parker and Annie James, she was quite the popular childhood model. For one, she appeared in a commercial for Jell-O opposite Bill Cosby in 1996. She also appeared in a host of other advertisements, including spots for Abercrombie & Fitch, Calvin Klein, and Caravan, as noted by BuzzFeed.
It's well-known that legal troubles largely derailed Lohan's career, but that's not something she beats herself up about too badly. "I can't turn back time," she explained to Vanity Fair. "But if I could, I would have listened more to my mother … and chosen my friends more wisely."
While Lohan relocated to Dubai, she's not quite done with the spotlight just yet. For one, she expressed interest in appearing in a sequel for Mean Girls in an interview on Lights Out with David Spade. She also appeared in the MTV show Lindsay Lohan's Beach Club in 2019.
Former baby model Spencer Elden is no longer part of the modeling scene
When you conjure the image of the most popular album covers in your mind, what pops up? There's a good chance that Nevermind, the groundbreaking sophomore album from grunge band Nirvana is among your picks. After all, the record sold millions of copies and changed the face of the music industry, as noted by Billboard.
It may not have crossed your mind, but the naked, swimming baby on the cover has since grown up and, of course, has a name: Spencer Elden. Now an artist based in Los Angeles, Elden hasn't exactly reaped riches for his famous baby mug. "It's a trip. Everyone involved in the album has tons and tons of money. I feel like I'm the last little bit of grunge rock," he confessed in an interview with Time. "I'm living in my mom's house and driving a Honda Civic."
Elden isn't exactly comfortable with the notion that millions of people have seen his intimate parts, either. "I feel like I got part of my human rights revoked," he added.
Popular child model Thylane Blondeau is a brand ambassador
When Thylane Blondeau burst onto the modeling scene at 4 years old, she was quickly dubbed "the most beautiful girl in the world" by the internet. With her arresting gaze and naturally captivating looks, the child of soccer great Patrick Blondeau and French actress Véronika Loubry was destined to ascend into modeling royalty.
However, along the way Blondeau found herself mired in controversy, thanks to a controversial Vogue photoshoot, which was criticized for sexualizing children. The model's mother staunchly defended her daughter and the publication, telling a French newspaper (via ABC News), "The only thing that shocks me about the photo is the necklace that she's wearing, which is worth 3 million Euros."
Fortunately Blondeau was able to weather that storm and has since cultivated quite the modeling career. As of this writing, she's a brand ambassador for L'Oreal Paris and ultimately has her sights set on Hollywood, according to Teen Vogue. She even founded her own line of apparel, called Heaven May – impressive!
Former child model Brooke Shields still doesn't regret Pretty Baby
Brooke Shields became a Hollywood star for her work in the controversial film Pretty Baby in which she played the child of a sex worker opposite Susan Sarandon. Despite the objections raised about her nude scenes in the movie, Shields treasures the experience and doesn't regret a thing. "It was the best creative project I've ever been associated with, the best group of people I've ever been blessed enough to work with," she told Vanity Fair. But Shields was already working in the modeling and advertising industry when she landed the role of Violet.
For one, she appeared in a commercial for Ivory Soap as a baby, as noted by USA Today, and she raised hackles for commercials she did for Calvin Klein, in which the camera angles and dialog are quite suggestive.
However, the photo that changed her life and made her famous was one that appeared in Life magazine in 1978. "We were no longer just catalog models but had transitioned into a more credible and artistic realm," she penned in an essay for Vanity Fair. Shields continued to model as well as appear in magazines in the decades that followed.
Once a child model, Robert Pattinson is now quite the serious actor
Before actor Robert Pattinson stole the heart of teens and tweens as Edward Cullen in the Twilight films and before he broke out as Cedric Diggory in Harry Potter and the Goblet of Fire, he was actually quite the popular underwear model. "When I first started I was quite tall and looked like a girl, so I got lots of jobs, because it was during that period where the androgynous look was cool," he recalled in an interview with Hello! magazine. But once he began to come into his manhood, the modeling work dried up.
That's okay, though, as Pattinson's destiny was to be an actor. In addition to his breakout, star-forming roles, he was also cast in films like Water for Elephants, The Lost City of Z, and The Lighthouse. He even managed to land the seriously coveted role of Bruce Wayne/Batman in The Batman, proving that he has what it takes to run with the big dogs.
Anderson Cooper is a broadcast news juggernaut, but was once a popular child model
If you've ever dropped by the Metropolitan Museum of Art and stared at the famous Diane Arbus photograph entitled "A very young baby, N.Y.C.," you may be surprised to learn that the infant featured in the famous snap is none other than CNN anchor Anderson Cooper. "It was Diane Arbus's idea to take pictures of me," he wrote in an essay for Harper's Bazaar. "She wanted to photograph a baby, and she had seen me when I was relatively newly born." Given that she was friends with Cooper's parents, Arbus was able to spend three weeks taking photos of baby Cooper, including the iconic image.
Cooper went on to do more modeling when he was ten years old, signing with Ford Models and appearing in advertisements for Macy's, Ralph Lauren, and more. But when he was 13, Cooper abruptly stopped modeling due to a traumatic experience. "I got propositioned by a photographer…a male," he revealed on The Howard Stern Show (via HuffPost). "He somehow got my number and called me up and offered me money, and it so freaked me out." Although he never returned to modeling, Cooper went on to have an extremely successful career as a journalist and TV personality.
Former child model Ann Turner Cook will always be the Gerber Baby
Perhaps the most popular child model of all time is the Gerber Baby, whose playful mug adorns millions of jars of baby food. That famous face belongs to Ann Turner Cook, a retired teacher who lives in Tampa, Florida. "When I was very young, I probably was about three years old when mother pointed out the baby food jar and said that that was my picture," she recalled in an interview with CBS Sunday Morning. Naturally, she thought that was pretty cool.
Cook didn't run around boasting about it though, as the company kept her identity a secret for many years, according to their website. "All the years when I went to college and so forth, I didn't tell people that I was the model for the Gerber Baby," she confessed in an episode of Oprah: Where Are They Now? "That would seem a little self-promoting."
Popular child model William Franklyn-Miller became a savvy social media star
William Franklyn-Miller isn't exactly old by anyone's standards, but given how early he started working, he's already come a long way in the world of the beautiful people. "I started modelling in the UK at about four," he shared in an interview with his school, InterHigh. "I was scouted in London, and was really lucky to work on campaigns for Marks and Spencer, Next, F & F and also for Hackett."
After becoming a successful model, Franklyn-Miller decided to try his hand at landing gigs in Hollywood. "A highlight is the feeling when after hundreds of self tapes, you get a call back from the director and you are in the room with them working on the script," he continued. He added that meeting Ridley Scott was super exciting, even if he didn't end up landing the role he auditioned for. In 2019, Franklyn-Miller did secure a spot in the Netflix series Medici, which he gushed about in a post on his Instagram.
Karlie Kloss started modeling as a child and wound up a supermodel
Supermodel Karlie Kloss was only 13 years old when she was discovered by Mother Model Management at a charity fashion show. Just two years later, she made her big debut at New York Fashion Week, walking the runway for Calvin Klein — though her real focus was elsewhere. "I thought of everything in six-month increments," she recalled in an interview with Porter. "Not to mention I was in high school and my priorities were, 'How can I still get straight As and also do this after-school side hustle called modeling?'"
But it didn't take long for Kloss to realize that she had a real future in modeling, even though she was still juggling it with her educational pursuits. "None of my friends at school understood the magnitude of this other life that I had," she continued.
Kloss has since become one of the most recognizable models in the world and has pretty much done it all when it comes to her modeling bucket list. She's also launched other entrepreneurial endeavors, like her workshop for girls cleverly titled Kode with Klossy.
Chanel Iman has come into her own as a model
When she was only 13 years old, Chanel Iman signed with Ford Models, according to BET. That was on the heels of placing third in Ford's Supermodel of the World contest, which set her modeling career into high gear, landing her on the cover of Teen Vogue alongside Jourdan Dunn. "I was a subscriber to Teen Vogue since I was 13, so that was really exciting," she told the magazine. "But shooting with Jourdan, it was just such a powerful cover because we were both, at the time, on top of our game."
Iman went on to walk the runway for a variety of top designers, including Gucci, Dolce & Gabbana, and Valentino, to name just a few. She also strutted her stuff for Victoria's Secret as an Angel and made her acting debut in the 2015 film Dope. "It's a really cool fun film to be in," she told Vogue. "Acting is a dream," she also told the publication. Iman later married New York Giants wide receiver Sterling Shepard in 2018 and started a family shortly thereafter.
Former child model Katherine Heigl loves living the mom life
While Katherine Heigl started acting in the early '90s and cemented her status as a Hollywood It-girl in the mid-2000s, she was actually quite the recognizable child model some time before that. According to BuzzFeed, she graced the inside pages and eventually the cover of Seventeen magazine. As Heigl tells it, though, being a child model wasn't exactly easy. "Oh my god, it was brutal," she confessed on a talk show (via The Independent). "You even understand it, even when you're nine, you're like, 'This is silly and lame' and they're like, 'No, no, it's adorable, do it.'"
While Heigl went on to work in film in television, she's not landing as many roles as she had in the aughts. As of this writing, the star lives on a ranch in Utah with her husband and children. "Josh [Kelley] and I are into this quiet life," she explained in a chat with Good Housekeeping. "Neither of us likes the traffic and the chaos of Los Angeles. It's overwhelming."