The '27 Club' is one of rock's most somber institutions. Whether based in superstition or simply coincidence, a seemingly disproportionate number of the world's most celebrated musicians have died at the age of 27.
There is a select group of '27 Club' A-listers who have remained as rock gods and goddesses since death, but there are far more musicians who have died at that same age. We've put together a comprehensive list of rockers who sadly met their end at 27.
See our list of 27 Rockers Who Died at the Age of 27 in the gallery below.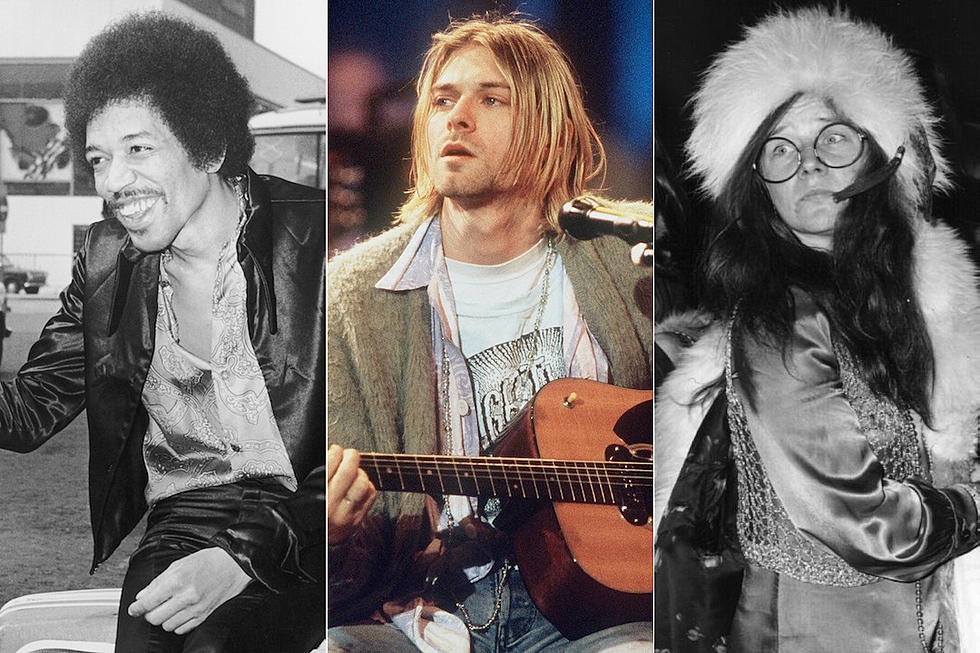 27 Rockers Who Died at Age 27
Kurt Cobain (Nirvana)
Nirvana frontman Kurt Cobain added his name to the '27 Club' list after committing suicide in 1994. It was Cobain's death that really brought the notion of a '27 Club' to the public eye.
Jim Morrison (The Doors)
The iconic Doors singer died in July 1971 of heart failure in the bathtub of his Paris apartment. However, many people suspect that Morrison died of a heroin overdose, possibly in the bathroom stall of a nearby club.
Jimi Hendrix
Perhaps the greatest guitarist of all time, Jimi Hendrix died of asphyxiation in 1970. A combination of red wine and sleeping pills (reportedly, stronger than expected) took that all away from us.
Brian Jones (The Rolling Stones)
Rolling Stones guitarist and multi-instrumentalist Brian Jones drowned in his own swimming pool in July 1969. Jones contributed two songs to the Stones' iconic 'Let it Bleed' album.
Janis Joplin
Janis Joplin, solo star and singer for Big Brother and the Holding Company, died at age 27 on Oct. 4, 1970 of a heroin overdose, just a few weeks after Jimi Hendrix passed away.
Gary Thain (Uriah Heep)
Passing away in December 1975, Uriah Heep bassist Gary Thain's official cause of death was respiratory failure as a result of an overdose of heroin.
Dave Alexander (The Stooges)
Dave Alexander, original bassist for the Stooges, died of pneumonia and an inflamed pancreas in 1975 at the age of 27. Alexander's alcohol abuse reportedly contributed to the bassist's early demise.
Ron 'Pigpen' McKernan (The Grateful Dead)
Grateful Dead keyboardist and vocalist Ron 'Pigpen' McKernan died on March 8, 1973 from internal hemorrhaging caused by excessive drinking. A former lover of Janis Joplin, Pigpen died less than three years after the songstress.
Souroush Farazmand (The Yellow Dogs)
Yellow Dogs guitarist Sourosh Farazmand, 27, and drummer Arash Farazmand were tragically killed by a gunman in Brooklyn, N.Y., on Nov. 11, 2013. The two musicians and a friend were fatally shot by a fellow Iranian musician who was at one point associated with a band that was tight with the Yellow Dogs.
Kristin Pfaff (Hole)
Only two months after Kurt Cobain committed suicide, the grunge legend's widow and Hole frontwoman Courtney Love lost yet another important figure in her life. Hole bassist Kristen Pfaff, like Cobain, also suffered from heroin addiction, overdosing in 1994 at the age of 27.
Nicole Bogner (Visions of Atlantis)
Singer Nicole Bogner, 27, who fronted the Austrian symphonic metal band Visions of Atlantis from 2000 to 2005, passed away after a battle with a "severe disease over a long period of time."
Sean McCabe (Ink & Dagger)
Vocalist Sean McCabe died in 2000 after passing out from drinking alcohol and choking on his own vomit. He was found in a motel room in Indiana.
D. Boon (Minutemen)
On Dec. 22, 1985, a van carrying Boon swerved off the road, ejecting him through its rear doors. The Minutemen frontman died on the scene of a broken neck.
Jeremy Michael Ward (The Mars Volta)
Mars Volta "sound manipulator" Jeremy Michael Ward passed away at the age of 27 after experiencing a drug overdose on May 25, 2003, just months before the Mars Volta released their debut album, 'De-Loused in the Comatorium.'
Helmut Kollen (Triumvirat)
Former bassist / singer for German prog group Triumvirat, Helmut Kollen, died of carbon monoxide poisoning in his garage. The musician kept his car running while he listened to new music he had been working on.
Thomas Fekete (Surfer Blood)
Surfer Blood guitarist Thomas Fekete died in 2016 of complications from a rare form of cancer at the much-too-young age of 27. Fekete was a member of the up-and-coming band since its formation in 2009.
Chris Bell (Big Star)
Big Star's Chris Bell died Dec. 27, 1978 after losing control of his sports car, smashing it into a light pole on the side of the road, killing him instantly.
Anton Yelchin (The Hammerheads)
Anton Yelchin died after a freak car accident on June 19, 2016. Best known for his role in 'Star Trek Beyond,' Yelchin also played guitar for The Hammerheads.
Pete Ham (Badfinger)
Three days shy of his 28th birthday, Badfinger singer and guitarist Pete Ham killed himself in 1975. He was distressed over his poor financial situation and an ongoing battle with the band's manager.
Mia Zapata (The Gits)
Gits frontwoman Mia Zapata suffered one of this list's most tragic deaths. Zapata was abducted in 1993, her body being discovered less than two hours later. She had been beaten, raped and strangled to death.
Alan Wilson (Canned Heat)
Canned Heat guitarist, singer and harmonica player Alan Wilson overdosed on barbiturates on Sept. 3, 1970. Whether it was an accident or suicide has never been determined, though Wilson had suffered from depression and reportedly attempted to end his life previously.
Jacob Miller (Inner Circle)
Inner Circle lead singer Jacob Miller passed away in 1980. A close friend of Bob Marley, Miller lost his life in a car accident.
Richey James Edwards (Manic Street Preachers)
Guitarist Richey James Edwards mysteriously disappeared in 1995, never to be found. Having gone missing at age 27, Edwards is presumed dead.
Pete de Freitas (Echo & the Bunnyman)
Pete de Freitas joined Liverpool post-punkers Echo & the Bunnymen in 1979. He died 10 years later in a motorcycle accident.
Kami (Malice Mizer)
Ukyō Kamimura was the drummer for popular visual kai band Malice Mizer. He died in June 1999 after suffering a subarachnoid hemorrhage in his sleep.
Bryan Ottoson (American Head Charge)
American Head Charge lost their beloved guitarist Bryan Ottoson in the middle of a 2005 tour with Mudvayne. The band found Ottoson dead lying on a sleeping bunk on the group's tour bus.
Leslie Harvey (Stone the Crows)
Perhaps the most bizarre death on this list, Stone the Crow guitarist Leslie Harvey was electrocuted by a live microphone in 1972. 1,000 fans in Swansea, Wales witnessed the fatal accident.