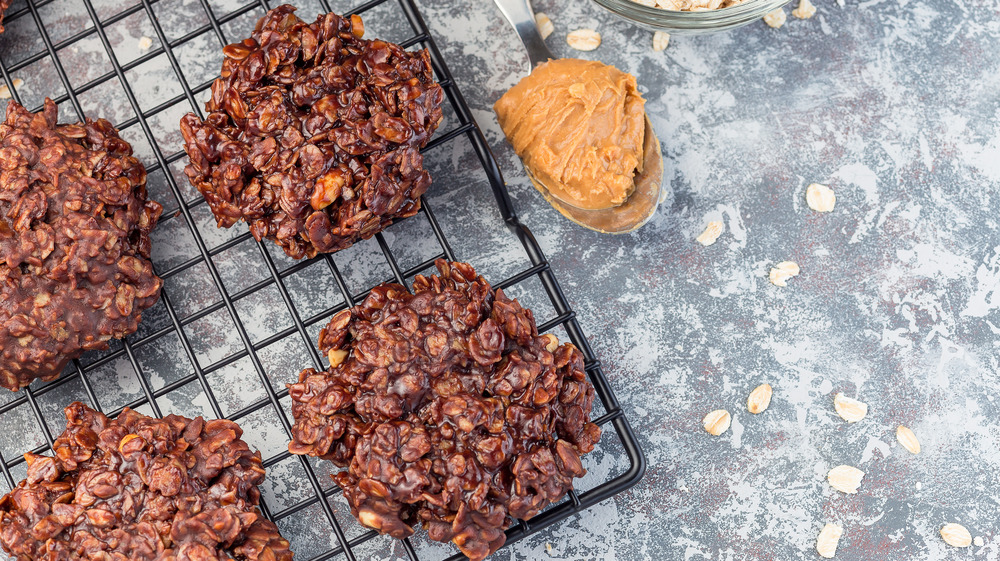 Baking can be a bit intimidating. For one thing, you may have a hard time focusing on getting your measurements exactly right — a challenge, considering how precise baking is supposed to be. Beyond that, many bakery-style dessert recipes are complicated and require hours of time to prepare correctly. If you end up botching a recipe after spending all day in the kitchen, it's hard not to feel disillusioned by the whole process.
Just because you don't love to bake, though, that doesn't mean you can't learn how to whip up a few delicious desserts — including cookies, cakes, and cobblers — to impress family and friends. The key is to find recipes that either require no baking at all (no-bake desserts are the best!), or that involve very few ingredients. And of course, quick recipes are practically a requirement for non-bakers.
You don't want to commit yourself to attempting a complex cake recipe if in an hour you'll be ready to give up and move on. So, if you're ready to dip your toes into the world of dessert-making, here are a few great recipes to get you started — limited baking skills required.
Learning to make these frosted sugar cookies is so easy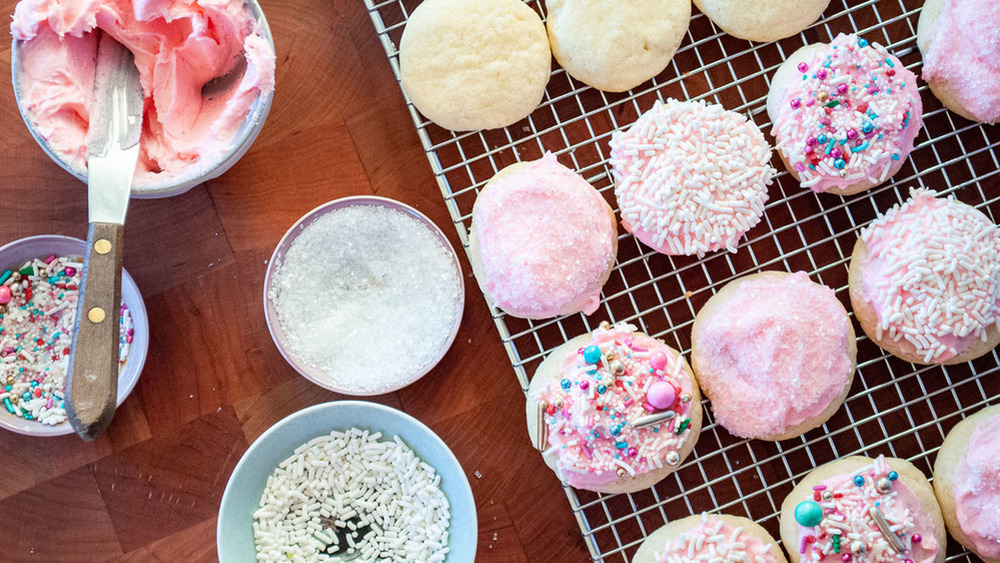 Frosted sugar cookies are the perfect dessert for every occasion, because you can simply change up the color of the cream cheese frosting and the toppings (sprinkles, candy, and crushed nuts are all great options) to personalize them as needed. And while you will have to actually bake these cookies, it's a good "starter recipe" for the shy bakers out there, because the ingredients are basic (flour, sugar, eggs, butter… you get the gist) and they only take 25 minutes to make from start to finish. This means if you mess up a batch, you won't have lost a whole day, and you can still use the good pieces as toppings for ice cream.
You only need three ingredients to make this vanilla cake
Everyone can bake a cake from a box, right? Surely, yes. The ingredients have already been pre-mixed and prepared for you. But if you want to prepare a basic vanilla cake from a box that doesn't taste like cake from a box, try our three-ingredient vanilla cake recipe that uses melted vanilla ice cream to really kick up the vanilla flavor.
The catch? You need to make sure you're using an ice cream with at least ten to 16 percent fat, allowing it to sub for the oil that boxed mixes usually contain. Plus, you need an ice cream that has a strong vanilla flavor, or else you'll need to add a little extra vanilla extract to pump up the taste. But hey, who doesn't like taste-testing vanilla ice cream? It's all for research, and your family and friends will be wowed when you serve up a killer box cake recipe.
You'll be shocked at how simple it is to make this peppermint bark
Peppermint bark looks fancy, which makes it an excellent homemade holiday gift for co-workers, your kids' teachers, and other acquaintances, because no one needs to know how little time and effort you actually put into it. (It's the thought that counts, right?)
The beauty of our three-ingredient peppermint bark recipe is that it could not be easier. All you need is white almond bark, bars of semi-sweet baking chocolate, and crushed candy canes. Plus, you melt the two types of chocolate in the microwave — not on the stove — and you chill the whole thing to harden in the fridge. In just two hours, you can have yourself a whole pan's worth you can break apart and serve up.
You don't have to bake this cheesecake at all
The only "trick" to making a no-bake cheesecake is to remember to prepare it at least eight hours before you want to serve it, giving it time to chill and set in the fridge so it doesn't end up with a melty consistency. Otherwise, you're using the fact that, when cold, cream cheese and butter harden — especially when using sugars to help keep them solid. In this manner, the crust and the filling can set without you ever needing to fire up the oven. Once the cheesecake is ready to serve, you can slice it as-is, or add whipped cream, drizzled caramel or chocolate, or pre-made pie filling (like strawberry or blueberry) to jazz things up.
Chocolate-covered strawberries are a perfect dessert for anyone who hates baking
You literally need nothing more than fresh strawberries and a couple blocks of semi-sweet baker's chocolate to whip up these chocolate-covered strawberries, which will end up costing a whole lot less than buying the pre-made version at the store. And, of course, you can always jazz up the strawberries with extra toppings like nuts, sprinkles, cocoa powder, or drizzles of white chocolate.
The trick is to choose the right strawberries — fresh and large are going to be your best bets. And, if you mess your first few up, you can always eat those and keep trying. This is actually a win-win situation for the novice dessert maker, when you think about it.
Chocolate crinkle cookies look fancy, but they're surprisingly easy to prepare
The thing about chocolate crinkle cookies is that they're designed to look a little messy. This makes them another perfect go-to for people who aren't big bakers, because no one's going to say anything snarky about an imperfectly baked crinkle cookie. Plus, the only decoration is powdered sugar, and how hard is it to roll little balls of cookie batter in powdered sugar? (Hint: It's not hard.) All in all, this recipe only takes 25 minutes to prep and bake, but you'll want to add an additional hour or so to allow the dough to sit in the refrigerator and harden up a little before you roll them in the sugar and bake.
Make peach cobbler like a pro with just three simple ingredients
Peaches are the taste of summer, but it can be a little tricky to choose and serve fresh peaches at the exact time when they're at their freshest and sweetest flavor before they start getting mushy. That's why this simple three-ingredient peach cobbler recipe calls for canned peaches, yellow cake mix, and butter — nothing more! Then, you literally dump the peaches into a pan, top with the uncooked cake batter, and slice and place a stick's worth of butter across the top. Cook for 50 minutes at 375 degrees, and just like that, your peach cobbler is ready. Serve hot (and a little messy) for the best results, and feel free to top each slice with a scoop of vanilla ice cream.
Don't let pecan pie scare you, because this recipe is foolproof
Pecan pie is not typically a dish that most new bakers are willing to try, but with assistance from a pre-made pie crust, you may be surprised about just how easy it is to get this classic holiday recipe right. That's because the actual pie filling is just mixing a few ingredients together (namely, pecans, butter, eggs, corn syrup, and sugar) in a bowl before pouring them into your pre-made crust. Then, you bake. It's really that simple. In a little over an hour, you can enjoy a piping hot, semi-homemade pie.
You only need two ingredients to make this chocolate mousse
For a quick and romantic homemade dessert for two, look no further than this two-ingredient chocolate mousse recipe that takes only 10 minutes to make. All you need is dark chocolate and granulated sugar, along with strawberries or raspberries if you want to add a topping (whipped cream never hurts, either). After melting the chocolate and sugar together with a little bit of water, you simply transfer the mixture into an ice-chilled bowl to whisk before transferring the mousse into ramekins to garnish and serve.
Even non-bakers can master this apple pie recipe
Pies can be surprisingly easy to make (even ones with fancy lattice-work on top, like this apple pie recipe), as long as you don't try to make the pie crust from scratch. In fact, as long as you buy the pre-made crusts, a fancy apple pie requires nothing more than slicing up apples and mixing them well with cinnamon, nutmeg, sugar, and a little salt before encasing them in the crusts and baking for 45 minutes.
Of course, the upper crust's lattice work will take a little while to braid, but if you don't have the patience, you can always lie the crust on top and cut holes in it to allow for ventilation. Just don't skip the egg wash on top — it's how you'll achieve that "from the bakery" shine that will impress your family and friends.
This 3-ingredient Nutella cake is easy and decadent
When you're looking for a "couldn't be easier" chocolate cake recipe, look no further than this three-ingredient Nutella chocolate cake. Literally all you need in order to make it is Nutella, eggs, and all-purpose flour. Even the "frosting" is just more Nutella spread across the top. The bake time itself is about 40 minutes, but prepping only takes 10 minutes, so even allowing for additional time for the cake to cool and set, you're only looking at about an hour to whip one up.
Here's an idea if you're really looking to impress your friends: Double or triple the recipe to make three separate eight-inch cake rounds. Then, after cooling, stack the cakes with Nutella layered in between to make a layered version. And if you're so inclined, decorate with fresh strawberries, raspberries, or chocolate sprinkles to really finish things off.
Whipping up a batch of puppy chow couldn't be simpler
Puppy chow is the chocolate-flavored Chex Mix dessert that's guaranteed to be a crowd pleaser at any event or party. The best part is it only takes 20 minutes to make, and you don't even need to turn on the oven (although you will need to melt the chocolate, peanut butter, and butter together on the stove). Once the chocolate and peanut butter are melted together, you really just need to thoroughly coat the Chex in the mixture, then add the powdered sugar on top. You can serve the finished product immediately, or you can store in baggies to offer up as party favors at the end of a fun night with friends.
These baked apples are actually made in the slow cooker
Baked apples are one of desserts that provide the perfect, comfortingly warm "hug" at the end of a tough day — especially when it's cold outside. And because this baked apple recipe uses the slow cooker to make them, all it requires is ten minutes of prep work (you do have to scoop out the core of the apples, after all). Then, the slow cooker does the rest. Not to mention, baking the apples this way will make your whole house smell tantalizingly of apple pie, which is just another benefit.
Plus, this recipe is surprisingly healthy, so it actually makes a good breakfast option if you have any left over the morning after you make them.
Make homemade fudge in just 10 minutes
Another perfect no-bake recipe for a classic dessert (and another good treat to make and gift to friends and family for the holidays) is this three-ingredient fudge. All it calls for is semi-sweet chocolate chips, sweetened condensed milk, and vanilla extract. Once you've mastered the basic version, you can customize it to your heart's content with the addition of nuts, crushed Oreos, or nut butters (Nutella might also be a delicious choice).
These chocolate-coated peanut butter balls are an easy, sweet treat to prepare
If you're looking for bite-sized (and tasty) desserts to pop in your kids' lunches or to have on-hand when guests come over, this super simple recipe for no-bake chocolate-coated peanut butter balls couldn't be easier. Simply mix together the peanut butter with honey, oat and almond flours, and melted coconut oil, mold the peanut butter mixture into balls, then coat or drizzle the balls with melted chocolate. Once the peanut butter balls are coated, pop them in the freezer to cool and set, and when they're ready (in about 15 minutes), sprinkle them with sea salt. The result looks like it was made in a candy shop, and tastes just as good.
Whip up this banana pudding, no cooking required
It's easy to forget about pudding when you consider all the other possible desserts out there, but for people who don't like to bake, pudding is an excellent and easy option. And banana pudding served with vanilla wafers and whipped cream makes for a classic summertime dessert that's guaranteed to be a crowd-pleaser. You can even prep it ahead of time and cool individual servings in mini mason jars, allowing the vanilla wafers to soften up a little more before serving. To make this no-bake banana pudding recipe, pick up an instant banana pudding mix, and when you've mixed together the ingredients for the pudding itself, layer the pudding with slices of banana, vanilla wafers, and whipped cream to give it more of an authentic, "grandma made it" taste and feel.
This copycat Wendy's Frosty is practically guaranteed to be a family favorite
Who doesn't love a good chocolate Frosty from Wendy's? There's something addictive about the consistency of this version of a chocolate shake. And really, it's simple to make at home. For our three-ingredient copycat Frosty, all you'll need is chocolate milk, sweetened condensed milk, and Cool Whip. By freezing the chocolate milk as ice cubes, you simply blend the three ingredients together when you get a craving. Just like that, you'll have a Frosty that's a whole lot less expensive than the one you get at the drive-thru.
No-bake cookies are the perfect, easy dessert option
If you're a fan of chocolate oatmeal cookies, but you're not a fan of baking, you need to try this recipe for our no-bake cookies. Melted cocoa powder and peanut butter mixed together with oats (and a few other ingredients) is all it takes to mix up cookie-shaped blobs of "dough" onto parchment paper. Then, you simply let the cookies cool and set, which takes about 30 minutes. Just like that, you've got delicious cookies you can easily prepare for all to enjoy.
Edible cookie dough is easy to make and delicious to eat
Cookies don't have to be baked to be delicious, but eating raw cookie dough (which typically includes raw eggs) isn't recommended and can potentially leave you with a food-borne illness. The good news is, there are recipes out there, like this five-ingredient chocolate chip version, for eggless cookie dough that you can totally enjoy unbaked. You'll also need to bake or nuke the flour for a few minutes to cut down on the likelihood of picking up E. coli from eating this raw, too, but if you follow the instructions for doing it in the microwave, it only takes a minute of your total 15-minute prep time.
You don't have to bake this yummy pumpkin pie
Making a no-bake pumpkin pie sounds impossible, but when you make a version that's somewhat similar to a cheesecake (using cream cheese mixed with pumpkin puree, brown sugar, spices, and whipped cream as the filling), you can rely on your fridge to set the pie, rather than having to bake it. Plus, you can make your own graham cracker crust, or you can pick up a pre-made graham cracker crust from the store, saving time and limiting the work of figuring out how to bake a pie crust. At the end of the day, it won't taste quite like the classic Thanksgiving favorite, but that doesn't mean you and your guests won't love the creamy end result.
You require no kitchen skills to make a mean banana split
There are a lot of simple, no-bake desserts you can make on a regular basis, but possibly the quickest and easiest of all is the humble banana split. This recipe suggests it'll take five minutes of prep time to whip up the whole thing, but even five minutes seems like a lot. All you have to do is split a banana down the center, dole up your favorite ice creams and whipped cream on top, then drizzle, sprinkle, or add chocolate syrup, chopped nuts, sprinkles, or fresh fruit to finish off your masterpiece.
This homemade ice cream only requires two ingredients
You know what dessert doesn't require any baking? Ice cream. And this two-ingredient no-churn ice cream recipe requires nothing more than five minutes of prep time (and six hours to thoroughly freeze). Really, all you need is heavy cream and condensed milk, along with a hand or stand mixer to mix them well. And if you decide this recipe is too easy not to make over and over again, you can of course start adding mix-ins, like chocolate chips, drizzles of caramel, fresh fruit, or even edible cookie dough.