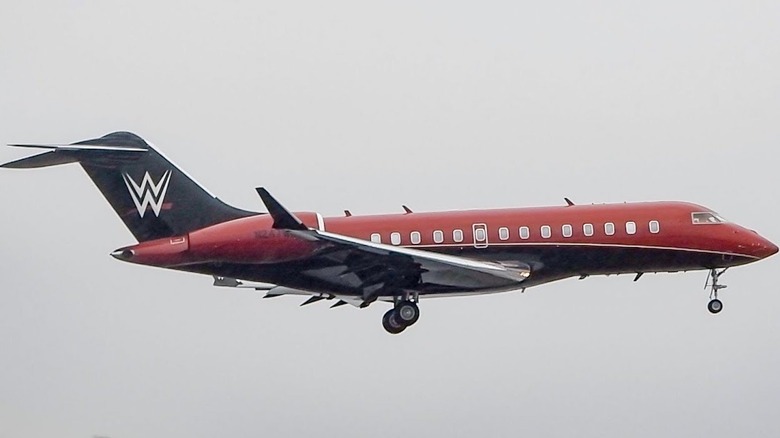 We may have an idealized vision of our favorite athletes as clean-living, virtuous sorts who are ideal role models, particularly for younger people. But we all know that isn't always the case — sports stars often find themselves partying like rock stars, and try as they may to keep their seedy activities under wraps, the truth can come out in spectacularly scandalous fashion. What more so if you're talking about professional wrestlers, who are entertainers just as much as they're athletes?
On September 16, 2021, the second half of Season 3 of Vice's "Dark Side of the Ring" documentary series will be kicking off with an episode dedicated to an especially controversial incident in WWE history — the so-called "Plane Ride from Hell." For those unfamiliar with the incident, this was not an on-air storyline of any kind — it was a real-life series of events that involved several wrestlers essentially acting like out-of-control man-children at their best and, if allegations are to be believed, oversexed, drunken lechers at their worst. But what really happened during the Plane Ride from Hell, and what made it one of the most scandalous events the WWE has ever dealt with?
The 'calm' before the storm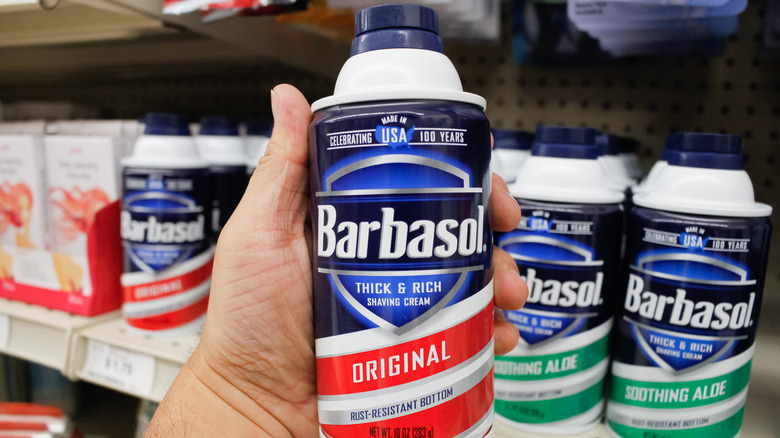 Just like many a highly-publicized misadventure, the Plane Ride from Hell started out on a tame note, as several WWE performers and staff members flew back to the U.S. on May 5, 2002, following the taping of the Insurrextion pay-per-view in London. Sean Waltman, better known to wrestling fans as the 1-2-3 Kid and later on as X-Pac, recalled the seemingly innocuous events that kicked off what would be a chaotic flight home. "Events started more or less innocently when Curt Hennig and Scott Hall got hold of shaving cream canisters and proceeded to run around 'tagging' multiple individuals with the contents," Waltman explained in an interview, as quoted by Pro Wrestling Stories. "Goofy stuff."
Indeed, this didn't seem out of the ordinary. Hennig and Hall had long been known as locker room pranksters who loved pulling ribs on their colleagues (via Pro Wrestling Post). But the potential for massive chaos was definitely in the air; Waltman admitted that many wrestlers took advantage of the fact that gamma-hydroxybutyric acid (GHB) was still legal at the time, and readily available at health food stores. Similarly, mid-card talent Justin Credible said in a separate interview that WWE's chartered Boeing 747 came with an open bar, which was an invitation for disaster considering how the plane was packed with "alcoholic wrestlers at the end of a grueling tour."
Brock Lesnar and Curt Hennig's play-wrestling match turned into a real fight
Although they came from different generations, Curt Hennig (aka Mr. Perfect in WWE) and Brock Lesnar were good friends, owing to the fact they traveled together and were both from Minnesota. They also shared another thing in common — they were both "shooters," or legitimate wrestlers whose in-ring work emphasized the "sports" half of "sports entertainment." After Hennig, then 44 years old, suggested to the 24-year-old Lesnar that he was the better wrestler, the two men engaged in what was supposed to be a friendly play-wrestling match. But anyone familiar with Lesnar's career trajectory will tell you that the "Beast Incarnate" takes things far more seriously than the average pro wrestler.
Per Justin Credible, there was "something" that happened during the tussle that caused things to escalate quickly, as a certain fictional San Diego newsman might have quipped. "They went at it so hard [Lesnar shot in and drove Hennig so hard into the side] that they almost popped open the emergency exit – twenty-five, thirty thousand feet in the air," he continued, noting that several performers, including Dave "Fit" Finlay, Triple H, and Lesnar's onscreen "advocate" Paul Heyman, had to step in and break up the fight.
Hennig and Lesnar's fellow Minnesota native, Sean Waltman, lamented how WWE made a "big deal" out of the impromptu shoot fight. He recalled a similar tussle between chairman Vince McMahon and Kurt Angle during the previous flight that was swept under the rug because one of the individuals involved was, and still is the big boss, while the other won an Olympic gold medal with a broken freakin' neck.
The Nature Boy got caught behaving badly
Following a health scare in 2018 where he narrowly cheated death, Ric Flair gave up the hard-drinking, hard-partying lifestyle he was known for during much of his wrestling career. Back in 2002, however, the Nature Boy was still stylin' and profilin' like a man half his age, and it certainly showed during the Plane Ride from Hell. On a much more disturbing note, his alleged actions on the infamous flight led to a lawsuit two years later, as two flight attendants accused him of various lascivious acts that included, but were not limited to wearing a wide-open robe with nothing underneath, flashing the women, and sexually assaulting them on repeated occasions (via Grantland).
As documented by Pro Wrestling Stories, both Credible and Waltman corroborated the story of Flair showing his junk to the attendants, with Credible even claiming that the 16-time world champion yelled his trademark "WOO!" while performing the sordid act. Flair would deny the allegations, though the outlet noted that the flight attendants agreed on an out-of-court settlement with WWE.
Flair wasn't the only WWE Superstar who was accused of misconduct on the Plane Ride from Hell. According to Grantland, the women also alleged in their lawsuit that Scott Hall (aka Razor Ramon) and Dustin Rhodes (aka Goldust) made sexually suggestive comments toward them during the flight. In a separate incident, Rhodes made things very awkward with his ex-wife Terri, drunkenly serenading her via the plane's PA system until announcer and then-President of Talent Relations Jim Ross told him to cut it out.
Speaking of things getting cut out …
An unwanted haircut for an unpopular producer
Flair's alleged shenanigans on the Plane Ride from Hell may have been the most troubling, but there were other people on the flight who also let the alcohol get the better of them, as Credible and Waltman related. Backstage producer Michael "P.S." Hayes, best known in his wrestling days as part of the Fabulous Freebirds, was supposedly so wasted that he nearly relieved himself on Vince McMahon's wife, Linda; according to Waltman, Hayes actually thought he was in the bathroom. Not long after, he got belligerent with future world champion Bradshaw (later known as John Bradshaw Layfield/JBL), waking up the sleeping grappler and punching him in the forehead.
"He wanted to go after Hayes…but JBL's a wrestler, Michael Hayes is 'office' –- he's like, your boss. What are you gonna do, kick your boss's a**?" Credible said, per Pro Wrestling Stories. "But obviously, Hayes is way out of line. He continues his BS…but then he falls asleep…"
At that time, Hayes had a reputation as an unlikeable individual, and his behavior wasn't helping his cause at all. So with the producer fast asleep in his seat, Waltman grabbed a pair of scissors and chopped off Hayes' ponytail, much to the delight of almost everyone on the plane. When Hayes found out what happened to his beloved ponytail while going through customs, he was understandably irate, though as Credible pointed out, Hayes was so unpopular that no one dared snitch on Waltman.
A sad fallout for many
The aftermath of the Plane Ride from Hell went far beyond the usual "what the heck did I say/do last night?" postmortem a lot of us go through (or went through) the morning after a long night of heavy drinking. These were, after all, public figures whom fans all over the world either loved or loved to hate, and many of them acted like overaged frat boys partying on the "last day of school," as Credible described it.
Per Pro Wrestling Stories, Curt Hennig (shown above, wrestling NBA legend Dennis Rodman) was solely blamed for his play-fight-turned-shoot-fight with Brock Lesnar, and the veteran wrestler was quickly released. Tragically, he died less than a year later after suffering a drug-related heart attack, according to the Los Angeles Times. Likewise, Scott Hall was fired by WWE, though the company maintained that this was due to his being in poor physical shape. Dustin Rhodes, meanwhile, stuck around for another year before getting sacked in 2003; he made multiple returns to WWE in the years that followed and remains an active performer to this day as part of All Elite Wrestling's roster.
Despite the allegations against him, Ric Flair remained employed by WWE, and so did Michael Hayes. Thanks in large part to his "next big thing" status, Brock Lesnar didn't see his push affected by the fracas with Hennig, and when he left the promotion in 2004 for an eight-year sabbatical from pro wrestling, he did so because he was unhappy with WWE's touring schedule — among other reasons unrelated to the Plane Ride from Hell, as explained by Essentially Sports.