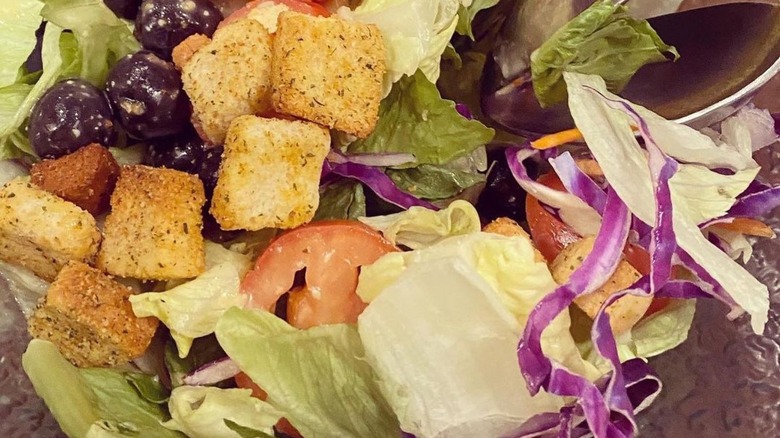 Olive Garden is a restaurant chain that has a lot of fans, including some big-name celebrities like Shia LeBoeuf and John Travolta, who could probably afford to dine at nothing but high-end steakhouses every night without taking much of a hit to the wallet (via E Online). Bustle even reported that Taylor Swift even name-dropped Olive Garden in one of her songs.
This Italian chain has found a fair share of detractors. According to The New Yorker, the chain no longer salts their water for fear of damaging the cooking pots and their meals don't qualify as authentic, per The Huffington Post. Few can argue that Olive Garden does excel at providing top-notch salad. This is one side that is pretty hard to get wrong, and Olive Garden hits the mark with this menu item. Their salad gets served up in the best ways possible and is available at any Olive Garden during their regular hours (via Olive Garden).
What is an Olive Garden salad?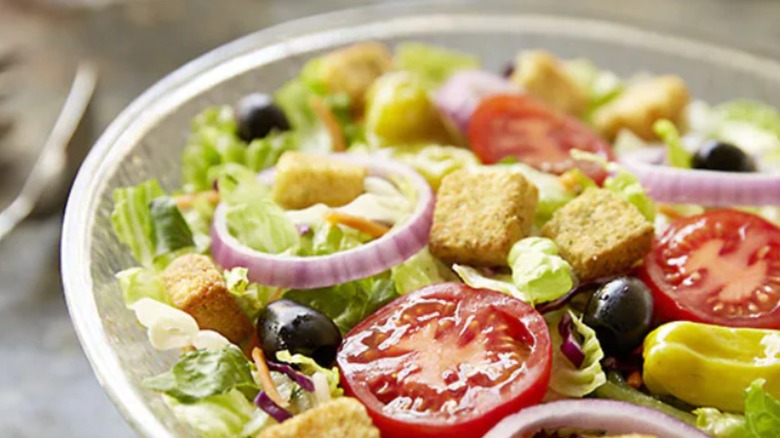 Unlike other restaurants that offer Cobb, Caesar, taco, and everything-but-the-kitchen-sink salads, Olive Garden offers just one type of this side-turned-entrée. According to Olive Garden, their Famous House Salad, as they've dubbed this dish, is a fairly plain side dish that only features tomatoes, onions, olives, pepperoncini, lettuce, and the restaurant's signature dressing.
The menu does not disclose the type of lettuce Olive Garden uses in its salad, but The Recipe Critic says that the restaurants use an iceberg lettuce mix that also contains a small amount of shredded carrots and red cabbage. The item's mix-ins include chopped tomatoes, sliced red onions, whole black olives, and whole pepperoncini. The menu makes no mention of croutons, and yet an accompanying photo clearly shows that diners can also get these salad toppers as part of their meal. The standard dressing is Italian, which is available in a low-fat version as well. Olive Garden will also supply you with oil and vinegar if you prefer.
How does Olive Garden's salad taste?
If you search the phrase Olive Garden salad, every immediate link redirects to a copycat recipe (via Google). That tells you something right there — if this iconic item wasn't any good, so many people wouldn't be trying their hardest to duplicate it. These sentiments were backed up by reviewers across the net that also couldn't get enough of this menu item.
Wichita by E.B. gave the salad a big thumbs-up, admitting, "there's just something about the lettuce mix, onion slices, olives, pepperoncini, tomatoes, and croutons drenched in dressing that hits the spot." They also remarked that the Wichita Olive Garden provided sufficient amounts of dressing. Eater concurred with this assessment of the salad, saying, "The only thing at Olive Garden that comes close to the greatness of the toasted ravioli is the salad." They were especially effusive in praising the dressing, calling it, "mysteriously exquisite … the only thing at the whole restaurant, including the wine list, that seems to have any interest in brightness or acidity."
How much does an Olive Garden Salad cost?
Olive Garden is a chain restaurant with numerous locations throughout the United States. ScrapeHero indicates there are 879 locations, and that the only areas in the U.S. without a single Olive Garden were the District of Columbia, American Samoa, the Northern Mariana Islands, and the U.S. Virgin Islands. Prices may vary from location to location — at the Greenfield, Wisconsin location, purchasing an à la carte salad sets you back $6.79 (via Olive Garden).
If you wish to enjoy the weekday lunch special, available from Monday through Friday between the hours of 11 a.m. and 2:30 p.m., you may purchase all the salad you care to eat, as well as unlimited amounts of breadsticks and soup for the low, low price of $7.99, although be aware that the all-you-can-eat option is dine-in only. You can still get an unlimited salad, soup, and breadsticks at night and on the weekend, but it will run you $9.99 at these peak times.
When did the Olive Garden salad hit menus?
Olive Garden has been serving up Italian-American classics since 1982 (via Mental Floss). Ever since they first opened up their first location, their house salad has figured prominently on the menu. In fact, The Daily Meal says that Olive Garden's unlimited plates of salad were what first brought the chain to people's attention, and the chain doubled down on this hook by using the slogan, "Good Times, Great Salad, Olive Garden."
Soups and breadsticks, which are now also unlimited, weren't originally given away quite so freely. When Olive Garden added them to the holy trinity of freebies, they marked the occasion with a slogan change, reading, "When you're here, you're family." In 2013, the year before the Never Ending Pasta Bowl first debuted, Olive Garden adopted its third slogan: "We're all family here." If your family are all salad lovers, at least you're in the right place.
Nutritional information for Olive Garden's salad
According to Olive Garden, their menu reveals that each serving of their salad comes in at 290 calories without the dressing and delivers 17 grams of fat. If you top your meal off with Olive Garden's Italian dressing, you'll be adding 80 calories and 80 fat grams, while their low-fat Italian dressing has just 30 calories and 2 grams of fat.
Olive Garden's house salad does contain high amounts of sodium. The Food and Drug Administration recommends consuming no more than 2,300 milligrams of sodium per day, but a single serving of this Olive Garden side, sans dressing, provides 1,380 mg of this nutrient. If you add on either the full-fat dressing, containing 520 milligrams of sodium, or low-fat, dressing containing 410 milligrams of salt, you're looking at nearly a day's worth of salt before you've even touched a single breadstick or dipped your spoon into a bowl of soup. You can limit the amount of salt you're consuming if you just pick out the pepperoncini from your salad. According to Nutritionix, a single one of these pickled peppers can contain a whopping total of 856 milligrams of sodium. As long as you don't need to watch out for this nutrient, you can indulge to your heart's content.