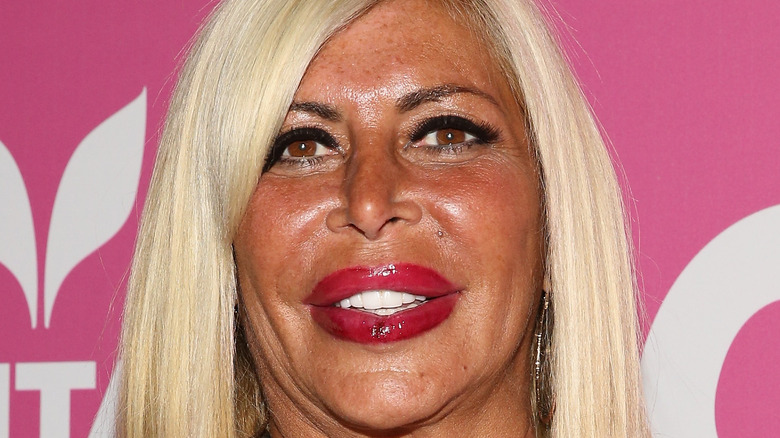 The following article includes mentions of mental illness, substance use, and suicide. It may not be suitable for all readers.
Reality TV is known for crafting over-the-top drama, but sometimes, real life is even more dramatic. Some reality stars deal with extreme issues behind the scenes — from mental illness and addiction to severe health problems and even tragic accidents. In some rare cases, like the unfortunate celebrities on this list, it's even cost them their lives.
For whatever the reason, these celebs of ciéma vérité died too soon, but you might not have even noticed. Unlike reality stars who died tragically died during filming (see: the beloved Steve Irwin), these stars largely finished out their 15 minutes of fame and faded from the spotlight before quietly passing away behind the scenes. From "Mob Wives" to "American Idol" to several stars of MTV's "The Real World," these famous faces have given their last confessional.
Gia Allemand (The Bachelor)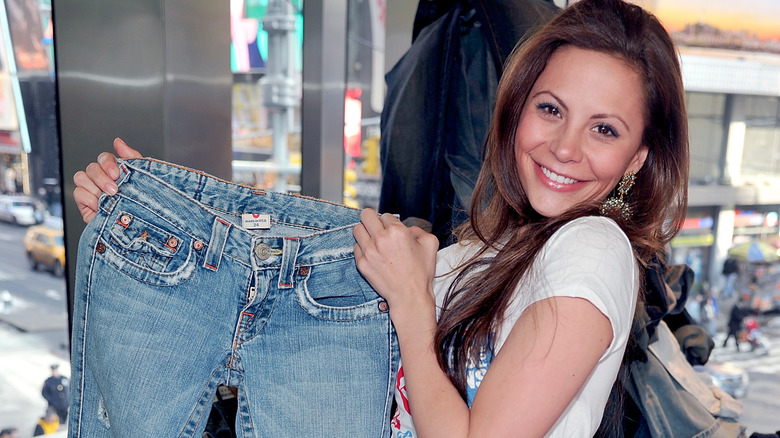 Gia Allemand appeared on Season 14 of "The Bachelor." Though she was eliminated during week seven, she parlayed her success into a spot on the inaugural season of "Bachelor Pad." She even stuck around for Season 2, but quit in the second episode. Then, she faded from the spotlight, and things took a tragic turn.
Two years after her exit from "Bachelor Pad," Allemand died by apparent suicide at home following an argument with her boyfriend, NBA player Ryan Anderson, according to ABC News. She was 29. Anderson was shattered by Allemand's August 2013 death, opening up in a 2014 interview with Sports Illustrated. The basketball star admitted he "shut down," moved in with his parents, read the Bible, and only ate the few things his mother could force him to eat. With time, he slowly began to move forward with his life. "I can finally say after a long time of thinking that there's no hope and there's no future, I can see a hope and I can see a future," Anderson said.
If you or anyone you know is having suicidal thoughts, please call the National Suicide Prevention Lifeline​ at​ 1-800-273-TALK (8255)​.
Michael Johns (American Idol)
Michael Johns, the Australian who competed on the seventh season of "American Idol," reportedly died from dilated cardiomyopathy on Aug. 1, 2014. TMZ describes the disease as a "condition that inhibits the flow of blood to [the] body," which causes the heart to enlarge. According to the report, a "fatty liver" also contributed to Johns' death, and law enforcement told the tabloid that the singer "often drank to excess and did so hours before he died."
According to a family friend who spoke to TMZ, Johns' wife, Stacey Vuduris, allegedly attempted to cover up her husband's alcohol abuse by falsely claiming the 35-year-old died of a blood clot from an ankle injury. The official cause of death has always been an enlarged heart and fatty liver. Vuduris fired back anyway, claiming in court documents that her supposed friend was on a "hate campaign" blaming her for Johns' death.
If you or anyone you know is struggling with addiction issues, help is available. Visit the Substance Abuse and Mental Health Services Administration website or contact SAMHSA's National Helpline at 1-800-662-HELP (4357).
Angela 'Big Ang' Raiola (Mob Wives)
"Mob Wives" star Angela "Big Ang" Raiola was a VH1 fan favorite. According to People, the star was diagnosed with throat cancer in 2015 after doctors found a "lemon-sized tumor in her throat." "Things happen for a reason. I'd smoked for 40 years. No one could tell me what to do," Raiola told the magazine, adding, "[The tumor] was blocking my airway. I quit smoking the day I found out."
By February 2016, Raiola's condition had deteriorated. Her sister, Janine Detore, revealed that Big Ang had been hospitalized for stage 4 lung and brain cancer. At the time, treatments for the disease were not working, leading Detore to launch a GoFundMe page to raise money for alternative treatments. The page surpassed its goal of $25,000 in just two days. Unfortunately, Raiola died in the following weeks.
"She was surrounded by nothing but love from her immediate family, and the closest friends," read a statement on Big Ang's Twitter page. "YOU, (her fans) were some of the most special people in the world, and she loved you immensely."
Frankie Abernathy (The Real World: San Diego)
Frankie Abernathy, who had been diagnosed with cystic fibrosis at just three years old, used her appearance on "The Real World: San Diego" to raise awareness for the progressive, genetic lung disease. According to her mother, who spoke to MTV News, the star was "doing fine" in the years after her 2004 appearance. She moved to Wisconsin and was "designing purses forged from old vinyl records" rather than working full time. Some days were better than others, as is the case with chronic illness, but her health began to decline in the winter of 2006.
"It was a day-by-day thing," her mother told MTV News. "… We were kind of hoping to get her [on a list] to see if she would qualify for a lung transplant, because the disease does get progressively worse. In the winter, most [people with cystic fibrosis] usually have a rough patch, and she had a rough patch this year. She had been sick more this last year than she'd ever been in the past."
In June 2007, Abernathy died at the age of 25. No official cause of death was given.
Julien Hug (The Bachelorette)
At first, the death of Julien Hug was a mystery. The Daily Beast reports that "The Bachelorette" contestant, who was managing "an upscale restaurant owned by his restaurateur parents," had "disappeared" in the fall of 2010 after "leaving San Diego" and heading toward Palm Desert, where he'd been commuting to work. According to People, the Season 5 star was later found dead in San Bernardino National Forest, a "remote area" of California. As the Daily Mail reports, the location was so remote and the terrain was so rough that police had to use a helicopter and wait a day to recover the body. They did not suspect foul play, but there was a lengthy investigation.
Hug's death, which was later ruled a suicide, was part of "a long string of reality-TV star deaths" that year, according to the Daily Beast. This included the deaths of people who appeared on "Storm Chasers," "Ramsey's Kitchen Nightmares," "Deadliest Catch," and "Meghan Wants a Millionaire." As the outlet described it, it was the so-called "curse of reality TV." In Hug's case, however, it was an all too common struggle with mental health.
If you or anyone you know is having suicidal thoughts, please call the National Suicide Prevention Lifeline​ at​ 1-800-273-TALK (8255)​.
David Gest (Celebrity Big Brother)
For most of his career, David Gest was known for his brief and bizarre marriage to actor and singer Liza Minnelli, which officially ended in 2007. Though he was also a producer, he became a reality TV star with stints on "I'm a Celebrity … Get Me Out of Here!" and "Celebrity Big Brother." The latter blew a lid on his ongoing health issues.
The star ended up pulling out "Big Brother" in the middle of filming for reported medical reasons, but his health was a major plot point on the show. According to a 2021 Mirror report, it caused a "massive misunderstanding" among his former housemates, some of whom believed he had died when he was definitely still alive (remember: the "Big Brother" house is cut off from the rest of the world).
Sadly, weeks after leaving the series in 2016, BBC News reported that the 62-year-old British TV personality was found dead in his hotel room in London's Canary Wharf neighborhood. Per the Mirror, police attributed his death to "natural causes," with other reports pointing to a possible stroke.
Ryan Knight (The Real World: New Orleans)
Ryan Knight was another "Real World" star whose life was cut short. The Wisconsin native first appeared on "The Real World: New Orleans" in 2010 and parlayed his success into a stint on MTV's "The Challenge." Two years after his series wrapped, the star was found dead by a friend after what TMZ describes as a "night of partying" in 2014. He had reportedly "choked on his own vomit."
Though the first report claimed Knight had been taking unspecific "pills," additional reports from TMZ and The Hollywood Reporter revealed that he had taken a lethal mix of drugs, including cocaine, methadone (a substitute for heroin), a painkiller called tramadol, and a benzodiazepine pill. It's unclear if Knight took brand name Xanax or off-market alprazolam. Xanax's active ingredient is commonly used in illicit counterfeit pills, which can be dangerous, because they have variable dosage levels. Additionally, Knight had "a high level of alcohol" in his system.
Following the autopsy, the "Real World" star's tragic death was officially ruled an accidental overdose. He was 29 years old.
If you or anyone you know is struggling with addiction issues, help is available. Visit the Substance Abuse and Mental Health Services Administration website or contact SAMHSA's National Helpline at 1-800-662-HELP (4357).
Michael Nance (The Bachelorette)
Michael Nance, one of the suitors on "The Bachelorette" in 2012, had been open about his substance use issues. During his time on the show, he spoke about his prescription drug addiction and admitted that he was nearly two years sober. From the looks of it, Nance had come a long way. Unfortunately, he relapsed following his stint on ABC series.
According to the Daily Mail, Nance was found dead in a sober living facility in May 2017, five years after vying for Emily Maynard's heart on national television. Police didn't suspect any foul play, and the toxicology report (via Us Weekly) revealed the 31-year-old had ingested multiple drugs, including "cocaine, heroin, Clonazepan, and Gabapentin." His death was considered an accidental overdose.
Per an Us Weekly report (captured by the Daily Mail before it was scrubbed from the internet), Nance's co-stars were aware of his struggles. Arie Luyendyk Jr., one of the show's more controversial contestants, claimed Nance had been jumping in and out of treatment as he struggled with addiction.
If you or anyone you know is struggling with addiction issues, help is available. Visit the Substance Abuse and Mental Health Services Administration website or contact SAMHSA's National Helpline at 1-800-662-HELP (4357).
Ahmad Givens (I Love New York)
The short-lived VH1 dating series, "I Love New York," had a lot of gems, including that time Tiffany "New York" Pollard made every contestant cook a Ranch dressing-based dinner. Ahmad Givens was one of those gems, so much so that he managed to nab a spot on the subsequent VH1 dating shows, "I Love Money" and "Real Chance of Love." Nonetheless, the star faded away from the spotlight following "Real & Chance: The Legend Hunters" in 2010. Five years later, he died from complications of colon cancer.
According to TMZ, who spoke to Givens' brother, the reality star endured "a long battle with cancer." In 2013, he was diagnosed with stage 4 colon cancer. After a successful surgery, the cancer returned in early 2015, prompting chemotherapy treatments. Givens' health declined after a fall in January left him bedridden. By February, he was "having trouble with vision and speech." He died later that month at the age of 33.
Mychael Knight (Project Runway)
Mychael Knight, a Georgia-based fashion designer, made a name for himself on the third season of "Project Runway." The contestant came in fourth place, sparking his own line and a star-studded career. According to People, Knight regularly dressed celebs like Toni Braxton, Sherri Shepherd, and Ciara. Unfortunately, he was also dealing with health issues behind the scenes.
According to TMZ, Knight had irritable bowel syndrome (IBS) which "wreak[ed] havoc on his immune system." In a social media post, the star explained that his body didn't properly absorb nutrients from food, and he was suffering from an issue called "leaky gut," which is linked to autoimmune diseases like lupus and diabetes. As a result, he claimed (via Today) that he suffered from "chronic abdominal pain/diarrhea/nausea, extreme fatigue & exhaustion, food sensitivities/allergies, foggy brain," and headaches. Knight also had developed "acute Autoimmune responses like Psoriasis, inflamed joints, and small respiratory issues."
In 2017, Knight reportedly checked into a hospital for intestinal issues. He died shortly after, though it's unclear what exactly caused his death. IBS is not a fatal illness, though other intestinal conditions can be. He was 39.
Christopher 'Big Black' Boykin (Rob & Big)
Back in the days before MTV was essentially a giant block of "Ridiculousness," Christopher "Big Black" Boykin was Rob Dyrdek's right-hand man on "Rob & Big." Though he often made appearances on the spin-offs, the two co-stars had a falling out in 2008 during the final season of "Rob & Big." In an interview with Graham Besinger, Dyrdek claimed Boykin struggled with the idea of being known as his sidekick.
Boykin did end up breaking away from Dyrdek, but never achieved the same level of TV fame on his own. He died after having a heart in 2017, according to E!. His ex-wife, Shannon Turley, told ET that he'd suffered from "congenital heart failure for a decade." He had a "defibrillator in his chest for over 10 years" and had been in and out of the hospital for the last year of his life. Doctors reportedly told Boykin, who is survived by a daughter named Isis, that he'd "likely need a heart transplant."
"He was a great father. That was the best thing about him," Turley said. "He worked his a** off. Nothing was handed to him." Boykin was 45.
Jim Raman (The Amazing Race)
Jim Raman, who appeared on Season 25 of "The Amazing Race" in 2014, died on March 11, 2019. He was just 42 years old. Raman was a South Carolina orthodontist who partnered with his wife, Misti, on the hit CBS show. Variety reports that the couple came "in first place for five of the 12 legs" of the race, ultimately coming in second place behind food scientists Maya Warren and Amy Jeong.
Raman was found dead in his home, USA Today reports. While his death wasn't ruled to be suspicious, no cause has been revealed, as of this writing. Lexington County Sheriff's Dept. Capt. Adam Myrick told the newspaper, "No one has been arrested or detained in connection with this [death] investigation. We aren't seeking any suspects or persons of interest as our work on the case continues."
In a statement to USA Today, "The Amazing Race" co-creators Bertram van Munster and Elise Doganieri said, "We are shocked and deeply saddened to hear of Jim's passing. He was a wonderful and very kind person."
Lyric McHenry (EJNYC)
Lyric McHenry, who appeared on E.J. Johnson's reality show "EJNYC," was pregnant when she was found dead on a sidewalk in the Bronx on Aug. 14, 2018, PIX11 reported. The 26-year-old was reportedly found sprawled out wearing a pajama top and no pants, though she had on underwear, the New York Daily News reported. Her death was suspected to be from a drug overdose, and a small bag of cocaine was allegedly "found on her person." When police found McHenry, she was rushed to a hospital, where she died.
While the circumstances of her death remain unclear, as of this writing, The New York Times reported that "the medical examiner ruled her death an accident." However, a Bronx man, Alexis Mejia-Ramirez, was arrested in connection with her death and "charged with concealment of a corpse and tampering with evidence" after he and "two other unidentified people" allegedly "dumped" McHenry on the sidewalk after they left the Dream Hotel in Manhattan earlier that night.
Said to be on the cusp of a "budding film career," McHenry worked as associate producer for Complex Networks following the cancellation of "EJNYC." She later found work as a freelance writer and producer (per the Daily News). She was the daughter of producer Doug McHenry, who spearheaded films, including "New Jack City" (1991) and "Jason's Lyric" (1994).
If you or anyone you know is struggling with addiction issues, help is available. Visit the Substance Abuse and Mental Health Services Administration website or contact SAMHSA's National Helpline at 1-800-662-HELP (4357).
William 'Willbilly' Hathaway (Wicked Tuna)
"Wicked Tuna" star William "Willbilly" Hathaway died at just 36 years old on Dec. 15, 2018. WBOC reported that Hathaway was driving in Salisbury, Maryland when he swerved "into a ditch" to avoid another driver who "turned in front of him." After the accident, Hathaway reportedly called his wife to tell her he was fine and reiterated that to passing motorists who stopped to help. By the time emergency personnel arrived, however, he reportedly wasn't breathing. The star was rushed to a nearby hospital and pronounced dead.
Hathaway was first mate on the Foolish Pleasures ship. Captain Dale Lisi wrote on Facebook after Hathaway's death, "He lived to fish and you could not have a better time fishing with anyone, he and I killed a lot of fish together and I learned a lot from him, he was one of the most original, genuine and real people you could ever know and anyone who knew him knew this. He will be horribly missed by everyone whose life he touched, words cannot express a tragedy like this." A fundraiser was established for Hathaway's wife and young daughter.
Richard 'Old Man' Harrison (Pawn Stars)
Richard "Old Man" Harrison of "Pawn Stars," who was previously diagnosed with Parkinson's disease, died on June 25, 2018, the Gold & Silver Pawn Shop announced. He was 77 years old. Harrison's son, Rick, wrote on Instagram of his death, "He was my hero and I was fortunate to get a very cool 'Old Man' as my dad. He lived a very full life and through the History television show 'Pawn Stars' touched the lives of people all over, teaching them the value of loving your family, hard work and humor."
"Pawn Stars" was one of the History Channel's biggest ratings hits ever, chronicling the family's 24-hour Las Vegas pawn shop, which was run by Harrison, son Rick, and grandson Corey. After Harrison's death, USA Today reported that he left his son, Christopher, out of his will, but Rick declined to comment on what he called a "personal and private matter."
Joel Taylor (Storm Chasers)
"Storm Chasers" star Joel Taylor was found dead aboard a cruise ship on Jan. 23, 2018. He was just 38 years old. The Discovery Channel personality reportedly passed out on the dance floor of a club aboard the ship, TMZ reported, and sources told the site that they saw Taylor being carried off of the dance floor the night he died. Later tests revealed that Taylor died of "MDMA poisoning" and also had ketamine in his system at the time of his death.
Taylor was an avid meteorologist. "Storm Chasers" followed him and his co-star and fellow AccuWeather meteorologist and University of Oklahoma alum, Reed Timmer, as they chased storms in Tornado Alley in their home state. Timmer tweeted after Taylor's death, "RIP my best friend and storm chasing partner, Joel Taylor. I am shocked and absolutely devastated by the loss of my incredible, caring friend. We chased so many intense storms, and I wish we could have just one more storm chase. I'll miss you forever, Joel. We lost a legend." Taylor was laid to rest in a funeral in his native Oklahoma.
Sean Milliken (My 600-lb Life)
"My 600-lb Life" star Sean Milliken died on Feb. 17, 2019, Fox News reported, at just 29 years old. Milliken had been hospitalized two days prior to his death for an infection, but his official cause of death hasn't been released, as of this writing.
Milliken weighed 900 pounds when he sought help on the TLC series. His time on the show chronicled his complicated relationship with food, which he turned to for comfort from his volatile relationship with his father. Milliken's mother, Renee, confessed on the show to dealing with an eating disorder and enabling his overeating. Further exacerbating his weight was a leg injury that had left Milliken bedridden for most of high school.
In 2017, TLC aired a "Where Are They Now?" special episode of "My 600-lb Life" (via Fox News). In the episode, Milliken had lost a whopping 400 pounds in an effort to become a candidate for gastric bypass surgery. Unfortunately, his weight plateaued, and some suspected that Renee had opened him back up to his previous poor eating habits. Renee died in March 2018.
Jael Strauss (America's Next Top Model)
"America's Next Top Model" contestant Jael Strauss died on Dec. 4, 2018, at just 34 years old. The Detroit native appeared on the competition series in 2007, finishing in sixth place. She struggled with substance abuse and addiction, but appeared on "The Dr. Phil Show" in December 2012 in an effort to get clean. In August 2018, she revealed that she was proudly five years sober.
Strauss had also been diagnosed with breast cancer, which ultimately took her life, but before her death, she was incredibly candid about her illness. Friends of the model set up a GoFundMe page to raise money to help with her medical bills, saying she'd been hospitalized in September 2018 and diagnosed with stage 4 breast cancer the following month. Strauss herself wrote on Facebook that October, "It has aggressively spread throughout my body and is incurable. With treatment it may prolong my life longer than the 'few months' doctors said I could make it. I don't want to die. I need another one of those miracles that I got back in 2013."
By November, Strauss revealed that she'd entered hospice care, writing, "First night in hospice. So many things I never knew about life. Or death. So many things." When she died, her family told TMZ in a statement, "The one blessing was that we were able to show her how loved she was before she passed. She brought so much light to people."
If you or anyone you know is struggling with addiction issues, help is available. Visit the Substance Abuse and Mental Health Services Administration website or contact SAMHSA's National Helpline at 1-800-662-HELP (4357).
Fatima Ali (Top Chef)
"Top Chef" contestant and fan favorite Fatima Ali died on Jan. 25, 2019. She was just 29 years old. Ali appeared on Season 15 of "Top Chef." In October 2018, the New York City chef announced her diagnosis with Ewing's sarcoma, a rare form of cancer, in a heart-wrenching essay in Bon Appetit. Ali had dealt with the illness once before, but the disease returned, leaving her with a life expectancy of just a single year to complete her bucket list. That included meeting Ellen DeGeneres, who had her on her show and donated $50,000 to Ali to complete the rest of her wish list, which also included dining at famous restaurants around the world.
Throughout her health struggle, Ali was both candid and witty. She wrote in her essay, "I was looking forward to being 30, flirty, and thriving. Guess I have to step it up on the flirting. I have no time to lose." The chef was also poignant and gave the rest of us a lot to think about. "When we think we have all the time in the world to live, we forget to indulge in the experiences of living," Ali wrote. "When that choice is yanked away from us, that's when we scramble to feel. I am desperate to overload my senses in the coming months, making reservations at the world's best restaurants, reaching out to past lovers and friends, and smothering my family, giving them the time that I so selfishly guarded before."
Mike Thalassitis (Love Island)
Mike Thalassitis, who appeared on U.K. reality show "Love Island," was found dead on March 16, 2019, in his Essex, London home. He was just 26. According to USA Today, reports suggest that he died by suicide, as police said that his death was "not being treated as suspicious."
Thalassitis was reportedly "in a dark place" before his death, his co-star, Montana Brown, claimed on Instagram. His death, and his co-stars' reactions to it — which included saying they too felt alone and in need of help after leaving the show — prompted "Love Island" producers and the show's network, ITV, to make changes to how former contestants on the series are treated after leaving. "Love Island" contestant Rachel Fenton, who also appeared on the show in 2016, said (via Fox News), "I hope this educates 'Love Island' producers to provide the necessary support to everyone who enters the show. You get a 'chat' with a mental health nurse before you enter the villa but that's it. Not a single thing after you leave."
As a result of the outcry, ITV told Variety, "We ensure that all of our contributors are able to access psychological support before, during and after appearing on the show. The program will always provide ongoing support when needed and where appropriate. We also discuss at length with all of our Islanders, before and after the show, how their lives might change and they have access to support and advice to help with this."
If you or anyone you know is having suicidal thoughts, please call the National Suicide Prevention Lifeline​ at​ 1-800-273-TALK (8255)​.
Joey Kovar (The Real World: Hollywood)
Joey Kovar's struggle with substance use was widely documented on "The Real World: Hollywood." After an on-screen incident, the star was forced to go to rehab. The moment played out in a teary-eyed apology, where Kovar cried, "I don't mean to be that guy. I don't mean to be a bad person. … It's so hard, bro, it's so hard to admit that I got a problem." He revealed that he had been struggling with drugs and alcohol for "a couple years," but had managed to stay sober in the four months prior to the show. Kovar ultimately left filming altogether to avoid a relapse.
Two years later in 2009, Kovar sought help on "Celebrity Rehab with Dr. Drew," but the star "relapsed … with ecstasy and cocaine" not long after appearing on the series, according to The Hollywood Reporter. He was found dead at the age of 29 in August 2012. Per TMZ, a mix of cocaine, Viagra, and alcohol was originally thought to have contributed to his death, but the medical examiner later told the tabloid that his death was accidental "opiate intoxication." Kovar had reportedly been taking a prescription opiate.
If you or anyone you know is struggling with addiction issues, help is available. Visit the Substance Abuse and Mental Health Services Administration website or contact SAMHSA's National Helpline at 1-800-662-HELP (4357).
Tyler Gwozdz (The Bachelorette)
Tyler Gwozdz's exit from Season 15 of "The Bachelorette" was a glossed-over mystery. Bachelor Nation never figured out what happened. All we know is that he abruptly left during the third week, even though he had a successful date with Hannah Brown, who was impressed with his credentials as a psychology graduate student. There were rumors that his dating history had something to do with it, but nothing was ever confirmed.
The year after Gwozdz exited the series, he died of an apparent overdose in January 2020. According to TMZ, the 29-year-old had been hospitalized in the ICU for at least a week after paramedics rushed to his home following a 911 call. The Palm Beach Post (via Page Six) released the traumatic 911 call, where "a woman is heard screaming at Gwozdz to wake up." She said she believed the reality star took heroin, and he was given Narcan by the paramedics who arrived on the scene.
Medical examiners later confirmed to Page Six that Gwozdz died as a result of opioid toxicity from heroin, though there was "a lack of admission specimens," so it could have been a different substance.
If you or anyone you know is struggling with addiction issues, help is available. Visit the Substance Abuse and Mental Health Services Administration website or contact SAMHSA's National Helpline at 1-800-662-HELP (4357).
Billy Brown (Alaskan Bush People)
Billy Brown was the beloved patriarch of Discovery's "Alaskan Bush People." Unfortunately, the star died after suffering from a seizure in February 2021. He was 68 years old.
According to The Sun, Brown was struggling with health issues that were exacerbated by the high altitude of Brown's mountain home. He had been diagnosed with a heart problem and spent time in and out of the hospital. Medical professionals urged the reality star to move to lower ground, and he even underwent major surgery in 2019, which didn't seem to help. An update from son Bear Brown (via Soap Dirt) revealed that the "situation has gotten worse," and Billy was "fighting for his life."
Billy was filming when he had his fatal seizure. Per The Sun, crew members were the ones who called 911. "He was our best friend — a wonderful and loving dad, granddad and husband and he will be dearly missed," his son, Noah Brown, wrote in a heartbreaking Instagram post. "He lived his life on his terms, off the grid and off the land and taught us to live like that as well."
Nikki McKibbin (American Idol)
Nikki McKibbin was the oft-forgotten star of the heyday of "American Idol." In 2002, she finished out the inaugural season of the series right behind Kelly Clarkson and Justin Guarini. Though she never got her own schmaltzy, poorly rated film (lest we forget "From Justin to Kelly") or massive chart success, she did manage to forge ahead with her music.
Following her success on "American Idol," McKibbin became somewhat of a career reality star, appearing on "Kill Reality," "Battle of the Network Reality Stars," and "Camp Reality." Her struggles with substance use were well-documented on "Celebrity Rehab with Dr. Drew" and the spin-off, "Sober House," but over the last decade of her life, she had shied away from the spotlight.
In 2020, McKibbin suffered from a brain aneurysm and was put on life support until her organs could be donated. In a Facebook post, her husband, Craig Sadler, revealed they were playing Fleetwood Mac's "Landslide" during the 42-year-old's final surgery. "She was so loved that I know thousands of you will be grieving with us," he wrote. "There are only a few hours left for me to hold her hand and kiss her forehead."
If you or anyone you know is struggling with addiction issues, help is available. Visit the Substance Abuse and Mental Health Services Administration website or contact SAMHSA's National Helpline at 1-800-662-HELP (4357).