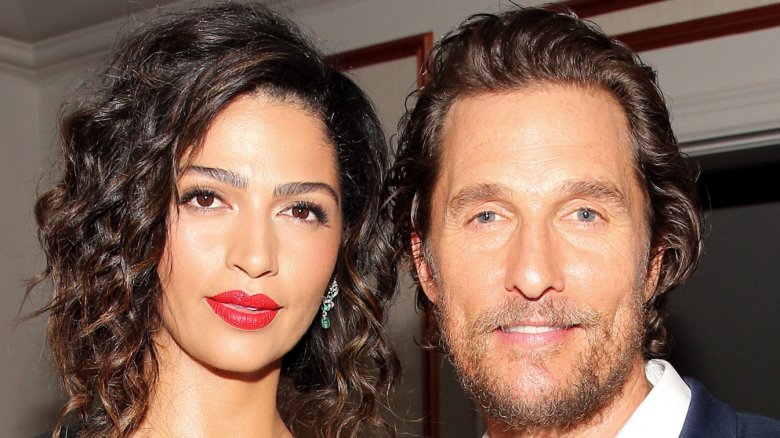 Matthew McConaughey and Camila Alves appear to have an idyllic relationship, but their journey to the altar was a bumpy one. After meeting in 2006, it would take six more years and two children, son, Levi Alves McConaughey and daughter, Vida Alves McConaughey, before McConaughey's biological clock would encourage him to finally seal the deal with an "at-home wedding in Austin, Texas," according to People.
Being married to someone as eccentric and career-focused as McConaughey has been an eye-opening experience for the handbag designer. Not only did she have to give the Interstellar star an ultimatum before he finally said "alright, alright, alright" and took their relationship to the next level, but she soon discovered that her dream guy was not nearly as romantic as some of the characters he has portrayed on screen.
From rumors that he loves that she can forgo showers for an entire week, to Alves initially rejecting the Hollywood superstar's advances multiple times, here are all the strange things about Matthew McConaughey's marriage to Camila Alves.
He likes being 'under her spell'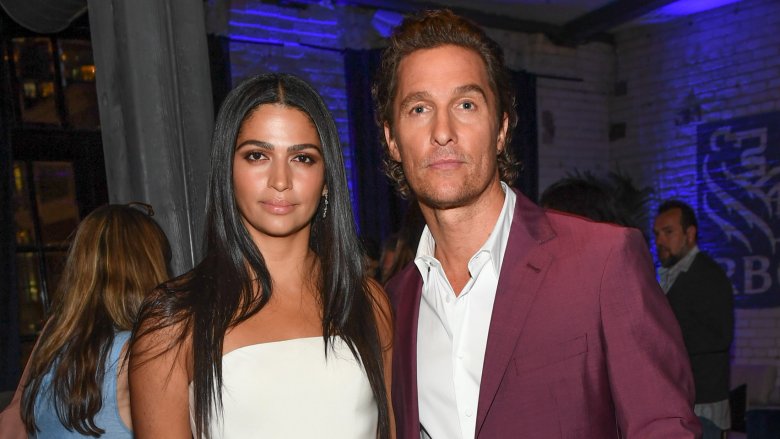 Prior to meeting Camila Alves at an LA hotspot, Matthew McConaughey admitted he was enjoying being a bachelor. Like, really enjoying it. "I had a time in my life when I was fine going from here to there, bam-bam-bam—healthy, fluent, single years," he told Playboy magazine (via Martha Stewart Weddings).
But that all changed when he met the Brazilian-American stunner. "When I saw the woman who is now my wife, I was at a club making margaritas at a table with friends," he said. "As soon as she caught my eye, a little voice goes in my head: 'This is not the kind of woman you call across the room. Boy, get your a** out of that chair.'"
Detaching his bum from his chair and approaching the model turned out to be one of the best decisions of his life, and McConaughey assured the publication that he has been "very faithful" to his wife ever since, before adding, "I like being under her spell. I don't want to break that spell."
Magic Mike has nothing on magic Camila!
She gave him back-to-back rejections
After meeting at a Hollywood nightclub in 2006, Matthew McConaughey invited Camila Alves back to his pad to have a drink and "extend the night," he told Howard Stern's SIriusXM radio show (via Us Weekly).
As the night came to a close, Alves decided to call a taxicab, but McConaughey insisted she stay the night in a guest bedroom. Alves agreed, and when the actor tried to make his move not once but twice, Alves rejected him! McConaughey also told the radio host that they didn't even so much as lock lips that first night. Alves left the next day without even agreeing to go on a future date wth McConaughey, but he kept at it, and after two more rejections, she eventually said yes. He cooked for her, and the rest is history!
Just to frame the situation here correctly, as Us Weekly pointed out, in the year 2006, McConaughey had two incredible films at the box office: We Are Marshall and Failure to Launch, and despite his status as an international superstar, Alves rejected him like he was a regular Joe Shmoe. Strange!
Camila's ultimatum
After their fated first meeting in 2006, the couple began dating. They started their family soon afterwards, welcoming a son, Levi Alves McConaughey in July 2008, and a daughter, Vida Alves McConaughey, in 2010. And yet, McConaughey didn't propose to Alves until December 2011. Asked by GQ what took so long, the Tropic Thunder actor answered, "I had to get to the point where I saw it as more than just the thing to do. I wanted to really want to."
That's a bit odd, considering McConaughey also once told Cigar Aficionado that he actually had felt the pressure of a "clock ticking." However, the couple finally decided to "make a covenant" after doing "a lot of reading" and talking to both divorcees and "happily married" couples. McConaughey also let the cat out the bag when he said, "And look, some of it had to do with her putting it on me. It took her going, 'C'mon, Big Boy, Mr. Easygoing-We'll-Get-to-It-When-We-Get-to-It. Either s**t or get off the pot.'"
Pressuring someone to get married rarely ends well. So, let's just hope Alves' ultimatum doesn't backfire one day!
In sickness and in funk
According to Express, Matthew McConaughey is a fan of going all-natural — meaning, he doesn't wear cologne or deodorant. "The women in my life, including my mother, have all said, 'Hey, your natural smell smells, one, like a man, and, two, smells like you,'" he reportedly said. One of those women is likely his wife, Camila Alves. And we wouldn't be surprised to learn that she doesn't care about his body odor because she can't smell it over her own personal aroma! Let us explain…
According to In Touch (via Celebitchy), when Alves was pregnant with their son, Levi Alves McConaughey, she would skip out on taking showers for long periods of time. One of Alves' business associates told the gossip rag, "[McConaughey] said he finally met a girl who can go without a shower for a week — someone he can go mountain climbing and hiking with."
What the funk?!
Paging Benjamin Barry!
Thanks to his top-notch acting capabilities, his rugged good looks, and, hello, those abs, Matthew McConaughey has been tapped to play the leading role in various rom-coms, from the character Steve Edison in The Wedding Planner, to Benjamin Barry in How to Lose a Guy in 10 Days. While he may effortlessly recite his lovey-dovey lines, McConaughey is far from being a real-life romantic, according to Camila Alves.
During an appearance on Inside the Actors Studio (via Us Weekly), Alves was aked to describe what McConaughey is like offscreen in comparison to his film roles. "It's very funny because people see him onscreen or out there in public in a certain way, and they have this vision of him being this romantic and so passionate. Just very romantic and grabs you and kisses you," she said. "And sometimes I'm like, 'Who is this guy? Can you be a little bit of that?'"
Alves added, "Sometimes I'm like, 'Can we bring that guy home for a little bit?'"
She has obviously learned to love him exactly the way he is, but would it hurt for him to kick it up a few notches in the romance department?
They're super forgetful
Even though it took them six years from the time they met to become husband and wife, Camila Alves already felt like she was bound to Matthew McConaughey long before they exchanged wedding vows. She told ET Canada, "We have homes together, we have [a] family together, we have kids, we've built a life together. So, we've been living a married life this whole time."
After getting married, they didn't necessarily have time to enjoy being newlyweds either. They already had two kids to look after, and six months after their June 2012 nuptials, McConaughey announced on his Facebook that Alves had given birth to their third child, Livingston Alves McConaughey. With so much going on in their lives, we weren't shocked when Alves told Delux magazine (via Glamour) that they both forgot their one-year wedding anniversary. "We don't keep up with this kind of stuff," she said before revealing that they only realized the significance of the day when an interviewer congratulated them.
Hey, you wacky lovebirds. There's this cool thing on your cell phone called a calendar. Type the word "anniversary" on June 9, and set the reminder to reoccur once a year. You're welcome!