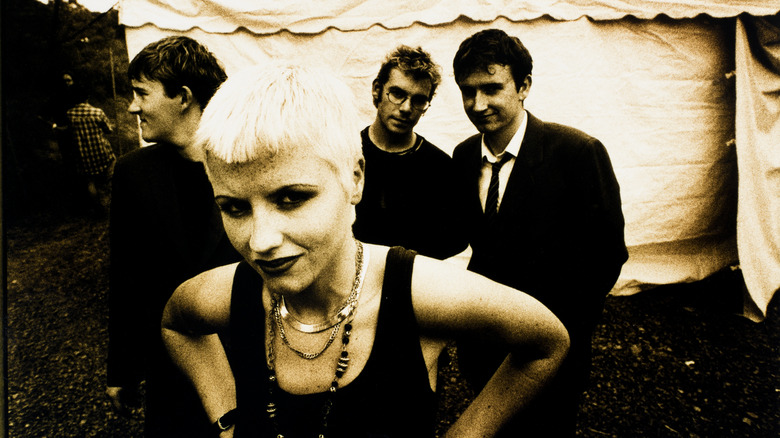 In some ways, the 1990s were the antithesis of the previous decade. In lieu of the big hair, dramatic shoulder pads, and over-the-top glamour of the 1980s, the nineties ushered in casual, slouchy silhouettes and understated grunge. '90s music followed a similar trajectory: Instead of dance-y production and power ballads, many popular bands of the decade were characterized by heavy guitars, moody lyrics, and languid vocals.
Still, there was plenty of drama in the '90s music scene. From bitter divorces and family rivalries to record label disputes and even deaths, several of the decade's most iconic bands ended in tragedy. "It's better to burn out than to fade away," Kurt Cobain famously wrote in his suicide note, quoting Neil Young. Although a few '90s bands faded away, several burnt out in big ways. Here's how and why some of the defining voices of alt-rock, Britpop, dream pop, and grunge called it quits.
4 Non Blondes disbanded in 1994 because Linda Perry didn't like the music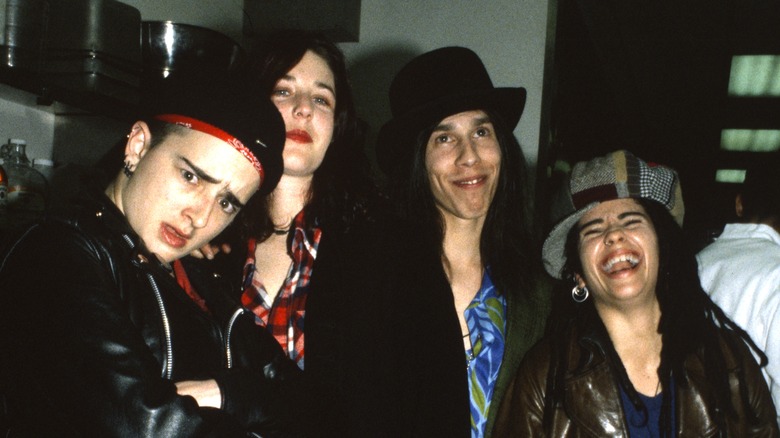 4 Non Blondes' 1992 song "What's Up?" was a number-one hit that placed the band among VH1's "100 Greatest One-Hit Wonders" and earned a spot in the viral meme universe. The band's frontwoman, singer-songwriter Linda Perry, told Rolling Stone in 2011 that she loved the song but "hated the production." Perry's distaste for her own band's music turned out to be a major contributing factor to 4 Non Blondes' 1994 breakup. Although they were active for five years, the band only released one album, "Bigger, Better, Faster, More!".
"I wasn't really a big fan of my band," Perry told Rolling Stone of 4 Non Blondes. "I didn't like the record at all … When I heard our record for the first time I cried. It didn't sound like me. It made me belligerent and a real a**hole. I wanted to say, 'We're a f**king, bad-a** cool band. We're not that fluffy polished bulls**t that you're listening to.' It was really difficult."
Perry has since seen considerable success as a songwriter. She has written such hits as Pink's "Get the Party Started," Christina Aguilera's "Beautiful," and Gwen Stefani's "What You Waiting For?".
Nirvana broke up after Kurt Cobain's 1994 suicide
Nirvana played its final show on March 1, 1994 in Munich, Germany. The band gave a lifeless, 23-song performance in the World-War-II- airplane-hangar-turned-concert-venue Terminal Einz. According to Guitar World, frontman Kurt Cobain walked offstage and immediately told his agent, Don Muller, to cancel the band's next concert. Although Cobain didn't give a reason, the decision did not come as a surprise to the band or the crew. "The band was over," recalled bassist Krist Novoselic, who had been expecting Nirvana's demise throughout the In Utero tour.
A few days later, Cobain attempted to overdose on tranquilizers. "Like Hamlet, I have to choose between life and death," he wrote in a note. "I'm choosing death." He was rushed to a hospital in Rome. He survived, but was mistakenly reported dead to his bandmates and to the public by media outlets including CNN. Cobain continued abusing drugs and referencing suicide for the next month. On April 8, he was found dead after shooting himself with a gun. His Nirvana bandmates did not attempt to continue the band without him.
If you or anyone you know is having suicidal thoughts, please call the National Suicide Prevention Lifeline​ at​ 1-800-273-TALK (8255)​.
Sublime disbanded in 1996 following lead singer Brad Nowell's fatal overdose
The troubling glorification of rock stars who "burn out" was largely absent with the death of Sublime frontman Brad Nowell. But this is because Nowell died before he had the chance to experience the glory his band would experience in his wake. On May 25, 1996, Nowell was found dead in a hotel room in San Francisco following an accidental heroin overdose, per Rolling Stone.
The ska-rock band's third album, simply titled "Sublime," had been completed but not yet released. In the year or so that followed Nowell's death, the album entered the Billboard Top 20, saw multiple major hits, sold extensively, and cemented the band's status in late-90s music history.
"We will go on in music and do other things," Sublime manager Jason Westfall told the Press Telegram at the time of Nowell's death (via MTV). "But just like Nirvana, Sublime died when Brad died." Still, over a decade later, in 2009, the surviving members of the band announced that they would reunite, with young guitarist Rome Ramirez in Nowell's place, as Sublime with Rome. This news was met with skepticism by fans, per Maui Time. Original Sublime member Bud Gaugh left the band in 2011. "It was really good for the first few months; after that, it just felt wrong," Gaugh later said (via The Vogue). "Not playing the songs but playing them with the name Sublime, without Brad."
If you or anyone you know is struggling with addiction issues, help is available. Visit the Substance Abuse and Mental Health Services Administration website or contact SAMHSA's National Helpline at 1-800-662-HELP (4357).
The Stone Roses initially broke up after the 1996 Reading Festival
"The Roses could have been bigger than the Beatles," Noel Gallagher, former member of the band Oasis, once said. But The Stone Roses had a turbulent history. According to NME and the 2004 BBC documentary "Blood On The Turntable — War Of The Roses," the English rock band's manager was a crook. He secretly kept thousands of dollars that were intended for the band's members to pay for legal fees. After the band found out and fired him, he sued them for a significant portion of their earnings, and won the lawsuit. That was only the beginning of the band's bad luck; the Roses then found themselves in a series of bad record deals that cut them off from earnings and creative control.
The Stone Roses' initial breakup came on the heels of a disastrous performance at Reading Festival in 1996. The band's drummer, Reni, and guitarist-slash-songwriter, John Squire, had recently left the band. According to the Independent — which named it one of "the worst gigs of all time" — audiences at Reading Festival watched in disbelief as lead singer Ian Brown swaggered around the stage and sang off-key throughout the band's headlining performance. The show was panned by critics, and the band was dissolved within two months. The Stone Roses have since reunited over the years, with mixed results.
Soundgarden broke up without much fanfare in 1997
Although they may not have quite as major a place in rock 'n' roll history as Nirvana, Soundgarden were signed to the same label, Sub Pop, and helped shape the sound of Seattle in the '90s. A possible reason Soundgarden may not have been quite as culturally impactful as Nirvana is the fact that the former's breakup was comparatively anticlimactic.
"Once you sort of define what the band is, then you have to move on from there or you're finished, you're done," Soundgarden frontman Chris Cornell told Spin in 1996. The following April, the band's record label, A&M Records, issued a press release stating that the band's members had "mutually and amicably disbanded to pursue other interests" (via Spin). The reasoning behind the decision was unclear, perhaps because it wasn't particularly dramatic or explosive — the band reportedly just decided their time had passed, in part because they were tired of touring.
"They looked honestly at themselves and decided it was time to move on," said Cornell's wife, and the band's manager, Susan Silver. An "inside source" told Spin it was "the most boring breakup in history." A fellow Seattle musician, Jason Finn of the band Presidents of the United States of America, was more complimentary: "Soundgarden paved the way for a lot of bands," he told Spin. "Now they're pulling the plug with dignity."
Pavement 'fizzled out' by the end of the '90s
In the late '90s, during one of Pavement's last shows, frontman Stephen Malkmus reportedly handcuffed himself to the stage to make the point that being in the band was stifling, per The Los Angeles Times. In 1999, he announced that Pavement was disbanding.
"We kind of fizzled out," Malkmus told the now-defunct Virgin Mega in 2000 (via The Bad Penny). "We had a great time, but it wasn't like we would sit around and high-five … But I knew in my heart it was the right time. Better early than late … The vibe of the band at the end felt melancholy in some ways. But we had great times as a band. I don't really regret much about it. It felt like a perfect time to end it, because everything was pointing towards it. It's been 10 years, it's perfect. The century's ending."
Scott Kannberg gave his side of the story in a 2001 interview with The Los Angeles Times. "There was some confusion about how and when Pavement broke up or whatever, but that was more Steve's fault than anybody's," he said. "It was sad but OK, because I had to move on and things are all right." Both Kannberg and Malkmus went on to work on their own solo projects.
The Verve broke up three times, reportedly due to internal disputes
In their final interview of the 1990s, The Verve were described as "the most important band in Britain, and potentially the most thrilling group of the '90s" (via The Verve Live). But following what appeared to be a successful performance at the T in the Park music festival in August 1995, the band's lead singer, Richard Ashcroft, quit the band. His only explanation was that his place in the band "no longer felt right." The Verve announced their first split that September.
The Verve reunited in 1997, and with great success. That year, the band's third studio album, "Urban Hymns" received widespread critical acclaim and became their best-selling album and one of the best-selling albums of 1997. The single "Bitter Sweet Symphony" was named the "song of the year" by multiple publications and cemented their status in the realm of British rock.
Still, guitarist Nick McCabe left the band in July 1998, and the band announced their second split the following spring, reportedly due to McCabe's "wild partying," per Rolling Stone. The Verve reunited in 2007, but disagreements between Ashcroft and McCabe doomed the band's future. "Their management called Simon and Nick in for a crisis meeting in September," a source told Rolling Stone. "They were told that Richard refused to tour or work with them again as long as Nick continued to drink." The band announced their third split in 2009.
Hole disbanded in 2002 due to record label drama
Alt-rock band Hole had a highly dramatic run that lasted for over a decade. In 2000, the band's leading lady, Courtney Love, announced that she was leaving the band's record label, Geffen. According to Rolling Stone, Geffen's parent company, Universal Music Group, filed a lawsuit against the band for breaching its contract, which reportedly stated the band was obligated to record five more albums under the label. Love testified that the band was protected under a California labor law called the "Seven Year Statute." Still, the suit kept Hole from signing with a new label, and by 2002, Love was involved in multiple lawsuits with major record labels.
On May 23, 2002, Love and Hole guitarist and co-founder Eric Erlandson announced that the band was breaking up. "Since Geffen Records closed during the promotion of our last record ["Celebrity Skin"], there have been a lot of distractions," Love said (via Rolling Stone). "Universal's lawsuit against us made it impossible for us to find a new record company despite overwhelming interest from other labels. After three years of waiting, Eric and I have decided to put Hole to rest … I will always treasure the time we played together. Eric has been an important part of my family for over ten years and he'll continue to be a part of my life."
Sonic Youth broke up in 2011 due to its members' divorce
Love and work are arguably the most important areas of a person's life — but it's not always a great idea to mix the two. New York rock band Sonic Youth proved to be a prime example of this.
Sonic Youth formed in 1981. In October of 2011, members Kim Gordon and Thurston Moore announced they would be divorcing after 27 years of marriage, per Rolling Stone. As it turned out, the end of the pair's marriage also meant the end of Sonic Youth. According to NME, it was later revealed that Moore had been unfaithful to Gordon. "I find it really strange that I get demonized for the break-up of Sonic Youth when I myself had no intention of breaking up the band; that was a real surprise to me," Moore told Collide in 2016. "I get the reasons behind the band not existing at the moment – everyone has to be on the same page — but there was never any announcement. Well, I never made one … The band will be forever with me; the fact that we're not playing at the moment comes down to what happened in our personal lives."
REM disbanded in 2011 because 'all things must end'
After three decades and 15 albums together, American rock band R.E.M. announced their split in 2011. "As lifelong friends and co-conspirators, we have decided to call it a day as a band," read the band's statement (via Rolling Stone). "We walk away with a great sense of gratitude, of finality, and of astonishment at all we have accomplished."
"I hope our fans realize this wasn't an easy decision; but all things must end, and we wanted to do it right," frontman Michael Stipe said at the time. Guitarist Peter Buck initially remained quiet, but in 2016, he told Rolling Stone that the band had reached the decision while working on the 2011 album "Collapse Into Now."
"We got together, and Michael [Stipe] said, 'I think you guys will understand. I need to be away from this for a long time,'" Buck recalled." And I said, 'How about forever?' Michael looked at Mike [Mills], and Mike said, 'Sounds right to me.' That's how it was decided." In Buck's view, there were multiple contributing factors to the split. "It was the money, the politics, having to meet new people 24 hours a day, not being in charge of my own decisions," he said. "I hate the business. And I didn't want to have anything to do with it."
Oasis broke up in 2014 due to a bitter sibling rivalry
In 2009, Noel Gallagher of Oasis told his bandmate and younger brother, Liam Gallagher, that he wanted to quit the band. An explosive argument ensued between the brothers — one that would last indefinitely.
A decade later, Liam spoke about the split during a 2019 appearance on The Jonathan Ross Show."I don't know why we split up, so I'd love to know," he said. "Maybe I might have been a bit too rock 'n' roll for him, and I might have cancelled a few gigs, and I might have stayed up later than I should've some nights … Maybe he just wanted to go solo and do his thing and just be on his own … We'll get to the bottom of it one day."
Still, Noel argues that Oasis' breakup is part of what solidified the band's legacy of greatness. "Oasis, back in 2009, were not lauded as one of the greats of all time," he said during an appearance on the 2021 Sky Arts show "Noel Gallagher: Out of the Now" (via NME). "There was a kind of undercurrent of: 'Well they should really call it a day.' That's what I felt anyway. And I felt that people had stopped listening to the records and were coming to see us trot out the hits and it's a position I never wanted the band to be in. But now of course we're seen as up there with all the greats."
The Cranberries disbanded in 2019 after Dolores O'Riordan's death
On January 15, 2018, The Cranberries frontwoman Dolores O'Riordan was found dead in a Hilton hotel in London. The 46-year-old had drowned in the bathtub while intoxicated. O'Riordan suffered from mental health issues, including bipolar disorder, and once said her "life has no control," per The Guardian.
At the time of her death, O'Riordan had recently recorded new material for The Cranberries' aptly-named album "The End." "Dolores had an awful lot going on and she was on a roll of being able to write," guitarist Noel Hogan told The Guardian. "Lyrically, the new album is very strong. She always said she found it hard to write songs when she was happy." Hogan and the other remaining members of The Cranberries, bassist Mike Hogan and drummer Fergal Lawler, decided they would disband after the release of "The End" due to O'Riordan's absence. "We will do this album and then that will be it," Hogan said. "There is no need to continue." The group officially disbanded in 2019.
If you or someone you know is struggling with mental health, please contact the Crisis Text Line by texting HOME to 741741, call the National Alliance on Mental Illness helpline at 1-800-950-NAMI (6264), or visit the National Institute of Mental Health website.