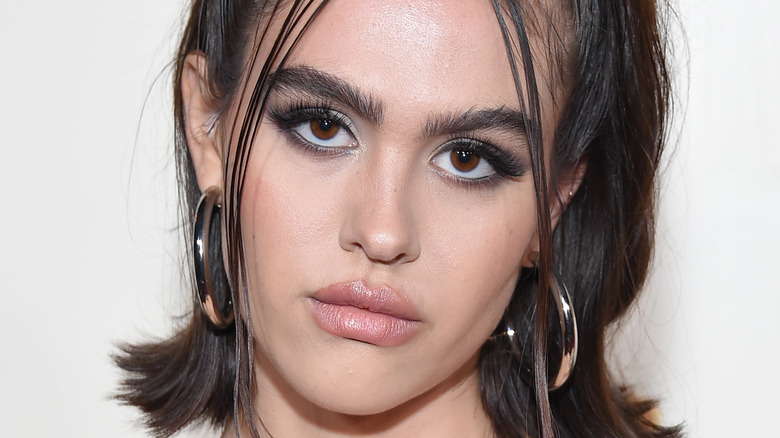 Amelia Hamlin is the youngest daughter of the actor Harry Hamlin and reality star Lisa Rinna. If she seems familiar, it might be because Rinna stars on "Real Housewives of Beverly Hills," and both of her daughters (Amelia has an older sister named Delilah Belle) have made regular appearances on the series over the years. If that's not it, it could be that you know Amelia Hamlin from her recent relationship with another reality star: "Keeping Up With the Kardashians" alum Scott Disick.
In September 2021, Hamlin penned an essay for Bustle in which she explained that even though all she wanted as a child was a "normal" family, these days she's happy with the one she has. As she put it, "I was so freaked out and all I wanted was to be in one of my friends' normal families. But now I realize that's not what I want at all." So, just what does she want? Here's the untold truth of Amelia Hamlin.
Amelia Hamlin and her sister have their own athleisure line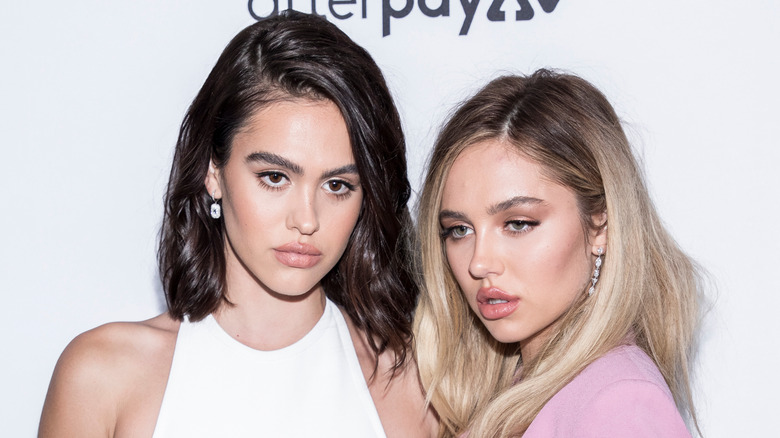 If college doesn't work out for some reason, or if Amelia Hamlin simply decides to explore other paths, she still has plenty of options available to her. In fact, Bravo shared that she and her older sister, Delilah Belle Hamlin, created their own athleisure fashion line called DNA in October 2019. Delilah Belle told People that putting the collection together happened over a series of months and that their goal was to create comfortable athletic wear that could even be worn for a night out.
The two also had plenty of help from their mom, Lisa Rinna, especially when it came to the nitty gritty details of launching and running a business. Rinna had previously launched her own successful clothing line with QVC, and Amelia Gray told People that she was an invaluable source of knowledge. "So she definitely helped us steer in the right direction when it came to dialing down at the end, what pieces we did want to launch and how people would react to it," she said.
She also works as a model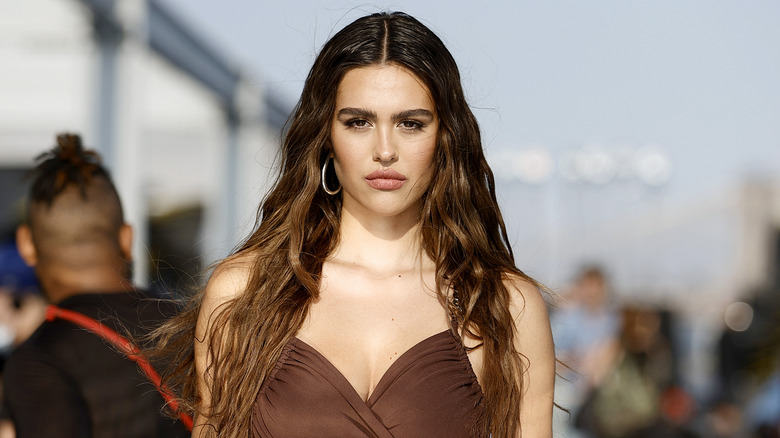 Amelia Hamlin has taken steps to follow in her mother's own fashion-forward footsteps. In 2017, W magazine noted that Hamlin signed with IMG Models that year. To the magazine, Hamlin explained that she'd wanted to be a model since she was 12 years old. "I was with my mom in New York for fashion week, and I remember watching my first show, and I started to cry," she shared, adding, "I figured out I cried, because it was so beautiful and elegant, and I was passionate about something for the first time ever."
As a model, she's walked the runway for brands like The Blonds and Dennis Basso (per Bravo), and in June 2020, she was signed to Women 360 Management New York, according to WWD. Gina Barone, the president of the agency, explained to the publication that Women 360 Management was thrilled to bring Hamlin "to the next level" and was ready to explore "the endless possibilities awaiting this very special young woman."
Amelia Hamlin has been open about struggling with an eating disorder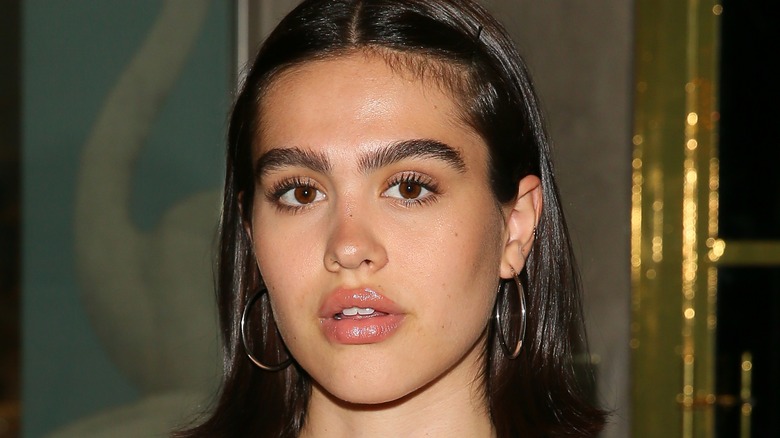 In 2018, Amelia Hamlin dropped a major secret on Instagram: She had struggled with an eating disorder the year before. In her post, Hamlin pointed out that one in 200 women in the United States deal with anorexia, the eating disorder she struggled with, and that she was motivated to speak out so that she could help others who were going through the same experience.
In 2019, viewers witnessed Hamlin's journey on new episodes of "Real Housewives of Beverly Hills." On Instagram, she even referenced moments of the show, explaining that her "rude" behavior toward her father who'd cooked for the family in one particular episode was due to the "fear of food" she'd wrestled with for so long, as People reported. She went on to add, "The person displayed in tonight's episode is not the person I am. It was the person anorexia made me … I just wanted everyone to know why I acted the way that I did."
Hamlin also shared that she has "100% recovered" from the condition.
If you are struggling with an eating disorder, or know someone who is, help is available. Visit the National Eating Disorders Association website or contact NEDA's Live Helpline at 1-800-931-2237. You can also receive 24/7 Crisis Support via text (send NEDA to 741-741).
Amelia Hamlin graduated high school in 2019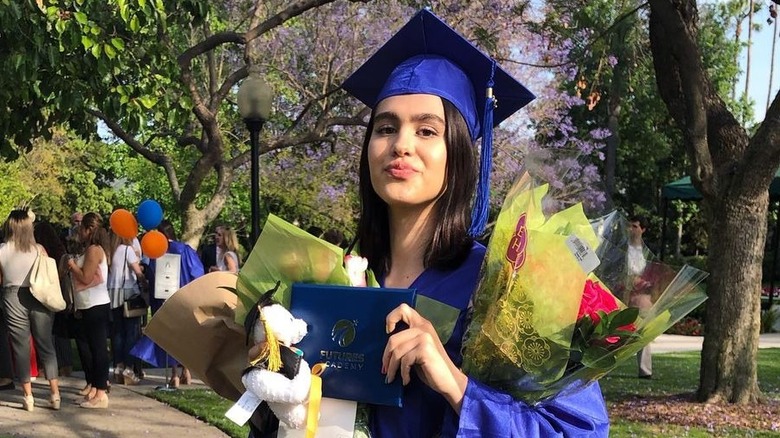 Amelia Hamlin celebrated a major milestone in June 2019: She graduated high school! Ever the loud and proud mom, Lisa Rinna took to Instagram to share a slightly blurry photo of Hamlin flashing a peace sign while wearing her gap and gown. Hamlin left a bemused comment on her mother's photo, insisting, "This cannot be the only photo." Notably, her mother made a point to share a much more in-focus snap a few days later.
Hamlin later revealed that she wasn't the biggest fan of the all-girls high school she attended. While speaking to Lauryn Evarts Bosstic and Michael Bosstic, the hosts of the podcast "The Skinny Confidential Him + Her," Hamlin shared that her time at the school directly contributed to both depression she suffered and to an eating disorder she later went public with. In one startling recollection, Hamlin said that a teacher pulled up a photo of her own mother while Hamlin was in class and began "dissecting all of the bad things" the teacher believed Rinna had done to reflect negatively on women. Yikes.
If you or someone you know is struggling with mental health, please contact the Crisis Text Line by texting HOME to 741741, call the National Alliance on Mental Illness helpline at 1-800-950-NAMI (6264), or visit the National Institute of Mental Health website.
She is studying nutrition, wellness, and psychology in college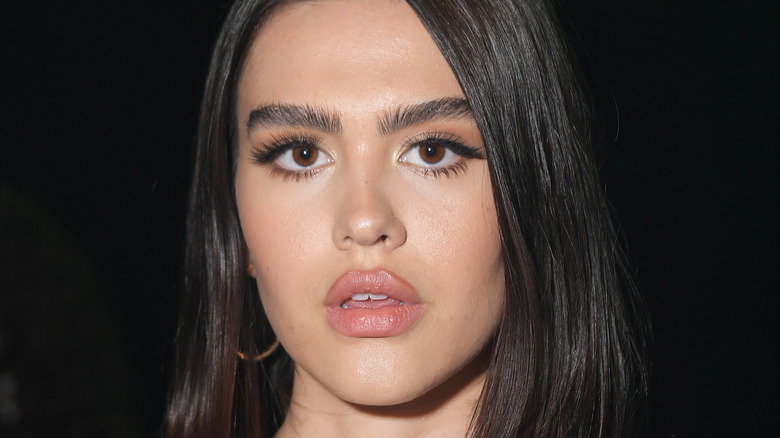 Amelia Hamlin packed up and moved to college in New York in the fall of 2019. Lisa Rinna shared a photo of her daughter sitting atop a counter in her new apartment on Instagram in August 2019, and in the caption, Rinna seemed to work through quite a few feelings about her youngest daughter leaving her home. "And just like that they take flight," she wrote. She posted a sweet Instagram Story about Hamlin's departure a few days later. "I've realized the secret to surviving my kids leaving the nest is to be fully present to support them and look forward to the future through the lens of their life, not backward through the lens of my life," a photo in a Story she shared read (via People).
Earlier that same summer, People revealed that Rinna shared with her "Real Housewives" castmates that Hamlin planned to study three subjects that were close to her: "nutrition, wellness, and psychology." Rinna explained that Amelia's own experience with an eating disorder is what motivated her to want choose the subjects, and that her goal is to be able to help others.
Amelia Hamlin was first linked to Scott Disick in October 2020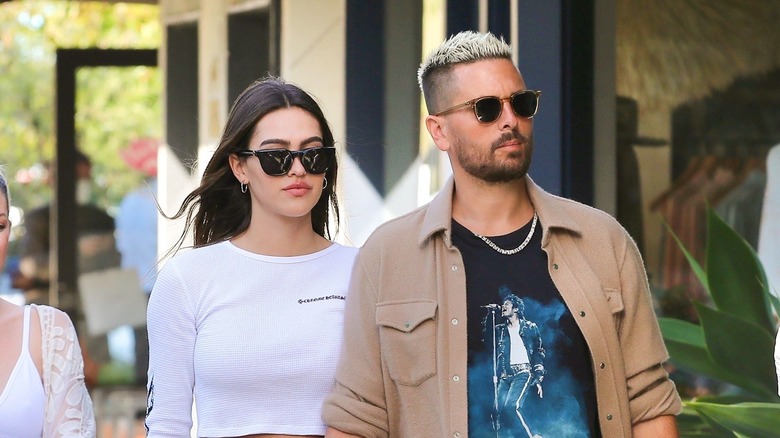 The year February 2021 put Amelia Hamlin on the map in a big way when she was linked to Scott Disick, entrepreneur and reality star from "Keeping Up With the Kardashians." People noted that the two had been seen out and about together since October 2020, but they didn't make things Instagram official until months later.
News of the pairing raised quite a few eyebrows for quite a few reasons. For starters, Disick had only been single for about two months when he reportedly struck things up with Hamlin, having previously dated model Sofia Richie (via Us Weekly), and plenty of people also questioned the pair's 18-year age difference. Unfortunately for the twosome, the critique wasn't limited to the public — Amelia Hamlin's own mother was reportedly "worried" about the relationship because of Disick's "baggage," as a source told The Sun.
Amelia Hamlin and Scott Disick had to fight off critics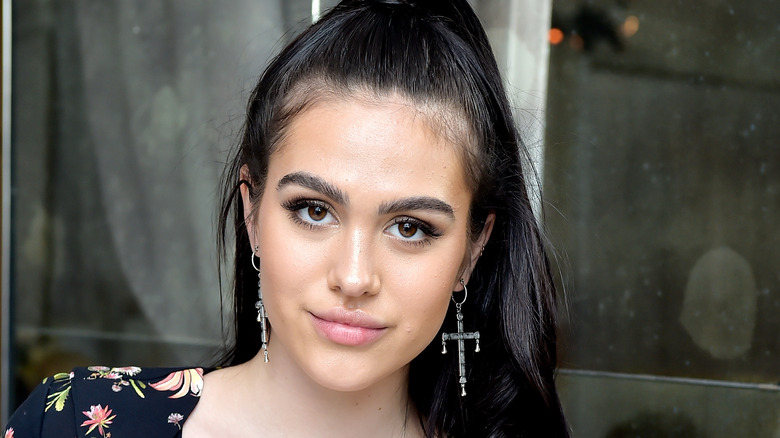 In November 2020, a source revealed to E! News that Lisa Rinna and Harry Hamlin were operating under the assumption that their daughter's relationship with Scott Disick was little more than a passing "phase." The source also explained that Hamlin's parents were disappointed she had broken up with her previous boyfriend, Mercer Wiederhorn, who "was like family."
As Amelia and Disick began appearing together more and more frequently, the source explained that Rinna was surprised. What's more, her co-stars were surprised, too. As an anonymous source explained to E!, "Lisa's 'Real Housewives of Beverly Hills' co-stars' eyebrows are definitely raised."
Seemingly in response to the judgement she and Disick felt from nearly all sides, Hamlin posted a cryptic Instagram Story in December 2020, in which she wrote (per Cosmopolitan), "[People are] extra weird and judgmental these days … people can embrace themselves however they feel fit for them at that moment in time." She didn't explicitly mention Disick in the post, but it's not a stretch to assume her relationship was the topic at hand.
How did the Kardashian-Jenner family feel about Amelia Hamlin and Scott Disick's romance?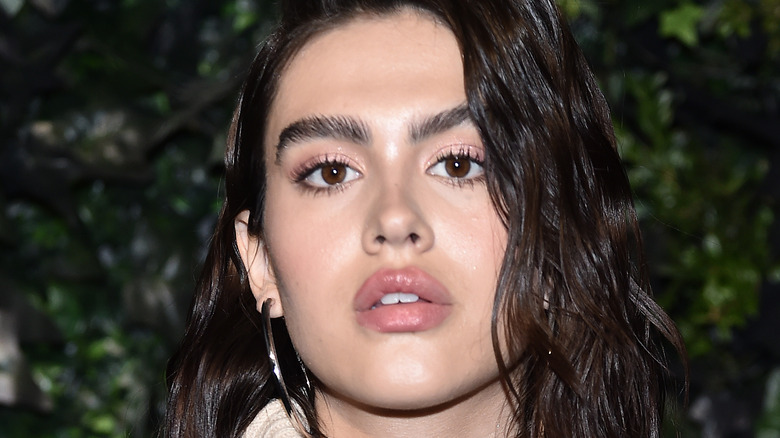 Despite all the drama surrounding their coupling, Amelia Hamlin and Scott Disick appeared to have the support of at least one person who really mattered to Disick: Kourtney Kardashian, his ex-girlfriend and the mother of his three children. In late 2020, a source told TMZ that Kardashian and her family prefer when Disick is in a relationship, as it makes him a better parent overall and easier to communicate with.
However, just as the Kardashians and Jenners were ramping up their support of the relationship, Lisa Rinna was making it clear — at least, according to anonymous sources — that she was slowly beginning to freak out. A source close to the family told The Sun that Rinna wasn't "going to acknowledge this publicly for now because she's still trying to wrap her head around it."
Amelia Hamlin and Scott Disick broke up after rumors about a DM started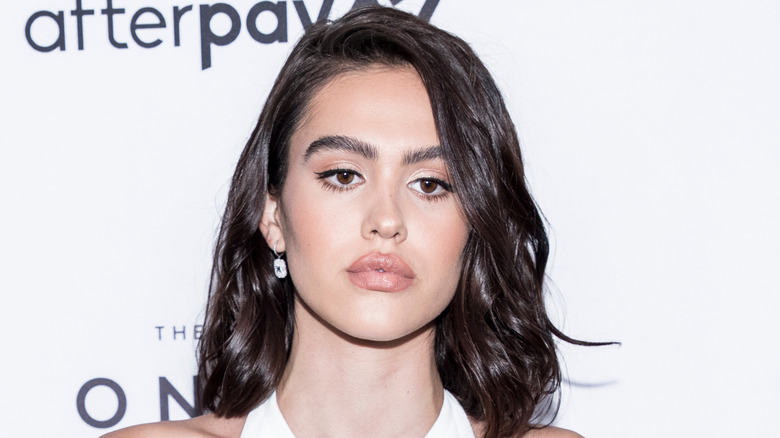 Sadly for Amelia Hamlin and Scott Disick, their relationship came crashing down in early September 2021. On August 31, 2021, Kourtney Kardashian's ex-boyfriend Younes Bendjima shared a private message he received from Disick, in which Disick appeared to attempt to engage Bendjima in conversation about Kourtney Kardashian and her boyfriend Travis Barker (via Us Weekly). Bendjima was quick to shut down the entire conversation and then shared the DM publicly.
E! News revealed a few days later that Hamlin and Disick were "spending time apart" and that Hamlin had expressed her disappointment following the message Disick sent. The following day, Us Weekly shared that the pair had decided to call it quits. A source close to the situation told the publication that Hamlin was the one who walked away, before insisting that the breakup had more to do with other issues between the couple than the message Disick sent about his ex.
Amelia Hamlin shared a positive message with her fans after her breakup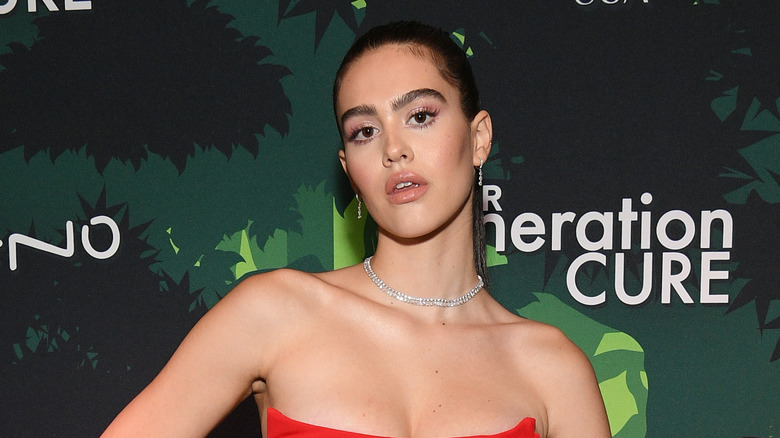 While breakups are tough, Amelia Hamlin was already dropping signs that she'd be okay the same month she split from Scott Disick. The night before the end of her relationship was confirmed, Hamlin shared an Instagram Story with a few words that felt a little too on the nose. "Never settle for less. Not with your jobs, your friends, and especially not with your heart. Continue to seek what you are looking for and do not shrink yourself for the sake of other people. You deserve the best," she wrote, as reported by Us Weekly.
While Hamlin appears to take the high road about the breakup, her mother, Lisa Rinna, might not be. The Instagram account Comments By Bravo shared a post announcing the pair's split, showing that Rinna had simply left a smiley face as a comment, which seems to sum up her feelings quite nicely.